The DHS A4002 is a Shakehand-style paddle designed for beginner players. The inexpensive price tag along with the decent quality of materials used to build the paddle makes it one of the best-value table tennis rackets on the market.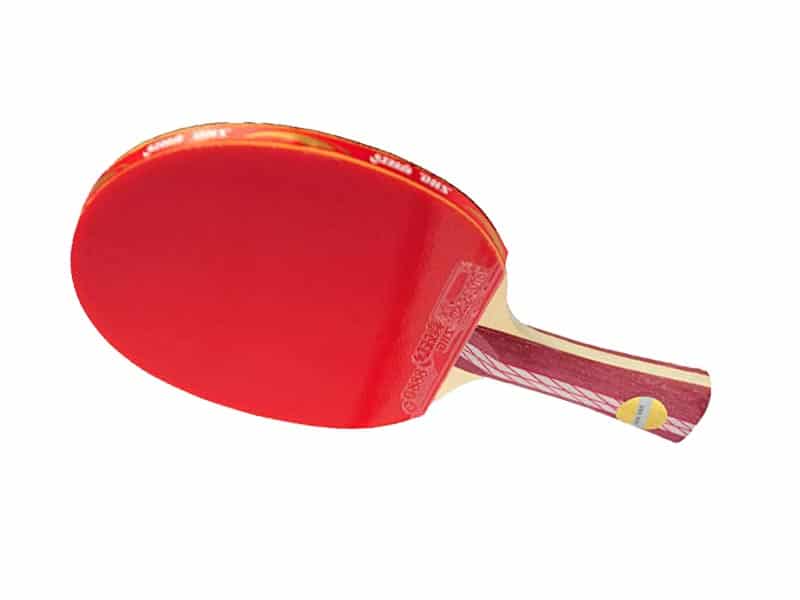 Specs
ITTF approved rubbers

: DHS Hurricane 2 and DHS G888

The DHS 4-Star blade – A 7-ply wood blade
Price: $
Overview
This is one of the best selling rackets on Amazon. It's very reasonably priced (probably one of the cheapest ITTF approved paddles) and so is a good entry level/intermediate bat to try your hand with some higher ratings.
ITTF Approved Rubbers
The rubbers used on the A4002 are the DHS Hurricane 2 and the DHS G888 on the other side. These two rubbers a very popular on their own and are quite hard allowing you to get good spin with maybe a little loss of control.
7-Ply Pure Wood
It sports a 7-ply pure wood for increased speed and strength, while the paddle itself weighs 200 grams. 200 grams is relatively heavy when compared to other paddles in the same skill level, but should aid in the increased power and smashing capabilities.
When you're a beginner though you generally want to look for a bat with high control ratings rather than speed. To read about how to choose the perfect paddle, check out our racket buying guide here.
Advantages
Price (it's very cheap)
Sticky rubber for increased grip and spin
Disadvantages
Heavy for a beginner paddle at 200g
Accumulates dust quickly
Has a fish smell from the fish glue used to apply the rubber and may require some cleaning after use until the smell dissipates.
Conclusions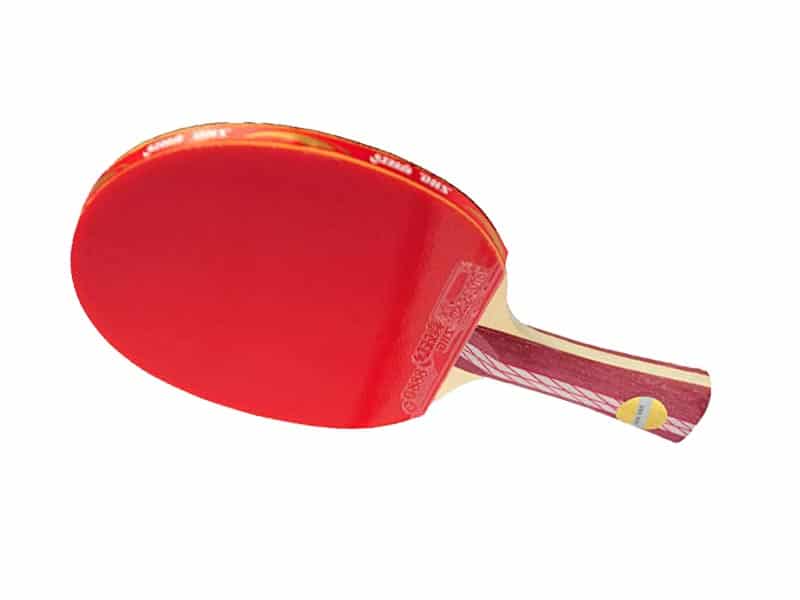 To sum up the DHS A4002 we think it's a contender for a beginner looking for something with a bit more power than their first racket. It's very reasonably priced and so you're not going to break the bank here but it's still of a decent quality. While the paddle is a little heavy, it has good control and an effective spin, everything a new player practicing to become better should have. While the fishy smell is a little annoying, it means that the paddle was recently made and has not been sitting in a warehouse for the last 5 years.

Eugene (Gene) Sandoval has been one of those guys who spent too many hours around ping pong tables in high school. However, soon enough, Gene understood that there is more to ping pong than having fun. That is how he started a journey that made Eugene one of the experienced semi-professional ping pong players in the United States. As the founder of the PingPongRuler, Eugene spends most of his time surrounded by ping pong tables and research. He always has this knack for coming up with new ping pong strategies and telling the good and bad equipment apart.