The 8 Best Ping Pong Paddle Cases in 2022
Table tennis bats can be pretty expensive and the last thing you want is to get it out to play to find out it's broken or had water spilt on it and is unusable. For that reason, we always recommend storing yours in a ping pong paddle case to protect it and ensure it last for years to come.
In this post, we've put together a list of what we think are the best ping pong paddle cases on the market as well as a buying guide to help you know what to look for and find the right one for you.
The Best Racket Cases
Table Tennis Bat Cases Buying Guide
There are a few different types of table tennis bat cases and covers available. But knowing which one is best and meets all your requirements can be a bit of a difficult job. To help you make the right choice we've created a quick guide covering a few of the different options to help you choose the right case for you.
If you're looking to buy a new ping pong paddle then you can check out our list of the top table tennis bats here.
Why do you need a case?
The last thing you want is for your new ping pong paddle to be damaged by something that could have been easily prevented. Here are a few of the reasons why we always recommend buying a case for your ping pong paddle.
1. It keeps your paddle clean
To ensure the best performance from your racket you need to keep it clean at all times. You have to try to prevent any dust from getting on the rubbers as it will cause it to lose its tackiness (stickiness) and you won't be able to generate as much spin. For more information on keeping your paddle in the best condition check out our guide to cleaning your ping pong paddle here.
2. It protects it from moisture and sunlight
Moisture is another thing that you need to be very careful of and keep away from your paddle. Try to keep your paddle away from damp and water at all times as the wood in the bat is not meant to get wet. A little bit of water when cleaning your paddle is okay but make sure to completely dry it when finished.
It will also protect it from the sun's UV rays which can cause the rubber to degrade over time and the color of the wood to fade.
3. Convenient to carry
It's pretty simple but having a case for your bat is really convenient when traveling to play at different locations. It will keep it safe from liquids and dust as well as give it some protection against accidental knocks.
Different types of cases to consider
There are a few different styles of paddle cases on the market and each has its pros and cons. Let's look at some of the common ones.
Racket shaped cases
The racket shaped cases are designed to provide compactness. They are very easy for you to carry and the bat will not move around in the case. One downside of this type of paddle case is that the edge of the case can be a bit too close to the paddle's rubber and it can damage the rubber especially if you move the case around too much. You ideally want there to be some space between the case and your paddle to prevent it from rubbing like this.
Ping Pong Paddle bags
The paddle bags are a lot better option for you to consider because they don't have those edges that we have just talked about in the case of racket shaped cases. Your paddles will remain a lot safer in these bags but there will be some extra space as well and your paddle will move around slightly within the bag.
Double bat holders
If you play with your partner (or carry a spare racket) then you will need a case that can hold more than one paddle. It's a lot more convenient this way but make sure that the bag has proper compartments made for two paddles. You don't want to force two bats into a case made for only one.
Cases with ball holders
There are a number of cases that can also carry ping pong balls too. If that's something that you want, make sure you buy one that has a specific compartment for balls and don't try to stuff them in. You can even get dedicated ball cases like this one:
A few other things to consider
Hard paddle cases vs soft cases
If you play in a lot of different locations then we'd recommend that you opt for a hard case. Ping pong paddles aren't the strongest things in the world and even a small knock can damage the bat. But, if you store your bat at home and don't see yourself traveling much then a soft case could be fine to keep away the dust and protect it from moisture.
Do you need a handle?
Some of the cases we've covered above don't have handles. Don't assume that they all do and if you want one with a handle check the specs before you purchase.
Price
As with most things in life, the more you spend the better quality you can expect. It's the same with paddle cases. We've tried to recommend cases that are reasonably priced without compromising on quality. But, it also depends on the price of your ping pong paddle. You don't want to buy a ping pong paddle case that costs more than your actual bat!
Popular Brands
We always recommend buying a case from a well-known and regarded table tennis brand. Some of our favorites are names like STIGA, JOOLA, Killerspin or Eastfield.
Table Tennis Racket Case Reviews
1. Eastfield Original Bat Case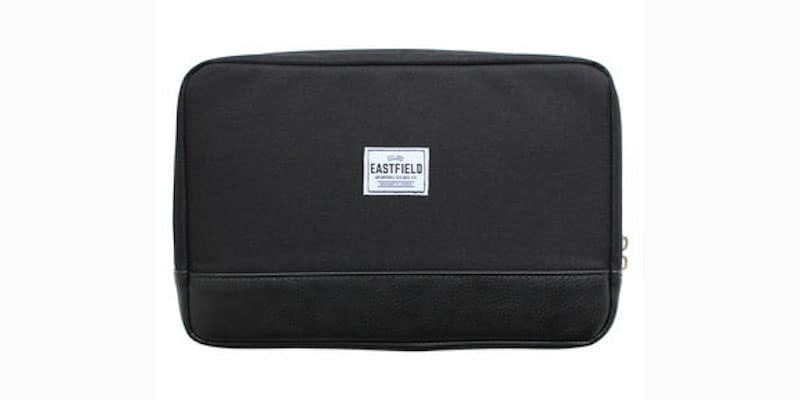 Specifications
Material: Superior quality fabric
Capacity: 1-2 rackets
Dimension: 12-inch x 9.5-inch x 0.8-inch
Our favorite paddle case is this wonderful one from British table tennis brand Eastfield. It's made from premium quality fabric to give it a durable and great looking case. It's available in two different sizes, single and double so make sure you buy the correct size. It's also available in three different colors (we like the simple black one).
Paddle bags offer the best protection and are much better than the tight fitting cases as they don't rub against the rubber which can damage it and actually cause more harm than good. That's why this is easily the best paddle case for the money.
Pros
Stylish design and look

Made from premium fabric

Available in 2-sizes (single and double)
Available in three different colors
The best protection
2. JOOLA Pocket Table Tennis Bat Cover
Specifications
Material: High-quality nylon
Capacity: 1 racket & 2 balls
Dimension: 13-inch x 8.3-inch x 1.2-inch
Our 2nd choice of paddle case is this one from world-renown table tennis brand JOOLA. It's super lightweight and compact made with a premium quality nylon that means it's durable and ideal for keeping your paddle safe. It's only got room for one racket but you'll be able to pop a couple of balls in too. We really like how well padded the inside of this case is and it feels very secure. It's also available in two different colors: blue and green which aren't the best looking but it does the job well.
Pros
Durable construction.
Space to store two balls
Available in two colors.
Lightweight and compact design.
Well padded inside
3. Killerspin Hard Table Tennis Paddle Bag
Specifications
Material: Semi-rigid polyester
Capacity: 1-2 paddles
Dimension: 11-inch x 7-inch x 2-inch
In at a close third is this case from Killerspin. It's a hard case made with semi-rigid polyester that means it's really durable and can take quite a beating making sure you paddle is kept safe inside. It's got space for two rackets and is equipped with elastic to fasten them in place. It isn't designed to hold ping pong balls but customers have reported that you could squeeze a couple of ping pong balls in down by the handles. We love the look and design and think it's one of the best-looking cases available on Amazon.
Pros
Classy design
Hard case (strong protection for your bat)
30 days limited warranty
Very reasonable price
Cons
The handle isn't as durable as the rest of the case
4. STIGA Paddle Case
Specifications
Material: Durable Vinyl
Capacity: 1-2 rackets
Dimension: 11-inch x 8-inch x 4-inch
If you are on a budget then this paddle case from STIGA could be a good option. It's made from high-quality vinyl that although is a soft case is pretty durable to keep your bats safe when you're not using them. If you're looking for a no thrills option just to keep the dust and moisture away then just grab one of these. The one thing we think that it could use though is a handle. It's not the sort of case we'd recommend if you're playing at different locations and the case will spend a lot of time in your bag.
Pros
Can hold 1 or 2 rackets
Approved by USATT
Easy open and close
Constructed with durable vinyl
Good price
Cons
It doesn't have a carrying handle
Can scratch the edges of the rubber when putting in or taking out.
5. JOOLA Tour Carrying Case
Specifications
Material: Plastic hard case with inside EVA foam-lining
Capacity: 2 rackets & 18 balls
Dimension: 12-inch x 8-inch x 4-inch
Next, we have this quality hard case from JOOLA. It's very durable and will ensure that your bats will be kept very safe. Inside it's coated with high-density EVA foam to keep your paddles snuggly in place. Remember though that not all paddles are the same size so you might need to cut the foam a little larger to fit yours. One unique thing about this case is that it has space to hold 18 table tennis balls which are also included (although they're not the best quality).
Pros
Durable hard case

Made with EVA foam lining inside
Space for two rackets
Dual snap-lock system
Can store up to 18 ping pong balls
Cons
Included balls are not ITTF approved
6. Killerspin Barracuda Carry Case
Specifications
Material: Polyester fabric and well-padded
Capacity: 1-2 rackets & 3-4 balls
Dimension: 13-inch x 9-inch x 3-inch
In at number six is another case from Killerspin: The Barracuda. It's made from durable polyester fabric that is really well padded ensuring your paddle is kept safe and secure. On top of the case is a pouch to store some ping pong balls in too, a nice feature as we're constantly losing balls! Like the other case from Killerspin the bats are held in place by an elastic strap so prevent them from falling out when you open up the case. The main issue we have with this case is that it can be difficult to put the paddles in and out, the elastic strap can catch on the rubber when you have two bats in there. We only recommend using this to store one paddle, if you want one to hold two then choose another case.
Pros
Good quality fabric
Great design and look
Pouch to store balls
Cons
Not the best handle

strap
Can be difficult to put in and out
7. Duplex Ping Pong Paddle Case
Specifications
Material: Waterproof nylon
Capacity: 1-racket & 3-balls
Dimension: 12.5-inch x 8-inch x 3-inch
If you are looking for a waterproof table tennis rackets cover then this paddle from Duplex could be a good option. It's made with durable and waterproof nylon that is completely waterproof (although I wouldn't leave it outside). It's got a nice sort of retro design that we like although might not be to everyone's taste. It has space for one paddle and a couple of balls with a good amount of foam padding inside to keep it safe. It also has a wrist strap to make carrying it a bit more convenient. Our one gripe is that the zipper isn't the best quality, something we see a lot in paddle cases.
Pros
Made from durable and waterproof nylon

Foam padded for additional protection
Very reasonable price

100% money-back guarantee
Cons
Not the best zip

Only room for one racket
8. JOOLA Aluminum Table Tennis Bat Case
Specifications
Material: Heavy-duty aluminum
Capacity: 1-racket & 3-balls
Dimension: 12.4-inch x 9.5-inch x 2.5-inch
Lastly, we have this JOOLA aluminum case. It's another hard case which is always good and will give you paddle a bit of extra protection. It's still pretty lightweight considering and inside it's well padded with foam that your rackets will slot into. You might need to cut it a bit extra to fit your bat if you have a particularly big one though. It's got space for only one bat but you can also pop three balls in too.
Pros
Foam padding inside
Durable aluminum construction
Can store one racket and 3 balls
Conclusion
We hope that this article has helped you understand some of the options when it comes to buying the best table tennis racket case. There are a lot of discussions about whether a hard or soft case is best and the fact that some cases can rub on the rubber. But we think the most important thing is just using a case. They really can prolong the life of your paddle considerably. Personally we like this one from Killerspin or the JOOLA pocket but let us know which one you go for.

Eugene (Gene) Sandoval has been one of those guys who spent too many hours around ping pong tables in high school. However, soon enough, Gene understood that there is more to ping pong than having fun. That is how he started a journey that made Eugene one of the experienced semi-professional ping pong players in the United States. As the founder of the PingPongRuler, Eugene spends most of his time surrounded by ping pong tables and research. He always has this knack for coming up with new ping pong strategies and telling the good and bad equipment apart.