The 8 Best Ping Pong Paddle Cases
Table tennis bats can be pretty expensive, and the last thing you want is to take yours out to use only to find out it's damaged. I cringe whenever I see fellow players just chuck their bats loose in their bags. Their poor bats!
For this reason, we always recommend storing yours in a ping pong paddle case to protect it and ensure it lasts for years to come.
In this post, we've put together a list of what we think are the best ping pong paddle cases on the market, as well as a buying guide to help you know what to look for when shopping around.
The Best Racket Cases
Featured Products
Table Tennis Bat Cases Buying Guide
There are a few different types of ping pong paddle covers available. But knowing which one is best and meets all your requirements can be a bit of a difficult job. To help you make the right choice we've created a quick guide covering a few of the different options to help you choose the right case for you.
Before we get started, if you're looking to buy a new ping pong paddle then you can check out our list of the top table tennis bats here.
Why Do You Need a Case?
The last thing you want is for your new ping pong paddle to become damaged by something that could have been easily prevented. Here are a few of the reasons why we always recommend buying a ping pong racket case.
1. It keeps your paddle clean
To ensure the best performance from your racket you need to keep it as clean as possible. You have to try to prevent any dust from getting on the rubbers as it will cause them to lose their grip and you won't be able to generate as much spin. For more information on keeping your paddle in the best condition check out our guide to cleaning your ping pong paddle here.
2. It protects it from moisture and sunlight
Moisture is another thing that you need to be very careful of and keep away from your paddle. Try to position your paddle away from dampness and water at all times as the wood in the bat is not meant to get wet. A little bit of water when cleaning your paddle is okay but make sure to completely dry it when finished.
Overexposure to the sun's UV rays can also cause your rubbers to degrade and the color of your blade's wood to fade.
3. Convenient to carry
A ping pong bat cover makes it easier to carry your bat around. Some come with straps which you can put around your wrist. But the main benefit is that you can safely carry your bat outside of your bag. If you accidentally drop it your cover should protect it from any damage.
Different Types of Cases to Consider
There are a few different styles of ping pong paddle cases on the market and each has its pros and cons. Let's look at some of the common ones.
Racket shaped cases
Racket-shaped cases are designed to provide compactness. They are very easy for you to carry and the bat will not move around in the case. One downside of this type of paddle case is that the edge of the case can be a bit too close to the paddle's rubber, and it can damage it over prolong periods of time if it is too tight. You ideally want there to be some space between the case and your paddle to prevent it from rubbing like this.
Double bat holders
If you play with your partner (or carry a spare racket) then you will need a case that can hold more than one paddle. Simply put, double bat cases are more convenient in these instances than carrying two single bat cases around with you. As a further point, don't force two bats into a case made for only one, you will damage them!
Cases with ball holders
Most ping pong cases can carry ping pong balls too. We recommend purchasing one with a dedicated compartment for balls so that you don't try to stuff them in and risk cracking them.
A Few Other Things to Consider
Hard paddle cases vs soft cases
If you play in a lot of different locations then we'd recommend that you opt for a hard case. Soft ping pong paddles don't provide much protection so generally they are best avoided. However, if you store your bat at home and don't see yourself traveling much then a soft case could be fine to keep away the dust and protect it from moisture.
Straps and handles
Not all cases have handles and straps so if that's something you are set on having, make sure you check the specs before you purchase.
Price
As with most things in life, the more you spend the better quality you can expect. It's the same with paddle cases. We've tried to recommend cases that are reasonably priced without compromising on quality.
Popular Brands
We usually recommend buying a case from a well-known table tennis brand. Some of the best table tennis paddle cases are made by Butterfly, STIGA, JOOLA, and Killerspin.
Types of Cases to Avoid
1. Thin cases:
The primary purpose of a bat case is for protection. A thin case means your bat is more likely to become damaged so choose one with adequate thickness.
2. Tight cases:
Although having a case that takes up minimal room is beneficial from a storage standpoint, you certainly don't want one that is tight-fitting. It will wear away at the side of your bat and likely result in rubber erosion.
3. No ball storage:
Most bat cases come with ball storage but some don't. Unless you already have an alternative means of ball storage we recommend buying a case that can fit at least 3 balls.
Table Tennis Racket Case Reviews
1. Butterfly Lojal Tour Case — Our Top Pick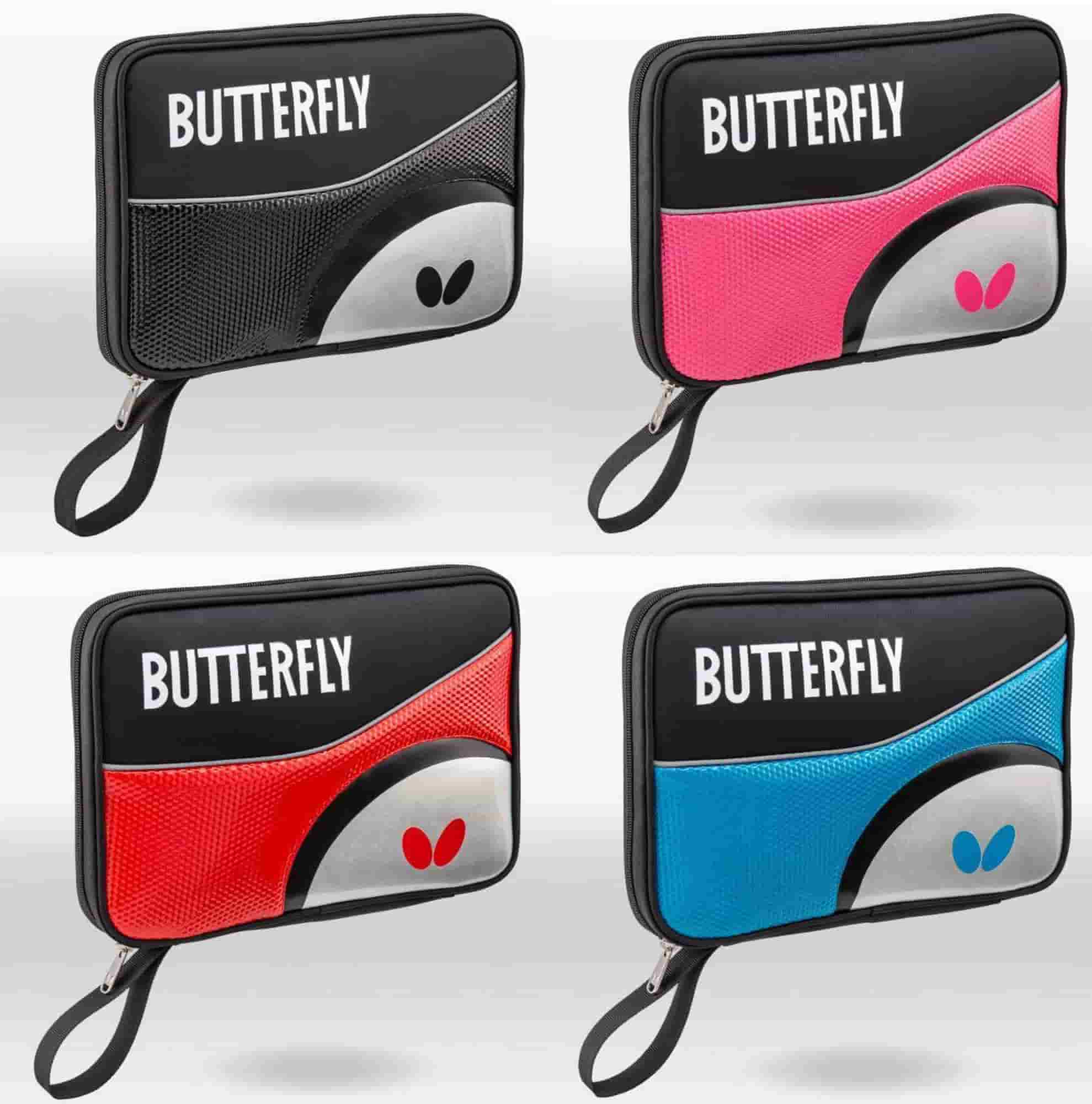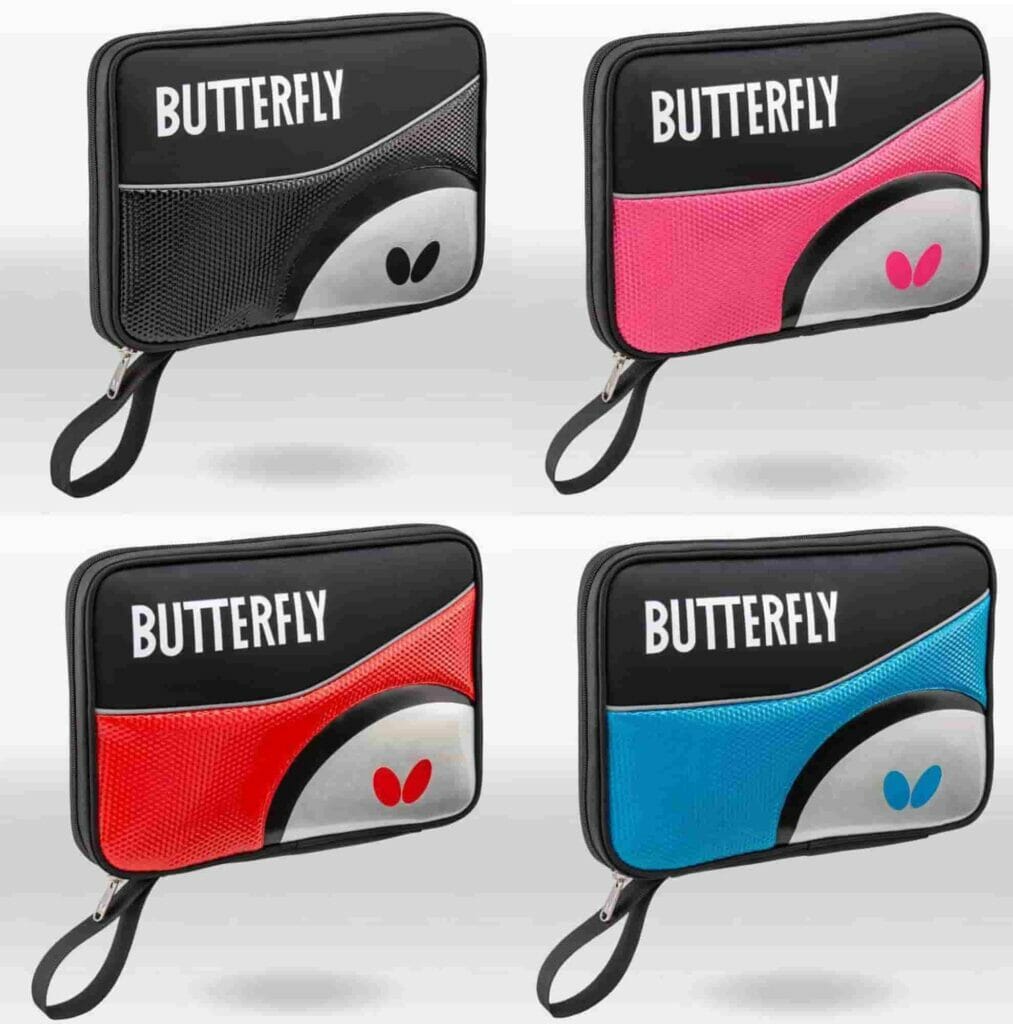 Specifications
Material: 320 denier polyester, PVC
Capacity: 2 rackets and 4 balls
Dimension: 11.3-inch x 8.3-inch x 1.6-inch
In our opinion, the best table tennis case is the Butterfly Lojal Tour case. It houses two bats and four balls which should be plenty for most people. It's primarily made from 320 denier polyester and sold in a range of four colors which all look great. As of the time of writing, sky blue and black are both sold out, but hopefully they will come back in stock soon.
The main drawback to this case is the price. It's a little on the high end, but this is what we have come to expect from a premium manufacturer like Butterfly.
Pros
Stylish design and look
Available in four different colors
Provides good protection
Carry strap
Rating: 9.5
2. JOOLA Pocket Table Tennis Bat Cover — Budget Choice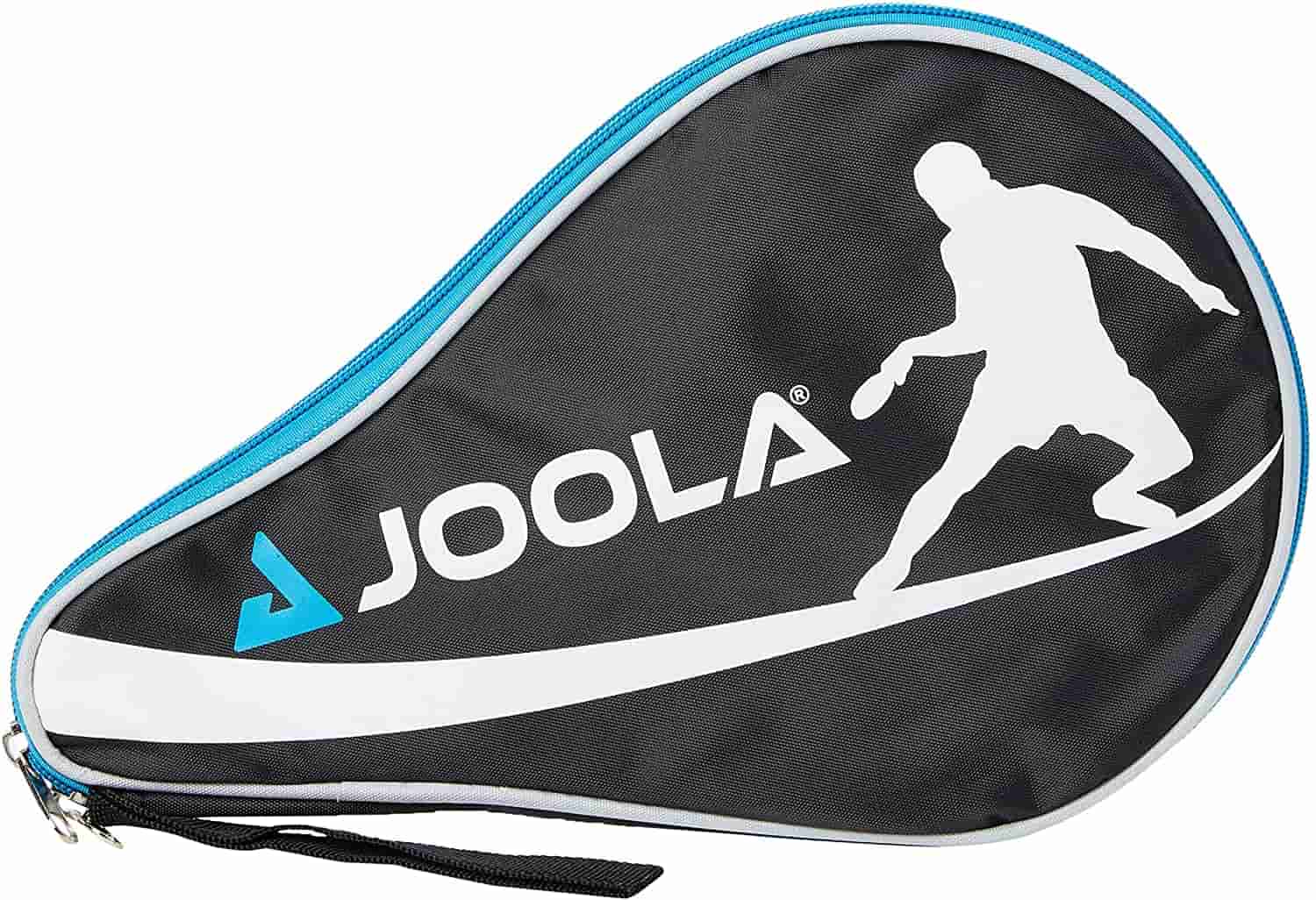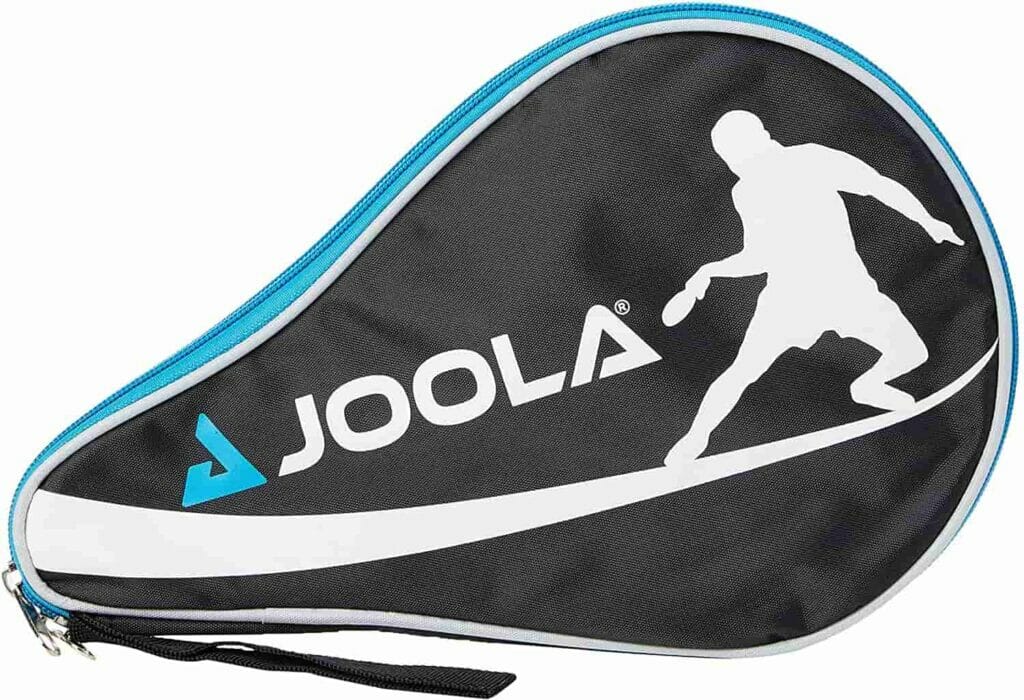 Specifications
Material: High-quality nylon
Capacity: 1 racket & 2 balls
Dimension: 13-inch x 8.3-inch x 1.2-inch
Our 2nd choice of table tennis paddle case is the pocket table tennis bat cover from world-renowned table tennis brand JOOLA. It's super lightweight and compact and made from premium quality nylon which means it's durable and ideal for keeping your paddle safe.
Unfortunately, it's only got room for one racket but you'll be able to pop a couple of balls in too. We really like how well padded the inside of this case is and it feels very secure. It's also available in two different colors: blue and green so you have a bit of choice.
Pros
Durable construction.
Space to store two balls
Available in two colors
Lightweight and compact design
Well-padded
Rating: 9.3
3. Killerspin Hard Ping Pong Paddle Bag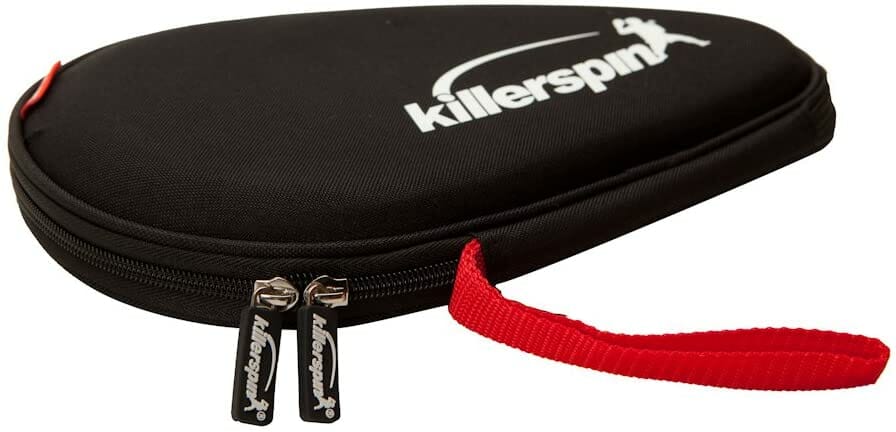 Specifications
Material: Semi-rigid polyester
Capacity: 2 rackets
Dimension: 11-inch x 7-inch x 2-inch
Next up we have our first case from Killerspin. It's a hard case made with semi-rigid polyester. This means it's really durable and can take quite a beating. It's got space for two rackets and is equipped with elastic to fasten them in place. It isn't designed to hold ping pong balls but customers have reported that you could squeeze a couple of balls next to the handles. We love the look and design and think it's one of the coolest cases available on Amazon.
Pros
Classy design
Hard case (strong protection for your bat)
30 days limited warranty
Very reasonable price
Cons
No dedicated ball storage
The handle isn't as durable as the rest of the case
Rating: 8.7
4. STIGA Paddle Case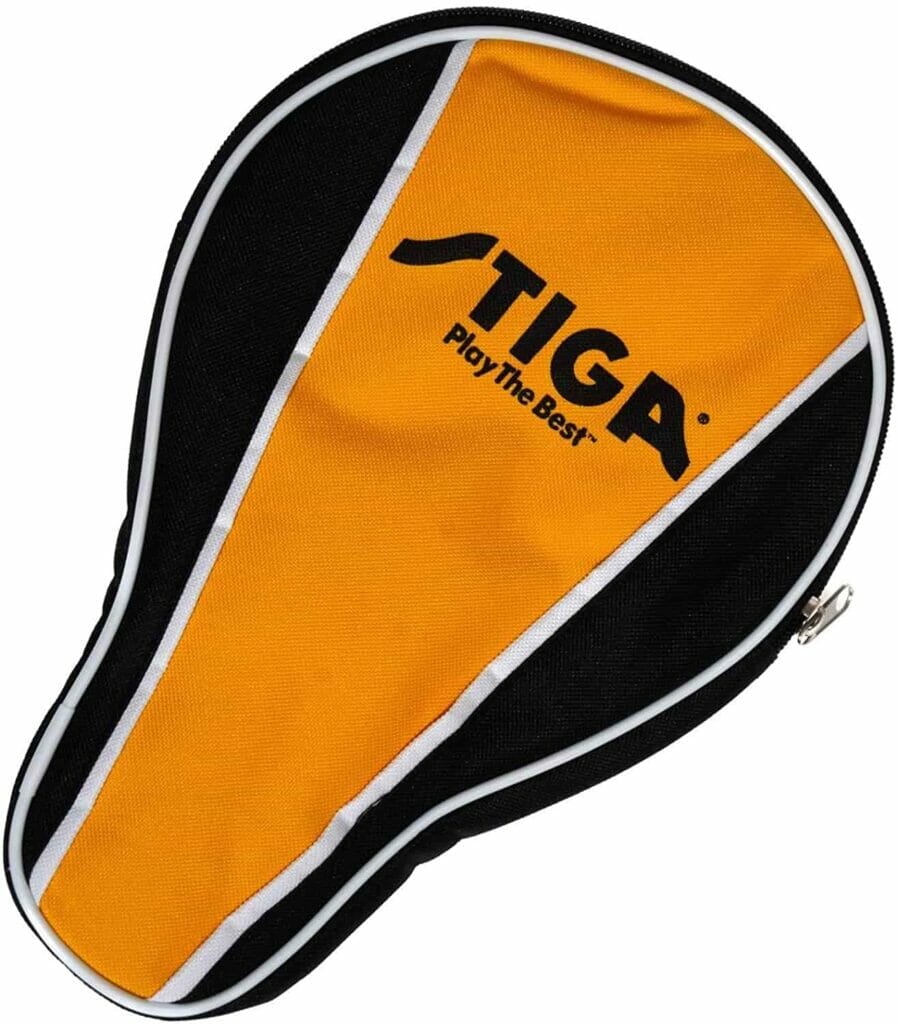 Specifications
Material: Durable Vinyl
Capacity: 2 rackets
Dimension: 11-inch x 8-inch x 4-inch
The glaring issue with this case is that it has no ball storage. We wouldn't usually recommend such a case, but if you are on a budget and want something that's great-looking and super basic it could be a good option. It's made from high-quality vinyl so it's fairly soft but also pretty durable to keep your bats safe when you're not using them.
Given the lack of ball storage, we recommend purchasing a ball case separately to ensure your balls do not get cracked in your bag.
Pros
Can hold 2 rackets
Approved by USATT
Easy open and close
Constructed with durable vinyl
Good price
Cons
No ball storage
It doesn't have a carrying handle
Can scratch the edges of the rubber when putting in or taking out.
Rating: 7.8
5. JOOLA Tour Carrying Case — Best Protection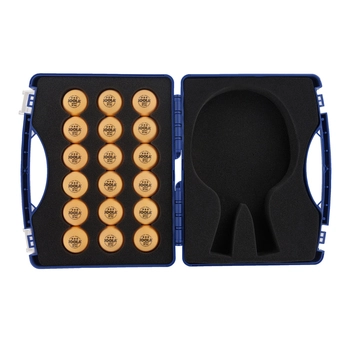 Specifications
Material: Plastic hard case with inside EVA foam-lining
Capacity: 2 rackets & 18 balls
Dimension: 12-inch x 8-inch x 4-inch
Next, we have this quality hard case from JOOLA. It's very strong and durable which guarantees your bats will be kept safe. Inside it's coated with high-density EVA foam to keep your paddles snuggly in place. One unique thing about this case is that it has space to hold 18 table tennis balls which are also included (although they're not the best quality).
The main issue with this case is its feel and appearance. Yes, it can fit a tonne of balls, but it's pretty big and looks like a toolbox. Certainly one of the worst-looking cases on this list. It's also made from plastic so it feels quite cheap.
Pros
Durable hard case

EVA foam lining inside
Space for two rackets
Dual snap-lock system
Can store up to 18 ping pong balls
Cons
Looks like a toolbox
Feels cheap
Included balls are not ITTF approved
Rating: 9.3
6. Killerspin Barracuda Carry Case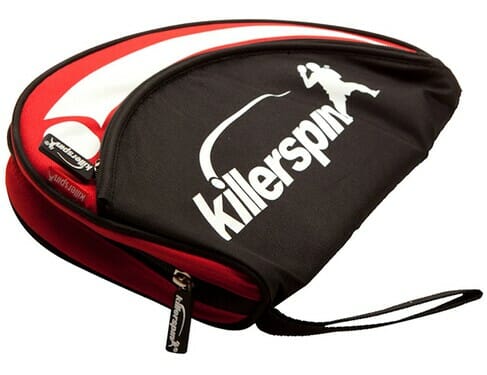 Specifications
Material: Polyester fabric
Capacity: 2 rackets & 4 balls
Dimension: 13-inch x 9-inch x 3-inch
Next up is our second ping pong paddle case by Killerspin: the Barracuda. It's made from durable polyester fabric that is really well padded, ensuring your paddle is kept safe and secure. On top of the case is a roomy pouch to store some ping pong balls in too.
Like the other case from Killerspin the bats are held in place by an elastic strap to prevent them from falling out when you open up the case. The main issue we have with this model is that it can be difficult to take the paddles in and out. The elastic strap can catch on the rubber when you have two bats in there. We only recommend using this to store one paddle, if you want a case to hold two bats another model may be a better option.
Pros
Good quality fabric
Great design and look
Store 4 balls
Cons
Not the best handle

strap
Can be difficult to put in and out
Rating: 8.8
7. Duplex Ping Pong Paddle Case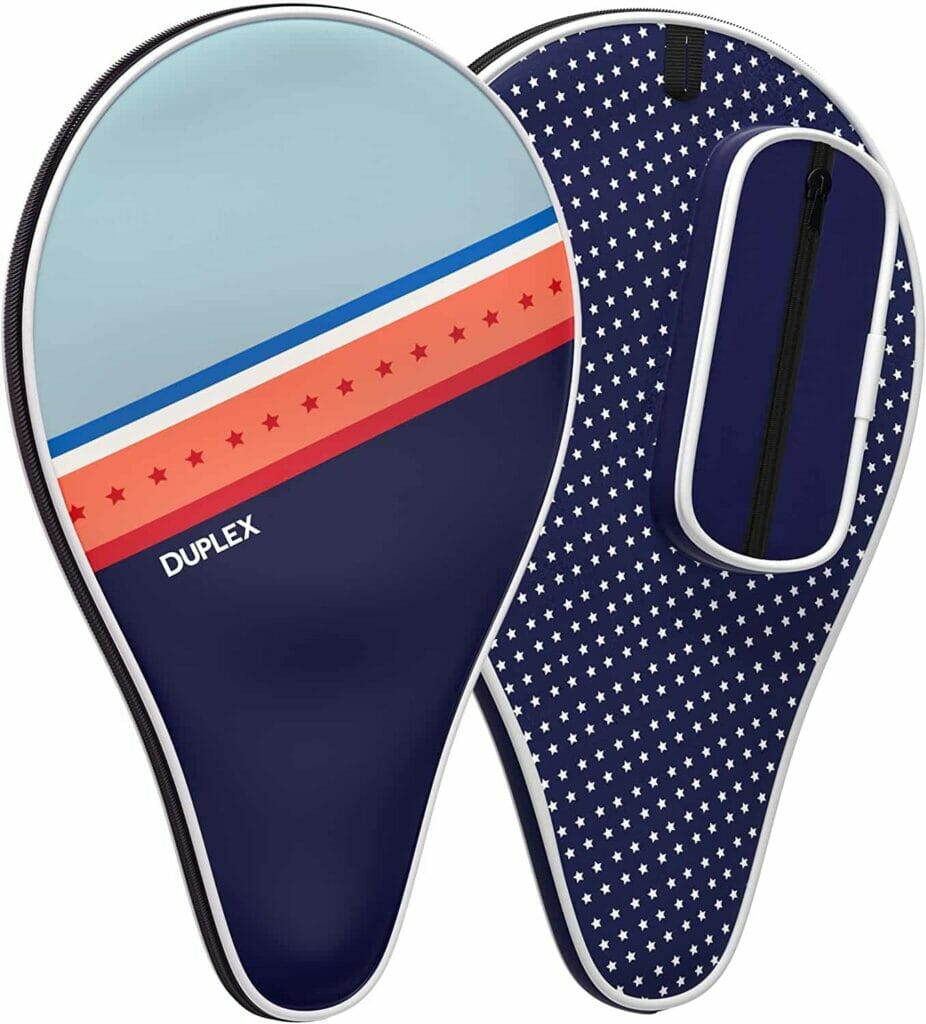 Specifications
Material: Waterproof nylon
Capacity: 1 racket & 3 balls
Dimension: 12.5-inch x 8-inch x 3-inch
If you are looking for a waterproof table tennis racket cover then this paddle case from Duplex could be a good option. It's made with durable and waterproof nylon (although I wouldn't leave it outside). It's also got a nice sort of retro design that we like although it might not be to everyone's taste.
The case has space for one paddle and a couple of balls with a good amount of foam padding inside to keep your equipment safe. Furthermore, it has a wrist strap to make carrying it a bit more convenient. Our one gripe is that the zipper isn't the best quality, something we see a lot in paddle cases.
Pros
Made from durable and waterproof nylon

Foam padded for additional protection
Very reasonable price

100% money-back guarantee
Cons
Not the best zip

Only room for one racket
Rating: 8.5
8. CM Table Tennis Racket Case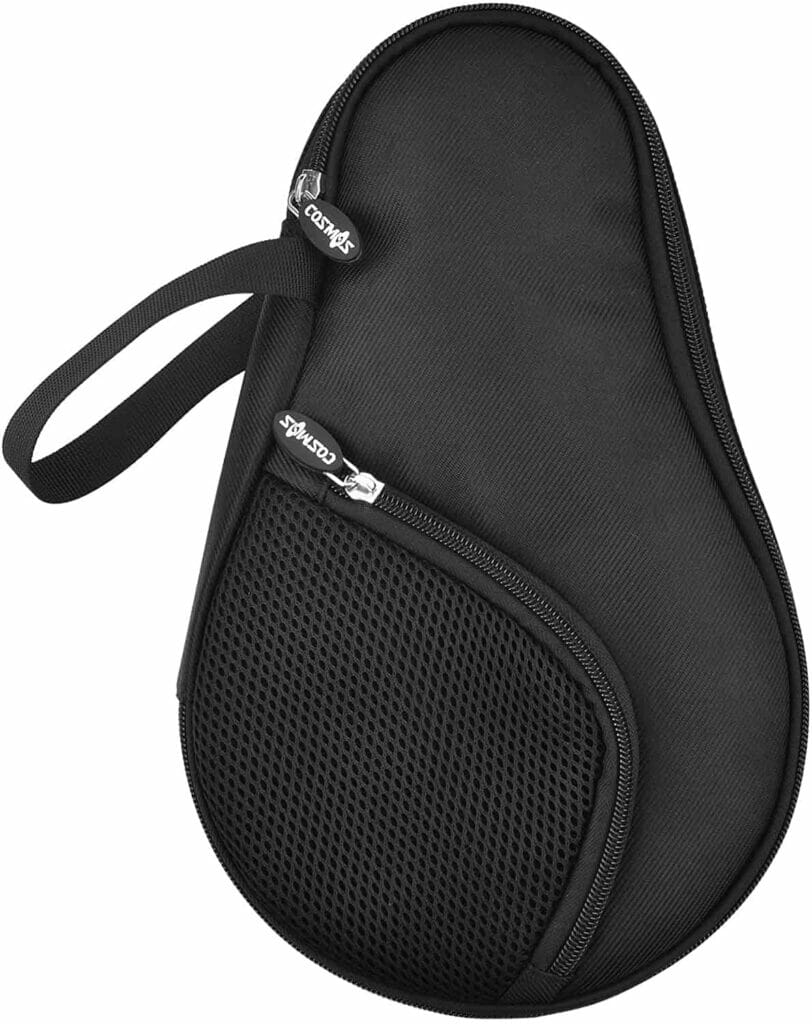 Specifications
Material: Unlisted
Capacity: 2 bats and 5 balls
Dimension: 12-inch x 7.3-inch x 2.5-inch
Last up we have a budget choice in the form of the CM table tennis bat case. We are not sure what it is made of as CM did not list this info. However, the listing does state that there is a water-resistant layer which is a huge advantage going for it.
The case is sold in two versions: the single and double case. We have opted for the double case as it is not that much bigger, and it is always a good idea to bring around a spare bat in the event your primary paddle becomes damaged.
Inside is a mesh section and elasticated strap. These help keep your bat in place although you don't really need to use them if you don't want to. You can also store up to five balls which is certainly above average.
Pros
Inexpensive
Water-resistant
Fits five balls
Rating: 9.2
FAQs
How Do You Protect a Ping Pong Paddle?
There are a few ways to protect your paddle but undoubtedly the best way is to purchase a bat case for your paddle when it is not in use. You could also consider purchasing edge tape or transparent protection sheets for your rubbers.
Can I Put My Paddle Case Into a Washing Machine?
I've never tried putting my paddle case into the washing machine and I would not recommend doing so. No listing that I have seen specifies that their cases are machine washable. If you need to clean your case I recommend doing so by hand.
What to Spot Clean it With?
I would recommend carefully cleaning it with a little bit of warm water and detergent or washing up liquid. Avoid anything too harsh and if your bat case material is fragile, I wouldn't recommend washing it at all.
Conclusion
We hope that this article has helped you understand some of the options when it comes to buying the best table tennis racket case. We wouldn't recommend over-thinking it, as a case is a relatively simple purchase compared to choosing your rubbers or blade. Just choose something that is functional and that you like the look of!
Our favorite ping pong paddle case is the Butterfly Lojal Tour Case. We feel it has the best appearance and it has plenty of space for your bats and balls. However, we understand it's a little pricey. If you want a cheaper option, perhaps consider the JOOLA pocket case instead. It's very cheap, looks great, and is a top option if you only carry one bat around with you.

Eugene (Gene) Sandoval has been one of those guys who spent too many hours around ping pong tables in high school. However, soon enough, Gene understood that there is more to ping pong than having fun. That is how he started a journey that made Eugene one of the experienced semi-professional ping pong players in the United States. As the founder of the PingPongRuler, Eugene spends most of his time surrounded by ping pong tables and research. He always has this knack for coming up with new ping pong strategies and telling the good and bad equipment apart.