The 9 Best Ping Pong Tabletops
If you're looking for a ping pong tabletop to convert your pool or billiards table into a table tennis table then we've put together some reviews of our favorite ones for you to take a look at.
The Best Ping Pong Tabletops
How To Choose a Ping Pong Conversion Top
Before we move on to our favorite table tennis tops for pool tables or indeed any other table, we thought we'd cover some of the things you need to be looking out for when choosing one.
What is a Conversion Top?
I guess the first thing to cover is what is a ping pong conversion top? Well, they're essentially ping pong table top for a pool table. Or a ping pong table without the legs and frame. This allows you to maneuver them onto a different table that you already own (like a pool or dining room table). The benefit of this is you don't have to have two or more large tables in one room and can utilize your space a lot better. If making even more out of your space is important to you consider purchasing a multi-game table. These can include up to 12 games in just one table!
Features you need to look for
Not all conversion tops are created equally and there are a number of features you need to look out for when choosing one. Some are nice to have while others are absolutely essential.
Dimensions
The first thing to consider is the dimensions of the ping pong top for your pool table and what table you're going to be putting it on. The last thing you want is to purchase a ping pong conversion top to find out it doesn't fit or is too large for the table you're placing it on. Every conversion top has recommended minimum dimensions for the underlying table, so get your tape measure out and see what it is before you hit buy.
Thickness of the top
One of the key features of any ping pong table is the thickness of the table's surface. This is what affects the bounce of the ball and the thicker the table is the better the ball will bounce. Official tournaments use 25mm (1″) tabletops and won't play on anything less than that. Conversion tops, however, are considerably less thick than this as they're aimed at the recreational market who aren't looking for competition-level gaming.
We'd recommend getting at least a 15mm (5/8″) thick surface for casual games as anything less than this will mean the ping pong ball won't bounce well. The more expensive tables tend to be thicker though, and we suggest going as thick as your budget can afford.
Read more: If you have the space, we think you're better off researching the best ping pong tables.
Foam backing or pads
One essential feature of a ping pong table conversion topper is the PVC or EVA foam backing or pads on the underside. This is to protect the table you're putting it on top of to prevent it from scratching or damaging its surface.
Don't buy one without this as you'll regret it. Conversion tops are quite heavy and will move around a bit as people knock into them during gameplay. This causes them to shift and potentially scratch the table it is resting on. If the foam backing gets damaged or begins to wear make sure you replace that too.
Net
The last feature to consider is the net on your ping pong conversion top. All the toppers we recommend come with one but they may not be that good. If you want to see some of the other net and post sets we recommend you can read our list of the best ping pong nets and posts here.
Brands
When it comes to which brands make the best conversion tops we always recommend going for a well-established table tennis brand like JOOLA, STIGA, or Butterfly. That being said, there are a couple of decent conversion tops from brands that aren't well known in the table tennis world like Martin Kilpatrick who make a very popular conversion top.
Ping Pong Table Conversion Top Reviews
Now that we've covered some of the things to look for let's move on to our ping pong conversion top reviews and see which ones we recommend.
1. The JOOLA Regulation Size Conversion Top

Specifications:
Our Review
Up first is this model from JOOLA. It has got a 5/8″ thick table surface that's made from MDF (just like real table tennis tables) and is the full regulation size (9 x 5 feet) of a full-size table. It looks remarkably like the JOOLA Inside table tennis table and we think it might be the same tabletop but without the undercarriage.
This table tennis top for your pool table comes in two pieces which makes it really easy to move around and can be set up in under 5 minutes. The table surface is also protected by a 1.5″ steel apron so it feels more like an actual full-size table tennis table.
It's intended for use on pool tables but will fit most tables up to 8 feet. To prevent it from damaging your billiards table it comes with 10 foam pads to stop scratches and scrapes. It also comes with a net and posts set so you can play straight away.
Overall we think this is one of the best toppers on the market and it will feel a lot like the real thing. It's got over 200 five-star reviews on Amazon and gets our third spot. The one downside is that the net and posts are not the best quality, we would probably consider replacing the included net with a premium one.
2. The JOOLA Tetra Ping Pong Top

Specifications:
Our Review
Next up is the JOOLA Tetra ping pong tabletop. It's a 9 x 5-foot regulation size topper that can fit on top of a pool, air hockey, or even a dining room table as long as they are a minimum of 7 x 3-feet. It's very easy to set up and you can be ready to go in under three minutes! It is actually made up of two separate halves and each half folds to make it really compact and easy to store when not in use. The table surface is only 12mm thick which is a little thinner than we'd like to see. It should be fine for very casual games, but the bounce will not be the best — if you're a more serious player we wouldn't recommend this one. On the underside of the tabletop, you can stick the included protective pads to prevent it from causing any damage.
To sum up the Tetra, it's a functional, very low cost (it's currently the cheapest topper that we looked at) option for those looking for an entry-level conversion top to get playing ping pong quickly. Because of the price, it's not the best quality and it's a shame that the surface is only 12mm which is a little too thin. Some customers also reported that it arrived damaged, but on the whole, the Tetra gets good reviews.
3. STIGA Premium Table Tennis Conversion Top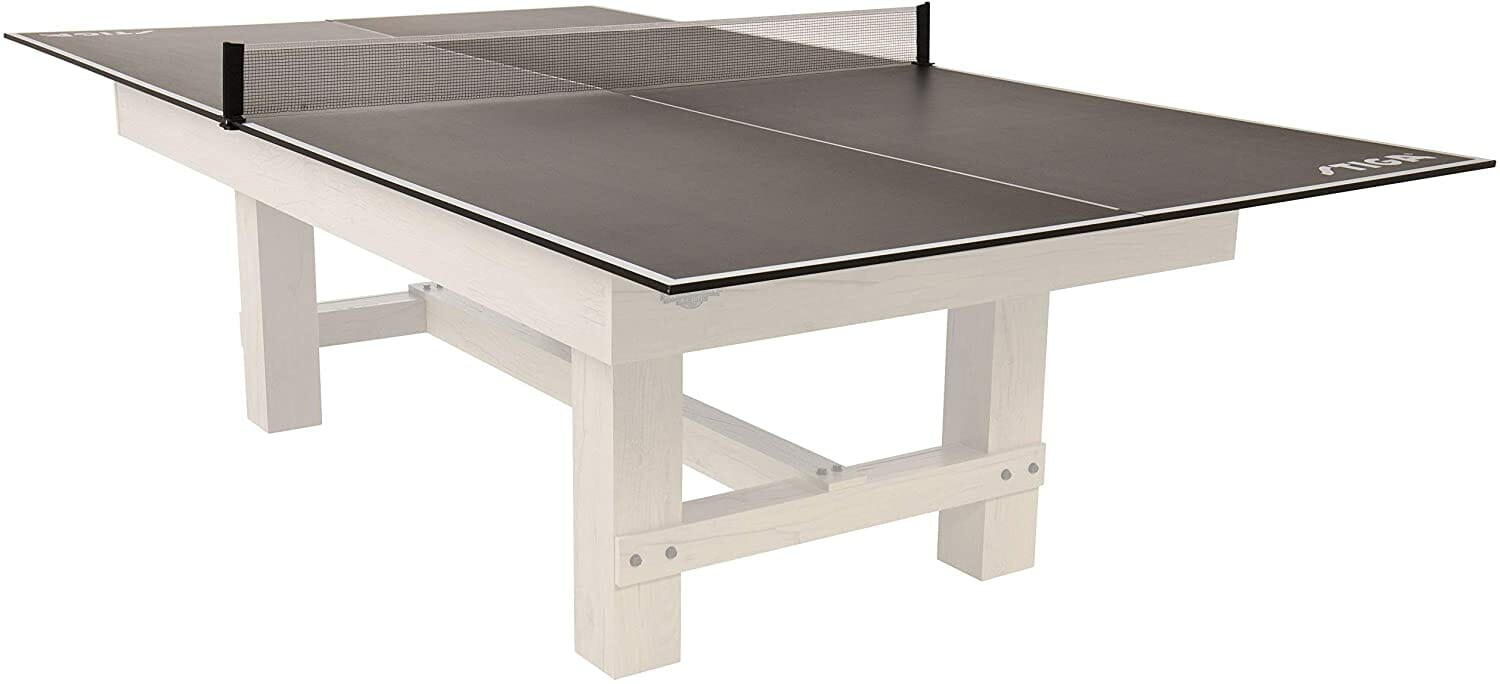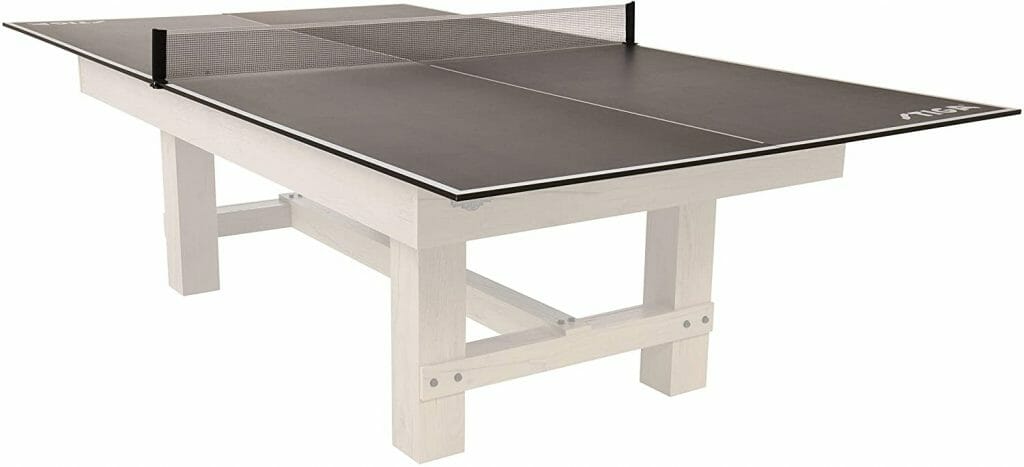 Specifications:
Our Review
Up next is the STIGA premium table tennis conversion top, which has a 15mm (5/8″) thick table surface. We usually recommend getting at least an 18mm thick surface, as any less leads to a sub-par bounce. However, given the reputable Stiga is the manufacturer of this product we are willing to give it the benefit of the doubt.
Unlike many of the others, it comes in a four-piece design that makes it even easier to store. The padding on the bottom of the ping pong conversion top is also excellent and should protect your pool or dining table well. In conclusion, this top plays nicely despite the less-than-ideal thickness.
4. Eastpoint Sports Table Tennis Conversion Top

Specifications:
Our Review
This table tennis conversion top from Eastpoint Sports is a regulation size ( 9 x 5 ft) tabletop with a 12mm thick (1/2″) surface that splits into two pieces to make setting it up a bit easier. Each half is foldable so it stores very compactly when not in use. It comes with foam pads to prevent scratches although we think you'll want to get some extra foam protectors as they seem a little inadequate. There are a few other drawbacks that we noticed such as the two sides not quite aligning which was a bit frustrating, and also the table would sag slightly in the middle. However, the latter fixes easily by popping something underneath to give it a little extra support.
To sum up, we like the EastPoint conversion top and consider it to be a very affordable option. But know that it is only suitable for beginners, not advanced players, it has too thin of a surface to get our full blessing.
5. Butterfly Pool Table Conversion Top

Specifications:
Our Review
One of our favorite tables is this pool table ping pong top from Butterfly. If you've ever tried one of their ping pong tables you'll fall in love with the quality and they're generally considered one of the top manufacturers of tables. This tabletop has a great 19mm thick (3/4″) top that gives a really nice consistent bounce over the whole playing surface. It's protected by a metal table apron too to give it adequate support and prevent any knocks from damaging the surface. Plus each corner is protected by magenta corner protectors. It's also available in two colors: blue and green depending on your preference. If you have a particularly large pool table this Butterfly conversion top is a great choice as the apron is removable. This allows you to use it on pool tables that are up to 8 foot long.
To make the table easier to assemble it splits into two halves so it's not too heavy, although you'll probably still need two people to assemble it as it's pretty big. Just clip the two halves together and attach the net and posts and you'll be playing in minutes. To protect your pool table, the underside of the tabletop is completely covered with a foam backing so it won't scratch or damage the surface you put it on.
We're big fans of Butterfly tables and this ping pong conversion top doesn't disappoint. It's on the higher end cost-wise but you get a lot more value in the thicker table surface and the foam backing. It also comes with a 3-year warranty in case of any defects.
6. Rally & Roar Conversion Top

Specifications:
Our Review
Now we'd never heard of Rally & Roar until looking at this conversion table, but it was getting some very positive reviews on Amazon so we thought we'd take a look. At first glance, it has all the features you want. It splits into two pieces and clips together easily, has a 5/8″ thick surface, and has a 3mm thick foam backing to prevent any damage to the table you're putting it on top of.
Weighing in at just over 100lbs it's a pretty heavy top but it feels very solid and durable which is a good thing. You'll definitely need two people when setting it up though. It comes with a net and posts which aren't the greatest nets we've seen. We recommend replacing these with a more premium net as we don't think it will last long. But on the whole, it's not bad and considering the price, it's good value for money.
7. Viper 3-in-1

Specifications:
Our Review
At 28 pounds, the Viper 3-in-1 is the lightest conversion top on this list. It's built for more recreational players of table tennis and that shows with the quality of the surface. It is just 6mm thick which is far too thin for a quality table tennis experience, we strongly recommend skilled players steer clear of this one — casual players only!
The main advantage of this particular ping pong conversion top is that converts into a board for chess, backgammon, and checkers. It is also fairly cheap so it could be a good buy if you're looking for multiple forms of entertainment.
While not the best table tennis conversion top out there, what it lacks in sheer quality it makes up for in versatility. Being able to play 3 different games might be a real advantage to those who aren't too serious about table tennis.
We recommend going for this table if you're an intermediate or advanced player. However, in all honesty, it doesn't make much sense to choose this model over the ping pong conversion top by Butterfly. Simply put, it's more expensive, and doesn't have the long-standing trust of the table tennis community as it is an unknown brand.
9. Martin Kilpatrick Pool Table Conversion Top


Specifications:
Our Review
Martin Kilpatrick may be a brand you are unfamiliar with when it comes to table tennis products but reserve your judgment. It is certainly an outlier in the best possible way. Manufactured in the same factory as Butterfly tables it is unsurprisingly of very high quality. The top is held firm by 1 1/2″ metal rails which connect via a dove-tail style bracket. Included with the table are adhesive pads you stick on to protect the surface of your underlying table. We would prefer wider foam coverage, but ultimately it provides good protection. You can always buy additional foam backing if you're concerned about scratches.
A great feature of this model are the locking halves. This prevents the conversion top from sliding around during play — an issue prevalent in lower-quality products. The main issue with this otherwise amazing tabletop is the net. It's by no means terrible, but it is undoubtedly its weakest area. The net connects to the dove-tail style brackets which mean there is no option to adjust, and it's harder to replace if you damage it. A benefit of this, however, is that it is compatible with a wider range of pool tables. This ping pong tabletop fits pool tables that are up to 5 foot wide.
You might also like to know that the table comes with bats and balls included. We expect most of you already have your own. But if not, you can still get playing straight away. While all these features are pretty great, you still might not be sold. And we understand, you probably want to stick to well-known table tennis manufacturers. But you really shouldn't fret, Martin Kilpatrick includes a 3-years warranty which matches Butterfly. Pretty incredible if you ask us.
The table comes in 3 colors: blue, green and grey. So you've got a little bit of choice in regards to what you want to go for.
Frequently Asked Questions
What Material is the Top of a Ping Pong Table?
All conversion top ping pong tables use wood as their playing surface. This is so that the ball bounces consistently and at the right height. Some outdoor tables use a mix of other materials such as metal and resin but the bounce quality can never match that of wood.
Can You Put a Ping Pong Tabletop on a Regular Table?
On most occasions yes! Ping pong tops are not just for pool tables, but a wide variety of other furniture. Just pay attention to the size of the table you are working with. Ideally, you don't want it to be too small or too large. You want to be close enough to reach the net for short balls. Equally, you don't want the conversion top to overhang too much from the underlying table as this will make it unstable. Also, pay attention to the net you have. If you are using a clip-on net it needs a little overhang to attach.
What is the Size of a Ping Pong Tabletop?
Almost all ping pong tabletops are full size. This means they measure 9 x 5 feet so you can play true table tennis and perform every kind of shot to your heart's content.
Is it Easy to Setup and Remove a Ping Pong Conversion Top?
The process is very simple. Unlike actual table tennis tables which often require a little bit of assembly, ping pong conversion tops have virtually none. Usually, all you have to do is unfold the conversion top, lay it on your table, and fit the net. We are talking less than five minutes here. However, with some models, you might have to stick on the adhesive foam pads before you can use it. This should take around a minute or so. Removing the table is just as easy. Fold up the table once again and store it out of the way where it will not get damaged.
The below video shows the setup of the 4-piece JOOLA Tetra.
How Do I Clean a Ping Pong Tabletop?
After repeated use, your conversion top can become dirty so it's necessary to clean it. You clean a ping pong conversion top the same way you would clean a regular ping pong table. You can do this a few different ways but what you should certainly avoid is harsh chemicals as this may damage the playing surface. We recommend using a diluted vinegar solution or just plain old water to rid your conversion top of dust and dirt.
How Do You Replace a Ping Pong Tabletop?
If your ping pong tabletop becomes damaged while it is still under warranty, simply get in contact with the manufacturer and they will either refund you or send a replacement. Alternatively, if your top is out of warranty you will just have to purchase a replacement. You might even be able to salvage some parts for your new model such as the foam backing and net.
Conclusion
To conclude, although we love the Martin Kilpatrick ping pong tabletop and it really surprised us in terms of quality. There is just no beating the Butterfly pool table top. As one of the top table tennis manufacturers, you just know that their product is very high quality.
In the end, there wasn't much to separate the two. It only came down to wider foam coverage and a superior net on the part of the Butterfly's model. To be honest, you can't go wrong with either of these ping pong tabletops. Even advanced players will be happy to use them
However, if you're really on a budget, we'd probably suggest either going with the JOOLA Tetra (which is the cheapest model) or the JOOLA regulation size conversion top which is a little more money but has a nice 15mm thick surface.
So we hope that helps to narrow down some of the best ping pong conversion tops available. We'll continue to monitor any new ones that come out and add to this post if we see any that look promising.

Freelance writer. Table tennis enthusiast. Lover of all things online. When I'm not working on my loop game I'm probably binge-watching some fantasy show.