STIGA Advantage Review — The Best Budget Table?
If you're looking for a table tennis table with a mid-range price tag and plenty of appealing and practical features, then the STIGA Advantage is a great option. Since its release, the Advantage series has gathered over 5000 five-star reviews on Amazon and is one of our most recommended ping pong tables.
From a brand with a reputation like STIGA, I'm hardly surprised! Let's take a dive into the specs of this table to see if it's a great fit for you.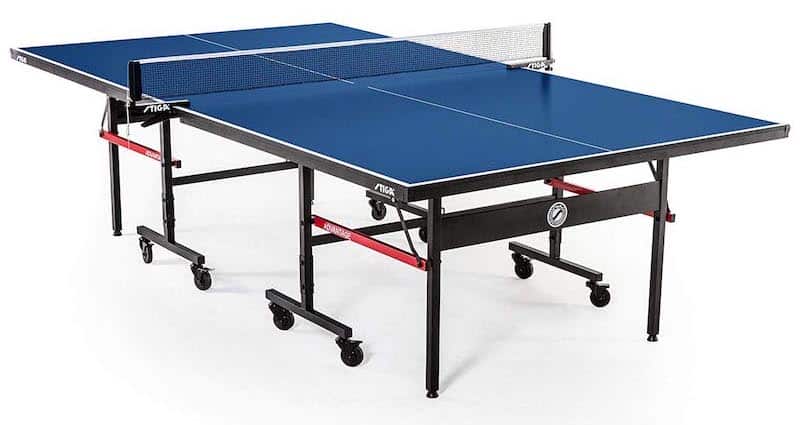 Table Top Quality: ★★☆☆☆
Build Quality: ★★★☆☆
Overall Rating: ★★★☆☆
Pros
Cheap and quick to assemble.
Cons
Thin table top.
Specifications
Dimensions – 9 ft x 5 ft (Regulation size)
Assembly time – 10 minutes (comes 95% preassembled)
Surface thickness – 5/8″ (16mm)
Weight – 181 lbs
Price – $$ (Check the latest price on Amazon)
Our rating – 7.2/10
Overview of the STIGA Advantage
5/8″ Thick Table Surface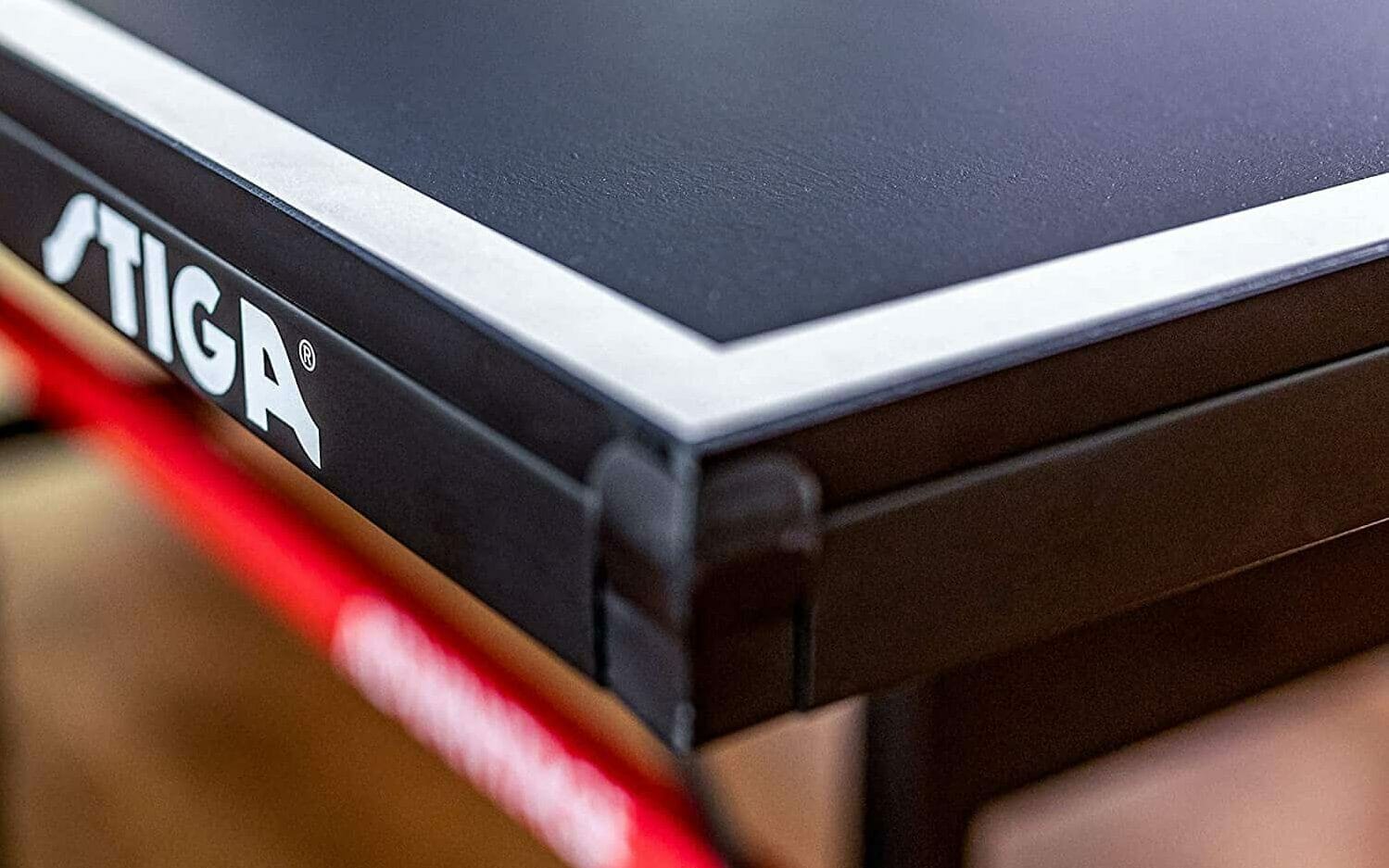 If you've read our table tennis table buying guide, you'll have learned that the most important thing to look for in a ping pong table is the thickness of the table's surface. This is because the thicker the table's surface, the better the bounce will be.
With a thickness of 5/8″ (16mm), the STIGA Advantage indoor table tennis table has quite a thin surface compared to other models. Usually, we recommend 18mm as a minimum for more serious players. Therefore, this table is more suited for a casual audience.
Strong Durable Frame
Having a good ping pong table surface is pointless if the undercarriage that supports it is weak and not well made. Thankfully that's not the case with the STIGA Advantage ping pong table, as it features 1.2 inch (30mm) sturdy legs made from steel. They are coated with a premium black matte powder finish which looks great.
On the end of each leg are handy height adjusters than enable you to lower or raise the table's surface depending on the levelness of where you're playing. There's nothing worse than a ping pong table that isn't completely flat!
Unbelievably Quick Set-Up and Assembly
Some table tennis tables can take over two hours to set up. They arrive completely in parts and require you to put every single nut and bolt together. It can be very difficult as ping pong tables are notoriously heavy, often requiring two or more people for bulkier models.
But the STIGA Advantage table tennis table is the complete opposite. It comes 95% preassembled, and from getting it out of the box to hitting the first ball, it takes an unbelievable 10 minutes. All you need to do is attach eight bolts to the legs, and you're good to go. It couldn't be any easier! We certainly wouldn't recommend you purchase the expert assembly that Amazon offers. It really isn't necessary.
Great Portability and Easy to Store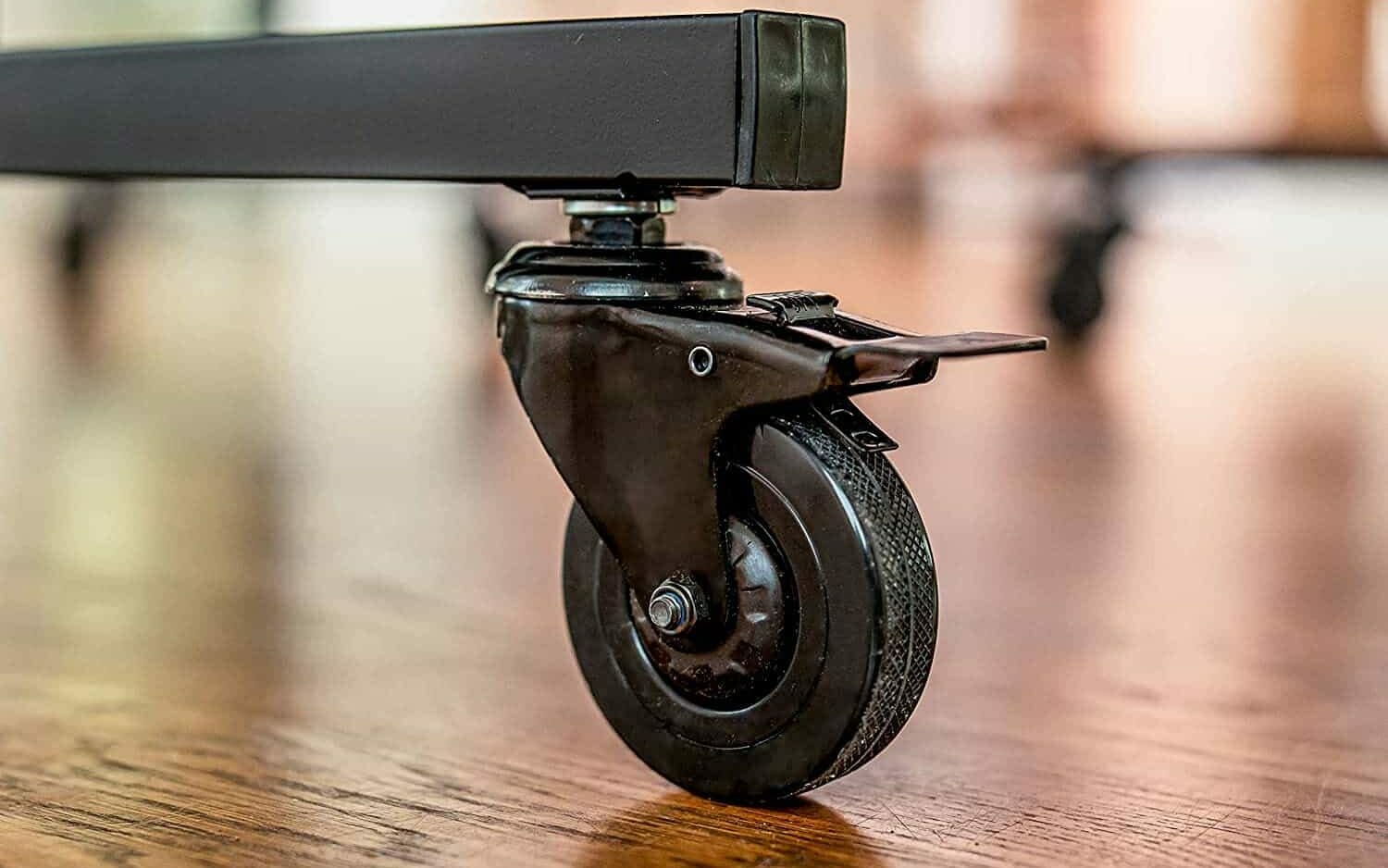 When deciding which table to buy, an important feature is that it's easy to store and put away when it's not in use. The STIGA Advantage indoor table tennis table conveniently splits into two halves, making it very easy to fold away. When you unfold the table from its storage position, the legs automatically deploy, which is a great feature for both ease of use and safety.
When folded up, you can nest the two table halves together for ultimate compactivity. In fact, its storage dimensions measure only 60 inches x 28 inches. The table comes equipped with 8×3″ caster wheels making it very portable as you can roll each half to wherever you want it. Then once it's in position, the wheels lock for safety to ensure it stays put.
Playback Position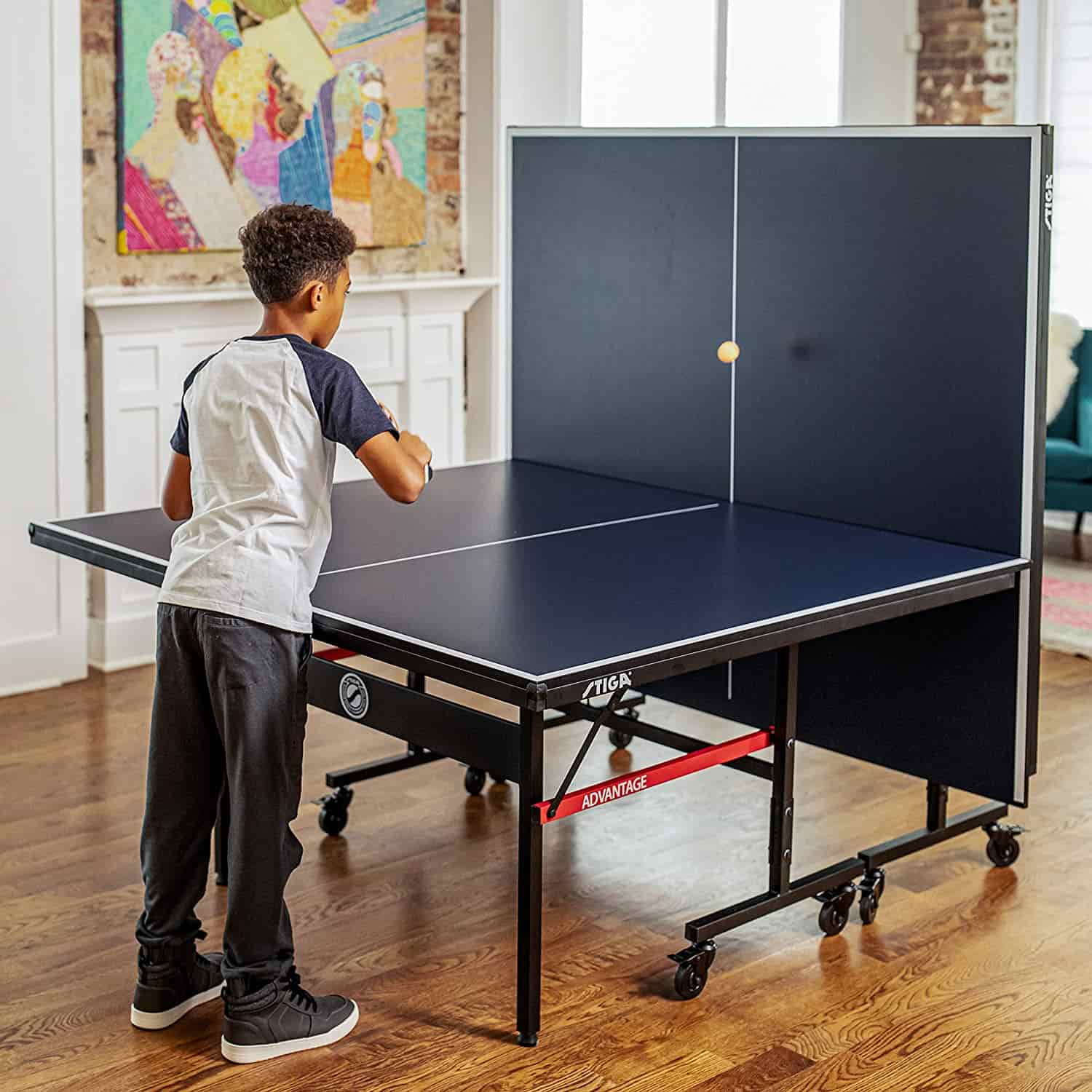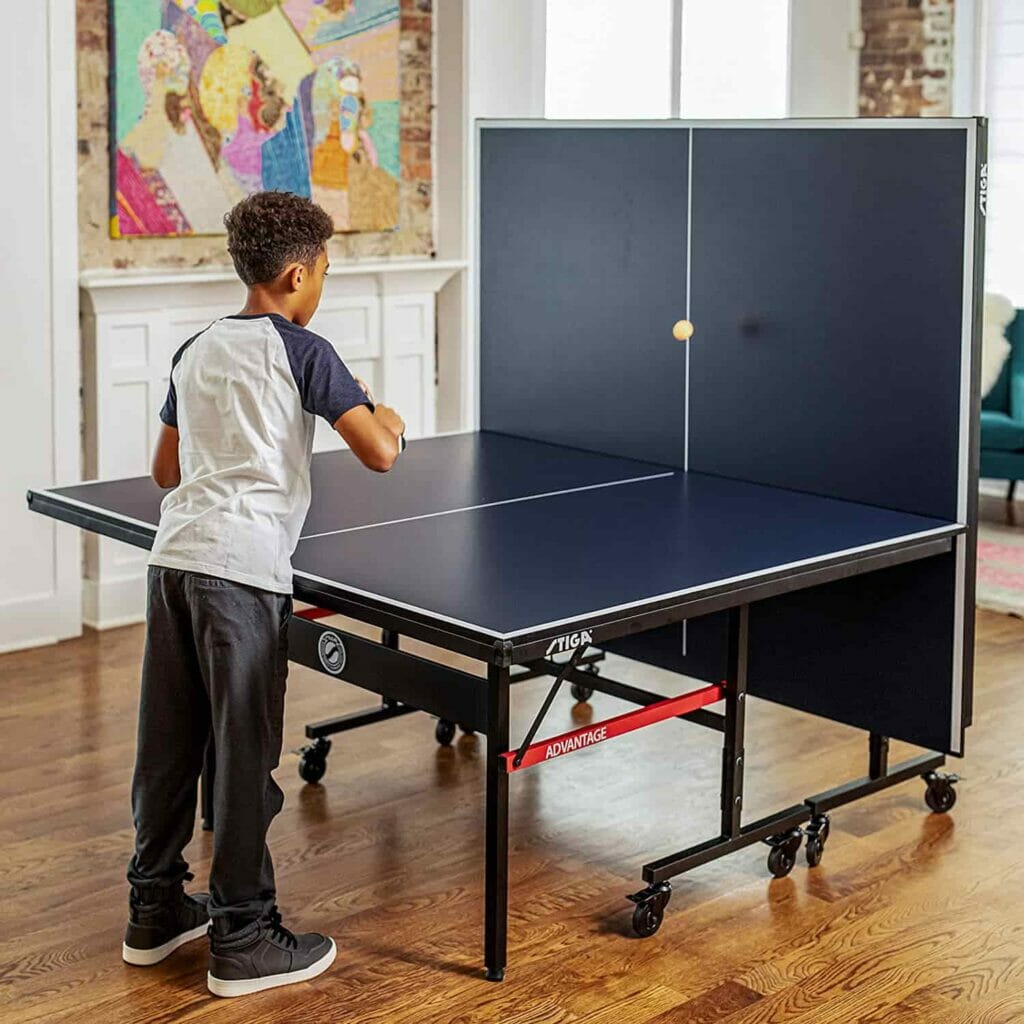 Another great feature of most tables that split into two halves is the ability to put them into a solo playback position. This is where you fold one half up and use it as a rebound wall so that you can practice on your own.
If you're a beginner, this is a great feature to familiarize yourself with the striking of the ball when you don't have a playing partner available.
72″ Clamp-Style Net
We like that this STIGA ping pong table comes with a 72″ clamp style net and post set that is really simple to put on and take off. Most of the time, we recommend replacing the net and post that comes with cheaper tables, but STIGA has thankfully included a very decent set that should more than suffice.
STIGA Advantage Pro Review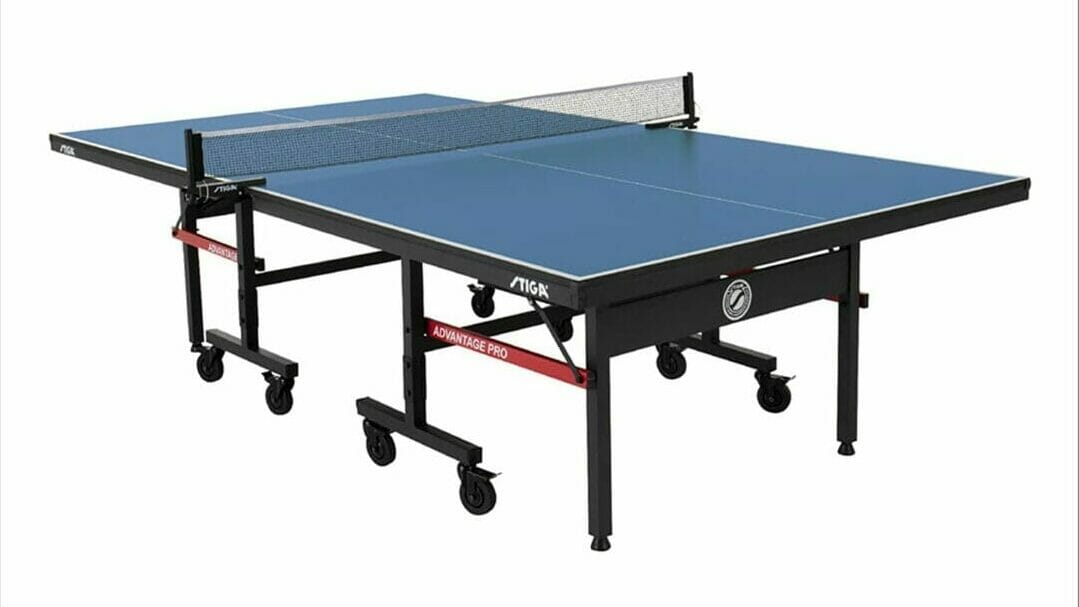 The STIGA Advantage has three different models: the Advantage Lite, the Advantage, and the Advantage Pro. Each successive model is slightly thicker, with larger wheels and a more robust frame.
Given that the Advantage Lite has a tabletop thickness of just 0.5″ (13mm), we can't, in good faith, recommend it. Therefore, the real argument is whether you should go for the regular Advantage or the Pro version. Here is a comparison of the two.
| | | |
| --- | --- | --- |
| Specs | Advantage | Advantage Pro |
| Storage Dimensions | 28″ L x 60″ W x 64″ H | 28″ L x 60″ W x 64″ H |
| Playing Dimensions | 108″ L x 60″ W x 30″ H | 108″ L x 60″ W x 30″ H |
| Solo Playback Dimensions | 66″ L x 60″ W x 64″ H | 66″ L x 60″ W x 64″ H |
| Net Included? | Yes | Yes |
| Assembly Time | 10 minutes | 10 minutes |
| Table Top Thickness | 0.625″ | 0.75″ |
| Leg Thickness | 1.2″ | 1.6″ |
| Wheel Size | 3″ | 4″ |
As you can see, the two tables only differ in a few areas, but these do make quite a lot of difference. The Advantage has a tabletop thickness of 0.625″ (16mm) which is rather thin. The STIGA Advantage Pro, by comparison, measures 0.75″ (19mm). This translates to a far superior playing surface.
As such, if you're serious about table tennis, the STIGA Advantage Pro is a far better choice. The Advantage is more for casual players who just want to have some fun rather than improve.
About the STIGA brand
STIGA is a table tennis brand that was founded in Sweden over 75 years ago and continues to dominate in the world of high-quality and affordable ping pong products. Having tried a lot of different brands of ping pong tables over the years, STIGA is definitely one of our favorites. If you look at our buying guides, you'll see that their products frequently occupy some of our top spots.
What Are the Pros
Quick assembly – Very fast and easy to put together (10 minutes)
Portable – 8×3″ inch wheels that lock in place
Folds away – Easy to fold away for storage when not in use
Playback mode – Practice on your own by folding up only one half as a rebound wall
Net and posts included – Comes with a good net and post set
Affordable – Good value for money
Great reviews – The Advantage series has over 5000 five-star reviews on Amazon
What Are the Cons
Average table top surface – Not the thickest table surface thickness, fine for casual players (although the Pro has 3/4″, which is much better)
Quite heavy – At 181 lbs, it's a bit heavier than some of its competitors
Conclusion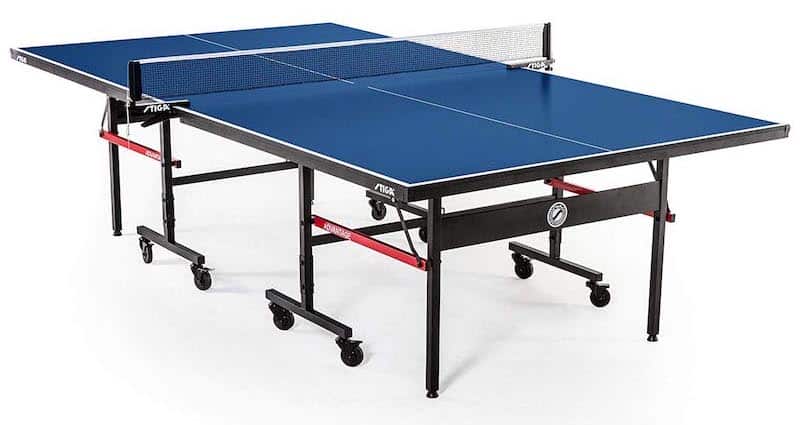 To sum up, we love the STIGA Advantage. Considering its price tag and features, we think it provides fantastic value for casual players. And clearly, we're not the only ones that think so given its plethora of five-star reviews on Amazon. So if you're looking for an affordable, decent-quality table tennis table for family fun, we don't think you'll be disappointed with the STIGA Advantage.
Still not convinced? Check out our comparison with the JOOLA Inside, the other king when it comes to budget table tennis tables.
On the other hand, if you're looking for an affordable beginner's recreational use paddle, we highly recommend the STIGA Apex.

Freelance writer. Table tennis enthusiast. Lover of all things online. When I'm not working on my loop game I'm probably binge-watching some fantasy show.