The Best Cheap Ping Pong Table You Can Order Online [2022]
The right ping pong table can make or break your game. I'm sure we all have that one table at our local club that we avoid like the plague. I certainly do. There is this one old table at my club where the ball barely bounces, and it tends to skid towards me without gripping the table at all. Horrible.
Of course, spending buckets of money increases the likelihood you'll get a good quality table, but not everyone wants to liquidate their savings to play ping pong. 
This is why today we will be reviewing cheap ping pong tables, and discussing what helps make the best cheap tables stand out from the rest in their price range. Below you'll find our featured products and an overview of the tables that made our list.
Featured Products
JOOLA Inside — Best Value for Money
JOOLA Rally TL — Editor's Pick
Stiga Advantage Pro — Best Under $500
Top Cheap Ping Pong Tables at a Glance
Important Factors to Consider When Buying a Ping Pong Table
Table Thickness
Undoubtedly, one of the most important factors you should consider when purchasing a table is the thickness of the playing surface. When it's all said and done, you can probably overlook flaws such as poor design and flimsy wheels, but a poor bounce is something you cannot forgive! 
It changes the whole dynamics of the game and if you are an advanced player you will be able to tell immediately. It will skew your timing and lead to frustration. So purchasing a table with adequate thickness is well worth the investment.
Table thicknesses typically range from around 12-25mm. And the more expensive the table, generally, the thicker the playing surface will be. As a loose guide, 18mm+ is ideal, and the best budget ping pong tables will hit this minimum. But they can be difficult to find at such a limited price range.
Strong frame
The frame is what keeps your table together, if it doesn't hold, it's time for a replacement!
Inexpensive ping pong tables take quite a lot of damage throughout their lives both during play and when erected/stored. It is not too uncommon for players to sit on tables, hit them with their bats, or even knock them over when they try to fold them incorrectly. Therefore they should be sturdy and resistant to warping.  
Thick stainless-steel frames are best. We recommend aiming for legs that are 1.25″ thick or greater. Fortunately, this is quite common. You will also find a variety of other materials such as wood, but a strong metal is what you should be looking for.
Safety
As with all heavy equipment, safety is an aspect you should always consider. Especially if children will be using it. But let's not forget as adults we make mistakes too. The last thing you want is a heavy table falling on you.
The safest affordable ping pong tables are sturdy and have strong wheels which are suitable for various terrain. Tables can fall both when they are stationary (erected to play on), and when they are being transported to the playing area.
Although cheap tables omit more expensive features, we have found most to be perfectly safe. Look for models which have two locking mechanisms as this provides another level of safety. A lever paired with a latch is probably your best bet.
Fast & Simple Setup
While not as important as the rest of the features, having a table that is fast and easy to set up is a huge plus.
Only a select few tables will come completely pre-assembled, but many cheap tables only require limited assembly — some taking no more than 15 minutes.
With limited assembly to undertake, it is also a much simpler, less stressful process. When faced with hours of assembly and poor instructions it is a bit of a hassle, to say the least.
The Top 5 Best Cheap Ping Pong Tables You Can Order Online
1. JOOLA Rally TL — Editor's Pick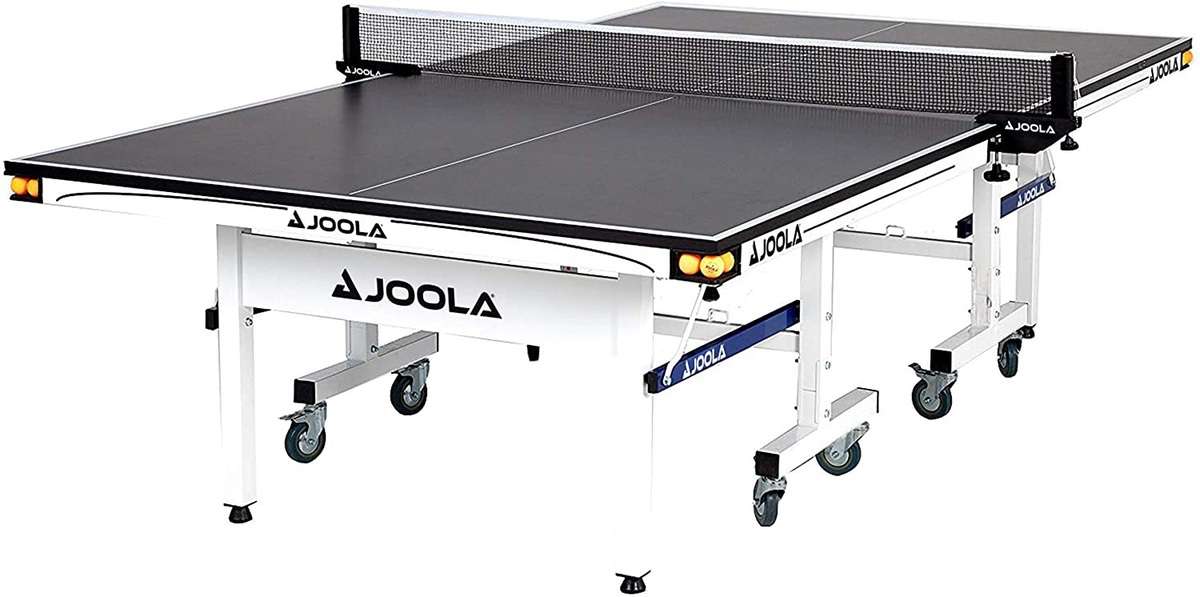 Pros:
25mm thick surface

95% pre-assembled

Net included

1.5-inch steel aprons

Apron ball storage

Abacus scorer

Safety latch

Leg levelers

Nest storage

1-year warranty
Cons:
It is no surprise that a JOOLA table makes this list. The JOOLA Rally TL is simply incredible value for money. For starters, it is one of the cheapest tables you will find that has a 25mm-thick playing surface. This provides incredible bounce and is tournament-standard quality.
It is super sturdy and uses 1.5-inch steel legs with in-built rubber leg levelers. The 1.5-inch tube aprons also provide great support for the table surface ensuring it keeps straight with an even bounce.
What makes this table unique is that the aprons feature ball storage on each of the table's four corners. This is such a unique feature that I, for one, have never seen before.
In addition, the table has abacus scorers on the sides which helps you keep track of the score. Both of these little extras are much appreciated and add some delightful flair to this solid, professional-grade table tennis table.
As you would expect, the JOOLA Rally TL table uses safety latches and locking casters to ensure the table remains immovable both when in storage and during play. Unlike many tables, it uses two safety latches per side for extra safety!
It is also the best looking table in our opinion. The chassis is a striking white which is pretty rare for table tennis tables. Put simply, it looks great and more tables should employ white in their color schemes.
The icing on the cake is that the table is 95% pre-assembled. This means you'll be up and running in as little as 10 minutes. A superb table all around which really should cost hundreds of dollars more.
Want more? If you want a cheaper version of the Rally TL, JOOLA makes the same table in different thicknesses. We have a guide on the 15mm edition here. 
Although we certainly recommend the superior 25mm version over the 15mm version.
If JOOLA is your favorite brand you should check out our top JOOLA ping pong tables as well.
2. JOOLA Inside — Best Value for Money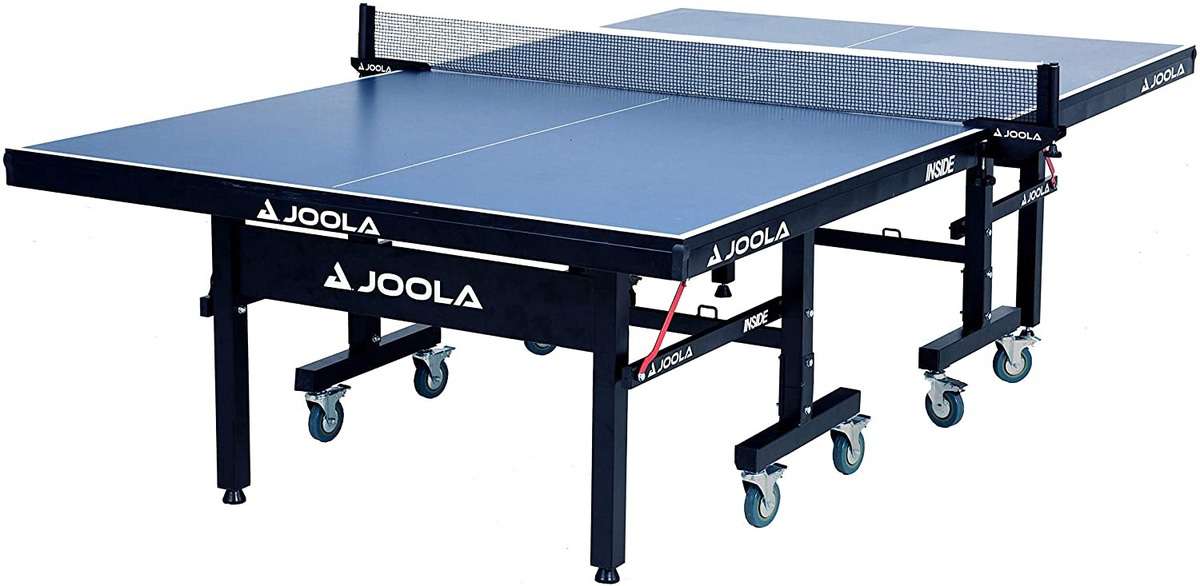 Pros:
25mm thick surface

Unbeatable value for money

95% pre-assembled

Net included

2-inch steel aprons

Safety latch

Leg levelers

Nest storage

1-year warranty
Cons:
Next up, we have another JOOLA table on our list: The Inside. Think of the JOOLA Inside as an improved version of the Rally TL. It has a superb 25mm thick playing surface for a quality bounce, comes with a net included, and uses leg levelers and safety latches.
There are only a few notable differences besides the absence of the apron ball storage and abacus scorer. The first is that the steel aprons are 2 inches thick as opposed to 1.5 inches. This means the playing surface is slightly more supported with the JOOLA Inside as opposed to the Rally TL.
The wheels are also 1 inch larger at 4 inches for the Inside. Making it easier to move around and less prone to falling over. The only drawback to the Inside relative to the Rally TL is the lack of an abacus scorer and ball storage. However, while nice features, they are more gimmicks than anything. The Inside is better where it matters, namely price. As such, it is the best cheap ping pong table that money can buy.
3. JOOLA Tour 2500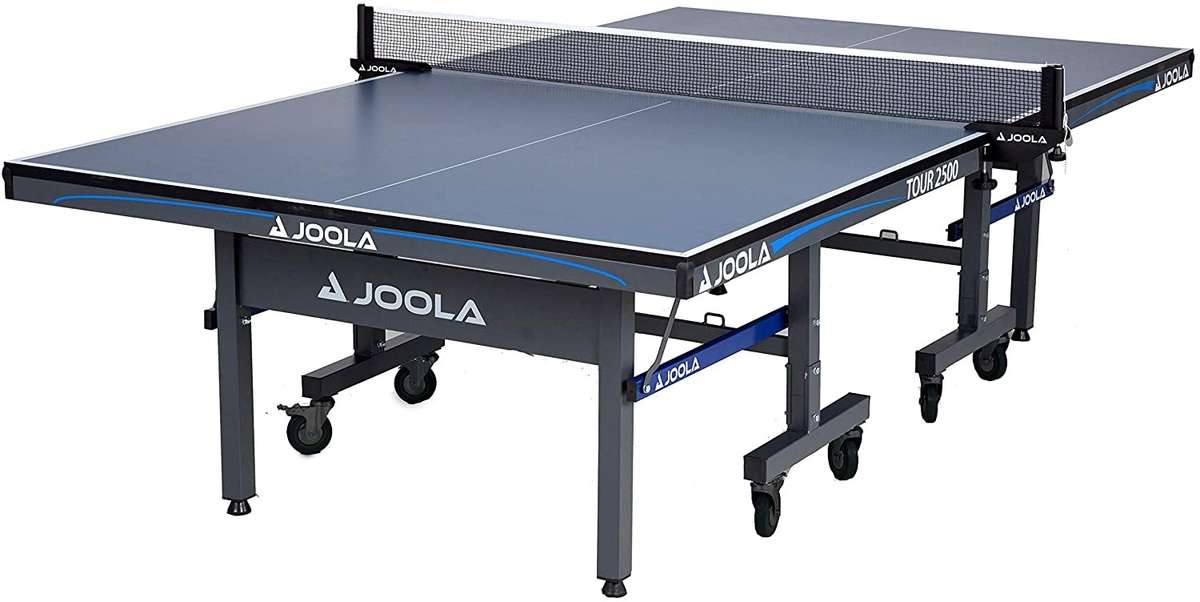 Pros:
25mm thick playing surface

95% pre-assembled

Net included

2-inch steel aprons

Safety latch

Leg levelers

Nest storage

1-year warranty
Cons:
One of the more expensive cheaper tables
Coming in at our third spot we have the JOOLA Tour 2500. Now I know what you are probably thinking: hang on a minute, what's the difference between this and the JOOLA Inside? That's a very valid question because there really isn't that much difference between the two. The JOOLA Tour 2500 has all of the same features we listed for the JOOLA Inside.
Even all of the design structures of the tables mirror one another. We could only find three differences between the two.
The first one, albeit very minor, is the appearance of the table. The Tour 2500 uses a darker blue for the playing surface and grey instead of black for the frame. It also has some blue accents on the metalwork to go with it. Ultimately, there's not much to comment on here, the tables play the exact same.
The only other difference is the weight. The Tour 2500 is slightly lighter than the Inside at 270 pounds as opposed to 293 pounds. Usually, we would associate weight with build quality, but as they are essentially the same table, I don't think you can make any conclusions from this.  
The final difference is the price. The JOOLA Tour 2500 costs a lot more. Therefore, while it is a great table, it doesn't make much sense to buy it over the JOOLA Inside.       
For a more detailed review of the JOOLA Tour 2500, check out our review.
4. Stiga Advantage Pro — Best Under $500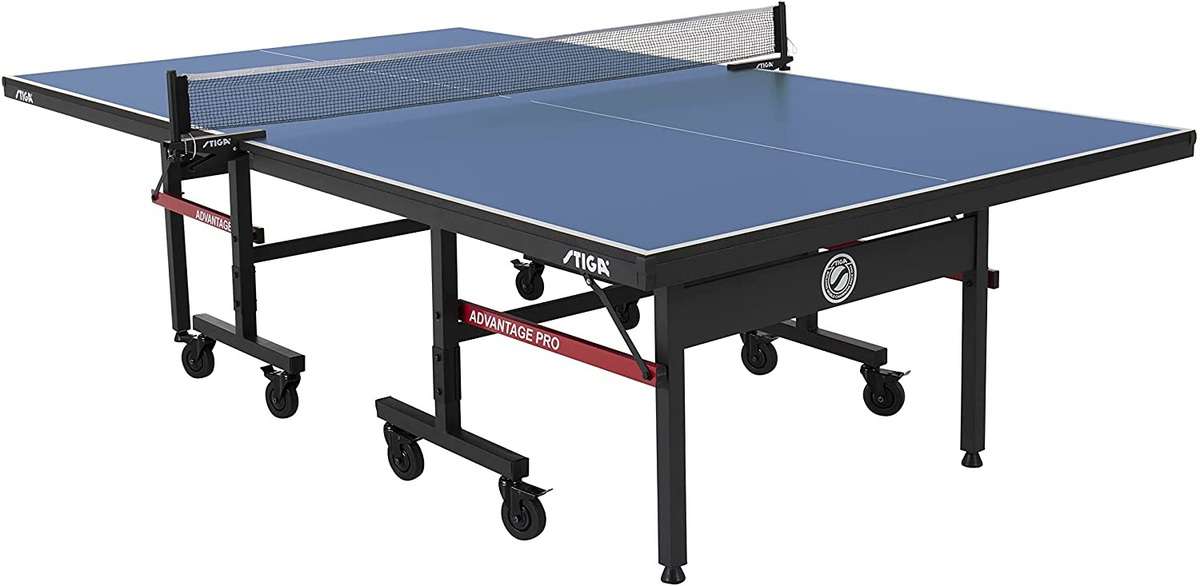 Pros:
19mm playing surface

95% pre-assembled

Net included

Safety latch

Leg levelers

Nest storage
Cons:
The Stiga Advantage is essentially Stiga's JOOLA Inside equivalent. So much so that we have made a guide comparing the Stiga Advantage vs JOOLA Inside. The overall build is remarkably similar. Unfortunately, the playing surface is 19mm. This will provide solid bounce, but it is inferior to the JOOLA Inside in this respect.
The table comes 95% pre-assembled meaning there is minimal labor required to get it up and running. The frame uses a strong metal alloy that supports the playing surface and prevents it from becoming uneven. The square legs are also composed of steel and are 1.5 inches thick. These will provide adequate support for the table and level when you are playing on uneven surfaces.
As with all the previous tables, the Advantage Pro uses a latch mechanism and lockable wheels for the utmost safety. And the two table halves can compact into a nesting position to maximize space availability.  
Besides the thinner table thickness, the only other area this table falls short of is in terms of the warranty. Some cheap ping pong tables do not have a great warranty period, and this 90-day limited warranty is a great example. Fortunately, the table is so well-built you are unlikely to have any issues if you do elect to purchase it. It's the best budget table tennis table in our eyes!
5. Butterfly Personal 19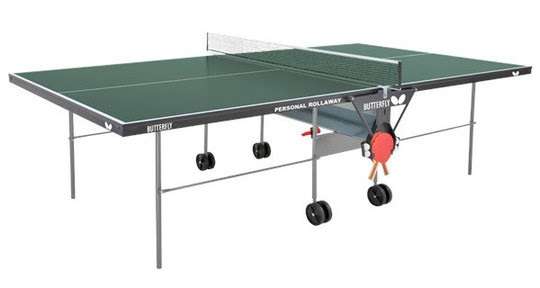 Pros:
19mm playing surface

Built-in ball and bat storage

Built-in net

Large 5-inch wheels

3-year warranty
Cons:
No leg levelers

Requires substantial assembly

Does not nest for storage

Not ITTF-Approved
The Butterfly Personal 19 is another table with a 19mm-thick playing surface which will provide a decent bounce for such a cheap ping pong table. Unlike the other tables, this model is only available in green. So if you're a hater of blue, listen up!
The table uses 1-1 ½ steel rails for adequate support, it is just a shame the rest of the frame is not thicker. The legs are just an inch in diameter and the horizontal supports appear even thinner. It doesn't seem to be the sturdiest of tables. Although fortunately, the lower half of the table is made of steel which should provide decent strength even with it being as thin as it is.
The absence of leg levelers is a large negative as they are so often included as standard. If you are playing on uneven surfaces, best give this table a miss or get creative with raising the legs yourselves.
What we do like about this table are the 5-inch wheels. This makes maneuvering the table a lot safer. These wheels are bigger than the 3-4 inch average among most tables at this price point. The table also comes with a built-in net, and bat & ball storage. These are nice little extra features. However, as the table does not break into two parts it cannot nest for storage. This could prove problematic if you have limited storage space.
Despite some of the drawbacks we still think it's one of the best cheap ping pong tables you can buy. The 3-year warranty is also rather appealing given that the tables higher on this list cannot match it in this area.
6. MD Sports Table Tennis Table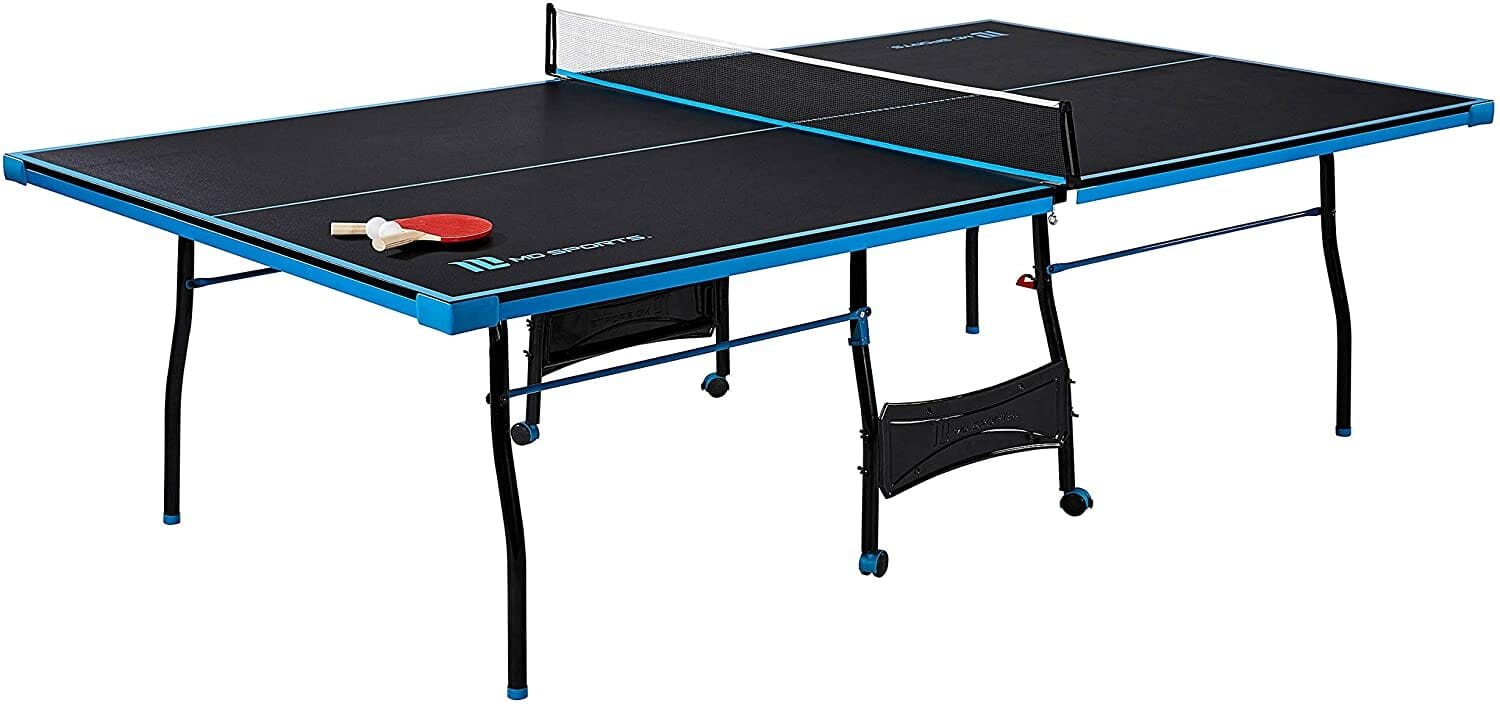 Pros:
Very inexpensive

Includes 2 paddles and 2 balls as well as a net

Free app to assist with assembly

Water-resistant (not water-proof)
Cons:
15mm playing surface 

Each table half has a seem

Does not nest for storage

Poor quality net

Not ITTF-Approved
We would never normally recommend a table tennis table that is 15mm thick, but as this is a budget guide we feel that we should include it as it's the cheapest ping pong table we could find which wasn't all bad. The MD Sports table tennis table is very basic, there is no getting around this fact. But it could be a good choice for families or very casual players. 
It's remarkably cheap, has everything you need to get playing once the table is built, and even provides water resistance which is pretty rare for an indoor table.
Our main issue with it besides the thin playing surface is the joint that runs through the middle of each table half. They are not complete sections, rather two adjoined separate pieces which means you have a seam running across the middle of your table. 
Fortunately, for absolute beginners, this may be of little consequence. As such, it's the best ping pong table under $300 that we could find. But we do recommend spending more if you can as you will get more for your money.
FAQs
Is a Budget Table Tennis Table Any Good?
Budget tables can be very good quality, but it's a matter of knowing what to avoid. The ping pong tables that are cheapest are often poorly made, thin, and a bit of a hazard. However, for a few hundred dollars extra you can get a budget table that is not only great to play on but is safe and will last a long time.
 In terms of playability, we tend to recommend a playing surface of 18mm, but you can go a little lower if your budget is tight. However, we strongly recommend against purchasing 12mm thick table top models.
Will I Get a Durable and Long-Lasting Ping Pong Table Under $500?
If you choose a quality model you'll absolutely get a long-lasting table for this price. The model we propose is the
Stiga Advantage Pro
 — it's the best ping pong table under $500. It ticks all of our boxes and we couldn't even find a table that came close for less than 500 bucks.
How Do I Get the Best Out of a Budget Ping Pong Table?
First and foremost you get the best bang for your buck by purchasing the highest quality budget ping pong table you can. And if a net is not included, don't scrimp on a cheap one. Buy a quality net with both height and tension adjustment.
From there, it is just a case of caring for your table to prolong its life. For starters, don't sit on it or wheel it around recklessly. Tables can fall on their side easier than you would expect which can do serious damage. Also, if you purchase an indoor model never store it outside. 
You don't have to fork out tons of money for a ping pong table, cheap ping pong tables can still provide plenty of fun and most are pretty good quality. Having looked at all of the tables currently available we feel that the best value ping pong table is the JOOLA Inside.
With its simple design, 2-inch aprons, and 25mm playing surface it's one of our favorite overall tables, let alone budget table.
However, if you're on a really tight budget we instead recommend the Stiga Advantage Pro. It too is a great table, it's just not quite as robust and has a thinner table top at 19mm. Nevertheless, it is a superb choice.
If you'd like to learn more about how to choose a ping pong table, read our full buyer's guide.
We've also compiled the best outdoor ping pong tables for those looking to enjoy this game in the sunshine. 

Freelance writer. Table tennis enthusiast. Lover of all things online. When I'm not working on my loop game I'm probably binge-watching some fantasy show.