JOOLA is one of the most renowned brands regarding quality table tennis equipment, and the JOOLA Tour 2500 is a great example of their high-quality products. This table gets fantastic reviews and is very popular with both amateurs and aspiring professional table tennis players.
In fact, my club needs a new table, and it's certainly one I will consider!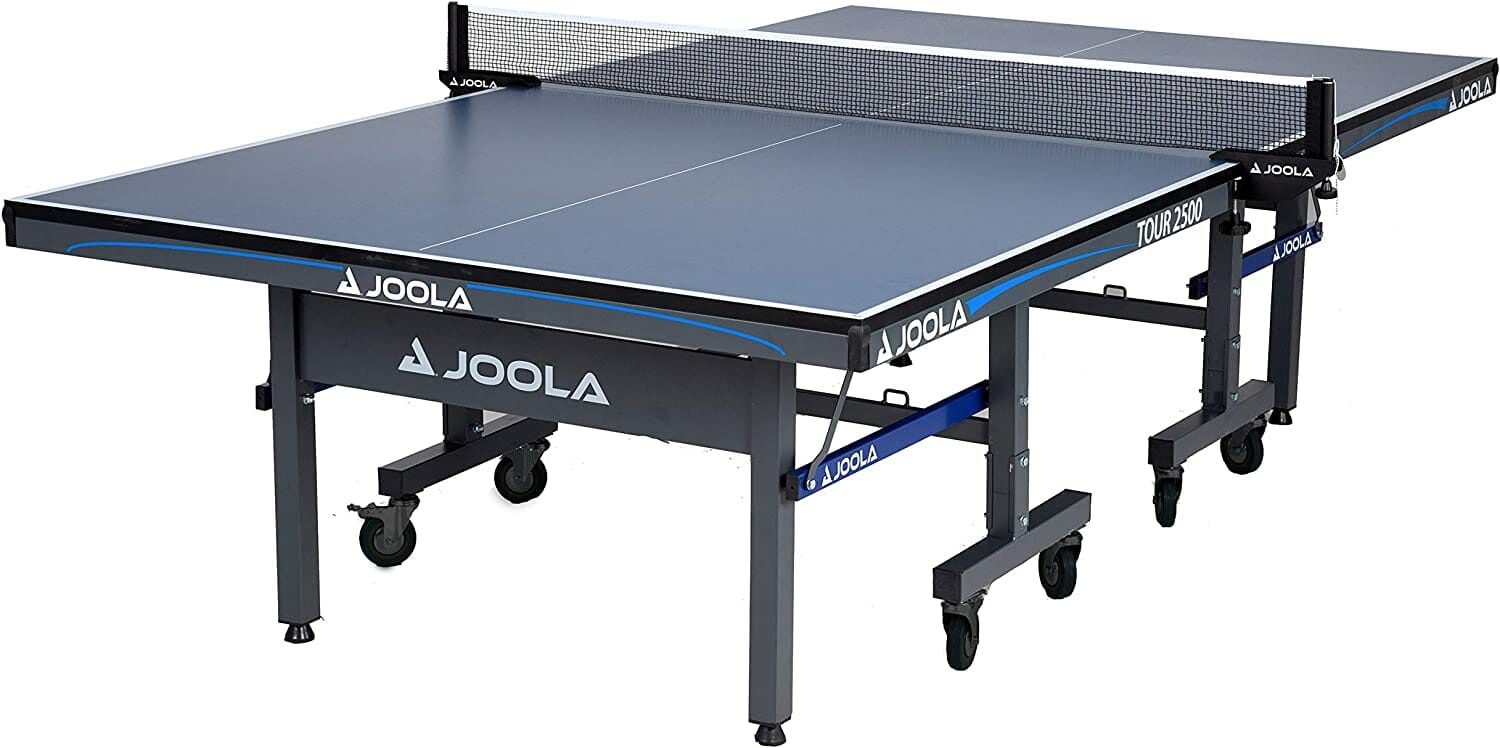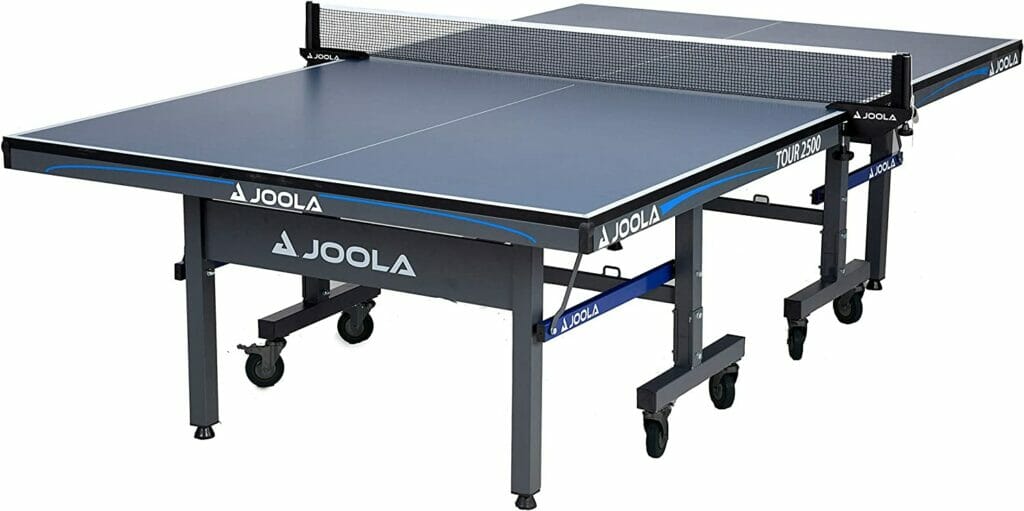 Table Top Quality: ★★★★★
Build Quality: ★★★★★
Overall Rating: ★★★★★
Pros: Super table top, well-priced, quick assembly.
Cons: Heavy
Specifications
Dimensions – 9 ft x 5 ft (regulation size)
Assembly time – 10 to 15 minutes (comes 95% preassembled)
Surface thickness – 1″ (25mm) made from MDF
Weight – 250 lbs
Price – $$$ (Check current price)
Our rating – 9.9/10
Overview of the JOOLA Tour 2500
Features
25mm (1″) Thick Table Top
Table tennis tables tend to have a surface thickness that ranges from 1/2″ on the lower end, all the way up to 1″ thick which is the thickness required for official tournaments. The thicker the tabletop, the better the ball will bounce, thus more exciting gameplay.
The JOOLA Tour 2500 ping pong table is made out of a 1″ (25mm) thick medium density fiberboard (MDF). It's durable (although not for outside use), and is finished with blue paint using multi-layers to ensure that you get a consistent bounce over the entire table. It also prevents chipping and warping, helping the table to last longer, which means you get more value out of it.
Strong Foldable Undercarriage
The robust 50mm (almost 2″) powder-coated frame provides great support to keep the table sturdy from the inevitable knocks that it will get. The corners also have protectors to prevent chipping and minimize injury should you bump into them.
To support the playing surface, JOOLA installed 2″ steel tube aprons. This provides a lot of protection and ensures that the table top will not warp over time. You can fold up each half of the table very easily, and the legs automatically deploy for added convenience. Then when it's folded up, it locks into place with its double anti-tilting device for extra safety.
As this model allows for the independent folding of each table half, you can fold up just one side into the playback position. This means that you can practice on your own.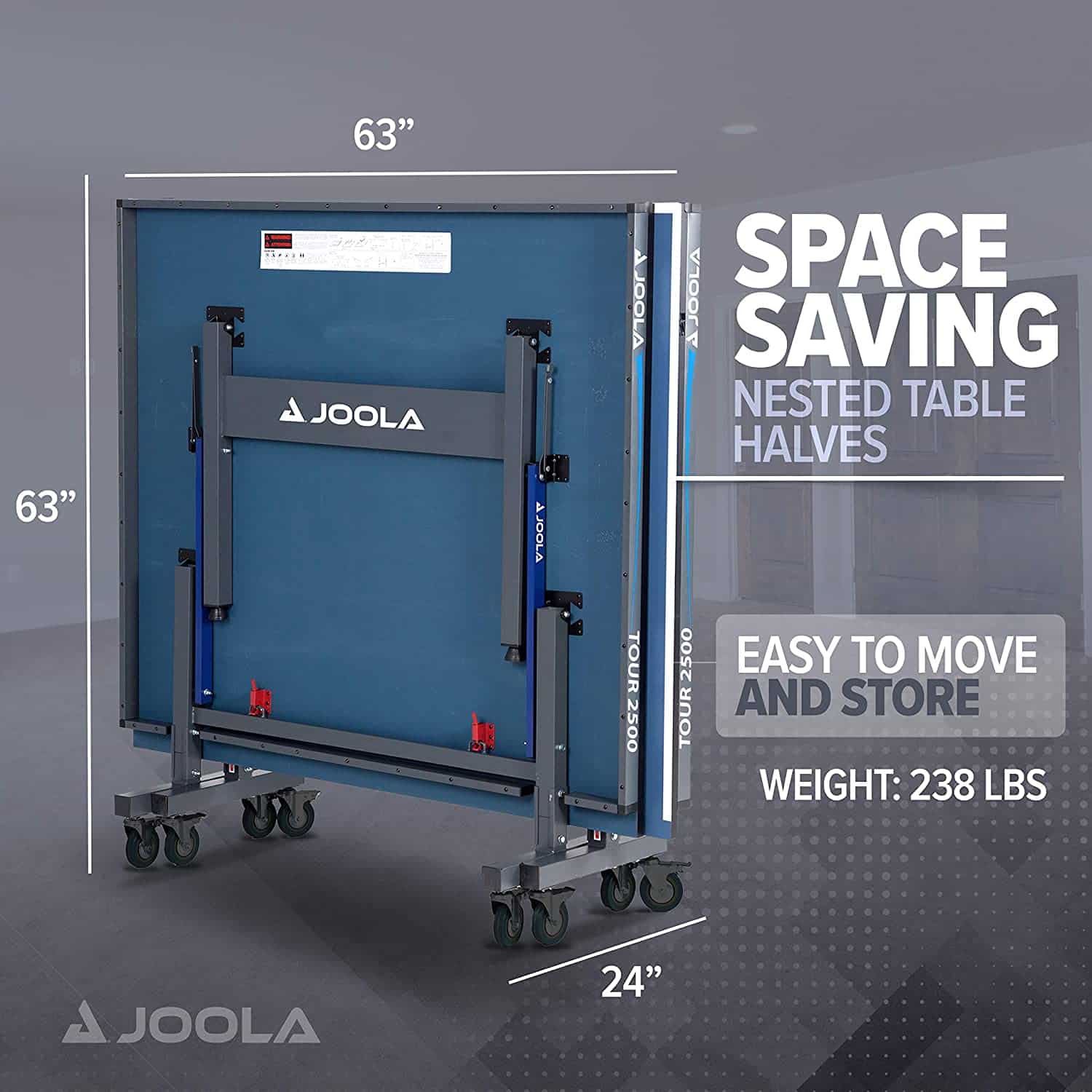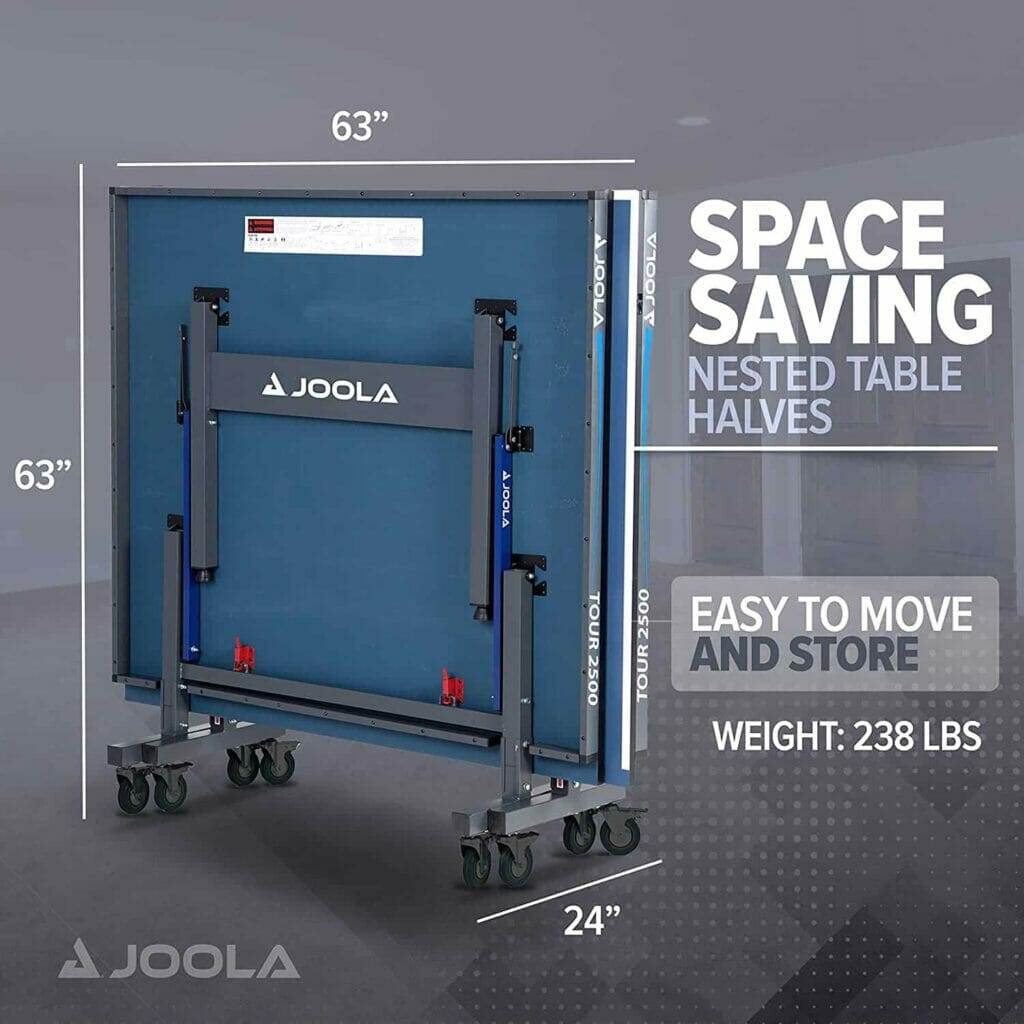 4″ Caster Wheels and Height Adjusters
Each half of the table has four caster wheels that are now 4″ (JOOLA upgraded them from 3″ at the beginning of 2019). These larger wheels make it more convenient to move the table around, and when you're happy with its position, they lock into place for extra stability and safety. The ends of the table legs have rubber height adjusters to ensure that the surface is completely level.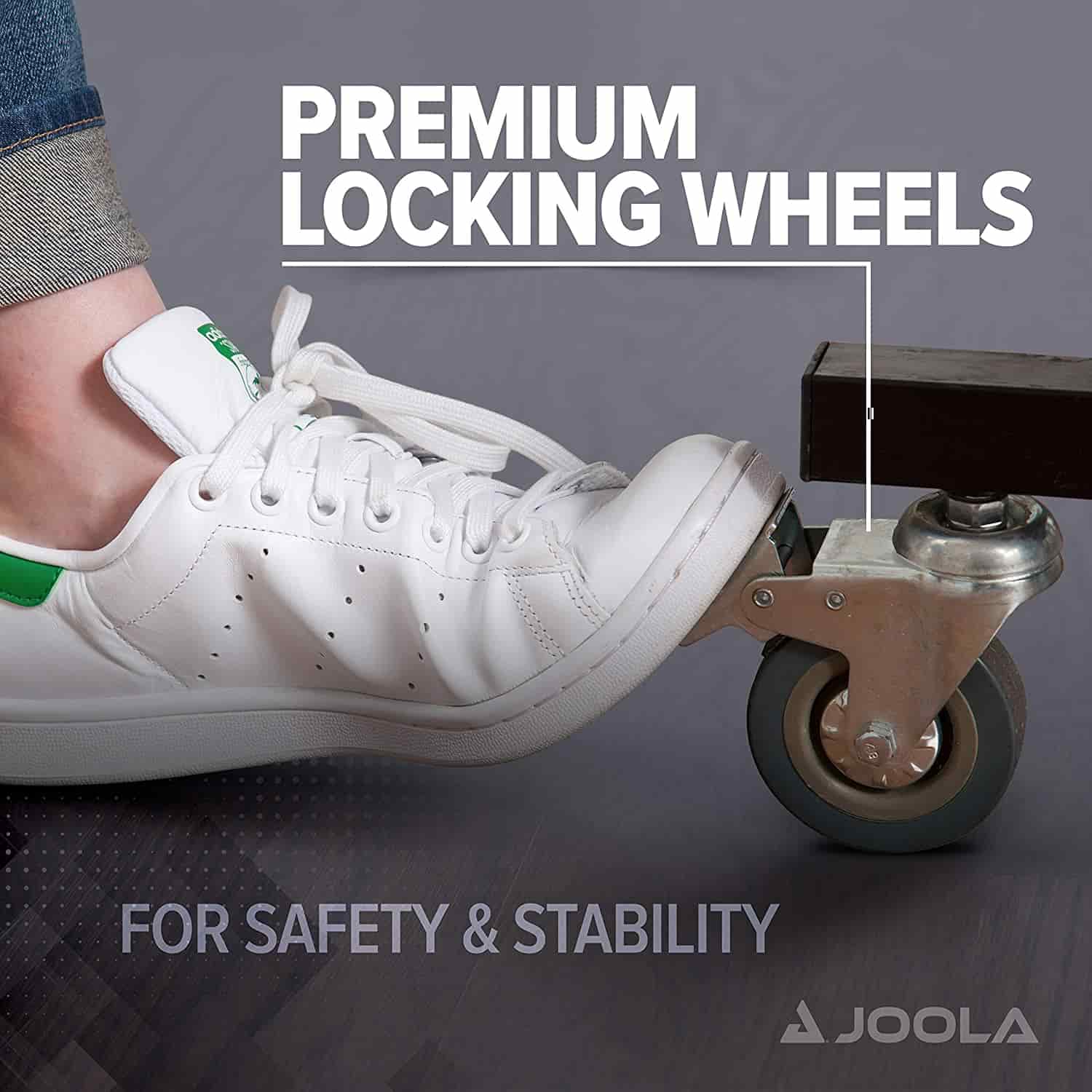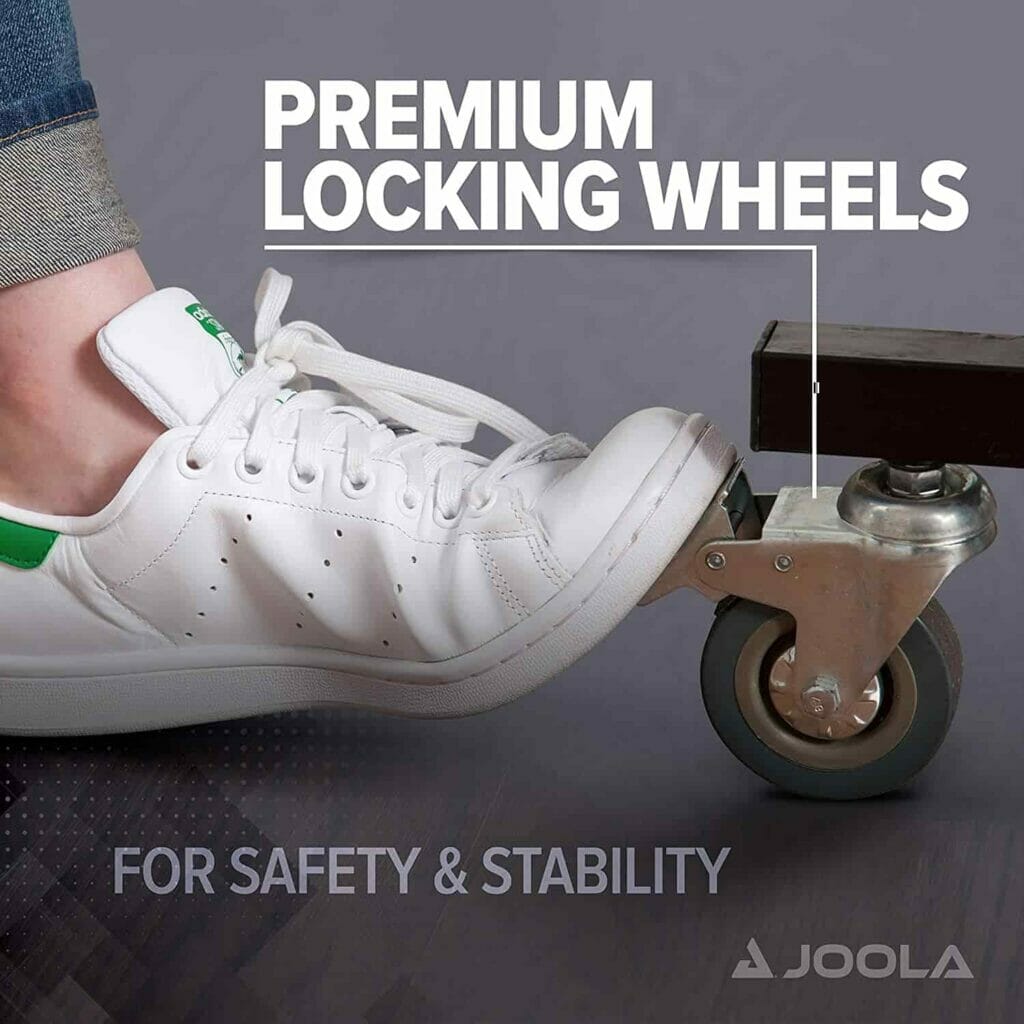 Competition-Grade Net and Posts Included
The JOOLA Tour 2500 table tennis table comes with a simple and easy-to-use net and post set that attaches to the table by a clamp. You can adjust the tension and height as needed, and it's USATT approved for tournaments. While many tables often come with a net, we frequently recommend getting a better net as the quality is often lacking. However, this net is very high quality so there is no need.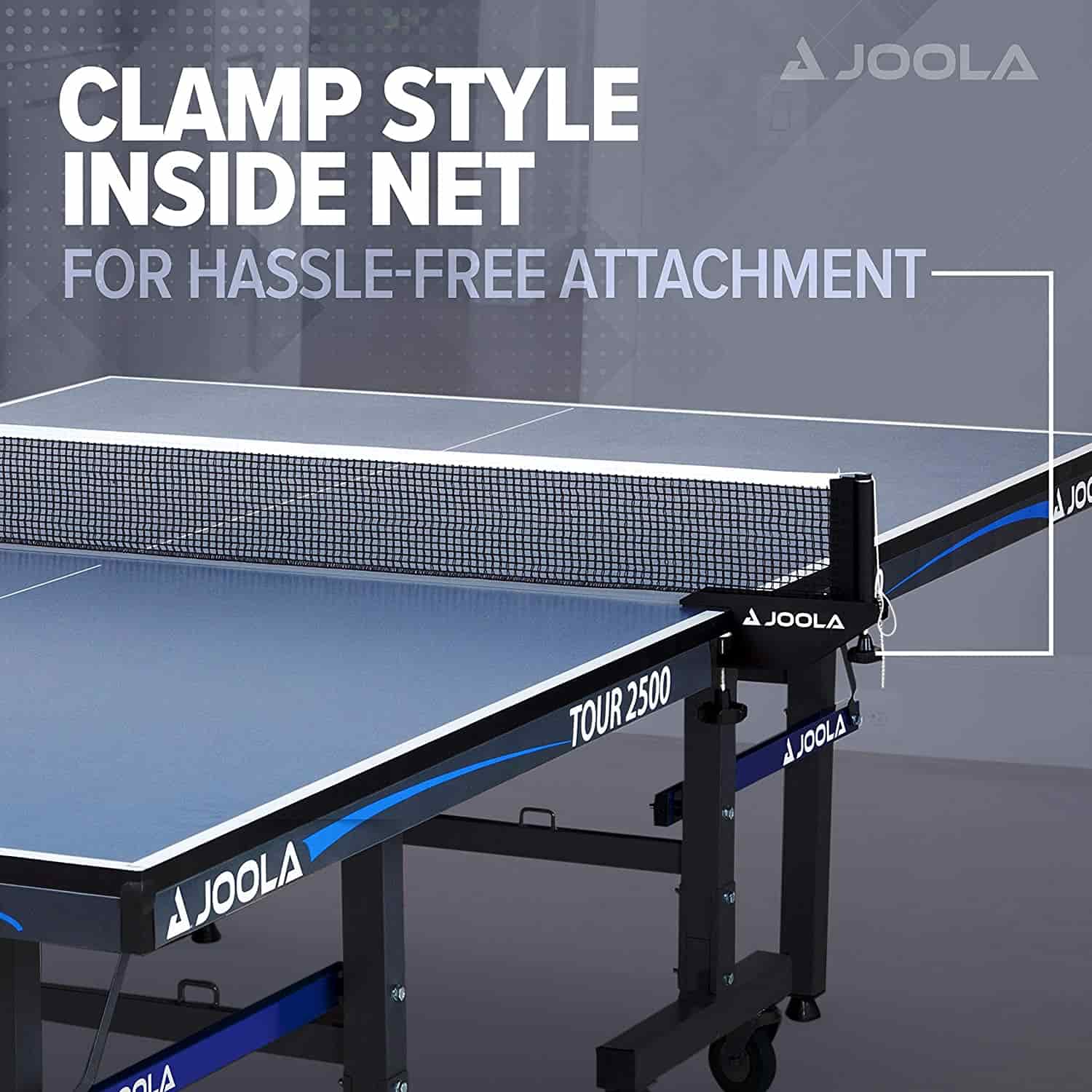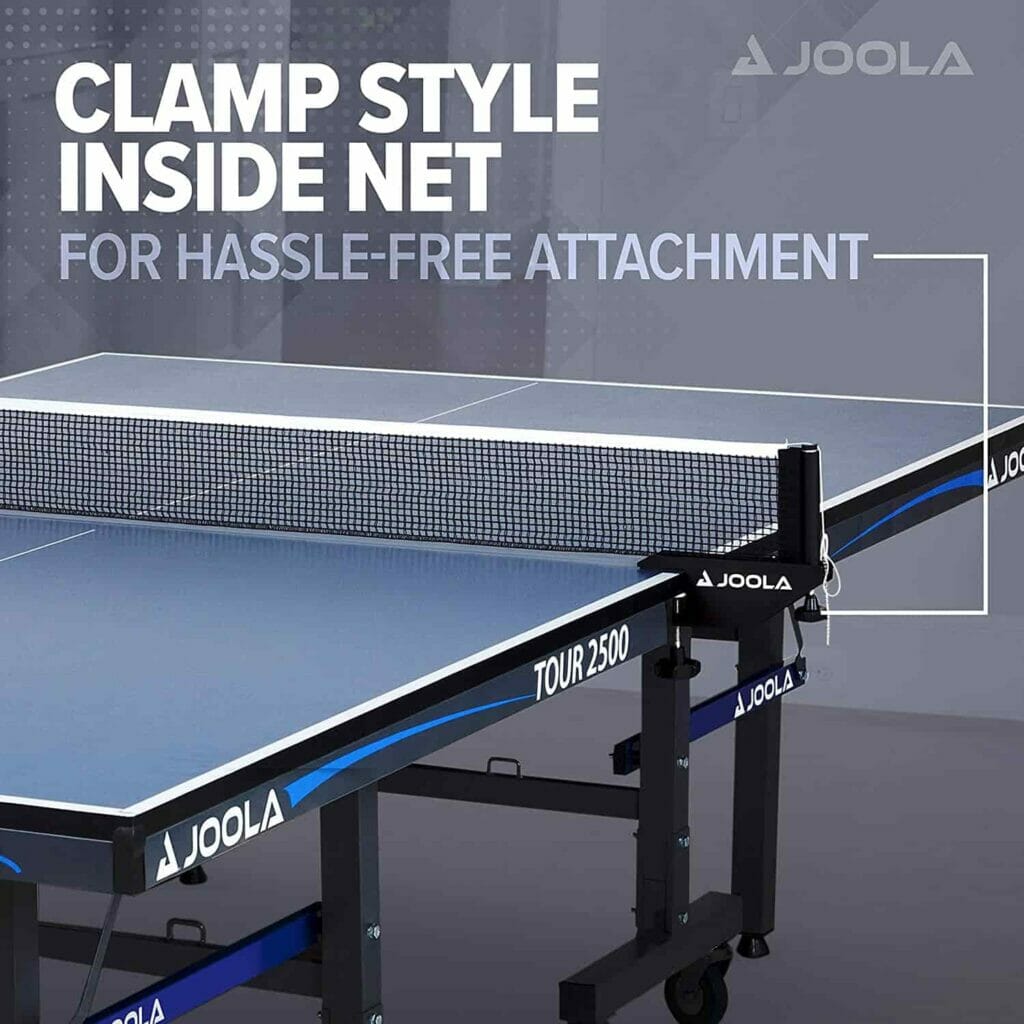 Assembly
A lot of 1″ thick tables take a while to assemble — some we've tried were as long as three hours. The JOOLA 2500 ping pong table, however, is very easy to put together as it comes almost completely preassembled. The only installation necessary is the caster "T" bracketed legs which required a few bolts to screw together. It shouldn't take much longer than 15 minutes, although we'd recommend having two people for setup as the table tops are very heavy. We also wouldn't recommend that you pay extra for assembly service.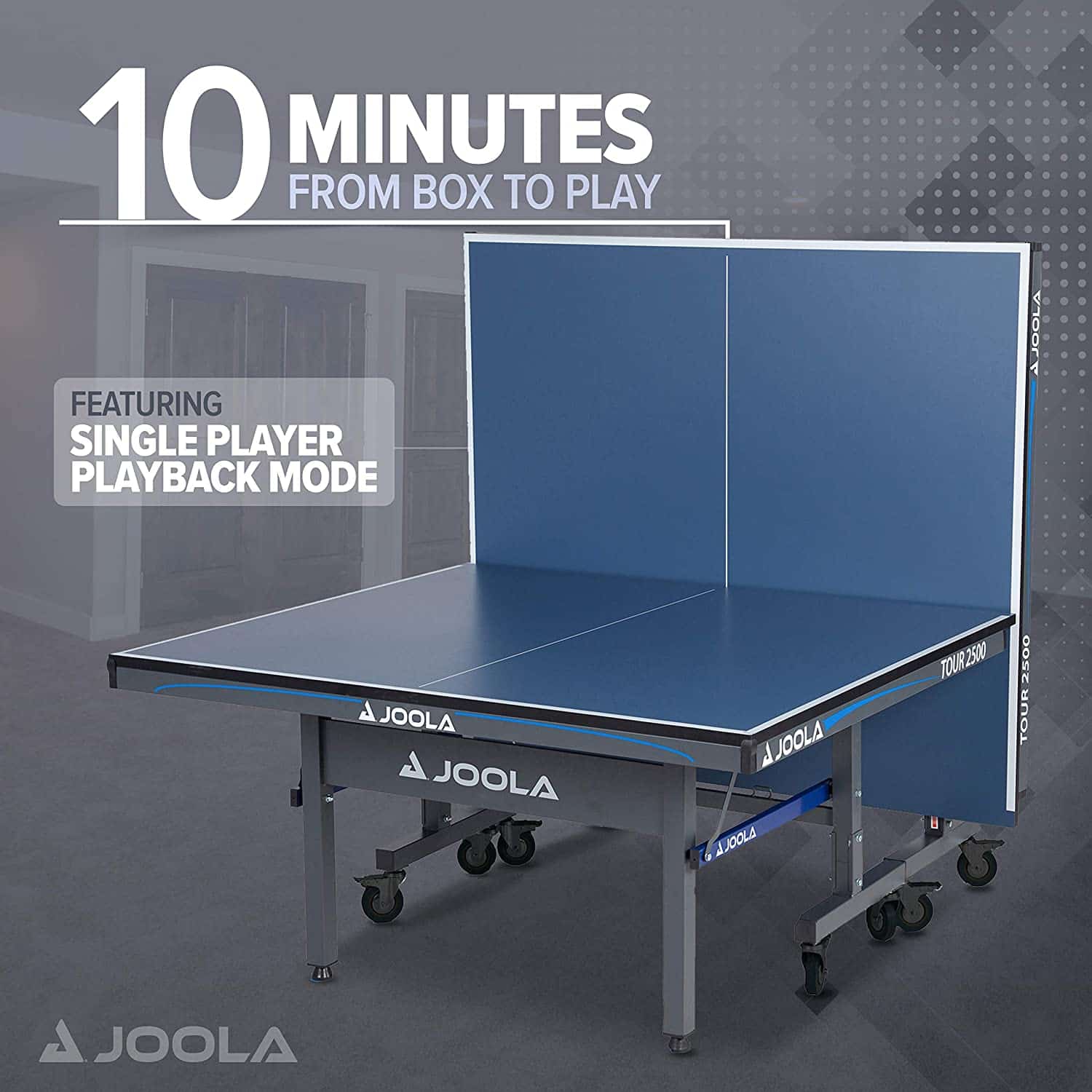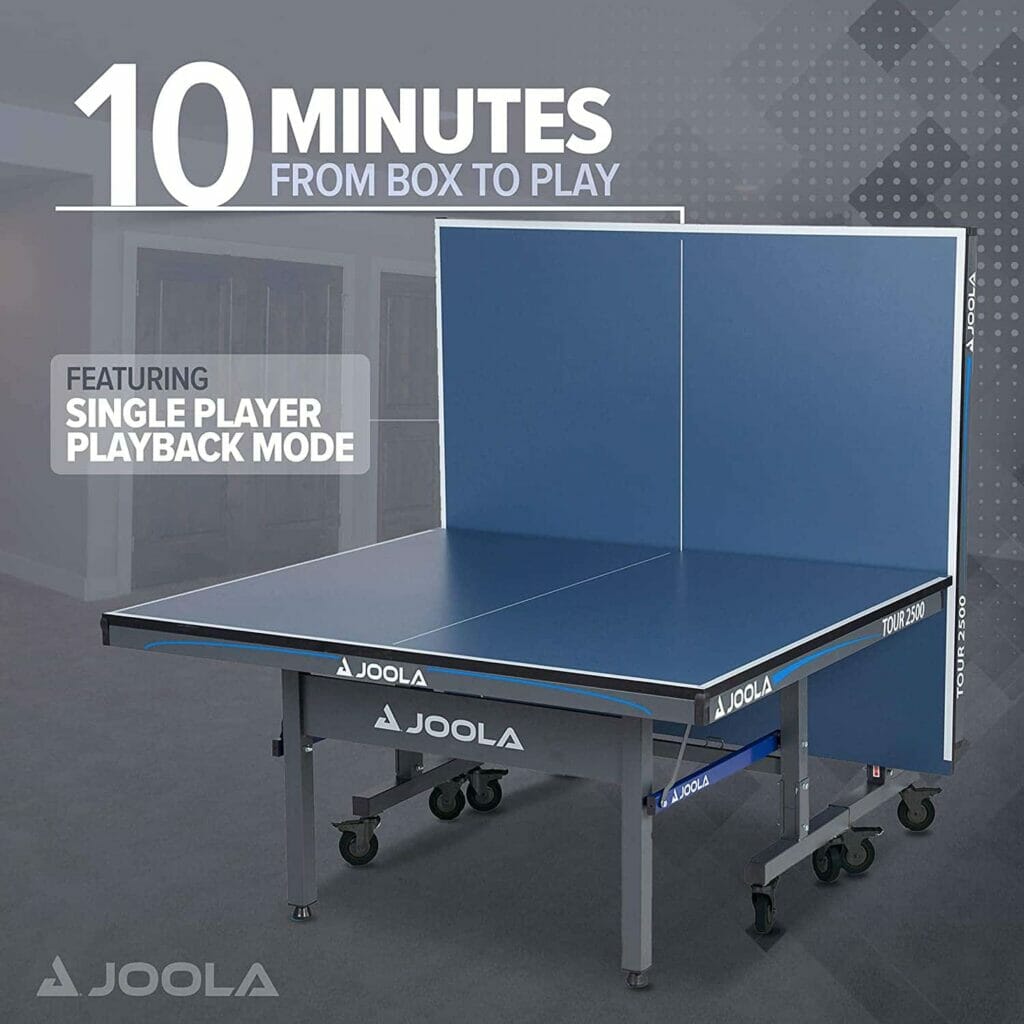 About JOOLA
JOOLA is one of the most popular brands in the table tennis world. They are the official sponsor of the US Open and US Nationals. They have been producing high-quality ping pong products for over 60 years.
To see the JOOLA Tour 2500 in action, take a look at this clip of it featured on The Ellen Show.
Other Models
JOOLA Tour 1800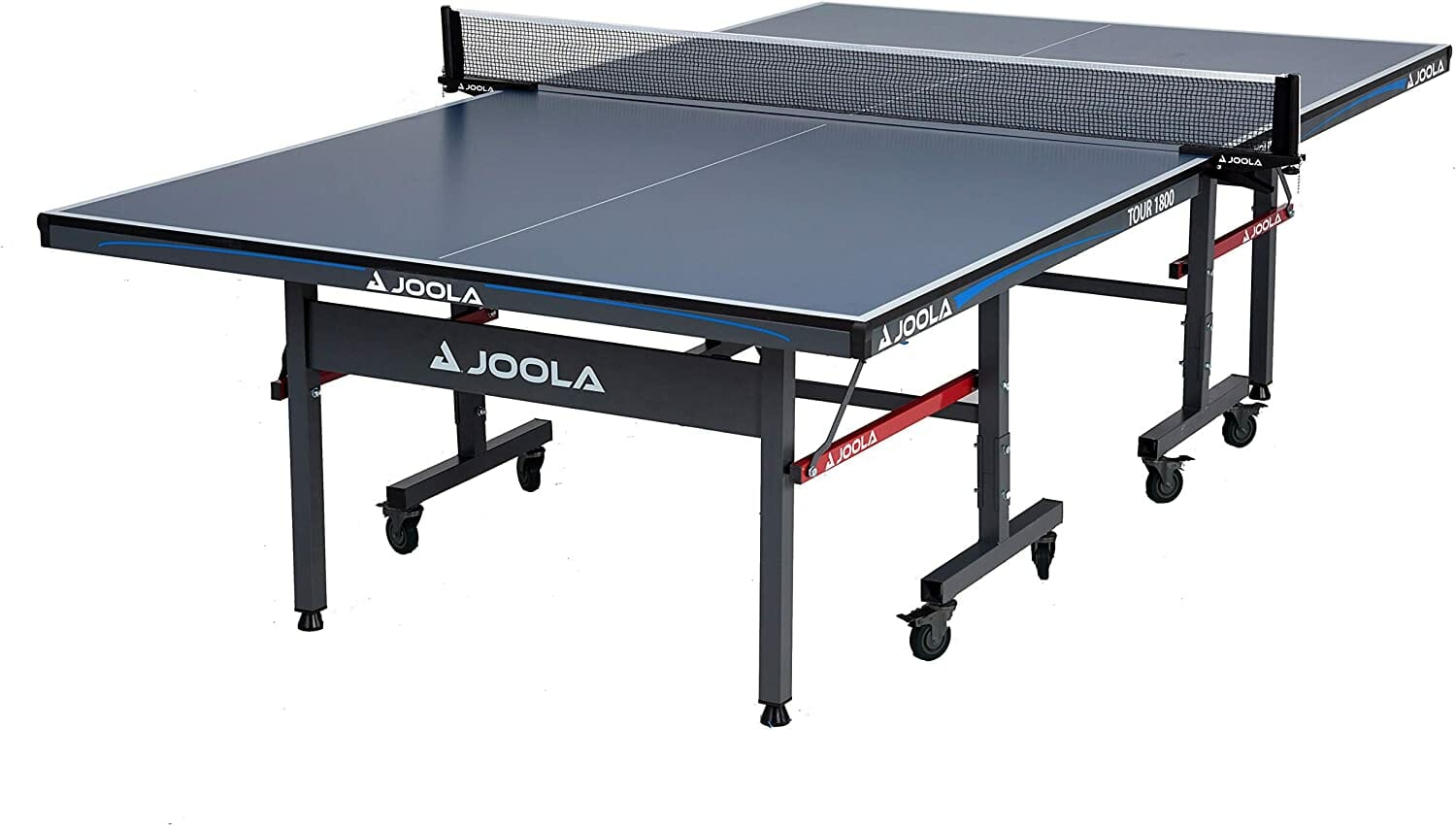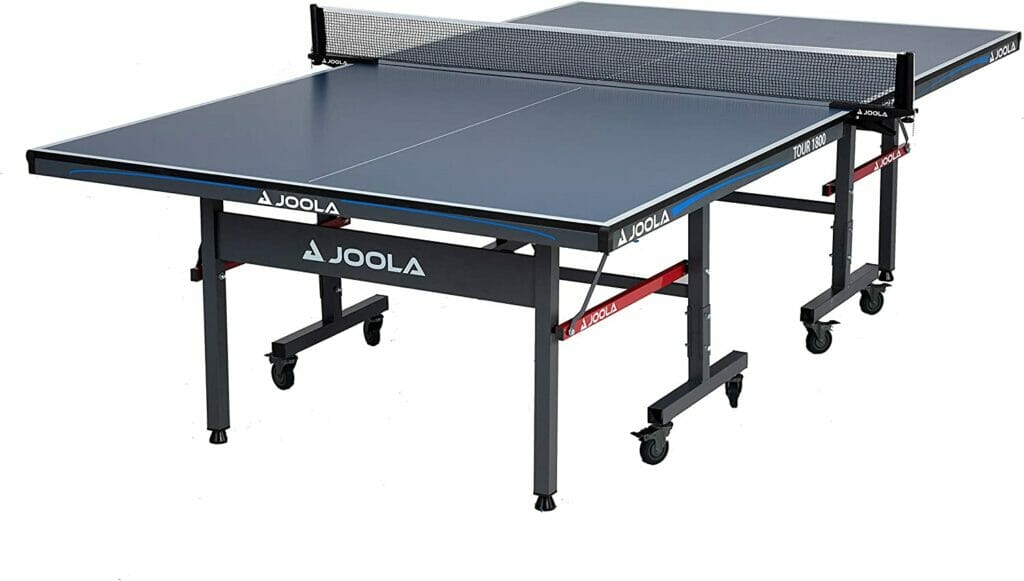 A great alternative to the JOOLA 2500 table tennis table is the model down in the series: the Tour 1800. It is significantly cheaper than the Tour 2500 but shares many of its benefits, such as being 95% preassembled and having a 100% satisfaction guarantee.
The primary drawback to opting for this model is that its play surface is considerably thinner at just 18mm. This means the table is nowhere near as bouncy, as such, it's not a great choice for advanced players.
The Tour 1800 also has a smaller 1.5″ apron and smaller 3″ wheels.
To learn more about this model, give our review a read. Alternatively, we have a review for the most basic model as well (the JOOLA Tour 1500).
Positive
Thick enough table top for beginners
Durable
Sturdy legs
Good customer support
Negative
JOOLA Rally TL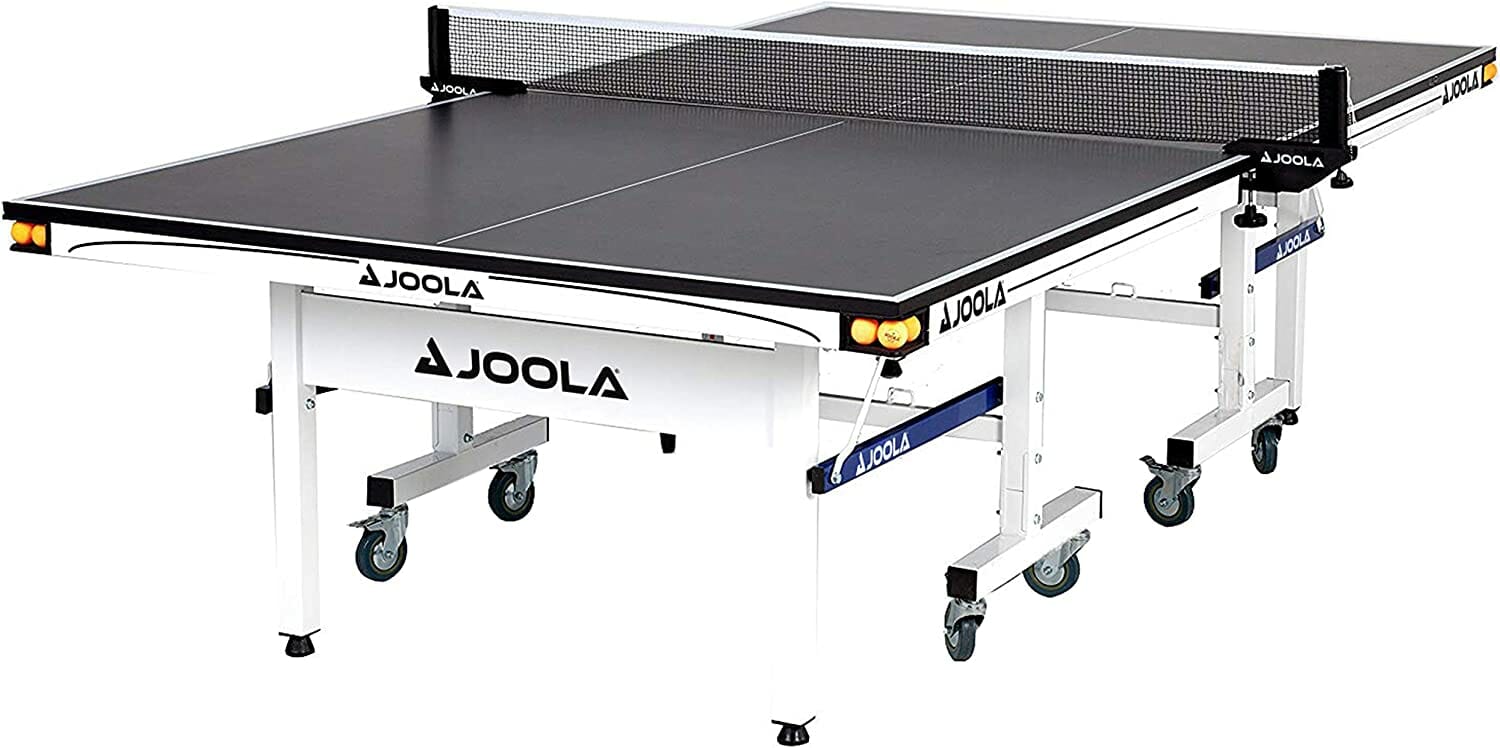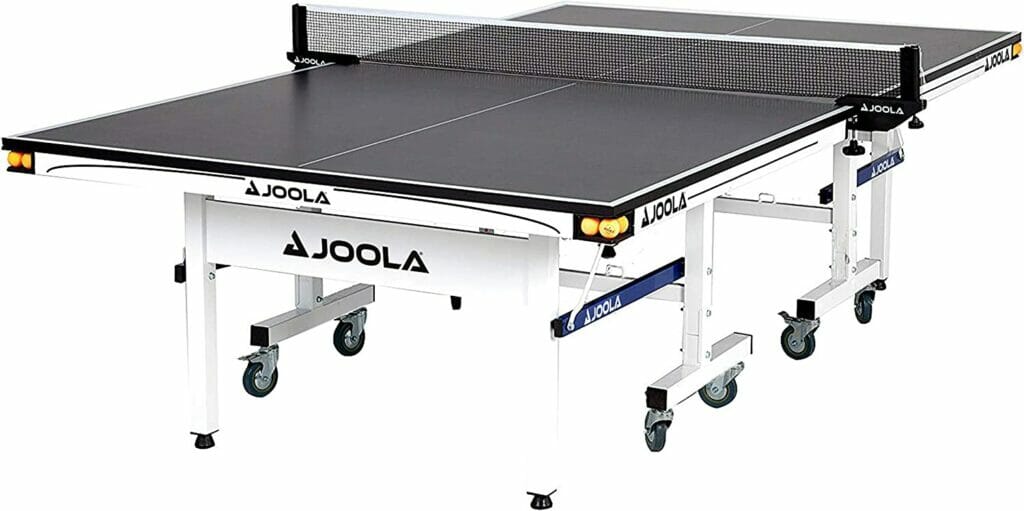 A table that closely rivals the quality of the JOOLA 2500 is the JOOLA Rally TL. It weighs almost the same as the Tour 2500 (246lb vs 250lb) and has a quality 25mm table top.
Areas, where it places behind the Tour 2500, are its wheels and aprons. They are a little smaller than what the Tour 2500 has. However, it does have an abacus scorer and ball holders, whereas the Tour 2500 does not. Therefore it's a great substitute.
We also have a write-up for the Rally TL series.
Positives
Regulation surface thickness – 1″ thick regulation approved surface for official tournaments
Strong and durable frame and undercarriage – 50mm thick frame plus a 50mm x 50mm undercarriage for extra stability and safety
Auto folding legs – The legs fold automatically for ease of use, and then they lock into place when stored
Comes 95% preassembled -Takes 10 to 15 minutes to put together
Playback position – Fold up one half of the table to practice on your own
4″ locking caster wheels – As of 2019, JOOLA have updated the wheels to make them 4″ (rather than 3″) to make the table easier to maneuver
Reasonably priced – Tables with a 1″ thick surface are generally a lot more expensive than the JOOLA Tour 2500
Negatives
Heavy – At 250 lbs, this is a very heavy table which makes it harder to move around
Conclusion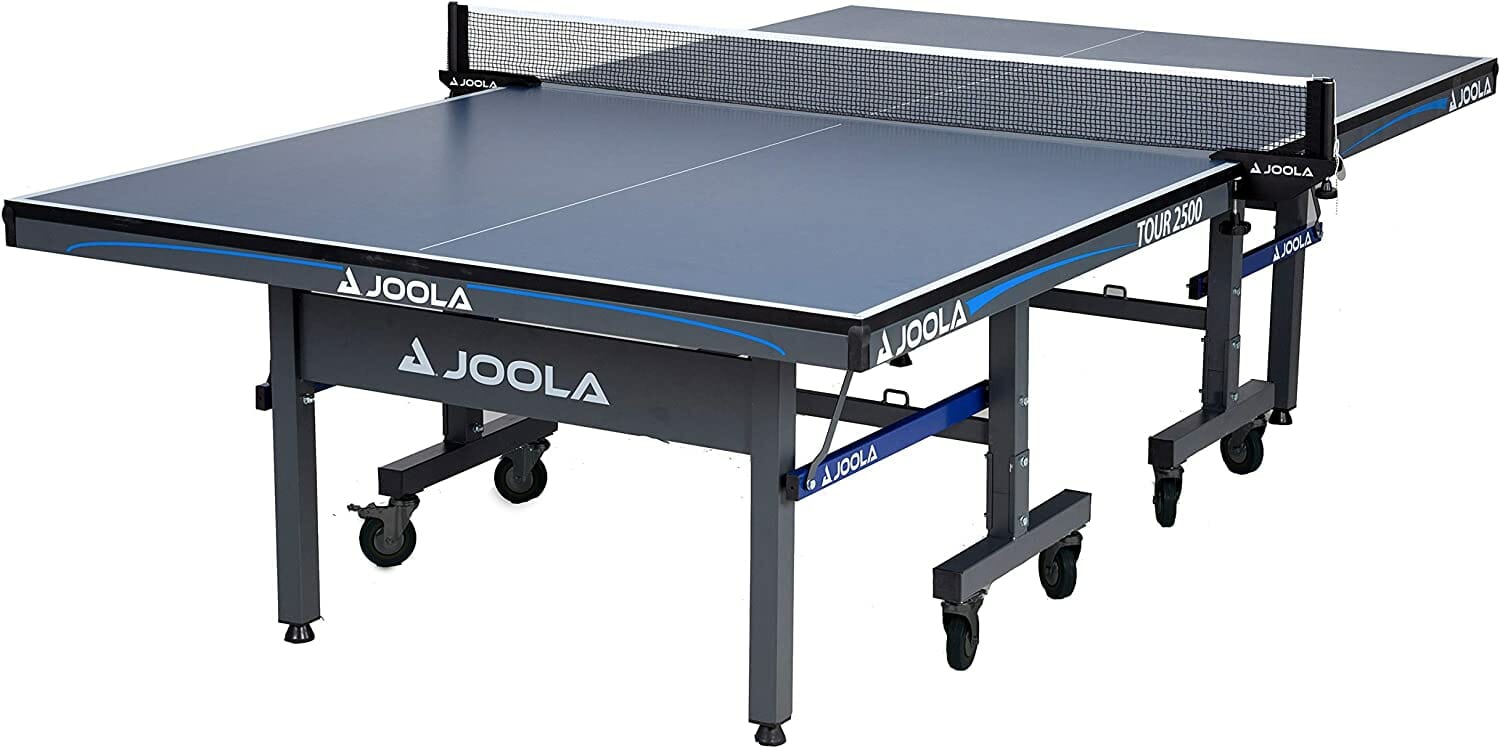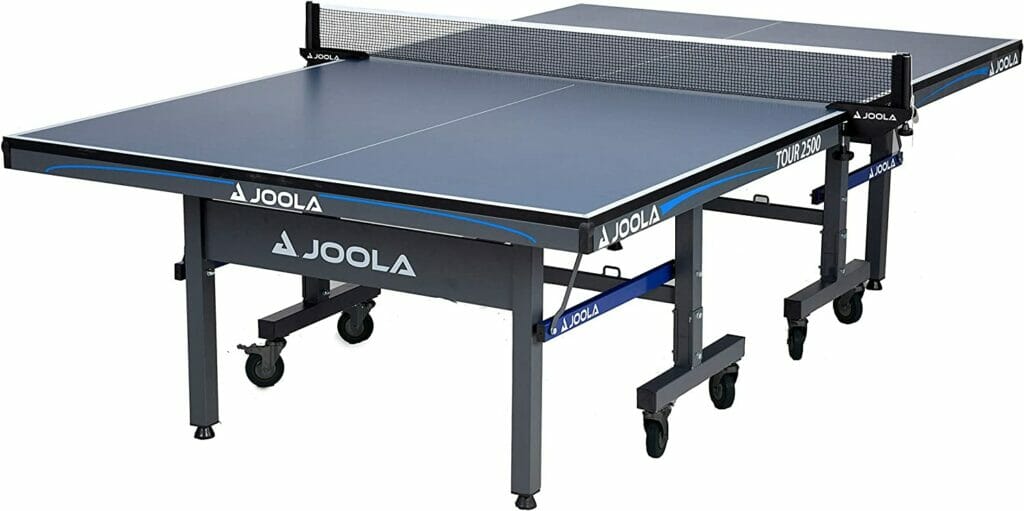 Overall the JOOLA Tour 2500 is an excellent table for a mid-level enthusiast looking to improve their game, or for a professional trying to get a well-priced table tennis table for training. With JOOLA supplying the US National team with ping pong tables, you'd be hard pressed to find a better table with similar features. It ranks first among our favorite table tennis tables on the market.
If you're still undecided but like JOOLA as a brand, we recommend giving our JOOLA ping pong table guide a read. We cover all of the top tables that JOOLA makes.

Freelance writer. Table tennis enthusiast. Lover of all things online. When I'm not working on my loop game I'm probably binge-watching some fantasy show.