JOOLA is one of the most renowned brands when it comes to quality table tennis equipment and the JOOLA Tour 2500 is no exception. It gets fantastic reviews and is very popular with both amateurs and aspiring professional table tennis players.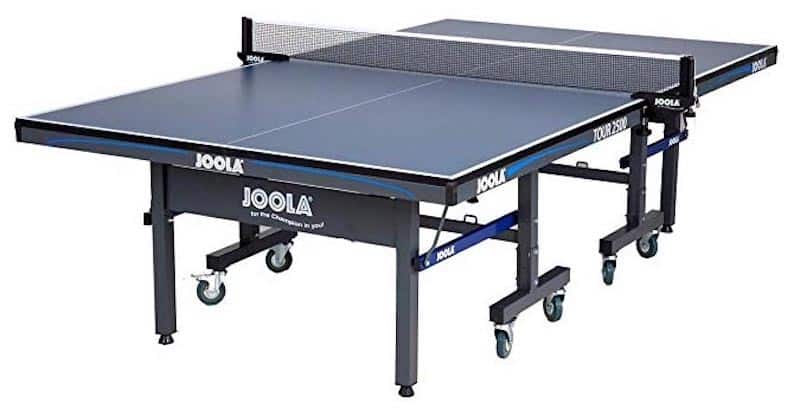 Specifications
Dimensions – 9 ft x 5 ft (Regulation size)
Assembly time – 10 to 15 minutes (Comes 95% preassembled)
Surface thickness – 1″ (25mm) made from MDF
Weight – 250 lbs
Price – $$$ (Check current price)
Our rating – 9.9/10
Overview of the JOOLA Tour 2500
Features
25mm (1 inch) Thick table top
Table tennis tables tend to have a surface thickness that ranges from 1/2″ on the lower end all the way up to 1″ thick which is the thickness required for an official tournament. The thicker the tabletop the better bounce the ball will get and therefore better gameplay.
The JOOLA Tour 2500 is made out of a 1″ (25mm) thick medium density fiberboard (MDF). It's very durable (although not meant to be used outside) and is finished with blue paint using multi-layers to ensure that you get a consistent bounce over the entire table. It also prevents chipping and warping helping the table to last longer and for you to get more value out of it.
50mm metal frame and strong foldable undercarriage
The robust 50mm (almost 2 inches) powder coated frame provides great support to keep the table sturdy from the inevitable knocks and bases that it will get. The corners have protectors to prevent it from getting bashed and chipping too.
The undercarriage is made of 50mm x 50mm black powder coated steel to give the table a very strong feel. You can fold up each half of the table very easily and the legs automatically deploy for added convenience. Then when it's folded up it locks into place with its double anti-tilting device for extra safety.
Because you can fold the table and it splits into two halves you can put the table into the playback position to practice with one your own.
4″ caster wheels and height adjusters
Each half of the table has four caster wheels that are now 4 inches (JOOLA upgraded them from 3 inches at the beginning of 2019). These larger wheels make it convenient to move the table around and when you're happy with its position they lock into place for extra stability and safety. The ends of the table legs have rubber height adjusters to ensure that the surface is completely level.
Competition grade net and posts included
It comes with a simple and easy to use net and post set that attaches to the table by a clamp. You can adjust the tension and height as you need and it's USATT approved for tournaments. With some tables that come with a net, we'll recommend getting a different one but for most people, this will be more than fine.
Easy to assemble and very fast
A lot of other 1″ thick tables often take a lot longer to assemble, some we've tried were as long as three hours. The Tour 2500, however, is very easy to put together as it comes almost completely preassembled. The only installation necessary is the caster "T" bracketed legs which required a few bolts to screw together. It shouldn't take much longer than 15 minutes although we'd recommend having two people for the setup as the table tops are very heavy. We wouldn't recommend that you pay extra for assembly service.
About JOOLA
JOOLA are one of the most popular brands in the table tennis world. They are the official sponsor of the US Open and US Nationals table tennis competitions. Having been producing high-quality ping pong related products for over 60 years.
To see the JOOLA Tour 2500 in action take a look at this clip of it being used on The Ellen Show.
Other models
There are two other models in the JOOLA Tour series. Firstly you have the JOOLA Tour 1500 which has a 15mm thick surface. This means that it doesn't have as good of a bounce as this 25mm thick table but it's quite a bit cheaper and so if you're on a bit of a budget it might be worth a look at. Here's our JOOLA Tour 1500 review.
Then the next step up is the JOOLA Tour 1800 which has an 18mm thick surface and so is slightly better than the 1500 but not as good as the Tour 2500. To read more about it take a look at our review here.
The JOOLA Tour series features in our post where we cover the best deals on ping pong tables if you wanted to see some of the other tables that we like.
Some very close alternatives to the JOOLA Tour 2500 if it's out of stock (which it often is as it's such a popular table) are the JOOLA Inside 2500 and the JOOLA Motion 25. Both are almost the same table but in different colors so could make good alternatives.
Positives
Regulation surface thickness – 1″ Thick regulation approved surface for official tournaments
Strong and durable frame and undercarriage – 50mm thick frame plus a 50mm x 50mm undercarriage for extra stability and safety
Auto folding legs – The legs fold automatically for ease of use and then they lock into place when stored
Comes 95% preassembled – It will only take 10 to 15 minutes to put together
Playback position – Fold up one half of the table to practice on your own
4″ locking caster wheels – As of 2019 JOOLA have updated the wheels to make them 4″ (rather than 3″) to make them stronger and more durable
Reasonably priced – Tables with a 1″ thick surface are generally a lot more expensive than the JOOLA Tour 2500
Negatives
Heavy – At 250 lbs this is a very heavy table which makes it harder to move around
Conclusion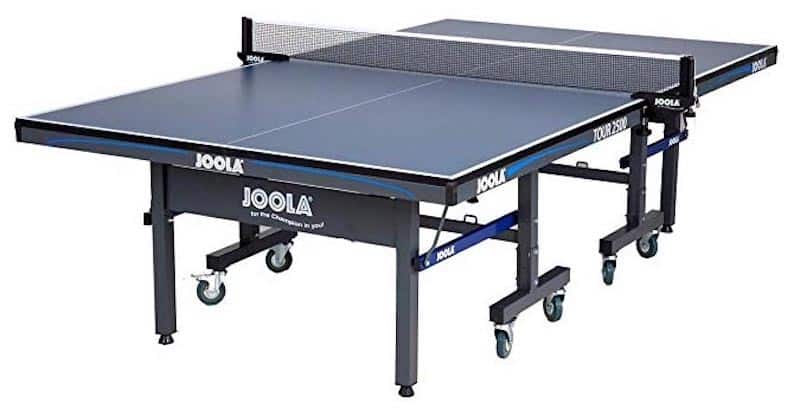 Overall the JOOLA Tour 2500 is an excellent table for a mid-level enthusiast looking to improve their game, or for a professional trying to get a well-priced table tennis table for practice and consistency purposes. With JOOLA supplying the US National team with table tennis tables you'd be hard pressed to find a better table tennis table with similar features.

Eugene (Gene) Sandoval has been one of those guys who spent too many hours around ping pong tables in high school. However, soon enough, Gene understood that there is more to ping pong than having fun. That is how he started a journey that made Eugene one of the experienced semi-professional ping pong players in the United States. As the founder of the PingPongRuler, Eugene spends most of his time surrounded by ping pong tables and research. He always has this knack for coming up with new ping pong strategies and telling the good and bad equipment apart.