Hey guys Jamon here bringing you a review on the Stiga Pro Carbon table tennis racket. I have to be honest, this paddle really surprised me in a good way.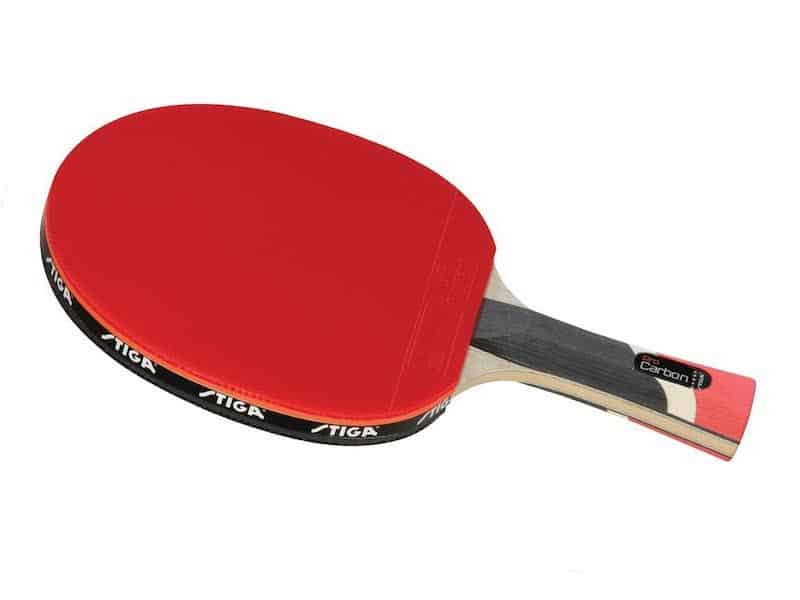 Check the latest price on Amazon.
Specifications
Performance ratings – Speed: 99, Spin: 100, Control: 80
Blade – 7 Ply lightweight blade with 2 layers of Carbon
Rubbers – STIGA S5 2.0mm on both sides
ITTF Approved? – Yes, can be used in official tournaments
Price – $$ (Check the latest price on Amazon)
Our rating – 9.8/10
This is a 7 ply Extra Light blade with 2 layers of carbon. The rubber on it is the Stiga S5 rubber with a 2.0mm sponge for extra speed and power. The racket in the hand feels great, I did not like the handle though, I feel like Stiga would have sanded down the edges on the handle a tad bit but other than that it felt great.
On the package, Stiga has the technology listed on there and I would like to go over that. It has crystal technology on the blade, this hardens the surface resulting in more speed for the paddle. It also talks about the air capsules in the rubber leading to maximum elasticity and outstanding control. I could personally feel this technology in use. It was very easy to control my shots, which was surprising as I usually hit long with carbon blades. Below I will go over each shot and how it felt.
Click here for today's low price for the Stiga Pro Carbon on Amazon. Discounts change every day, so check out today's price now!
Forehand Loop:
For the price of this paddle, Surprisingly enough, I enjoyed playing with this paddle at my local club and I really liked the feel of the forehand shot in particular. The spin on my loop wasn't the best but the speed and control I had made up for the lack of spin.
Off the table you had to put a little bit of extra power to make it over, it is more suited to closer to the table play. Another thing I noted when using this was the counter topspin rallies I had. This paddle performed excellently way above my standards going into this.
The huge plus on the forehand was the carbon plies in the blade. This really helped power wise and that's why I thought it was a contender to some cheaper custom made setups. The only dislike I had to the forehand was blocking. If my opponent did a heavy loop it was almost impossible for me to put back even with the right technique. This had to do with the softer sponge and the dwell time.
Backhand:
This was my favorite part about this paddle. It was super easy to control where I was putting my backhand shots working corner to corner. Again though the spin was lacking on my backhand and that was kind of an issue you with it. Stiga rates this paddles control to low. It was very easy to keep the ball low and fast using my backhand and the arc on the ball was low too.
Flicks:
Flicks and short play was okay at best with this blade. I found myself a lot of times hitting it into the net. It was hard to adjust to the dwell time on the rubber, it felt like the ball was staying on the rubber forever and it would end up bottoming out. I also couldn't produce as much loop on the ball as I wanted to but I got the speed I was expecting. All in all I give the short game an okay for this pre made paddle.
Pushes and Touch Play:
I felt like chopping with this blade was exceptional and that was the style I used to play with. I could push back topspin with ease and returning serves was easier than expected. Off the table I could play farther away and easily push back, this really helped me setup my 5th to 7th ball.
My Ratings
Overall Score: 7.5/10
Ratings on Package: 99 Speed 100 Spin 80 Control
Features Carbon Technology for Power and Speed
Performance Ratings- Speed: 99 Spin: 100 Control: 80
Handle: Flared handle with WRB technology
Tackiness: 3.1 Slightly tacky
3.5 Lightweight to Medium
Conclusion
In conclusion, this paddle was very fun to play with and suited my style a lot better than other offensive blades. The price point on this paddle is pretty accurate and I would recommend this to people just getting into competitive table tennis as it features decent rubber and some carbon plies.
The thing I liked about this was that the carbon plies didn't make it hard to control the ball and that it was very forgiving compared to some other carbon blades. It suits a player that is an All+ or an Off- due to lack of spin but good speed and power.
I personally think that pre-made paddles aren't all that bad after playing with the Stiga Pro Carbon and I would recommend this paddle to anyone just getting into table tennis, it's nice not having to worry about picking rubbers and blades.
PingPongRuler.com's Review
The Stiga Pro Carbon Table Tennis racket is a premium racket built for beginner to advanced players. If you are a player when a lot of experience, I recommend looking at a more expensive racket.
Stiga gives this racket an 80 on control and a 100 on spin. However that is not what we found. While the control was pretty good, better than 80 in our opinion, spin on the paddle was definitely not a 100. 100 is far-fetched, I would put this paddle around 90, 92 at best. It's got 7-plys, so you know that it's got a lot of power, which would explain why it is lower in control but succeeding in power. Therefore, from the stats and how the table was designed, one can discern that this paddle should be purchased by players interested in power, rather than control.
Many players have noted the racket's weight upon initially picking it up. This weight, while akward at first, helps to create extra power in your shots and is one of the special characteristics of this paddle.
Conclusion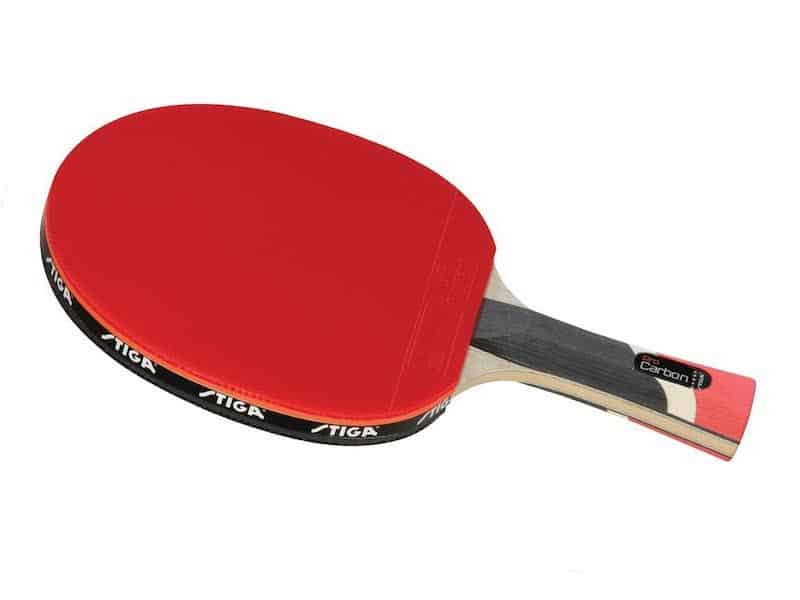 You should purchase the STIGA Pro Carbon if you have been playing for a while and want to move up in quality. This racket is a great choice because it's made of high-quality materials while still being relatively cheap. We don't think you'll be disappointed. The Pro Carbon is our most recommended in our best table tennis paddles of 2019 too.