If you're looking to purchase a new ping pong paddle to help you beat your opponents then a good option could be the STIGA Pro Carbon. It's one of the best selling table tennis rackets on Amazon of all time having racked up over 1000 five star reviews. We even ranked it number 1 in our best ping pong paddles of 2020 post! Let's take an in depth look at why in our STIGA Pro Carbon review.
Specifications
Performance rating – Speed: 99, Spin: 100, Control: 80
Blade – 7 Ply blade with 5 wood and 2 layers of carbon
Rubbers – STIGA S5 rubber 2.0mm sponge on both sides
ITTF Approved? – Yes, can be used in official tournaments
Price – $$
Our rating – 9.8/10
Construction
Let's start by looking at the construction features of the STIGA Pro Carbon table tennis racket. The blade is a powerful 7 ply and extra extra lightweight. It's made up of five balsa wood layers and two carbon layers which are lighter than the balsa wood layers and prevent it from being too heavy in the hand.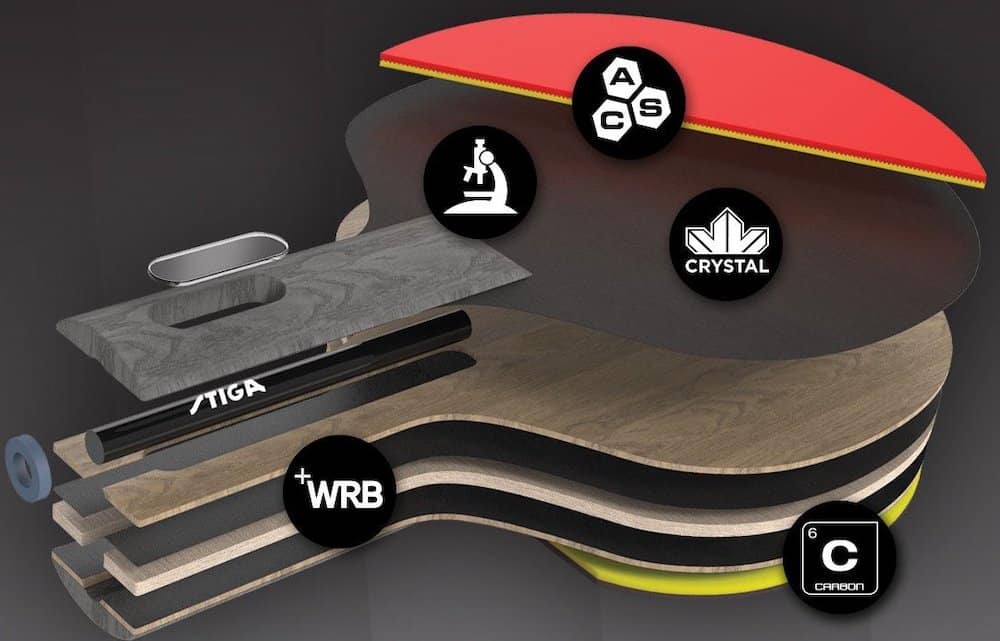 The rubbers on the Pro Carbon are the STIGA S5 which use Nano Composite and ACS Technology. We're not sure what these actually are, but apparently it means that it uses crystal technology and the bonds between the fibers of the rubber are stronger and contain microscopic air pockets to give you more control. What ever they are we really enjoyed the effect they have on the ball and were very surprised with sweet spot which was a lot wider than some of the other bats we tried. As a result you can generate some really great speed and spin. Like you'd expect from a STIGA blade, the rubber is approved by the ITTF so you'll be able to use it in official tournaments.
The handle of the STIGA Pro Carbon blade is a concaved flared grip handle which uses WRB technology. What this means is that it has a hollow tube running through the handle which spreads out the shock when striking the ball and give you better grip and more balance when holding the paddle. The result is that the paddle is a bit heavier in the face of the paddle than others which might be a positive or negative depending on what you're used to and would be more suited to offensive players.

The Positives
The main thing that we enjoyed about playing with the STIGA Pro Carbon is its speed. It really packs a punch and has a huge sweet spot that made it really fun to play with. The seven ply blade, although made a bit lighter with the two carbon fiber layers, is still hefty and a real weapon in the hands of pro and offensive players.
We were also able to generate good amounts of spin and the Pro Carbon's tacky STIGA S5 rubber was fun to play with and allowed us to hit lots of game winning forehand loops.
We love that you can replace the rubber on this table tennis paddle so if they do wear out and you need to get some new ones you can. Most pre-made paddles don't allow you to do this either. We have a guide on how to replace a table tennis rubber here.
The Negatives
Now these didn't put us off naming it our top paddle but some of these things might make this racket not the best one for you especially if you're a new player. The main thing was the weight of the handle. While the racket in general is relatively lightweight it has a metal rod in the handle that does take a little bit of getting used to.
The STIGA Pro Carbon also has a control rating of 80 which for intermediate players is fine but if you're a beginner you might find this racket a bit too much and you'll be better off with something else. Lower control ratings mean that you'll struggle getting the ball to go exactly where you want it to go if you're not experienced.
About STIGA
If you know anything about table tennis you'll know that STIGA are one of the most prolific brands making ping pong related products today. Based in Sweden they have a huge following of customers who love their tables and paddles and are one of the most well known and popular companies making some of the best products we've tried. The Pro Carbon is no exception and is one of the most popular paddles of all time.
Other options
Having received emails from customers it seems the STIGA Pro Carbon isn't available in the UK. You could always order it from the states but once you've paid the shipping it's probably not worth it. One close alternative is the STIGA Royal 5 Star Carbon that we feel could be very similar. If that's a little over budget then we've been trying out the Palio Master 3.0 racket which is available in the UK and a lovely all round bat to play with.
If you're looking for a more advanced version of the STIGA Pro Carbon then we'd suggest trying the STIGA Raptor table tennis paddle which is essentially the Pro Carbon on speed. You will lose a lot of control however so it's not recommended for new players.
Conclusion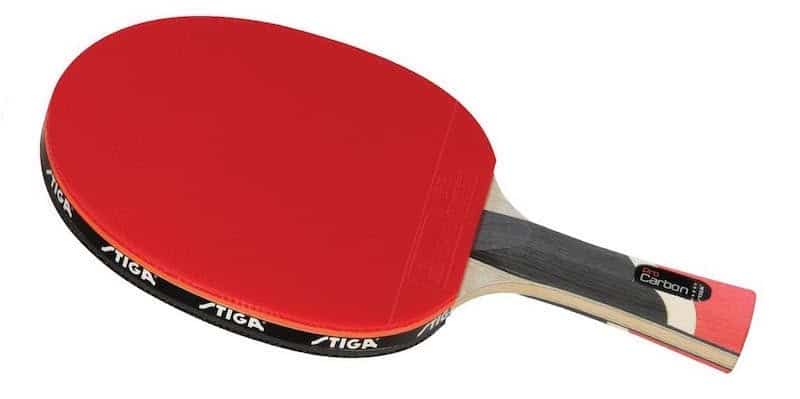 So there you have our review of the STIGA Pro Carbon table tennis racket. It really is one of our favorite rackets that we've played with and if you've been playing for a while and want to level up your table tennis game and hit more winning shots then it may make a good purchase. We loved the high quality build, huge sweet spot, great looking design and amazing performance that made it really feel like a premium product while still being a relatively cheap paddle (not over $100).
The STIGA Pro Carbon is made with intermediate players in mind looking to up their offensive game and generate more spin and speed than their beginner racket but without losing all control over the ball and will help you take your game to the next level. We don't think you'll be disappointed.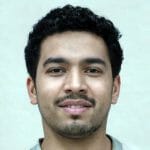 Eugene (Gene) Sandoval has been one of those guys who spent too many hours around ping pong tables in high school. However, soon enough, Gene understood that there is more to ping pong than having fun. That is how he started a journey that made Eugene one of the experienced semi-professional ping pong players in the United States. As the founder of the PingPongRuler, Eugene spends most of his time surrounded by ping pong tables and research. He always has this knack for coming up with new ping pong strategies and telling the good and bad equipment apart.