Most players will agree that your game is only as good as your paddle and if you're looking for one to up your win rate than the STIGA Raptor could be a good option. Having been released recently by world renown brand STIGA, The Raptor is making waves and is fast becoming a very popular ping pong paddle for intermediate and advanced players.
In this post we're going to be giving you our STIGA Raptor review and share some of the things that are making people take note of this fantastic new paddle from STIGA.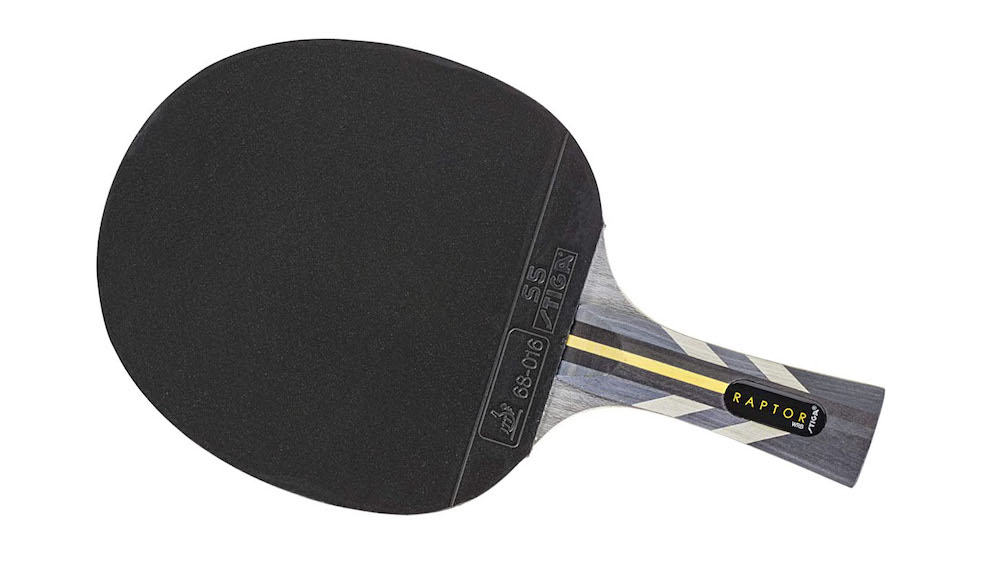 Manufacturer's Specs
As with every ping pong pong paddle, the manufacturer provides some specs of how they built the paddle and what to expect in terms of its performance.
While these are a good indication of how the racket will perform, it's worth noting these aren't official and are given by the manufacturer so don't take them as gospel.
| Speed | Spin | Control | Handle | Blade | ITTF | Our rating | Buy |
| --- | --- | --- | --- | --- | --- | --- | --- |
| 99 | 100 | 80 | Concave | 5+2 | Yes | 9.5/10 | PRICE |
Construction
When it comes to the STIGA Raptor there are lots of things to love about it. It's almost identical to one of our favorite paddles the STIGA Pro Carbon and on paper it has very similar specs.
The blade, which weighs 1.2lbs, is a 7 ply pre-made table tennis racket with 5 balsa wood layers and 2 carbon layers. These two carbon layers are to keep it lightweight but still allow you to generate good amounts of speed and power.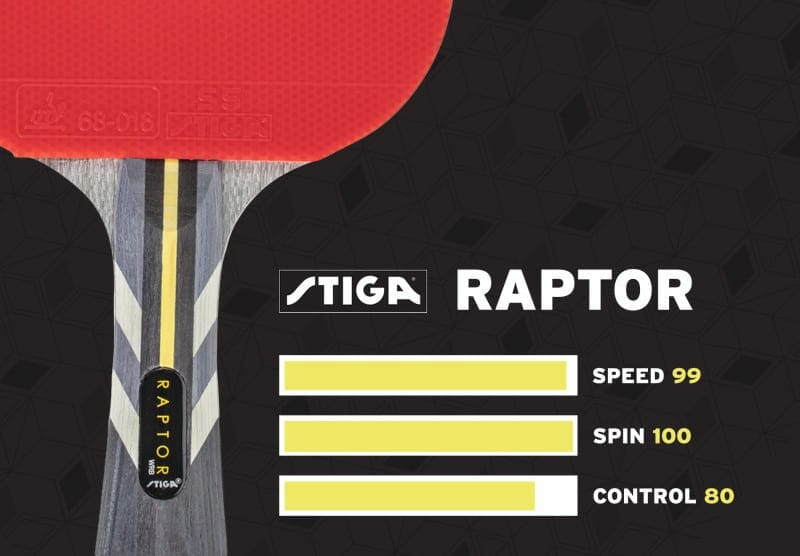 The main difference between the Raptor and Pro Carbon is the handle. The STIGA Raptor has what they call a Concave Pro handle grip which is essentially a flared grip handle with a bit of a tweak. It's also hollow (which is what WRB means) which causes it to be lighter but still remain balanced.
The rubbers on either side are the STIGA S5 which we really enjyoed playing with and are the same as the Pro Carbon. They're built with STIGA's Nano Composite and ACS technology which essentially mean the fibers are a lot stronger and contain very small, microscopic pockets of air which give you a bit more control.
The sponge layer in-between the rubbers and the blade are 2mm thick too which means the ball really pings of the face of the paddle giving you more spin. This is great for aggressive players but not suitable for beginners.
It's of course approved by the ITTF (the International Table Tennis Federation) so you'll be able to use this ping pong paddle in official tournaments and competitions as you level up your skills.
What we liked
Perhaps the first thing that catches the eye is the design and the workmanship that has gone into the look of the STIGA Raptor. It looks very sleek and the sort of racket you'd love to show off and your table tennis club.
It handles really well too and was very fast plus we were able to get loads of spin on the ball. It was quite unforgiving though so we wouldn't recommend it for beginners but if you're an intermediate player looking for up your game then it could be a good option.
It seems we aren't the only ones to think so as there are lots of very positive reviews saying the same thing and very few reporting any issues which is a good sign of STIGA's quality control and attention to detail. That being said it is a relatively new paddle having only been released recently so it's still a bit early to tell how durable it is.
What could be better
There were very few things we'd change about the STIGA Raptor. For us it was a well suited paddle that had good speed and spin and just the right amount of control. But, if you're a beginner and new to table tennis this is note the racket for you. You'll find the speed very overwhelming and uncontrollable, but for intermediate players it's ideal.
It hasn't happened on our paddle that we've used for this review, but a few customers have reported that the logo in the side of the handle sometimes pops out which while not too much of a big deal is something we'd like to not see in a paddle of this quality. If it does happen a little big of glue and some steady hands should rectify it easily.
The last downside is the price which is on the upper end of pre-made paddles. We think it was actually about right for the quality, speed and spin but we'd like to see the price come down a bit as it becomes more popular.
About STIGA
STIGA Sports has been producing industry leading table tennis equipment and accessories since 1944. Today, they have distributers in over 100 countries all over the world and are one of the largest brands supplying the table tennis market. They are constantly innovating which is one of the things that has led to them succeeding for so long.
Conclusion
All things considered, there is no doubt that the STIGA Raptor is a solid pick for intermediate and advanced players looking for a new table tennis racket. The combination of speed and spin that you're able to generate, while not good for beginner players, was great for us and should suit intermediate and offensive players looking for paddle to generate power.
So if you're looking for something to up your game we really enjoyed playing with the Raptor and would highly recommend it. If you're looking for something else a bit more suited to beginners check out our best ping pong paddles post here where we cover some rackets that might be better for you.

Eugene (Gene) Sandoval has been one of those guys who spent too many hours around ping pong tables in high school. However, soon enough, Gene understood that there is more to ping pong than having fun. That is how he started a journey that made Eugene one of the experienced semi-professional ping pong players in the United States. As the founder of the PingPongRuler, Eugene spends most of his time surrounded by ping pong tables and research. He always has this knack for coming up with new ping pong strategies and telling the good and bad equipment apart.