Most players will agree that your game is only as good as your paddle. And if you're an intermediate player looking to up your win rate then the STIGA Raptor could be a good option. It's one of STIGA's most popular pre-assembled rackets, and we feel it gets neglected because of the STIGA Pro Carbon. But it really shouldn't, it's a quality bat!
In this post, we're going to share our thoughts on the Raptor table tennis racket by STIGA and compare it against some of the competition.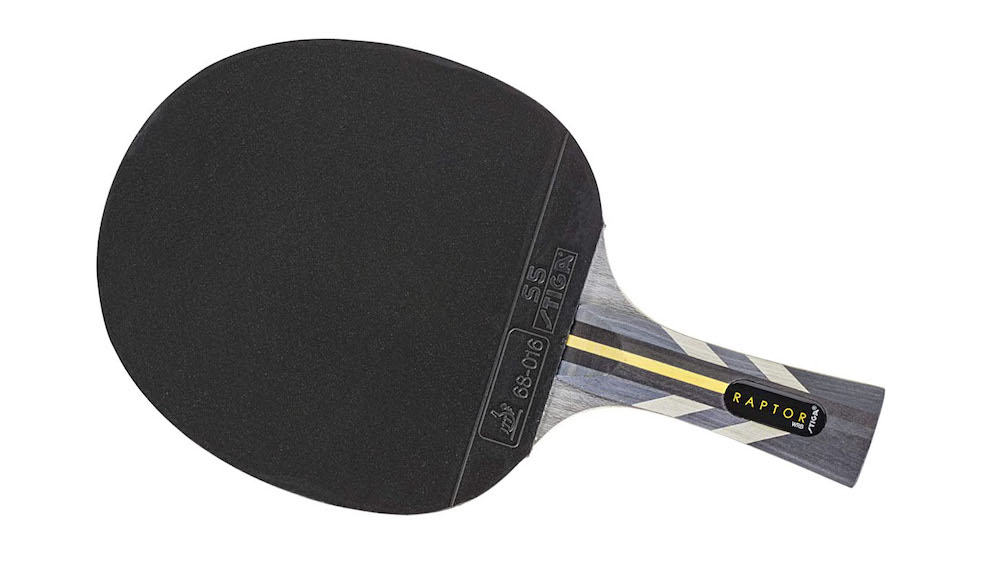 Manufacturer's Specs
As with every ping pong paddle, the manufacturer provides some specs of how they built the paddle and what to expect in terms of its performance.
While these are a good indication of how the racket will perform, it's worth noting these aren't official and are given by the manufacturer so don't take them as gospel.
| Speed | Spin | Control | Weight | Rubbers | Blade | Handle | ITTF | Our rating | Buy |
| --- | --- | --- | --- | --- | --- | --- | --- | --- | --- |
| 99 | 100 | 80 | 165g | Stiga S5 2mm | 5W+2C | Concave | Yes | 7.9/10 | PRICE |
Quick Overview
The STIGA Raptor is a fast bat suited for intermediate players who sport an attacking style.
Pros:
Inexpensive
Pre-assembled
Fast
Decent spin
Thousands of 5-star reviews
Cons:
Too quick for beginners
Logo is not securely glued to the blade
Top-heavy
Incorrect weight listed
Construction
Blade
The blade weighs around 165 grams and sports a carbon-wood composition. Its five wooden layers are made from balsa, and the two remaining layers are made of carbon. These two carbon layers help to keep the blade light while increasing the amount of speed and spin the bat can generate.
Handle
STIGA employed their WRB technology in the Raptor. This stands for Weight Balance and Rate of recovery. They hollowed out the handle to reduce its overall weight, and in the process, shifted the center of gravity onto the bat's face.
This makes the bat top-heavy which may be off-putting for some. However, the reduced weight will be a benefit to most and it does make it easier to rotate the ball for topspin strokes.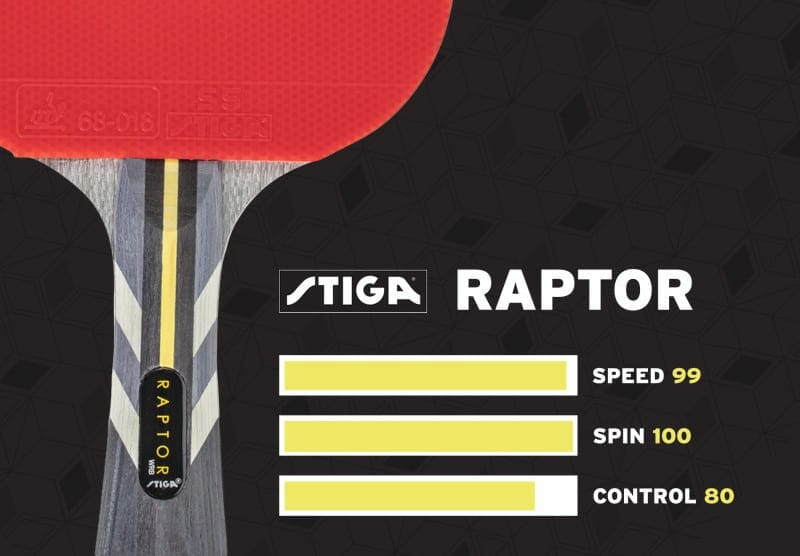 Rubbers
The STIGA Raptor table tennis racket has one black and one red rubber as is customary. The rubbers used are STIGA S5. They're built with STIGA's Nano Composite and ACS technology which essentially means the fibers are a lot stronger and contain very small, microscopic pockets of air which give you a bit more control.
The underlying sponge measures 2mm thick. This promotes an attacking style of play as all-round rubber cap out at around 1.8mm.
As you would expect the rubbers are ITTF-approved (International Table Tennis Federation) so you'll be able to use this ping pong paddle in official tournaments and competitions to help test your skills.
What we liked
Design
The first thing that caught our eye was the design and the workmanship that has gone into the look of the STIGA Raptor paddle. It looks very sleek and is the sort of racket you'd love to show off at your table tennis club. In my opinion, it looks a lot better than other paddles at its price range.
Fast With Good Spin
In terms of performance, we were pretty happy with what we experienced. As expected, the carbon layers in the blade give it an extra kick which is appreciated in virtually all areas of the game. It is not blisteringly fast, but just right for most intermediate players, and perhaps some slower advanced players.
Spin was also pretty good, around what we expect for the price. You should have no trouble catching players out with spinny serves and heavy topspin strokes. We found looping to be controlled and fairly easy to execute, so if and when you develop the ability, looping is definitely on the table.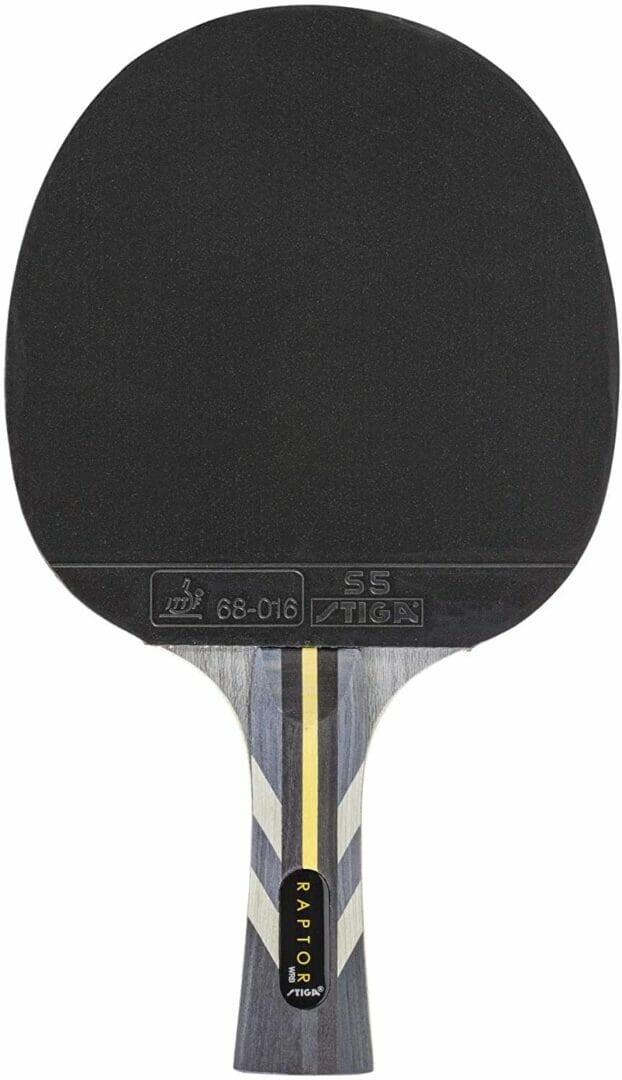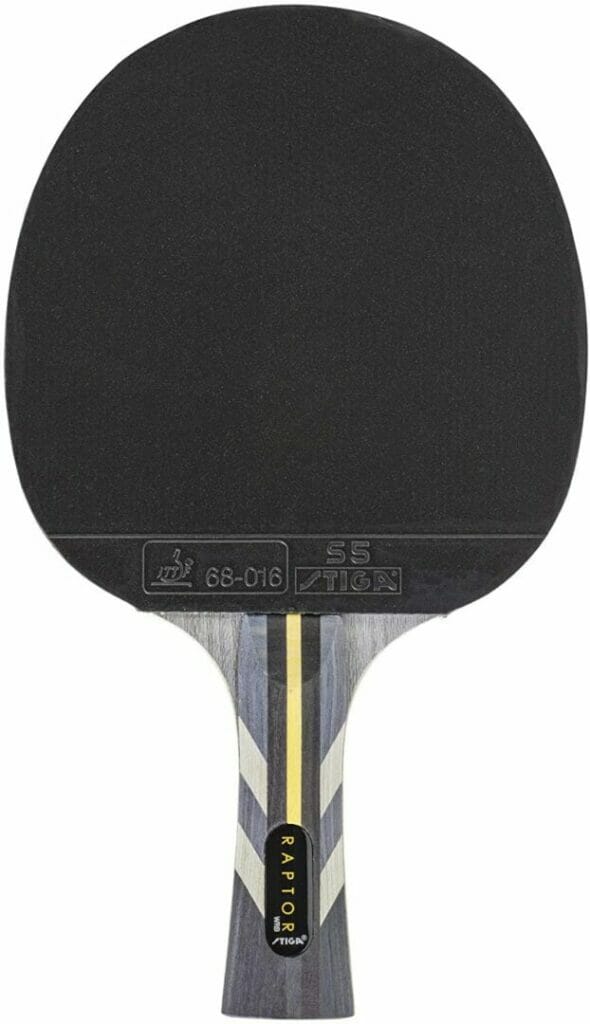 What Could be Better
There isn't that much we'd change about the Raptor ping pong paddle as we feel it's a good purchase for the money. However, we do have a few points that we would like to discuss.
Top-Heavy
While it's not the most top-heavy paddle we have used, its unequal weight distribution is certainly noticeable, and we wish the weight was a little more balanced as it feels unnatural.
Logo has a Tendency to Fall Off
Now we didn't experience this for our STIGA Raptor table tennis racket when conducting this review, but a few customers have reported that the logo on the side of their handle came off. While this is not a huge deal, it is something that they can easily fix. For a paddle of this quality, they really should use more reliable glue to adhere the logo to the blade.
Weight Discrepancies
Another needless negative to the paddle is the misinformation surrounding the STIGA Pro Carbon's weight. While 165g or thereabouts should be the indicated weight, Escalade Sports states otherwise twice. Once in the customer questions and answer section where they specify 1.2lbs. This is impossible as this equals 544 grams and no bat weight this much. And secondly in the technical details section where they list 0.21kg. This would make it 210g, which again, is incorrect.
STIGA Raptor vs STIGA Pro Carbon
If you're having trouble finding differences between the STIGA Raptor ping pong paddle and the Pro Carbon we are not surprised as they are virtually the same bat.
They share the same rubbers, blade, composition, handle, and even ratings on the part of the manufacturer. The only clear difference is the appearance of the handle and the price. And as it stands, the Raptor is slightly cheaper, so if you're torn between the two, that's the one we recommend you go for.
| Name | Image | Rubbers | Handle | Blade | Weight | Manufacturer ratings |
| --- | --- | --- | --- | --- | --- | --- |
| Stiga Raptor | | Stiga S5 2mm | Concave | 5W+2C | ~165g | Control: 80 Speed: 99 Spin 100 |
| Stiga Pro Carbon | | Stiga S5 2mm | Concave | 5W+2C | ~159g | Control: 80 Speed: 99 Spin: 100 |
About STIGA
STIGA Sports has been producing industry-leading table tennis equipment and accessories since 1944. Today, they have distributors in over 100 countries all over the world and are one of the largest brands supplying the table tennis market. They are constantly innovating which is one of the factors that has led to them succeeding for so long.
Conclusion
All things considered, there is no doubt that the STIGA Raptor is a solid pick for many intermediate players and even some at an advanced level. It ever so slightly beats the Pro Carbon which may be a surprise to many, and we feel it is fairly priced for what it is. It certainly gets our seal of approval.
If you're still not convinced and are after something a little more powerful, we instead recommend checking out the Infinity Overdrive. It too is a pre-assembled paddle, made by STIGA's competitor JOOLA. It's also cheaper so it's worth checking out.
If that doesn't tickle your fancy either you best head over to our best ping pong paddles post. There's a racket over there for everyone.

Eugene (Gene) Sandoval has been one of those guys who spent too many hours around ping pong tables in high school. However, soon enough, Gene understood that there is more to ping pong than having fun. That is how he started a journey that made Eugene one of the experienced semi-professional ping pong players in the United States. As the founder of the PingPongRuler, Eugene spends most of his time surrounded by ping pong tables and research. He always has this knack for coming up with new ping pong strategies and telling the good and bad equipment apart.