JOOLA Infinity Overdrive Review
The JOOLA Infinity Overdrive has the most spin and is the fastest pre-assembled paddle of both the JOOLA Omega and JOOLA Infinity lines. What makes it so advertising is its premium construction and very inexpensive price point. It is a quality bat that rivals the more expensive custom paddles you can build yourself. So for any of you advanced players out there who want the most bang for your buck, it's a bat you should definitely consider.
We were fortunate enough to get our hands on this bat courtesy of Megaspin. They sent it over for us to review to help buyers learn about how it performs. We tested in all areas of the game, so without further ado, here's our honest review.
JOOLA Infinity Overdrive Review
Specifications
·         Class – OFF
·         Plies – 5W+2C
·         Rubber – Micron 48
·         Sponge thickness – Unlisted
·         Blade thickness – 6.1mm
·         Handle type – Flared
·         Weight – 190g
·         ITTF Approved? – Yes
·         Price – $
·         Our rating – 8.2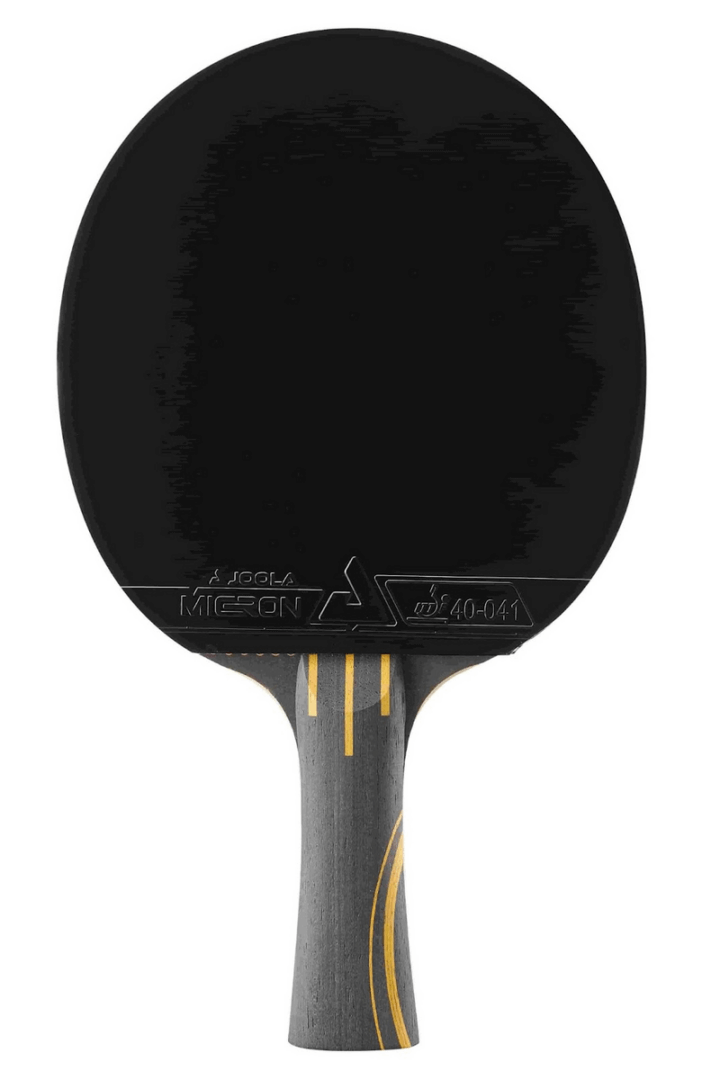 JOOLA Infinity Overdrive Construction
The Infinity Balance is a paddle from JOOLA's pre-assembled bat line. This means you are getting a complete bat with a specially selected blade and rubbers.
Blade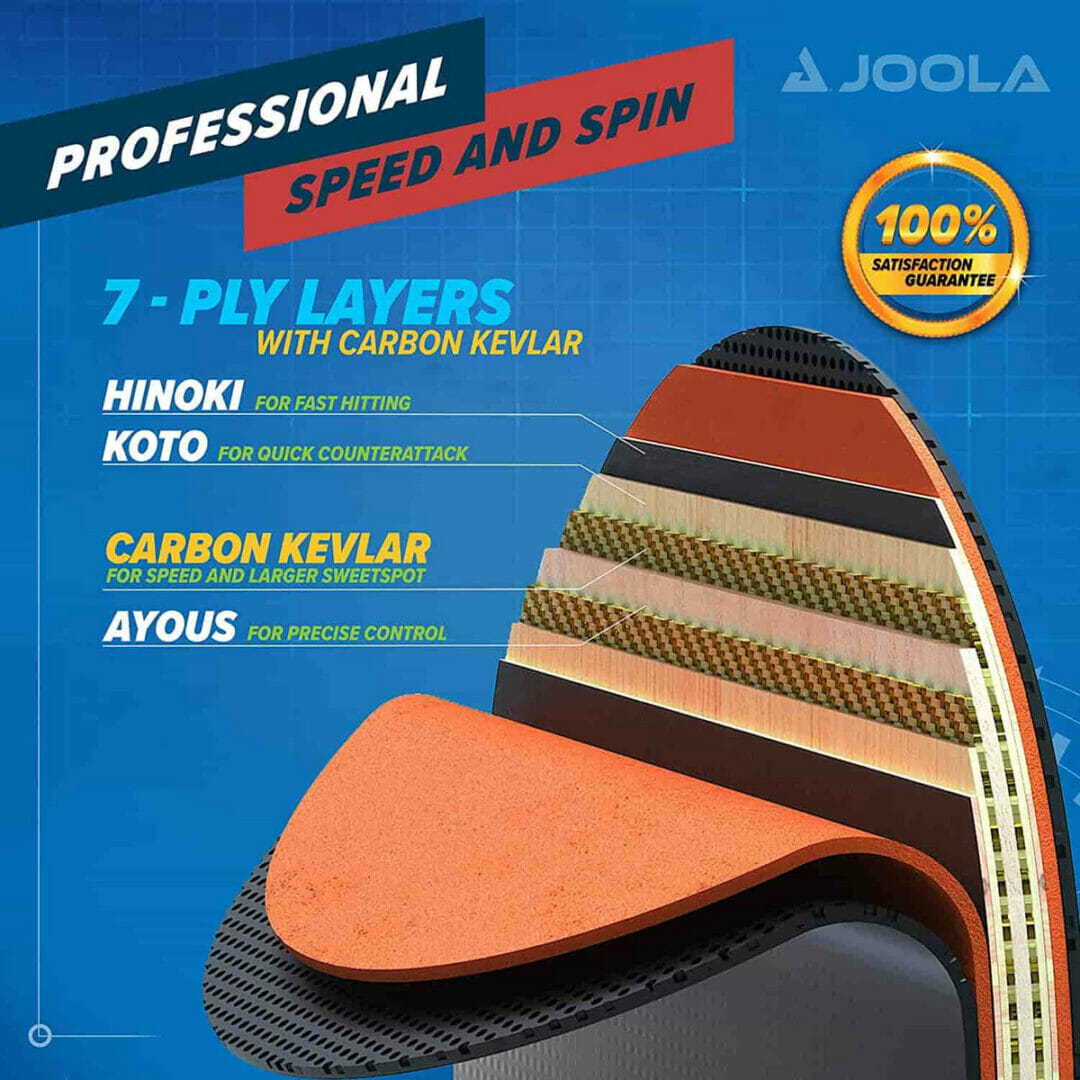 The JOOLA Infinity Overdrive table tennis racket has a 7-ply blade with 5 layers of wood and 2 layers of carbon. The central veneer is Ayous followed by Carbon Kevlar, then Koto, then Hinoki. It is one of only two paddles within the Omega and Infinity range that use carbon, the other paddle being the Infinity Edge.
Ayous: A soft lightweight wood that is frequently found in the core.
Koto: A great veneer choice for the outer plies. Light and stiff it sports a fast style.
Hinoki: A type of wood that is native to central Japan. Soft and versatile, it is a sought-after veneer with good feeling, but equally, good pace.
Carbon Kevlar: Widens the sweet spot of the blade to promote optimal shot consistency. Made using carbon atoms that are formed into fibers that are approximately 5-10mm in diameter.
Rubbers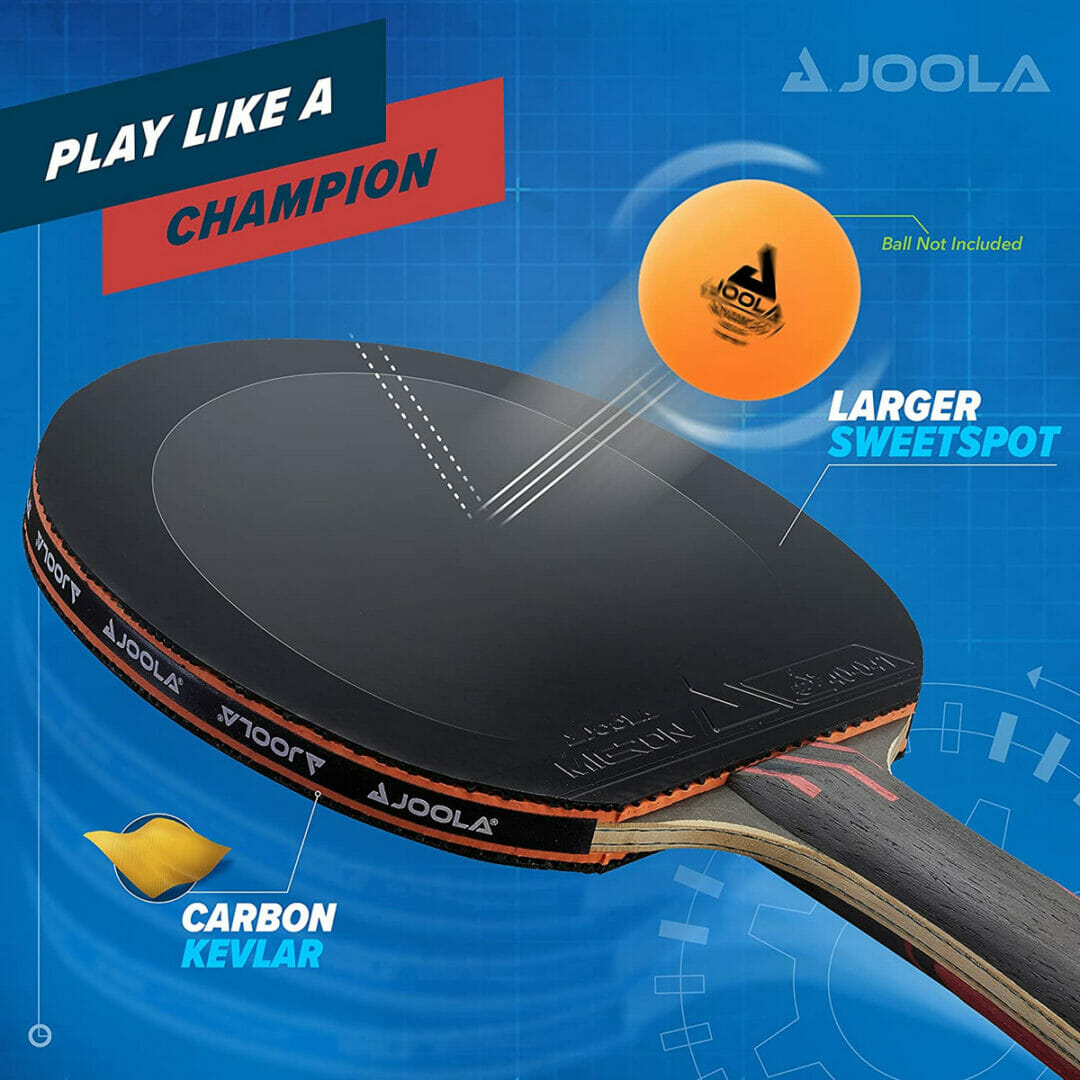 The Infinity Overdrive uses JOOLA Micron 48 rubbers. They are pips-in inverted style which means the top surface is flat and spin behaves normally.
The sponge thickness is not listed, but we expect it is at least 2.2mm as this is the thickness of the Infinity Edge. And the Infinity Overdrive is both faster and has more spin.
JOOLA Infinity Overdrive Pros
Pros
Inexpensive

Great value for money

Great looping

Very fast
Pre-assembled paddles are a great way of getting good value for money, but JOOLA has taken this a step further with the Infinity Overdrive. I'm pretty astounded that this bat costs less than $55, twice the cost is more around the figure I would expect.
It is pretty clear to me that the Infinity Overdrive is best suited to advanced players. It plays a very fast game and I feel that most intermediate players will be a little too overwhelmed in demanding areas such as looping. The margin for error when executing your loops is lower than for slower, more controlled bats. And you have less recovery time to reset for your next shot. Only advanced players will be able to use it consistently while making use of its top gears. I was able to hit a lot of loop kills with it both during topspin rallies and from push balls. This demonstrates its versatility and means you are a constant threat even when your opponent feels safer during the pushing game.
Smashing and punching was another area the Overdrive performed well. It feels fairly hard and I was hitting very fast shots with relative ease. I particularly enjoyed punching balls after a sequence of blocks to upset my opponent's rhythm and catch him off-guard. I used a combination of both controlled smashes and smashes with the intent to end rallies, to great effect. I didn't make many mistakes in this area. Only a few smashes went into the net, usually when my opponent lobbed more towards the back of the table when I had a narrower angle to make the smash.
JOOLA Infinity Overdrive Cons
Cons
Too quick for beginners / most intermediate players

Many advanced players may want more spin
The first drawback that comes to mind is that the JOOLA Infinity Overdrive paddle has a high skill requirement. As it can play very fast and doesn't have a lot of feeling only advanced players should really use it. Of course, this is just a recommendation. The right intermediate player may play effectively with it. But in general, I think most players in this category will make too many mistakes and it might hurt their form.
A drawback for advanced players is that the Infinity Overdrive may not have as much spin as you would like. Ultimately, this is dependent on your style, but I tend to find most advanced players favor very spinny equipment. I found that the Infinity Overdrive's spin deficit is most noticeable during regular impactful loops. The ball doesn't sink into the sponge a great deal and you don't get a ton of rotation, but you do get a lot of speed.
Yet, when brushing the ball during serves, or opening up from backspin with spinny loops, I found that I did get a lot of spin. Enough to win me points outright or to set me up for a finishing shot. So be aware that the spin tends to vary in these two areas of the game.
About JOOLA
JOOLA is a table tennis manufacturer that initially began trading within the department store group, Fr. Th. Jooss in Landau, Germany. However, after their table tennis tables became highly successful JOOLA relocated to Godramstein in 1963 and became an independent company.
JOOLA's success continues to this day with their tables being used all over the world by beginners and professionals alike. Despite tables being their specialty, JOOLA also manufactures a range of other equipment such as bats, rubbers, blades, and balls.
Alternative Options
We compared the Infinity Overdrive head-to-head against 4 other Joola paddles in this range, so check out the video for the full reviews.
JOOLA Infinity Edge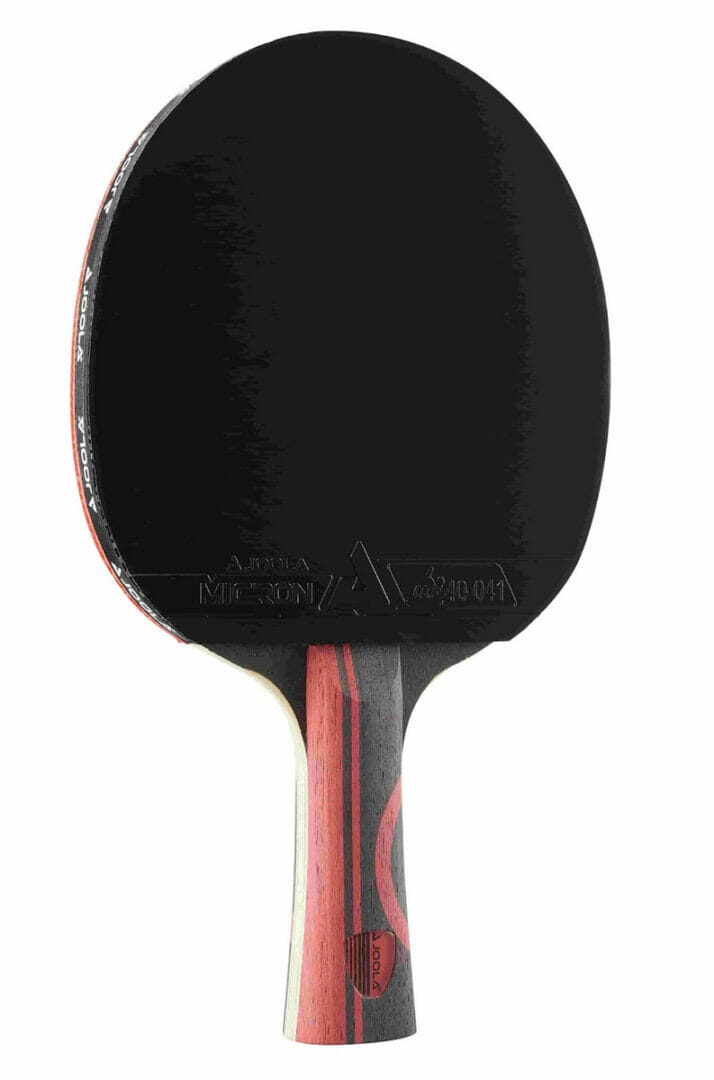 (For our full review, click here)
The Infinity Edge is another pre-assembled paddle by JOOLA that also has a carbon layer making it quite fast. While it is not as speedy as the Infinity Overdrive, it is cheaper and easier to control. It is also slightly more suited to intermediate players.
JOOLA Infinity Balance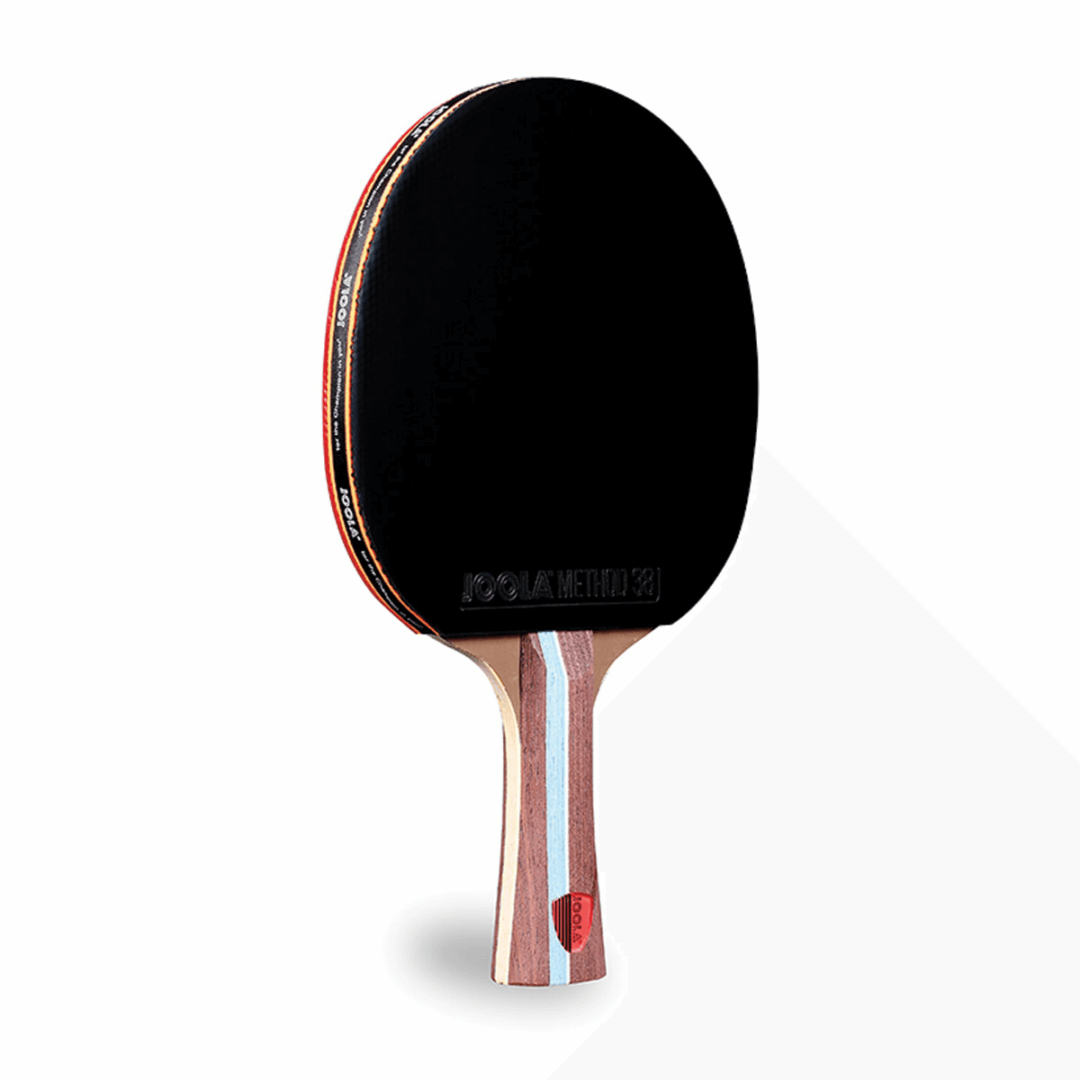 (For our full review, click here)
The Infinity Balance is the cheapest pre-assembled paddle of the Infinity line, and marginally more expensive than the Omega Strata. While fast, it suits more of an allround game and is perfect for players at an intermediate level. It has a 7-ply composition, all of its layers are made from wood.
Conclusion
The JOOLA Infinity Overdrive is a powerful pre-assembled bat that is a serious competitor to custom-made ping pong paddles. It performed above our expectations, and while it is not the fastest and does not have a tonne of spin, it is a highly effective bat in the hands of the right player. We feel offensive advanced players will get the most out of this bat. Especially those seeking a bargain, because it's just so well priced. If instead, you want the best bat money can buy, we instead recommend you check out our best ping pong paddles article.
Read more: You might also be interested in our top table tennis bat cases.

Freelance writer. Table tennis enthusiast. Lover of all things online. When I'm not working on my loop game I'm probably binge-watching some fantasy show.