JOOLA Inside Table Tennis Table Review
The JOOLA Inside table tennis table is an indoor regulation table with a 5/8 inch wood composite built table top, 1.5-inch steel diameter legs and a powder coated undercarriage to prevent rust. It's an inexpensive option designed for those just getting into table tennis or looking for a quick and easy solution to keep the kids entertained.
A regulation table is going to cost $1500 or more. You probably don't want to spend that much money, which is why the JOOLA Inside is a great alternative, especially if you're purchasing a table for your kids to play or simple recreational fun. So let's dive in to our JOOLA Inside review and see what all the fuss is about.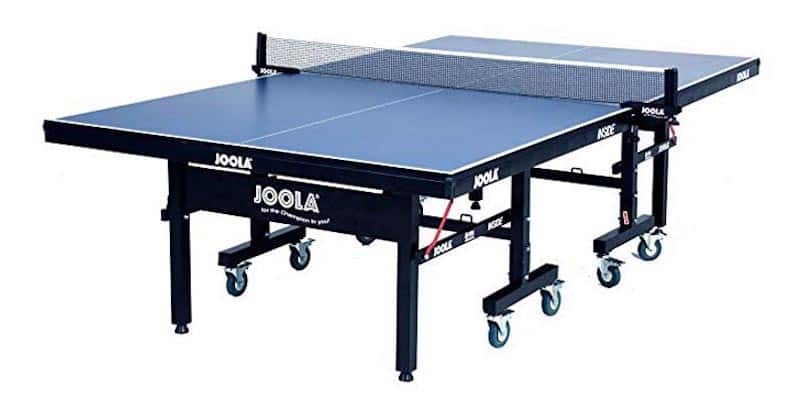 Specifications
Table Dimensions – 9 ft x 5 ft
Assembly – 10 – 20 minutes
Table Surface thickness – 5/8″ (15mm) table top
Table weight – 137lbs
USATT Approved – It's USATT approved for quality
Price – $$$ (Check latest price)
Our rating – 9.9/10
JOOLA Inside In depth Review
The JOOLA Inside table tennis table is one of the best selling on the market of all time. Since its release, it's gathered thousands of five-star ratings on Amazon and is hugely popular! As great as it is, it pays to check out the competition though, check out what we think is the best table tennis table here (the JOOLA Inside is in our top three!)
5/8″ Table surface thickness
The JOOLA Inside 15 features a 5/8 inch (15mm) playing surface thickness which is pretty standard for ping pong tables in this price range. While it's too thin to be ITTF approved this table was made for beginners and recreational players and not for the pros or serious players to use.
If you've been looking and researching about how to choose a table tennis table you'll know that the thicker the playing surface is then the better bounce the ball will get. If you did want to get a bigger bounce, the JOOLA Inside table comes in two thicker sizes:
These more advanced models of the Inside table are a bit more expensive but we always recommend that you consider getting the thickest table you can afford as you'll find you get a lot better bounce from your ball.
Splits into independent table halves
The JOOLA Inside conveniently splits into two separate table halves which has a number of benefits. The first is that you can put it into personal playback position allowing you to practice on your own without needing a playing partner.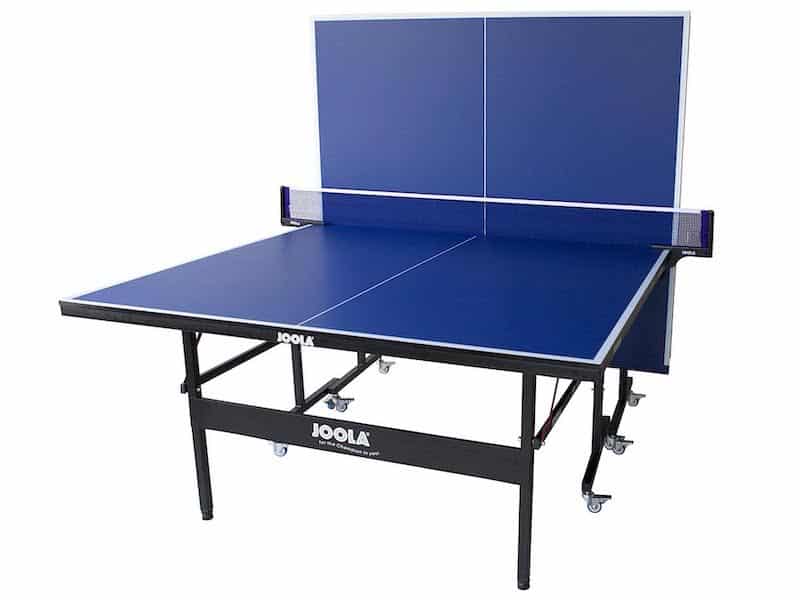 You'll also find that it makes moving the table around and storage a lot easier. Table tennis tables can be pretty heavy and hard to transport so having it split in two can make it a lot more portable. Each half of the table has four 3″ caster wheels that that lock for safety. When both halves are folded up it can pack down to compact storage dimensions of 21½ x 61¾ inches making it an ideal and easy indoor table for playing at home. Also, once folded up the spring-loaded locking safety latch system on the bottom of the table keeps it in place and prevents it from unfolding unintentionally.
Strong and durable undercarriage
The two halves of the JOOLA Inside each have a strong, solid undercarriage and easily fold away when not in use. The YouTube video earlier in our review demonstrates how easy it is around 0:40 seconds through. Also, the table legs are one and a half inches thick which provide it with a very sturdy and well made feel. At the bottom of each of the legs are adjustable levellers to help make sure that it's completely level. They also have rubber ends to prevent any scratches to your floor.
Very fast table assembly time
Hopefully, you haven't ever had to experience the pain of putting together a table tennis table that requires multiple people and 5-6 hours of hard labor to make it ready. If you haven't you're lucky, and the JOOLA Inside table will prevent that pain from ever coming true. The table comes 95% preassembled and it can be very easily put together, just put the legs on. It should take around 15 minutes from opening the box to hitting your first serve.
Not the greatest net and posts
There are many features to love about the JOOLA Inside indoor table, but the included net and post set that comes with it might not be one of them. Some customers that have used it reported the clamps which keep the net attached to the table becoming loose easily.
But rest assured the net is probably the cheapest and easiest ping pong table accessory to fix. Take a look on Amazon for a multitude of ping pong table nets that would be better to use with this table.
JOOLA The Brand
If you know anything about table tennis, then you'll already be familiar with sports brand JOOLA. They are almost synonymous with table tennis. They have been manufacturing not only recreational tables and rackets for the last 5 decades but also some of the equipment used in Olympics and official tournaments worldwide, meaning they have built up the experience and the knowledge to make some of the best tables available on Amazon.
Their long history also shows they know how to deal with customers well. Any long-standing company always has a great return policy, and JOOLA is no different. While you probably won't have an issue, things can happen, and should things go wrong with your table JOOLA will have your back.
Pros of the Indoor JOOLA Inside
So easy to assemble – The table comes mostly pre-made and will only take 15 minutes to set up and start playing
Splits into two halves – The table can be separated into 2 free-standing tables to use in personal playback mode or for easy storage
Strong steel undercarriage – 1.5-inch steel diameter legs for extra support and solid stability for the table and a powder coated chassis to prevent rust
Corner protectors included – The frame has corner protectors to keep it safe from knocks
Safe – Dual safety locking mechanism for extra safety when folded up
Height adjusters – 1.25″ leg levellers to ensure an even playing table top surface
Lightweight

– The table only weighs 140 lbs. Compared to other tables, this is quite light

Eight 3″ wheels for easy mobility – Each half has four wheels on the ends of the legs to make the table very portable. They then lock into place for solid stability during play
Very popular

– Currently

Amazon's best selling indoor table tennis table
Satisfaction guarantee – 100% satisfaction guarantee if you're not happy
Cons of the Inside table
Not the best surface – Only a 5/8 inch table top on the standard model (fine for recreational use but if you're taking your game more seriously we'd recommend looking for at least 3/4″ table top as the ball bounce will be better)
Indoor table only – Should not be used in high heat, high humidity area
Net and posts not great – Not the greatest net and post set we've seen
No manufacturer warranty – But they do have a satisfaction guarantee and most reviewers have reported a good response from JOOLA
Why you might not want this table
If you are a serious table tennis player or need a tournament quality table, the JOOLA Inside will probably not be a good fit for you. It doesn't produce a ball bounce like a regulation tournament indoor table tennis table and doesn't have the same quality.
This ping pong table was designed to provide a quality product at an affordable rate which means that the materials and quality has been reduced to appeal to a lower price bracket, which is understandable as not everyone wants a $1500 table.
Other tables like the JOOLA Inside
The JOOLA Inside is a superb indoor table tennis table and won't break the bank, but there are lots of other good tables too. Its main rival is the STIGA Advantage which is in a similar price range and is also getting rave feedback from customers. To read more about it check out our STIGA Advantage table review here.
Conclusion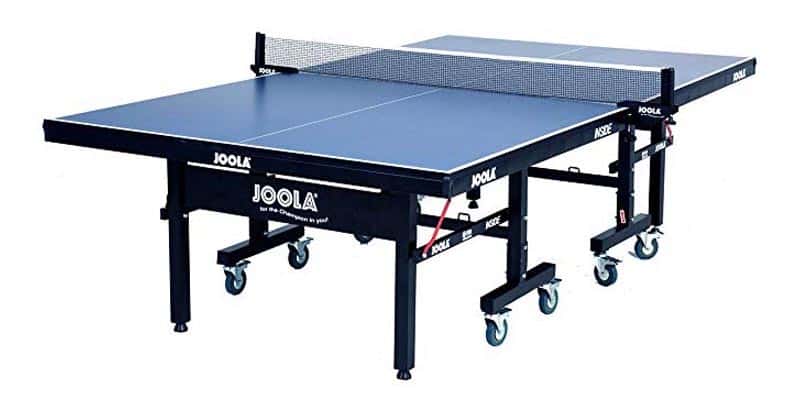 To sum up our JOOLA Inside review, we think that it could be a great choice if you're looking for a cheap and affordable recreational indoor table tennis table to use at home. The pros definitely outweigh the cons! Okay so it's not meant for professionals or serious players so it doesn't have the best surface thickness, but considering the price, we think it's still one of the best options in the ping pong table market today.
If you aren't looking to spend over one thousand dollars on a top of the range table tennis table but you are interested in a decent option for your kids to use that won't empty the wallet and will last a good amount of time, the JOOLA Inside could be a very good table for you.

Eugene (Gene) Sandoval has been one of those guys who spent too many hours around ping pong tables in high school. However, soon enough, Gene understood that there is more to ping pong than having fun. That is how he started a journey that made Eugene one of the experienced semi-professional ping pong players in the United States. As the founder of the PingPongRuler, Eugene spends most of his time surrounded by ping pong tables and research. He always has this knack for coming up with new ping pong strategies and telling the good and bad equipment apart.