There's nothing worse than a cheap sagging table tennis net which is why it's so important to choose a good one. In this post, we're going to look at everything you need to know to help you purchasing the best ping pong net for your needs. Let's get started.
At A Glance: Best Table Tennis Net and Posts
Before we move on to our ping pong net buyer's guide, here's a quick look at some of our favorite nets if you're in a rush.
Types of ping pong nets 
Before we talk about what features are important when picking a new net, it's best to cover the three main types of table tennis nets available along with the pros and cons of each type.
Clamp and screw net and posts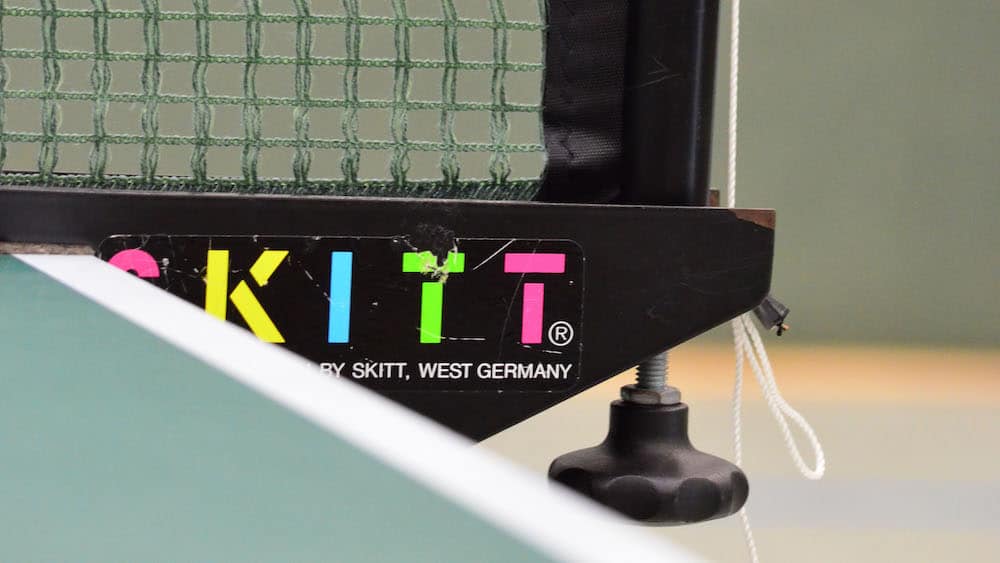 If quality and the best game play are high on your list of priorities then you'll want to get a clamp and screw style net and posts set. This is the style of net used in official tournaments, clubs, schools and more serious players.
The posts attach to the table by clamping down firmly on the surface and then screwing them tight to prevent it from moving mid game.
They usually come with both height and tension adjusters which is required for official games but also very handy to make sure the net is both the right height and doesn't sag in the middle.
Pros
Adjustable height and tension
Bulkier net
Better gameplay
Cons
Most expensive type on the list
Takes longer to set up
Clip on nets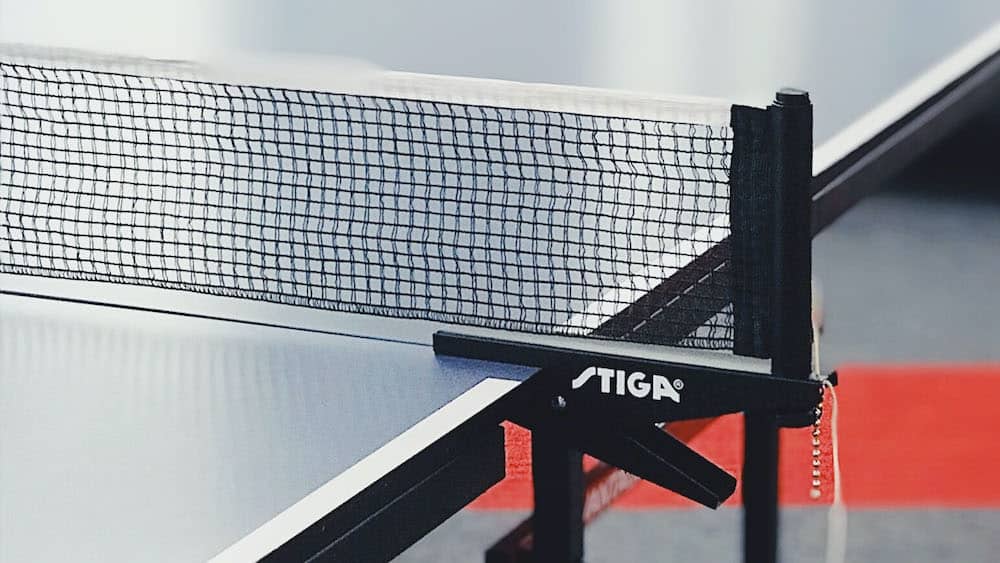 Probably the most common type of ping pong net and posts are clip on ones. This style will usually come with a reasonably price table tennis table and they're more than fine for most recreational games.
These nets use a clip system to attach the posts to the table and is incredibly easy to set up and get playing. While they don't have the height and tension adjusting features of the clamp and screw sets, you can usually adjust the tension to keep the net taut.
Pros
Very fast set up and removal
Tension adjusters
Reasonably stable
Can hold table halves together
Cons
Can scratch the table top

If knocked will move
Retractable nets
The cheapest and lowest quality type of net are these retractable table tennis nets which are ideal if you're on a very tight budget. They're basically rollable nets that can be extended up to 2 meters. In addition, you can adjust them to any table making them good for casual players who have converted a dining table into their own DIY ping pong table
Pros
Very inexpensive

Portable and don't need much adjustment

Quick to set up
Cons
Not designed for professional use
Wide posts which can obstruct shots
ITTF specifications for net and posts
Like any other sport, table tennis has certain rules and regulations to be followed, including the specifications of the net and posts. These specs are managed by the International Table Tennis Federation (ITTF). If you're serious about your game and want to compete in tournaments then you'll want to make sure you abide by the requirements below.
Dimensions and color
To be eligible for tournaments a net must meet the following specs:
Height: 15.25 cm (6 inches)
Length: 1.83 meters (6 feet)
Post length: 15.25 cm or 6" outside the table
It's important that the height of the net is the same throughout the whole width of the table. That's why it's essential to have the tension adjusters to prevent it from sagging in the middle. They also require that the bottom of the net be as close to the surface of the table as possible.
Regarding the colors of the net, the ITTF require that it should have a white stripe along its top edge that isn't wider than 15mm. The net itself could be colored dark green, dark blue, or black.
Important features to consider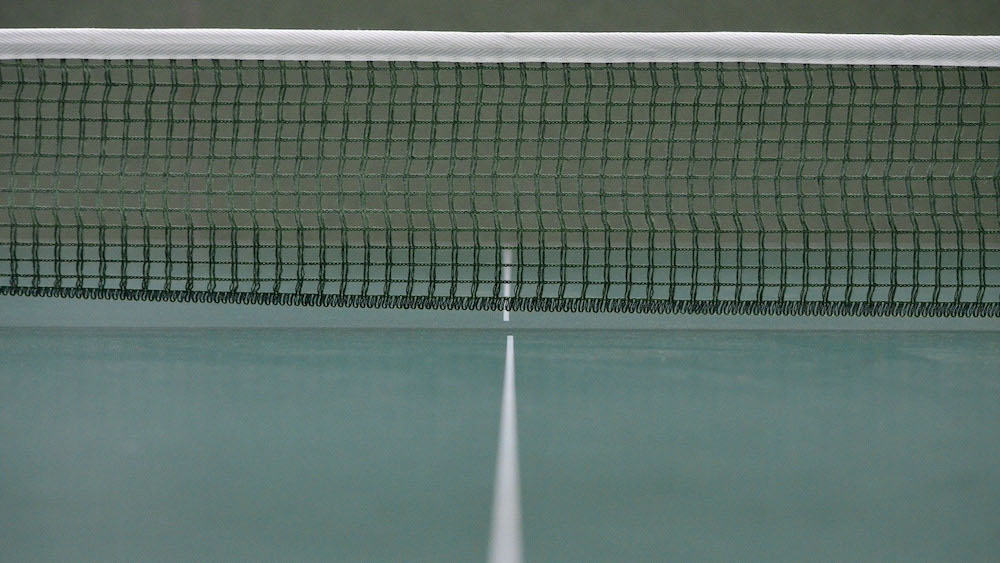 Before choosing which net is best for you, you might want to consider some factors that will make it easier to install and adjust the net while using.
Most net assemblies consist of an upright post, a horizontal part, an attaching system (screws or clamp), and height adjusters. So you have to consider the assembly's features before buying the net.
Ease of set up
If you're going to be leaving your table out and set up 24/7 then this isn't too much of a factor, but, if you'll be needing to put it away when not in use then the speed of set up is something to consider. Some net's only take a few seconds to set up but the clamp and screw ones can take a few minutes. The clamp and screw are probably the best quality but take a little longer to set up where as the clip ones are a lot faster.
Height adjusters
Height adjusters are an essential part of the net, especially if you're planning to use the table for tournaments. However, you should probably get a net with one even if you're only playing for fun.
Tension adjusters
If you've played even a couple of games of ping pong you'll know that the ball is going to hit the net a lot. If you clip the very top of the net and the tension isn't good then it can cause the ball to roll over and not give any chance of returning it to your opponent. The way to prevent this is to get the tension of the net correct.
The net's fabric is suspended by a chord along the whole width, it then attaches to the posts at either end. Any decent net and posts set will allow you to adjust this tension to give you the optimum game play.
Weather proof (for outdoor tables)
If you're buying an outdoor table tennis table then you should make sure you buy a net made for outside and all different weather conditions. If you leave your table in the garden all year round then you'll want to make sure that it's weatherproof and can withstand wind, rain and the sun's UV rays. Otherwise it can degrade over time and lose its color.
Ping Pong Net Reviews
Now that we've looked at everything you need to consider before purchasing we're going to look at what we think our the best table tennis nets on the market today.
#1. JOOLA Premium Avanti Table Tennis Net and Post Set
#2. STIGA Premium VM Net Set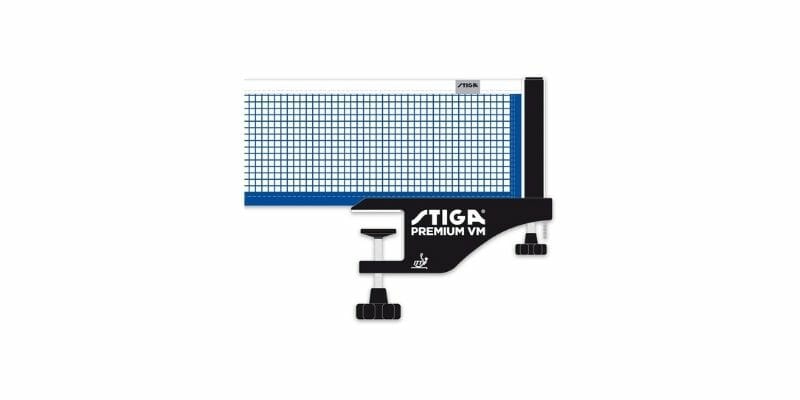 #3. Butterfly Europa Professional Table Tennis Net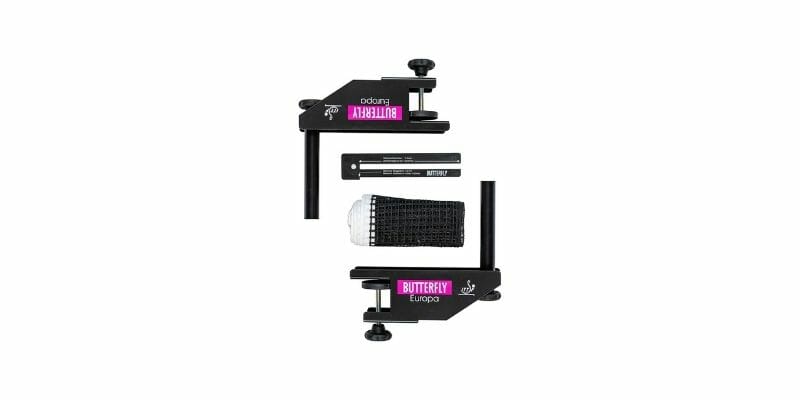 #4. STIGA Premium Clipper 72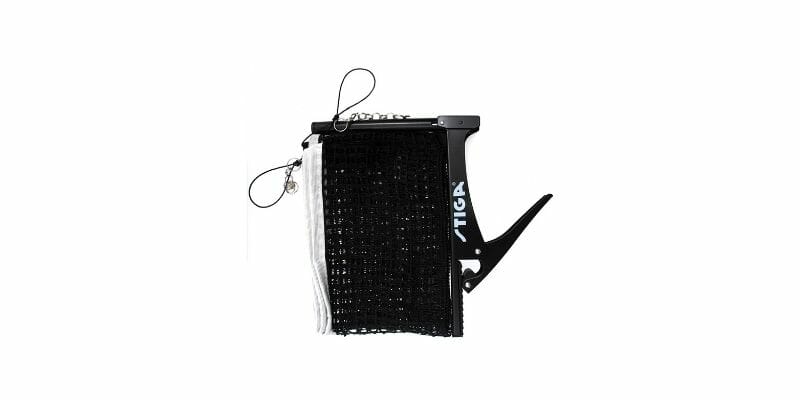 #5. JOOLA Spring Professional Table Tennis Net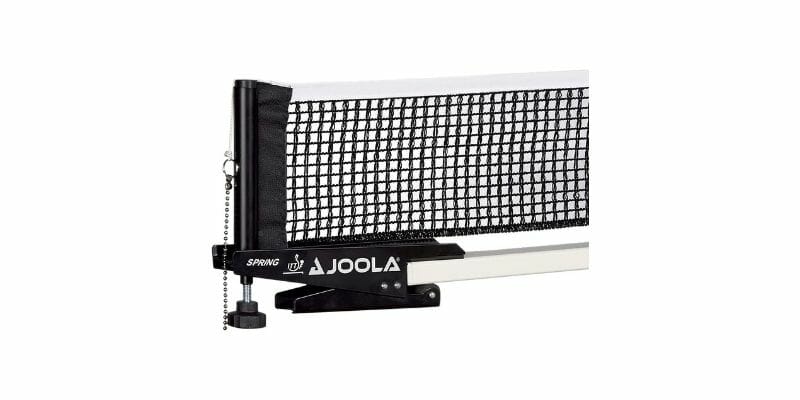 #6. JOOLA Outdoor Weatherproof Table Tennis Net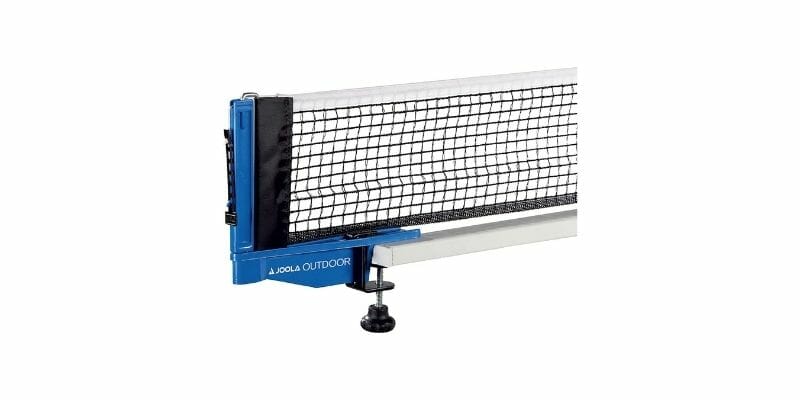 #7. JOOLA Retractable Portable Table Tennis Net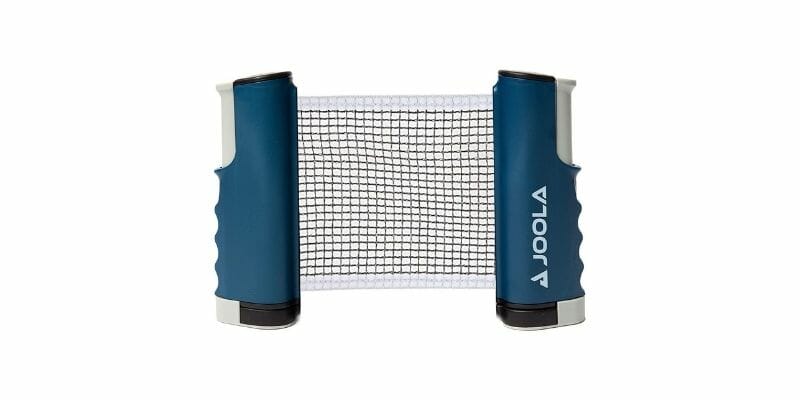 #8. JOOLA Snapper Professional Table Tennis Net
So which net should you get?
The above net and posts are just some our favorites but it really depends on your circumstances which one will be best for you. If you're a casual player who wants to play quickly and isn't bothered about the best quality then get a clip on net and posts set like the STIGA Premium Clipper. But, if you want a really good quality one then we'd suggest either the JOOLA Premium Avanti or the STIGA Premium VM as these are not crazy expensive, get really great reviews and are very good quality. Let us know which one you go for in the comments below or if there are any other nets that you've tried and liked.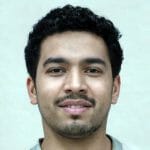 Eugene (Gene) Sandoval has been one of those guys who spent too many hours around ping pong tables in high school. However, soon enough, Gene understood that there is more to ping pong than having fun. That is how he started a journey that made Eugene one of the experienced semi-professional ping pong players in the United States. As the founder of the PingPongRuler, Eugene spends most of his time surrounded by ping pong tables and research. He always has this knack for coming up with new ping pong strategies and telling the good and bad equipment apart.