The 10 Best Ping Pong Nets and Posts: Reviews and Buying Guide
There's nothing worse than a cheap sagging table tennis net, which is why choosing a good one is important. In this post, we'll look at everything you need to know to help you purchase the best ping pong net and posts for your needs. Let's get started.
Featured Products
Why You Should Trust Us
As table tennis experts, we've been around the block and know almost everything there is to know about the game. From the strategy of overcoming opponents to the correct table tennis equipment for the job, we provide articles to help you on your journey. Everything is free and always will be. We fund the site through ad revenue and small affiliate commissions. 
At a Glance: Best Ping Pong Nets and Posts
Before we move on to our individual reviews and ping pong net buyer's guide, here's a quick look at some of our favorites if you're in a rush.
The 10 Best Table Tennis Net Reviews
#1. JOOLA Premium Inside Net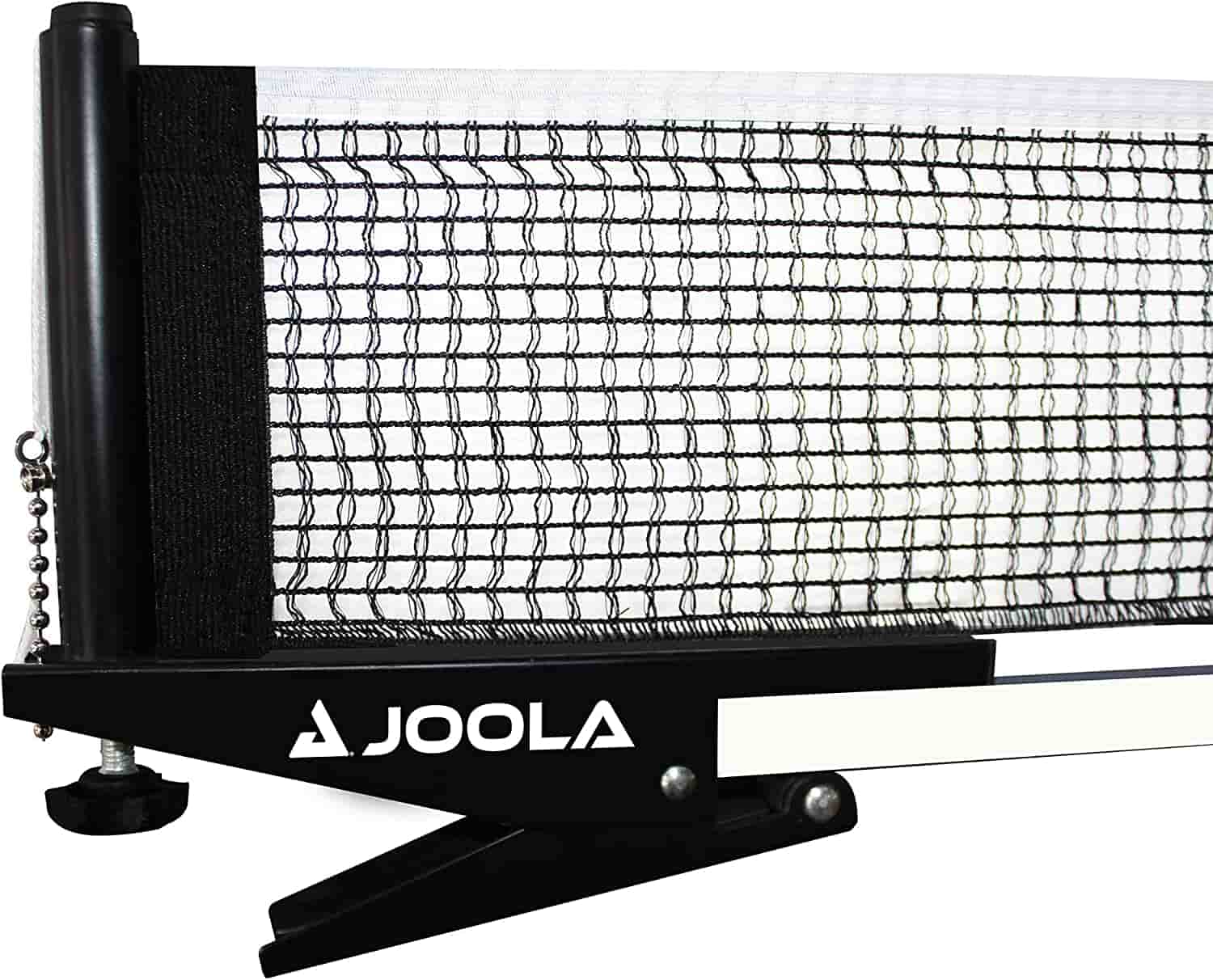 Key Features:
Clip-on net
Height and tension adjustment
Not ITTF-approved
Rating: 9.8
The JOOLA Premium Inside net and post set is very high-quality and is probably the one to buy if you want a professional-level net without the official ITTF certification. You see, this net has both height and tension adjustment which is ideal, and it also has the quick clip-on mechanism that so many players love. 
If you think about it, it's a lot like the JOOLA Spring net (ranked 7th on this list) which is ITTF-approved, except it costs 70% less. If you ask me, it's an easy decision to pick between the two. 
#2. JOOLA Snapper Professional Table Tennis Net
Key Features:
Clip-on net
Height and tension adjustment
Not ITTF-approved
Weight: 1.82 lbs
Rating: 9.8
The JOOLA Snapper professional table tennis net is a clip net for regulation-size tables. Made of a steel alloy with a 1.5-inch thickness, this is certainly one of the tougher nets you'll find on the market. The spring-activated clamp makes it easy to get started playing with little setup. You can adjust the cotton blend net's tension and height like the other top models. It also comes with a zipper storage case which is a nice bonus.
#3. JOOLA Premium Avanti Table Tennis Net and Post Set
Key Features:
Clamp and screw net
Height and tension adjustment
Not ITTF-approved
Weight: 1.63 lbs
Rating: 9.7
The JOOLA Premium Avanti table tennis net and post set is a clamp and screw-style tournament-quality net. It's easy to set up with its screw-on attachment system and has rubber padding on the clamps so your table stays safe. At 1.63 pounds, it's also light, making it easy to carry around for portable play. You can also adjust the height and tension of the net using the chain links. The 1.5-inch-thick vertical posts are also collapsible, adding to the already good portability. Surprisingly, it's relatively affordable given the quality of the net.
#4. STIGA Premium Clipper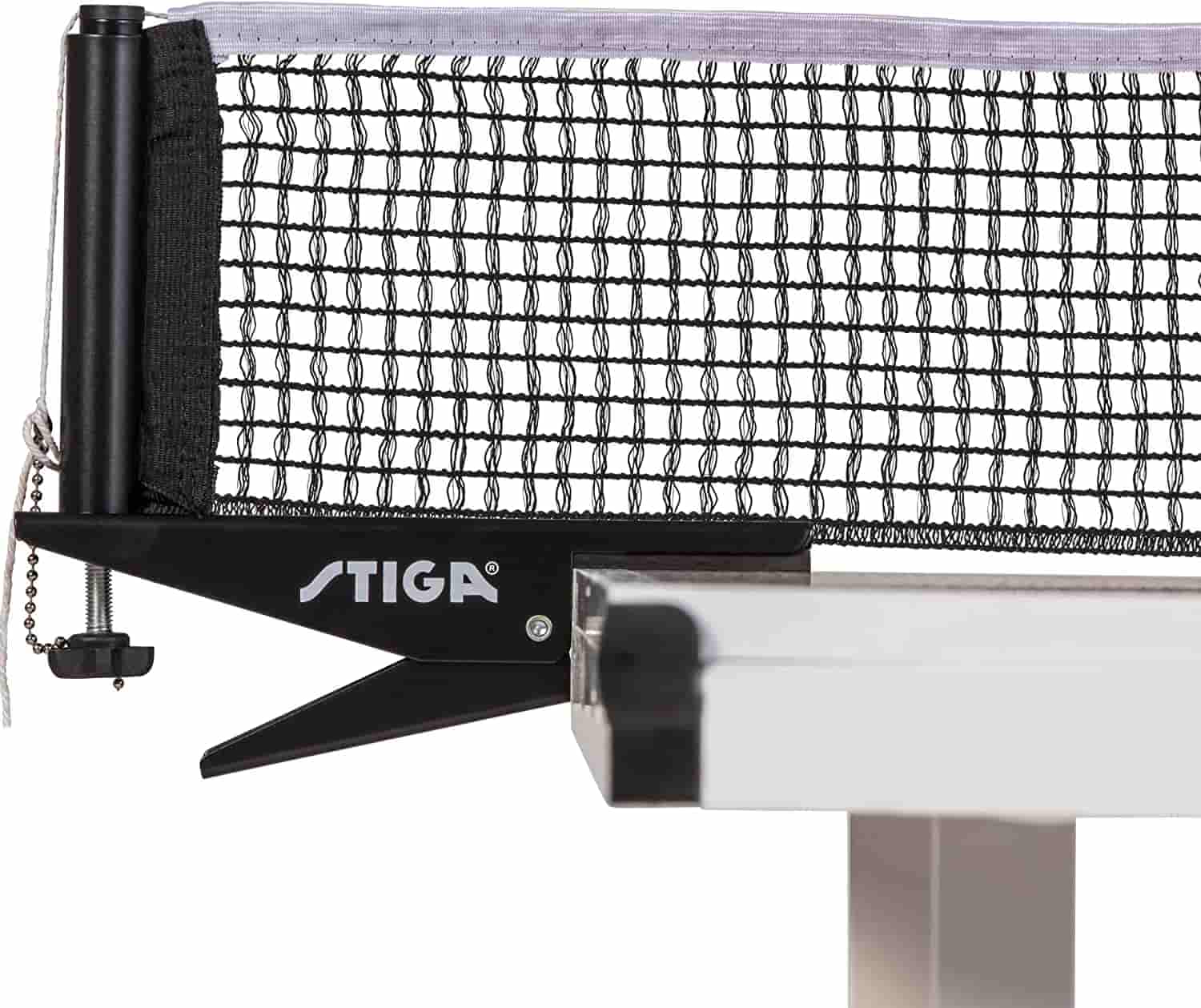 Key Features:
Clip-on net
Height and tension adjustment
Not ITTF-approved
Weight: 2.26 lbs
Rating: 9.5
The STIGA Premium clip-on net and post is an easy-to-set-up net that would do well for those starting to take table tennis more seriously. The posts are made from heavy-duty steel, and you can adjust the net's tension and height, which is very useful. The Premium Clipper also fits tables up to 1″ thick, which means it will be compatible with tournament-standard tables.
The only caveat to this net is that it is not ITTF-approved (which probably won't matter to most of you), and secondly, it's more expensive than several JOOLA nets with a near-identical build, so it's tough to choose this model over those.
#5. STIGA Premium VM Net Set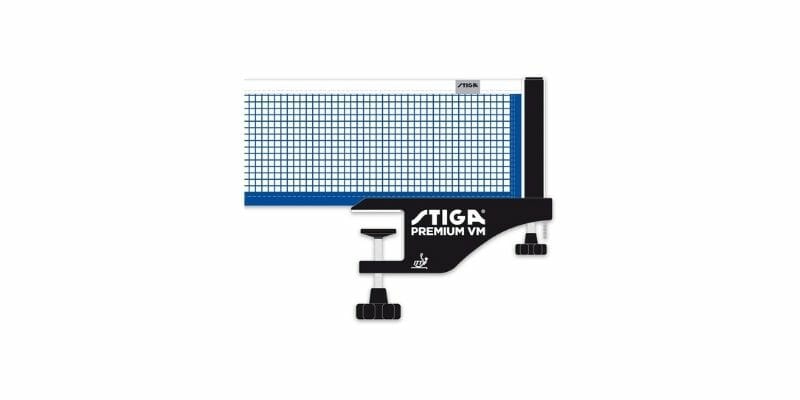 Key Features:
Clamp and screw net
Height and tension adjustment
ITTF-approved
Weight: 3.7 lbs
Rating: 9.1
The STIGA Premium VM net and post set is an ITTF-approved net of high quality – hence the approval. This is also a clamp and screw model, meaning it's the best kind if you want to have a serious match. You don't get mid-match wiggling of the net with these kinds of models. The Stiga Premium VM features both height and tension adjustment, so you have complete control over refining the net's conditions. It features a 1.5-inch bracket and is a little more expensive than the other clamp and screw models, but it's worth the few extra dollars.
#6. STIGA Premium Clipper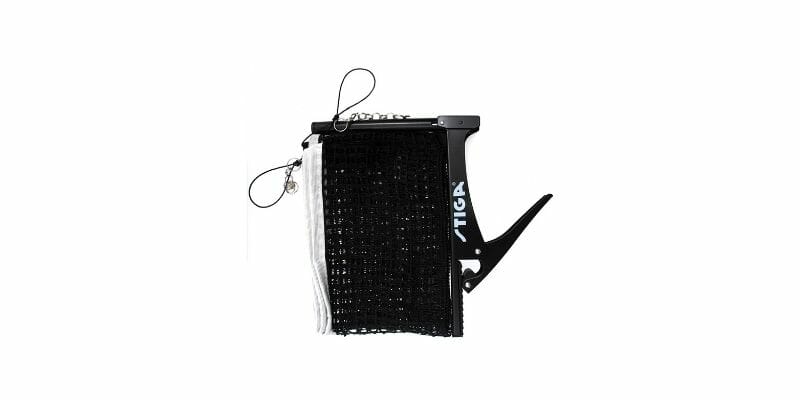 Key Features:
Clip-on net
Tension adjustment
Not ITTF-approved
Weight: 1.9 lbs
Rating: 8.9
No, you're not seeing double, but it's easy to think why you might be! For some reason, STIGA thought it would be a good idea to list two nets under the same name (doh!). Given this fact, it's unsurprising that the two nets are very similar, however, there is one key difference. This model does not feature height adjustment for the cotton blend net which is a real shame. As of the time of writing, both are identically priced, therefore it is only logical to go with this Clipper net ranked in 4th position if you are picking between the two.
#7. JOOLA Spring Professional Table Tennis Net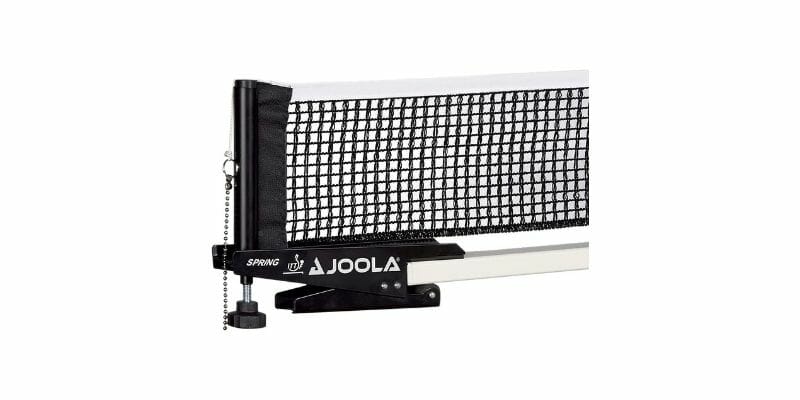 Key Features:
Clip-on net
Height and tension adjustment
ITTF-approved
Weight: 3.1 lbs
Rating: 8.3
The JOOLA Spring is a clip net fit for 72-inch regulation-size tables. With a spring-activated clamp attachment, this ITTF-approved net is very convenient for a quick game. The posts are 1.5 inches thick and made of heavy-duty metal. Considering the quality, the slightly more expensive price tag is not unreasonable. JOOLA says that the net can last for years which we don't doubt for a second looking at its quality. This model is undoubtedly one of the best clip-on nets you can buy in terms of quality, but it's just pretty pricey considering how much value the cheaper nets provide.
#8. Butterfly Europa Professional Table Tennis Net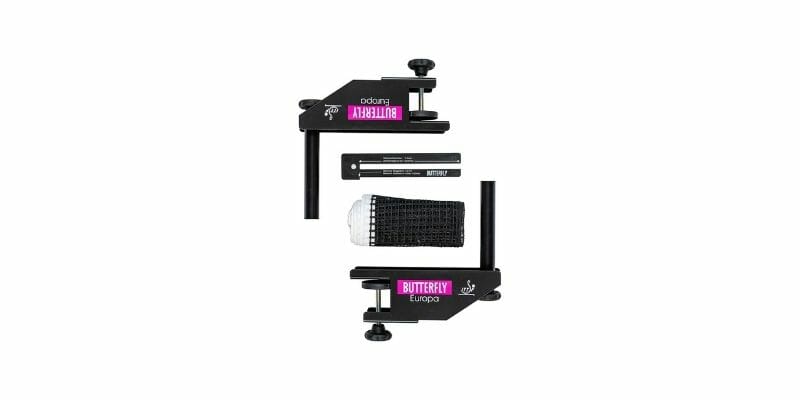 Key Features:
Clamp and screw net
Height and tension adjustment
ITTF-approved
Weight: 1 lb
Rating: 8
The Butterfly Europa is a clamp-style table tennis net that is among the top-quality models available in the market. At a little under $100, its price point may be higher than most are willing to swallow, but the premium quality is unmatched. Many amateur players have commented on its durability and sturdiness. Consequently, this could be a good one-time investment if you're looking to go all-in on quality.
#9. JOOLA Retractable Portable Table Tennis Net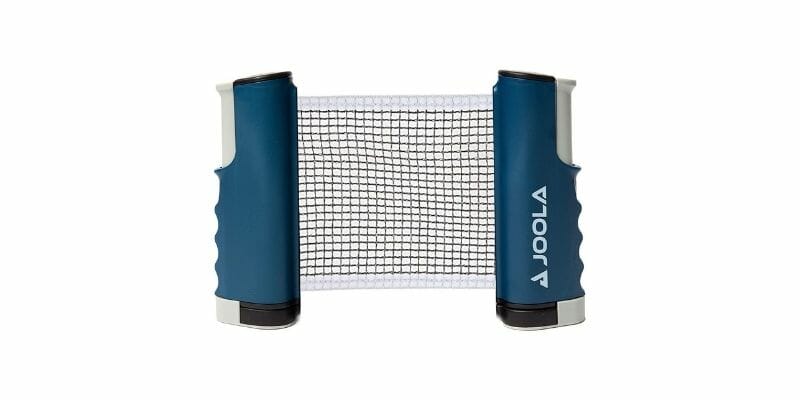 Key Features:
Retractable net
Width adjustment
Not ITTF-approved
Weight: 1.36 lbs
Rating: 7.8
The JOOLA retractable portable table tennis net is one for those games you just want to hammer out quickly. There's a lot going for this net: it's much cheaper than most, works for both indoor and outdoor play, is light and portable, and pretty much works on any surface. It also uses a button-style clamp feature with rubber padding for easy attachment. The downside is that while it is of good quality, it is far from the standards of tournament-grade nets. This is more of a model for those who want a net that they can whip out for a quick game anywhere. In our opinion, it is the best retractable ping pong net you can buy.
#10. JOOLA Outdoor Weatherproof Table Tennis Net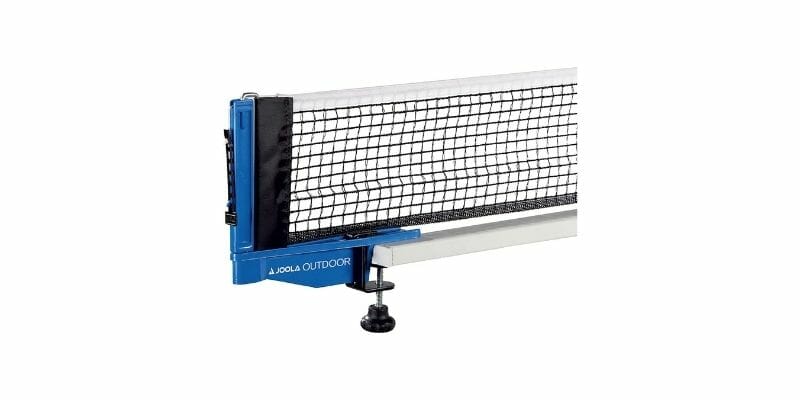 Key Features:
Clamp and screw net
Tension adjustment
Suitable for outdoor use
Not ITTF-approved
Weight: 1.7 lbs
Rating: 7.5
The JOOLA Outdoor weatherproof ping pong table net is the first on this list to be suitable for outdoor play. Feature durable weatherproof posts and a nylon net, it's the model to buy if you plan on leaving your table erected outdoors. Besides that, this net is more or less the same as the other nets on this list. It'll work on most standard-sized table tennis tables, and like most of the other models, you can adjust its tension. However, it does not have any height adjustment, which is a shame. But given that it is intended for outdoor use, we expect you aren't too picky.
What Is a Table Tennis Net and Post?
A table tennis net and posts are pieces of equipment that separate the two halves of a ping pong table. The posts connect at either end of the table where the two halves join, and the net is suspended across with a drawstring. Nets are necessary as they help moderate the speed of play — without them, players could hit the ball as hard as they like. 
How Do You Attach a Ping Pong Net?
Attaching a ping pong net is a simple process and will vary depending on your purchase type. The names are fairly self-explanatory. The posts of screw clamp nets attach to the table with a screw clamp, while a clip-on net uses a clip. And most of the time, the net attaches to the posts via a rod at either end, which sits within the posts. Once you connect the net to the table, you can adjust its height and tension if the net has these features.
How High Is the Net on a Ping Pong Table?
Like any other sport, table tennis has certain rules and regulations that you need to follow, including the specifications of the net and posts. The International Table Tennis Federation (ITTF) is responsible for these specs. If you're serious about your game and want to compete in tournaments, then you'll need to ensure you abide by the requirements. While height is the most important facet, you should also adhere to the other net rules:
Height: 15.25 cm (6 inches)
Length: 1.83 meters (6 feet)
Post length: 15.25 cm or 6" outside the table
It's important that the height of the net is the same throughout the whole width of the table. That's why it's key to have tension adjusters to prevent it from sagging in the middle. The ITTF also specifies that the bottom of the net should be as close to the table's surface as possible.
What Colors Are Ping Pong Nets?
Although almost all nets follow the same color scheme of black posts and clamps with a black net with a white strip running across the top, the ITTF, in fact, has no rules regarding net color. Therefore, in theory, any color could be eligible for competitive play.
How Tight Should a Ping Pong Net Be?
Net tension isn't too difficult to get right. As per ITTF's rules stated earlier, the net should maintain a height of 15.25 cm across its whole length. So if there is any sag in the middle, it is too loose. However, you also want to avoid over-tightening the net, as this can cause the ball to kick off of it harder than it should. Most players simply test the net by hand by giving it a little flick to check there's no slack, but if you want to be more accurate, you can use a net gauge.
Rest it on the net and ensure that the bottom of the gauge is ever so slightly above the table's surface. If it isn't, tighten the net a little (assuming it has tension adjusters).
Types of Ping Pong Nets
Before we talk about what features are important when picking a new net, it's best to cover the three main types of table tennis nets available. Along with the pros and cons of each type.
Screw Clamp Nets and Posts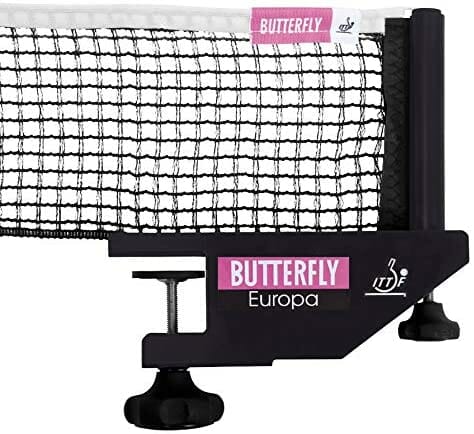 If quality and optimal gameplay are high on your list of priorities, then you'll want to get a clamp and screw style net and posts set. This is the style of net used in official tournaments, clubs, schools, and serious events because the clamp system is the most secure.
The posts attach to the table by clamping down firmly on the surface and then they screw tight to prevent movement during games.
They usually come with both height and tension adjusters which are required for official games. However, they are also very handy for casual players to help ensure their net meets playing requirements.
Clamp and screw-style nets are the best ping pong nets for thick tables. This is because generally speaking, they open a lot wider than clip-on nets, meaning these ping pong nets fit any tables (except those with fixed net systems). 
Pros
Adjustable height and tension
Bulkier net
Better gameplay
Fits thicker tables
Cons
Most expensive type on the list
Takes longer to set up
Clip-on Nets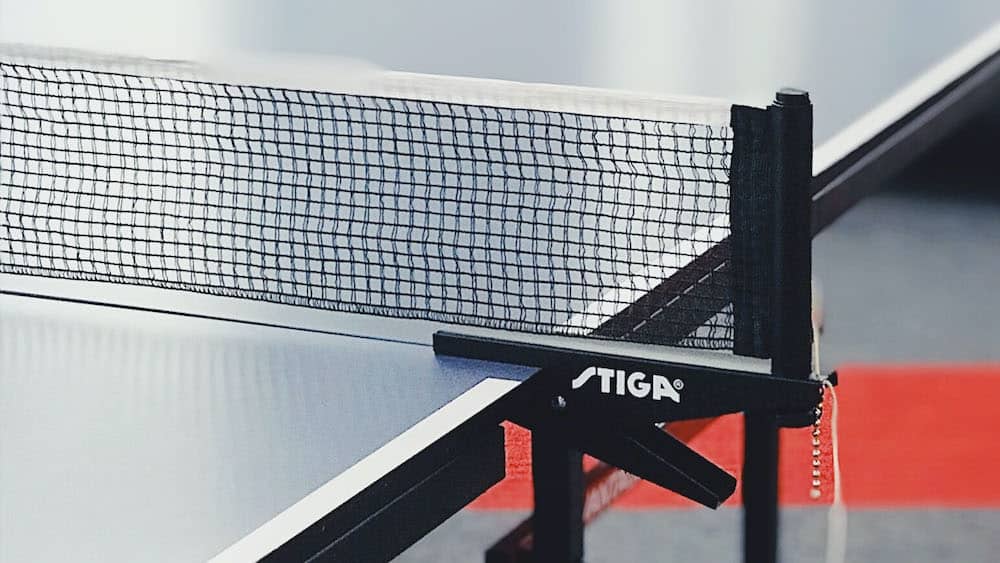 Probably the most common type of adjustable ping pong nets and posts are clip-on models. This style will sometimes be included when purchasing a reasonably priced table tennis table, which is more than adequate for most recreational games.
These nets use a clip system to attach the posts to the table and are incredibly easy to set up and get playing.
Pros
Very fast setup and removal
Often have tension adjusters, and sometimes height adjusters
Reasonably stable
Can hold table halves together
Cons
Will not fit very thin or very thick table tops

If knocked will move
Retractable Nets
The cheapest and lowest quality type of table tennis net sets are retractable ping pong nets. These are ideal if you're on a very tight budget. They're basically rollable nets that you can extend up to 2 meters. In addition, you can adjust them to any table, making them good for casual players who have converted a dining table into their own DIY ping pong table. We recommend looking for models with short posts as these are the best retractable table tennis nets. Many poorer models have posts that are too tall which can obstruct gameplay.
Pros
Very inexpensive

The most portable ping pong net

Width adjustment
Quick to set up
Cons
Not designed for professional use
Wide posts can obstruct shots
No height and tension adjustment
Important Features to Consider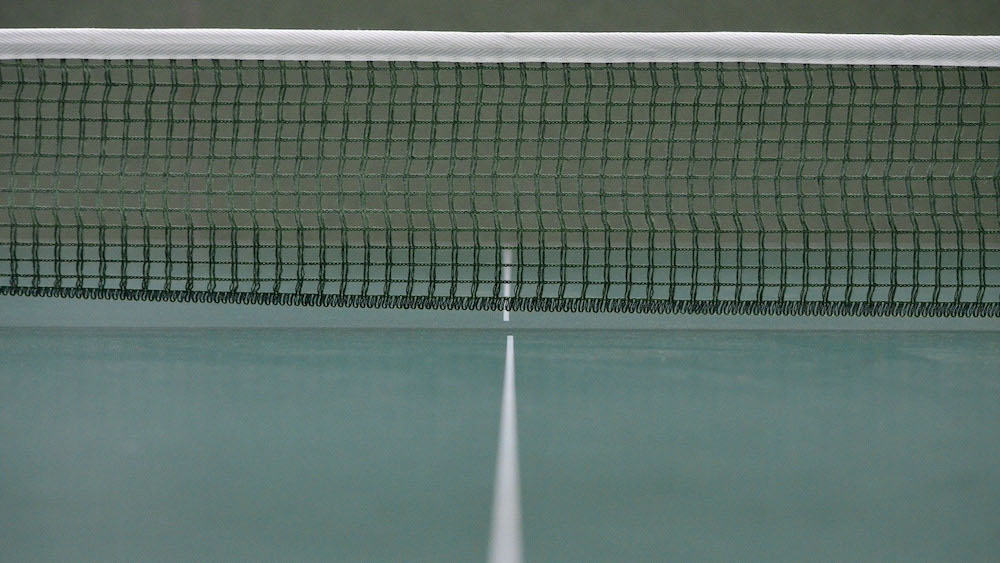 Before choosing which net is best for you, you might want to consider some specific factors, such as installation and adjustment.
Ease of Set Up
If you're going to be leaving your table out and set up 24/7, then this isn't too much of a factor. But, if on the other hand, you'll be putting it away when not in use, then the speed of setup is something to consider. Some nets only take a few seconds to set up, but the clamp and screw models can take a few minutes.
Height Adjusters
Height adjusters are a vital part of the net, especially if you plan to use the net for tournaments. However, not all nets for ping pong tables come with them. We recommend getting a net with height adjusters, even if you're just playing for fun.
Tension Adjusters
If you've played even a couple of games of ping pong, you'll know that the ball is going to hit the net a lot. If you clip the very top of the net and the tension isn't good, the net cause the ball to roll over rather than bounce which doesn't give your opponent much of a chance to make a return. The way to prevent this is to get the tension of the net correct.
Weatherproof (For Outdoor Tables)
If you're buying an outdoor table tennis table, you should make sure you buy a net for outside. If you leave your net in the garden all year round, it needs to be weatherproof and withstand wind, rain, and the sun's UV rays. Otherwise, it can degrade over time and lose its color.
So Which Net Should You Get?
The above ping pong nets and posts are just some of our favorites, but it depends on your circumstances regarding which one will be best for you. If you're a casual player or don't care about ITTF approval, we recommend a clip-on net and post set like the JOOLA Premium Inside Net. However, if quality is your primary objective, alongside ITTF approval, then we feel that the best ping pong nets are the JOOLA Spring and the STIGA Premium VM.
Alternatively, if you want the best portable ping pong net, then the clear winner is the JOOLA Retractable table tennis net. It's lightweight and barely takes up any space at all in your bag.
Got your net sorted but no paddle? We have a guide for that too.
FAQs
What Makes a Ping Pong Net ITTF Compliant?
IITF-compliant nets must comprise of a net, suspension, posts, and a mechanism to clamp it to the table. They must also be suspended at a consistent height of 15.25 cm along the entire length including the posts. As for the bottom of the net, it must be as close to the table as possible and attached to the side posts.
What Ping Pong Nets Are Best for Professional Use?
The best ping pong nets for professional use are those with exactly the right height and tension levels. As such, only height and tension-adjustable table tennis nets are viable for professional play.
Do Ping Pong Nets Leave Marks on the Table?
Most table tennis nets and posts do not leave marks on the table as the attachment mechanisms have soft material to prevent wear. However, if you over-tighten nets or attempt to pull them away from the table before fully detaching them, they could well damage your table. What's more, some nets have no protective material at all. I've found these tend to be more common among clamp and screw nets than clip-on nets. 
Which Attachment System Is Easiest to Install?
Clip-on table tennis nets are the easiest type of net to install. This is why they are so popular for home and club use. 

Eugene (Gene) Sandoval has been one of those guys who spent too many hours around ping pong tables in high school. However, soon enough, Gene understood that there is more to ping pong than having fun. That is how he started a journey that made Eugene one of the experienced semi-professional ping pong players in the United States. As the founder of the PingPongRuler, Eugene spends most of his time surrounded by ping pong tables and research. He always has this knack for coming up with new ping pong strategies and telling the good and bad equipment apart.