The STIGA XTR is one of the most popular outdoor table tennis tables in the world. With its innovative composite construction, it offers a quality surface that is unlikely to warp. This has led to it receiving overwhelmingly positive reviews from its customers (and us too).
We liked it so much that it's our 3rd highest-rated outdoor table, and in this STIGA XTR outdoor table tennis table review, we'll take a look at some of the features that make it one of our top choices.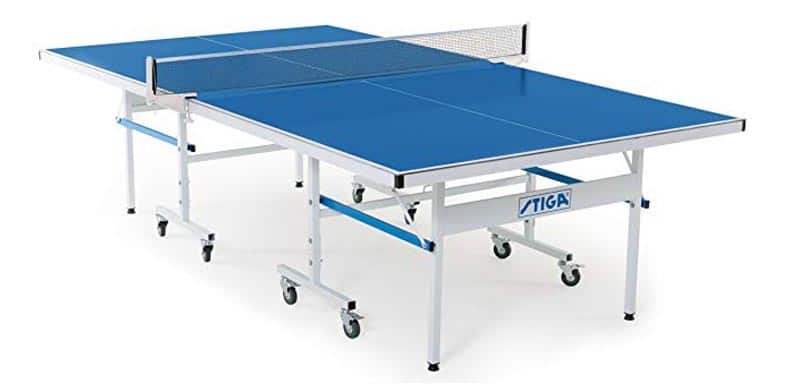 Table Top Quality: ★★★☆☆
Build Quality: ★★★☆☆
Overall Rating: ★★★★☆
Pros
Inexpensive, good table top thickness
Cons
Small wheels
Specifications
Dimensions – 9 x 5 feet (Regulation size)
Weight – 166 lbs
Assembly time – 10 minutes (comes 95% preassembled)
Surface thickness – 6mm aluminum composite surface
Price – $$ (Check the latest price)
Our rating – 9.4/10
Pros
6mm solid table top – 6mm thick table top surface that provides a good consistent bounce
Strong and durable undercarriage – It has a weatherproof frame that is rust resistant, and the legs have height adjusters to ensure a level playing surface
Easy to fold – It's super easy to fold away due to the self-opening leg system that automatically deploys when unfolding the table
Simple to assemble – With its QuickPlay design, the table takes under 15 minutes to put together (although we recommend two people for the setup)
Personal playback mode – Fold up one side of the table to play on your own
72″ net and post set – Clamp style net and post set included
Competitive price – Very closely priced to other tables of similar quality.
One-year warranty – STIGA offers a 1-year warranty to cover any manufacturing errors
Cons
Not the thickest table top – Indoor tables are thicker and provide a much better bounce
Small wheels – At 3″ the wheels could be bigger
Cover sold separately – We always recommend getting a waterproof cover to keep your table in the best shape possible
Overview of the STIGA XTR
STIGA XTR reviews on Amazon have proven to be very positive over the last couple of years. This table has got all of the features that you'd expect in a table designed for the outdoors. What's more, it is very well-priced.
Features
6mm Thick Table Top Surface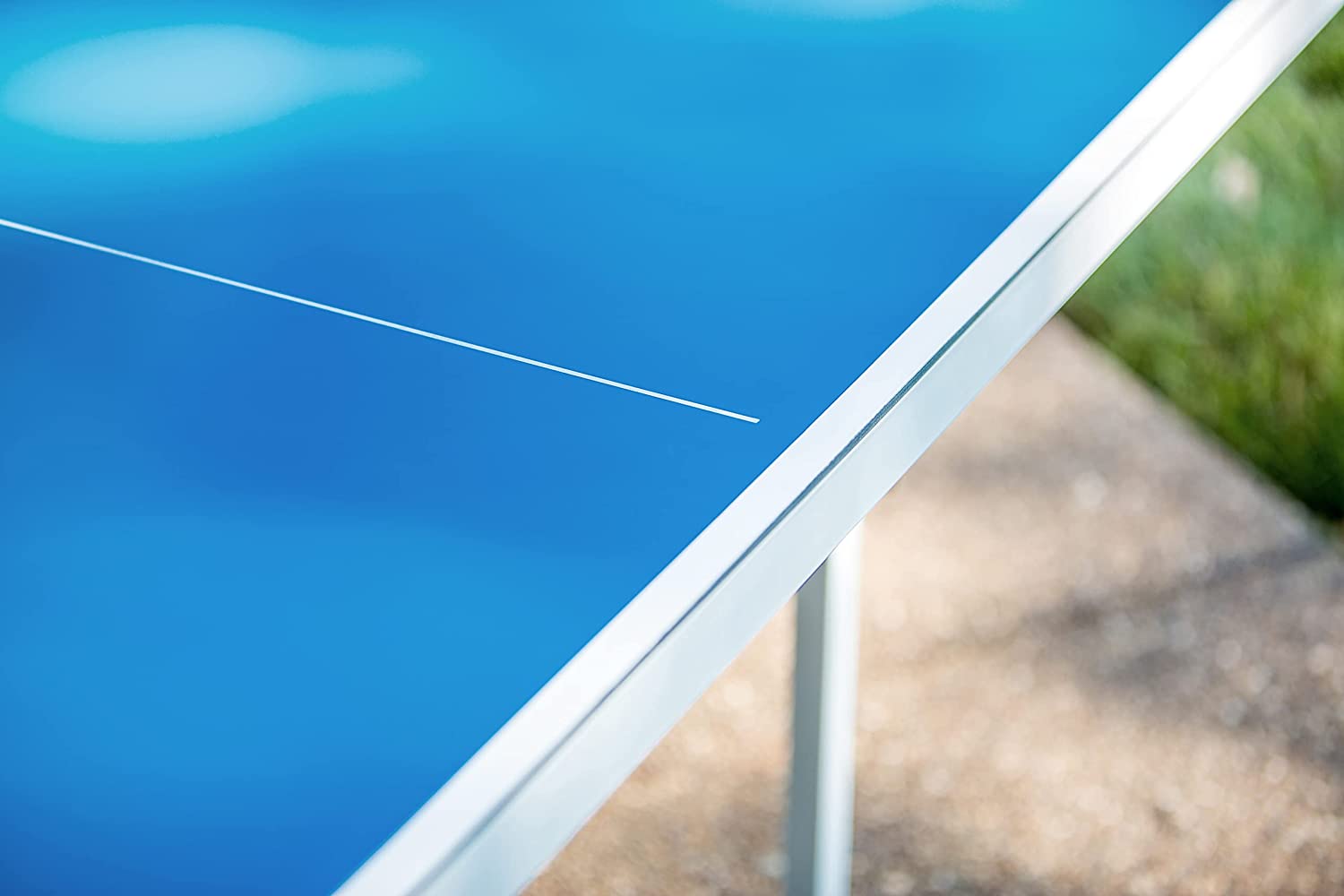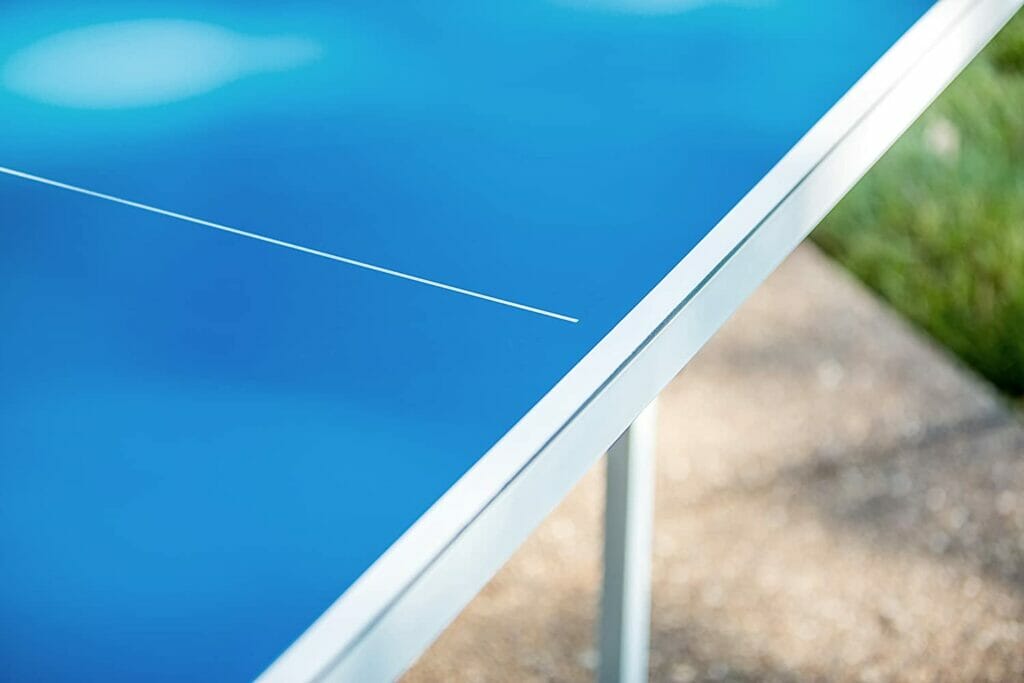 When buying an outdoor table tennis table, you need to look for a model that is built specifically for the outdoors. Indoor tables are very susceptible to moisture and water damage, so they can become quickly ruined if they get wet. Outdoor tables, however, are built using different materials and are sealed to prevent moisture from getting in, so they are not prone to warping.
The STIGA XTR indoor/outdoor table tennis table has a 6mm thick table top made from an aluminum and plastic composite blend. Beneath this is a 1.5″ (38mm) tubular steel apron which supports the top and ensures that the ball bounces evenly and consistently over the whole table. 6mm is a little above average as most outdoor models tend to be around 3-4mm in depth.
Strong Durable and Weatherproof Frame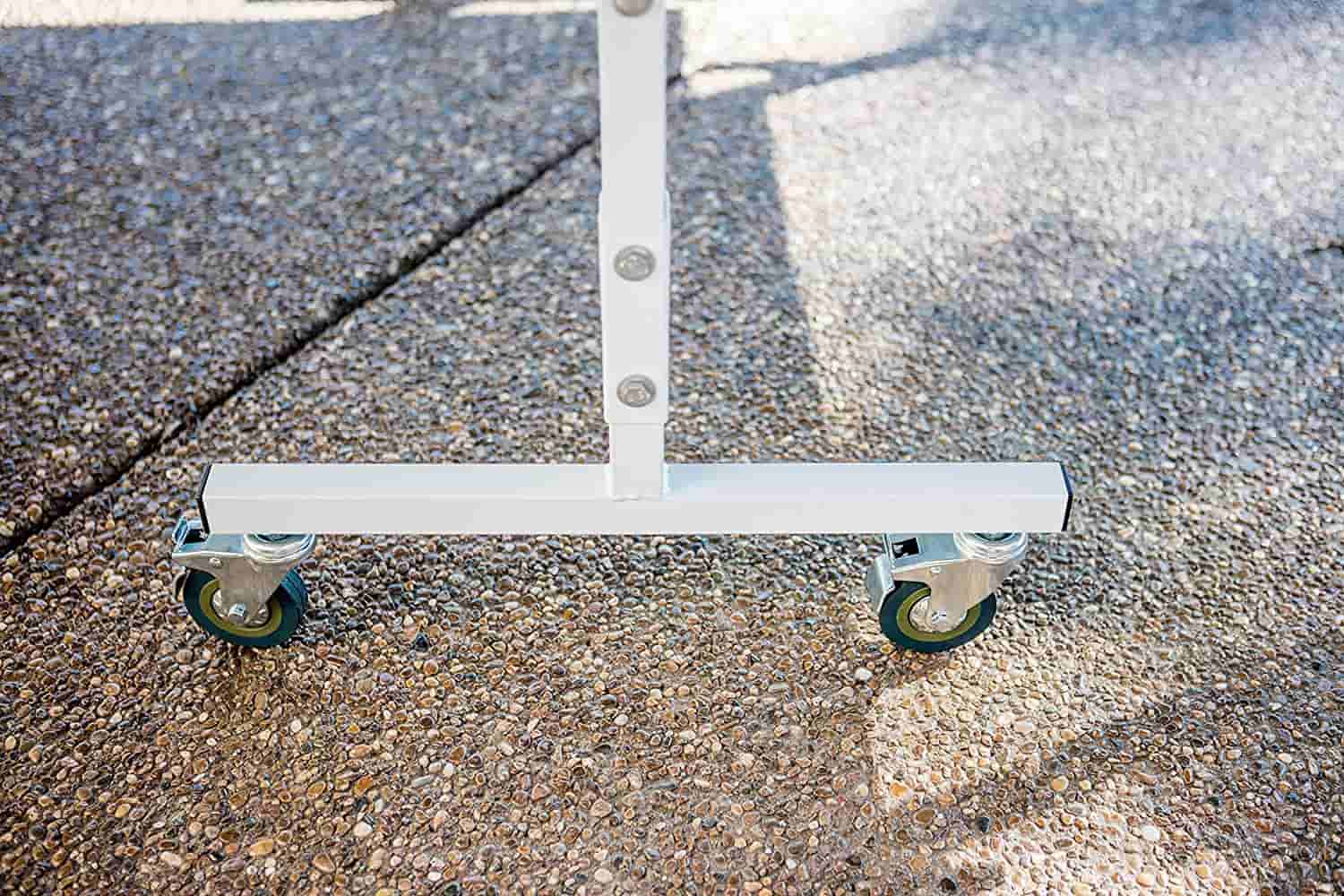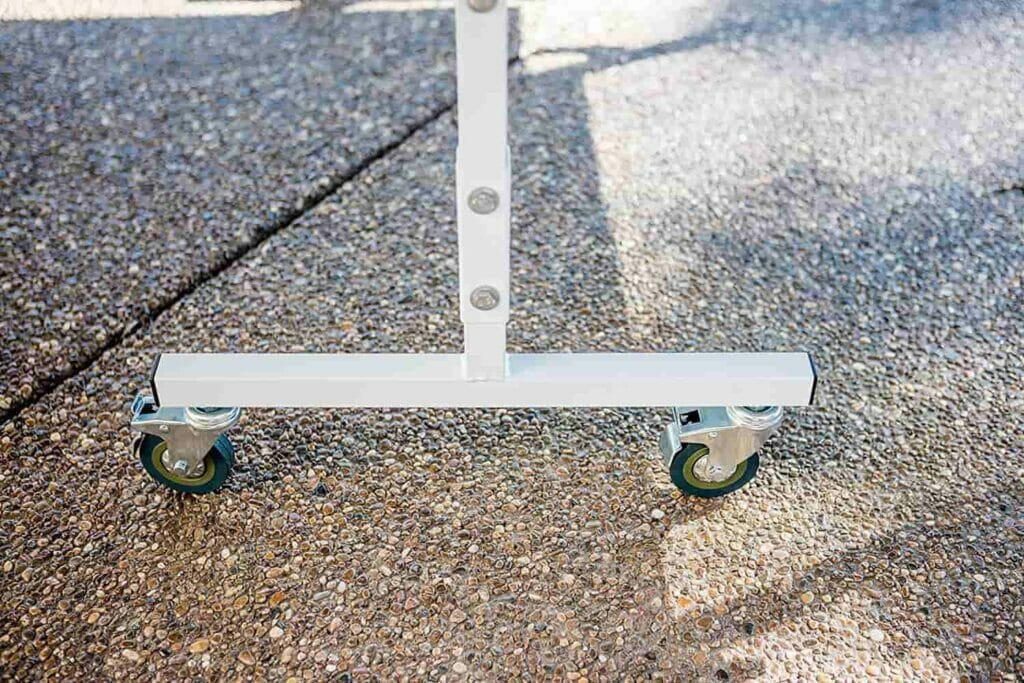 The undercarriage of the STIGA XTR outdoor table tennis table is very strong and durable considering the price. It has 1.25″ (32mm) welded steel legs to keep the table sturdy. The legs include a self-opening feature that deploys automatically when you unfold the table. On the end of the legs are adjustable height levelers so you can ensure that your table is always level no matter where you've set it up.
Each half of the table has four 3-inch wheels to give you the flexibility and mobility to move the table into position smoothly and safely. You can then lock the wheels into place to prevent them from moving unintentionally when in storage or mid-game.
Foldable With Play-Back Feature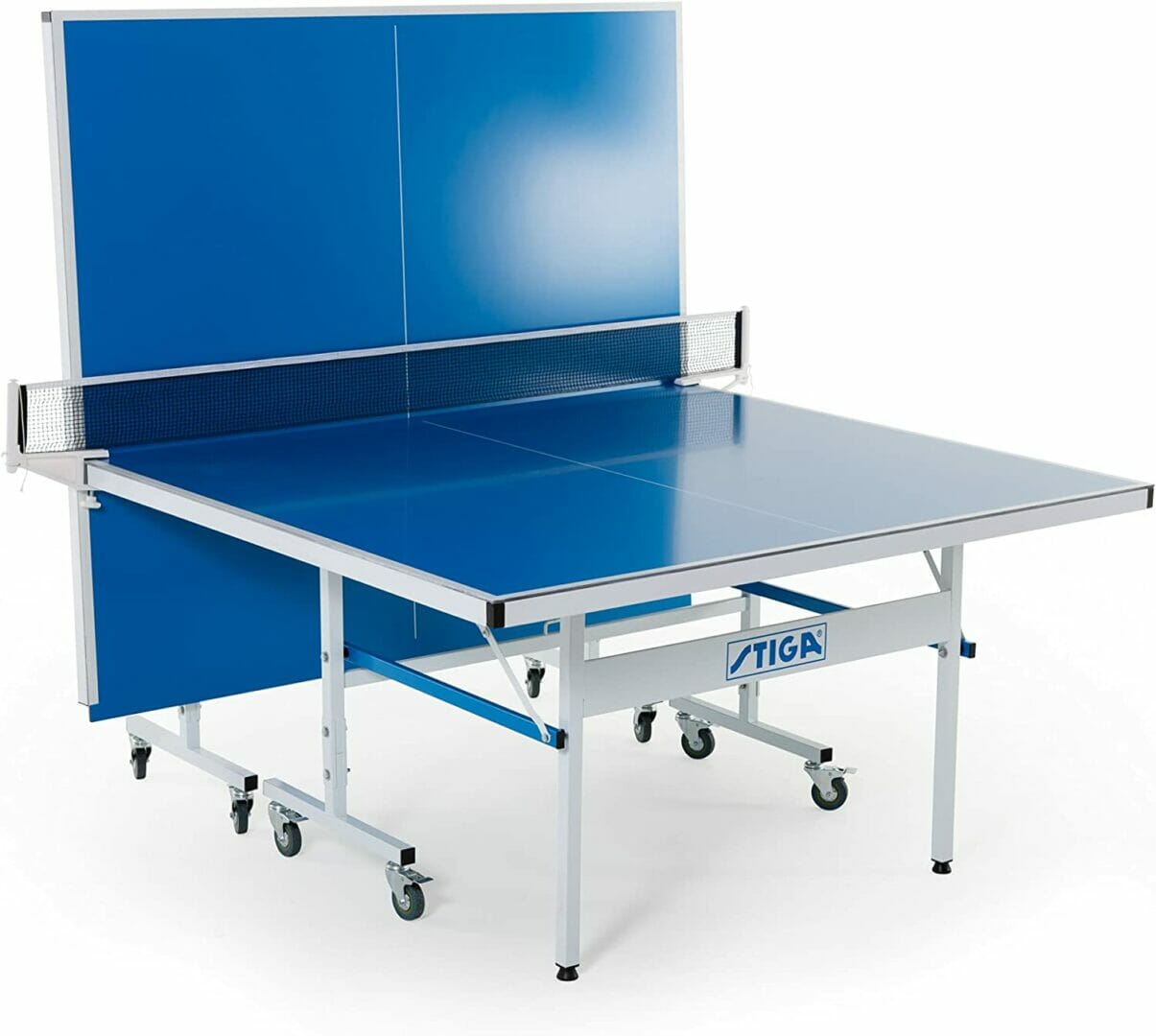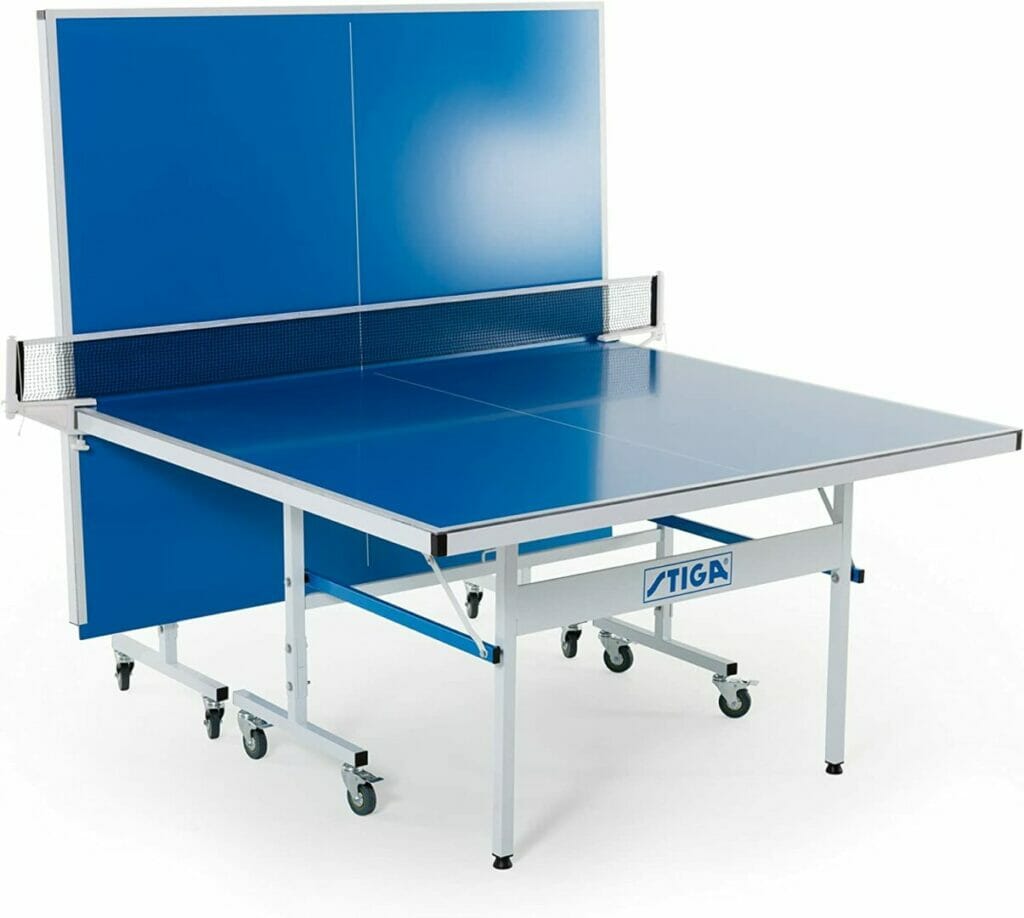 When you've finished using the STIGA XTR ping pong table, you can fold it up and put it into storage mode very easily. It has a handy chassis design where each half of the table has its own caster beams. When both halves are folded up, they nest together rather snugly. The unit condenses to a storage dimension of W: 60" D: 23" H: 64".
Shifting from two-player or team play to solo play is a breeze. The mechanisms for the folding playback feature are well-made, and you can experiment with moving one half of the table further away for a varied solo play experience.
72-Inch Net and Post Set Included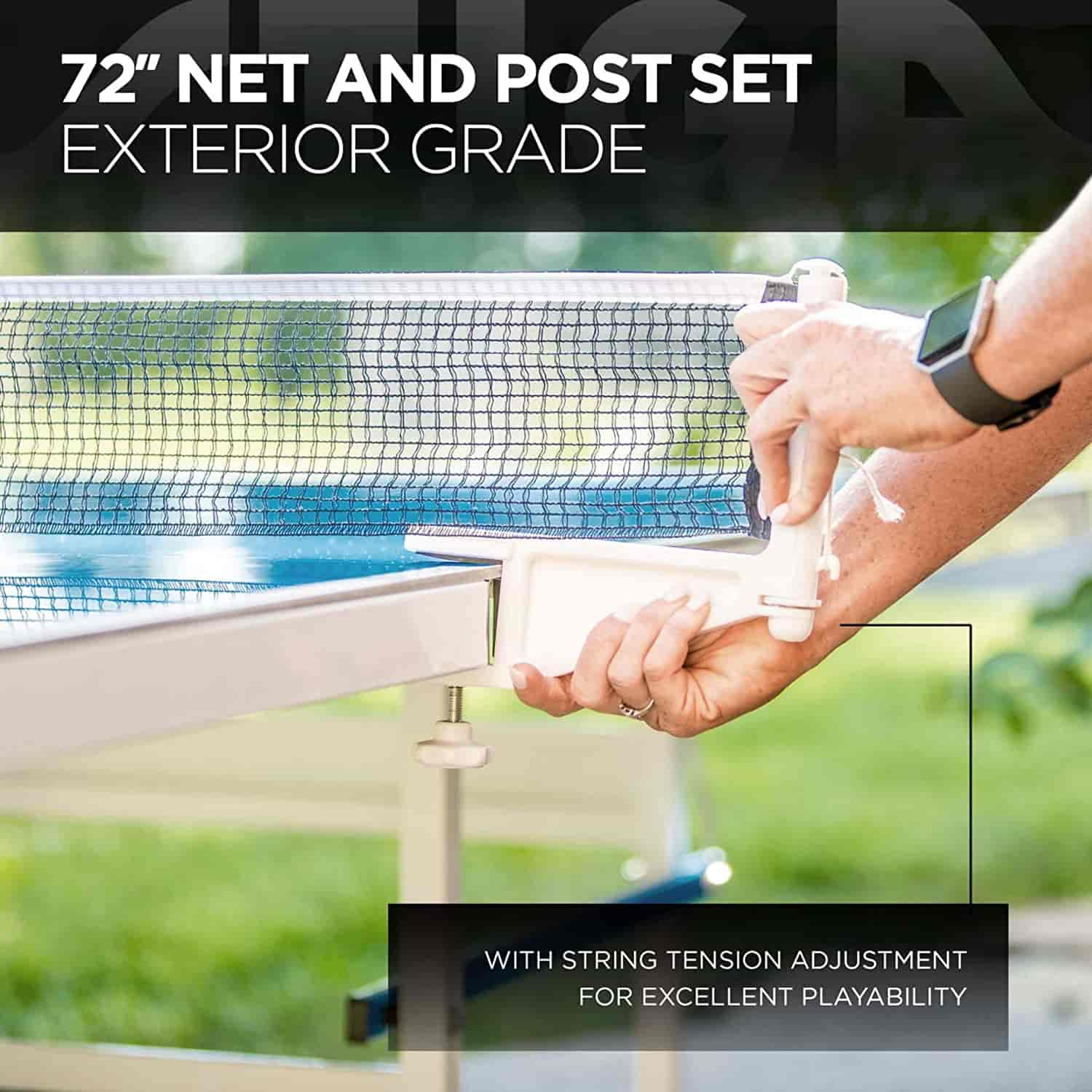 As you'd expect the STIGA XTR comes with a net and post set as standard. It's a 72-inch exterior grade net and post set that allows you to adjust the tension too. The net uses a hand-tightened screw clamp so it is very tight fitting and reliable.
About the STIGA brand
STIGA is one of the top table tennis equipment brands in the world. Having been founded in Sweden they started making table tennis products back in 1944. Their equipment is hugely popular with both hobbyists and professional players all over the world because of their dedication to high quality and affordability.
STIGA XTR Pro Review + Comparison
The STIGA XTR Pro ping pong table is the model up from the XTR. Visually speaking, the tables look very alike as they share a similar build and color scheme. However, the STIGA XTR Pro is a little more advanced.
Its main improvement over the XTR is its wheels. They measure 6″ in diameter, and are double-casters. The XTR, by comparison, has single casters which are half the size at 3″.
Besides this, the XTR Pro has a thicker frame, weighs more, and takes around 5 minutes longer to set up. Given the moderate price increase, we only recommend purchasing the XTR Pro over the XTR if you need to move your table over rough terrain.
| | | |
| --- | --- | --- |
| Feature | STIGA XTR | STIGA XTR Pro |
| Storage dimensions | 28″ L x 60″ W x 64″ H | 28″ L x 60″ W x 64″ H |
| Net and post set | Yes | Yes |
| Wheels | 3″ | 6″ |
| Assembly | 10 minutes | 15 minutes |
| Table top thickness | 0.25″ (6mm) | 0.25″ (6mm) |
| Leg thickness | 1.25″ | 1.5″ |
Conclusion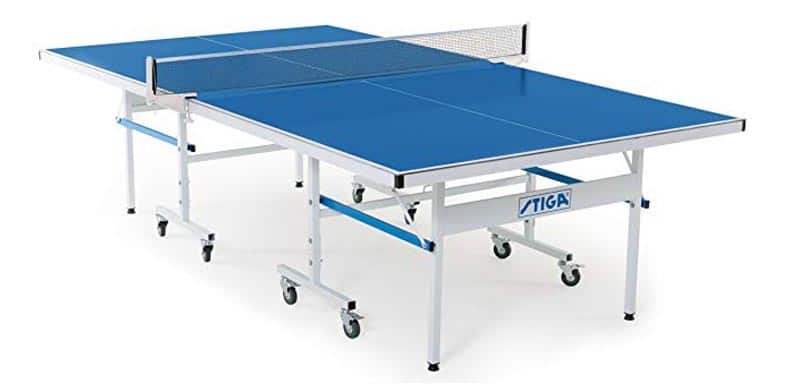 The STIGA XTR is a well-made inexpensive outdoor table and it's easy to see why it has proved so popular with players all over the world. While it doesn't offer a particularly great bounce compared with indoor models, it does in the realms of outdoor tables. Therefore, it gets our stamp of approval.
The XTR is a great table for family entertainment, and could even be a good choice for more serious players that don't have the space to field a table indoors. I played regularly on such a table when I was preparing for tournaments.
If, however, the XTR doesn't tickle your fancy, you might want to check out a similar table in the STIGA XTR Vapor. Alternatively, we have a guide for all of the best outdoor table tennis tables too.

Freelance writer. Table tennis enthusiast. Lover of all things online. When I'm not working on my loop game I'm probably binge-watching some fantasy show.