The STIGA Vapor is an outdoor table tennis table that's one of our most recommend tables! It's got a 5mm thick weatherproof table surface that's made from an aluminium composite material to give it a good bounce that won't warp when it gets wet. In this review, we're going to take a look at some of its features that we like (and don't). Let's dive in.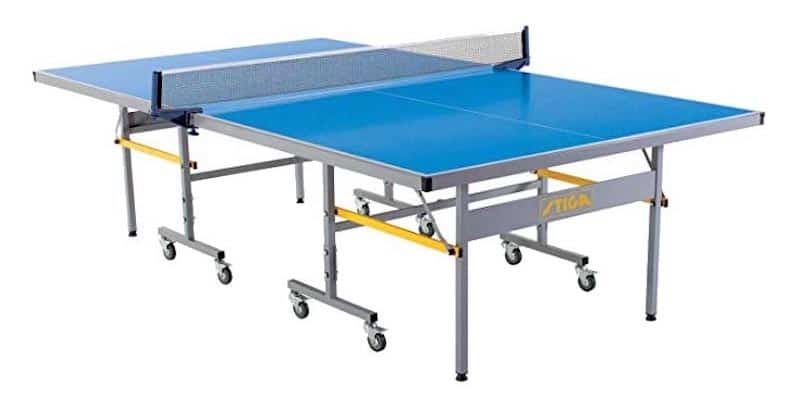 Specifications:
Dimensions – 9 x 5 feet
Assembly time – 10 minutes (Arrives 95% preassembled)
Surface thickness – 6mm thick aluminum/composite top
Weight – 140 lbs (around 64kg)
Price – $$ (Check the latest price on Amazon)
Our rating – 9.3
Overview of the STIGA Vapor
Features
6mm thick waterproof tabletop
When choosing an outdoor table tennis table you want to look for something that is completely weatherproof. If it's got reviews from customers saying that it warped after getting wet then steer clear! Water is the enemy of indoor table tennis tables contact between the two will result in an unusable table.
The STIGA Vapor is designed to be used outdoors though and is made with an aluminum composite tabletop to prevent it from rusting or warping out of shape when it comes in contact with water. Even high humidity can cause an indoor table to be damaged so it's important to choose the right type of table depending on where you're going to place yours.
The 6mm thick surface gives a good bounce too. We don't recommend outdoor tables with anything less than 5mm as the quality is just not good enough. The surface is supported by a 1.5″ steel apron to protect it and ensure the bounce is even across the whole playing surface.
Made from strong, rust-resistant materials
Another key feature of outdoor table tennis tables is that the frame is strong, durable and most importantly resistant to rust! The Vapor is supported by 1.25″ strong steel legs that are galvanized (coated with steel) to prevent it from rusting. Even though it's completely waterproof, we still recommend getting a table tennis table cover to keep your table in the best condition and try to keep it away from water if you can.
Durable frame that folds up and height adjusters
The Vapor is actually two separate table halves that fold up to make storing it very convenient and easy. When folded the table only takes up dimensions of W60″ D28″ H62″ so won't take up much room when it's not in use. Then the table locks into place with a safety latch to prevent it from collapsing and keep you safe when moving it. You can then put it into the playback position by folding up one half of the table to use it to practice on your own when you haven't got an opponent as well.
The legs of the table automatically unfold which is very handy too and makes setting up on your own very easy. Plus, the ends of each leg have height adjusters so you can raise or lower the legs to ensure the playing surface is completely level
Only 3″ ball bearing wheels
Whilst it's great that the table has wheels which make moving it around a lot easier, they're not the biggest and customers have reported them breaking if you're not careful. For indoor tables 3″ is fine, but, on a table made to be used outside you'd want to see at least 5-inch wheels as moving it across rougher terrain is pretty difficult with small wheels. They do lock into place though which is helpful to keep the table steady.
10-minute assembly
Compared to a lot of outdoor tables the Vapor is incredibly easy and quick to assemble. Some brands ship their tables completely unassembled which is very frustrating and means just putting them together can take upwards of two hours. Thankfully this table will only take 10 minutes. All you have to do is attach the wheels to the legs and you'll be off.
Weatherproof net and posts included
The table comes with a 72″ net and posts set that's made to be used outdoors. It's a threaded clamp system that's easier to set up plus you can adjust the tension of the net for optimum play.
About STIGA
STIGA are probably one of the top three table tennis brands in the world. After being founded in Sweeden in the 1930s they now sell their products in over 100 countries. They've got some of the best selling tables on Amazon that have gathered thousands of positives reviews including The Vapor which has over 100 five star reviews.
Pros
Reasonable bounce – 6mm thick provides a good bounce over the whole table top
Completely weatherproof – Rust and sun resistant table surface and frame to prevent corrosion and wear
Easy to assemble – Comes almost completely preassembled, just attach the wheels are you're good to go
Weatherproof net and posts – Included with the table are a 72″ weather-resistant net and posts that clamps on very easily
Self-opening legs – When unfolding the table's legs deploy automatically
Affordable – It's very competitively priced compared to other models
Cons
Only 3″ wheels – The wheels are a little small for an outdoor table and so aren't the strongest (be careful when moving it)
Damaged during delivery – A handful of customers reported that it was damaged during delivery, check thoroughly when you receive it
Conclusion: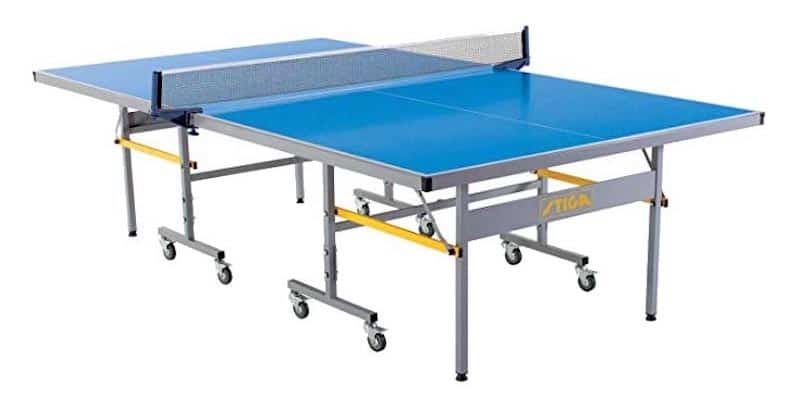 In conclusion, we really like The Vapor (it's even in our top 5 most recommend outdoor tables you can read here). We love the design and look of it and the yellow and blue goes really nicely together. The 6mm thick surface is plenty for casual players and gives a good bounce and there have been no previous customers have reported that it's become warped when it gets wet which is a really good sign as to the quality.
The only downside is that the wheels are a bit on the small side. We're hoping that STIGA might update them to make them slightly bigger as 3″ is what you'd see on an indoor table. Even so, we think if you plan to use it in a garage or on a porch, it will be fine just be careful when moving it.

Eugene (Gene) Sandoval has been one of those guys who spent too many hours around ping pong tables in high school. However, soon enough, Gene understood that there is more to ping pong than having fun. That is how he started a journey that made Eugene one of the experienced semi-professional ping pong players in the United States. As the founder of the PingPongRuler, Eugene spends most of his time surrounded by ping pong tables and research. He always has this knack for coming up with new ping pong strategies and telling the good and bad equipment apart.