The STIGA Optimum 30 is professional, ITTF approved, table tennis table and at the time of writing this review, is the only table with a 30mm surface thickness. Not only does it have an incredibly thick surface, but it was treated with a special material necessary to attain the perfect coefficient of friction, or how the ball should react to spin etc.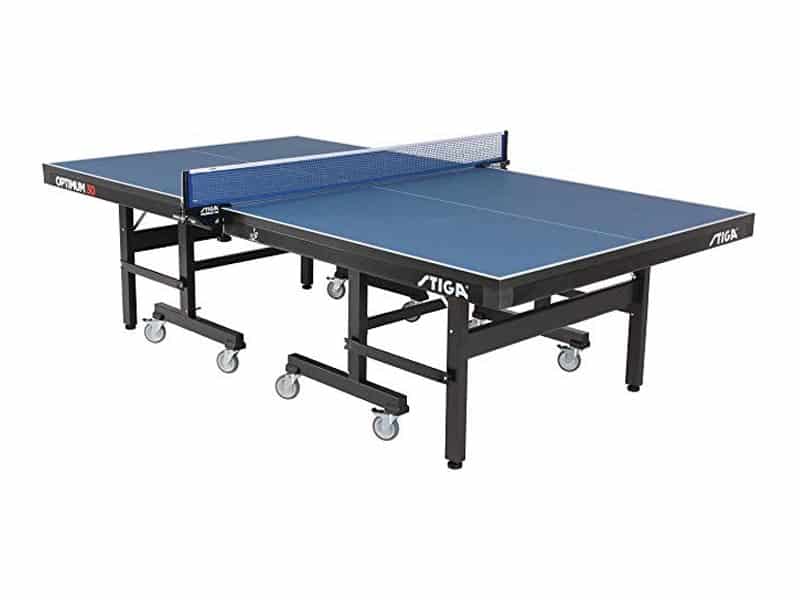 Specifications:
Optimum Bounce Technology- 30mm Thick Top
ITTF Approved, Ultra-Premium Indoor Tournament Table
Official Table of SPiN Ping-Pong Social Club
4″ Machine-Grade Casters and Leg Levelers
Massive Chassis Construction for Unmatched Stability
STIGA VM Net and Post Set Included
Official table for the SPiN Ping Pong Club
Self opening legs & levellers for a smooth game
The heavy-gauge steel legs of the Optimum 30 measure 2-2/5 x 1-3/5 inches for unmatched rigidity. 4 leg levelers ensure that the table is perfectly flat for tournament-level quality.
Strong thick apron for extra support
The 2 -2/5-inch profiled steel apron provides exceptional support for the table top, ensuring perfectly even bounce across the entire table.
Wheel locks for extra safety
Supporting the transportability of the table are 4-inch machine-grade casters that allow the table to easily glide over any surface, and, once the table is in place, locking wheels reinforce its stability.
Play-back position
When you don't have another person to play Table Tennis with, the play-back position is the best thing to hone your skills, because who better to practice against than yourself? Simply fold one half of the table up and you have a fierce opponent that will return any serve.
Easy folding
The table is very easy to fold away as you don't have to detach the net which takes a step out of set up and pack down. This table is great for families or more serious players, the surface is extremely thick so the bounce will be uniform and consistent, and the chassis and supporting structure is thick, so you know this table will last years to come.
Conclusion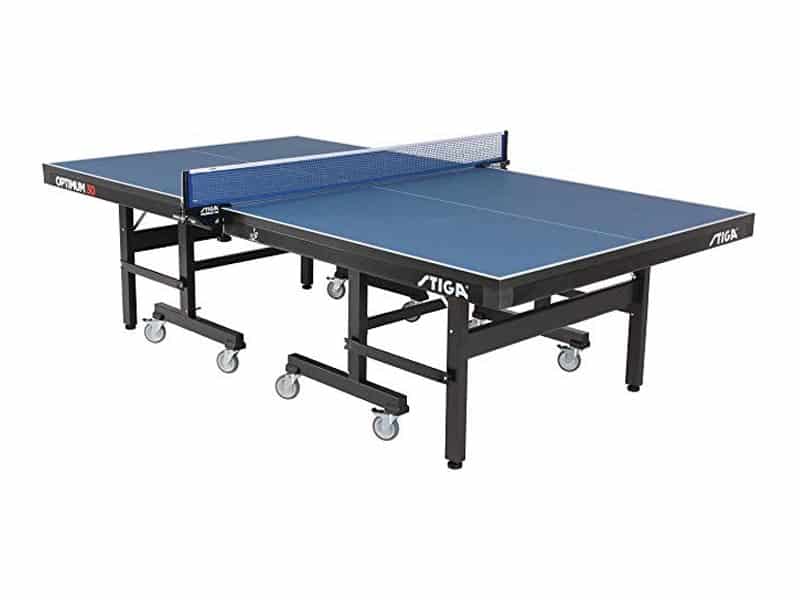 The STIGA Optimum 30 is a serious table tennis table that should only be purchased by individuals that want a high-quality table that even the pro's would be happy to play on. Not only that, but it's backed by STIGA, one of the leaders in manufacturing table tennis tables.
But if you don't need a 30″ table thickness (let's be honest not many people do) you'll be able save a lot of money by getting a thinner surfaced table. Head over to this guide to buying a ping pong table to see some of our recommended ones.

Eugene (Gene) Sandoval has been one of those guys who spent too many hours around ping pong tables in high school. However, soon enough, Gene understood that there is more to ping pong than having fun. That is how he started a journey that made Eugene one of the experienced semi-professional ping pong players in the United States. As the founder of the PingPongRuler, Eugene spends most of his time surrounded by ping pong tables and research. He always has this knack for coming up with new ping pong strategies and telling the good and bad equipment apart.