STIGA Optimum 30 Review (Super Thick Table Top)
The STIGA Optimum 30 is a professional ITTF-approved table tennis table, and it is the first table to sport a 30 mm thick playing surface. But not only does it have an incredibly thick surface, but it is also treated with a special varnish to give it the perfect coefficient of friction.
If you're in the market for a high-quality table, it's one you should certainly consider. If I could afford it for my club, I may well have already picked it up.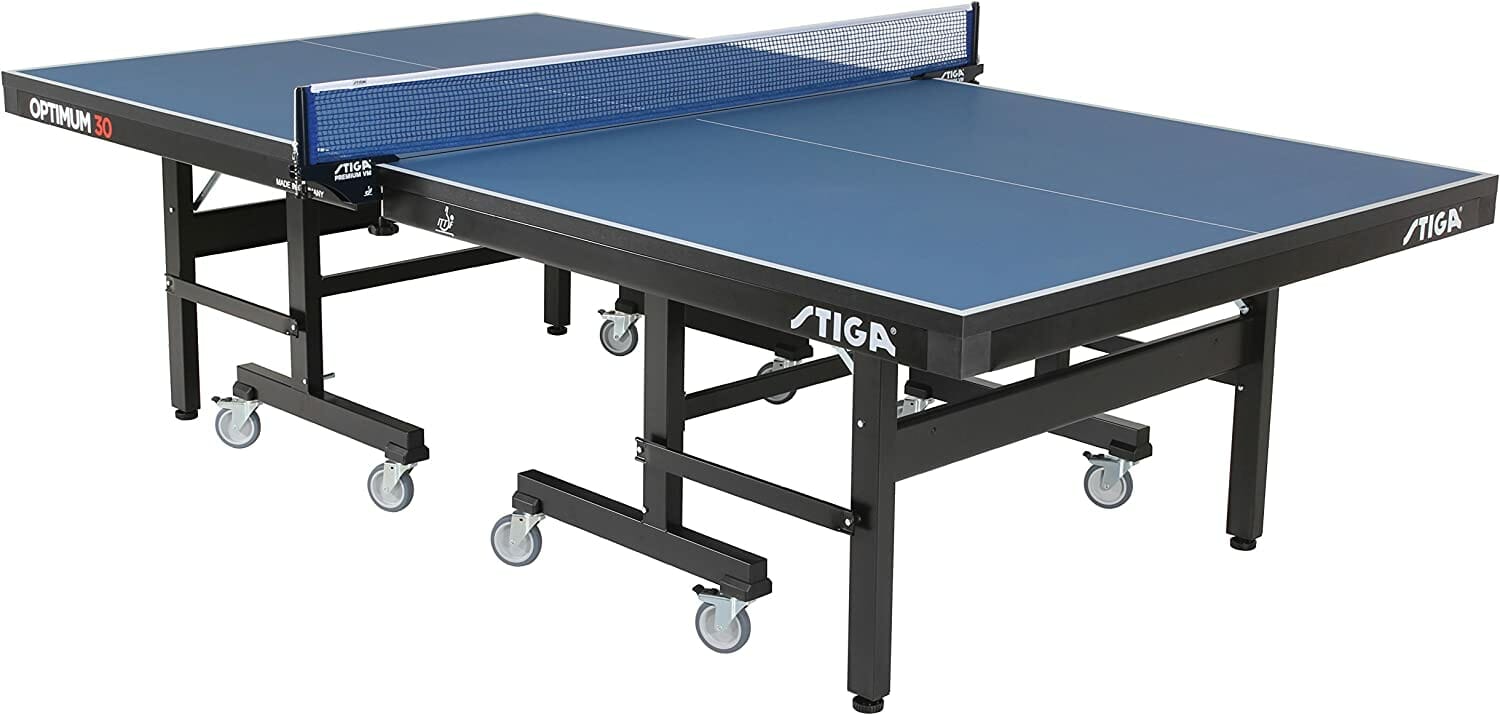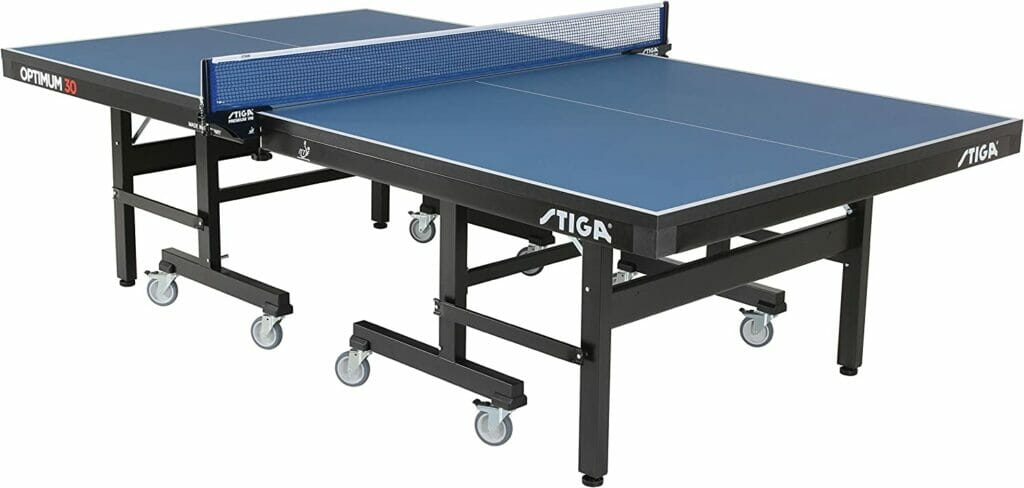 Table Top Quality: ★★★★★
Build Quality: ★★★★★
Overall Rating: ★★★★★
Pros
Very thick table top, strong build quality.
Cons
Expensive, long assembly time.
Specifications:
ITTF-Approved: Yes
Table top thickness: 30 mm
Solo playback mode: Yes
Leg Levelers: Yes
Wheel size: 4″
Extras: STIGA VM Net and Post Set
Weight: 310 lb
Pros:
Thickest playing surface available
Strong thick frame
Nests for compact storage
ITTF-approved
Includes high-quality net and post set
Official Table of SPiN Ping-Pong Social Club
Cons:
Expensive
Heavy
Long assembly time
1-year warranty period
Our Rating: 9.4
Read Next: The Best Table Tennis Tables
Stiga Optimum 30 Features
30 mm Thick Playing Surface
The Stiga Optimum 30 table tennis table uses Optimum Bounce Technology. Its play surface measures 30 mm thick, and it is the first of its kind. Even standard tournament-grade surfaces cannot match it as they are 25 mm in thickness.
As such, the Stiga Optimum 30 ping pong table has one of the best table tops in the world. The difference in bounce quality between it and an 18 mm table is immediately noticeable, so it is well worth purchasing if you put a lot of hours into the game. Stiga Optimum 30 reviews from fellow players consistently speak about how great it is to play on.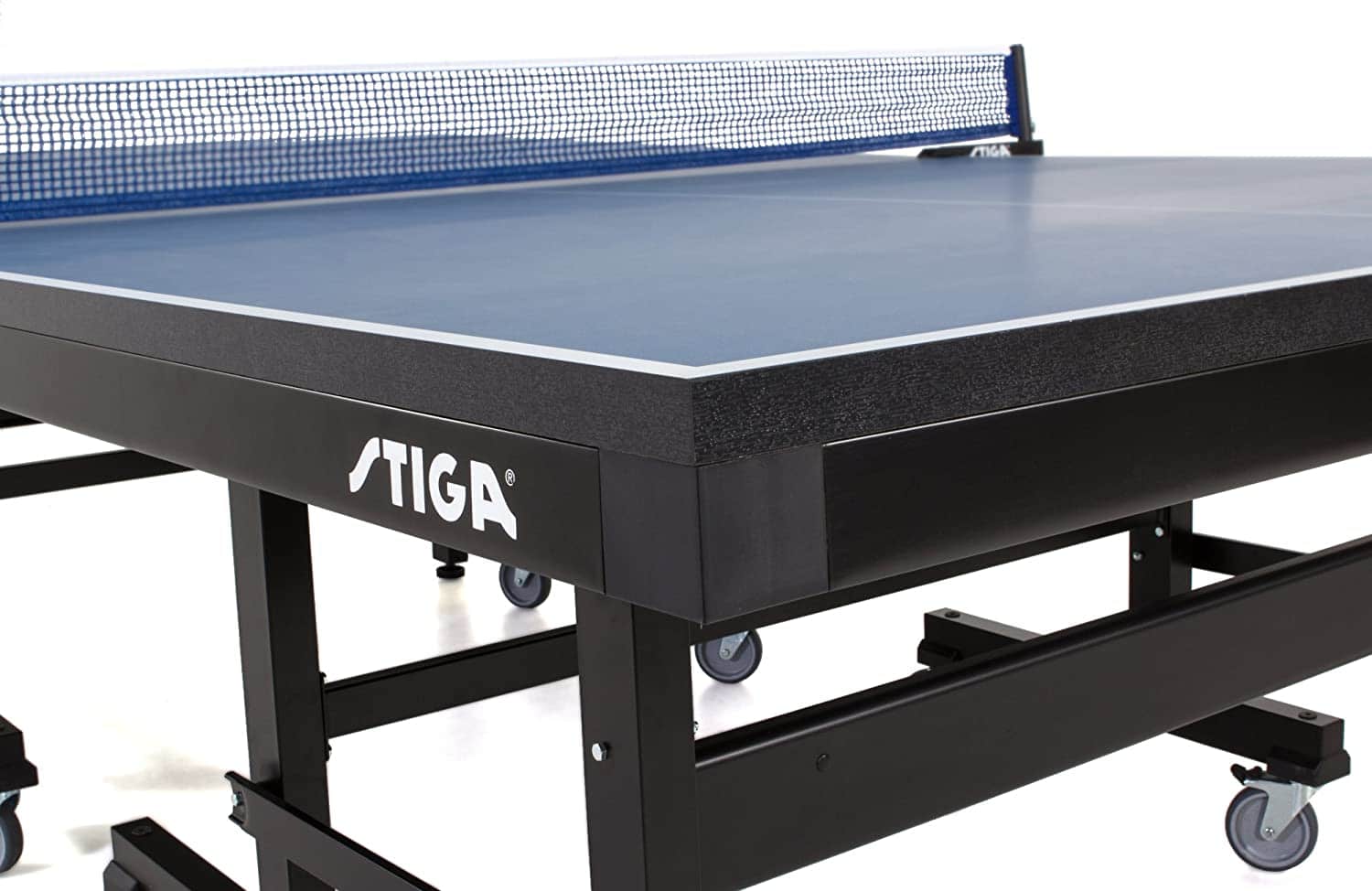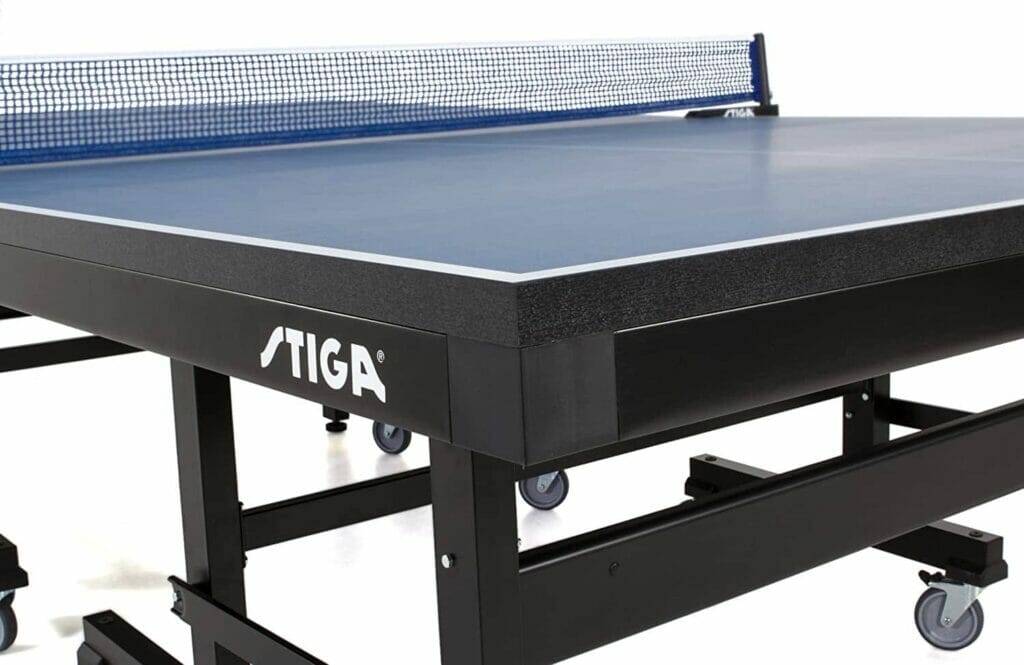 Strong Thick Apron
The 2 -2/5-inch profiled steel apron provides exceptional support for the table top, ensuring a perfectly even bounce across the entire table. It is right at the top end of apron thicknesses.
As long as you keep the table indoors, you shouldn't experience any issues with warping whatsoever.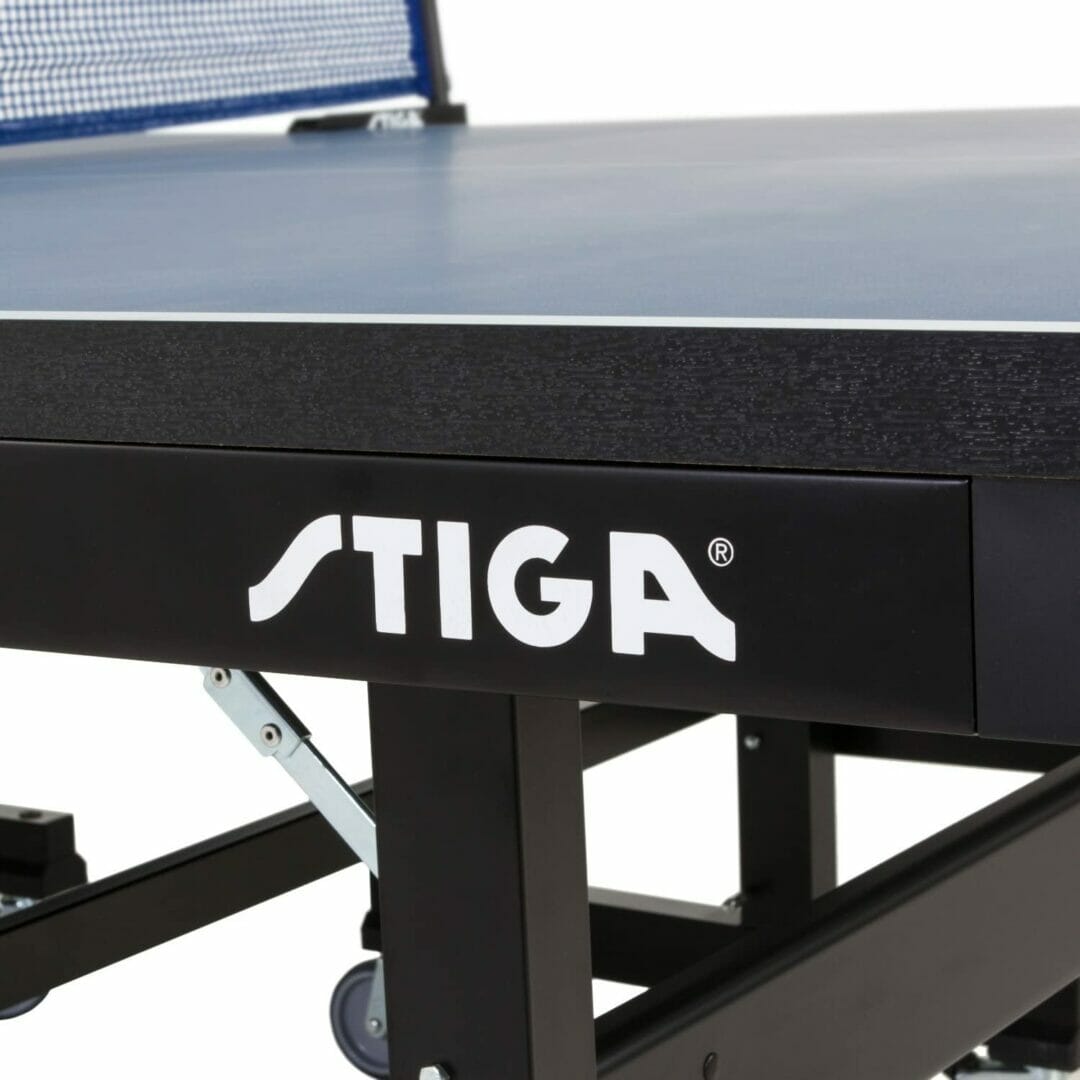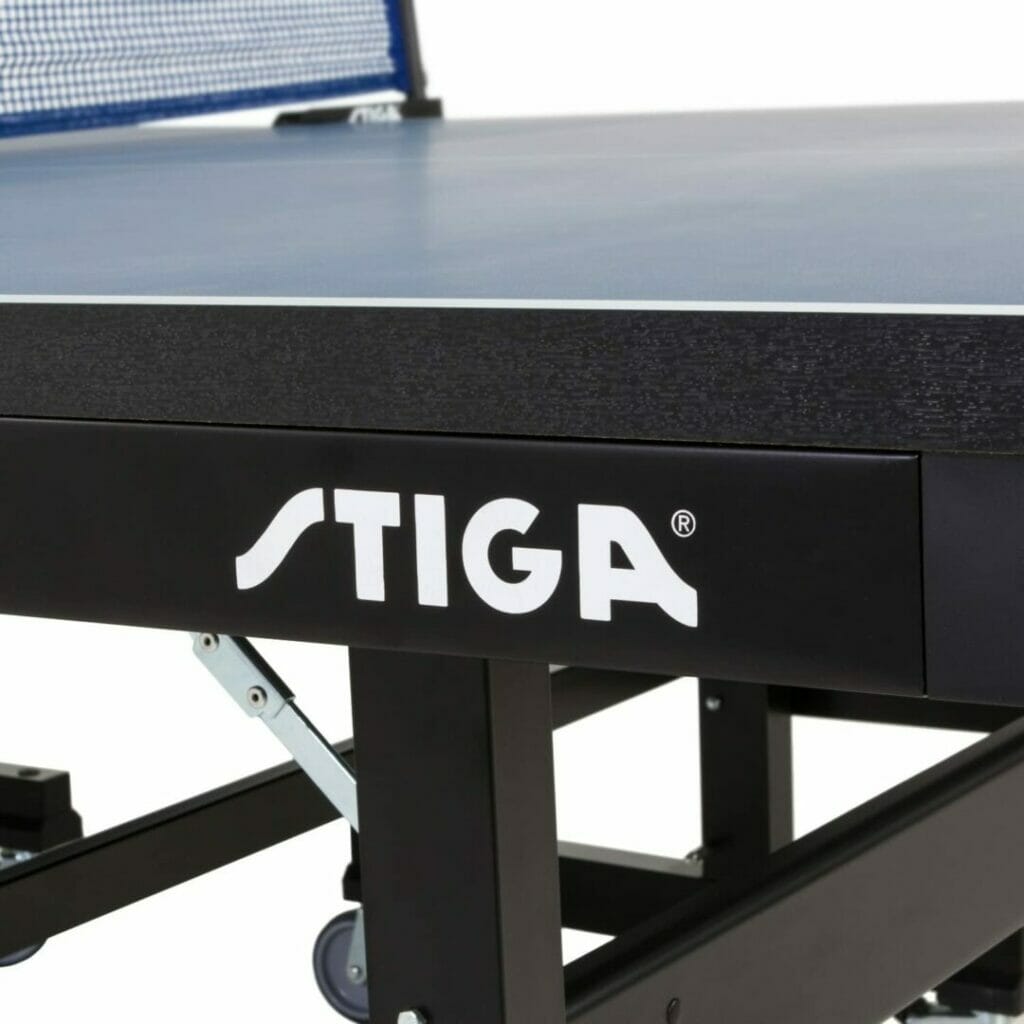 Self-Opening Legs & Levelers for a Smooth Game
The heavy-gauge steel legs of the Optimum 30 measure 2-2/5 x 1-3/5 inches for unmatched rigidity. Each of the 4 leg legs has its own leveler. This ensures that the table is perfectly flat for tournament-level quality.
4″ Wheel Lockable Wheels for Mobility
At 310lbs, the Stiga Optimum ping pong table is certainly one of the heaviest tables going. That's why we are glad to report that the table features 4″ wheels. This makes it a little easier to maneuver than the standard 3″ wheels we so commonly see.
In total, the table has 8 wheels, 4 for each half. When you are set on the location of your table, you can lock it in place using the wheel locks. In all honesty, you don't really need to use them given how heavy the table is, but it does add a little extra safety for those that want it.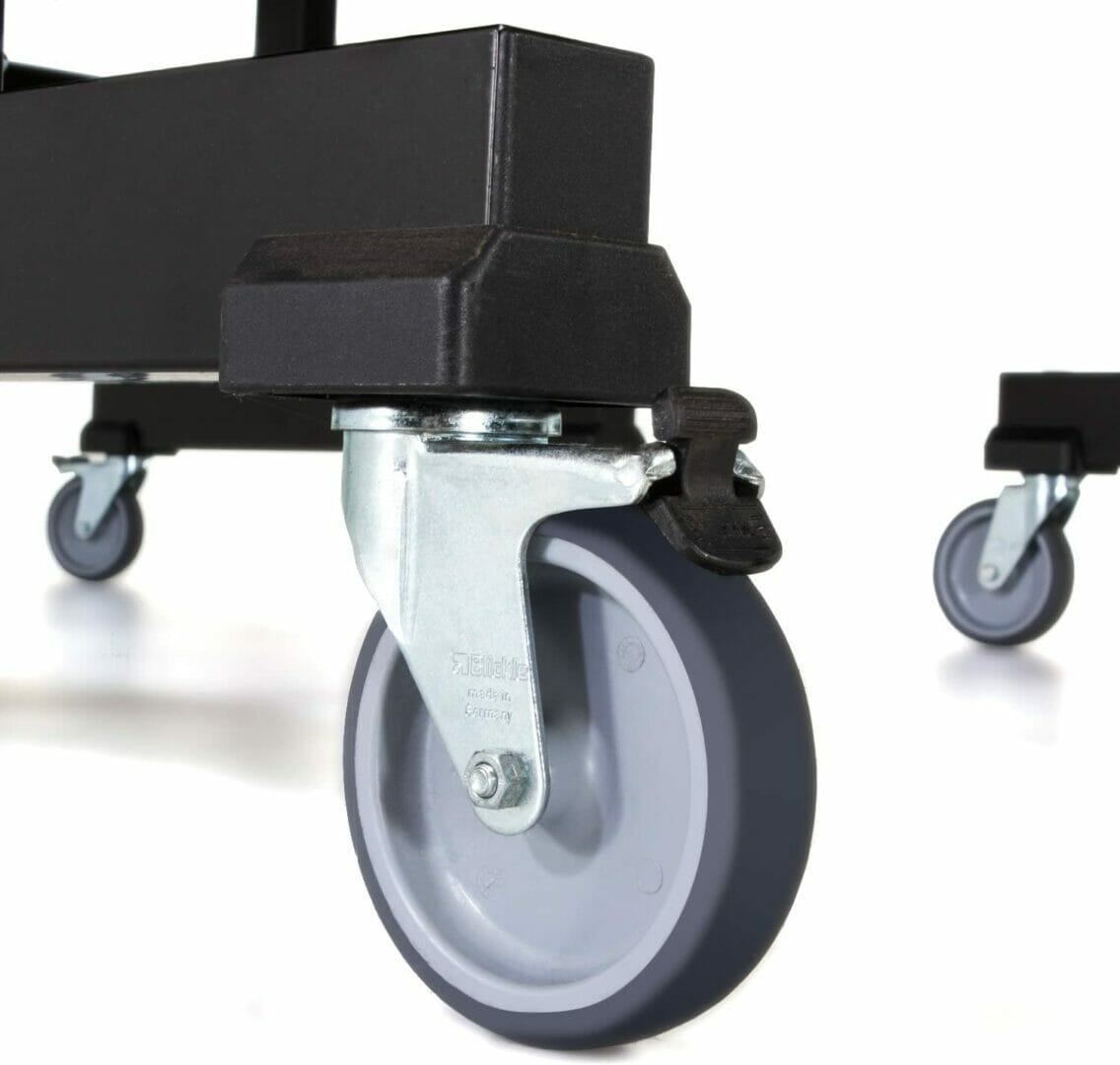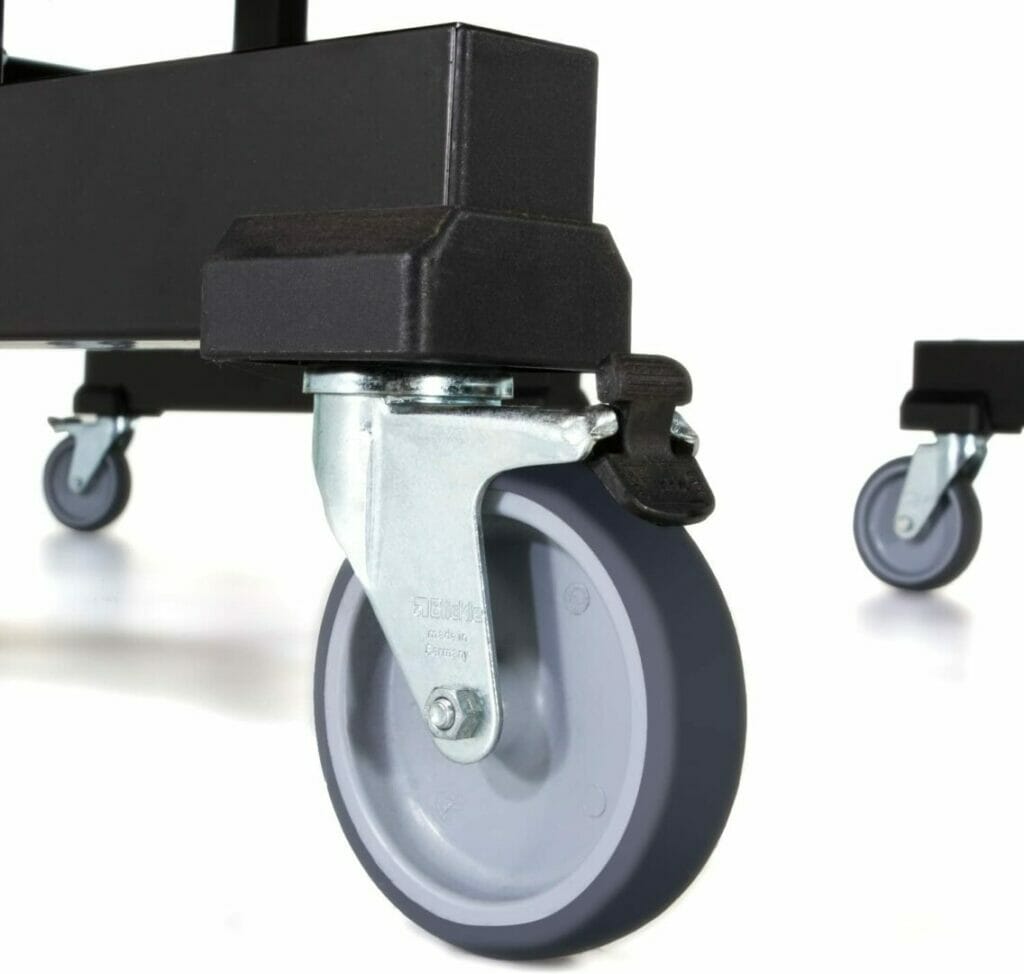 Solo Play-Back Position
When you don't have another person to play table tennis with the solo playback position is the best way to hone your skills. Simply fold one-half of the table up and practice playing against yourself.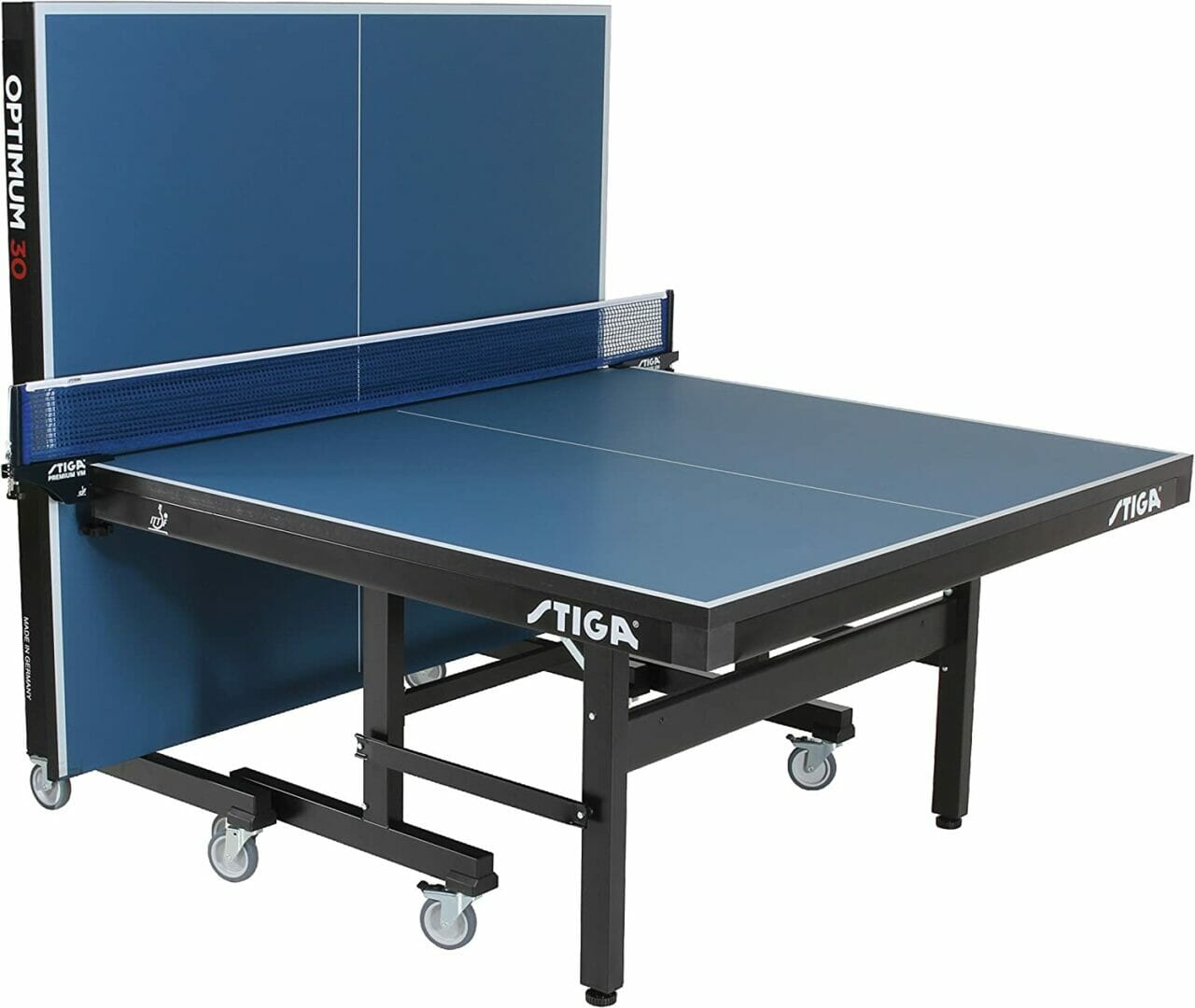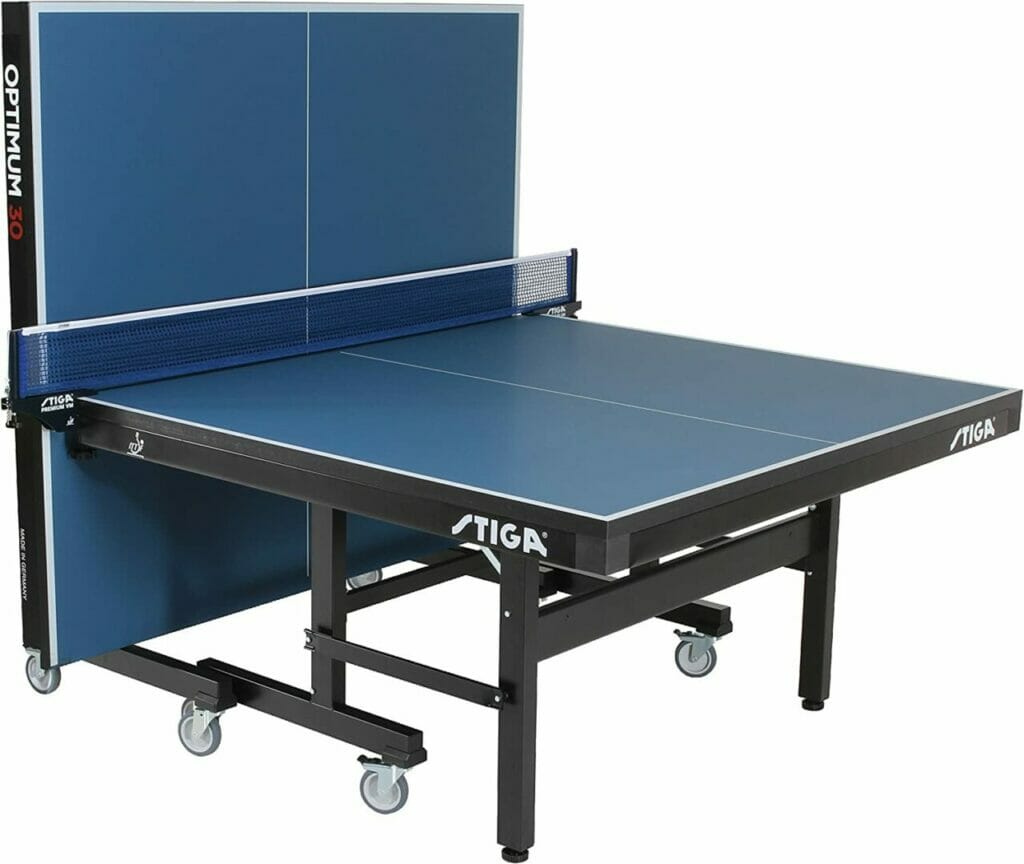 Compact Storage
The Optimum 30 is a two-piece table. The benefit of this is that the two table haves can nest together for compact storage. One-piece tables, by comparison, cannot nest and often take up considerably more space.
The folded dimensions of the Stiga Optimum 30 table measure 60″ W x 25″ D x 62″ H.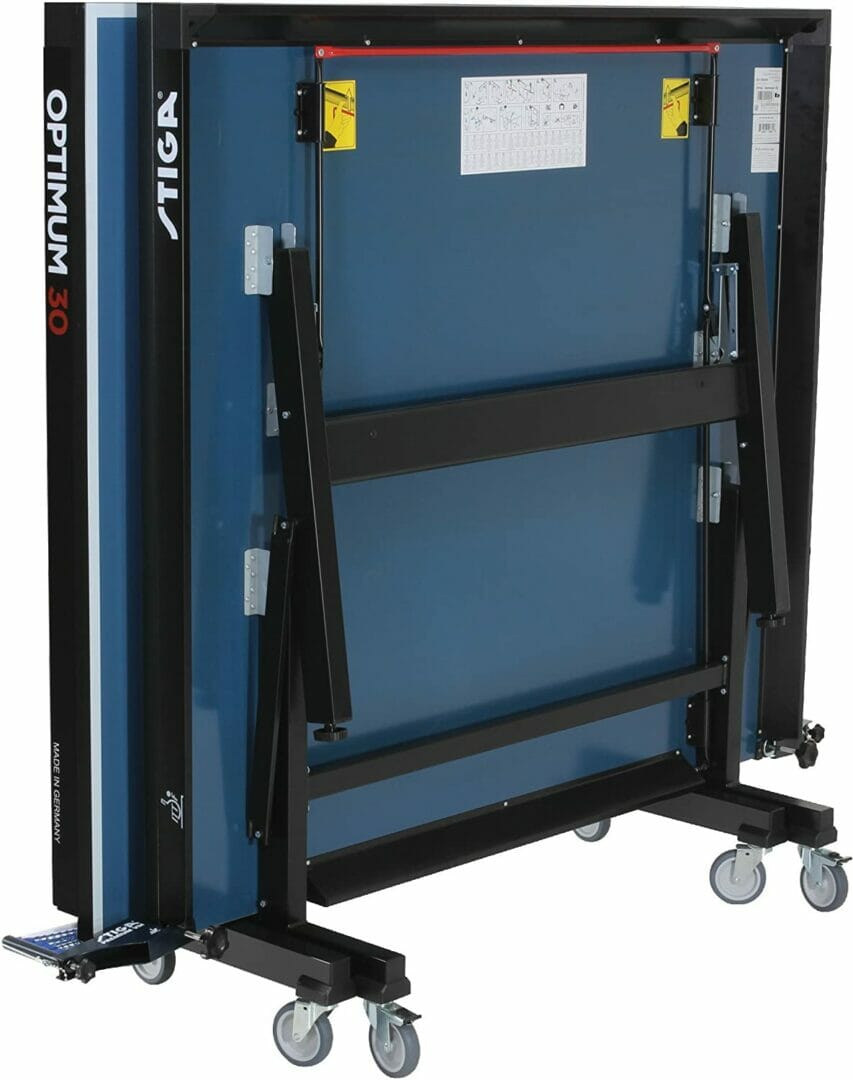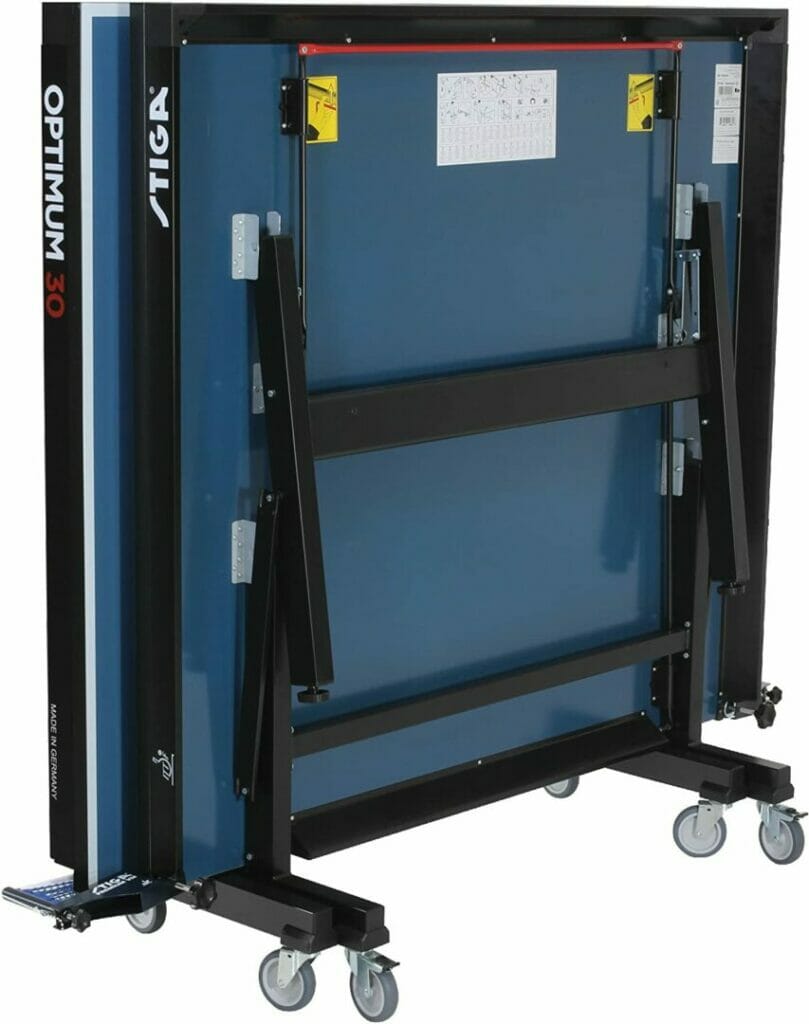 1-2 Hour Assembly Time
Cheap table tennis tables often arrive 95% pre-assembled. As such, there are only around 15 minutes of work needed to build these tables. However, premium tables almost always take far longer to build. And the Optimum 30 falls at around the 1-2 hour mark.
While this can seem like a long time, try to compare it to other furniture you build. Half the stuff I have made over the years seems to take more than a couple of hours, so I don't see the assembly time as a big issue, and I don't you should either.
Spending an hour or two to build a quality table is well worth it. It's a one-time investment and worthwhile considering how much better the Optimum 30 is compared with most other tables on the market.
Net Included
As a nice little add-on, the Stiga Optimum 30 comes with a Stiga Premium VM net included. This is a high-quality ITTF-certified net. It's the kind you would see used for tournaments. You can adjust the height and tension to ensure the table meets proper player conditions.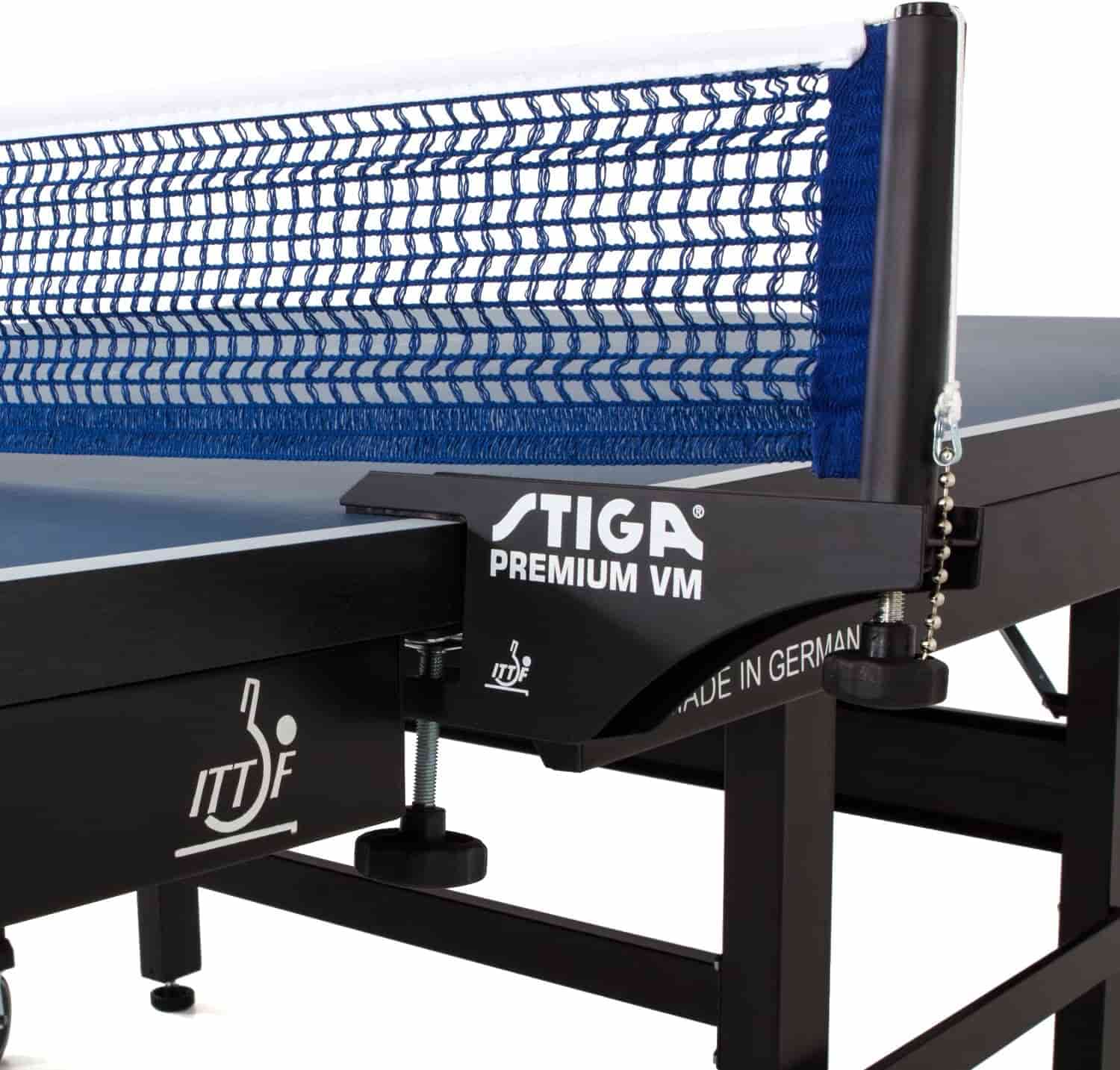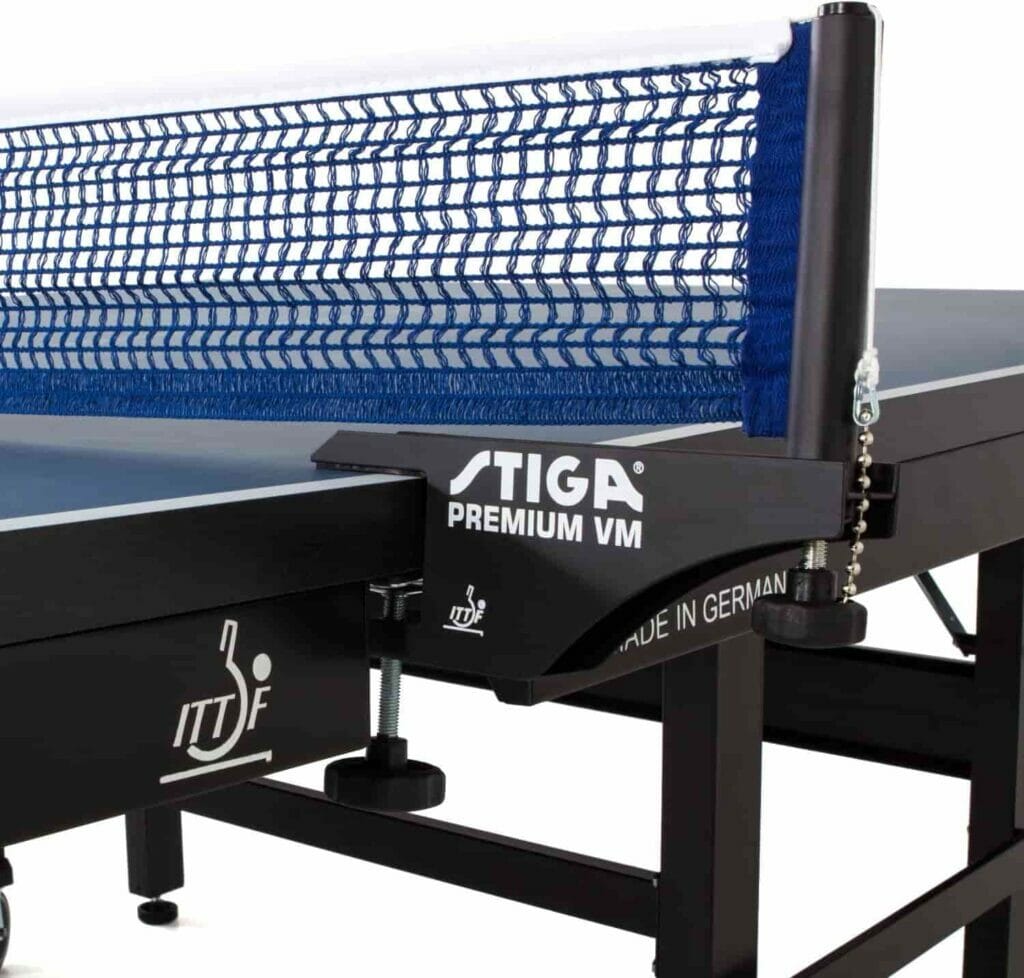 What Type of Player Does the Stiga Optimum 30 Suit?
As the Stiga Optimum 30 has the thickest playing surface of any table on the market, there is no doubt that it is aimed toward advanced and professional-level players.
However, this does not mean it wouldn't be a great purchase for a lesser skilled player. It's more a matter of it being overkill. The Stiga Optimum 30 is damn expensive, so I would consider it a waste if purchased for a beginner who barely uses it.
Ultimately I think the Optimum 30 is a great choice as a club table, or for an individual that is really passionate about the game and will use it frequently.
Alternative Options
Donic Waldner Classic 25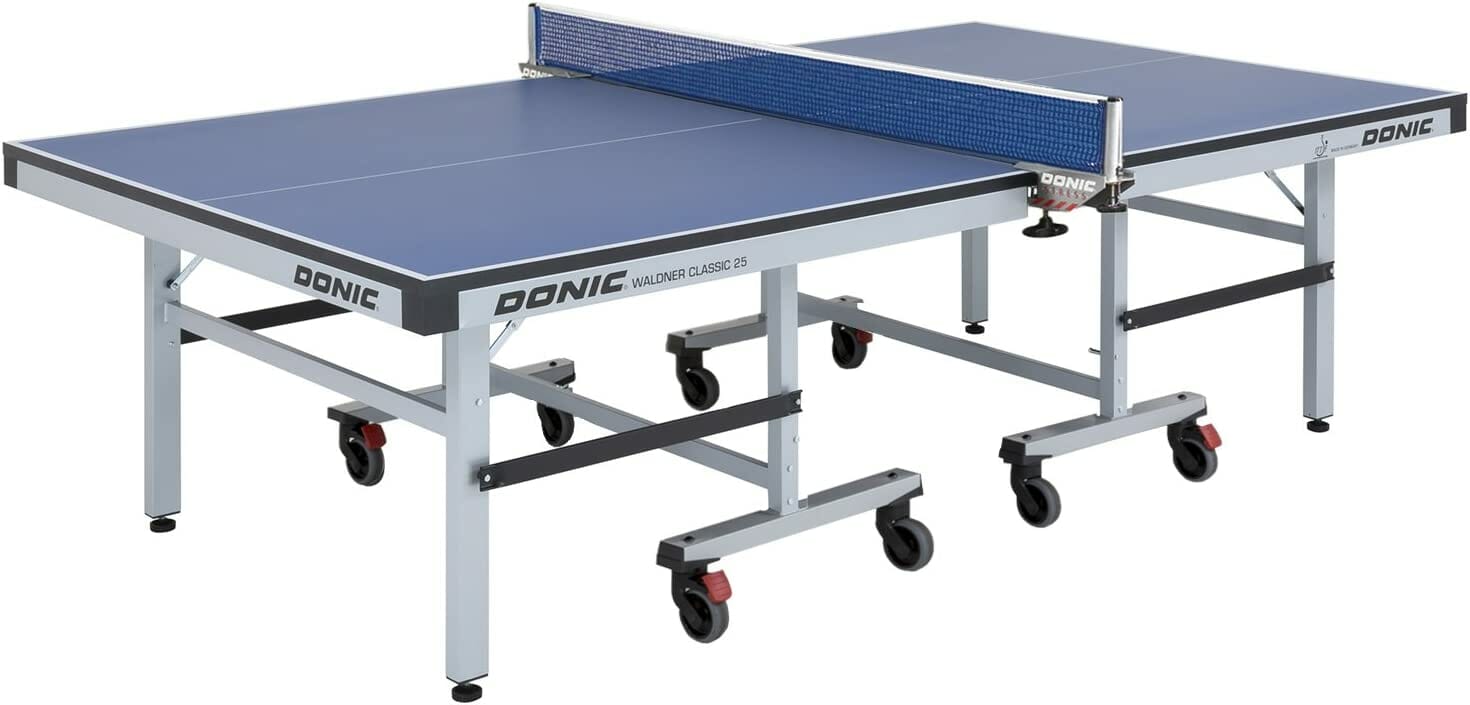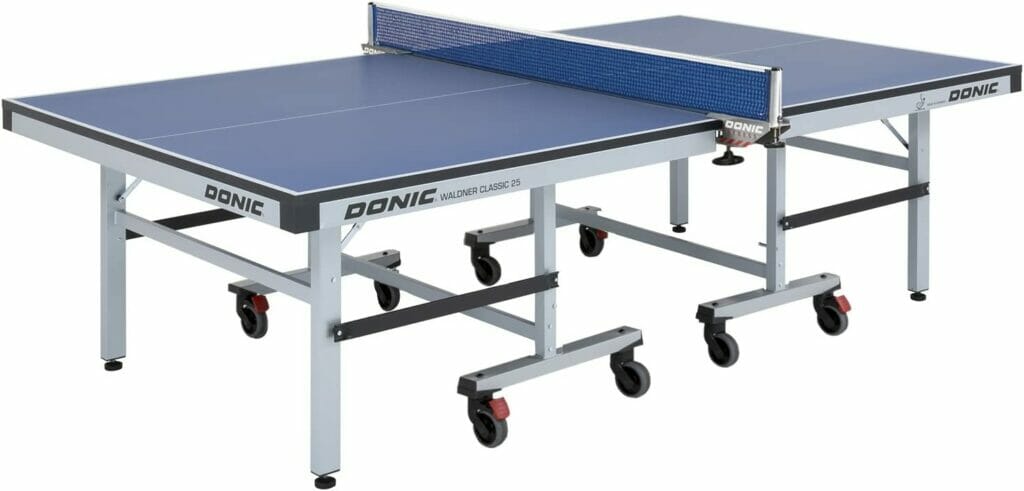 The Donic Waldner Classic 25 is another professional quality table. It's ITTF-approved and has a thick playing surface of 25 mm. It's also similar to the Optimum 30 in a lot of ways. The price is very similar, it has 4″ wheels, and nests together for compact storage.
However, it has a thinner frame at 2″, and weighs less at 280 lbs.
Butterfly Centrefold 25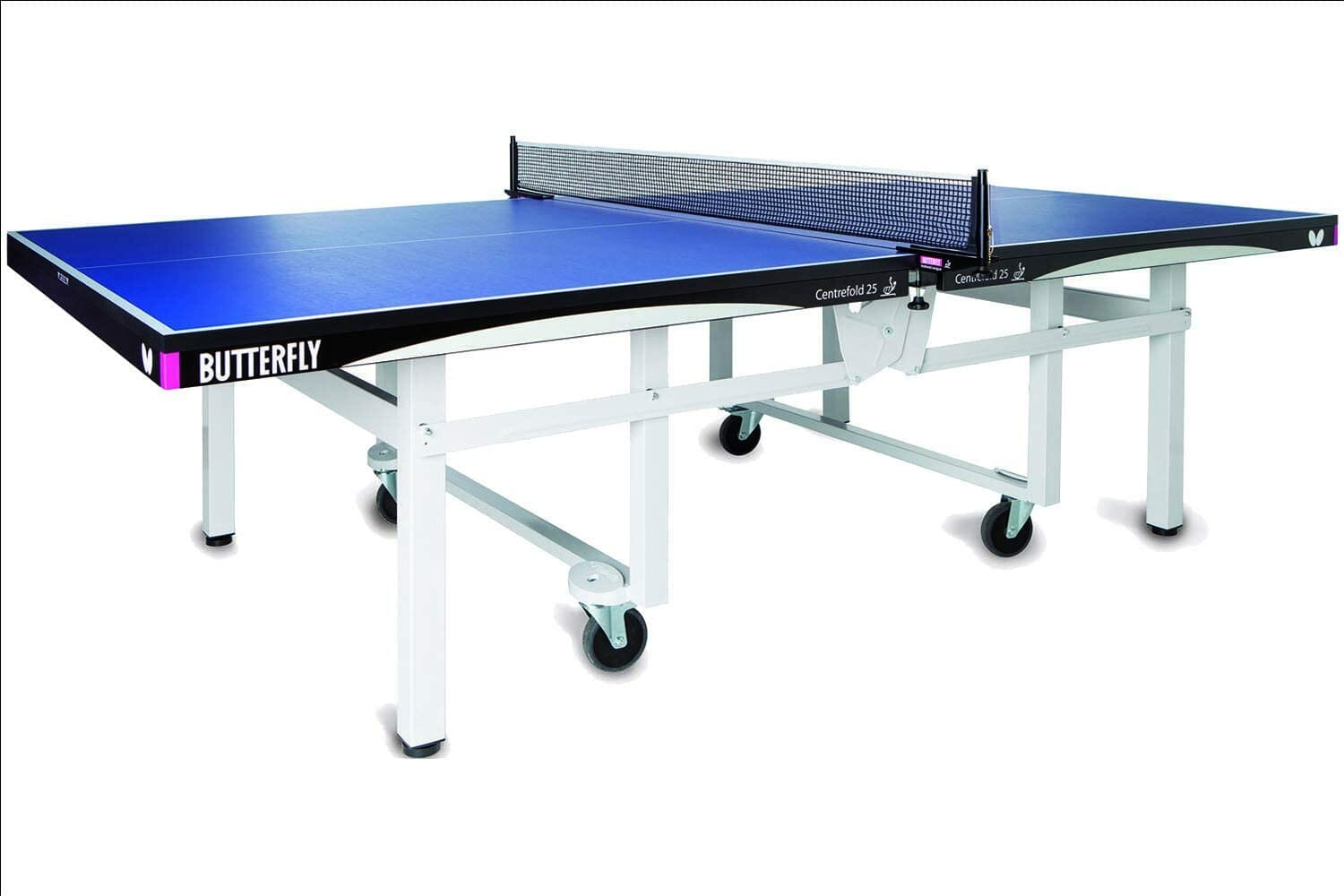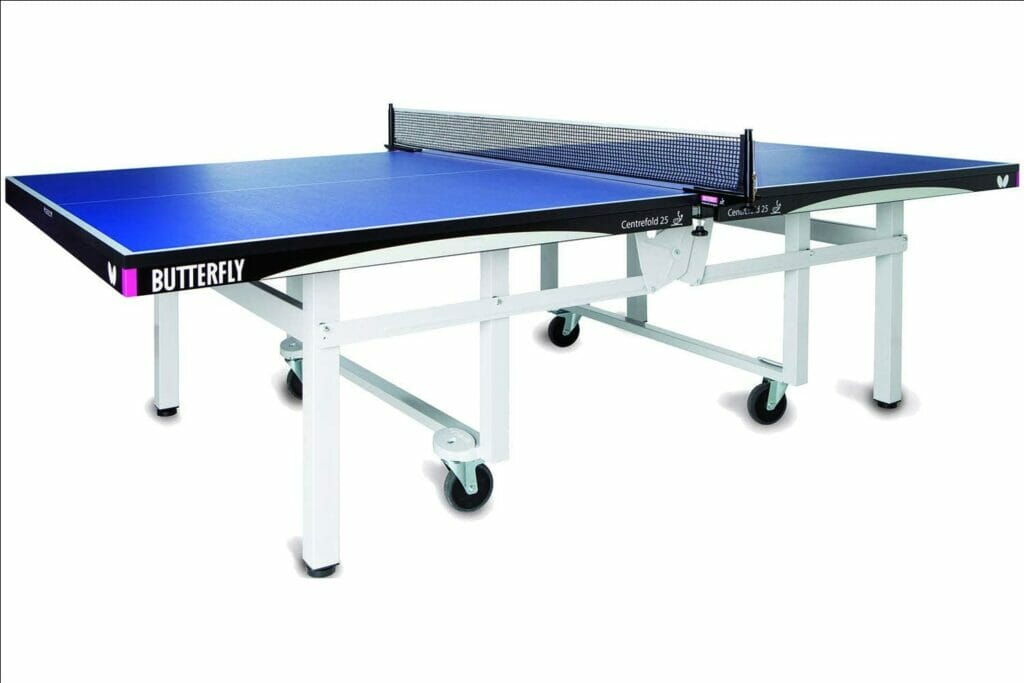 Coming from an expensive brand like Butterfly, it is no surprise that the Centrefold 25 is very expensive, even for a premium table. While it shares a 25mm play surface with the Waldner Classic 25, it differs in key areas.
The first is its form. It's a 1-piece table. However, I have to say it's rather compact as it measures 60″ x 63″ x19″, which is actually a little smaller than the Optimum 30.
Yet the biggest selling point for this table besides its quality is the 5-year warranty period. This is 5 times greater than both the Optimum 30 and Waldner Classic 25, making it very desirable.
Conclusion
The STIGA Optimum 30 is a premium table tennis table that should only be purchased by individuals that want a high-quality model that even the pros would be happy to play on. And remember that you can buy with confidence. Stiga is one of the top table tennis brands worldwide and is loved by players.
However, if you feel that you don't need a 30 mm table thickness, (let's be honest, not many people do), you'll be able to save a lot of money by getting a thinner surfaced table. Head over to this guide to learn more about how to choose a ping pong table and read our guide on the top nets.

Freelance writer. Table tennis enthusiast. Lover of all things online. When I'm not working on my loop game I'm probably binge-watching some fantasy show.