The 10 Best Table Tennis Rubbers: Buying Guide and Reviews
Table tennis rubbers are critical to your game because they control how the ball behaves with every stroke. Take me for instance, I love to play a fast and spin-heavy game. As such, a fast and spinny rubber complements my style nicely.
However, as there are hundreds of different kinds of rubbers to choose from, the buying process can get a little overwhelming.
In this guide, we'll help you select the best table tennis rubbers by explaining what to look out for and providing some ping pong rubber ratings of our favorite models.
Featured Products
Why You Should Trust Us
Our team of ping pong experts has decades of experience. This places us in a great position to provide helpful insight for product recommendations. We aren't paid to endorse any of the rubbers on this list — all recommendations are purely our honest thoughts. Help support the website by purchasing through our links, if you do we may earn a small commission.
Table Tennis Rubber Buying Guide
What Is a Table Tennis Rubber?
A table tennis rubber is the rubber surface of your ping pong paddle. It's the part of the bat that impacts the ball with every stroke. It was first used on a racket in 1901, and then in the 1950s players started adding a sponge layer between the rubber top sheet and the wooden blade.
When we talk about table tennis rubbers today, we often refer to the combination of the sponge and the rubber top sheet. They most commonly come already stuck together, although you can purchase them separately.
What Does the Table Tennis Rubber Do?
The rubber greatly influences the ball's speed when you hit it. It can absorb and reduce the speed of the ball, slowing down your opponent's attacks or helping you go on the offensive by bringing more power to the ball.
Rubbers also greatly impact how much spin you can place on the ball. The stickier (tackiness) or grippier the rubber, the longer the contact period with the ball (dwell time), allowing you to generate heavier amounts of spin.
In short, the rubber you use determines how the ball behaves after you hit it.
The Three Parts of a Table Tennis Rubber
There are three main parts of a table tennis racket rubber and sub-categories to consider too. We'll break down each part below and discuss how this affects the ball and which type of player it might suit.
The Sponge Layer
As we mentioned earlier, when people talk about a table tennis rubber, they're not only referring to the outer top sheets but also the layer of sponge between the rubber and the blade.
As a general rule, the thicker this sponge layer is, the more powerful and faster the ball bounces off the bat's face. The thinner the sponge is, the slower and more controlled the bounce will be. The thickness of the sponge tends to vary between 1 mm to 2.5 mm.
Offensive players will often prefer to play with a thicker sponge (over 2.0 mm), which causes the ball to ping off the bat faster, thus giving them more power. Defensive players tend to prefer thinner sponges or no sponge at all as this slows the ball down.
For table tennis beginners or all-around players, it's better to use a bat with a sponge thickness of 1.5 mm to 1.9 mm to give you more control over your shots.
While thickness is super important, you also need to consider sponge hardness as well. The harder the sponge, the more it will bounce off the bat and the more power you'll be able to generate. The opposite is true as well, soft sponges will slow the ball down and give you more control but less speed. Below is a table tennis rubber comparison for sponge thicknesses.
| | | |
| --- | --- | --- |
| Sponge Thickness | Speed | Style |
| <1.5 mm | Slow | Defense |
| 1.6 mm – 1.9 mm | Medium | Allround |
| 2 mm – 2.1 mm | Fast | Offensive |
| 2.2 mm – Max | Very Fast | Offensive+ |
The Rubber Top Sheet
Sitting on top of the layer of sponge is the rubber top sheet. This is typically red or black in color (although you can get them in different colors) and has pimples (which we'll look at next).
The Pimples
All table tennis rubbers have 'pimples' (also called pips) which are little rubber nubs. They usually point inwards from the flat surface and into the sponge. Pimples help the top sheet be more responsive and elastic. A distinct group of rubbers has their pimples facing outwards. They can be short, medium, or long and drastically change how the rubber behaves.
Ping Pong Rubber Types
There are several different variations of ping pong racket rubbers, each suited to certain styles. Some suit more attacking players who want more power, while others are better for defensive players who want more spin and control.
Inverted Pimples
When the pips are facing inward towards the sponge with a smooth outer surface, the rubber is called 'inverted' or 'pimples-in'. These are the most popular type of table tennis rubber as they allow for a wider range of strokes and playing styles. With inverted rubbers, the ball is making contact with a flat surface (as the pimples are all pointing inwards), so the surface area to contact the ball is larger, meaning you'll get a lot more control.
We always recommend using an inverted pimples rubber when starting out as you'll have more control. It will also be easier to become familiar with the fundamental strokes of the game.
Pimples-Out Rubber: Long and Short

When the pimples face outward, it's called a 'pimples-out' table tennis rubber. Pimples out ping pong rubbers have less surface area in contact with the ball, so they have less friction and grip. This means you'll have less control over the ball, which we don't recommend for beginners.
If in doubt, go with 'pimples in' to start with before trying 'pimples out.'
Pimple rubbers can come with pimples of different lengths: mainly short or long. Short pimples out have tacky ends with less grip and less friction. These kinds of rubber reduce the effect of incoming spin and are ideal for smashing and blocking.
The other type is long pimples. This slows and reduces incoming spin giving you greater control when returning shots. It can also allow you to reverse the direction of the ball's spin and create unpredictable spin of your own. Long pimples with little to no sponge are most used by defensive players who want high amounts of control.
Tacky Rubbers
Tacky rubbers are a popular inverted type of rubber that is sticky. Their sticky surface allows players to generate heavy spin. The video above shows how tacky a rubber can be. Tacky rubbers, however, pick up a lot more dust and can wear out quicker than others. You'll need to clean your ping pong paddle rubbers more regularly if you have a very tacky rubber.
Anti-Spin Rubbers
Anti-spin rubbers are made to have a slippery surface that reduces friction and generates little to no spin. This kind of table tennis rubber will tend to cause the spin to reverse. For example, if your opponent sends a topspin shot at you, returning it with an anti-spin rubber will often generate light backspin. Anti-spin top sheets are usually coupled with a very soft sponge which slows the ball down and is popular with defensive players.
ITTF Approved Rubbers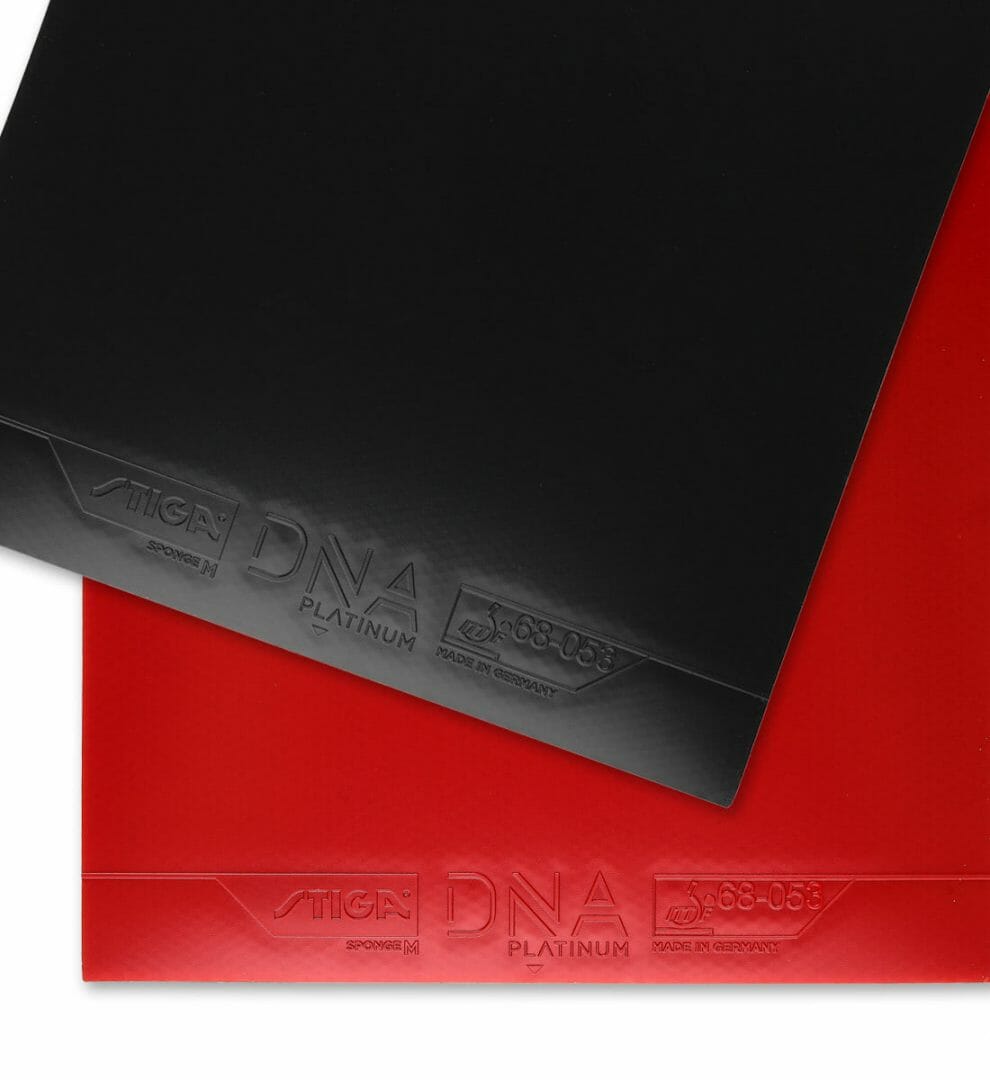 If you want to play in an official tournament, you'll need to get an ITTF-approved (International Table Tennis Federation) rubber. This requires it meets ITTF rules.
It Has To Be the Approved Colors.
Fairly recently, there was a rule change regarding paddle colors. Previously paddles had to include one black and one red rubber — there was no room for color customization. However, this has since changed. While the requirement for a matt black rubber remains, you can use any bright color for your other rubber.
It's taken some time, but we are finally seeing new rubber colors hit the market. So look out for the likes of green, pink, blue, and purple if you want to give your racket a little flare!
It Has To Be an ITTF-Authorized Rubber
Only rubbers with the ITTF logo (shown in the image above) are eligible for use during official table tennis tournament play. If present, this means that the ITTF has reviewed the rubber and agrees that it meets all of the requirements. However, the list of authorized rubbers updates about every six months, and simply having the logo doesn't mean that your rubbers are still authorized.
For tournament play, you need to check the list of authorized rubbers on the ITTF website periodically to make sure that your rubbers are still legal.
The 10 Best Table Tennis Rubbers in 2023
Our Top Table Tennis Rubber Reviews
Now that we've learned how rubbers work, we'll look at some of our best ping pong rubbers for 2023. It's worth mentioning that there are hundreds of rubbers available, and you need to think about your blade pairing too. Below are a few options that we've tried and enjoyed playing with, but this is no guarantee that they are the best for you and your play style.
Don't forget that you'll need to purchase two rubbers for each side of your blade.
#1. Butterfly Tenergy 05 — Best Overall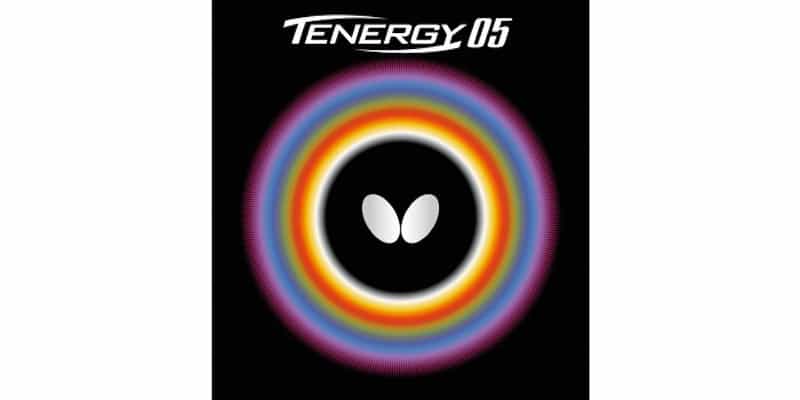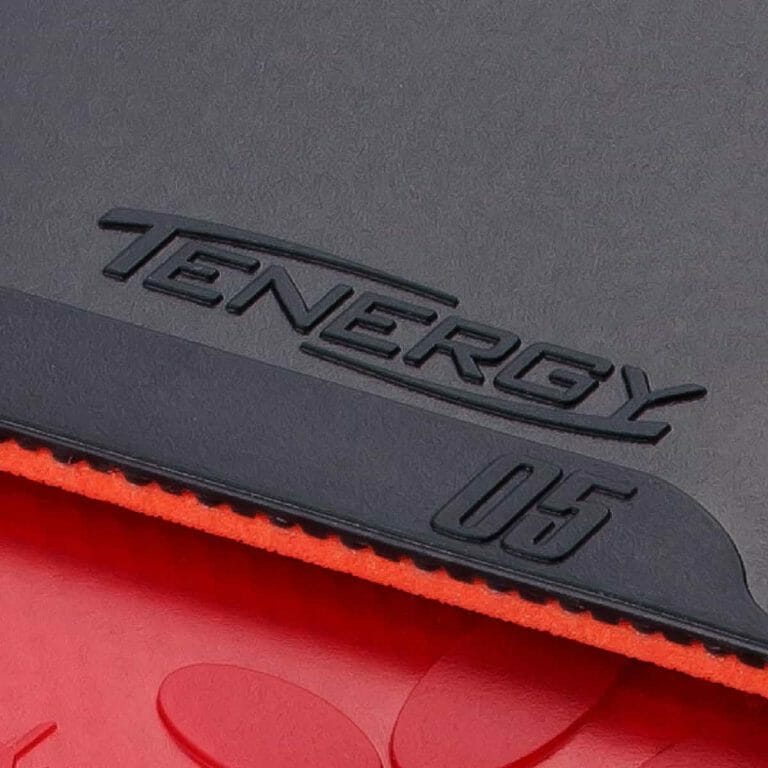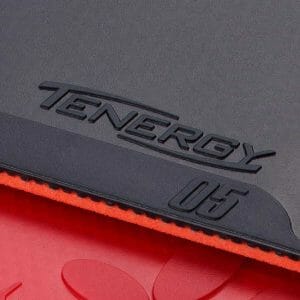 Specifications:
Speed — 9.3
Spin — 9.4
Control — 8.4
Hardness — Medium-hard
Thickness (mm) —1.7, 1.9, 2.1
Our rating — 9.9
Pros:
High spin
High speed
Strong catapult effect
Cons:
Expensive
Hard to control
If you want to try out a new rubber, we highly recommend you take a look at Butterfly Tenergy 05. It's been used by players such as Timo Boll and is favored worldwide by players looking for a fast high-tension rubber to play with.
Tenergy 05 was one of the first table tennis rubbers to use Spring Sponge technology that gives the ball a longer dwell time and therefore allows you to get a lot more spin on the ball. We currently use it on our forehand and love how easy it is to generate topspin. You can also purchase Butterfly Tenergy 05 FX (check price here), which is a little lighter, slower, and has a softer feel than the regular version. Conversely, Butterfly Tenergy 05 Hard is also available (check price here), which is even faster and heavier, so it better suits hyper-aggressive players. We think this is more suited to forehand, although it still makes for an exceptional backhand rubber.
If you're an offensive player who likes to generate topspin and play at a fast pace, then check out the Tenergy 05. We doubt it will disappoint you. it is one of the best ping pong rubbers that you can get. Just remember you need to be playing at an advanced level. This isn't one for beginners.
#2. Yasaka Mark V — Best for Allround Style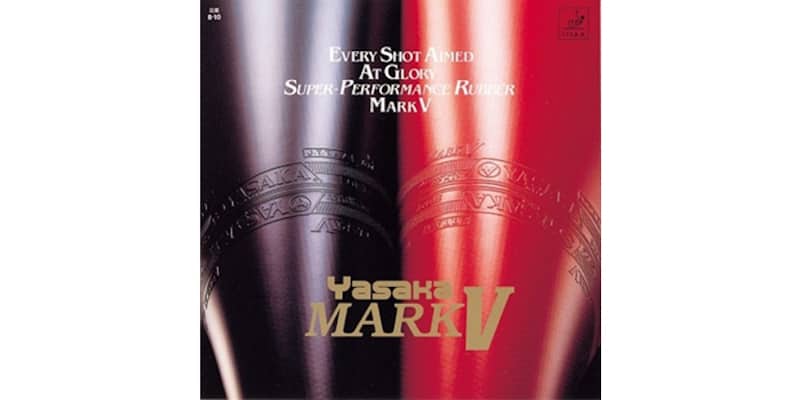 Specifications:
Speed — 8.0
Spin — 8.2
Control — 8.7
Hardness — Medium
Thickness (mm) — 1, 1.5, 1.8, 2, Max
Our rating — 8.8
Pros:
Controllable
Affordable
Long-lasting
Cons:
Not lively enough for attackers
No list of the best rubbers for table tennis would be complete without mentioning Yasaka Mark V. It's probably the most used table tennis rubber in the world, and since its introduction over 3 decades ago, it's been widely used by the best table tennis players and beginners alike.
It is an ideal option for beginners building their first custom ping pong paddle (we recommend going for a thinner thickness). Still, it is also very popular with advanced players who want to retain good control and reasonable spin.
Mark V is an incredibly durable rubber that will last a long time, and while it's not the fastest one we've played with, it's one that we highly recommend, even for offensive table tennis players (just get a thicker version). It is one of our favorite allround backhand rubbers.
#3. DHS Hurricane 3 NEO— Budget Choice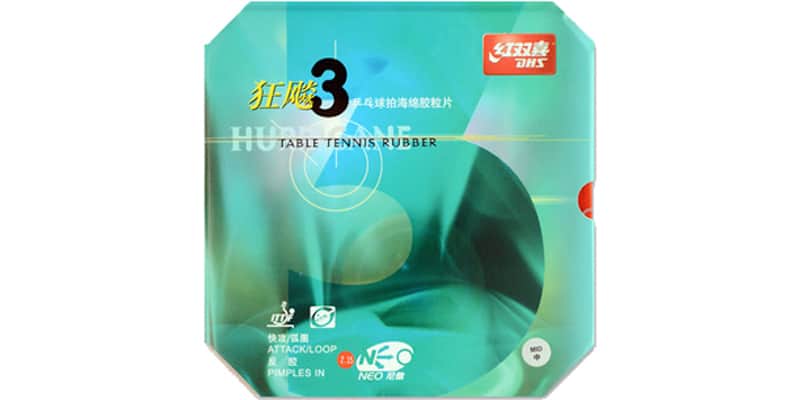 Specifications:
Speed — 8.4
Spin — 9.2
Control — 8.9
Hardness — Medium-hard
Thickness (mm) — 2.1, 2.15, 2.2
Our rating — 9.1
Pros:
Inexpensive
Superb looping in high gears
Cons:
Tacky rubbers can take a while to get used to
Poor at flat smashing
Up next, we have DHS Hurricane 3 NEO, which is a very popular classic Chinese rubber. It has a particularly tacky top sheet on top of a hard sponge which is standard for the Chinese style of play. As a result, it's a great choice for players who like to play topspin shots and want good control when placing the ball.
When it comes to speed, DHS Hurricane 3 NEO is very receptive to your stroke. If you play a slow, passive shot, it will be slow, but if you use more power, it reacts to your input, and the result can be a lot of speed.
The downside is that you'll have to work much harder to create this speed, which can be tiring and difficult for beginners to play with. We'd say the DHS Hurricane 3 NEO could be a good option for players who like to play close to the table and don't want to spend a fortune, as it's a very reasonable price.
#4. Butterfly Dignics 05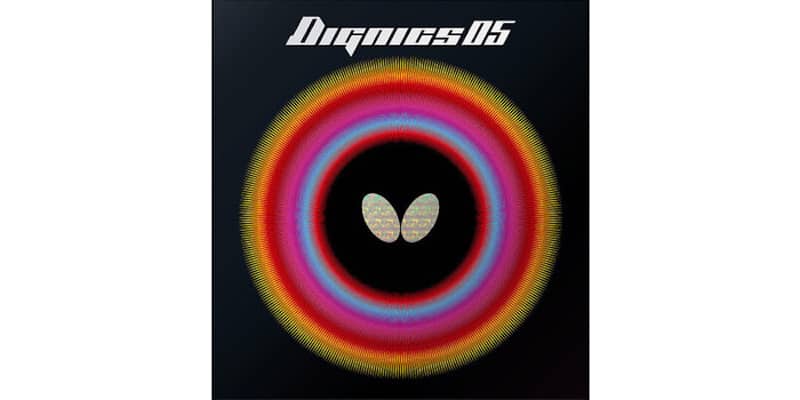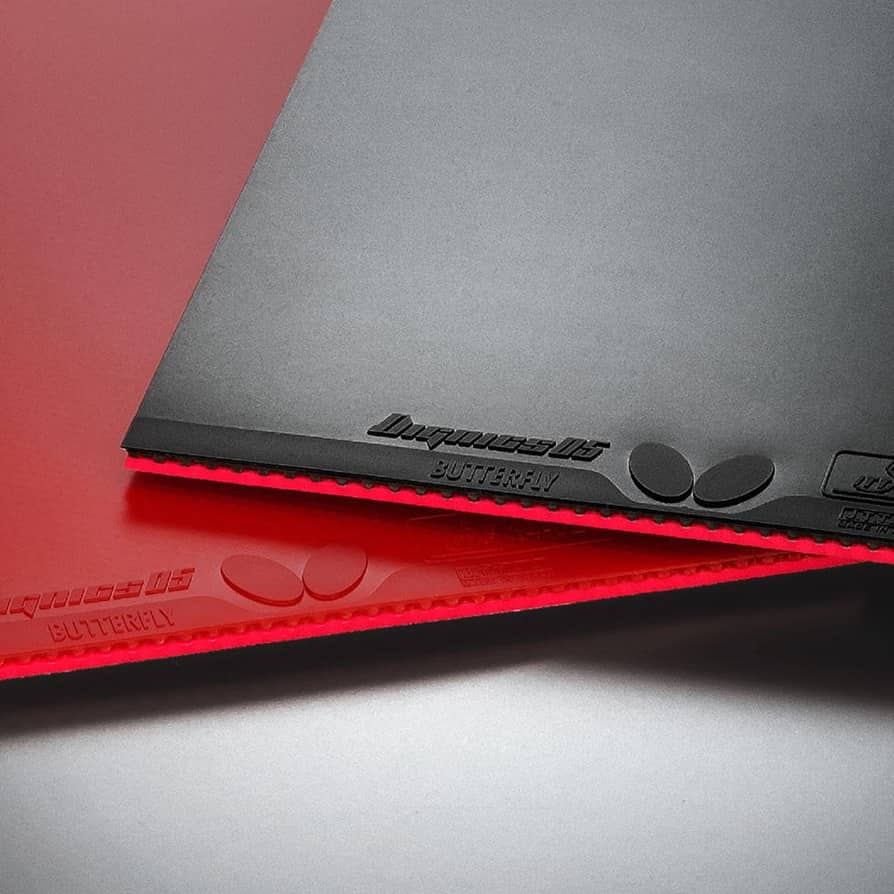 Specifications:
Speed — 8.9
Spin — 9.4
Control — 8.7
Hardness — Medium-hard
Thickness (mm) — 1.9, 2.1
Our rating — 9.1
Pros:
Very spinny
Newly developed rubber
Last for a long time
Cons:
Overpriced
Fragile sponge
Next, we have Butterfly Dignics 05, the most expensive table tennis rubber on our list. It was released in 2019 as a high-speed spin rubber using the same inverted pimple shape as Butterfly Tenergy 05. However, it features improved Spring Sponge X technology with more elasticity, allowing you to generate even more spin and speed for very attacking players. This rubber is not for beginners and will really catapult the ball off the face of the racket and is not easy to control at all.
It's above average regarding durability, so you won't be replacing these too often, but the downside is the very expensive price. I'd say it has the poorest value for money on this list, but if you have the budget and like its style, we recommend you give it a try, as the reviews from players are very good.
#5. Yasaka Rakza 7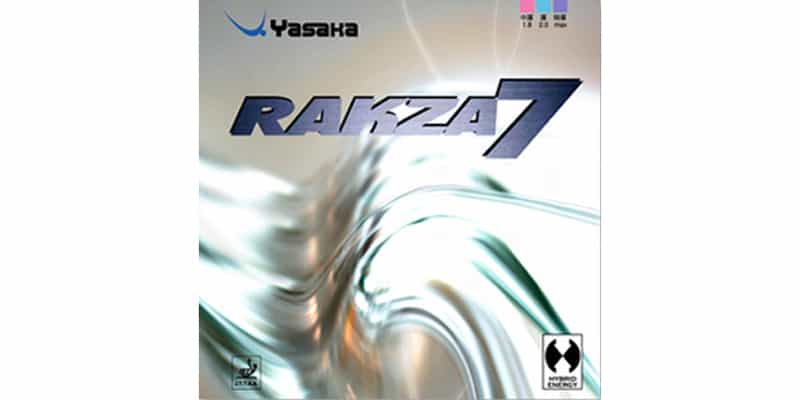 Specifications:
Speed — 9.0
Spin — 9.2
Control — 8.9
Hardness — Medium-hard
Thickness (mm) — 1.8, 2, 2.2
Our rating — 9.4
Pros:
Great value for money
Unreactive to incoming spin
Feels very controllable given its speed
Lasts a long time
Cons:
Not the fastest or spinniest rubber
Another great rubber is Yasaka Rakza 7 from the same Japanese table tennis brand as Mark V. It's a fast and spinny medium-hard rubber that grips the ball well and has more control than some other rubbers. If you find Tenergy and Dignics a little too hard to control, then you'll probably like this one. It's a great choice for non-professional players.
Yasaka Rakza 7 is also at a very affordable price point. The only real downside is that it is not quite as fast or spinny as the most offensive table tennis rubbers on the market. But it does come mighty close, and it's pretty durable, so we feel it should be on your radar.
#6. Tibhar Evolution MX-P — Fastest Choice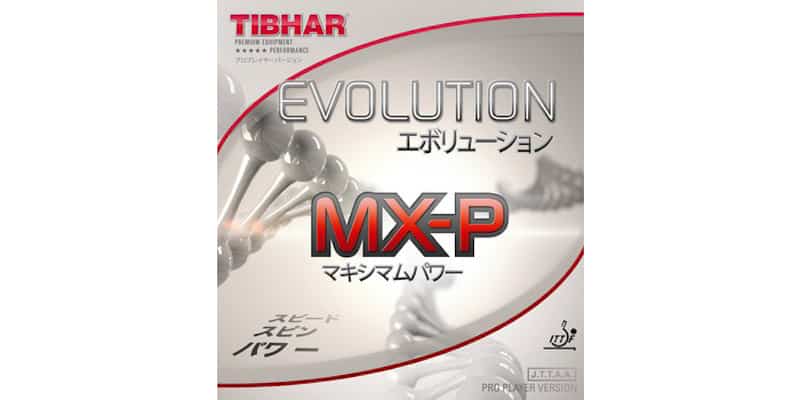 Specifications:
Speed — 9.5
Spin — 9.3
Control — 7
Hardness — Medium-hard
Thickness (mm) — 1.8, 2, 2.2
Our rating — 9.3
Pros:
Unrivaled speed
Very spinny
Fairly unreactive to incoming spin
Cons:
Hard to control
Factory boost fades after a month or two
If you wanted to try something similar to Butterfly Tenergy 05, but at a cheaper price point, then we'd suggest taking a look at its rival, the Tibhar Evolution MX-P table tennis rubber. Since its release back in 2012, Evolution MX-P has been a very popular option for players looking for high speed and spin without losing all sense of control over the ball.
MX-P stands for max power, and if you've tried these rubbers, then you'll understand why. It's very fast, much like a harder version of Tenergy 64. It's also available in a few other models like Evolution MX-S (Max spin), or if you like a harder rubber, perhaps check out Evolution MX-P 50, which has a very hard sponge.
The one downside is the durability of MX-P, which is noticeably below average. What is most evident is the decline in the factory boost, which occurs after just a month or so. Despite this, we still think Tibhar Evolution MX-P is worth checking out. It's one of the best forehand rubbers, no doubt.
Specifications:
Speed — 9.4
Spin — 9.3
Control — 8.9
Hardness — Medium-hard
Thickness (mm) — 2, ultramax
Our rating — 9.4
Pros:
High spin
High speed
Strong catapult effect
Cons:
There's no doubt in my mind that the Rasanter series of rubbers is one of the top ranges for attacking players today. I've selected R47 as it is one of the most popular, it's also my favorite rubber from the series. R47 is a high-speed and spin rubber making it deadly in the hands of skilled attackers and servers.
The main issue with it is that it is hard to control. Pretty unsurprising, given how lively it is. I'd only recommend it to high-level intermediate or advanced players. If you're a little wary about control, perhaps try pairing with a slower all-wood blade. However, it's a delight to use if you can handle it with a carbon blade.
#8. Butterfly Rozena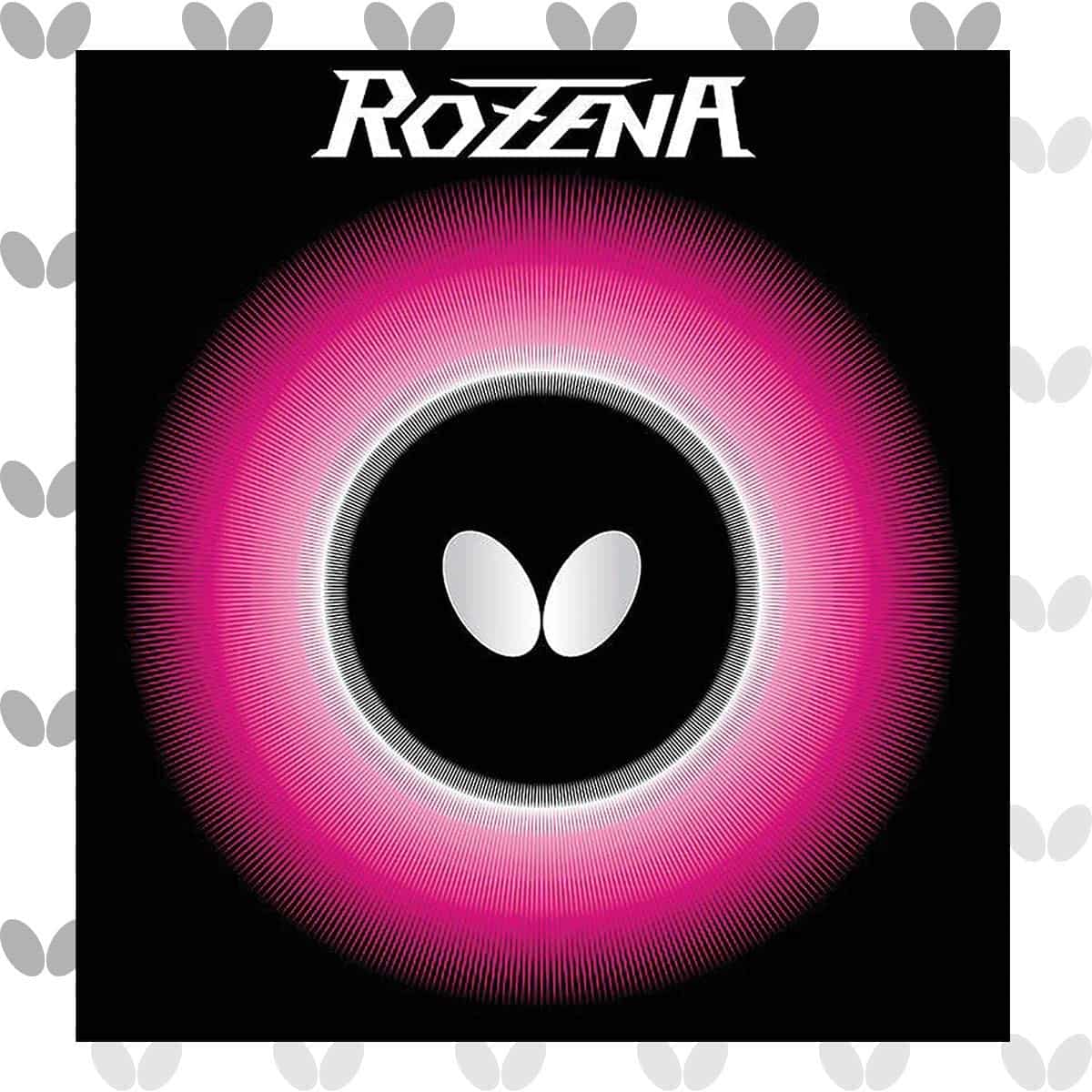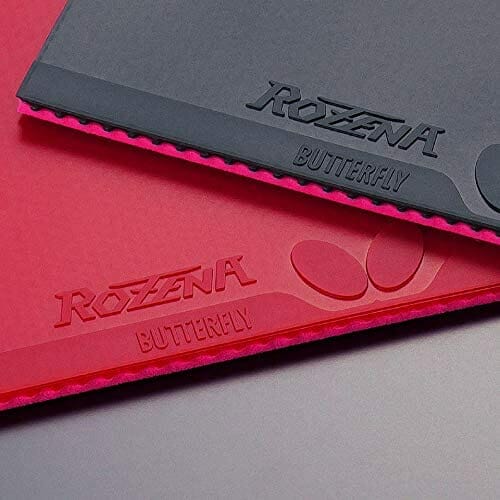 Specifications:
Speed — 8.8
Spin — 8.5
Control — 8.8
Hardness — Medium
Thickness (mm) — 1.7, 1.9, 2.1
Our rating — 8.9
Pros:
Great speed and spin
Cheaper alternative to Tenergy
Fairly forgiving
Cons:
Needs impactful strokes for maximum spin
Butterfly Rozena is a great rubber for high-level intermediate players. Too often, I see folks making the early switch to Tenergy, and they just can't handle it. Tenergy is a beast! Yet Rozena is the perfect stepping stone to get you ready for Tenergy. It uses the same Spring Sponge technology and a High Tension tech top sheet. This leads to a rubber with high spin and speed, which doesn't quite reach the heights of the most offensive options on the market.
What's more, Rozena is half the cost of Tenergy so you shouldn't overlook its price. It easily beats out Tenergy when considering value for money, and I think it's a super choice for a lot of players.
If you're interested in learning more, check out our review.
#9. Donic Acuda Blue P2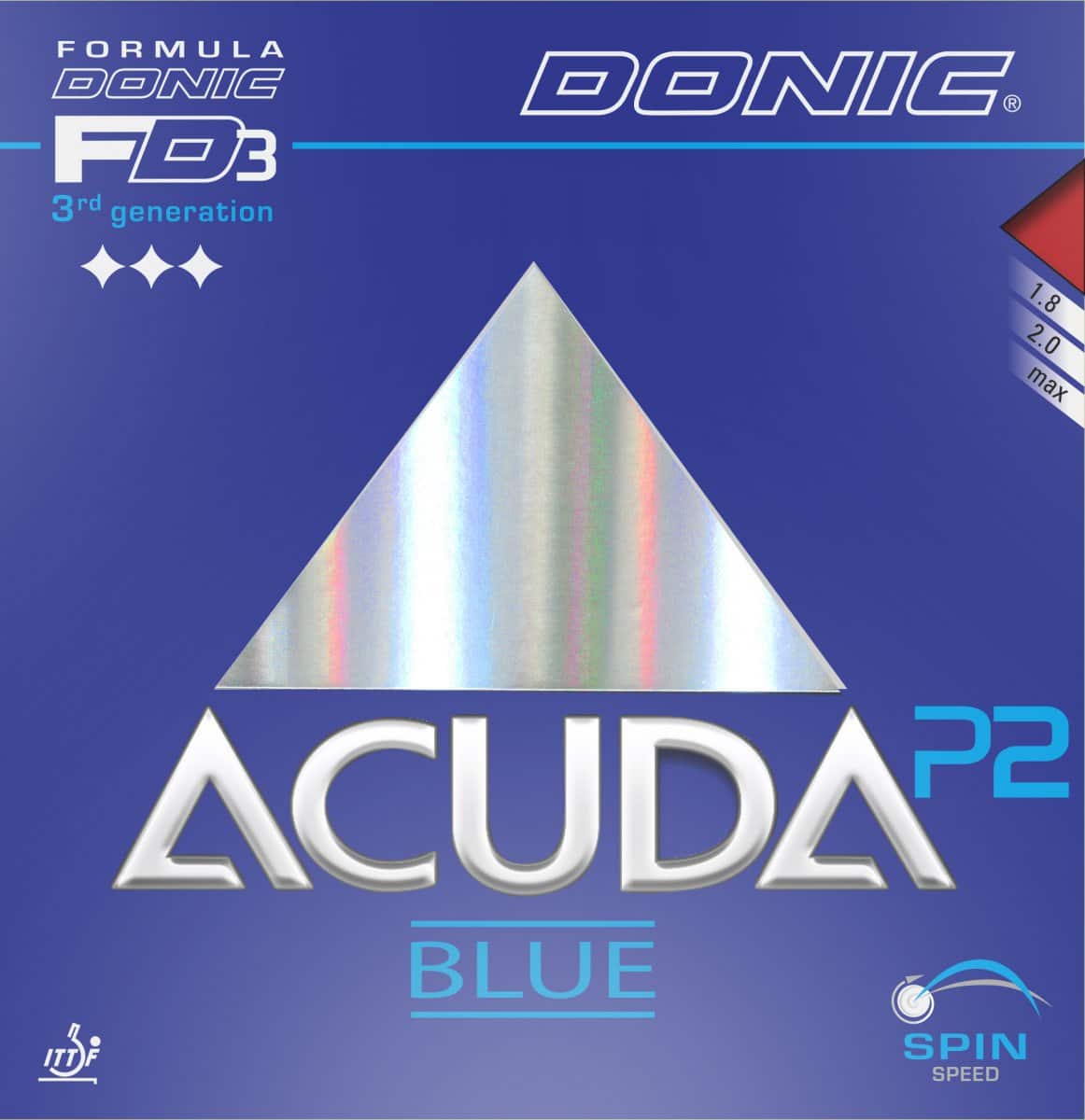 Specifications:
Speed — 9.0
Spin — 9.4
Control — 9.2
Hardness — Medium-soft
Thickness (mm) — 2, max
Our rating — 9.4
Pros:
Fast
Very high spin
Good control
Cons:
If you're after a medium-soft attacking rubber, perhaps for your backhand rubber, Donic Acuda Blue P2 could be just what you need. While the rubber is pretty pacey, Acuda Blue P2's spin is what makes it so advertising — it's certainly up there with the best!
The softness of this rubber is attributed to its medium-sized pores in the sponge and its new pimple geometry. The pimples are long and thin with larger gaps between them.
While you should have no trouble overloading your opponents with high-spin shots, you should be aware that this rubber behaves a little differently from the others on this list. Its throw angle is below average, and the ball arc is quite flat. As such, I wouldn't choose this rubber if you like to drift away from the table. That being said, it's definitely one of the best table tennis rubbers for control and spin.
#10. Xiom Vega Pro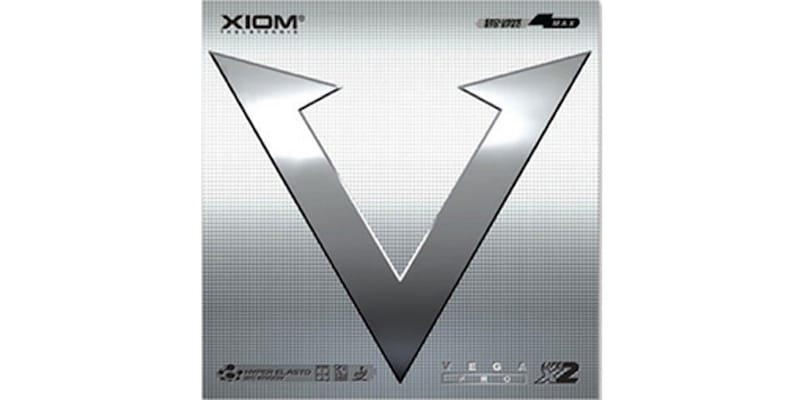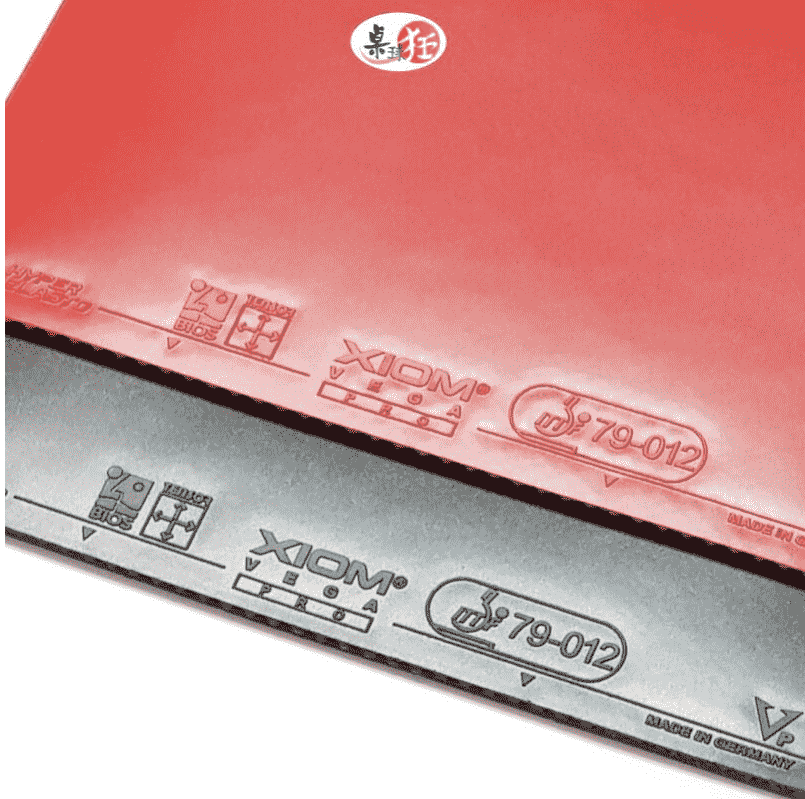 Specifications:
Speed — 8.6
Spin — 8.8
Control — 8.9
Hardness — Medium-hard
Thickness (mm) — 1.8, 2, 2.2
Our rating — 9.3
Pros:
High levels of control
Has a lot of gears
Plays in a linear fashion which makes predicting placement easy
Cons:
Not quite as fast or spinny as the top offensive rubbers
No catapult effect means it suffers far from the table
Last, but by no means least, is Xiom Vega Pro. A highly durable and affordable table tennis rubber for those looking for an offensive or allround option for their game. It's a lot more controllable than the high-speed Tenergy rubbers, so is much more suited to an intermediate player who doesn't like the catapult effect that some fast rubbers give.
Vega Pro is for those looking for lots of spin in their shots, but if you're looking for more control, check out Xiom Vega Europe instead. It's a softer rubber with even more control — an ideal choice for emerging players who are refining their strokes.
What Rubber Is Used for Table Tennis?
About 85% of players use the inverted rubbers or pips-in category. It's also called smooth. However, you can also find short, medium, and long pips as well as and anti-spin.
What Is the Best Rubber in Table Tennis?
Tenergy 05 is one of the best rubbers you can buy because it offers incredible attacking potential, and it's not only us that thinks so. It's also echoed by the rest of the table tennis community. We expect it will remain one of the best table tennis rubbers in 2023.
If you play more of an allround game, we feel that Mark V is a better choice. Ultimately, the best rubber for you will be high-quality and suit how you like to play.
Which Table Tennis Rubber Has the Most Spin?
As it stands, Butterfly Dignics 09C and Donic Baracuda are among the spinniest rubbers you can buy. But there are lots of really spinny rubbers out there, and what you consider the most spinny may differ from the opinions of other players.
Which Is the Fastest Table Tennis Rubber?
Two rubbers that are at the top of the speed rankings are Donic Bluestorm Z1 Turbo and Tibhar Evolution MX-P. Evolution MX-P in particular, made waves in the community upon its release. To learn more about this rapid rubber, click here.
Opinions also differ when it comes to speed. Tons of rubbers are really fast because the sport is becoming increasingly quick.
What Rubbers Do Pro Table Tennis Players Use?
While the most popular rubbers, like Tenergy 05 are commonly used by pros, we also see many obscure or even lower-quality rubbers in their hands. The takeaway is that when you find a rubber you like, go with it!
What Is More Important the Blade or Rubber?
For most people, I would say it's around a 70/30 split in favor of the blade. It's the main part of the bat you hold and acts as an extension of your arm. Therefore, it needs to feel natural and comfortable.
However, the 70/30 figures would reverse if I had my blade of choice with an anti-spin rubber. This is because this type of rubber would completely prevent me from playing my style.
How Many Types of Table Tennis Rubbers Are There?
There are around 30 main table tennis rubber manufacturers, and each has many rubber lines, often consisting of 4 or 5 different rubbers to cater to specific preferences. In other words, there are tons of options!
Is There a Difference Between Red and Black Table Tennis Rubbers?
Almost always, there is no difference between the black and red sides.  The need to distinguish between the two rubbers came about when players would employ two different rubber types, e.g. inverted and anti-spin, with the same color. They would twiddle their bat frequently, making it impossible to tell what spin the ball had.
However, I should note, that for a very select few rubbers, there may be very minor differences between the black and red sides. Often relating to longevity or perhaps spin.
Summing up
That concludes our guide and table tennis rubber reviews. There are hundreds of different types of table tennis rubbers, and there is no 'best' rubber for table tennis. Only the best table tennis rubber for your particular playing style, ability, and what feels right for you. But knowing all of the top-rated rubbers certainly helps you make an informed decision.
With this in mind, try to hone in on the reviewer's style when looking at rubber reviews. Do they mirror your own and like the rubbers they are reviewing? In this case, the rubber could be a good fit.
As for our favorites, we like Butterfly Tenergy 05 because of its offensive nature, and we feel that advanced players should definitely try it out. It's a real speed and spin demon, and you'll notice its quality instantly. For an even faster rubber, we recommend Tibhar Evolution MX-P as it has an insane pace — certainly not for beginners!
If you're looking for a more all-round rubber that is a bit more forgiving, try out Yasaka Mark V or Xiom Vega Europe. Both are excellent choices, especially Yasaka Mark V as a backhand rubber.
Make sure not to neglect blades as well. They are just as important to get right as rubbers. And your rubber will feel very different from one blade to another. So it's important to get the pairing right. Given you'll either be testing your rubbers on different blades or replacing your rubbers yourself, it's a good idea you know to replace them. We have a guide for that too.

Freelance writer. Table tennis enthusiast. Lover of all things online. When I'm not working on my loop game I'm probably binge-watching some fantasy show.