One of the most overlooked components when it comes to looking at what can influence your table tennis game is the glue used to bind your blade to the rubber. This glue, is vital as it can add to its weight which, in turn, can drastically affect your game.
In this article, we take a look at the different types of glue that can be used when putting together your own custom blades and rubber combinations as well as our reviews of what we think are some of the best table tennis glues on the market today.
The Best Glue For Table Tennis Rackets
Table Tennis Glue Buyer's Guide
If it's your first time putting together your own custom ping pong racket, then we've put together a little guide to table tennis glue to help you navigate the different types and what to look out for.
Types of Table Tennis Glue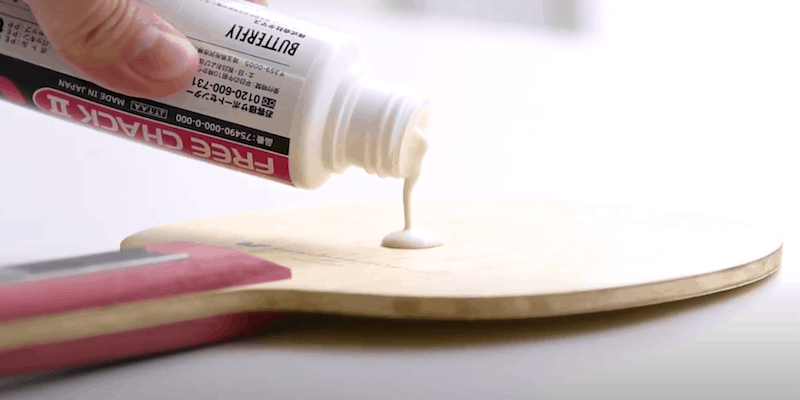 The first thing to mention is that you can't just use any old glue when putting together your rubber and blade. Believe it or not the type of glue you use can affect the speed of the ball and so the ITTF (International Federation of Table Tennis) has actually banned some from being used.
Here are some of the popular options, some of which are prohibited for tournament play so if you do plan to enter an official tournament make sure you're not using one that's banned.
VOC Glue (Prohibited)
VOC glues (which stands for volatile organic compound) are banned for use in table tennis. They contain dangerous and poisonous chemicals that have been proven to be harmful so in 2008 the ITTF banned them. You can tell if a racket uses VOC glue as it has a very particular smell, makes a different sound when striking the ball and tends to weigh more than other water based glues.
Most manufacturers now don't sell glues containing VOC but make sure you check that the glue is VOC-free so you stay within the rules and keep you healthy.
Water-Based Glue (Authorized)
Nowadays, the only glue that is authorized for official tournaments is water based glue. These glues don't contain any harmful chemicals and are used by professional table tennis players.
We only recommend getting water based glues and we've listed and reviewed what we think are the best glues for assembling table tennis rackets.
Speed Glue (Prohibited)
Speed glue is a type of table tennis glue that is also banned by the ITTF. It contains lots of harmful VOCs that toxic and are thought to cause cancer. The reason players started using this glue is that the vapors in the glue cause the rubber to expand making it high tension and typically increasing the speed by as much as 10% and spin by as much as 20%.
The affect of this glue is only temporarily however as once all the gas from the solvents have evaporated. The smell of the solvents are a big give away when detecting whether players have used speed glue in an official tournaments and they have lots of other sophisticated methods of detecting it.
Boosters (Prohibited)
Another type of glue known to be used by table tennis players are boosters and tuners. The ITTF also prohibits these from being used as they're harmful to player's health. Boosters cause the sponge to expand which then gives more speed and spin by around 10% or so.
But there are some boosters that are VOC-free like the Falco Tempo booster. The ITTF says they're not approved but Falco claim they are. We're not sure so use at your own risk!
Self Adhesive Sheets (Authorized)
Another type of glue used to glue table tennis paddles is Self-Adhesive Sheets. These are rubbers that are pre-glued and as long as they use VOC-free glue then they're approved by the ITTF. They don't tend to be as popular though.
How To Change Table Tennis Rubbers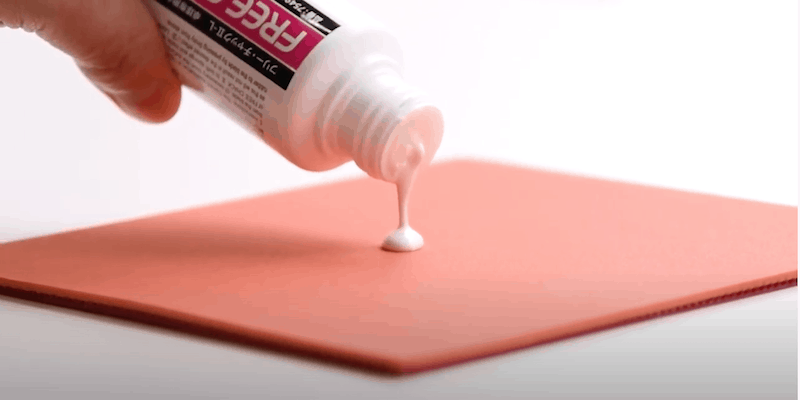 Changing or assembling the rubbers on your racket can be tricky the first time but once you've done it a few times you'll get the hang of it. We've got a guide to replacing your rubbers here with instructions.
If you'd rather get them done for you then Megaspin offer free assembly when you purchase a blade and rubbers from them.
Equipment You'll Need
When assembling your own custom table tennis racket there are a few things you'll need. Some are nice to have but some are essential and will make the process a lot easier and ensure a better finished product. Obviously you'll need the table tennis glue, rubber and blade but we've listed a few other things you'll might want to get as well.
Sponges and Clip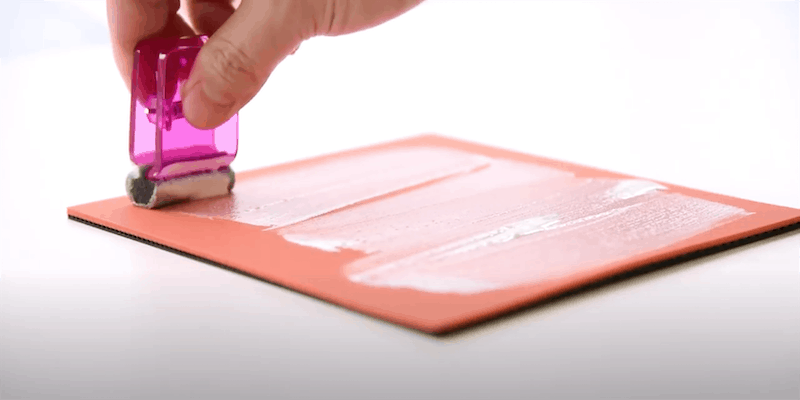 When assembling your racket, you'll need to get some sponges to apply the glue to the blade and rubber and spread it evenly across. Most glues come with a few but check before you purchase and if you need to get some extra ones we suggest these Andro ones or these Butterfly ones. They come with a clip for you to attach to the sponge as you apply spread the glue out.
Roller
Once you've applied the glue you'll need to stick the rubber to the blade and press down. Lots of people use some sort of roller to make sure it's really connected and there aren't any air bubbles. We use this one from Revolution 3. You can also get it as part of an assembly kit which we highly recommend.
Rubber Press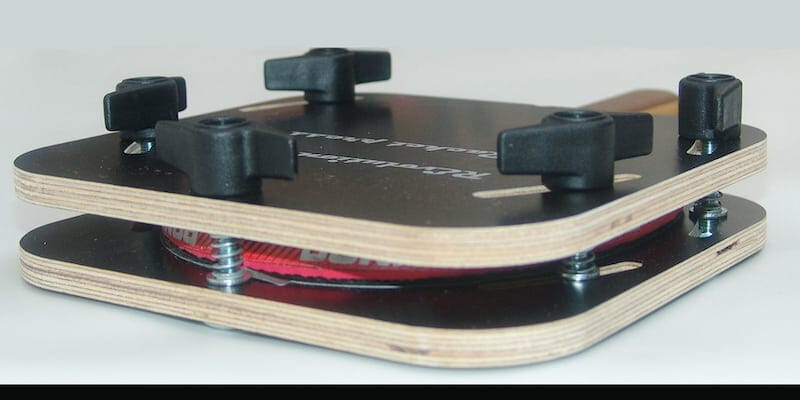 Once your blade and rubber are glued you'll want to apply a lot of even pressure and one of the best ways is to use a rubber press like this one from Revolution 3 or this one from Yasaka. They're very easy to use and really helps to make sure an even distribution of pressure across the whole paddle. If you assemble lots of rackets these are a must purchase.
Glueing Tips and FAQs
Lastly, before we get to our table tennis glue reviews, here are a few quick tips and FAQs answered.
Applying multiple thin layers
Depending on which glue you use, it's best to use multiple thin layers of glue. It makes it a lot easier when removing the glue after when you're replacing the rubber on your blade next time.
Keep your glue at room temperature
Water based glues are quite temperamental when it comes to temperature and can even freeze if they get too cold. It's also best to assemble the paddle at room temperature to ensure if dries in a reasonable time.
How often should you replace the rubbers?
This is a hard question to answer as different rubbers wear out quicker than others and it depends on how often you use it too. It's probably time to replace them if you're noticing them not as reactive as before and at least once a year.
How many layers of glue do you need for table tennis?
Again, it depends on which glue you're using but around 8 – 10ml of glue for two rubber sheets. So 100ml bottle should last you around 10 rackets.
Table Tennis Glue Reviews
Let us take a look at some of the best options on the market today in out table tennis glue reviews section.
#1 REvolution 3 Table Tennis Glue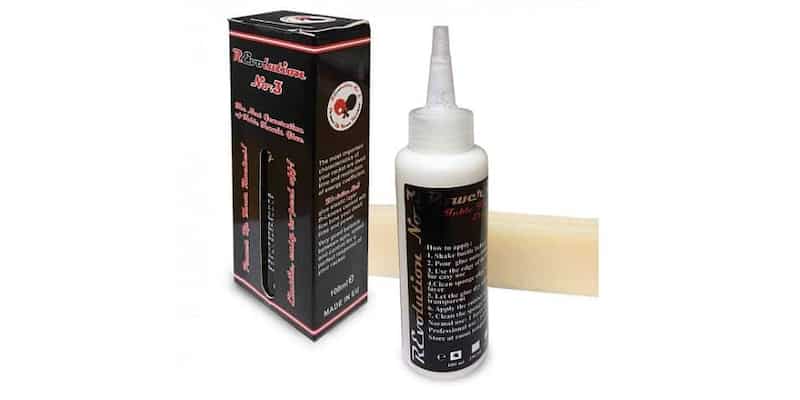 Our first choice when it comes to table tennis glue is the REvolution 3 which is one of the most popular water based VOC free glues on the market. It's the best glue we've used and love the feel it gives on our rackets plus it's really durable and lasts well.
As you'd expect, it's approved by the ITTF so you'll be allowed to use it in official table tennis tournaments. But, the best bit about The REvolution 3 glue for us is how easy it is to peel off the blade when you want to replace the rubber. It leaves it as good as new without and residue whatsoever, just make sure to apply multiple layers.
If it's your first time putting together your own paddle then you can buy a kit which has everything you'll need like the rubber press, roller, cleaner, scissors which you can read about here. You'll need all these things to you can save a lot of money buying it in a bundle like this.
#2 Butterfly Free Chack Glue
Next we have the Butterfly Free Chack glue which is another ITTF approved glue that could be a good option to set up your custom table tennis racket. It's very easy to apply, peels off fairly easily when you're ready to replace it (although can clump quite a lot if you don't apply multiple layers).
The 500ml bottle comes with 50 sponges so you'll be set for a while but you can always buy additional sponges if you need. It also comes with a small clamp to help when glueing.
#3 JOOLA X-Glue with Green Power
Another option could be the JOOLA X-GLue with Green Power. Like the others, it too is a water-based glue and completely solvent-free table tennis glue. It sticks well too but took a bit longer to dry when compared to the REvolution No. 3 glue which is our number one choice. The real downside is the smell which is pretty bad but overall it's a good glue for a reasonable price. It doesn't come with any sponges though so make sure to get some like these Andro ones.
For those that replace their rubbers often and want to buy it in bulk you can get a 1L bottle here which works out as very cost effective.
#4 Butterfly Free Chack 2 Table Tennis Glue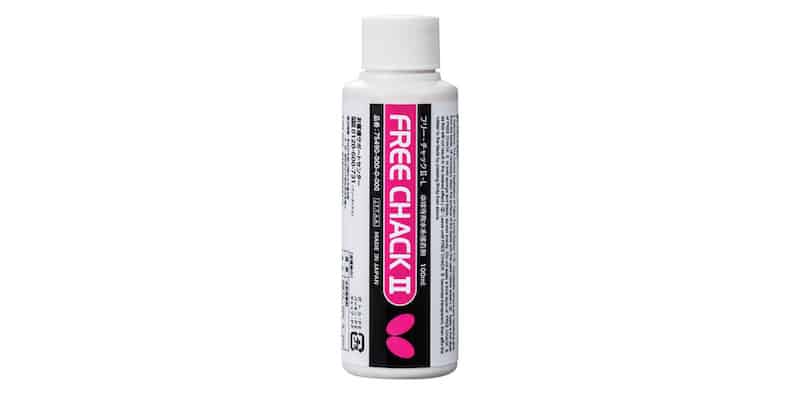 Another glue from Butterfly is the Free Chack II which is a new water based glue that has been designed by butterfly for use with their Spring Sponge technology table tennis rubbers like the Tenergy series.
The difference between it and the regular free chack is that it's suppose to be a stronger bond. We couldn't quite tell when we tried it but it was very easy to spread and apply plus removing it when replacing our rubber was a breeze and it peeled right off. We would recommend only using a very thin layer of glue but doing multiple layers once it's dried. It's also available as a 500ml bottle if you want to buy it in bulk for the best value.
#5 Donic Vario Clean Glue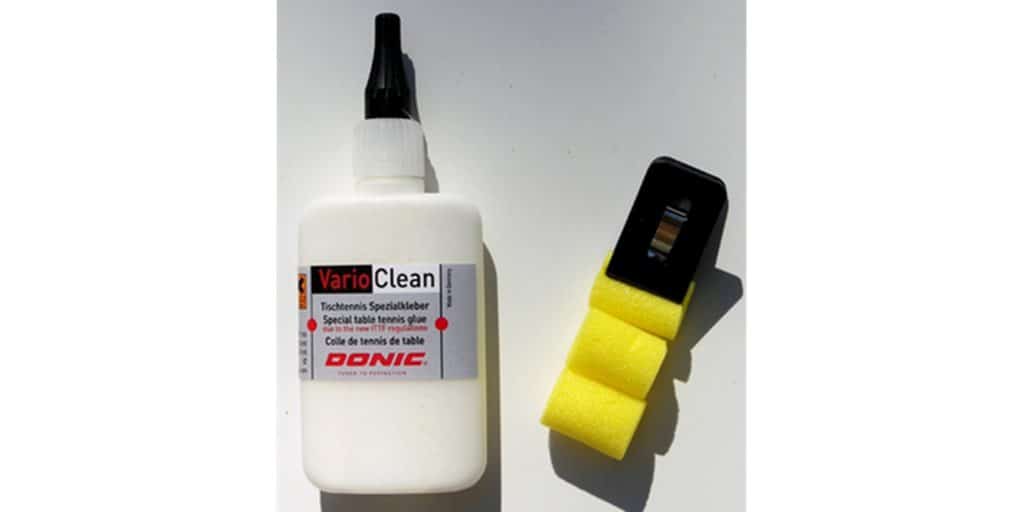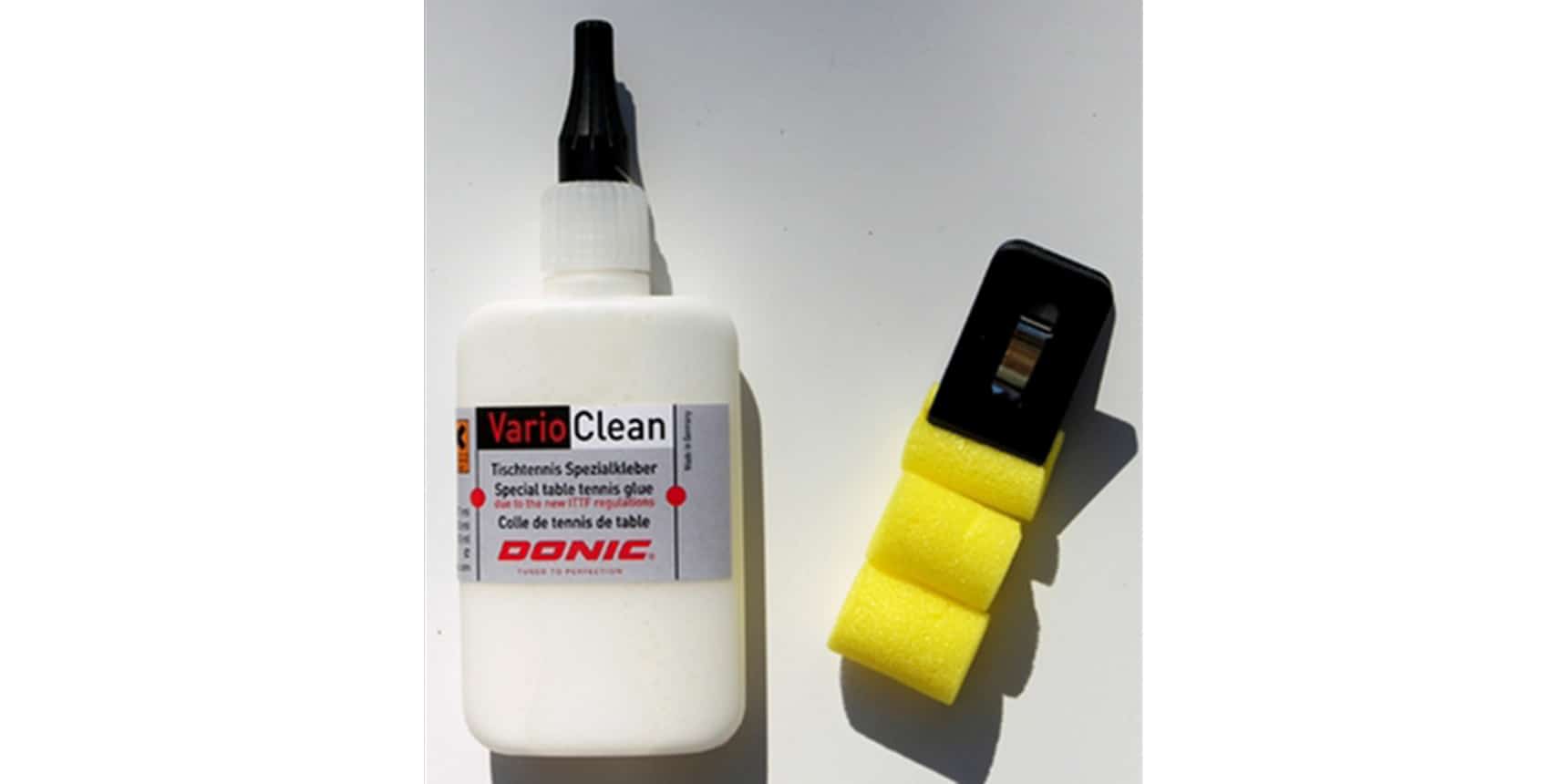 And finally, the last table tennis glue that we recommend is the Donic Vario Clean glue. Again, it's a totally VOC free, water-based glue that's been made according to the ITTF's regulations for glue so you can use it on rackets you plan to use in official tournaments too.
To Sum Up
So when it comes to table tennis glue, steer clear of anything with VOC in! Only go for the water-based ones both for your health and to stay within the laws of the ITTF. We'd recommend going for either the REvolution 3 or Butterfly Free Chack glues as they're the most popular and we've had great results.
Don't be afraid to practice too. It will take a few tries before you start to get the hang of it. Good luck!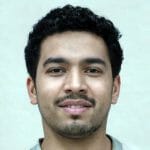 Eugene (Gene) Sandoval has been one of those guys who spent too many hours around ping pong tables in high school. However, soon enough, Gene understood that there is more to ping pong than having fun. That is how he started a journey that made Eugene one of the experienced semi-professional ping pong players in the United States. As the founder of the PingPongRuler, Eugene spends most of his time surrounded by ping pong tables and research. He always has this knack for coming up with new ping pong strategies and telling the good and bad equipment apart.