If you want to improve your ping pong skills you're going to need to practice and you're going to need to practice a lot. If you don't have a partner who's equally keen to play every day then a good option is to buy a ping pong robot to play against on your own. Table tennis robots have a wide range of features and capabilities, suited for players of all ability levels.
In this guide, we're going to take a look at some of the options available when looking for the best ping pong robot and what features you should look for when choosing one.
At A Glance: The Best Table Tennis Robots in 2020
Table Tennis Robot Buying Guide
Making an investment in a robot to help you practice table tennis is not a small thing. While some of the machines we recommend a a couple of $100s, some of them are way over $1000 and a getting close to $2k. So with that in mind, it's really important to do some research before buying yours. Below, we've covered all the features you need to consider along with some recommendations from us here at PingPongRuler.com.
Technical specs to consider
Not all robots come with the same features or technical abilities so considering what you'll need before you hit the buy button is important. Below we'll cover some of the features we think are important so you can think about what you'll need in your table tennis robot.
Can it produce spin?
Robots can generate topspin, backspin, sidespin, or no spin at all. Basic models may only be capable of one or two kinds of spin or you'll need to change the settings to alter the spin. More sophisticated ones are capable of randomizing spin for a more complex game.
Some of the more advanced machines can also create bi-directional spin, which is something that human players can't do. While this isn't realistic practice against a human opponent, it does sharpen your skills to respond to unpredictable throws.
Speed and frequency
When looking at a robot's specs the speed refers to how fast the robot can throw the ball, and frequency is how many balls it can throw per minute.
Simple table tennis robots have fewer speed settings and aren't capable of high speed or high frequency. The more advanced robots have a wider range of speed and frequency options and can vary or randomize them.
Ball capacity
Getting a robot with a large capacity is a feature you'll find useful. Most table tennis robots can hold 100-200 balls at a time. Larger, more complex robots have a recycling net that collects and re-feeds balls for uninterrupted play which is very convenient.
If you need to buy ping pong balls in bulk we recommend the Sanwei ABS 1 star 500 balls which are ideal for training and a very comparable to 3 star balls that are a lot more expensive.
Ball placement
Getting your robot to send the ball at a pre-programmed location can be useful when you want to practice a certain type of shot. Some of them can ve incredibly accurate in their placement too. Others have settings that vary where the ball will land and can oscillate to throw the ball with more variations.
Preprogrammed drills
Intermediate and advanced table tennis robots can allow you to play programmed drills to sharpen your skills. Advanced table tennis robots have a wider range of competitive drills, and many even allow you to program your own drills.
Convenient features to look for
In addition to these features, it's important to find a table tennis robot that also fits your lifestyle needs. Some optional convenience features of a table tennis robot include:
Battery-powered or plug into the mains?
Is your ping pong table set up in the garden or garage where it's far from the nearest power socket? If so you might be better off with a battery-powered robot but then you're going to be constantly charging it or you'll set up for a practice session only to find it's got no power.
A remote control
Some robots have a corded or wireless remote control that allows you to change settings at a distance. Very handy to be able to switch between the settings from the other end of the table rather than having to walk around to change it each time you want a different type of shot. Others use a mobile phone app which is extra convenient but they tend to cost a bit more.
Ease of setup and portability
How easy do you want the set up to be? Some of them can be ready to go in a minute or two whereas others may take longer to set up and need a bit more effort. Along with an easy setup and packdown you'll want to think about portability and where you'll be using it. Storage is another thing to consider as some are a lot larger and more cumbersome than others.
Noise
If you'll be using your robot at home you'll want to consider the people you live with as some table tennis robots can be quite noisy! Make sure to read some of the reviews from previous customers to check if the model you're interested in is particularly loud if that might be a problem.
Companion app
Some sophisticated table tennis robots come with a companion phone/tablet app, which not only lets you customize settings and program drills, but will help to track your progress and review your strengths and weaknesses. A really good feature for those taking their game seriously.
Memory
Many table tennis robots have some amount of onboard memory where they can store your settings for next time. This makes it easy to build a "library" of your preferences and switch between them, rather than adjusting settings every practice session which will save you a lot of time.
Table Tennis Robot Accessories
There are a few accessories that we'd recommend getting to make your practice experience easier.
Ball catcher net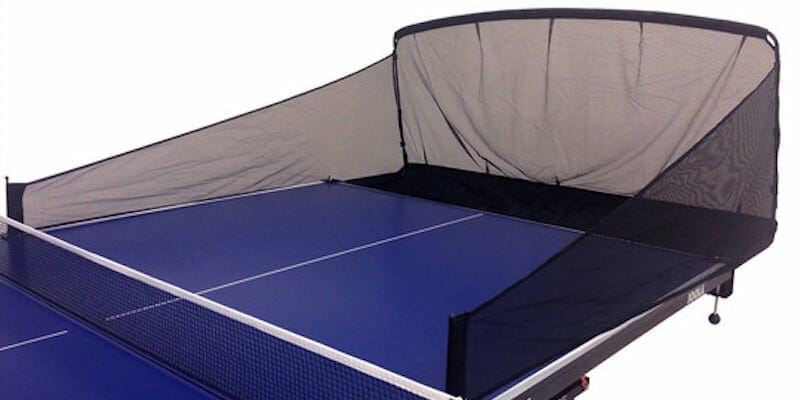 A very useful accessory is a ball catcher net to place behind your robot. This way you won't lose all the balls on the floor and you'll save your back from bending over constantly to pick them up.
We use the iPONG Carbon Fiber catch net which does the job and isn't too expensive. Some robots come with a catch net as a bundle so check if your's does before you order.
Ball picker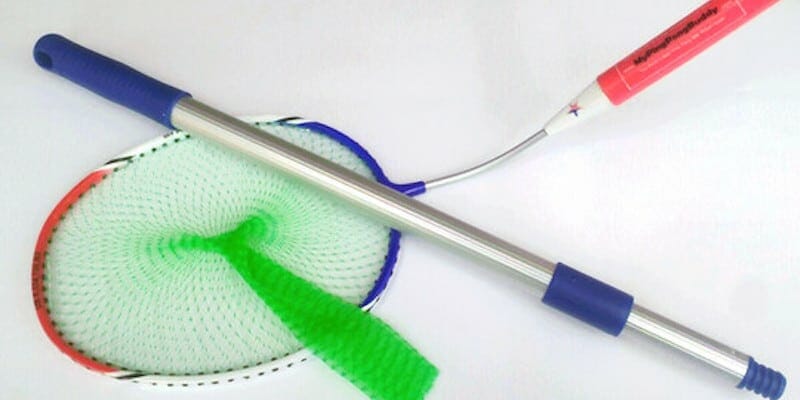 An alternative to a catch net is a ball picker like the My Ping Pong Buddy which again is an essential purchase for anyone who doesn't want a bad back from constantly bending over to pick up ping pong balls!
Our Table Tennis Robot Reviews
Now that we've covered some of the features you need to know about, we'll cover some of our favorite table tennis machines. As we mentioned earlier there is a huge range of prices and budgets so we've tried to include a variety of prices.
#1. The Power Pong 5000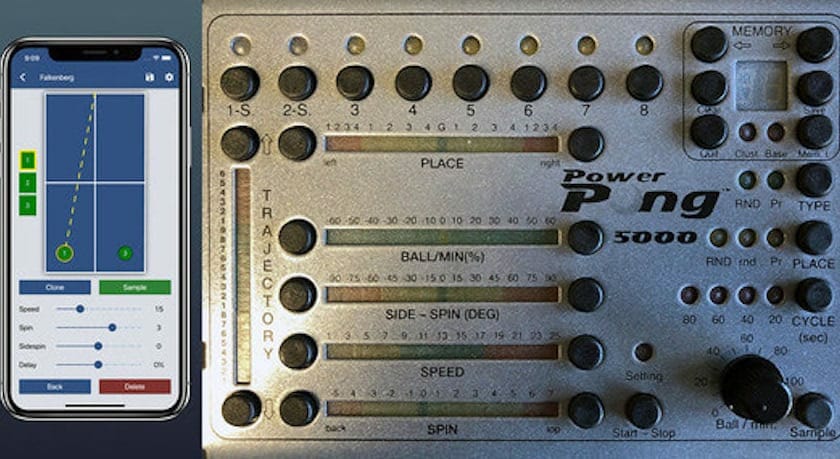 If you're looking for the best table tennis robot then you have to check out the Power Pong 5000. It's the probably the best robot money can buy right now and is a state of the art, high quality and versatile robot that will blow you away with its features. It's a competitor of the Butterfly Amicus and is almost identical in its look and features even being made in the same factory.
It's able to create drills with up to eight balls to give you great flexibility in your training and can store up to 99 drills in the control box and an unlimited amount via the bluetooth app that allows you to control it via your smartphone.
Pros
Can program all types of spin, speed and trajectory
33 Saved drills in each memory slot
Ball recycling net
Preprogrammed drils
3 year warranty
A highly recommended ping pong robot and if it's slight out of budget there are two other models at a bit lower price points the Power Pong 2001 and the Power Pong 3001 which are also worth checking out.
#2. iPONG Trainer Motion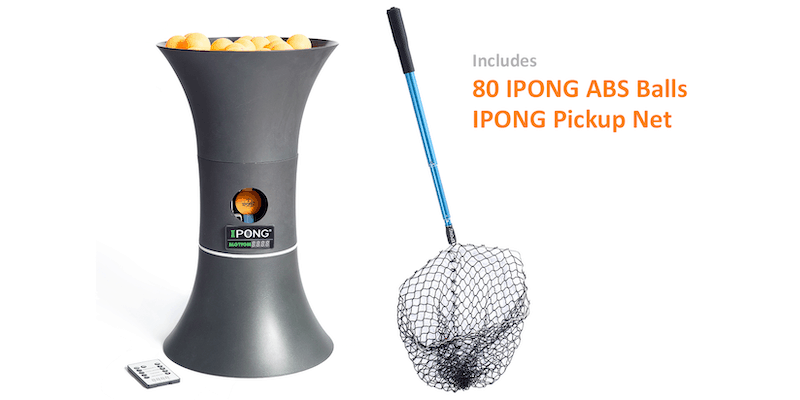 The iPONG Trainer Motion is the upgrade to the iPong V300 and is a simple, compact ping pong robot with good features and a small footprint. You can control ball frequency, side-to-side oscillation, topspin, and backspin. It can hold over 100 balls and shoot them at a rate of 12 to 70 balls per minute. It comes with a tilt stand to increase the variety of strokes, as well as a wireless remote control.
The iPONG Trainer Motion has a programmable memory to save your settings, and a digital display to make it easy to configure and control. It sets up in just a few minutes, and uses regular AC power.
Pros
Easy to set up, easy to use, easy to move and store
Digital display, wireless remote, and onboard memory make it easy to choose and restore your settings
Can be tilted for wider range of stroke placements
Great price
Cons
Oscillation function can be unpredictable and shoot balls randomly to the side
Can't independently adjust the speed settings; adjusting topspin and backspin settings changes the speed
Can be inconsistent and sometimes jam
The iPONG Trainer Motion is a great, affordable table tennis robot for a beginner to practice the basics of the game. It's easy to set up and use, and the ability to store your settings in memory and use the remote control lets you quickly switch between different kinds of strokes. It currently is available as a bundle with 80 balls and a pick up net too which makes it an even better deal!
#3. ZXMOTO Robot
Sale
ZXMOTO Ping Pong Robot Machine with 36 Different Spin Balls Table Tennis Robots Automatic Ball...
①Ping pong robot can deliver 36 kinds of spinning ball, easy installation, no equipment, small and...
②Set up easy.Fill the serving machine set ball container with table tennis and hold approximately...
③Double-end serve (optional single serve), falling point is not fixed. You can generate top spin,...
④Different spinning gears can be used to create different spinning balls.
⑤Adjust the position of the machine according to your own preferences. ※ONE-YEAR...
The ZXMOTO is a simple, lightweight, portable table tennis robot with a huge range of shots. It produces ball frequency from 40-70 per minute. You can control topspin, underspin, left- or right-spin, or have no spin at all. The head can be tilted up or down at 7 different angles to produce different degrees of bounce. And the oscillation function has 8 different ball placement options, with different speed options. It has a storage capacity of 110 balls and can be easily adjusted with the wired remote control.
It's is a high-quality machine, with enough options to allow you to practice almost any stroke, including serve returns. It weighs 7.7 pounds, and is easy to use.
Pros
Huge range of settings and options for various strokes
Simple to set up and use
Wired remote for fast adjustments
Reliable machine
Cons
Setup and operation instructions are in Chinese
It's also one of the most popular table tennis robots in China, with a reliable mechanical operation for great consistency and reliability. While it cannot randomize shots, it has enough speed and variation for great training and drilling. Users may need to search YouTube or online forums for instructions in English (there are lots of them).
#4. Newgy Robo-Pong 1040+
Newgy Robo-Pong 1040+ Table Tennis Robot
Updated to handle 40+ balls and Comes with 48 2 Star 40+ balls. Play ping-pong with Robo-Pong - by...
Analog controls for ball speed, frequency and oscillation; ball bucket with extender cage holds...
Available spins: topspin, backspin, left sidespin, right sidespin, combination spin
Available shot selection: push, chop, serve, counter, Lob, fast loop
Fits all standard ping-pong tables, and is easy to set-up, take down, store and Transport
The Newgy Robo-Pong 1040+ is Newgy's upgrade to the old model so it can now handle the slightly bigger 40mm balls. It's a very simple robot that doesn't have all the bells and whistles of some of the more fancy models but does all the basics and does them well. It's very easy to set up and you can plug it into the power (we prefer those to the battery powered ones).
With the 1040+ you're able to customise a lot of the shots including the speed, frequency, height and angle and you can get it to oscillate and send balls to different places on the table which is useful. You can also adjust the different types of spin that it can send including topspin, backspin, left and right sidespin and even a combination of them as well as a number of other shots. It has a pretty large capacity being able to hold around 200 balls (with the bucket extender) another key feature that we look for when picking robots. You don't want to be constantly picking up balls to fill it up again. It's pretty reasonably priced too and comes with 48 2-star balls so you can get started straight away.
#5. Butterfly Amicus Prime
Butterfly Amicus Professional Table Tennis Robot—Fantastic Ball Launcher/Thrower/Shooter for Ping...
Perfect footwork, strokes, & other skills. Select a pre-saved drill, press start, and begin playing
Change spin type, spin amount, speed, placement, & trajectory for any ball in a drill
Adjust ball frequency from 5–120 balls per minute for your ideal pace. Fine tune timing with IFC
Randomize ball placements and/or enlarge landing spots to make the robot more human-like
Hit your returns into the net to automatically recycle balls and play non-stop. Play until you drop
The Butterfly Amicus Prime comes with a tablet computer and the AMICUS app (which you can also operate with your own Android or iOS device) to control the wide range of settings and included drills. It also comes with a small, key-fob-like remote control for quick pauses and frequency adjustments.
With the AMICUS app and the AMICUS Pro table tennis robot, you can use the library of 10 included common shots, or manually control frequency from 5 to 120 balls per minute, and control speed, spin, trajectory, and ball placement. You can also quickly mirror or reverse settings to change your dominant hand or practice forehand/backhand without adjusting any other settings. You can also randomize any of these strokes to vary the game and add interval training.
The Butterfly Amicus Prime comes pre-programmed with 21 exercises created by table tennis coach Richard Prouse. You can watch a video in the app to see how each exercise should be practiced. Exercises can be modified or replaced, and you can create your own custom exercises and store them in memory. Exercises can be sequenced together to run automatically, or randomized.
The Butterfly AMICUS Professional comes with the tablet computer, small remote, a collection and reloading net, and a carry/storage bag.
Pros
Huge range of possible shots and exercises with the ability to randomize and adjust them, for complex and realistic solo practices
Comes with a tablet computer, collection net, and small remote
The app can be used on the included tablet or your own device
Coach-designed exercises and video demonstrate how best to improve your game
Cons
Complex and difficult to set up and take down
Robot relies on the app (and Bluetooth connection) to operate; if the app crashes or there are problems with the device, the robot cannot be used
Very expensive
The Butterfly Amicus Prime is a top-of-the-line professional table tennis robot, and the price tag reflects that. It has all the features and exercises you need for professional, competitive solo training.
#6. Paddle Palace H2W Touch Pro Table Tennis Robot
Paddle Palace H2W Touch Pro Table Tennis Robot
High-Tech Table Tennis Robot with LCD Touch Screen for easy programming
Great flexibility in setting spins and landing spots for customized routines
Short & long balls, strong & weak balls, high & low balls-- all in one sequence!
Ball Recycling and net collection system. Easy set up, rolls from table
Ships from Paddle Palace Table Tennis. Includes Paddle Palace Guarantee & Service
The Paddle Palace H2W Touch Pro has an LCD touchscreen for easy control and programming. You can control topspin, underspin, sidespin, or no spin, and choose from up to 22 possible landing spots to practice different shots. With this robot, you can practice short and long balls, and it can shoot different spins on consecutive shots for more variation in practice.
Choose from the 30 different pre-programmed sequences, or store 9 of your favorite custom sequences. The visual display shows you the spin with each throw, so that, like in a real match, you can anticipate your opponent. It comes with a convenient catcher net and reloading system and also comes with 120 Nittaku training balls.
Pros
Two-throw wheels for full range of spin and placement options
Programmable and comes with 30 sequences, or randomize
Displays spin before every shot, allowing you to anticipate like a human opponent
Comes with net and reloading system as well as 120 practice balls
The Paddle Palace H2W Touch Pro Table Tennis Robot is a favorite among advanced table tennis players, for its great range of realistic practice options as well as its convenience and reliability. It's widely regarded as one of the best, most realistic table tennis robots on the market today.
#7. iPONG Original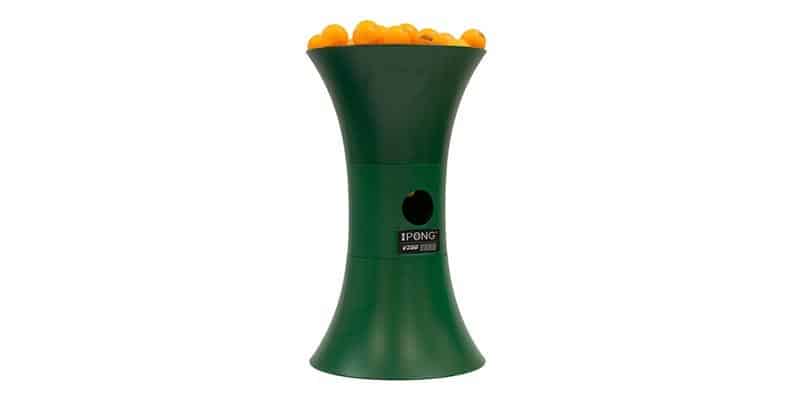 The iPONG V200 is our choice for those looking for an inexpensive table tennis robot. Like the iPONG Trainer Motion, it is fast and easy to set up, lightweight and portable. You can adjust ball frequency from 12 to 70 balls per minute, and adjust topspin and underspin with the wired remote control. It holds over 100 balls, and weighs just 2.5 pounds. 
Pros
Lightweight, portable, and easy to use
Very affordable
Holds 110 balls
Cons
Not always reliable with ball speed or placement
Takes time to set up and get the ball right
With higher spin settings, may vibrate off the table 
The iPONG V200 is one of the most affordable table tennis robots on the market and a good choice for adult beginners. It's probably not the best choice for kids as it does need a bit of tweaking and adjusting to get it to perform fairly consistently. However, for an adult who simply wants to practice some basic strokes, it's a good option and a great price.
Summing Up
Anyway, that about sums it up for what we think are some of the best-rated ping pong robots on the market today. We'll keep this list updated as and when we hear of any new models making waves in the table tennis community.
We highly recommend checking out the PowerPong series of robots though. They've totally revolutionised how we practice table tennis and it makes it so much easier to train and hone specific skills. While they're more expensive than some of the other models like the iPONG Trainer Motion even their first model the Power Pong 2001 isn't much more expensive but you get so much more value.