The 11 Best Ping Pong Robots: Buyer's Guide and Reviews
If you want to improve your ping pong skills, you're going to need to practice, and you're going to need to practice a lot. If you don't have a partner who's equally keen to play every day, then a good option is to buy a ping pong robot to play against on your own. Fortunately, I never had this issue, but many friends did!
After a comprehensive review of all available models, I identified 11 total robots, and here are my top picks for the best ping pong robots:
But one of these four ping pong machines might not be the one for you, so check out my reviews to discover which suits you best. In this guide, I discuss each of the robots I recommend, provide some buying advice, and answer your burning questions. 
At a Glance: The Best Table Tennis Robots for 2023
What Is a Ping Pong Robot?
A ping pong robot is a machine that shoots you table tennis balls much like another player would. Ping pong trainers come in many different shapes and sizes; some sit on the table while others sit on the floor. There is also a wide range when it comes to features. More affordable models are limited, often offering select types of spin, placement, and overall control. Advanced robots, on the other hand, give you exceptional control, usually allowing you to customize several balls within a sequence. 
Why You Should Trust Us
At PingPongRuler, we are committed to providing the top table tennis information possible, be it technique advice, sporting commentary, or equipment reviews. 
We endorse any product we recommend. We are not paid to show favor to any products in particular. In return for our free educational content, we simply ask that if you're interested in a product, to use one of our links as we may earn a small commission — this helps keep the site alive.
Our Ping Pong Robot Reviews
As there is a massive cost differential between the cheapest and most expensive robots, we've done our best to include ping pong robot reviews at every price bracket.
#11. (Bonus) JOOLA Tour 2500 w/iPong Trainer Motion — Recommended Bundle

Specifications
Ball capacity: 100+
Memory capacity: 1
Ball frequency: 30-70 p/minute
Spin options: Topspin, backspin, no spin
Ball speed settings: Not listed
The JOOLA Tour 2500 w/iPong Trainer Motion is ideal for players who want a complete package to get training immediately. The Tour 2500 is a top-class table tennis table with a consistent bounce, and the iPong Trainer Motion features 5 different settings for diverse drills. 
Complete with 80 table tennis balls, a pickup net, and a catch net, it is a super bundle that is well worth the investment.
Pros
Includes high-quality table
5 different settings
Multiple accessories included
Cons
Expensive
Limited functionality
Sometimes prone to jamming
Rating: 9.6
#10. ZXMOTO Robot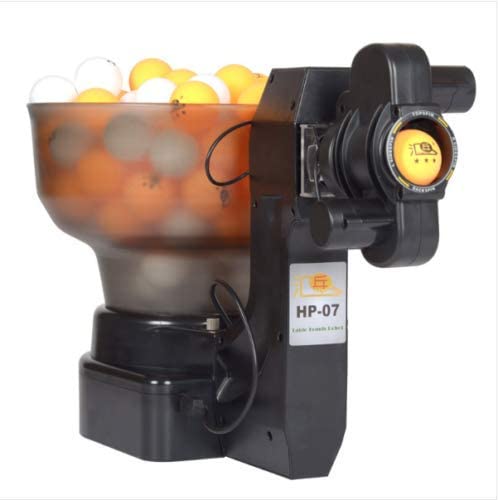 Specifications
Ball capacity: Recycling
Memory capacity: 0
Ball frequency: 40-70 p/minute
Spin options: Topspin, backspin, sidespin
Ball speed settings: Not listed
The ZXMOTO is a simple, lightweight, portable ping pong practice machine with a huge range of shots. Its frequency is 40 balls all the way to 70 balls per minute. You can spin balls with topspin, backspin, or sidespin. You can also tilt the robot head up or down at 7 different angles to produce altering degrees of bounce.
The oscillation function has 8 set ball placement options, with different controls for ball speed. The ZXMOTO robot also has a storage ball capacity of 110 balls and features a catch net that recycles the balls back into the unit for re-use. 
While it's not the best ping pong robot, it's a high-quality table tennis ball machine with enough options to allow you to practice almost any stroke, including serve returns. It weighs 7.7 pounds and is easy to use. It's also one of the most popular ping pong machines in China, with a reliable mechanical operation for fantastic consistency. It cannot randomize shots, yet it has enough speed and variation for effective training and drilling. Users may need to look on YouTube or online forums for instructions in English (there are lots of them). 
Pros
Huge range of settings and options for various strokes
Simple to set up and use
Wired control box for fast adjustments 
Reliable machine
Cons
Setup and operation instructions are in Chinese
Rating: 8.7
#9. iPong Trainer — Budget Buy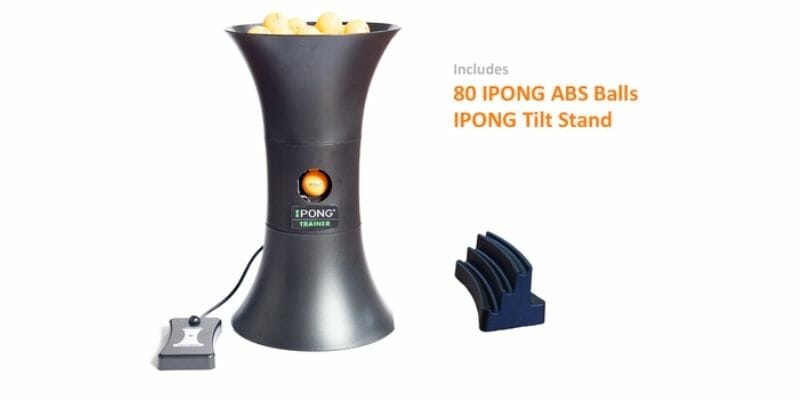 Specifications
Ball capacity: 100
Memory capacity: 0
Ball frequency: 12-70 p/minute
Spin options: Topspin, backspin
Ball speed settings: Not listed
The iPong Trainer is the best ping pong robot for those looking for an inexpensive model. Like the iPong Trainer Motion or the iPong V300, it is plenty fast enough, easy to set up, lightweight, and portable. You can adjust the frequency from 12 to 70 balls per minute, and adjust the speed and spin options with the wired remote control. It holds over 100 balls and weighs just 2.5 pounds. The iPong Trainer comes with 80 training balls and a tilt stand is included as well.
While there's no denying it's the most limited robot on this list, I still think it is one of the best budget table tennis robot choices for beginners. If you're a casual player, it will really help bring on your game. However, I think it's more fitting for adult beginners rather than kids as it does need a bit of tweaking and adjusting to get it to perform fairly consistently.
Pros
An easy-to-use, lightweight, and portable ping pong robot
Very affordable
Good capacity and includes 80 table tennis balls
Cons
Not always reliable with ball speed or placement
Takes time to set up and get the ball right
With higher spin options, vibrations may cause the robot to move slightly
Rating: 8.8
#8. Newgy Robo-Pong 2055 — Mid-Range Choice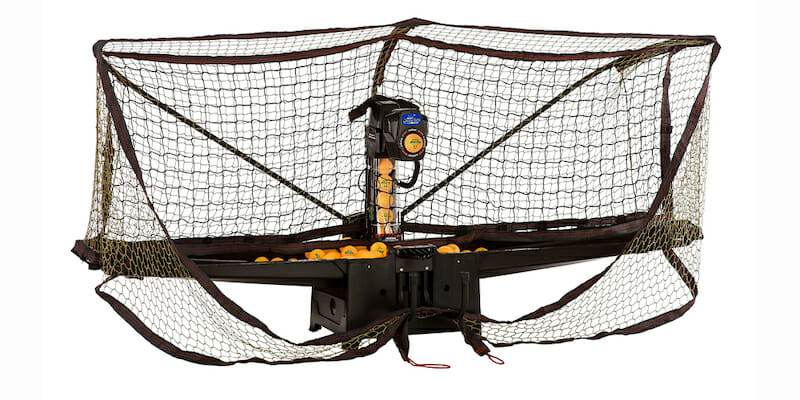 Specifications
Ball capacity: Recycling
Memory capacity: 64
Ball frequency: 1-170 p/minute
Spin options: Topspin, backspin, sidespin
Ball speed settings: Not listed
Another ping pong robot to consider is the Newgy Robo-Pong 2055, which was designed and made in the USA. It's an upgrade from the previous model, the Robo-Pong 2050+ robot with brand-new electronics and software. It comes with 64 pre-programmed drills which cater to all skill levels, meaning you can get practicing as soon as you take the robot out of the box no matter what level you play at.
It will have you practicing lots of different strokes and also help you improve your footwork. We love that this ping pong robot includes a randomization feature. This is the closest you can get to a real match scenario and does away with the main critique of robots (their predictability).
Like some of the other good ping pong trainers we've looked at, it uses a net that collects the balls and feeds them back into the robot, meaning you can play for longer without having to stock it up with more balls. It doesn't have to have a large ball capacity as it recycles them. It also comes with a 30-day money-back guarantee so try it out to see if you like it risk-free.
Personally, I found this robot was perfect for my advanced-level table tennis training, so unless you're a professional, this robot will probably suffice. 
Pros
64 pre-programmed drills
Comes with a net and ball recycling system
Designed and built in the USA
Comes with 2 free paddles and 48 table tennis balls!
Rating: 9.3
#7. Paddle Palace H2W Touch Pro Table Tennis Robot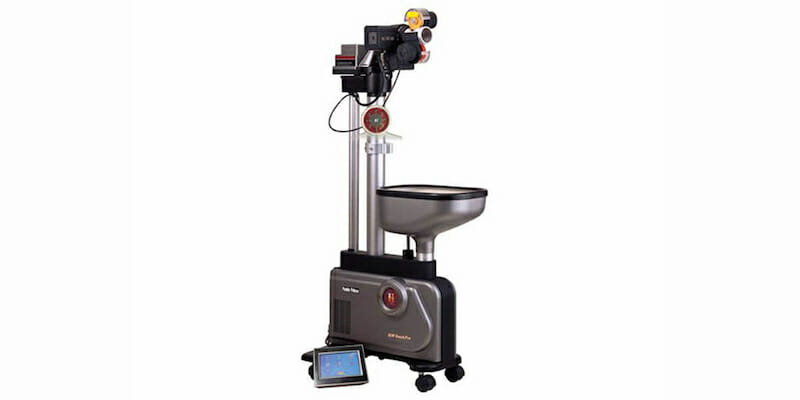 Specifications
Ball capacity: Recycling
Memory capacity: 39
Ball frequency: 28-95 p/minute
Spin options: Topspin, backspin, sidespin, no spin
Ball speed settings: Up to 110 mph
The Paddle Palace H2W Touch Pro has an LCD touchscreen for easy control and programming. You can control topspin, backspin, sidespin, or no spin, and choose from up to 22 possible landing spots. With this ping pong robot, you can practice short and long balls, and it can shoot different spins on consecutive shots for more variation in practice. 
Another thing we like about the Paddle Palace H2W Touch Pro is that you can choose from 30 pre-programmed sequences and store 9 of your favorite custom sequences. The visual display shows you the spin with each throw which is a really useful feature. It comes with a convenient catcher net and reloading system and also comes with 120 balls from the table tennis brand Nittaku.
Pros
Two-throw wheels for a full range of spin and placement options
Programmable and comes with 30 sequences
Includes random sequence mode
Displays spin before every shot
Comes with a net and reloading system as well as 120 practice balls
The Paddle Palace H2W Touch Pro table tennis robot is a favorite among advanced table tennis players for its wide range of realistic practice options, convenience, and reliability. It's widely regarded as one of the best ping pong robots on offer today. 
Rating: 9.3
#6. Paddle Palace Power Pong Alpha+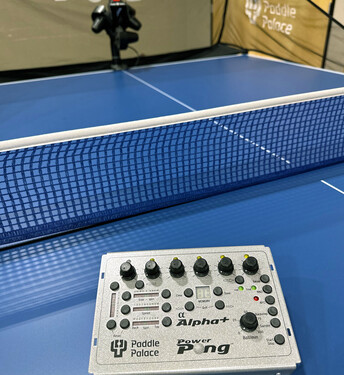 Specifications
Ball capacity: Recycling
Memory capacity: 50
Ball frequency: 5-100 p/minute
Spin options: No spin, backspin, topspin, sidespin
Ball speed settings: 1-19
The Paddle Palace Power Pong Alpha+ is the new model that replaced the Power Pong Beta. It is essentially a slimmed-down, more basic version of our favorite table tennis robot (the Power Pong Omega),but at a lot lower cost! You can still create complex drills with a huge amount of spin options, placements, and serves to give you an ultra-realistic table tennis training experience.
It has space for 50 different drills with up to 6 uniquely programmable balls per rally which is a hell of a lot! Like other high-quality ping pong robots, it features a catch net that collects the balls so you can play continuously. If you have a sizeable budget to work with, I think it's one of the best table tennis machines out there.
Pros
Memory space for 50 drills
Comes with pre-programmed drills
6 uniquely programmable balls per rally
Includes a catch net
3-year warranty
Cons
Expensive
No app like the Power Pong Omega
Rating: 9.4
#5. Paddle Palace Robot S4W Pro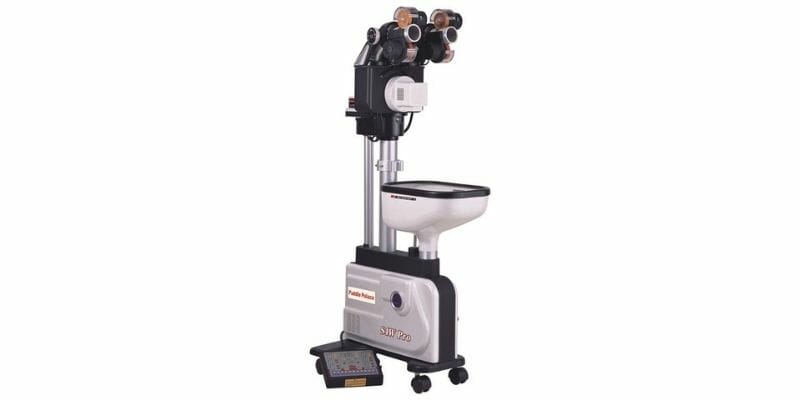 Specifications
Ball capacity: Recycling
Memory capacity: 31
Ball frequency: 25-95 p/minute
Spin options: Topspin, backspin, sidespin, no spin
Ball speed settings: Up to 110 mph
The Paddle Palace Robot S4W Pro is another great pro table tennis robot worth checking out that has several amazing features you'd want to see. It's very customizable: it has the ability to impart topspin, backspin, sidespin, no spin, and it can even replicate serves. This means there are many combinations of shots it can send your way to create the sort of real-life variety you would expect from an actual opponent.
You can program it to do set routines, even alternate between backspin and topspin for each shot. Then once you've practiced enough, you can set it to random mode to simulate a real match. A great ping pong serve machine, although fairly costly. One for advanced players to consider.
Pros
30 pre-programmed sets of landing sequences
Random sequence mode for the ultimate challenge
Easy setup and rolls from the table for convenient storage
Short & long balls, strong & weak balls, high & low balls
Cons
Fairly expensive
All the custom settings can be confusing if you aren't advanced
Rating: 9.5
#4. Butterfly Amicus Prime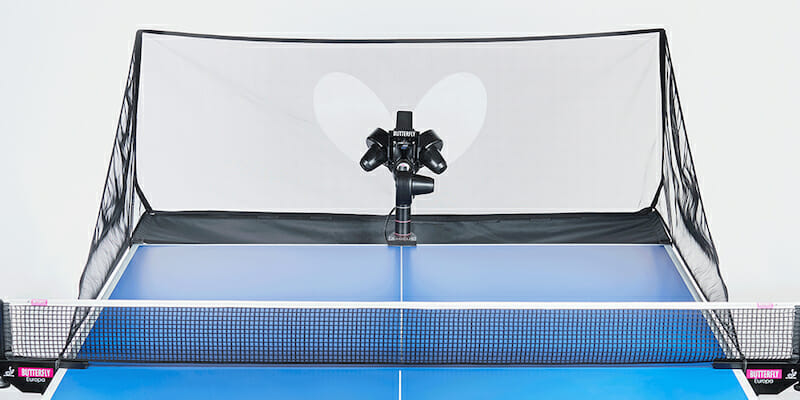 Specifications
Ball capacity: Recycling
Memory capacity: Almost unlimited (SD card)
Ball frequency: 5-120 p/minute
Spin options: Topspin, backspin, sidespin, no spin
Ball speed settings: 25 steps
The Butterfly Amicus Prime ping pong robot comes with a tablet computer and the Butterfly Amicus app (which you can also operate with your Android or iOS device). It also has a small, key-fob-like remote control for quick pauses and frequency control adjustments. 
Using the app, you can browse the library of the included 10 common shots, or manually control ball frequency from 5 to 120 balls per minute. On top of this, you can manipulate the ball's speed, spin, trajectory, and placement. You can also quickly mirror or reverse settings to change your dominant hand or practice forehand/backhand without adjusting any other settings. What's more, it has a randomization feature as well as interval training.
The Butterfly Amicus Prime comes pre-programmed with 21 exercises created by table tennis coach Richard Prouse. You can watch a video in the app to see how you would undertake each exercise. You can also modify or replace them, and you can create your own custom exercises and store them in the memory. You can even sequence them to run together or at random. 
The Butterfly Amicus Prime comes with a tablet computer, a small remote, a collection and reloading net, and a carry/storage bag. It's a perfect upgrade from the Butterfly Amicus Professional which doesn't use the app.
Pros
Huge range of possible shots and exercises with the ability to randomize and adjust them, for complex and realistic solo practice
Comes with a tablet computer, collection net, and a small remote
Use the app on the tablet or your own device
Coach-designed exercises and videos demonstrate how best to improve your game
Cons
Complex and difficult to set up and take down
Robot relies on the app (and Bluetooth connection) to operate; if the app crashes or there are problems with the device, you can't use it
Very expensive
The Butterfly Amicus Prime is a top-of-the-line professional ping pong machine, and the price tag reflects that. It has all the features and exercises you need for professional-level training. 
Rating: 9.6
#3. iPong Trainer Motion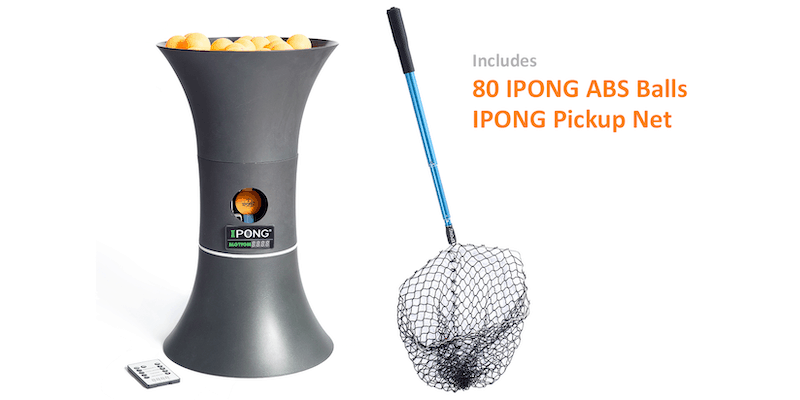 Specifications
Ball capacity: 100+
Memory capacity: 1
Ball frequency: 30-70 p/minute
Spin options: Topspin, backspin, no spin
Ball speed settings: Not listed
The iPong Trainer Motion is the upgrade to the iPong V300 and is a simple, compact ping pong robot with good features and a small footprint. You can control the number of balls per minute, side-to-side oscillation, topspin, and backspin. It can hold over 100 balls and shoot them at a rate of 30 to 70 balls per minute. Not only that, but this great little robot comes with a tilt stand to increase the variety of strokes.
The iPong Trainer Motion has a programmable memory to save your settings, and a handy wireless remote to easily allow you to configure and control the settings on the ball. It sets up in just a few minutes and uses regular AC power.  
Pros
Easy to set up, use, move, and store 
Digital display, wireless remote, and onboard memory make it easy to choose and restore your settings 
Can tilt for a wider range of stroke placements 
Cheap price
Cons
Oscillation function can be unpredictable and shoot balls randomly to the side 
Can't independently adjust the speed settings; adjusting topspin and backspin settings changes the speed 
Can be inconsistent and sometimes jams
The iPong Trainer Motion is a great, affordable table tennis robot for a beginner to improve and practice the basics of the game. It's easy to set up and use, and being able to store your settings in the memory and use the remote control lets you quickly switch between different strokes. It's currently available as a bundle with 80 balls and a pick-up net, too, which makes it an even better deal (see number 11).
Rating: 9.6
#2. Newgy Robo-Pong 2040+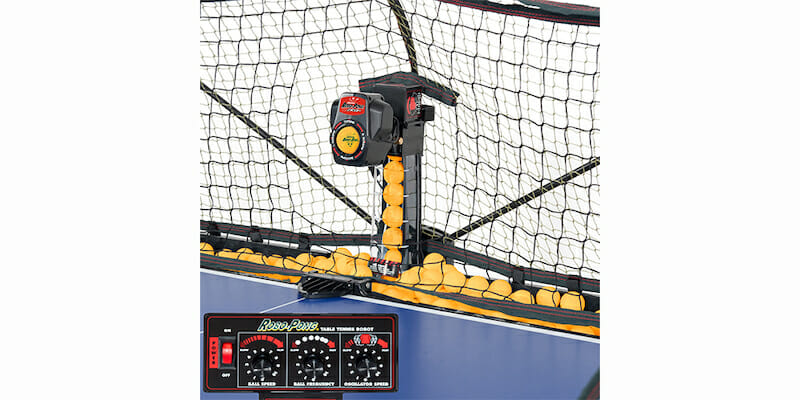 Specifications
Ball capacity: Recycling
Memory capacity: 0
Ball frequency: 26-94 p/minute
Spin options: Topspin, backspin, sidespin
Ball speed settings: Not listed
The Newgy Robo-Pong 2040+ is their upgrade to the old model, so it can now handle the slightly bigger 40 mm balls. It's a very simple ping pong robot that doesn't have all the bells and whistles of some of the more fancy models, but does all the basics, and does them well. It's very easy to set up, and you can plug it into mains power (we prefer this to the battery-powered ones).
With the Newgy Robo-Pong 2040+, you can customize a lot of the shot selection, including the speed, frequency, height, and angle, and you can get it to oscillate and send balls to different places on the table which is useful. You can also adjust the types of spin it can send, including topspin, backspin, and sidespin.
We also love that the Newgy Robo-Pong 2040+ has a really large ball capacity, holding around 200 balls (with the bucket extender) — another key feature we look for when picking robots. What's more, it has a built-in catch net meaning most of the balls are recycled so you spend less time picking balls up off the floor. It's pretty reasonably priced, too, and the robot comes with 48 2-star balls, so you can get started immediately.
Read the full ping pong robot review of the Newgy Robo-Pong 2040+.
Pros
Upgraded to be more suitable for 40+ balls
Change speed, frequency, oscillation, and all types of spin
Ball recycling net
Includes 48 2-star balls
Rating: 9.7
#1. Paddle Palace Power Pong Omega — Best Overall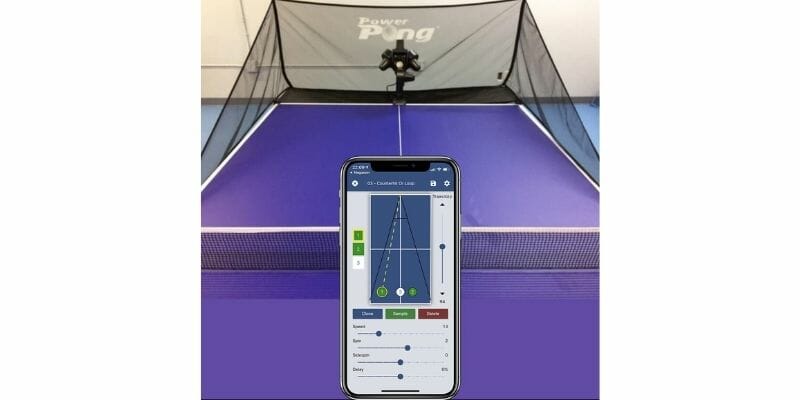 Specifications
Ball capacity: Recycling
Memory capacity: Almost unlimited (SD card)
Ball frequency: 5-120 p/minute
Spin options: No spin, backspin, topspin, sidespin
Ball speed settings: 1-25
For serious players looking for the best table tennis robot on the market for 2023, and one that even pro table tennis players would be happy with, you have to check out the Power Pong Omega. It's easily the best ping pong robot for the money right now and is a state-of-the-art and versatile table tennis machine that will blow you away with its features.
This is the new and improved version of the Power Pong 5000. It comes with its own tablet and you can control it via your iPhone, iPad, or Android device.
It's a competitor of the Butterfly Amicus Prime and is almost identical in its design and features. It's even made in the same factory!
The Power Pong Omega robot can create drills with up to eight uniquely programmable balls to give you great flexibility in your training, and it can store up to 99 drills in the control box. There's also a near-unlimited amount of drills via the Bluetooth app that allows you to control it via your smartphone. Ultimately, a lot of these features are total overkill, but it does mean you have complete control over how you train. It's a fantastic table tennis robot which I'm confident any player would be happy with.
Pros
Can program all types of spin, speed, frequency, and trajectory
45 pre-programmed drills
Almost unlimited drill memory capacity
Up to 120 balls per minute
Ball recycling net
3-year warranty
Rating: 9.9
Table Tennis Robot Accessories
There are a few accessories that we recommend getting to make your practice experience easier.
Ball Catcher Net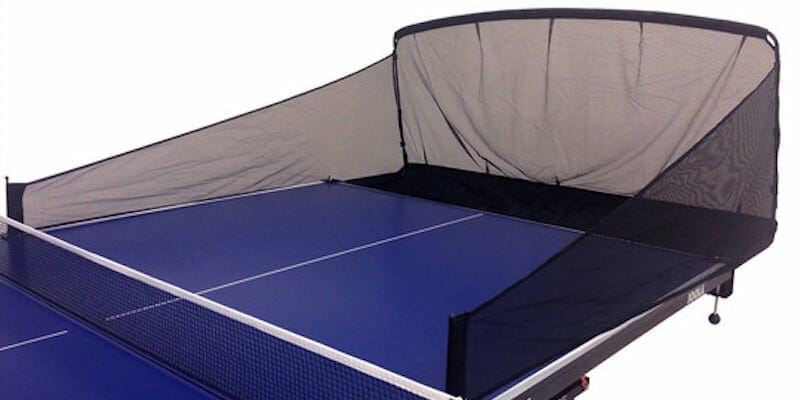 A very useful accessory is a ball catcher net to place behind your ping pong robot. This way, you won't lose all the balls on the floor, and you'll save your back from bending over constantly to pick them up.
We use the iPong Carbon Fiber catch net, which does the job and isn't too expensive. Some table tennis training robots come with a catch net so check if yours does before you order.
Ball Picker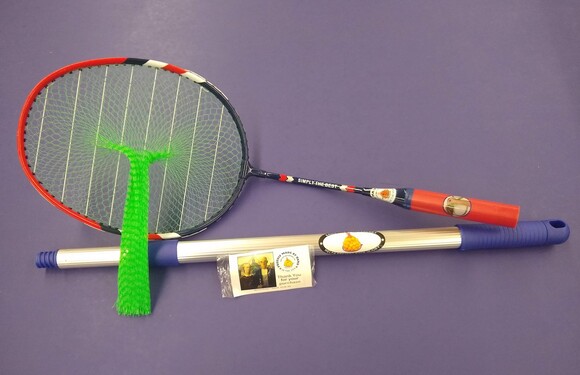 An alternative to a catch net is a ball picker like the My Ping Pong Buddy, which again is an essential purchase for anyone who doesn't want a bad back from constantly bending over to pick up ping pong balls! You don't even need to have a robot to purchase one of these, they work really well for players that enjoy multi-ball too, a great gift for a table tennis friend.
Table Tennis Robot Reviews
Butterfly Table Tennis Robots
Butterfly makes three table tennis robots, and it should come as no surprise that all three are very high quality, as Butterfly is one of the most respected table tennis brands. Their most affordable model is the Amicus Start which is followed by the Amicus Expert and then the Amicus Prime.
Power Pong Table Tennis Robots
Power Pong is another premium brand when it comes to table tennis robots. They recently switched to being sold under the Paddle Palace name and their lineup very closely resembles that of Butterfly. From cheapest to most expensive it goes Power Pong Alpha+, Power Pong Delta, and then Power Pong Omega. 
Newgy Table Tennis Robots
Newgy are table tennis robot specialists and have been selling robots since 1988. Most of their robots are priced in the mid-range, however, their Robo-Pong 3050XL is fairly pricey and very advanced. Their other models include the Robo-Pong 545, Robo-Pong 1040+, Robo-Pong 1055, Robo-Pong 2040+, and the Robo-Pong 2055.  
iPong Table Tennis Robots
iPong sells beginner-style table tennis robots that feed through from the top. While they only offer basic features, they have the advantage of being very affordable. As it stands, they have three models for sale: the iPong Trainer, iPong V300, and iPong Trainer Motion.
Why Buy a Table Tennis Robot?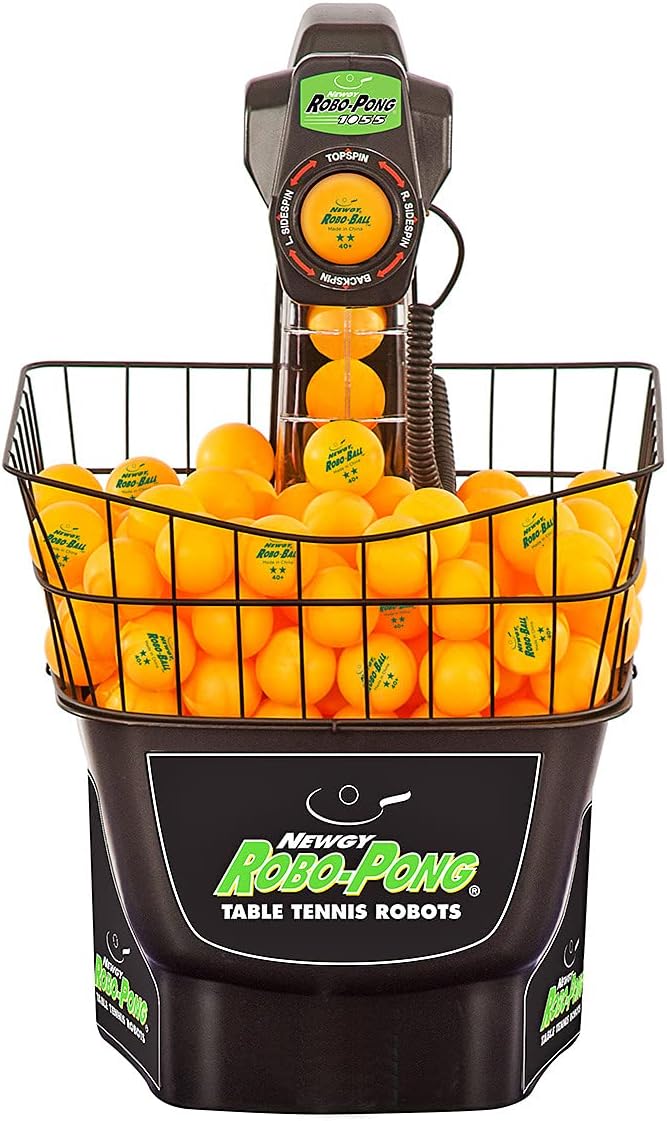 While there is no substitute for the realistic play of practicing or competing with a playing partner, table tennis robots are exceptional bits of kit that are perfect for players keen on improving. 
Finding time to play table tennis can be difficult, and matching your schedule with a training partner is even tougher. Guess what? With a robot, you can train whenever you want provided you have access to a table to play on. This means you can make better use of your free hours with a ping pong robot than without one. And the more time you put on the table, the better you will become.
Another issue you might encounter is finding a player of a similar skill level. If your potential training partner is much lower or higher than you, someone's training will suffer. Nobody wants that. With ping pong robot machines, you can tailor ball feeding to meet your specific skill level so you get in a quality session every time.
Another benefit is that robots allow for highly targeted training. They are incredibly accurate and don't make mistakes like partners. They also don't get bored of drills and don't want to start fun looping rallies far away from the table. Put simply, table tennis training robots keep you focused on your mission, and they will help correct weak areas of your game.
Table Tennis Robot Buying Guide
Purchasing a ping pong robot to help you practice table tennis is no small investment. While some of the table tennis machines we recommend are under $500, other ping pong robots are way over $1000 or as much as $2000, so there is a broad spectrum of prices.
Technical Specs to Consider
Can It Produce Spin?
The best ping pong robots have multiple spin options. They can spin balls with topspin, backspin, sidespin, or no spin. On the other hand, basic models may only be capable of one or two kinds of spin, or you'll need to change the settings to make spin adjustments. More sophisticated models can randomize the spin on the ping pong ball for a more complex game.
Speed and Frequency
Changing speed and frequency is crucial to creating specific plans to target weak areas. Poor-quality robots spit out slow balls and have long wait intervals — this just won't cut it. Seek out robots that can eject the ball at similar speeds to real-world matches, and in terms of ping pong ball frequency, you'll probably want a ball around every second for intense drills. So that means robots that can handle 60 balls per minute should suffice for most people. 
Yet this is the upper limit. While you might be able to handle 60 balls per minute for a brief time, it is not sustainable unless you are incredibly fit. You'll soon want to change ball frequency to something more manageable, perhaps 20 or 30 per minute. 
Ball Capacity
Getting a ping pong serving machine with a large ball capacity is a feature you'll find useful. Most table tennis robots can hold anywhere from 100 balls all the way up to 200 at a time. Larger, more complex robots have a recycling net that collects and re-feeds balls for uninterrupted play, which is very convenient.
If you need to buy ping pong balls in bulk, we recommend the Sanwei ABS 1-star 500 balls which are ideal for training and are very comparable to 3-star balls that are a lot more expensive.
Ball Placement
Getting your table tennis robot to send the ball to a pre-programmed location can be useful for improving your game and practicing a certain type of shot. Most robots also have an oscillation feature to get you moving to work on your footwork.  
Pre-programmed Drills
Intermediate and advanced table tennis robots have programmed drills to sharpen your skills. Generally speaking, the more advanced the robot, the wider the choice of competitive drills. You may also be able to program your own drills.
Convenient Features to Look For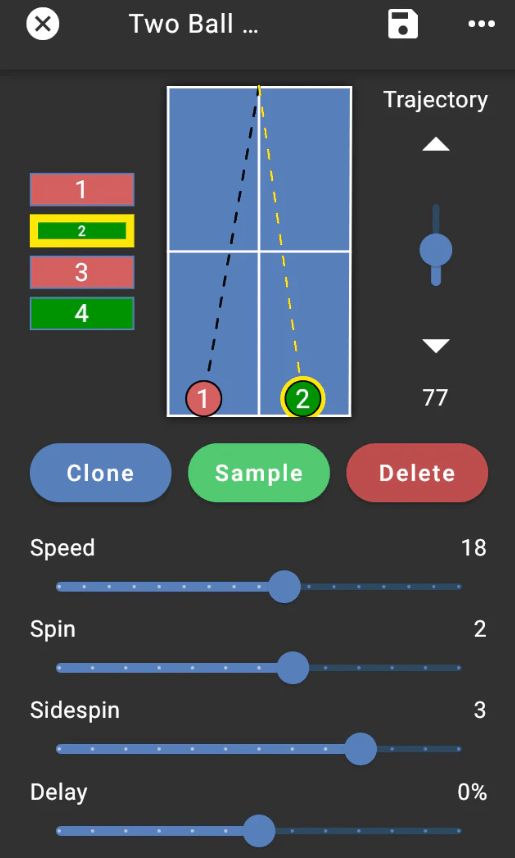 In addition to these features, finding a table tennis robot that also fits your lifestyle is important. Some optional convenient features of a table tennis robot include:
Battery-Powered or Plug Into the Mains?
Is your ping pong table set up in the backyard or garage where it's far from the nearest power socket? If so, you might be better off with a battery-powered robot. The drawback here is that you will have to change the batteries often, or you'll set it up for a practice session only to find it's got no power.
A Remote Control
Some robots have a corded or wireless remote control that allows you to change settings at a distance. It's very handy to be able to switch between the settings from the end of the ping pong table, rather than having to walk around to change it each time you want a different type of shot. That's why we always recommend looking for one with a wireless remote control. Some of the most expensive ping pong robots come with a mobile phone app, which is extra convenient but tends to cost a bit more.
Ease of Setup and Portability
How easy do you want the setup to be? A simple ping pong ball machine could be ready to go in a minute or two, whereas others, which have more features, may take longer to set up and require a bit more effort. Along with a basic setup, you'll want to think about portability and where you'll be using it. Storage is another thing to consider, as some robots are much larger and more cumbersome than others.
Noise
If you'll be using your ping pong robot at home, you'll want to consider the people you live with as some table tennis robots can be quite noisy! Make sure to read some of the table tennis robot reviews from previous customers to check if the model you're interested in is particularly loud.
Companion App
Many of the best table tennis robots have a companion phone/tablet app that not only lets you customize settings and program drills, but will also help to track your progress and review your strengths and weaknesses. A really cool feature for those taking their game seriously.
Memory
Another quality that you need to consider before buying a ping pong robot is how much memory you need to store drills. Having a large memory makes it easier to build a "library" of your ping pong drills and switch between them, meaning you don't have to adjust the settings every practice session, saving you a lot of time.
Frequently Asked Questions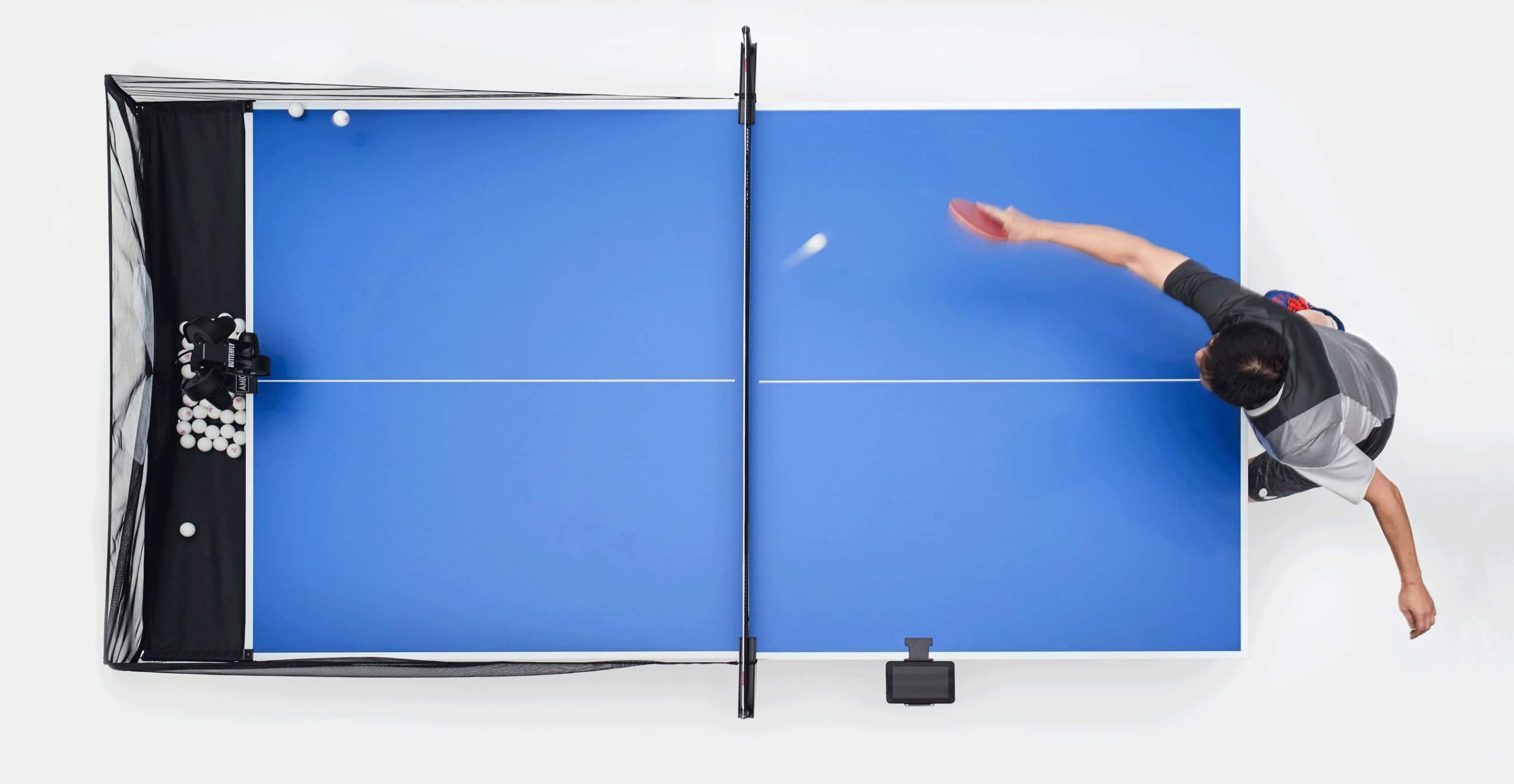 Can a Robot Play Ping Pong?
Ping pong robots can play ping pong — but they have their limitations. Basic models are slow to feed you the ball and only offer limited spin variation. Even the top-end models have their drawbacks. While they offer comprehensive customization, they do not train split-second decision-making as real match play does.
How Do Ping Pong Ball Machines Work?
Ping pong robot trainers sit at the opposite end of the table to you and fire balls your way. Depending on which model you purchase, you customize the spin, speed, and frequency using the control box, a remote, or an app. Many robots come with a catch net that refeeds the balls back into the robot for continuous play.
Do Table Tennis Robots Help You Improve?
Table tennis robots are highly effective at helping you to improve, they enable you to focus on form and consistency at your own pace. You also won't be training with a partner who has their own areas to work on, which means you can focus on your own goals all of the time.
How Long Does Set Up/Installation Take? 
Installation is super quick as you don't have to build table tennis robots. Rather, it takes some time to understand how each robot works by tinkering with the settings to get them just right. On average, you should be well underway in around 5-15 minutes. 
Does It Matter What Size Ping Pong Balls I Use?
Unless otherwise stated, you can use both the old 40 mm celluloid balls and the new 40 mm+ plastic balls. 
What Is the Best Ping Pong Robot?
In our opinion, the best ping pong machine is the Power Pong Omega. It stands well above its competition in almost all areas. One of the features we love in particular is its near-unlimited memory capacity. This allows you to build as many drills as you want to cover absolutely all areas of your game. Simply incredible!
How Much Does a Table Tennis Robot Cost?
Entry-level robots cost less than $500, mid-range should be no more than $1,000, and the top-range robots cap out at around $2,000.
Is a Table Tennis Robot Worth it?
If you're just playing for fun every couple of months or so, we don't think a robot is a worthy investment for you. But if you are a keen player who plays multiple times a week and is seeking to crush the competition in leagues and tournaments, then in most cases, yes, a robot could work wonders for you. 
Summing Up
Anyway, that about sums up what we think are some of the best table tennis robots on the market today. We'll keep this list updated when we hear of any new models making waves in the table tennis community.
We highly recommend checking out the Power Pong range and the Power Pong Omega in particular, if you're a skilled player with the money to spend. Power Pong has totally revolutionized how we practice table tennis and their robots make it so much easier to train and hone your specific skills. While the Omega is more expensive than some of the other models like the Newgy Robo-Pong 2040 or the iPong Trainer Motion, it is worth the money, considering how many more features you unlock.

Freelance writer. Table tennis enthusiast. Lover of all things online. When I'm not working on my loop game I'm probably binge-watching some fantasy show.