Looking for the best ping pong table? Not sure what to look for? We've put together reviews of our favorite brands and models plus an in-depth buying guide with everything you need to look for when purchasing a new table tennis table. Let's get started.
At A Glance: Best Table Tennis Tables
If you're in a hurry, here are links to our favorite tables. We go into more detail about why we like them later on in this article.
Top Indoor Ping Pong Table Reviews
Now that we've covered some of the things you need to consider when buying a new ping pong table we'll now review our best rated ones in each category. If you're looking for the outdoor ping pong table reviews keep scrolling down.
1. The JOOLA Tour 2500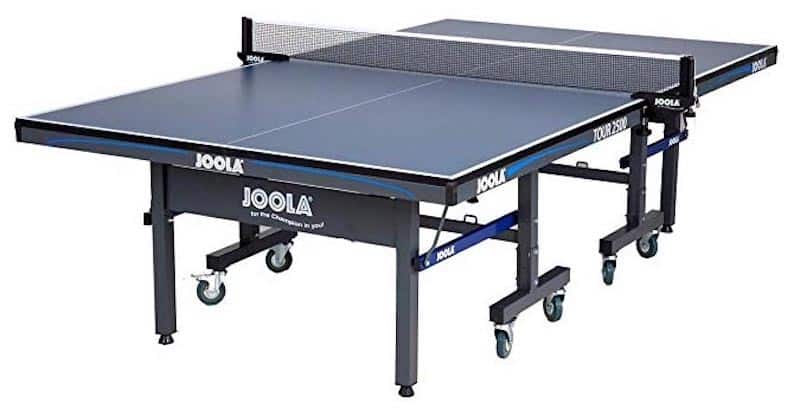 Specifications
The JOOLA Tour 2500 table tennis table is our number one choice for the best table tennis table. If you look at our most recommended tables, you'll see that JOOLA know what they're doing when it comes to making an indoor ping pong table (three of our top-rated ones are all from JOOLA). The Tour 2500 is our favorite option if you're looking to get an affordable yet quality table that even the pros would be happy with.
As you'd expect from JOOLA, it has all of the features you'd expect and need. The first is a great table surface, the Tour series from JOOLA comes in three different thicknesses: the JOOLA Tour 1500 (5/8″), the JOOLA Tour 1800 (3/4″) and the tournament grade table JOOLA Tour 2500 (1″). Remember that the thicker the surface of the tabletop the better bounce you're going to get. Value for money wise we like the 25mm as for recreational play at home, table tennis clubs or the office it's awesome and only a bit more money than the thinner and 15mm and 18mm models.
It folds up for personal playback mode to practice on your own and for storing it when not in use. To move it around it has eight casters wheels (four on each of the two halves) that lock in place to ensure it's safe and won't shift. If you have an uneven floor you can use the leg levellers to ensure a level playing experience.
All in all, the JOOLA Tour is a solid USATT approved ping pong table for an amazing price fee and a very easy to recommend as one of our top choices for indoor tables. It's easily one of the best JOOLA ping pong tables for the money.
2. The JOOLA Inside 25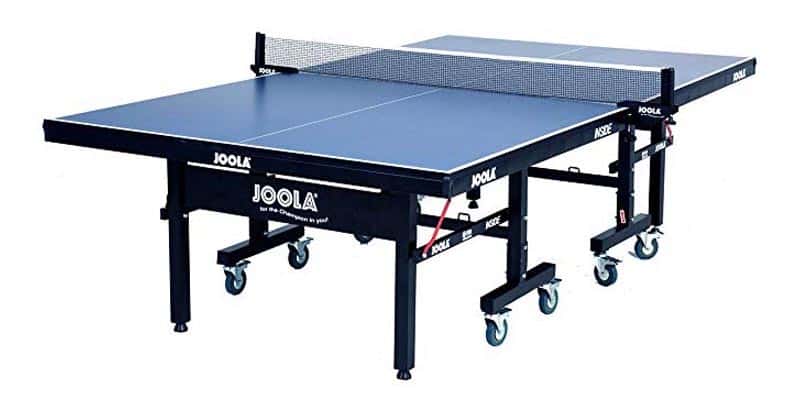 Specifications
In at number two, we have the JOOLA Inside 25 table tennis table. It's up there as one of the most popular table tennis table of all time. It's a great choice for a beginner looking for their first table or a family looking for the best indoor ping pong table that's easy to fold and store away when not in use.
It comes in three table thicknesses but our favorite is the 25mm (the JOOLA Inside 25) that's supported by 1.5 inch thick steel legs to keep it sturdy and safe. It splits into two pieces which makes it really easy to move around plus, you can fold up one side to play in personal playback mode and practice on your own or to put it in storage.
We highly recommend the JOOLA Inside 25 to anyone looking for a reasonable priced, quality table for their games room that will last for years.
3. The STIGA Advantage Pro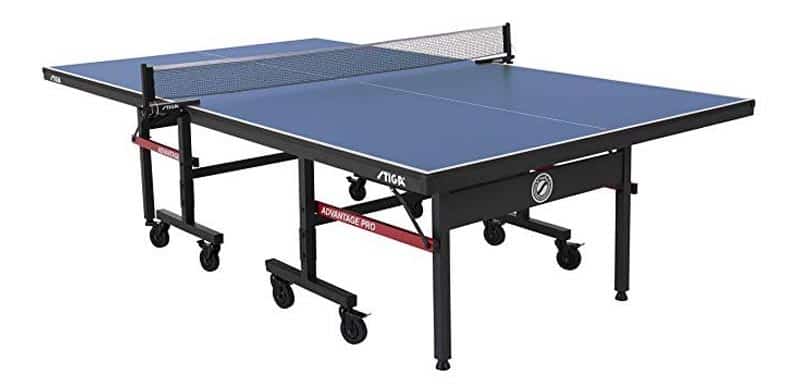 Specifications
Our 3rd choice is the STIGA Advantage Pro which is another very popular table for recreational players. It ticks a number of the boxes that you should be looking for in the best table tennis table. It's the regulation size at 9 x 5 ft, is incredibly simple to set up, (some people have done it in under 10 minutes).
The playing surface comes in a few different table thicknesses. We like the STIGA Advantage Pro version which is 3/4 inch (19mm) but you can get the regular STIGA Advantage which is a bit cheaper but has a 5/8 inch (16mm) thick table surface and also the STIGA Advantage Lite.
It's made with a thick medium density fiberboard that they finish off with multiple layers of paint to ensure a totally smooth surface for a consistent bounce all over.
Like any high quality table designed for indoors, you can fold it up the STIGA Advantage to put it away for easy storage or into personal playback mode to get some practice in on your own. When it's folded, it locks into position with a spring loaded safety latch to make certain it won't open unexpectedly. It also features 4 inch premium black casters to make transporting it effortless, the wheels also have locks on to keep your table safe and secure. To top it all off, the STIGA Advantage table comes with a premium tournament grade 72-inch net set that clamps to the top and is very easy to set up. You can adjust the height and the tension as well.
So if you're looking for an affordable yet durable ping pong table for your home or office then check out the STIGA Advantage Pro.
4. The JOOLA Motion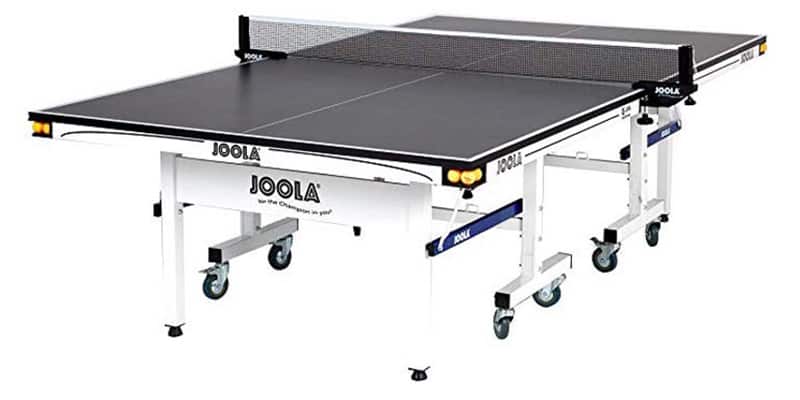 Specifications
Another fantastic table to look at is the JOOLA Motion (also know as the JOOLA Rally TL). It's hugely popular with beginners and intermediate players looking for a durable and reliable option that won't break the bank.
The JOOLA Motion, like most tables comes in three different playing surface thickness, the 5/8 inch is the standard and more than adequate for most players but if you can afford a bit extra then you have the 3/4 inch model and the tournament grade table thickness which is 1 inch thick (the minimum allowed in a professional grade tournament) for an even better bounce. The JOOLA Motion has a table top made out of a medium-density MDF fiberboard and has multiple layers of paint to ensure a smooth a consistent ball bounce during play. It also has four locking wheels and leg levelers to keep the playing surface as flat as possible.
We also love the quality look and design of the JOOLA Motion and the fact that it has ball holders at each corner makes it very convenient (once you've had a table with corner ball holders you won't want to go back to one without!). It also features magnetic abacus scorers to help you keep track of who's winning. Check the latest price of the Motion 18 below.
5. The Butterfly Centrefold 25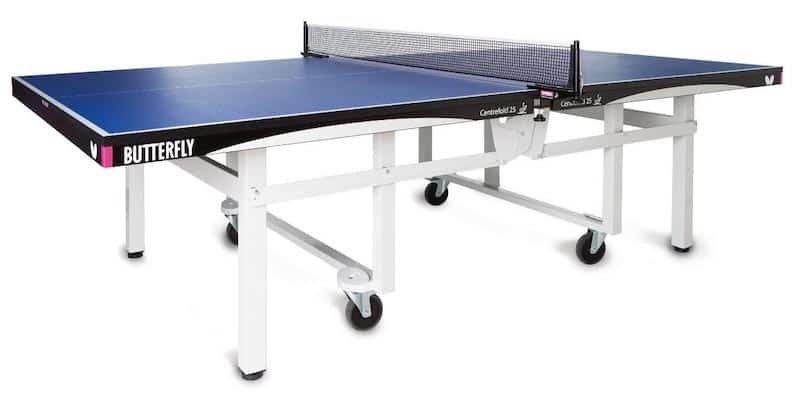 Specifications
If you're willing to spend some serious money on a new table (over $2000) then you're going to be getting a professional ping pong table that's suitable for tournaments that even the pros would be happy to play on. With this budget you'll be looking at a top of the range table tennis table, possibly one that is used in world-class tournaments. The table should be made of the highest 1 inch thick table top, the wheels should be at least 3 inch large, and the chassis should be solid steel designed to not bend or wear easily. The surface shouldn't scratch easily and possibly most important of all, it should come with a warranty. In our opinion, the Butterfly Centrefold 25 fits all these criteria and is one of the best quality ping pong tables available today.
Over the years, we've got to play on a lot of different indoor ping pong tables and it's fair to say that the Centrefold 25 is in the top few of our favorite ones to play on. It's made by Butterfly, one of the most popular table tennis companies and they were even the official tournament sponsor and supplier of the 2012, 2014 & 2016 World Table Tennis Championships.
It's got all the usual features that you'd expect in a high-quality professional table with leg levellers, 5 inch rubber wheels for easy moving around and then they lock in place to make certain it's not going anywhere during your game. You can then fold it away when you want to put it into storage with a very straightforward to use mechanism to fold it up with a safety latch to keep it in place. But, it can't be put into playback position. The incredible 1 inch scratch-proof playing surface gives an amazing bounce and it's ITTF approved for top-level tournaments. It's got nice looking magenta corner protectors to keep it safe from knocks and bases. It also comes with the good quality Europa Net Set which is a professional grade net and posts set.
The only downside about the Butterfly Centrefold 25 is the cost, it's fair to say it's a high-end ping pong and is a lot more than the STIGA Advantage. That being said, this Butterfly table offers a five-year warranty which does soften the blow, but if you're looking for one of the best rated tables on the market with a huge table that the pros would be happy within any tournament then check it out.
The Top 5 Outdoor Ping Pong Tables
#1. The Cornilleau 300X Outdoor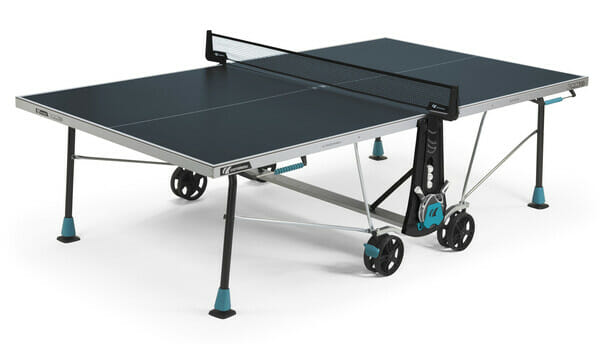 Specifications
Up next we have the Cornilleau 300X Outdoor, which is a French-made outdoor table tennis table that sports an anti glare 5mm thick top that provides a great ball bounce all over. It's folding frame is built with 50mm thick steel alloy frame to give it amazing support all over and it's completely weatherproof so won't rust when exposed to the elements. We love the strong 200mm (8 inches) in diameter casters perfect for moving it around and easy portability with brakes to ensure it remains in place when stowed away safely.
We particularly liked the ball storage dispensers that it has under the table apron to make getting a new ball very painless and practical. Plus it has storage space for four paddles and eight balls by the wheels to ensure you don't lose your accessories. The swivel feet make it possible to play anywhere, as it adapts to the surface. The adjustable net allows you to set the height and tension that you want and is very easy to take down after use.
Overall it's a very high quality, durable, sturdy and well designed outdoor table, that comes with a 10 year warranty, a fantastic sign of its quality that makes it our number one table to recommend for those looking for a table for their garden.
#2. The STIGA XTR Pro Outdoor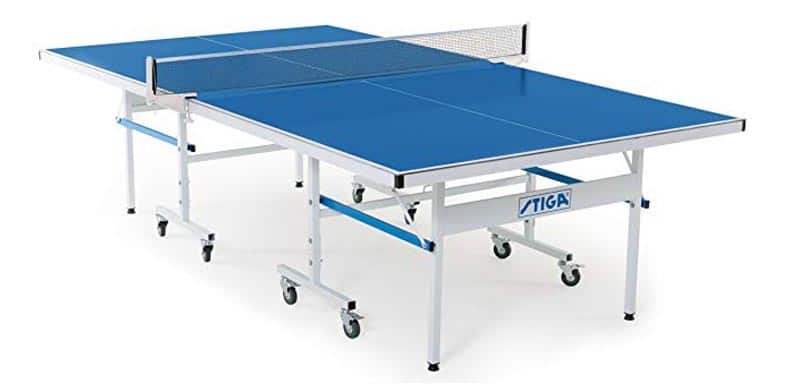 Specifications
Up next is the STIGA XTR, a great outdoor table tennis table built to withstand all that mother nature can throw at it. The 6mm aluminum top is made with an exterior grade powder coating and the steel legs are made with galvanized steel frame (powder coated with Zinc) that is waterproof, won't rust, and is resistant to sun damage. All this makes it perfect for all year round play in all climates. It's built to resist moisture, something that can cause even the best indoor table tennis tables to warp and lose their shape.
The table top is supported by at 1.5 inch tubular steel apron to ensure that the bounce is even across the whole table. It's incredibly easy to fold away when not in use with a self-opening feature that means its steel legs automatically deploy when opening or closing it. Like other tables, it has leg levellers and strong 3″ locking wheels for easy and safe transport. Budget willing, you could also check out the STIGA XTR Pro which has bigger wheels and a thicker frame. Both come with a 72″ weather-resistant tournament grade net and post set that is made to last and keep its tension. It's very similar to the JOOLA Nova DX (which we'll look at next).
#3. The JOOLA Nova DX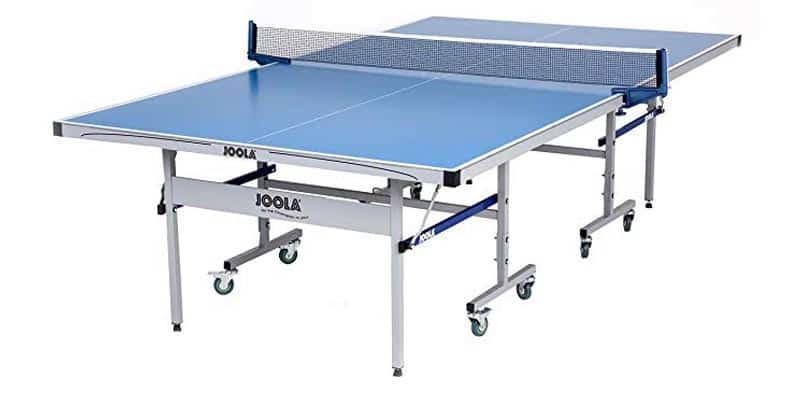 Specifications
The JOOLA Nova DX is an indoor outdoor, weather-proof ping pong table built to last. It's got a 6mm thick aluminum and plastic composite surface that is warp-resistant and won't chip to ensure it lasts for years of outdoor use. It's got a really strong steel frame (galvanized) as well sitting on a 30mm x 30 undercarriage that's rust-resistant and safe.
The JOOLA Nova DX splits into two sections to make moving and storing it easy. You can do it on your own. It also means you can set it in playback position to practice on your own. It also comes with a weatherproof net set that is really uncomplicated to set up and isn't fiddly like some nets we've seen. When it's folded up it's very smooth to move around as each of the two halves has four caster wheels that lock to keep you safe when transporting it. Like other good tables, it has leg levellers to ensure the table is as flat as possible, a very handy feature, especially on an outdoor table tennis table. All in all, the JOOLA Nova DX or its bigger version the JOOLA Nova Pro (which has a thicker playing surface and wheels) are both fantastic outdoor tables that we'd highly recommend.
#4. The Kettler Champ 5.0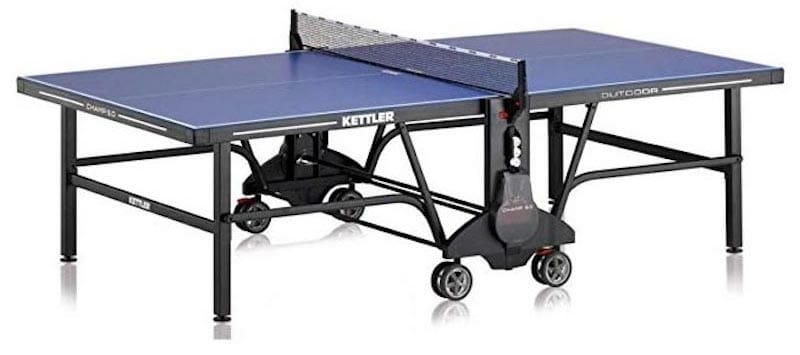 Specifications
The Kettler Champ 5.0 is an outdoor ping pong table with a 7/8″ (22mm) non-glare waterproof aluminum top to provide a good and even ball bounce. Whilst it's not quite the 1 inch thick that you'd need for a professional grade tournament table, on an indoor outdoor table, this is more than enough. It's been designed with the outdoors in mind and is one of the most durable tables that we've come across. It's got galvanized steel legs that are rust resistant. The table apron is 2.25″ thick and finished with resin to prevent moisture from getting in and causing an indoor table to warp, an essential feature in an outdoor table.
The major downside to the Champ 5 is how long it takes to assemble, users have reported that it takes way over two hours and as it's rather heavy it's very difficult, if not impossible to assemble on your own. Other than that though it could be a great option. We do like that the table comes with accessories like paddles and balls, a net set and even a table cover! You won't need to purchase anything else to start playing ping pong.
#5. The STIGA Vapor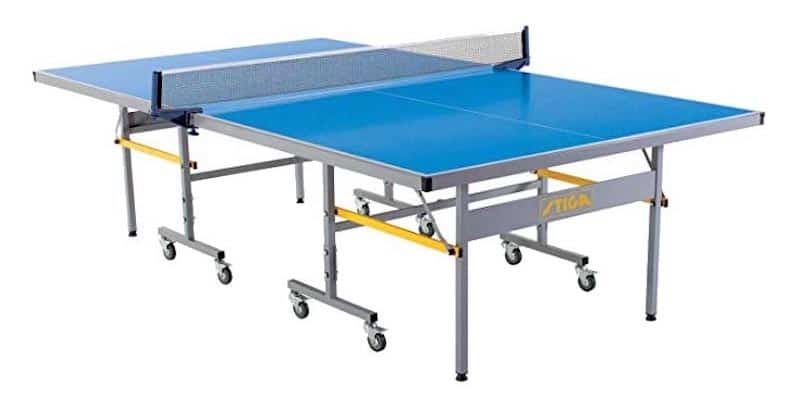 Features
The STIGA Vapor is another great option when it comes to looking for outdoor ping pong tables (we think it's like the outdoor version of the STIGA Advantage). It's got a 6mm thick aluminum composite surface that's completely waterproof and the frame is galvanized steel (coated with Zinc) to stop it from rusting.
The only downside is that it only has 3″ caster wheels which are a little smaller than we like to see on an outdoor table but overall it's a great choice and is definitely one to consider.
Best Mini Ping Pong Tables
If you've seen an outdoor or indoor table tennis table you'll know they are pretty large and you need even more room around the table to ensure a decent game. Nowadays there are some great options of small and compact tables that can fit in an apartment and fold away for easy compact storage when they're not in use. One last thing to note is that mini tables can't be put into the playback position. Now let's take a look at our mini table reviews.
#1. Butterfly Junior Compact 3/4 Size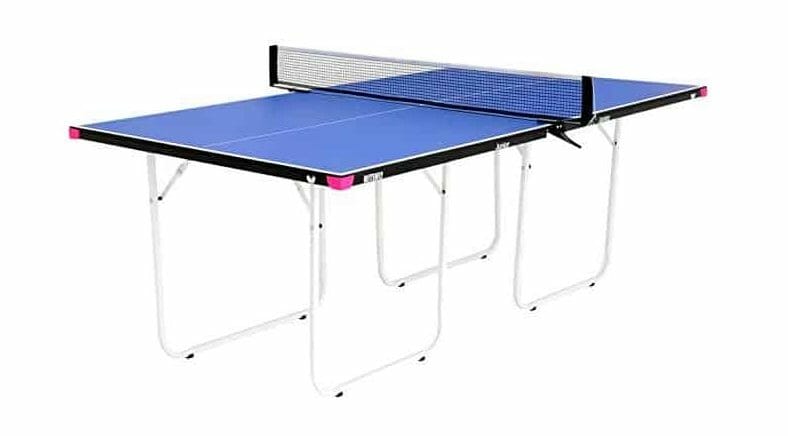 Features
Our number one top choice for the best mini ping pong table is the Butterfly Junior table. It's 3/4 of the size of a full-size table so is ideal if you don't quite have the room for a full-size competition-size table.
It comes completely pre-assembled, all you have to do is unfold it and put the net on. Then when you're finished playing, it conveniently folds up to make it portable and very easy to store. Each half only weighs 35 lbs and has wheels on the bottom so you shouldn't have too much trouble.
The table surface is only 12mm thick which is a lot less than we usually recommend. But, considering the price and the fact that it's a mini table we were pleasantly surprised. That being said, if you're looking for a table to give a really good bounce we wouldn't recommend getting a mini table tennis table.
But, if you just don't have the room for a full size table and still want to play and store a table conveniently then the Butterfly Junior should definitely be a consideration.
#2. The STIGA Space Saver Mini Table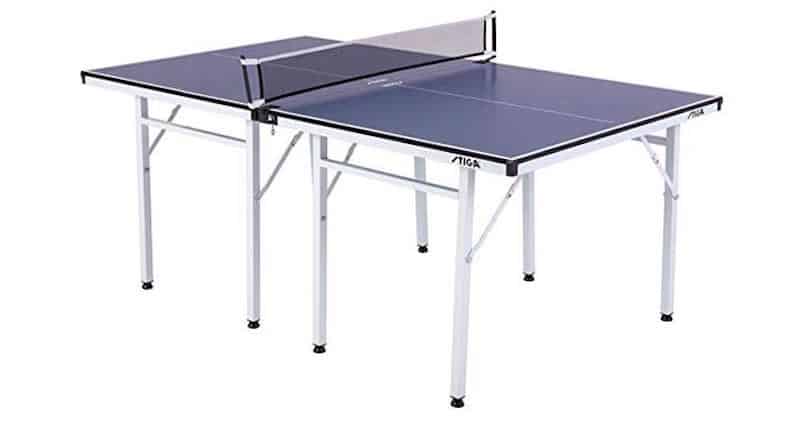 Features
The Space Saver from STIGA is probably our top rated mini table tennis table. If you're in an apartment where space isn't something you have a lot of then this could be a good option. It's got a very reasonable 5/8 inch thick table top that is fine for recreational players or kids. One of the best features is how easy and it folds up for ultra compact storage when not in use. It's one of the most portable tables tennis tables we've seen. A key feature for those who live in an apartment and don't want the table to take over a whole room. It's very affordable too being on average half the amount of a full-size table.
#3. The JOOLA Midsize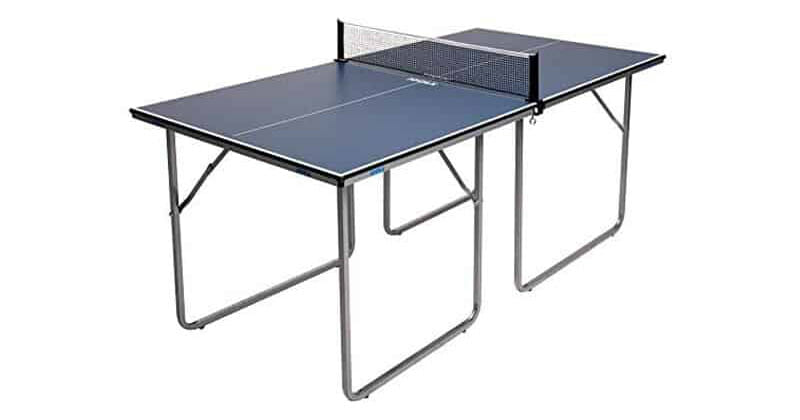 Features
Another option if you're looking for a table tennis table for a smaller space is the JOOLA Midsize Classic. It's a little thinner than it's rival the STIGA Space Saver (that we looked at above) and is 3/4 of the size of a professional grade regulation table but, even so, it still performs well. It's super lightweight and folds away for easy portability and incredibly compact which is ideal for city dwellers who don't have access to lots of space in their apartment or home.
It's also available in a more sporty design – The JOOLA Midsize Sport if you wanted something that looked a bit cooler but to be honest we prefer the look of the classic.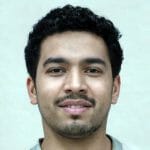 Eugene (Gene) Sandoval has been one of those guys who spent too many hours around ping pong tables in high school. However, soon enough, Gene understood that there is more to ping pong than having fun. That is how he started a journey that made Eugene one of the experienced semi-professional ping pong players in the United States. As the founder of the PingPongRuler, Eugene spends most of his time surrounded by ping pong tables and research. He always has this knack for coming up with new ping pong strategies and telling the good and bad equipment apart.