Looking for the best ping pong table? Not sure what to look for? We've put together reviews of our favorites brands and models plus an in-depth buying guide with everything you need to look for when buying a new table tennis table. Let's get started.
Our favorites at a glance
Indoor tables
Outdoor tables
The above links go straight to Amazon but we'll go into more details about some of the features of all those tables below as well as our comprehensive guide to buying a ping pong table.
The best indoor ping pong tables
The STIGA Advantage Pro – Our favorite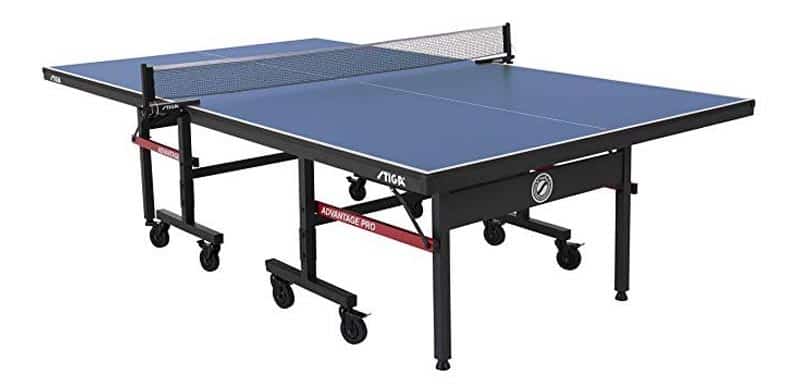 Check the latest price on Amazon.
Specifications
The STIGA Advantage is one of the best selling tables on Amazon with over 2000 five star reviews, and for good reason. It ticks all the boxes that you could want when looking for the best table tennis table. It's the regulation size at 9 x 5 feet, is incredibly easy to set up, (some people have done it in under 10 minutes).
The tabletop surface comes in a few different table thicknesses. We like the Pro version which is 3/4″ (19mm) but you can get the regular STIGA Advantage which is a bit cheaper but has a 5/8″ (16mm) table surface thickness. It's made with a thick medium density fiberboard that they finish off with multiple layers of paint to ensure a totally smooth surface for an even bounce all over.
Like most indoor tables, you can fold it up to put it away for storage or into personal playback mode to get some practice in on your own. When it's folded, it locks into position with a spring loaded safety latch to make sure it won't open unexpectedly. It also has 4″ premium black casters wheels to make transporting it easy, the wheels also have locks on to keep your table safe and secure. To top it all off the STIGA Advantage comes with a premium tournament level 72″ net and post set that's very easy to set up. You can adjust the height and the tension as well.
So if you're looking for an affordable and durable ping pong table for your home or office then we can wholeheartedly recommend this table.
Check the latest price on Amazon.
The JOOLA Inside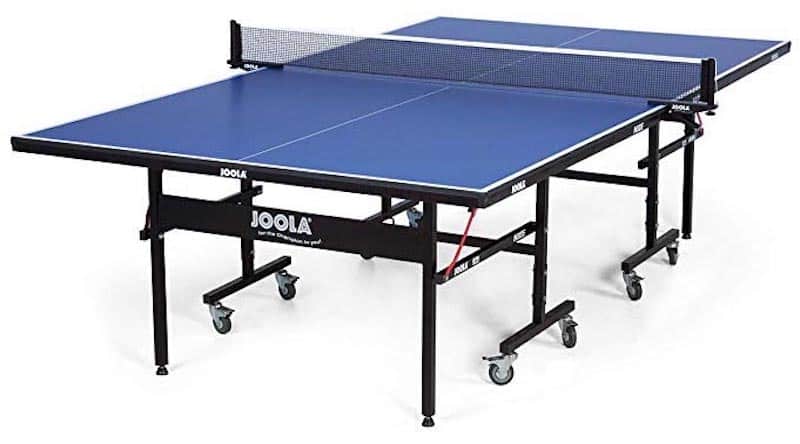 Check the latest price on Amazon.
Specifications
In a very close 2nd, we have the JOOLA Inside table tennis table. It's one of the most popular table tennis tables of all time with way over 3000 five star reviews on Amazon. It's a great choice for a beginner looking for their first table or a family looking for an indoor table that's easy to fold and store away when not in use.
The standard model sports a 15mm wood composite surface (but it comes in an 18mm and a 25mm thickness too) that's supported by 1.5 inch diameter steel legs to keep it sturdy and safe. It splits into two pieces which makes it really easy to move around plus, you can fold up one side for personal playback mode to practice on your own or to put it in storage.
Check the latest price on Amazon.
The JOOLA Rally TL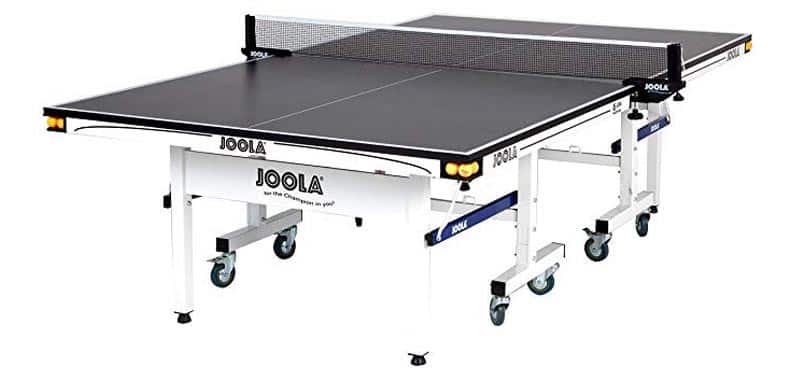 Check the latest price on Amazon.
Specifications
Another fantastic table from table tennis brand JOOLA is the Rally TL. It's hugely popular with beginners and intermediate players looking for a durable and reliable table tennis table that won't break the bank.
The Rally TL like most tables comes in three different surface thickness 5/8″ is the standard but if you can afford a bit extra that 3/4″ model is definitely worth it. For a tournament standard thickness you can get the 1″ thick table surface (which is the minimum thickness allowed in professional tournaments) for an unbelievable bounce. The surface is made out of a medium density MDF fiberboard and has multiple layers of paint to ensure a smooth a consistent bounce. It also has four locking wheels and leg levellers to keep the surface as flat as possible.
We also love the look and design of this table and the fact that it has ball holders at each corner makes it very convenient (once you've had a table with ball holders you won't want to go back to one without!).
Check the latest price on Amazon.
The Butterfly Centrefold 25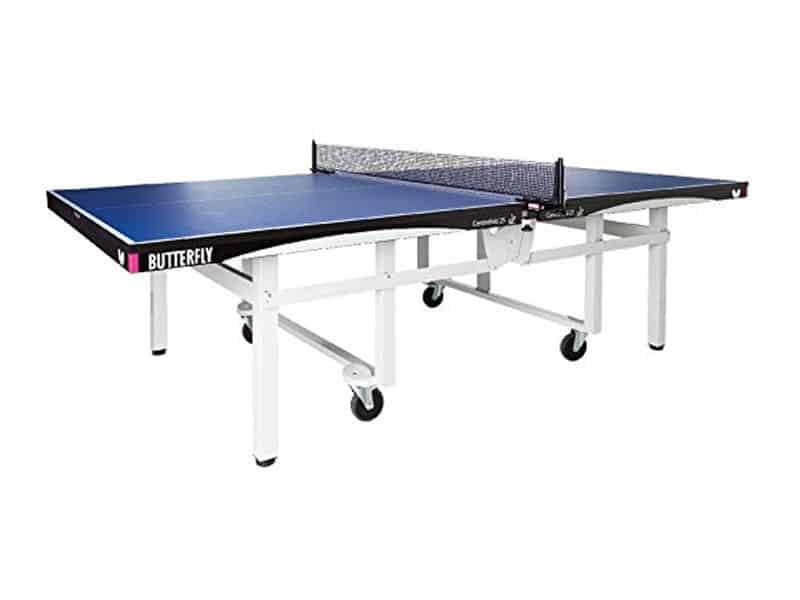 Check the latest price on Amazon.
Specifications
If you're willing to spend some serious money on a new table (over $2000) then you're going to be getting a tournament level high-quality table that the professionals would use. At this point you should be looking at the best table tennis tables for sale, the same tables that are used in world-class tournaments. The table should be made of the highest 1" thick table top, the wheels should be at least 3" large, and the chassis should be solid steel designed to not bend or wear easily. The surface shouldn't scratch easily and possibly most important of all, it should come with a warranty. In our opinion, the Butterfly Centrefold 25 fits all these criteria and is one of the best ping pong tables available today.
Having played on a lot of different table tennis tables over the years, it's fair to say that the Centrefold 25 is in the top few of our favorite tables to play on. It's made by Butterfly, one of the most popular brands in table tennis and they were even the official sponsor and supplier of the 2012, 2014 & 2016 World Table Tennis Championships.
It's got all the usual things that you'd expect in a high-quality professional table with leg levellers, 5″ rubber wheels to make moving it easy and then they lock in place to make sure it's not going anywhere during your game. You can then fold it away when you want to put it into storage with a very easy to use mechanism to fold it up with a safety latch to keep it in place. The incredible 1″ scratch-proof surface gives an amazing bounce and it's ITTF approved for top-level tournaments. It also comes with the Europa Net Set which is a tournament standard net and post set.
The only downside about the Butterfly Centrefold 25 is the price, it's fair to say it's a high-end table tennis table. It comes with a five-year warranty which does soften the blow, but if you're looking for one of the best tables on the market with a huge surface that the pros would be happy with then check it out.
Check the latest price on Amazon.
The JOOLA Tour 1800
Check the latest price on Amazon.
Specifications
The JOOLA Tour 1800 table tennis table is another one of our recommend tables. As you've probably seen by now, JOOLA know what they're doing when it comes to making an indoor ping pong table (three of our top-rated ones are all from JOOLA). The Tour 1800 is another good option that's worth considering when buying a new table, let's take a look at what it's got to offer.
As with all the tables we've looked at it has some of the basic things you'd expect and need. The first is a good table surface, the Tour series from JOOLA comes in three different thicknesses: the Tour 1500 (5/8″), the Tour 1800 (3/4″) and the tournament standard Tour 2500 (1″). Remember that the thicker the surface of the tabletop the better bounce you're going to get. Value for money wise we like the 18mm as for recreational play at home or the office it more than suffices.
Like the other tables we've looked at, it folds up for personal playback mode to practice on your own and for storing it when not in use. To move it around it has eight casters wheels (four on each table half) that lock in place to ensure it's safe and won't shift. If you have an uneven floor you can use the leg levellers to ensure a level playing experience.
All in all, a solid table tennis table for a reasonable price and definitely a contender if you're looking for a recreational indoor table.
Check the latest price on Amazon.
The best outdoor ping pong tables
The STIGA XTR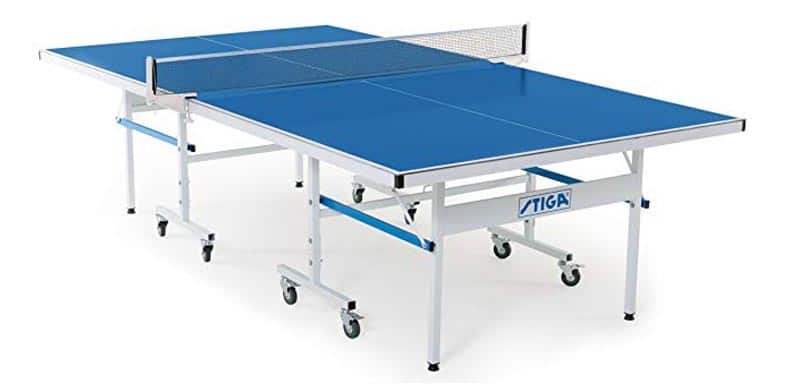 Check the latest price on Amazon.
Specifications
Up next is the STIGA XTR, a great outdoor table tennis table built to withstand all that mother nature can throw at it. The 6mm aluminum surface is made with an exterior grade powder coating, and galvanized steel for a table that is waterproof, won't rust, and is resistant to sun damage, making it perfect for all year round playing in all climates. It's built to resist moisture, something that can cause indoor tables to warp and lose their shape.
The table top is supported by at 1.5″ tubular steel apron to ensure that the bounce is even across the whole table. It's incredibly easy to fold away when not in use with a self-opening feature that means it automatically deploys when opening or closing it. Like other tables, it has leg levellers and strong 3″ locking wheels for easy and safe transport. It also comes with a 72″ weather resistant net and post set that is made to last and keep its tension.
Check the latest price on Amazon.
The JOOLA Nova DX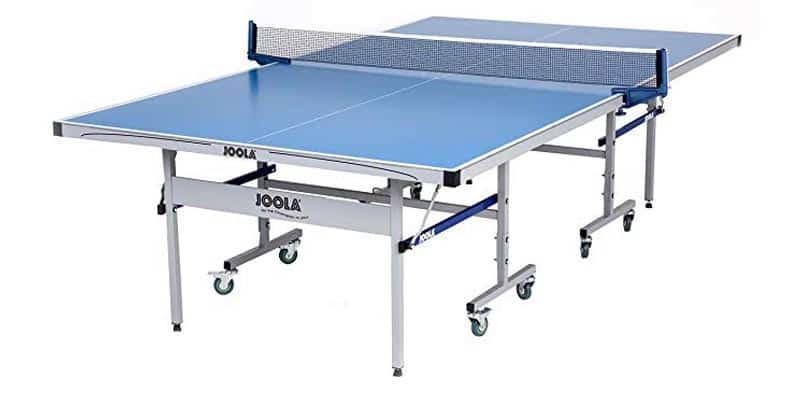 Check the latest price on Amazon.
Specifications
The JOOLA Nova DX is an outdoor, weather resistant ping pong table built to last. It's got a 6mm thick aluminum and plastic composite surface that is warp resistant and won't chip to ensure it lasts for years. It's got a really strong chassis as well sitting on a 30mm x 30mm undercarriage that's rust resistant and safe.
The Nova splits into two sections to make moving and storing it easy. You can do it on your own. It also means you can set it in playback position to practice on your own. It also comes with a weatherproof net and posts that is really easy to set up and isn't fiddly like some nets we've seen. When it's folded up it's very easy to move as each half has four caster wheels that lock to keep you safe when transporting it. Like other good tables, it has leg levellers to make sure your surface is as flat as possible, a very handy feature, especially on an outdoor table.
Check the latest price on Amazon.
The Kettler Champ 5.0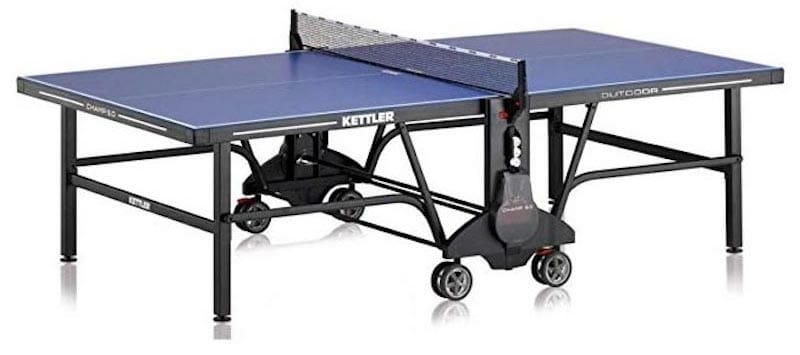 Check the latest price on Amazon.
Specifications
Dimensions – 9 x 5 feet
Assembly time – 2 hours (Not easy to put together on your own)
Surface thickness – 7/8″ (22mm) Non-glare waterproof aluminum top
Price – $$$$ (Check the latest price on Amazon)
Our rating – 9.2/10
The Kettler Champ 5.0 is an outdoor ping pong table with a 7/8″ (22mm) non-glare waterproof aluminum surface to provide a good and even bounce. Whilst it's not quite the 1″ thickness that you'd need for a tournament, on an outdoor table, this is more than enough. It's been designed with the outdoors in mind and is one of the most durable tables that we've come across. It's got galvanized stainless steel legs that are rust resistant. The table apron is finished with a 2.25″ resin to prevent moisture from getting in and causing the table to warp, an essential feature in an outdoor table.
The major downside to the champ is how long it takes to assemble, users have reported that it takes way over two hours and as it's rather heavy it's very difficult, if not impossible to assemble on your own. Other than that though it could be a good option. We do like that it comes with paddles, balls, a net and post set and even a table cover! You won't need to purchase anything else to start playing.
Check the latest price on Amazon.
The Cornilleau 500M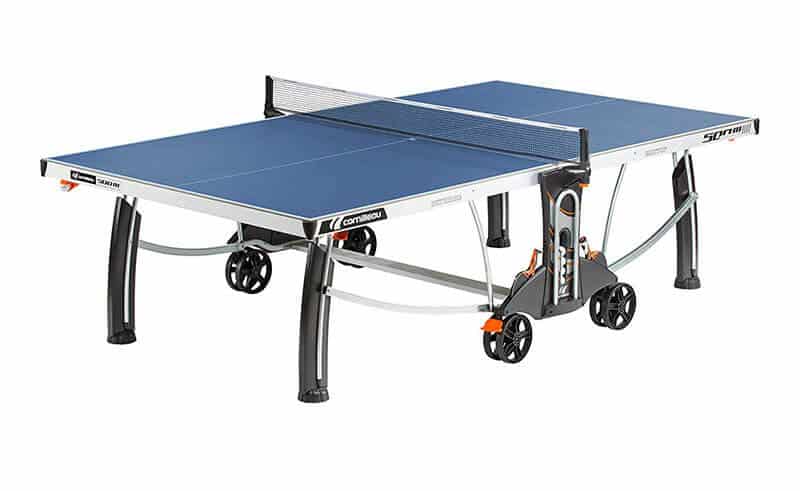 Check the latest price on Amazon.
Specifications
Up next we have the Cornilleau 500M Crossover is a French-made outdoor table tennis table that sports a 7mm thick anti-glare surface that provides a great bounce all over. Again, like the others, this is a foldable ping pong table so you can put it away when not in use and it has strong 200mm in diameter wheels with brakes to ensure it's stowed away safely.
We particularly liked the ball dispensers that it has under the table apron to make getting a new ball very easy and practical. Plus it has storage for four paddles and eight balls by the wheels to ensure you don't lose your accessories. The corner protectors are a good idea too as table tennis tables are notorious for giving kids a sore head after a knock. The adjustable net allows you to set the height and tension that you want and is very easy to take down after use.
Overall it's a good, durable and well designed outdoor table, the only downside is the price which is a bit more than some of the other outdoor table tennis tables on the market.
Check the latest price on Amazon.
The Ultimate Guide To Buying A Ping Pong Table
When you're looking to buy a new table tennis table there are a number of things that you need to look for, some are essential, whilst others are just nice to have.
What you need will depend on your own circumstances and preferences but we'll try to cover all the different important features and how they will affect your game.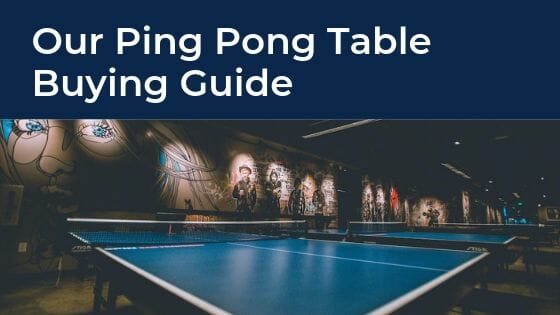 Indoor vs outdoor ping pong tables. What's the difference?
The first thing to consider is where do you plan on putting your table? Do you plan on putting it in your home in a games room? Or maybe you plan on putting it out in the garden, on the porch or in the garage. Most table tennis tables are pretty big and you need to consider where will be best for it to live.
Indoor table tennis tables
If you're going to keep your table inside then you'll want to look for specific features like being able to fold it up for easy storage. You also might want to look for one with wheels so that you can move it around when it's not being used.
You can expect indoor tables to have a more consistent and uniform bounce when compared to outdoor tables in the same price range because outdoor tables are built with a weather-resistant material in the surface that directly affects the quality of the table tennis ball's bounce. Therefore, expect indoor tables to be equal to or better-than outdoor tables in the same price range in respect to playing quality.
Outside table tennis tables
If outside is going to be the best option then you'll want to get a table that's built to be kept outdoors or in a garage. Outdoor tables are generally sturdier and built with larger wheels and a simplistic set-up system. Their frames and table legs are usually made with rust proof materials help them last longer and keep their strength. The table surface is usually made with a waterproof material to stop it from losing its shape and warping when it gets wet. Even if you plan on keeping it in your garage you might be better off with an outdoor table as humidity and moisture is the worst enemy of a table tennis table.

Unfortunately, because of the additional material required to weather-proof a table, outdoor tables are generally more expensive than indoor tables. So even though outdoor tables will have a worse bounce compared to indoor tables in the same price range, outdoor tables can still provide you with a high-quality game. And you get to play table tennis in the sun, you can't beat that!
To sum up, the difference, don't put an indoor table outside while it's raining or leaving a table uncovered in an area with high humidity for extended periods of time can warp and eventually ruin the table. Some Floridians have even mentioned the high humidity from their natural climate causing their table to warp!
Important features to consider
Now that we've looked at whether you're going to keep it inside or out, let's look at some of the other questions you'll need to think about before you buy.
How much space do you need for a ping pong table?
Space is a huge factor to consider when choosing a new table. If you're keeping it outside it's not as big of an issue but for those looking for an indoor table, you need to know if it will fit in your room! The first thing to know is how long is a ping-pong table? Full-size tables measure around 9.0 ft long (2.74 m) by 5.0ft (1.525 m) wide (which is the official size) so make sure you measure the space before purchasing.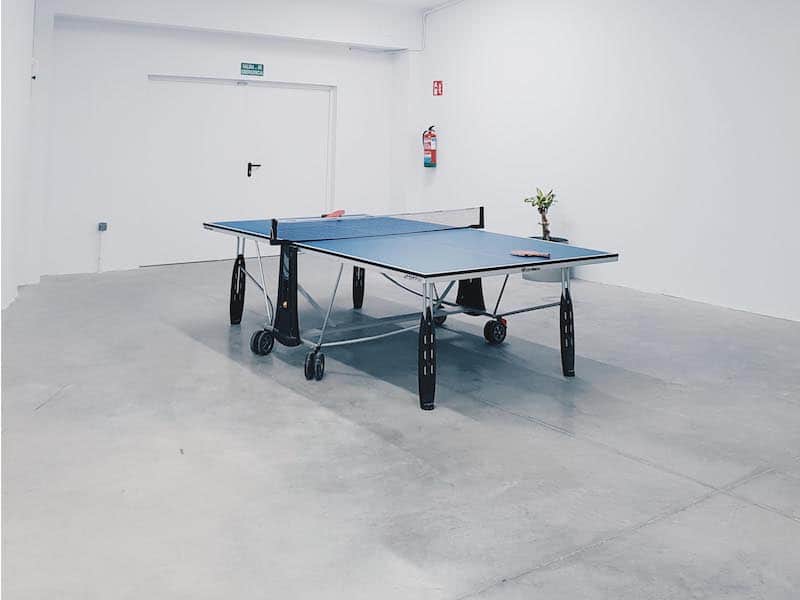 The other thing you need to think about is that's just the space needed for the table, you'll also need space around it to be able to move and play. It's recommended to leave at least 3 ft around the table for casual play and for competition style play you'll need to leave at least 5 ft or more all around.
Not everyone has the luxury of this much space but don't worry there are lots of small options available too but these will not be as good as a full size one. You might be better off with an outdoor table…
Storing your table is another factor that could be important to you. If you don't want to leave it out all the time you might want to consider getting a folding table tennis table so that you can put it away when it's not being used. These days most of the top ones split into two pieces or fold up easily so they are easy to store but are still good quality.
What is the best surface thickness for a ping pong table?
With indoor table tennis tables, it's all about the surface thickness because the surface thickness has the greatest impact on the quality of play. The thicker the table's surface the better the bounce of the ball will be so you should always try to get as thick as you can afford.
Indoor and outdoor tables will vary a lot in their thickness. As outdoor tables tend to have a waterproof coating (usually a hard bonded resin) on top it means they can be not as thick and still get a good bounce.
Indoor table thicknesses:
1/2″ (12-13mm) – A terrible bounce, avoid these tables!
5/8″ (16mm) Cheaper tables will have this thickness, not a great bounce.
3/4″ (19mm) The minimum thickness that we'd recommend.
Outdoor table thicknesses:
5mm – Not great
6mm – Good bounce
7mm – The best (but usually more expensive)
Whilst the pros only play on a 1″ thick surface which is the tournament standard, don't worry players won't need a table that is that thick. A thinner surface will usually suffice for recreational or even intermediate players. Just remember, the more expensive the table, the thicker the playing surface is likely to be.
Outdoor ping pong tables are slightly different. Because they're built to withstand nature's elements they tend to be made of different materials and it's a little different. An outdoor table needs to be able to survive outside in the rain without getting damaged. So while a table's surface thickness is still important, a table's weather-proof capabilities are the most important characteristic for an outdoor table, and much of the table's design will be centered around that weather-proof attribute.
Sun damage is not something you might immediately think of when you think of the possible dangers to an outdoor table, but prolonged sun exposure can drain the color from a table tennis table making it look old and lifeless. If you like somewhere where you're blessed with lots of sun, look for a table with an anti-glare coating or a UV protective layer.
Choosing a table with a strong frame and chassis
Your table tennis table is only as strong as its frame. The better quality it is the longer it will last and the more value you'll get out of it. The best quality frames are made of stainless steel and if you're getting a foldable tt table then we'd recommend getting something made from this too.
Other than the surface thickness, we recommend looking for a table with a larger chassis to prevent long term damage as a result of players jumping or falling on the table. Children seem to enjoy leaning and sitting on the tables which can bend the chassis making the surface uneven, a stronger chassis would help prevent this.
Quick and easy assembly time
An important feature when deciding on a ping pong table is its assembly time. Fortunately these days the majority of table tennis manufacturers have figured out ways to essentially ship the table pre-assembled or with a 20 minute max assembly time.
However, you can still come across tables with poor instructions that can take four hours or longer to assemble. Try to look for a table that arrives preassembled or with a quick-play feature so you can get to playing table tennis as quickly as possible with as little hassle as possible.
But, that being said, as the quality of the table increases, it becomes more difficult to manufacture pre-assembled tables, so at this point, don't expect the tables to arrive assembled. One good exception is the Butterfly Centrefold 25 which is delivered 100% ready to play.
How much do ping pong tables cost?
A table tennis table can cost anywhere from $100 all the way up to $2000+ for the best table that money can buy. The cheap ones tend to have a very thin surface though so we'd avoid these. If you are on a real budget though we have a few options that might be ok although we'd recommend getting something a little better for not much more money.
For a table that's just for fun and recreational use from time to time, you'll be good with a surface thickness of around 15 – 19mm which will set you back around $400 – $600. Some of the most popular tables are under $500 so you really don't have to spend a fortune to get a good one.
To get something really good with a thick surface that will last you a good amount of time you're going to be looking at something around $600 – $1000 mark. If you want to get the top of the range Olympic competition standard table then you can spend more but the best value for money tends to be in this price range.
What are the best ping pong table brands?
There are a number of reputable brands when it comes to tables, JOOLA and STIGA are probably two of the more popular brands but there are lots of other good manufacturers like Butterfly, Killerspin, Cornilleau, Kettler plus some others.
Again, the thickness of the table is the most important factor to consider when choosing the best ping pong table so don't focus too much on the brand. But, it would be worth checking previous customers reviews of the support when finding replacement parts or if the product is defective. It happens from time to time where a table arrives broken or not up to the standard you expect. But how the company deals with this is the most important thing.
Ping Pong Table FAQs
There are a number of other questions that we commonly get asked so we'll try and cover some of those now.
Can indoor tables be used outside?
In theory, yes, but we wouldn't recommend it. You should never leave a table designed for the indoors (with an MDF table top) outside for long periods of time in wet conditions of it's humid. The moisture will ruin the table.
Our much are used ping pong tables?
It varies on the model, condition of the table and shipping costs buy expect to pay a couple of hundred less for a used table. Amazon sometimes sells reconditioned second-hand tables which might be worth taking a look at as they're a bit cheaper sometimes but not always in stock.
Other accessories you might need
There are a handful of other products you might need to consider when buying a new table. Let's take a look at a few quickly.
Ping pong table cover
If you plan to purchase an outdoor table worth a few hundred dollars, we'd recommend investing in a ping pong table cover. While these tables are designed to be weather-proof in the first place, a $60 table cover is the next step in protecting your table and will ensure it lasts even longer.
Something like the STIGA premium table cover or this heavy duty table cover from Kettler should do the trick.
Table tennis robots and catcher nets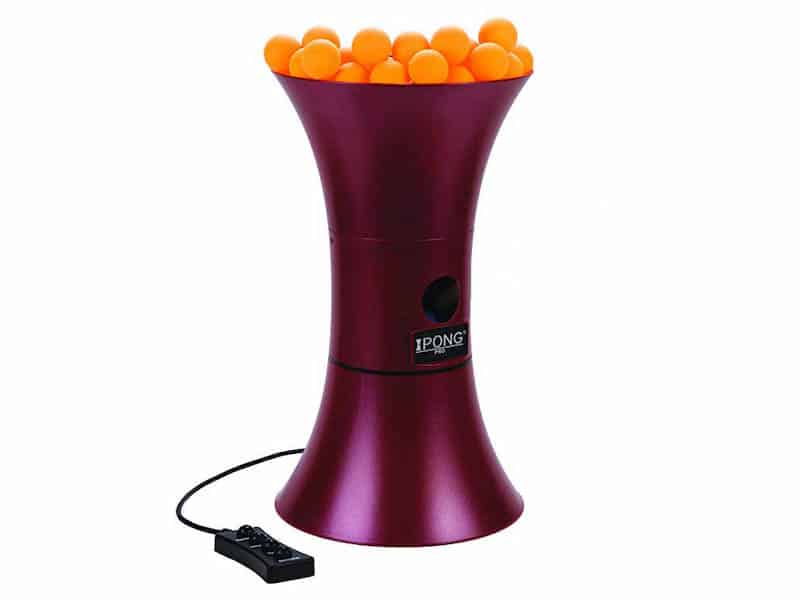 To practice with when no one else is around you might want to consider getting a table tennis robot. There are a number of good ones that will fire shots at you so you can practice your shots.
The JOOLA iPong V300 is a popular and affordable choice but don't forget to get a ball catching net or you're going to spend a lot of time bent over picking up balls.
Conclusion
That's it for now. Hopefully, this article helps you make a more informed decision when choosing a table tennis table. Remember that for an indoor table, the main aspect you should pay attention to is the table's surface thickness, but with an outdoor table, you want to focus on the combination of its weatherproof capabilities and bounce quality.
With these things in mind, for indoors we recommend either the STIGA Advantage Pro or the JOOLA Inside both of which are great, for casual play and families. If you have the money to spend and want a 1″ thick surface, top of the range table then we recommend the Butterfly Centrefold 25.
If you're opting for an outdoor table we recommend either the STIGA XTR or the JOOLA Nova DX.
Let us know which one you go for in the comments below!