The JOOLA Tour 1500 is one of their entry level tables. It has all the great characteristics and features you're looking for in a recreational or family table tennis table and has a good looking dark blue design.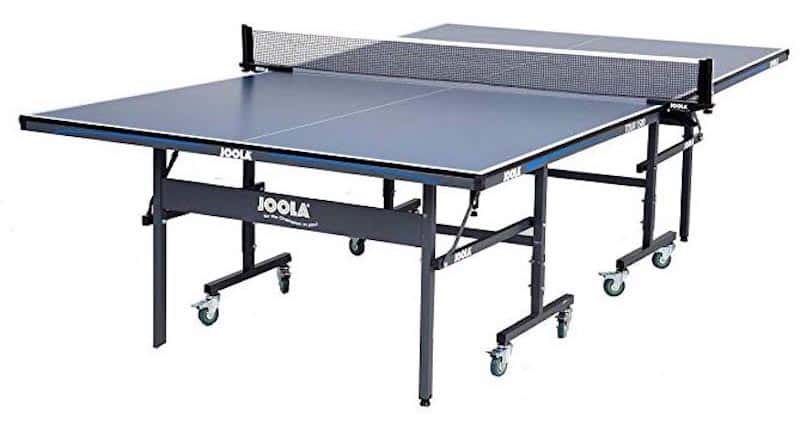 Specifications:
Assembly time – Less than 20 minutes
Surface thickness – 5/8 Inch MDF blue painted table surface for improved playability and performance
Easy storage – Two separate halves allow for easy mobility and compact storage, playback mode compatible
Regulation size – 9 x 5 foot
Weight – 198 lbs
Price – $$ (Check current price)
Overview of the JOOLA Tour 1500
Easy assembly
The JOOLA Tour 1500 is very easy to assemble, one of the easiest we've come across. It seems the ping-pong table manufacturers have figured out how to reduce assembly time as the majority of new tables these days are very quick to put together.
That being said, there are still a lot of tables that have assembly times of 3-5 hours. The assembly time on this table is around 20 minutes and could be completed with one person, however, we still recommend two people as this table can be quite heavy.
Leg levellers
This table comes with leg-levellers which are a great addition to any ping-pong table. Playing with an uneven table can completely ruin the fun and nowadays every modern table tennis table should come with leg-levellers.
5/8 Inch surface
If you've read up about what to look for when buying a new table, you'll know how important the thickness of the table surface is. It affects how well the ball bounces and the thicker the better. The JOOLA Tour 1500 has a 5/8″ (15mm) table thickness which is on the lower end but still acceptable for casual and recreational players.
If you're more serious and have a little more budget to spend we'd recommend looking for at least a 3/4″ (18mm) table surface thickness. The quality of your game for a little bit extra spend is in our opinion definitely worth it.
Lockable wheels
Safety is a big thing to think about when buying a new table and being sure that the table won't move mid game is essential. The JOOLA Tour 1500 comes with 4 lockable caster wheels so you can be sure it stays in the same place that you put it.
About the JOOLA brand
JOOLA are one of the most popular brands in the table tennis world. Being founded in 1952, they've worked hard to produce quality and affordable tables, paddles, balls and other ping pong accessories. They are the official sponsor of the US Open and US Nationals table tennis competitions as well as being known for designing some of the most popular ping pong related products in the world.
Other Models
There are two other models in the JOOLA Tour series. You have the JOOLA Tour 1800 which has a thicker table surface at 18mm. Surface thickness affects the bounce on the ball (the thicker the better) so it's a little more expensive but you get a better game as a result. To read more about it check out our JOOLA Tour 1800 review here.
Then you have the JOOLA Tour 2500. This is the competition standard table thickness table and so the bounce is huge and more suited to serious players rather than someone looking for a casual game. It's a little more expensive as you'd expect but not too much. Read our JOOLA Tour 2500 review here.
To see some of the other tables we like head over to our post on what we think is the best value table tennis table here.
Conclusion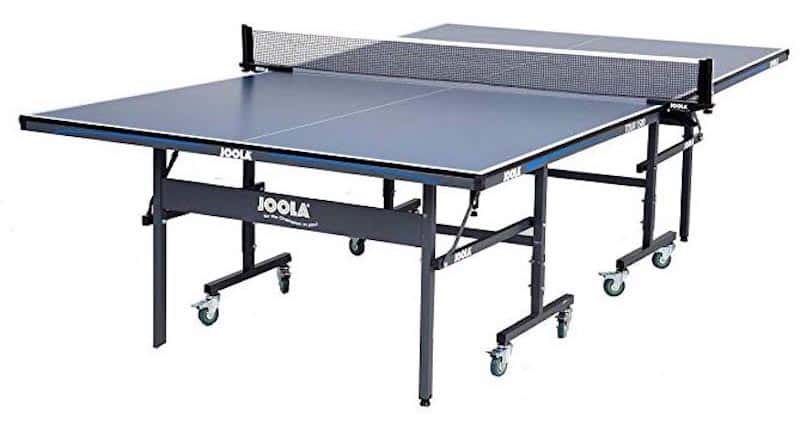 Overall the JOOLA Tour 1500 is a great option for families and recreational players. It's built for convenience but is also built to last. While it may not be the best ping pong table on the market, it's still got a lot of features that make it attractive and a popular option.
It's got all the features that you'd want in a new table with a good strong chassis and leg levellers, it's also very easy to fold and store. The one downside is the surface thickness which is a little thinner than ideal, but considering the price, it's about right and competitive with other tables with a similar thickness. Overall it's a definite contender and we'd recommend it to someone looking for a low-cost table tennis table for their home.

Eugene (Gene) Sandoval has been one of those guys who spent too many hours around ping pong tables in high school. However, soon enough, Gene understood that there is more to ping pong than having fun. That is how he started a journey that made Eugene one of the experienced semi-professional ping pong players in the United States. As the founder of the PingPongRuler, Eugene spends most of his time surrounded by ping pong tables and research. He always has this knack for coming up with new ping pong strategies and telling the good and bad equipment apart.