Hey guys Jamon here bringing you a review of the STIGA Evolution racket. This sub 50 dollar racket really surprised me, much like its upgrade the STIGA Pro Carbon.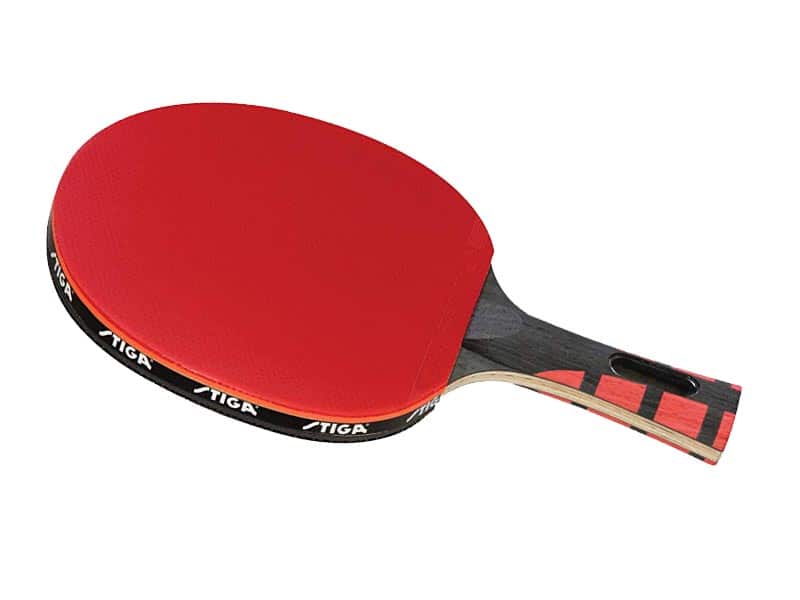 Check the latest price on Amazon.
Specifications
Performance ratings – Speed: 96, Spin: 94, Control: 90
Blade – 6-Ply all wood
Rubber – Stiga Premium rubbers
Sponge – 2.0mm sponge on both sides
Weight – 6.0oz
ITTF Approved? – Yes, can be used in official tournaments
Price – $$ (Check the latest price on Amazon)
Our rating – 9.3/10
Overview of the STIGA Evolution
Lightweight wood, 2.0mm sponge
It features a 6 Ply lightweight wood which helped a lot in the control on this blade. The rubber featured on this racket is STIGA Premium rubber with 2.0 MM sponge, the sponge on this racket is softer compared to the Pro Carbon resulting in more spin. It felt good in the hand but STIGA can do a better job with sanding down the edges as it got annoying holding it for long periods of time.
Much like the Pro Carbon it has STIGA new advanced technology. It features crystal technology, this hardens the surface resulting in more speed on the blade. Another thing it features that I would like to touch on is the shock dispersion technology. This really helped with the control on the blade and you can personally feel this when playing. Below I will go over each shot and how it felt when playing.
Forehand Loop
This blade was way slower than the Pro Carbon, but the control on the loops were better. One thing I noticed was the control on this blade and that was the story with this racket. I could literally put the ball anywhere without much hassle, which suited my style of play.
It is definitely slower so if you are a super offensive player I recommend the Pro Carbon, if you are more control and defensive rounded, buy this paddle. The spin produced was average, there wasn't much tackiness with the rubber so I wasn't expecting much. I disliked the speed of the blade though. With the 6 Plies I figured it would've felt a lot better speed wise but it did not.
The best thing though was definitely the control, it was outstanding and I do recommend this racket to an All to All- player.
Backhand
The backhand was great. It was really good for playing close to the table and blocking and pushing back heavy spin. Playing off the table was pretty difficult due to the slowness of the blade. Also trying to put heavy topspin was kind of difficult but not impossible. I just had to adjust to the slower blade and I had some pretty good backhand shots in my matches.
Flicks
Flicking was really good with this blade. Though the spin produced wasn't as much I could, but where I was placing my flicks was the kicker. I could make my opponent move around corner to corner when they served short and that was the key to my success when playing matches with this blade. All in all flicks and short play was pretty nice, better than the Pro Carbon.
Pushes and Touch Play
Chopping with this blade was one of the best things to do with it. Receiving heavy topspin or heavy backspin was relatively easy to return. Closer to the table returning heavy spin serves was really easy as well. This was due to the softer sponge and slower blade.
My Ratings
Overall Score: 7/10
Rating on Package: Speed 96 Spin 94 Control
Conclusion
In conclusion this racket really suited me and I would use this on a regular basis. It is a little slower, so it is great to learn with because it offers great control and is very forgiving on poor technique and bad shots.
I would recommend this racket to beginner players looking for a good solid racket to last them while they are learning how to play with good technique. It is also appealing to even more seasoned players who are having trouble keeping the ball on the table and want to go back to the basics.
Personally I think STIGA ratings aren't very accurate on the package and that control should be up and speed and spin should be down. I rate this paddle a 7/10
PingPongRuler's Review
The STIGA Evolution Table Tennis racket is an excellent shake-handle style racket and is an excellent choice for any Table tennis player interested in purchasing a high-quality racket. It's got ITTF approved rubber for tournament play, so those interested in competing in official tournaments can submit their application with this racket, as so many have. The racket has also got shock dispersion technology (SDT) for increased control.
Not only that, but this racket was designed with 6-ply of material, a common feature used in determining racket quality. The has been officially ranked with Speed: 96, Spin: 94, and Control: 90, so you know you are purchasing a professionally designed Ping pong racket. Some would even call this their favorite or best Ping Pong paddle, although there are actually many paddles that are designed with higher quality materials. Either way, you should be sure that purchasing this racket is not a mistake.
STIGA Rackets
Not only do you receive a great racket, but you also get the customer support of one of the leading table tennis paddle and racket manufacturers in the world. STIGA has sold and continues to produce ground-breaking table tennis work and is a major sponsor of the majority of World or national Table tennis events. Past customers who have received a damaged or other-wise unhappy with their purchase were met with upstanding service and quick resolution.
Conclusion: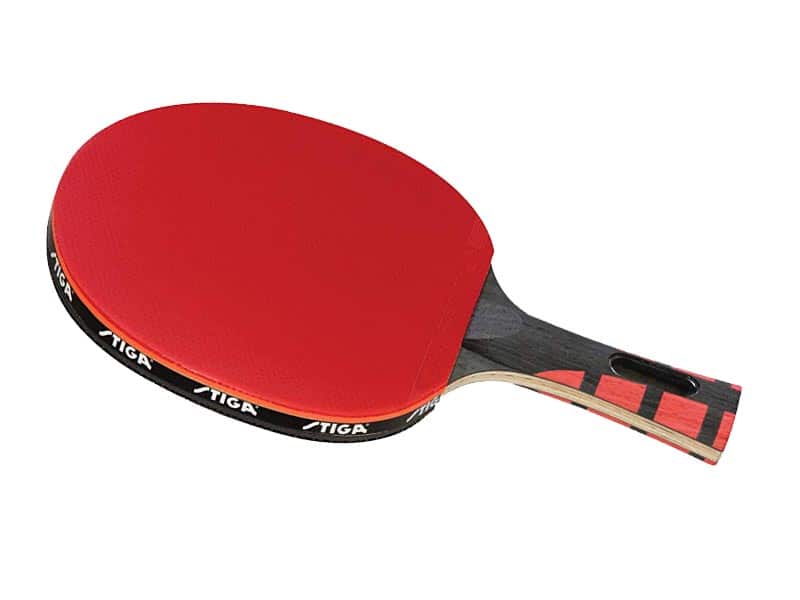 You should purchase the STIGA Evolution Paddle if you are looking for a good, high-quality racket and you are also looking to up your game. This racket is designed for individuals who want better control in their game and want to use this racket in a professional competition setting. To see our other ping pong paddle reviews click here.