STIGA Evolution Review — A Comprehensive Guide
The STIGA Evolution is an excellent shake-handle style racket that could be a good choice for advanced beginners or intermediate players looking to step up their performance on the table. The racket is incredibly popular, having gathered over 1000 five-star reviews on Amazon.com. Therefore, it is certainly one to consider in my eyes. You can't argue with that rep!
The Evolution is a standalone paddle by STIGA; there is no STIGA Evolution series. So no need to look out for other paddles in the line-up because there aren't any. 
In this STIGA Evolution review, we are going to cover what technology went into the making of the STIGA Evolution, its strengths, weaknesses, and ultimately, whether you should buy it or not.
STIGA Evolution Review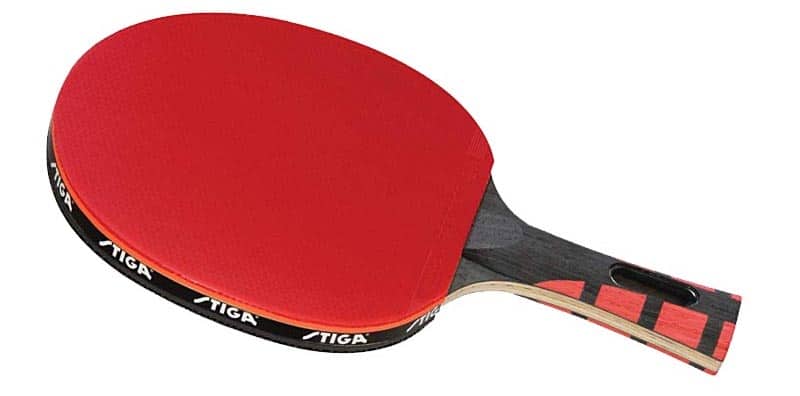 Specifications
Performance ratings – Speed – 96, Spin – 94, Control – 90
Blade – 6-ply all-wood
Rubber – STIGA Premium rubbers
Sponge – 2.0 mm sponge on both sides
Weight – 170 g
ITTF Approved? – Yes, you can use it in official tournaments
Price – $$ (Check the current price)
Our rating – 9.3/10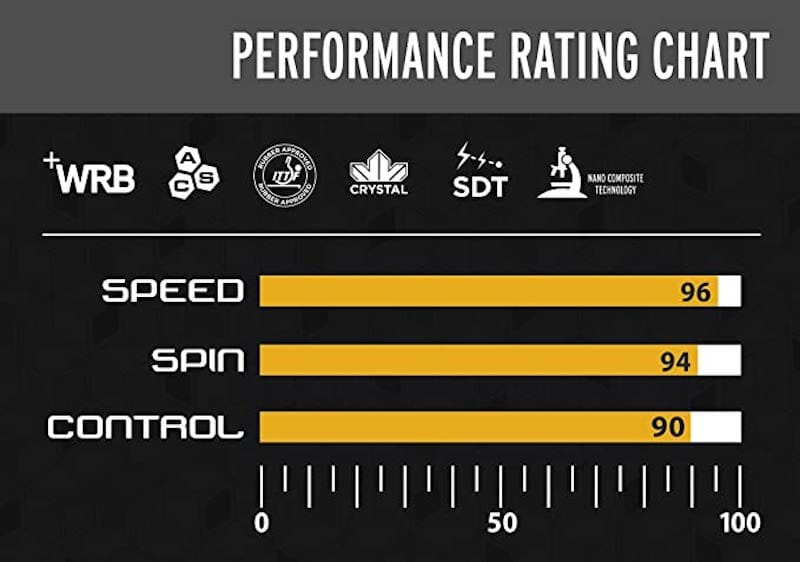 Pros
Inexpensive
High control
Good feeling
ITTF approved
Cons
Head-heavy
Not suitable for advanced players
Stiga Evolution Table Tennis Racket Review
6-Ply Blade
The STIGA Evolution sports a 6-ply all-wood blade. Not only is this irregular, as most beginner/intermediate paddles are 5-ply, but it also features a wood I'm not too familiar with, and that's Awan. While the Ayous and Kiri woods (which also feature) are staples of table tennis blades, Awan is much rarer, only being found in select lines such as the Donic Burn series. There isn't much info available relating to the properties of the wood. From what I understand, it is fairly hard. This makes sense as both Ayous and Kiri are soft woods. 
STIGA uses its Crystal technology on the Evolution to take this one step further. This hardens the blade's surface for a small speed boost.
Another piece of tech this blade uses is STIGA's WRB technology. Standing for "weight", "recovery", and "balance". It's a piece of tech that is present on many of their pre-assembled paddles. It mostly relates to the Shock Dispersion Tube tech in the handle, affecting the blade's overall feel. While I agree it makes the blade lighter overall, I feel it makes recovery and balance a little harder as WRB tech causes blades to be head-heavy.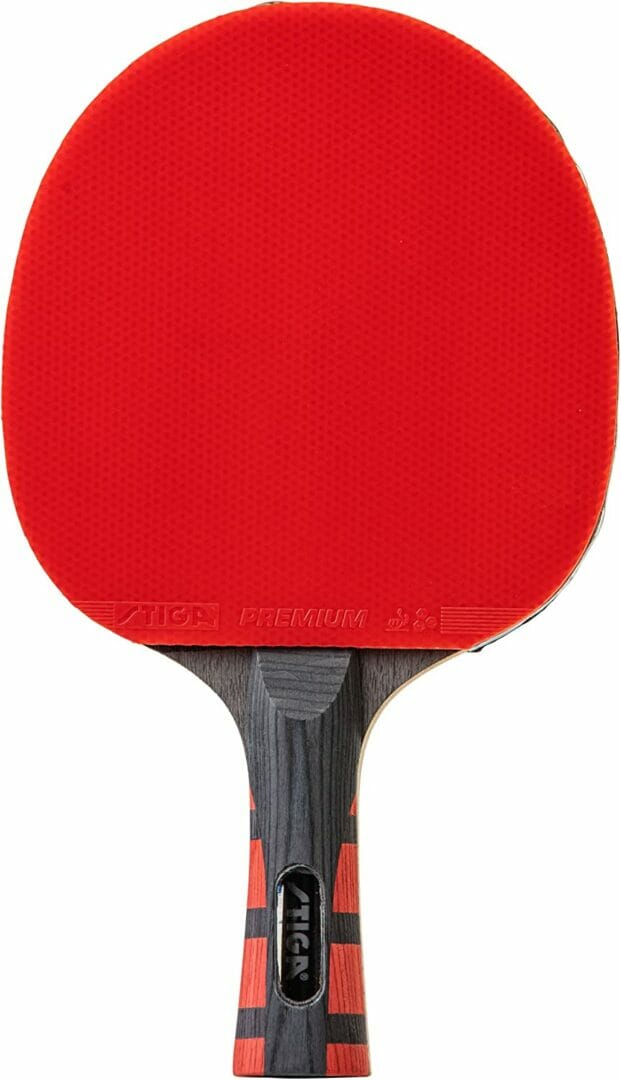 Handle
The handle of the Evolution is grey with slightly asymmetrical red shapes on either side of the STIGA window. It's not the best handle we've ever seen, but it doesn't look too bad. With its flared shape, it's comfortable to hold and helps you keep a good grip.
As for the tech in the handle, we have STIGA's Shock Dispersion Tube technology. This is a process whereby STIGA removes wooden material from the handle, and they insert a metal rod. This both reduces weight and helps vibrations transfer out of the handle. STIGA claims that this improves feeling, control, and speed. It is unclear whether it has such a profound effect, but hollow handles have proven popular with other blades. Take the Donic Waldner Senso Carbon, for instance, it's one of the most popular blades around and uses hollow handle tech as well.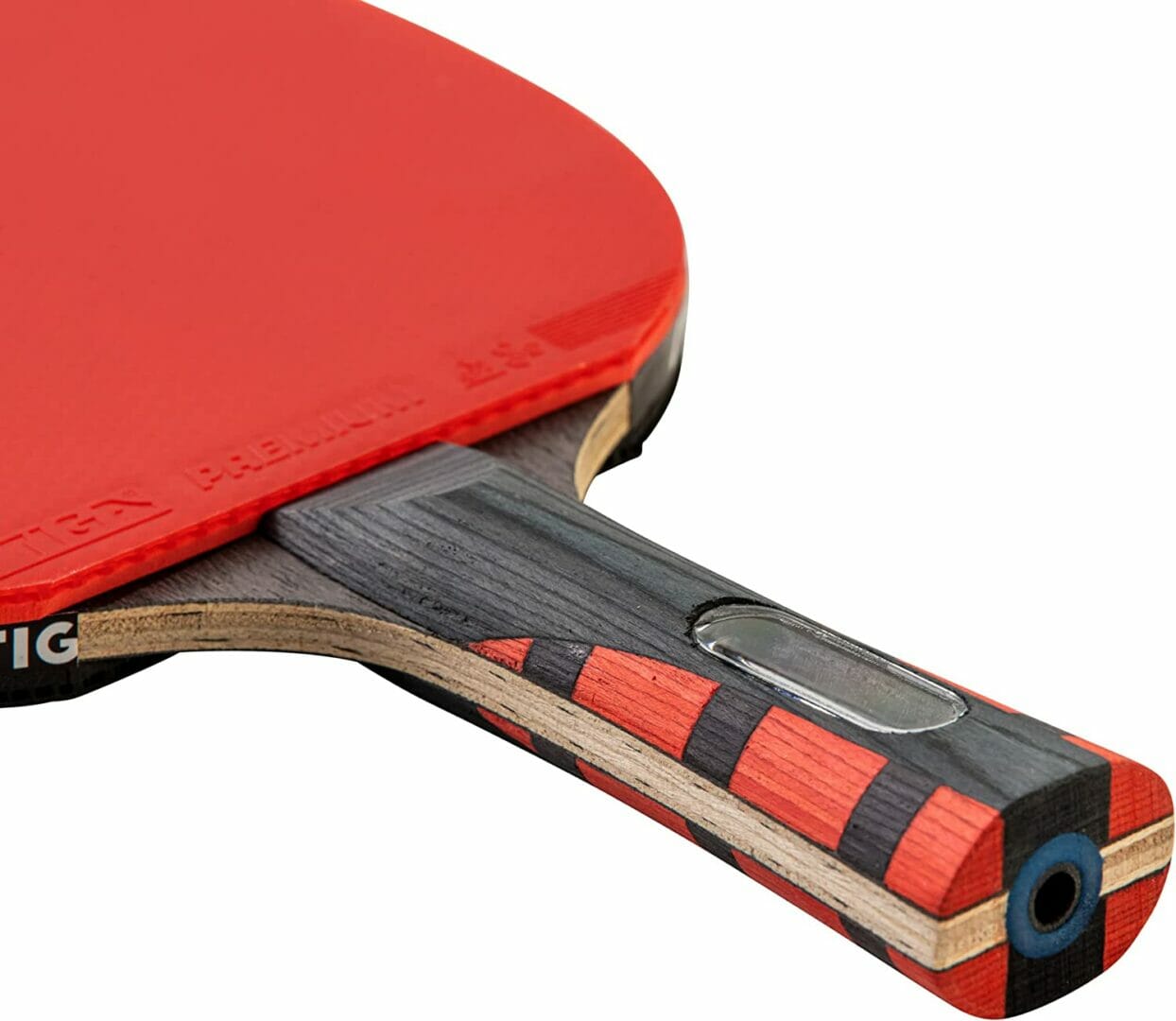 STIGA Premium Rubbers
It's easy to tell that the Stiga Evolution ping pong paddle is somewhat basic from the rubbers as they do not have a proper name. Rather they are called "premium," which does little to instill confidence. Luckily, as STIGA make them, we can be pretty certain that they are of good quality. 
Despite not having a proper name, this rubber is ITTF-approved, so if you want to start testing your ability in local tournaments or leagues, by all means, go ahead. 
The rubber comes with a 2 mm thick sponge which is typical of an offensive style. The Premium rubbers also use STIGA's Nano Composite Technology. This creates stronger and more compact bonds in the rubbers for elevated spin and pace.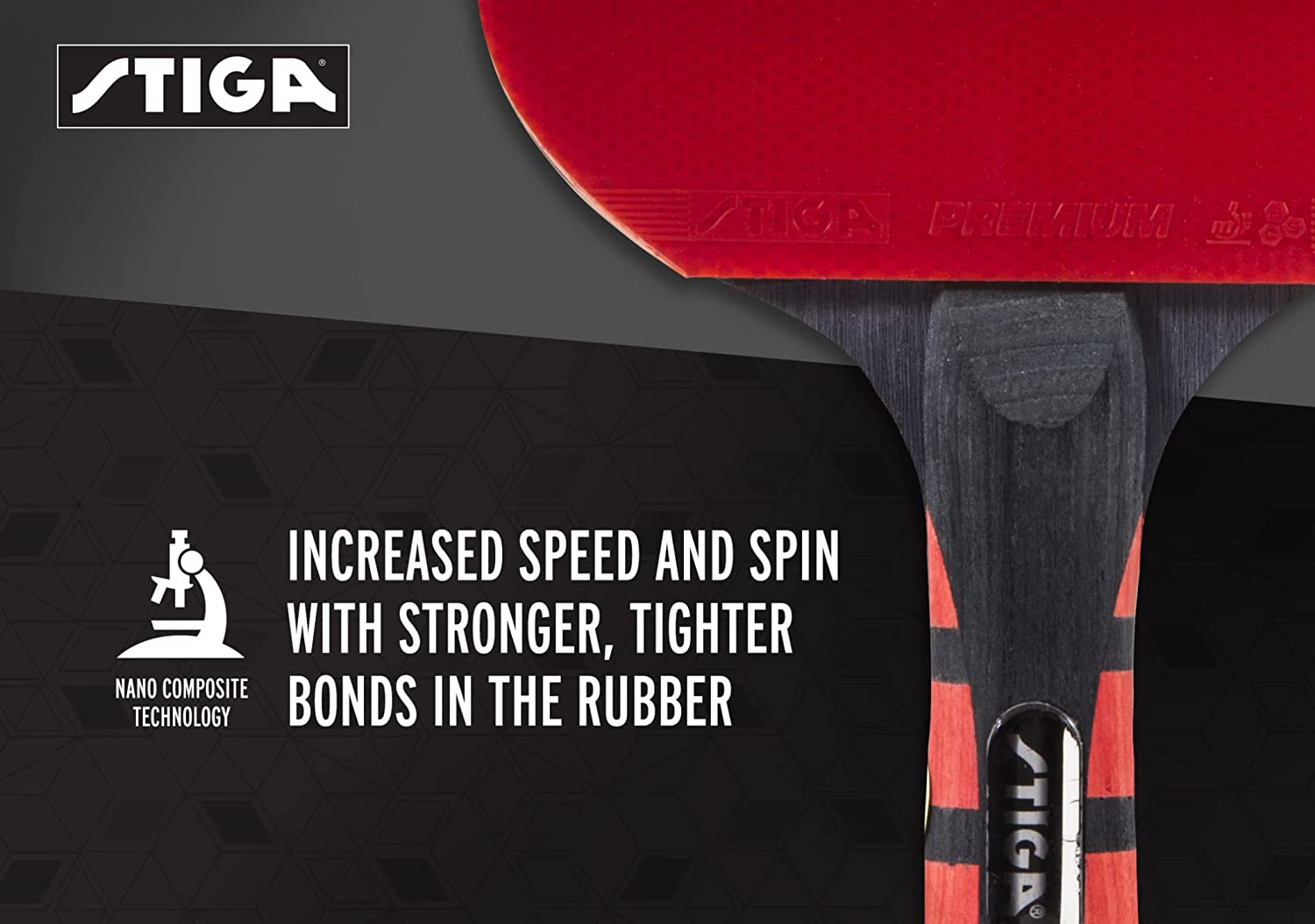 What We Liked
We're big fans of the STIGA series of paddles, and the Evolution doesn't disappoint. It has plenty of control, making it very easy to use for the developing intermediate player. Despite its speed rating being higher than control (96 vs 90), we found it to offer more control than pace. However, the 2 mm sponge and 6-ply blade composition ensure you have plenty of power when needed. 
The STIGA Evolutions' performance in terms of feeling is also pretty great too. The Shock Dispersion Tube helps to spread out vibrations giving you ample feedback for your shots. This helps you to make adjustments. Blade feeling is often an overlooked element when buying a paddle, but I feel that it is absolutely essential when you are first learning table tennis. Without it, you can't distinguish between effective and ineffective ball contact, which will seriously stunt your progression. 
Of course, there's also the price tag. While not the cheapest bat we have looked at, the STIGA Evolution paddle is fairly inexpensive and a great investment if you're set on improving at table tennis. The jump in quality it provides from any old cheap unnamed racket is seriously high. You can also use this paddle in competitive events, whereas the same can't be said for the $5 racket you are likely using currently.

What Could Be Better
While we could argue that the racket is a little slower than advertised, it doesn't feel right to critique it too harshly. The STIGA Evolution table tennis racket still has very good pace, it's just not as offensive-orientated as you might expect. Spin and control are very high, providing means of winning points and maintaining rallies. 
For us, what is a bigger issue is the fact that the racket is head-heavy. While the Shock Dispersion Tube helps to improve feeling and make the handle lighter, this is not without consequence. It places the center of gravity on the face of the blade which means it takes longer to reset to the ready position after each stroke. For advanced players, this is not a big deal. It's even beneficial to some as it helps with producing topspin. However, it is not a great feature for beginners and intermediate players. These players already struggle to reset in time, so a well-balanced paddle is a better choice.
Another small issue that we noticed was that the edges of the handle were a little uncomfortable to hold over long periods. We would have liked STIGA to have sanded down the edges of the handle a little more. That being said, it's hardly a deal breaker. Just break out some fine grit sandpaper and sand away as needed.
About the brand: STIGA Sports
STIGA has been producing not only popular high-quality paddles but all sorts of ping pong equipment since 1944. They're from Sweden, where table tennis is huge, and they distribute their products to over 100 countries on every continent! They're probably one of the top table tennis brands in the US for consumer products, and as you'll see from their reviews, they pay very close attention to detail.
Alternative Options
STIGA Supreme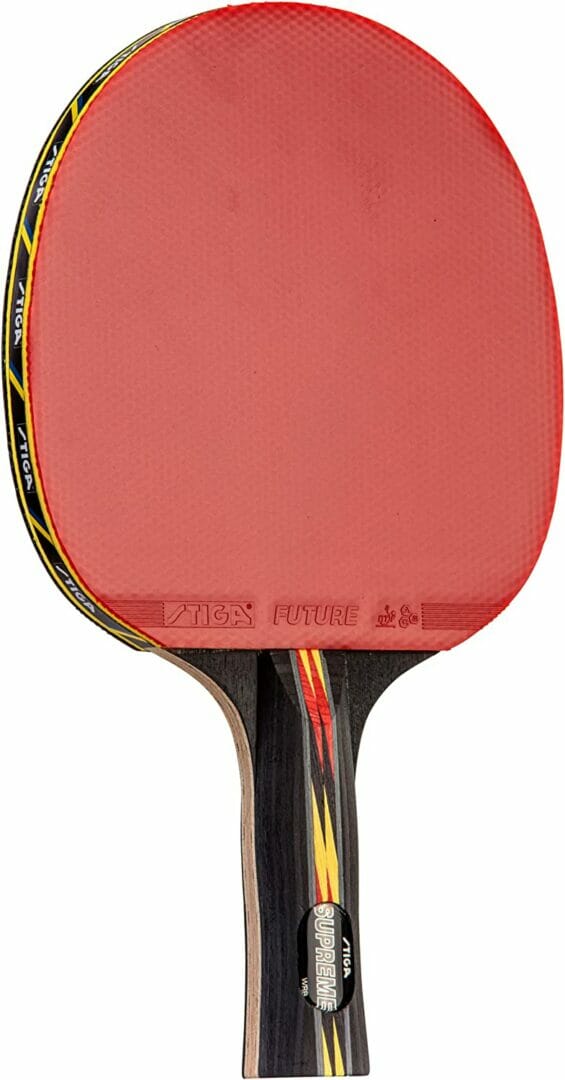 The Supreme is another pre-assembled paddle by STIGA and sports fairly similar qualities to the Evolution. For starters, it uses a remarkably similar blade. It's 6-ply and uses the same wooden veneers of Ayous, Awan, and Kiri. It also features much of the same tech such as WRB, ACS, and Crystal technology. The main difference between the two paddles is their offensive ability. The Supreme is a little slower and has less spin, making it easier to use for lower-skilled players. It also uses an anatomic handle rather than flared.
To learn more about this paddle, give our Stiga Supreme review a read.
JOOLA Infinity Balance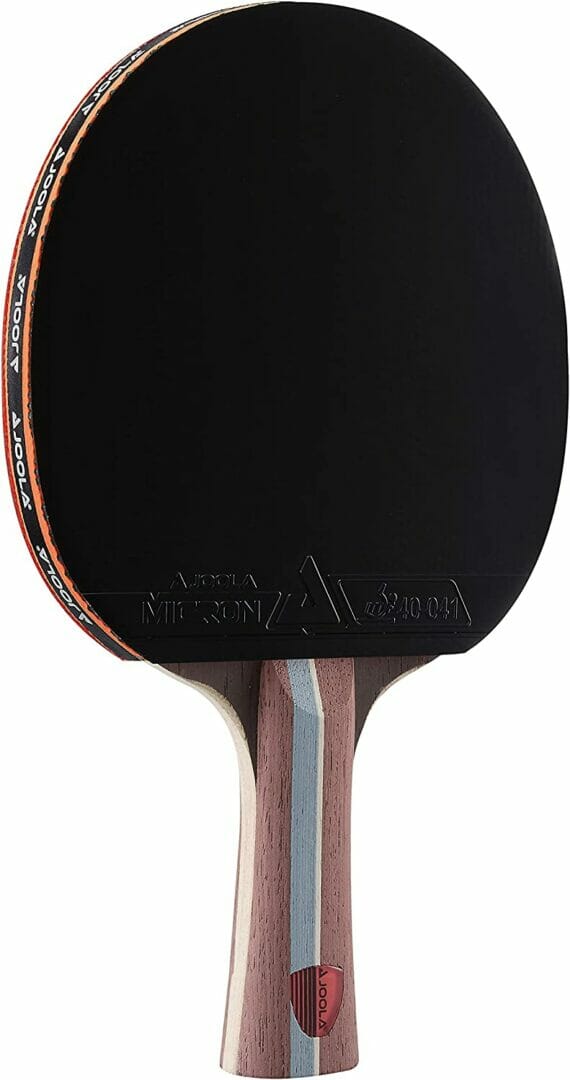 Another great alternative to the STIGA Evolution is the JOOLA Infinity Balance. It's one of my favorite intermediate paddles and has a lot of offensive ability while offering high levels of control. The blade for this racket has 7 plies, all of which are made from wood. This is one more ply than the Evolution, so naturally, it's a tad faster and heavier, but not by much. It weighs 179 g. 
As for the rubbers, the Infinity Balances uses JOOLA Micron in 2.1 mm on both sides. This again promotes a little higher pace than the Evolution. All in all, I think they are both exceptional bats for intermediate players, and perhaps even ambitious beginners. But if I were to choose between the two, I would go for the Infinity Balance. It's also marginally cheaper, so that's another benefit.
To learn more, read our Infinity Balance guide. It includes footage of me playtesting so that you can see it in action!
Conclusion
Having tried out tonnes of table tennis rackets over the years, we really liked the STIGA Evolution. It's got great feeling and we think it's ideal for any advanced beginner or intermediate player looking to start working on their spin and speed without sacrificing control.
Priced respectably, and ITTF-approved, it's a great investment and will help propel your table tennis career. Just remember, it's not particularly quick or spinny, so don't purchase it if you need a very fast or spinny bat. Instead, check out our guide, where we cover the best ping pong paddles.  
Recommended Reads:

Freelance writer. Table tennis enthusiast. Lover of all things online. When I'm not working on my loop game I'm probably binge-watching some fantasy show.