STIGA Supreme Review (Top Control)
The STIGA Supreme table tennis racket is a shakehand style beginner-level paddle designed for maximum dexterity and comfort. Approved by the ITTF, the paddle sports an inverted surface made of STIGA's "Future" rubber.
Is it time to ditch your crappy unnamed paddle? If it won't help you win, then it will actually stunt your development.
The STIGA Supreme, on the other hand, can help you ascend to the table tennis office champion! Is it right for your game? Without any further ado, let's commence the Stiga Supreme paddle review.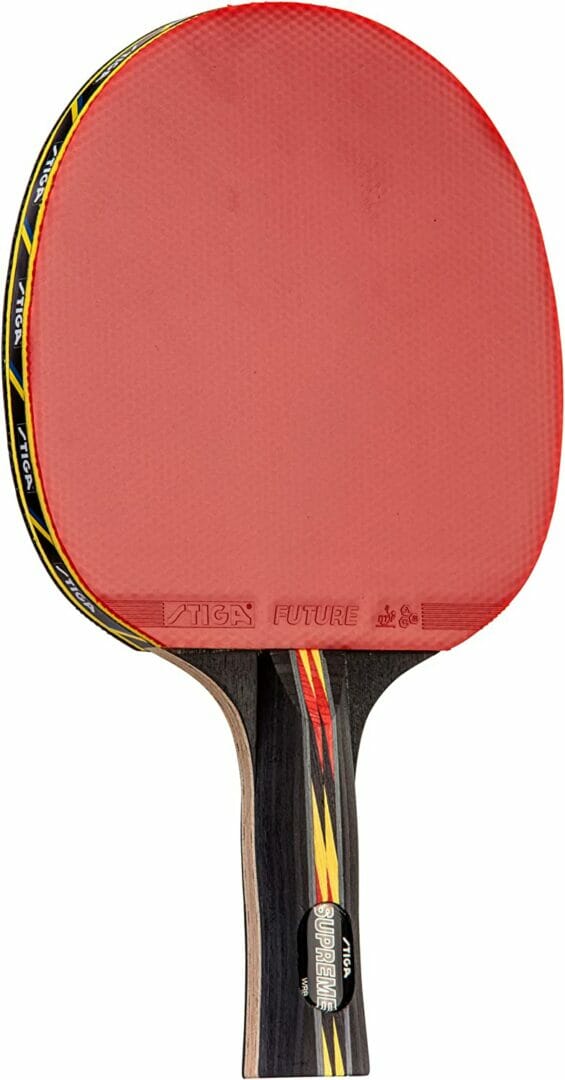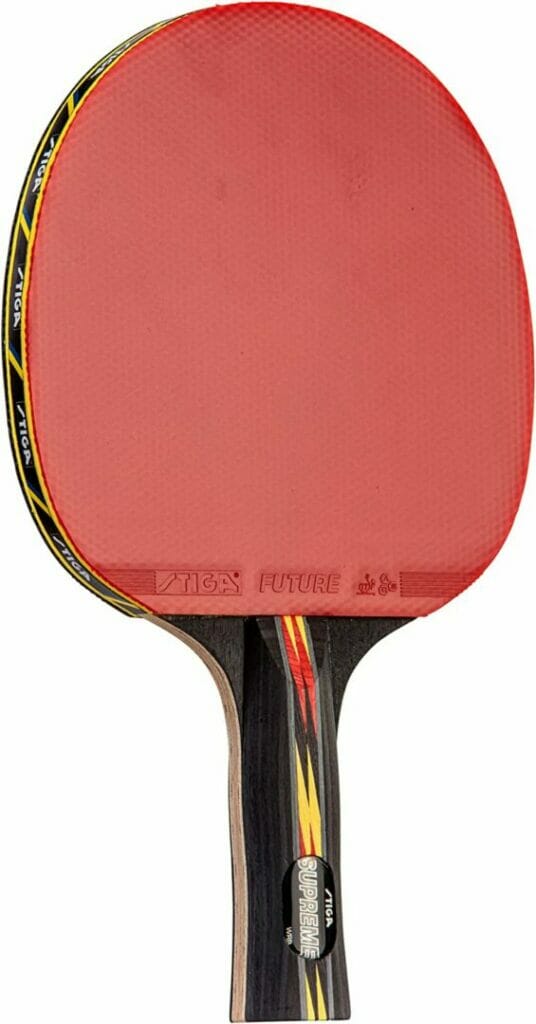 Price: ★★★☆☆
Performance: ★★☆☆☆
Design: ★★★☆☆
Pros
Lightweight, good control
Cons
Poor speed, better alternatives available
STIGA Supreme Specifications
Blade: 6-ply
Rubber: Future 2 mm
Manufacturer ratings: Speed 90, spin 92, control 89
ITTF approved: Yes
6-Ply Blade
Our rating: 5.5
STIGA Supreme Blade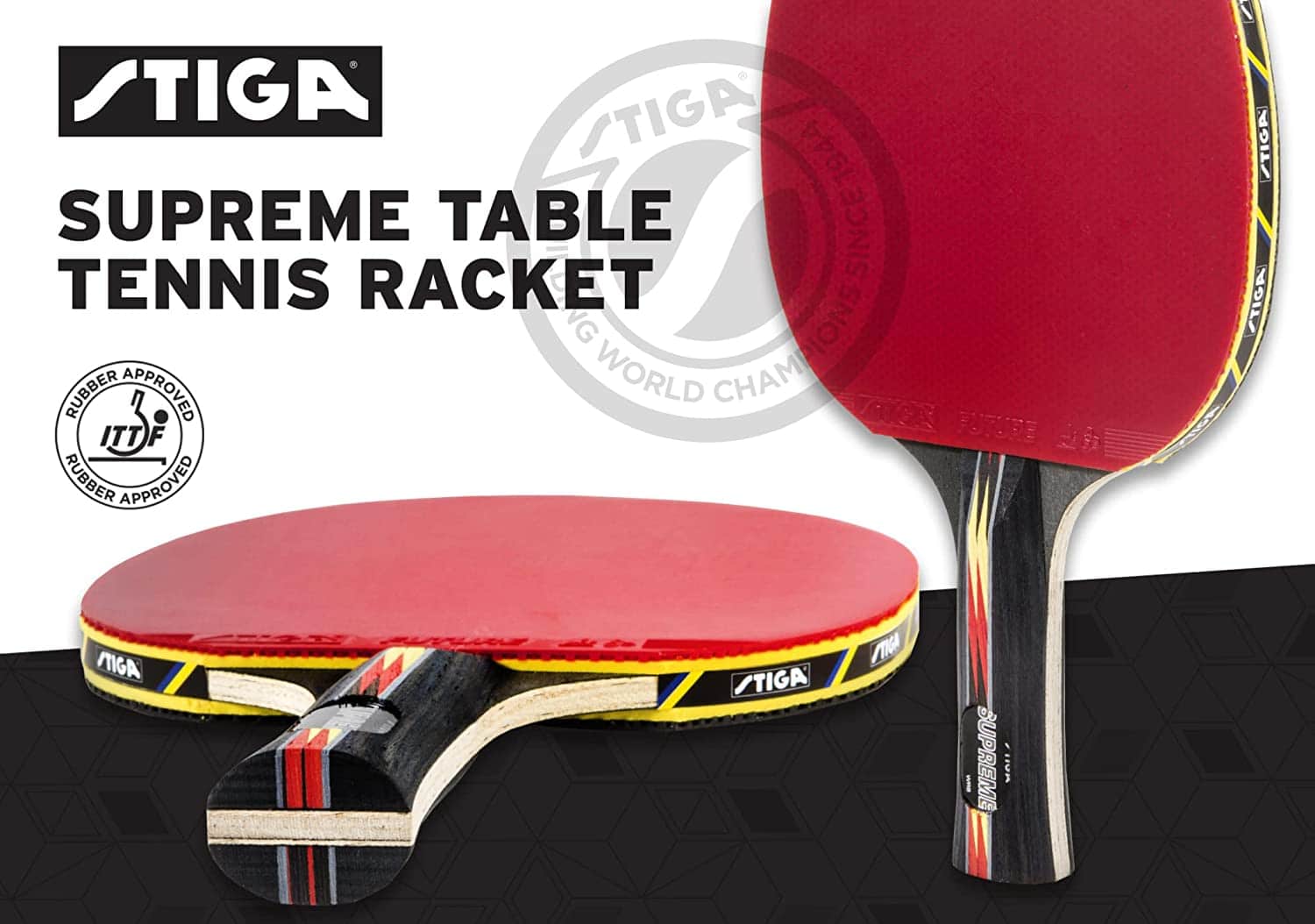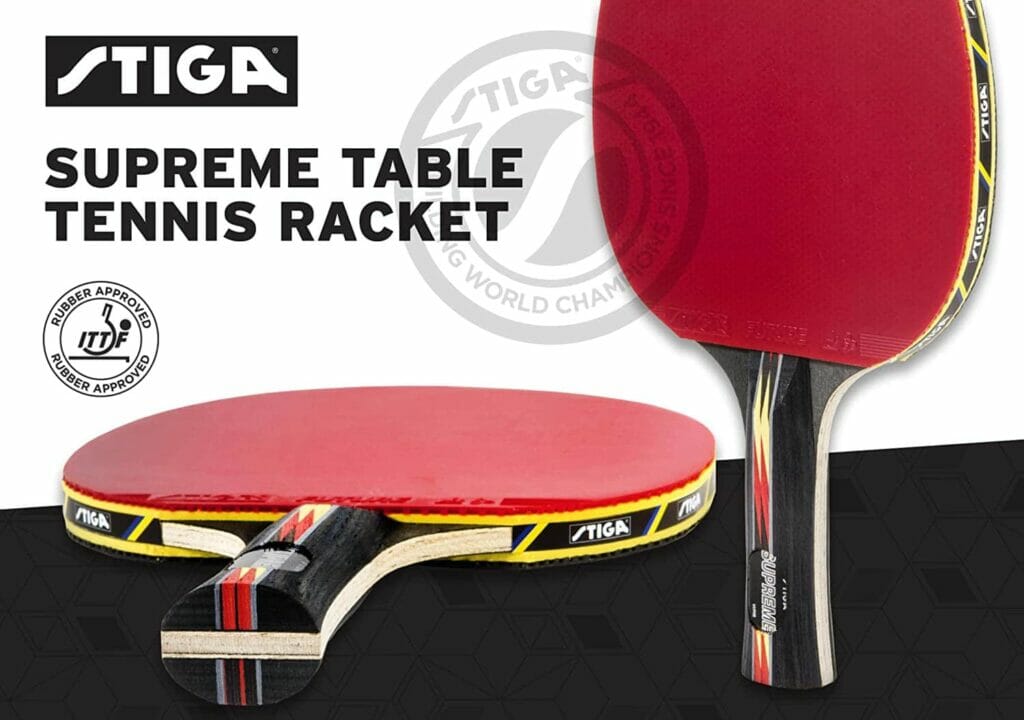 The Supreme ping pong paddle features a 6-ply lightweight blade. Weighing just 159 grams it is very easy to adjust to if coming from a basic racket — the same can't be said for heavy bats.
With its 6-ply composition, the Supreme is somewhat irregular, almost all bats either have 5 plies or 7 plies. In fact, it's so rare it seems that there has been some confusion in the past relating to whether the paddle is even 6-ply. An answer left from Ping Pong Depot when asked about its composition stated that it was 7-ply.
However, I was able to confirm that the composition is 6-ply from the info on STIGA's website. So no need to fuss. The blade is 6-ply. We are certain. The breakdown is Ayous, Awan, and Kiri.
Blade Technology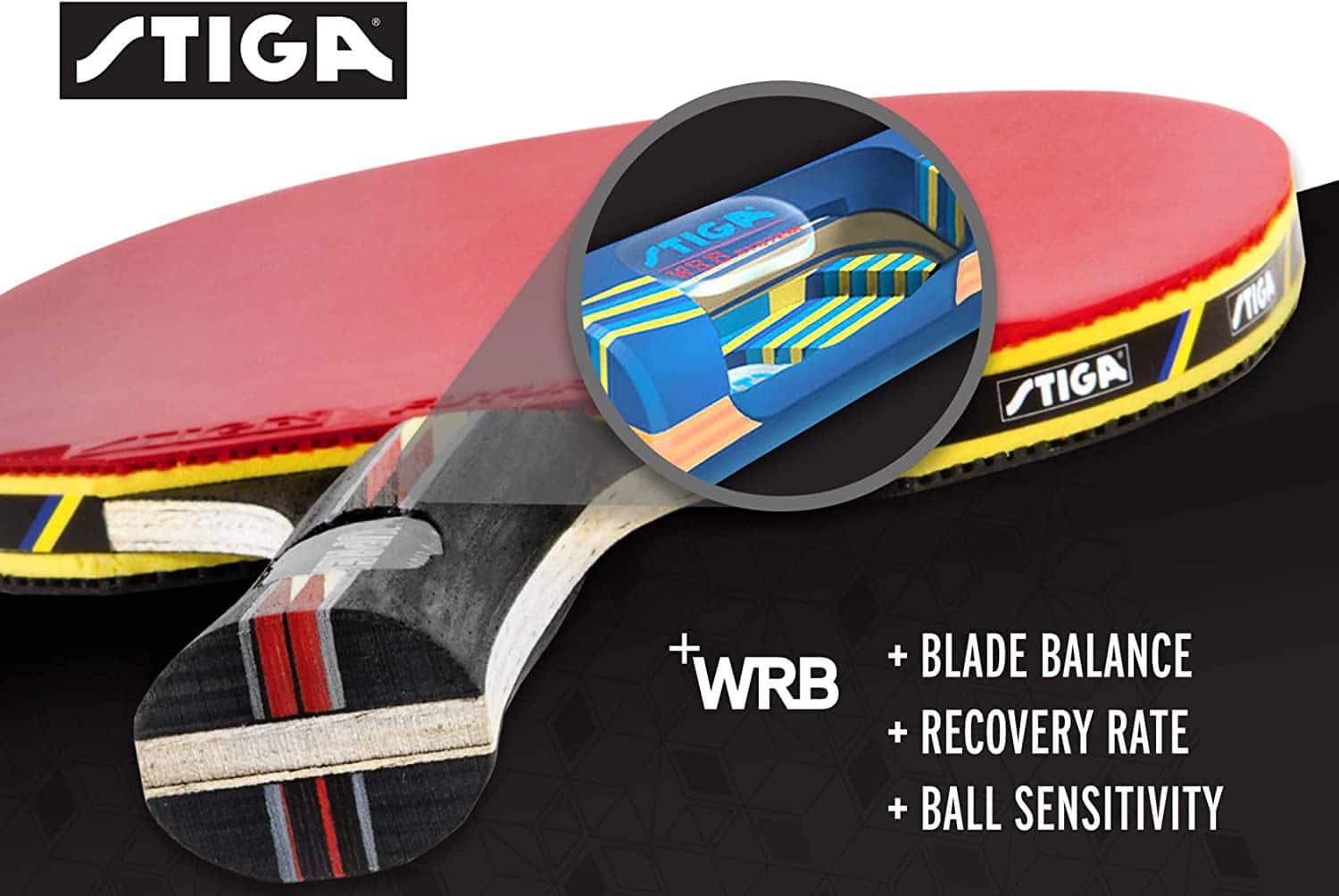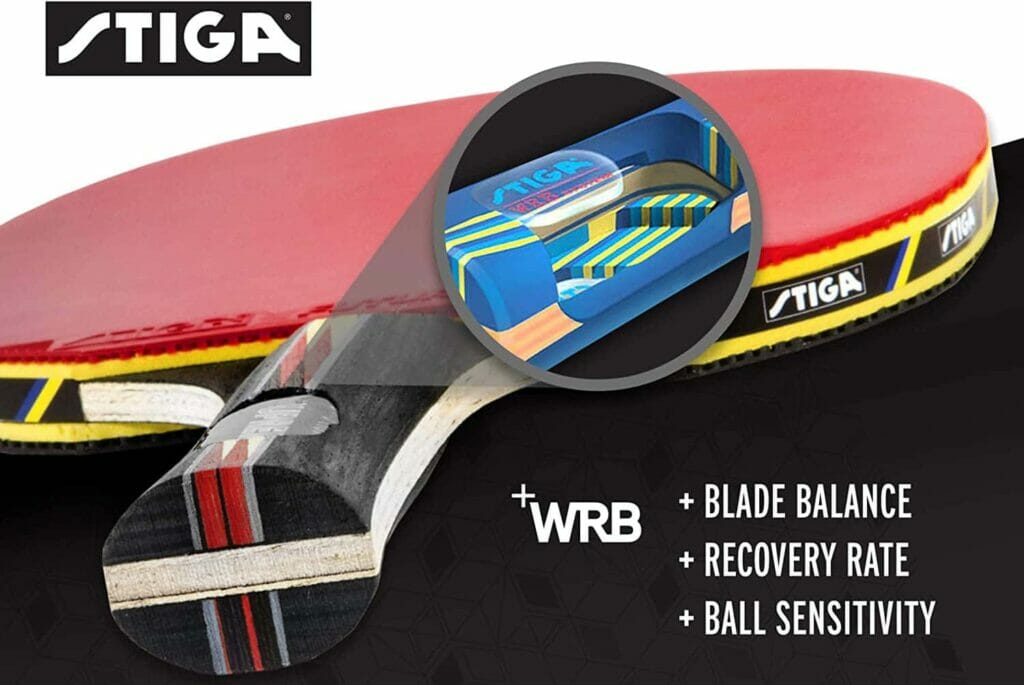 As a mid-range pre-assembled paddle, the Supreme includes quite a lot of STIGA tech. This begins with Crystal Technology. Where normal blades use a standard lacquer, the Supreme features a transparent hydrophilic gel lacquer. This results in increased speed.
The STIGA Supreme table tennis racket also uses STIGA's WRB technology. This stands for "weight," "recovery," and "balance." Essentially, STIGA moved the center of mass away from the handle to make the paddle more head heavy. As a result, the handle ends up a lot lighter, which helps reduce the overall weight a little. Whether this really improves recovery is up for debate, but some players will like the reduced weight.
The final piece of tech to cover is STIGA's TUBE technology, and there's a lack of clarity here, much like for the composition. Using the Wayback Machine, I verified that STIGA has two similar technologies: Shock Dispersion Tubes (SDT), and TUBE technology. Unfortunately, the Amazon listing cites both of these for the Supreme, which is incorrect.
The STIGA Supreme paddle only uses the TUBE tech. The Pro Carbon, Evolution, and Titan, by comparison, all use SDTs instead. TUBE technology utilizes micro-channels lengthways in the middle ply of the blade. The channels are then filled with materials to enhance the properties of the bat. Although unfortunately, STIGA does not specify what materials they use here. Hopefully, that clears up any confusion relating to handling technology!
Handle Shape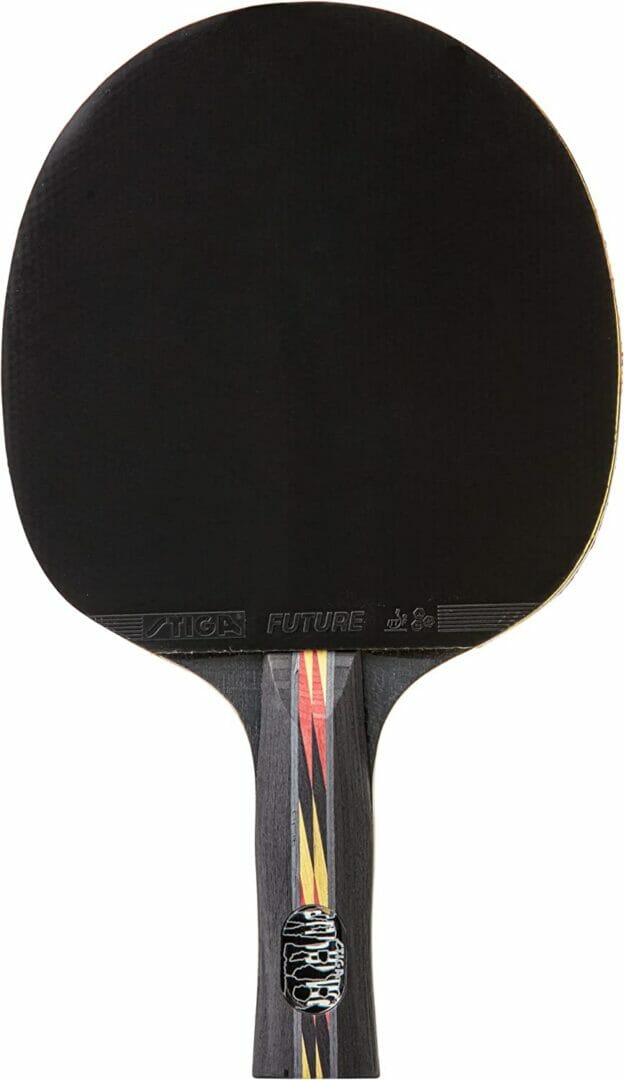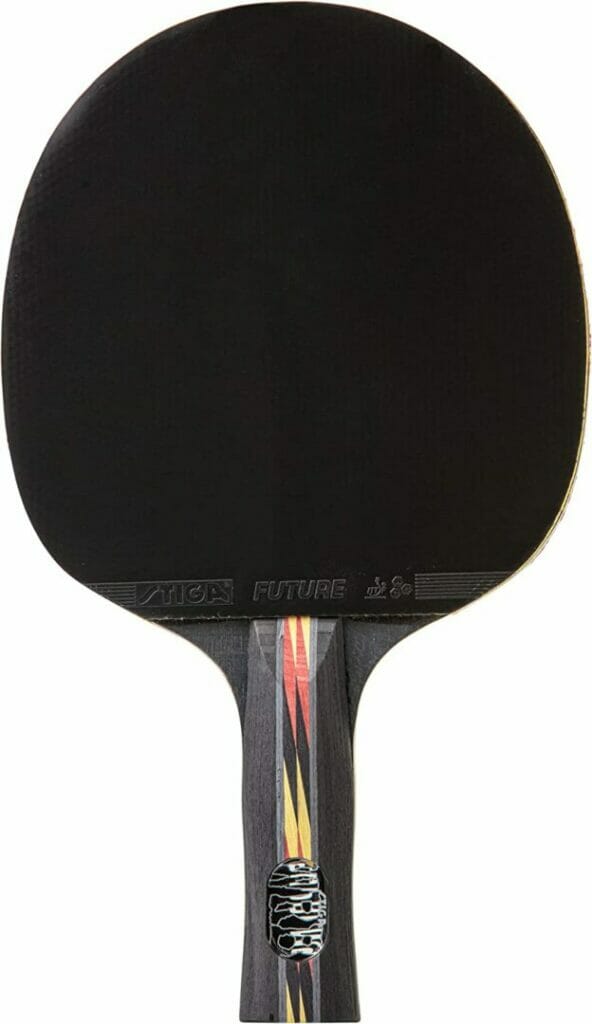 Unlike the vast majority of paddles out there, the STIGA Supreme has an anatomic handle rather than a flared handle. This means that while the handle flared out towards the base, there is also a bulge in the middle where it rests in your palm.
Future Rubbers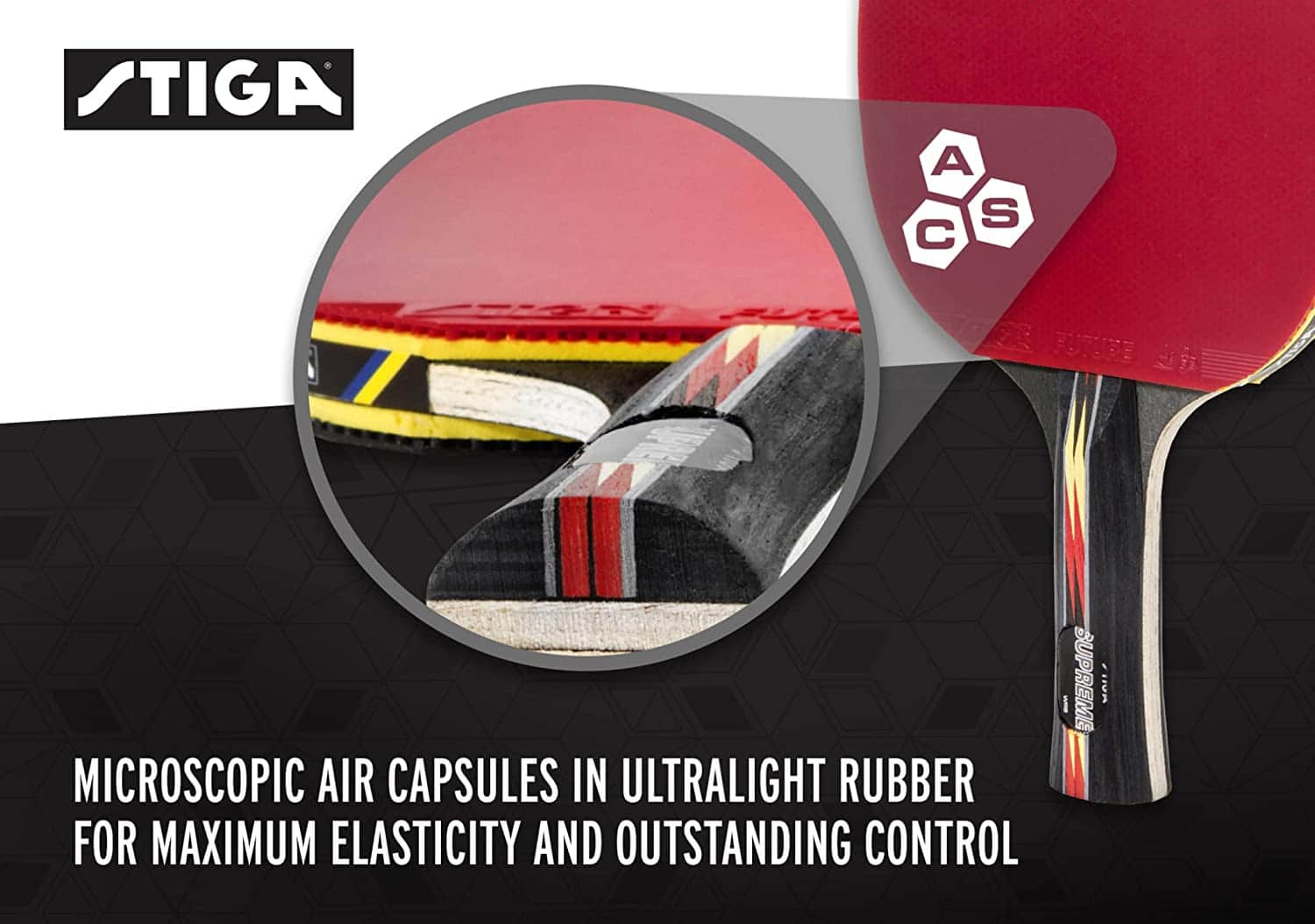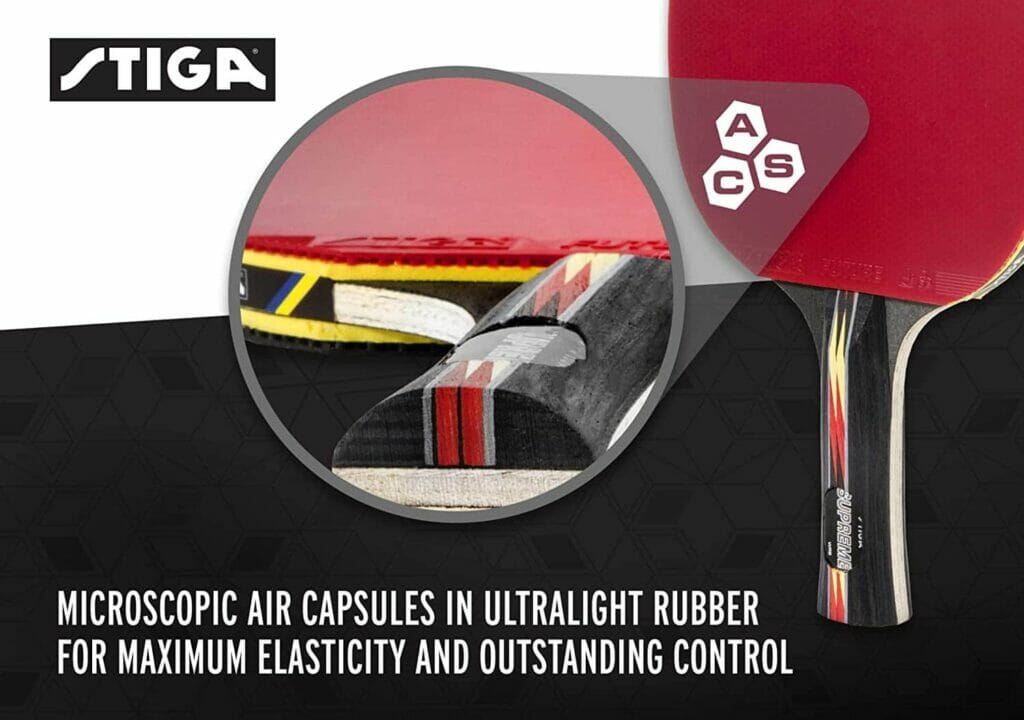 The Supreme features Future rubbers on both sides with a 2 mm sponge. These rubbers are ITTF-approved, which means you can use them for competitive events.
At a thickness of 2mm, the sponge depth falls into the offensive category. The only referenced rubber technology is ACS. This means the Future rubbers utilize microscopic air capsules for ultra-elasticity, which enhances speed.
Performance
Despite STIGA's high speed and spin ratings, the Supreme is not as lively as they would lead you to believe. Sure it can produce an okay amount of spin, but it's nothing exceptional. A skilled player would certainly need something with higher spin capabilities.
The pace is also quite slow. It may have 6 plies, but it performs like most 5-ply paddles. This is largely because there isn't a lot of weight behind your shots. At 159 grams, the bat is lighter than most, so naturally, it's not very quick. The thick 2 mm sponge helps prevent it from being too slow, otherwise, I would consider it more of a defensive paddle, rather than an all-around one.
The main quality going for the STIGA Supreme is its control. As both spin and speed are not very high, the racket is very controllable. This makes it a good choice for beginners rather than intermediate players. It could be a good option for individuals that fall victim to fast topspin shots and spinny serves.
Price
While not expensive compared to custom table tennis equipment, the STIGA Supreme is a little overpriced for what you get in my opinion. There are cheaper alternatives that are better performers, so my advice is to take a look at some of our other recommended paddles before hitting the buy button.
Alternative Options
JOOLA Omega Strata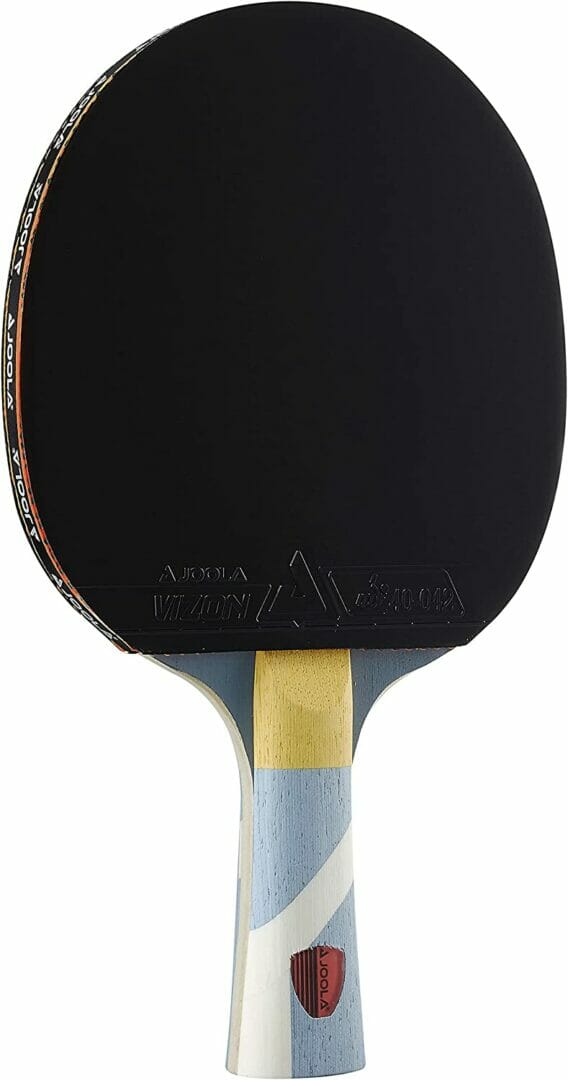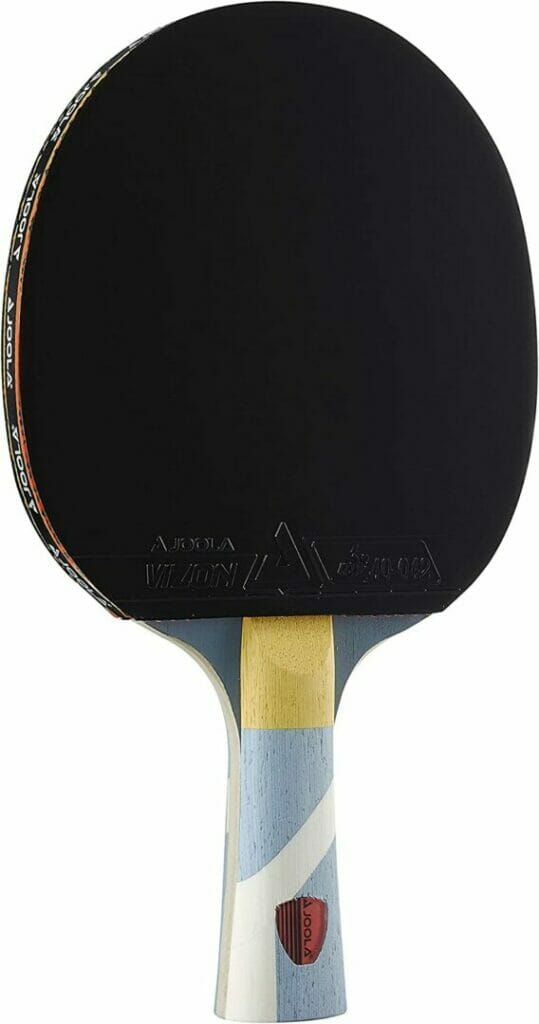 My top alternative to the STIGA Supreme is the JOOLA Omega Strata. It, too, is aimed towards beginners with more overlap into the intermediate category. It has great feeling, control, and decent spin. I could even easily loop with it, which was a big surprise.
There is no doubt it provides far better value for money, and even as an advanced player, it was a delight to use. If you're interested in learning more, check out my full review, which includes my video breakdown.
Palio Expert 3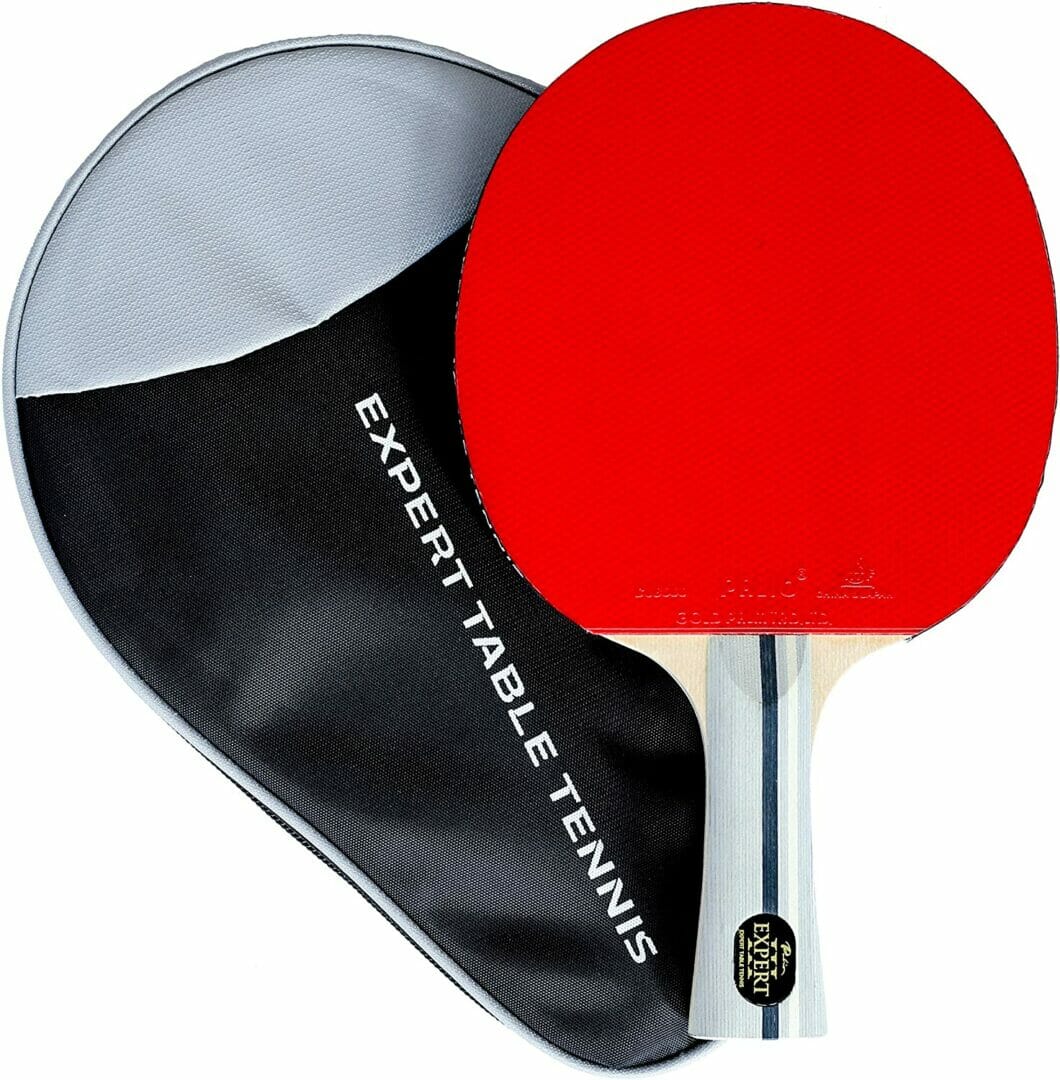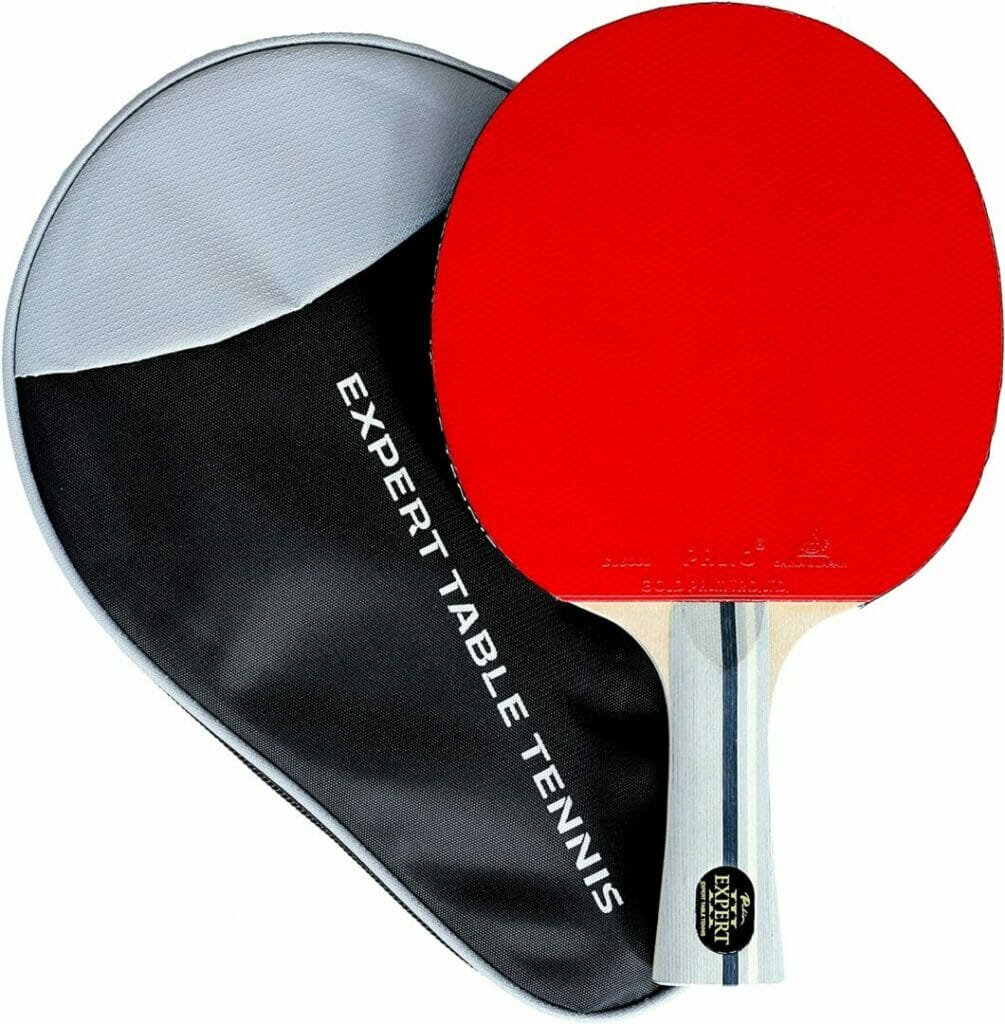 The Palio Expert 3 is another top option for beginners. It features tacky Chinese CJ800 rubbers with an Expert Table Tennis blade. The qualities I like about this bat are its decent spin (which is essential to improving at table tennis), and its linear nature. This means it gives out what you put in. There is no amplified catapult effect, but rather ample control, which as a beginner, you really need.
In fact, we liked it so much that it featured on the list of the best table tennis paddles.
Conclusion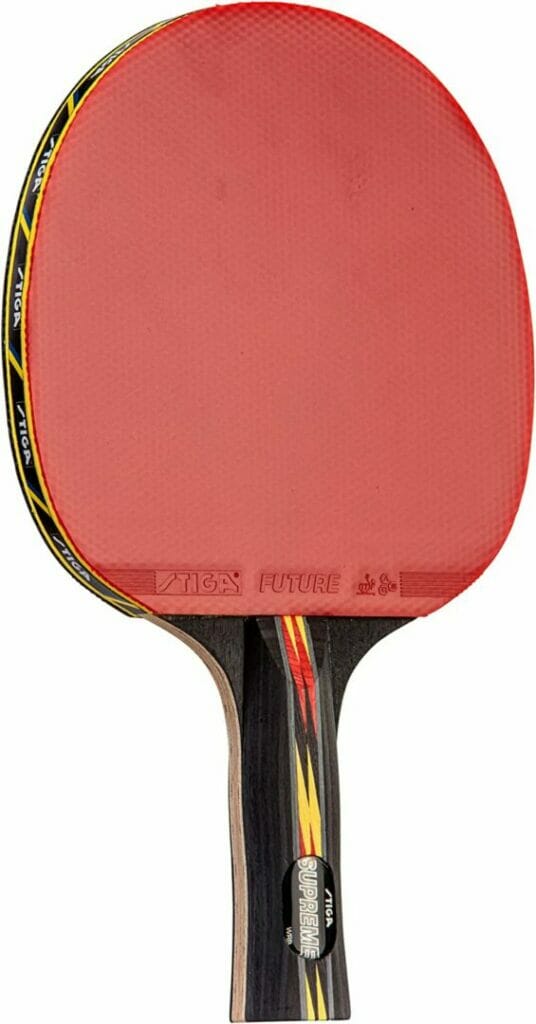 This marks the end of our STIGA Supreme Table Tennis racket review. It is a pretty good paddle for beginners. It may lack in the speed and spin department, but it makes up for this in terms of control. Therefore if you're new to the game and like to defend or play an all-round game, it could be a good choice.
However, for most beginners, we feel there are better options elsewhere. One of our favorite beginner paddles is the Omega Strata. It's a far more versatile paddle and offers better value for money.

Freelance writer. Table tennis enthusiast. Lover of all things online. When I'm not working on my loop game I'm probably binge-watching some fantasy show.