JOOLA Omega Strata Review
The JOOLA Omega Strata is an inexpensive pre-made paddle suited for beginners. It may be the slowest bat in the Omega range, but it produces the most spin and has a very high level of feeling. For the price, it's hard to find much to critique. If you like playing an allround game littered with spinny shots, this is a bat you should absolutely consider. It's one of the best ping pong paddles for developing players.
This in-depth review was made possible by Megaspin who sent over the Omega Strata for us to test, so we'd like to take a moment to thank them for this. We tested this racket in all areas of the game, so here's our honest review.
JOOLA Omega Strata Review
Specifications
·         Class – ALL
·         Plies – 5W
·         Rubber – Vizon
·         Sponge thickness – 2mm
·         Blade thickness – Unlisted
·         Handle type – Flared
·         Weight – 166g
·         ITTF Approved? – Yes
·         Price – $
·         Our rating – 7.2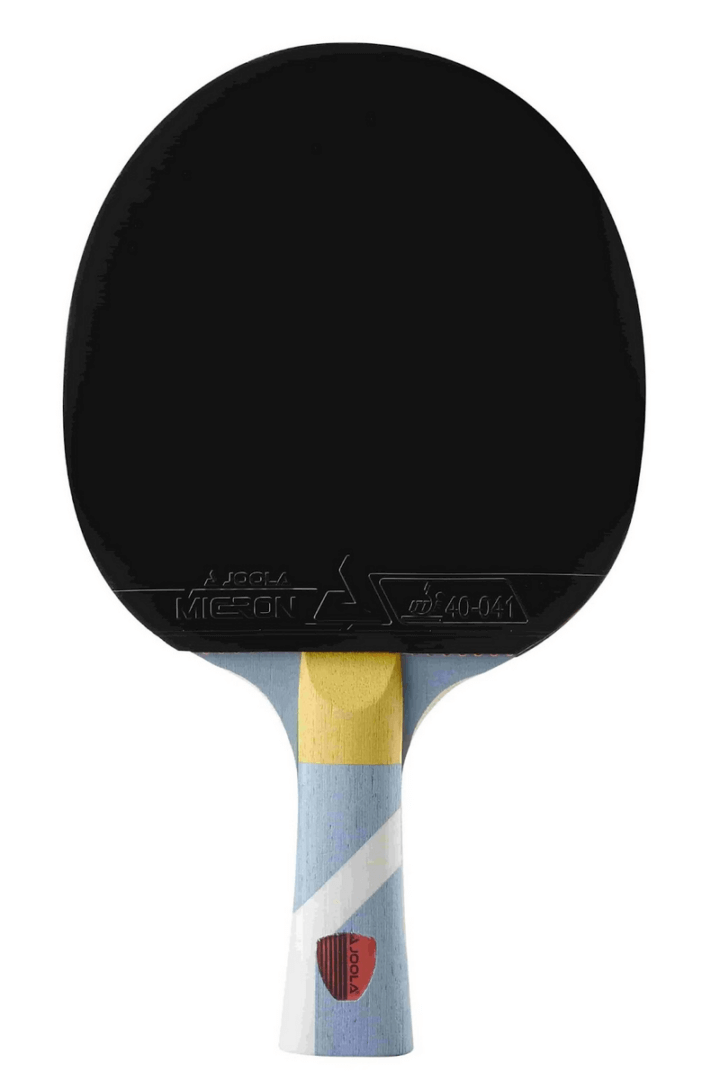 JOOLA Omega Strata Construction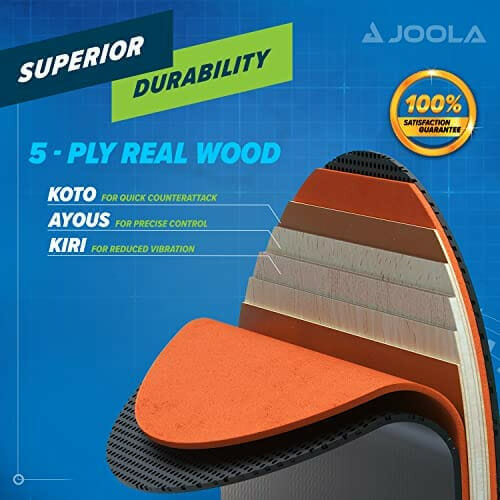 The JOOLA Omega Strata table tennis racket is a paddle from JOOLA's pre-assembled bat line. This means you are getting a complete bat with a specially selected blade and rubbers.
Blade
The Omega Strata is an all-wood blade with a 5-ply composition. Its veneers are Koto, Ayous, and Kiri.
Koto: A stiff soft wood often found in the outer plies. Great for fast counter-attacking
Ayous: A lightweight wood that is great for the core of the blade. Due to its stiffness and weight, it compliments a close-to-the-table game with quick counter-hits
Kiri: Another common core veneer. It is slightly lighter and softer than Ayous.
Rubbers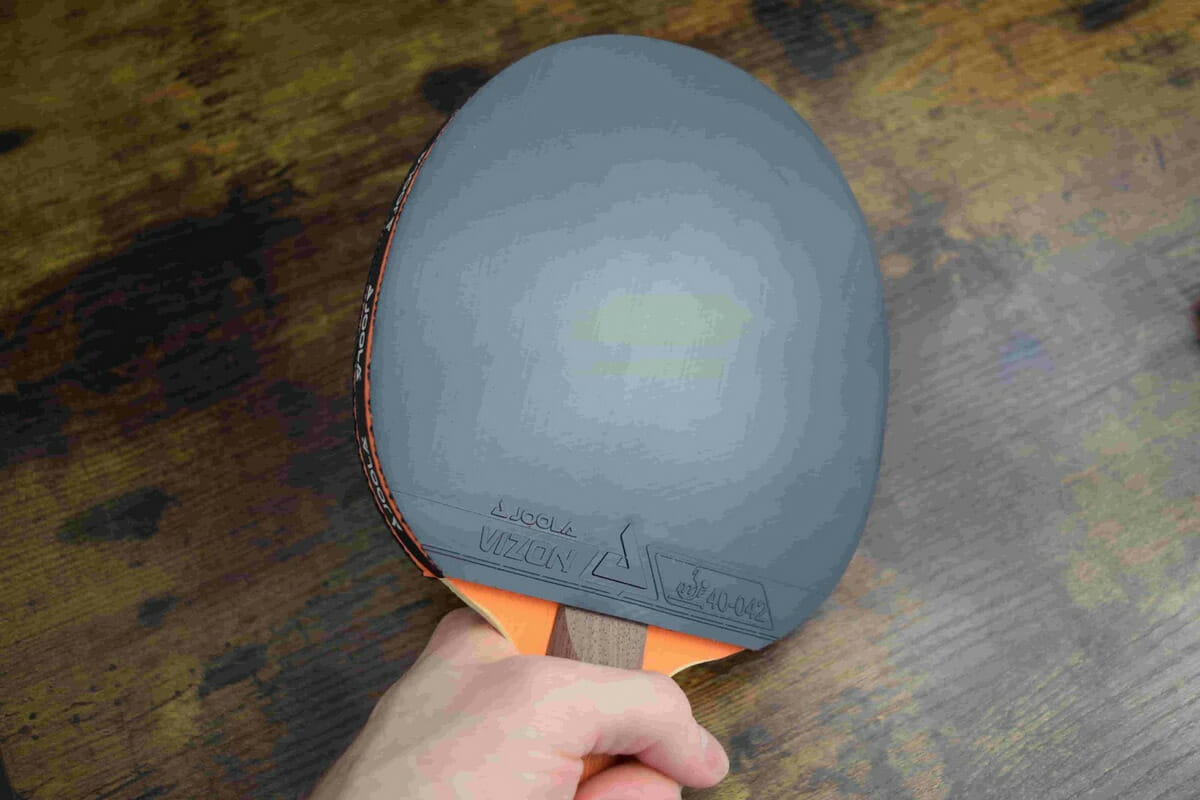 The rubbers JOOLA has selected for the Omega Strata are Vizon. Formerly, the bat used Riff 34 rubbers. Vizon in an inverted style rubber, which means the pips are facing inwards towards the blade, giving the top sheet a smooth surface.
The sponge thickness is 2mm. This is ideal for a predominantly attacking game. The rubbers are also fairly soft, making it easier to produce spin.
JOOLA Omega Strata Pros
Pros
Inexpensive

Great value for money

High level of feeling and control

Spin insensitive in lower gears

Looping potential
The JOOLA Omega Strata paddle performs very well for a bat that costs a small amount of money. I was pleasantly surprised, to say the least. JOOLA targets the paddle towards beginners, and I concur with this train of thought. It's not very fast, which is ideal for beginners, or else you'll have balls flying all over the place. However, the lines are always blurred here as favored equipment is highly subjective. I could certainly see some intermediate players liking the Strata. But generally, it's not quite lively enough for players in this category.
The greatest aspect of the Omega Strata is undoubtedly its high level of feeling. This was immediately apparent to me after just a rally or so. Even for slower strokes, I felt a lot of feedback in the bat, which helped me get a feeling for the quality of my shots. This is another reason why beginners will benefit a lot from the Strata. When you are developing your strokes and don't yet know how to differentiate between the good and the bad, an all-wood blade with a high level of feeling is all the indication you need.
Spin is another area the Omega Strata does pretty well. For a beginner bat, it has the potential for a lot of spin. But I found that I only really unlocked this when I made fast brushing contact — think loops and fast serves. For slower strokes such as drives, blocks, and pushes, I didn't feel particularly susceptible to spin. This is a great quality, as spin is often a double-edged sword.
As a final positive. Know that you can loop with the Omega Strata! I didn't think it would do very well here, but it's pretty damn great for a beginner bat. I, of course, had to adjust my stroke. Loops were much slower than normal, but with a little refining, I was very happy with how they performed. So if you're a beginner, you can hang onto this bat for a while, and when you want to learn how to loop, you don't necessarily need to upgrade your paddle.
JOOLA Omega Strata Cons
Cons
Blocking slower shots

Tough to keep serves and pushes low

Wrong rubbers listed

Double black rubber combination
During testing, no issues arose, which would cause me not to recommend the Strata. However, there are a few drawbacks that you should know about. A few of which don't even relate to how the bat performs. The first is that rubbers listed online for the paddle are incorrect. All sources I found state that it uses Riff 34 rubbers when in fact, it uses Vizon rubbers — the same rubbers the Omega Speed uses. It seems Riff 34 formerly featured on the bat, but JOOLA made the switch for whatever reason.
A similar issue is that the bat comes in four variants of differing blade colors, but three have two black rubbers as opposed to the standard one red and one black. This means it's very easy to make the mistake of not purchasing the red and black rubber version, and as a result, you wouldn't be able to use it in a regulated competitive setting. ITTF rules state you can only have one black rubber for fairness. So if you do choose to buy this bat, buy the normal version. The rubbers are ITTF approved so that you can play in leagues and tournaments.
Onto the more important drawbacks of the bat's performance on the table. The first issue I found was a lot of my blocks didn't make it over the net. This is simply due to the bat being a bit slow. You can't just place your bat in the ball's path for slower blocks and expect the ball to make it over the net. You need to be conscious to apply the correct amount of force.
And finally, I had some issues with keeping the ball low. This was apparent both for my chop serve, pushing, and touch-play. As mentioned earlier, the bat is quite spin-insensitive in the lower gears, so it can be difficult to keep the ball low. You have to aim lower than you expect or produce more spin to force the rubber to grip the ball.
About JOOLA
JOOLA's routes originate in 1952 in the department store group, Fr. Th. Jooss based in Landau. The sports section of Jooss became a very successful table tennis table supplier in only a few short years. Prompting them to become an independent department.
After continued success, JOOLA broke away from the department store to further specialize in table tennis goods. The brand name JOOLA was derived from its original company name and the city it was based on: JOOss LAndau.
Fast forward to the modern-day, JOOLA produces virtually every type of table tennis equipment you can think of. But ping pong tables remain their specialty. They are frequently used for professional events.
Alternative Options
We also reviewed the Omega Strata head-to-head in comparison with 4 other Joola paddles in this range, which you can check out here.
JOOLA Omega Speed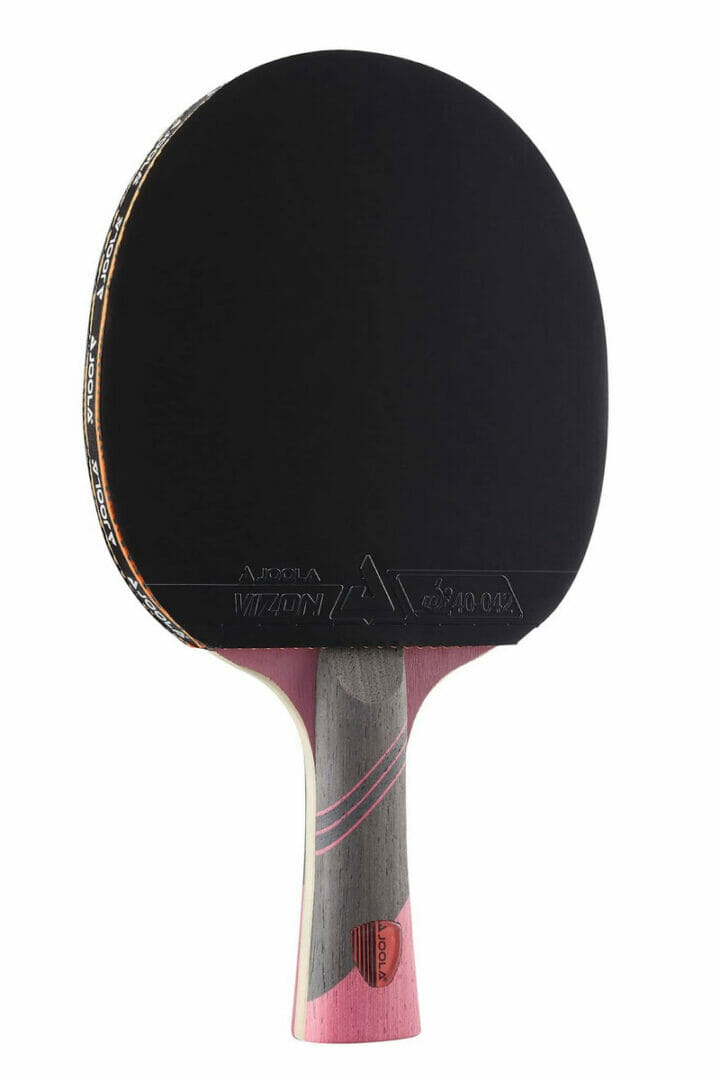 (For our full review, click here)
The Omega Speed is a faster alternative to the Omega Strata, and it's also a little cheaper. Personally, I prefer it because I am a speed demon but know that it has less control. Its level of feeling is also far less than the Omega Strata. So ask yourself whether feeling and control or speed is what you are after.
JOOLA Infinity Balance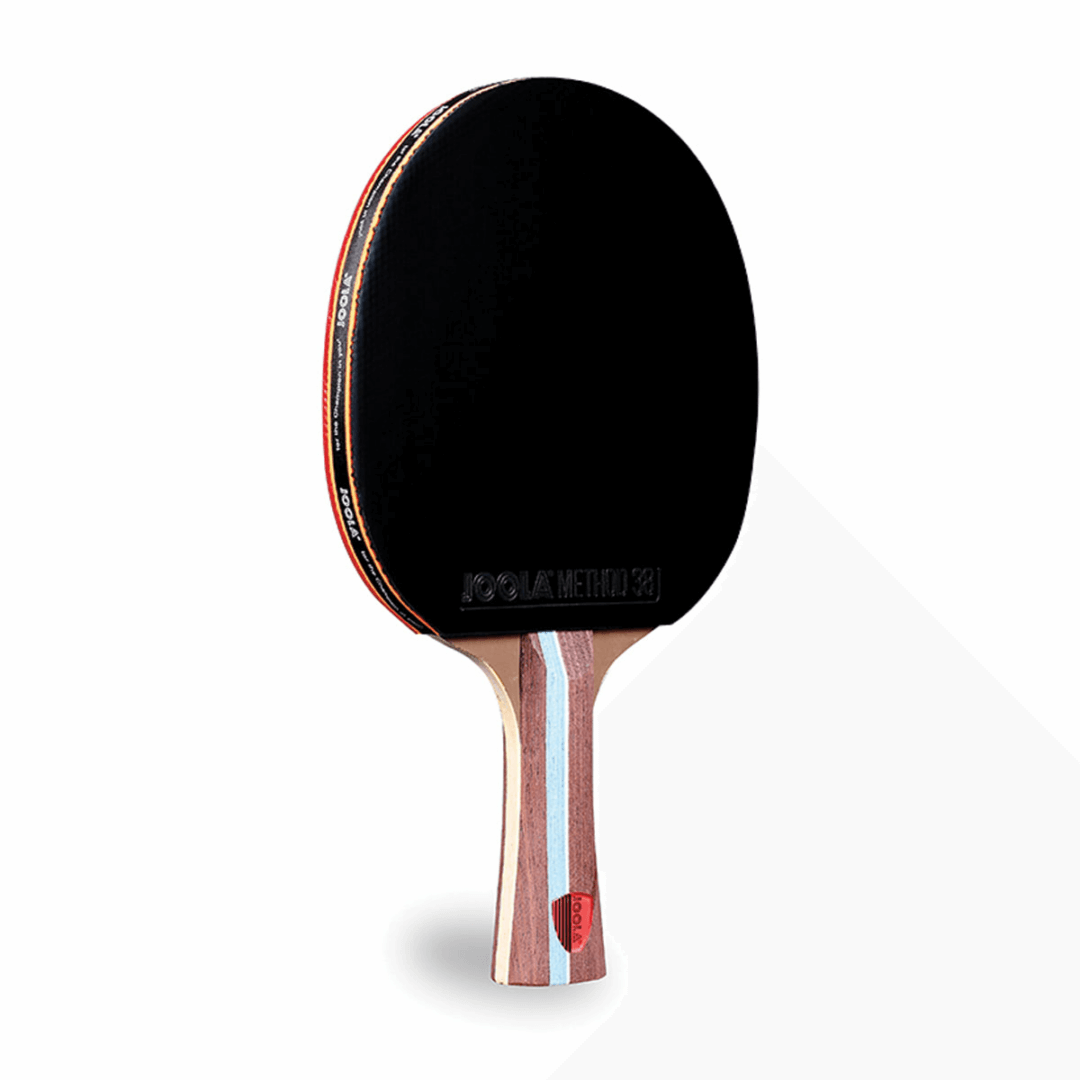 (For our full review, click here)
The Infinity Balance is marginally more expensive than the Omega Strata, with a few advantages. For starters, it features a 7-ply blade instead of the Strata's 5-ply. It also feels more solid and performs better away from the table with faster strokes. This bat is slightly more suited to the intermediate player base, but some beginners may flourish using it as well.
Conclusion
The JOOLA Omega Strata is a pre-assembled paddle best suited for beginners. It is not very fast, but it has a lot of control and a very high level of feeling. This feeling is perfect for beginners as it helps you improve your technique. It is also very lightweight, which is great for a starter bat before moving onto more advanced paddles.
For the price, the Omega Strata gets my seal of approval. It far exceeds many paddles in its price range, and I really enjoyed playing with it. The beginners who will benefit from it the most are those who play a consistent allround game and seek to upset their opponents with spinny shots. If a faster playstyle is more your game, I would instead recommend the Omega Speed. And remember, if you do choose to buy the Omega Strata, buy the purple blae, which has a red and black rubber. This way, you can participate in regulated events, and your opponents won't complain about how your bat doesn't abide by the rules.
You might also be interested in our top table tennis bat cases.

Freelance writer. Table tennis enthusiast. Lover of all things online. When I'm not working on my loop game I'm probably binge-watching some fantasy show.