What are the best ping pong paddles in 2019? We've put together our buying guide for beginners and players looking to up their game and get the best table tennis bat for their needs. Having looked at a lot of the options on the market we've selected our most recommended ones which are listed below.
Our Favorites At A Glance
The links above go straight to Amazon but we'll look in more depth at our recommendations below. Then, we'll take a look at some of the things you should look for when choosing the best ping pong paddle.
Our ping pong paddle reviews
The STIGA Pro Carbon – Our favorite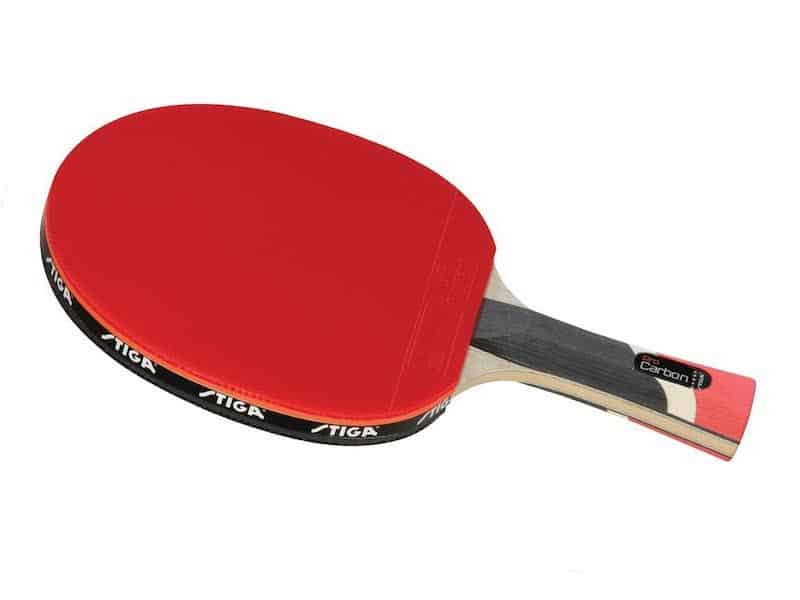 Check the latest price on Amazon.
Features & Specifications
Performance ratings – Speed 99, Spin 100, Control 80
Blade – 7 Ply extra light blade with carbon technology for power and speed
Rubbers – S5 rubber
Sponge – 2mm thick sponge
ITTF approved?– Yes, can be used in official tournaments
Price

– $$ (

Check the latest price on Amazon

)

Our rating – 9.8/10 (Read our full review here)
Having looked at and reviewed a lot of ping pong paddles our favorite, all-rounder is the STIGA Pro Carbon.
It's made with a 7-ply blade (two of which are carbon to keep it lightweight) giving it a lot of power and speed plus it comes with the S5 rubber and a 2mm sponge. The STIGA Pro Carbon has a speed rating of 99, spin rating of 100 and control rating of 80. This means that it's one of the fastest paddles you can get and we absolutely loved playing with it.
The only thing we'd mention is that, if you are brand new to table tennis and haven't played before this might not be the best racket for you due to it's lower control rating. When you first start out you want to pick a bat that has a high control rating to help you learn how to hit the ball. But, once you've got the hang of that, we think this could be an ideal upgrade to take your game to the next level.
Check the latest price on Amazon.
The Killerspin Jet 800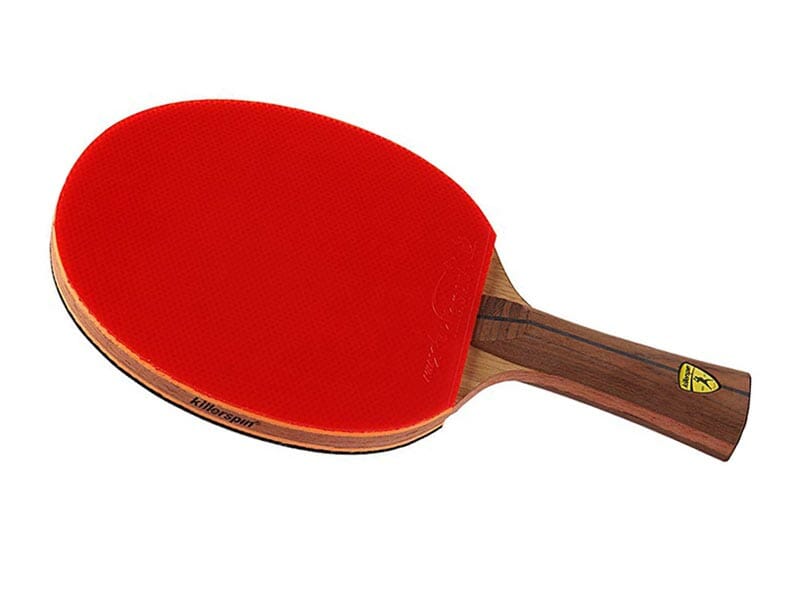 Check the latest price on Amazon.
Features & Specifications
Performance ratings – Speed 9.5, Spin 9.0, Control 8.0
Blade – 7 ply blade with 5 wood layers + 2 carbon layers for lightweight competition level performance
Rubbers – Nitrx-4Z rubber
Sponge – 2.0mm high tension
ITTF approved? – Yes, can be used in official tournaments
Price – $$$ (Check the latest price on Amazon)
Our rating – 9.1/10 (Read our full review here)
Our next choice was the Killerspin Jet 800. Like the STIGA Pro Carbon, it's also made with a 7 layer blade, two of which are carbon fiber for maximum power without being too heavy.
We loved the Jet 800, especially the design. We thought it was one of the best looking table tennis bats that we tried. We especially liked its burnt wood, flared handle which was very comfortable in the hand. But it wasn't just a good looking paddle, it performs very well too: Its ratings are Speed: 9.5, spin 9.0 and control 8.0 making it a very formidable racket.
The rubber, which is the hugely popular Nitrx-4Z, is a high-tension rubber which is ITTF-approved. It provides fantastic grip helping you to deal with whatever your opponent gives you whilst simultaneously being easy to control and having a lot of power to generate speed when you need it.
Check the latest price on Amazon.
The DHS Hurricane II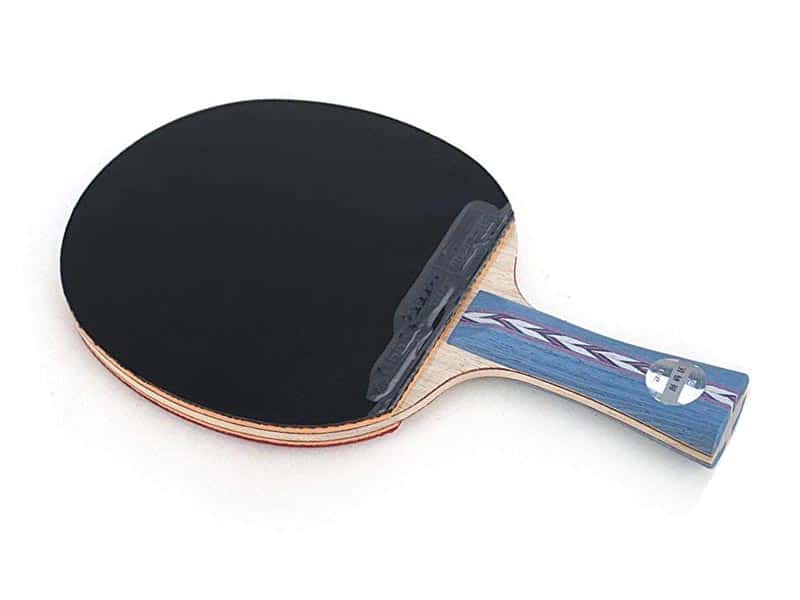 Check the latest price on Amazon.
Features & Specifications
Blade

– DHS Hurricane No.2 blade with 5 plies

Rubbers – G555 black rubber / Hurricane II red rubber
ITTF approved? – Yes, can be used in official tournaments
Price – $$$$ (Check the latest price on Amazon)
Our rating – 9.5/10
One of the more expensive rackets that we looked at the DHS Hurricane II is a premium ping pong paddle that is aimed at the intermediate player looking to take their game to the next level.
Compared to some of the other paddles we looked at it doesn't have the best power and speed but the spin was insane. It's unique from the other bats we've looked at as each side of the paddle has a different style of rubber. On the red side, it has the pimples in and on the black side it has the pimples out. This allows you to switch your style of play mid-game just by twisting the paddle.
Whilst it maybe is a little on the pricey side, if you've got the budget to spend a little extra we don't think you'll be disappointed with this incredible racket. One thing to mention though is that the rubber smells pretty bad. You might need to find something to mask the smell of fish…
Check the latest price on Amazon.
The STIGA Evolution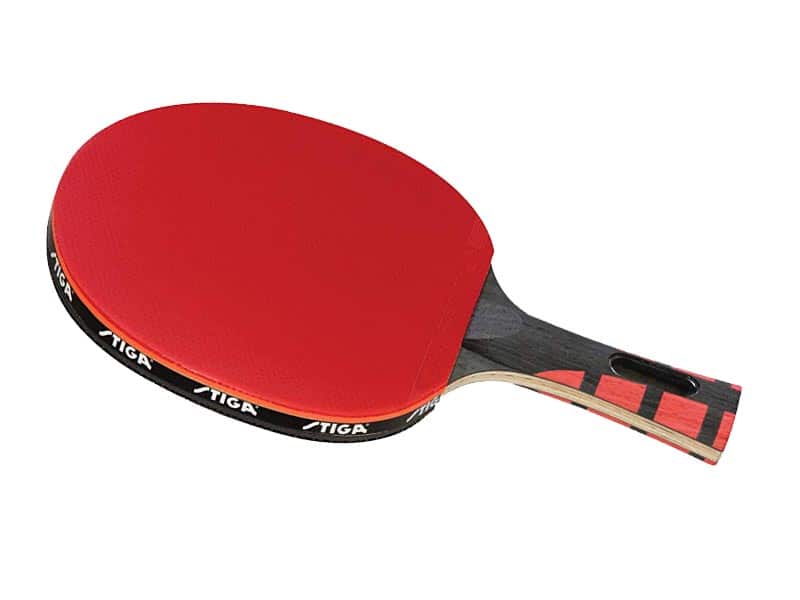 Check the latest price on Amazon.
Features & Specifications
The STIGA Evolution is another great table tennis bat from well know table tennis brand STIGA. Like the Carbon Pro it is an ITTF approved racket that is made up of a 6-ply light blade with premium rubber and 2mm thick sponge. If you're looking a paddle to take you from beginner to intermediate whilst maintaining more control over the ball then the STIGA Pro then this could be a good option to try out.
Its ratings are Speed 96, Spin 94 and control 90 so it's not as powerful as some of the other options but it makes up for the lack of spin and speed with good control.
One of the things we liked about it is how light it feels compared to some of the other rackets available. It has what they call Shock Dispersion Technology (SDT) which essentially means they've hollowed out the handle. This is why it feels lighter but, if you're an attacking player you probably will want something that packs a bigger punch and has a bit more weight behind it to smash your shots home. It's not for everyone but we liked it.
Check the latest price on Amazon.
Killerspin Jet 200 – Budget Choice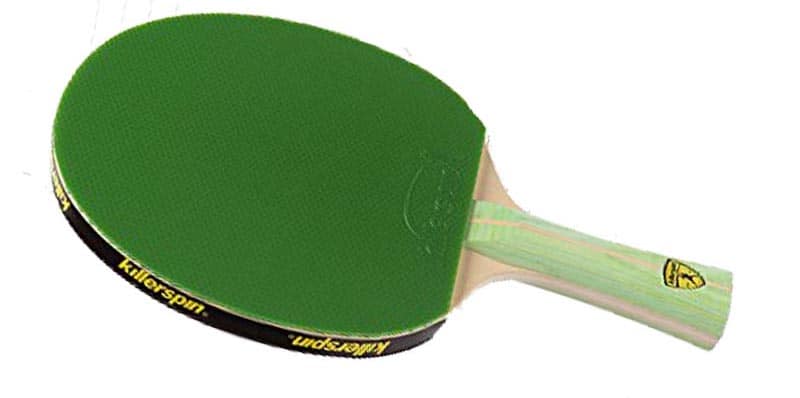 Check the latest price on Amazon
Features & Specifications
Next is the cheapest ping pong paddle on our list, the Killerspin Jet 200. It's made up of 5 layers of extra light ply wood. It has a flared grip handle, the most popular type of grip and we think it makes a very good option for someone brand new to table tennis looking to dip their toe into the sport without breaking the bank.
With a 6/10 rating for speed and a 7/10 rating for spin, it doesn't pack the greatest punch but what it lacks in power it makes up in control with an 8.5 out of 10 rating.
The rubbers aren't the best quality and users reported that they wore out quickly, it's not ITTF approved either so you won't be able to use this racket in tournaments but for the cost that's to be expected. If you're very tight on funds and can't afford to spend a penny more then we'd recommend trying out this cheap ping pong paddle before you make a larger investment in some of the more advanced ping pong paddles available.
Check the latest price on Amazon
The Butterfly 401 Shakehand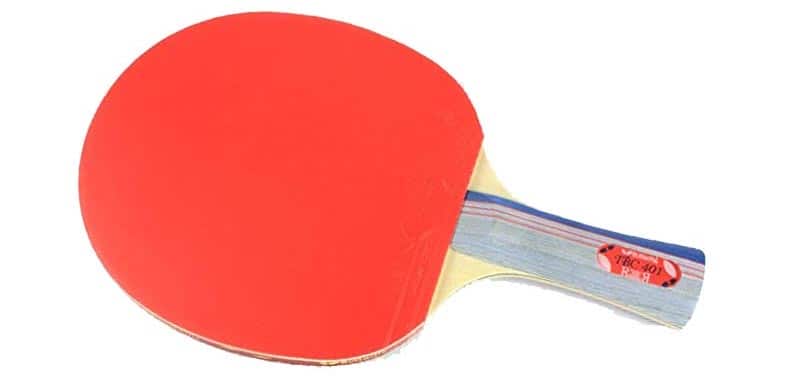 Check the latest price on Amazon.
Features & Specifications
Having tried a lot of different paddles over the years we really enjoyed playing with the Butterfly 401 shakehand paddle. It's a good allrounder and we found we could really get some spin going with its tacky rubbers.
It gets really good reviews and is popular with beginners and even more advanced players due to its speed and spin ratings. Considering the price we think it's very good value and definitely deserves a place in our top 10 paddles.
Check the latest price on Amazon.
What things should you look for in a table tennis racket?
A lot of new players will often ask us how to choose a ping pong paddle and what things should they look for? We've written up all our advice below along with some of the basic things any budding ping pong player should know about their racket.
The different parts of a paddle
Table tennis bats are made up of four different parts and it's important to know how each part of the paddle affects the play to help you buy the best paddle for your playing style and experience level. The four parts of a paddle are:
The handle
The blade
The sponge
The rubber sheet
Let's take a look at these parts in a bit more detail and see how they affect your play.
The Handle
Racket handles can come in three different shapes depending on your preference and how you prefer to hold it. These are
Flared handles
Flared handles are by far the most popular style of racket grip. They are wider towards the end of the handle to stop it from slipping out of your hand and help you have better control when hitting the ball.
Anatomic handles
Anatomic shaped handles are wider in the middle. This style helps to fit the handle in your palm and provides you with a bit more stability.
Straight handles
Lastly, the straight handle is the same width all the way from the top to the bottom and allows you to change how you grip the bat according to the play.
If you're a beginner wondering which handle shape is best, it's usually recommended to start with the flared grip. You can then try the other two types and see which you prefer.
The Blade
The blade of the bat is made out of multiple layers of wood. It can be anywhere from 5 to 9 layers, the more layers that the blade has the stiffer the bat will be. Sometimes table tennis blades will have a couple of layers of carbon instead of wood. This keeps the blade strong but lightweight.
The Sponge
Inbetween the paddle blade and the rubber (which we'll look at next) is a layer of sponge. The thickness of the sponge can vary between 1.2 mm to 2.5 mm. The thinner the sponge is the more control you will have but the less speed you will generate when hitting the ball. And vice versa, the thicker the sponge the less control but more speed you'll have. As a result, a thicker sponge is preferred by more offensive players.
The Rubber
On either side of the blade, on top of the sponge is a layer of rubber which is the surface that makes contact with the ball. There are lots of variations, such as having long or short pimples and having them pointing in or out. These variations can affect the grip and the amount of spin that you'll be able to generate. For more information check out our guide to table tennis rubbers.
Rubbers have to be within a certain standard to be used in official tournaments. if they comply they will have an ITTF approved label so you know that they're ok to be used.
Your playing style
When you're a beginner at table tennis you want to focus on improving your basic table tennis skills first. You'll want to choose a bat that is more general and has good control to allow you to focus on honing your shots. As you progress you'll develop a style of play and this will affect what sort of bat you'll go for. Maybe you are an attacking player that likes to go for speed? Then you'll need a bat that's fast and lightweight. Or perhaps you're more defensive in which case you need something to slow the ball down with more control.
How to grip a ping pong paddle
The paddle you choose will also depend on how you grip the bat. There are lots of different ways to hold the bat but there two popular ones are the Shakehand grip and the penhold grip.
Shakehand grip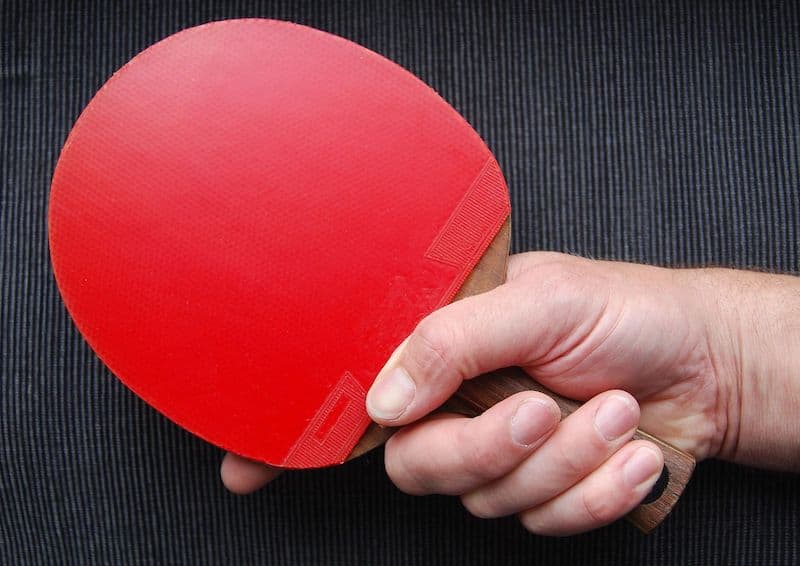 The Shakehand Grip is by far the most common way to hold a table tennis bat. Almost every player in Europe will play like this and the majority of players in Asia too. It's called the shakehand because the way you hold the bat is like you're about to shake hands with someone.
Penhold grip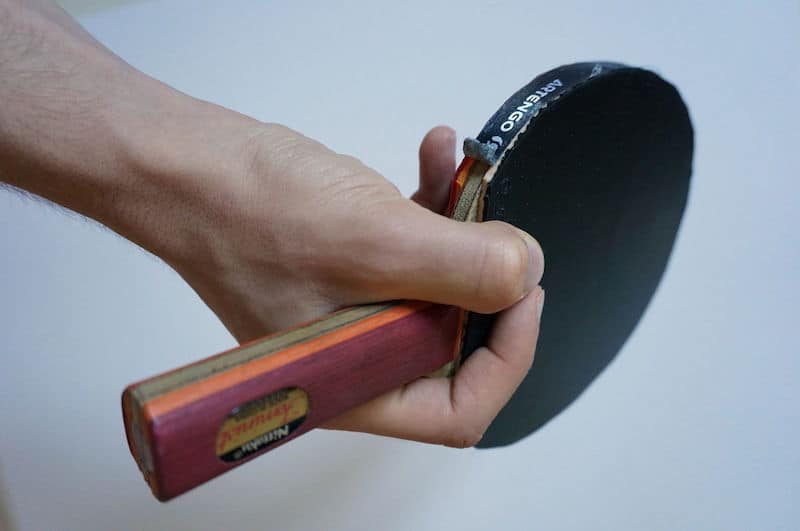 The Penhold Grip is a lot less common but is used by some Asian players in China, Japan and Korea. It allows for a very attacking style of play with players being able to get a lot of power in the forehand shots. It does have some weaknesses though. It does make it quite difficult for players to be able to hit backhand topspin shots.
What are the paddle ratings?
Each paddle's performance is usually rated out of 100 (or 10) depending on how well they perform in three different categories. Those categories are:
Depending on your playing style you might want to have a paddle that has a high rating in one category over another. So the right bat for one person may not be the right one for another player. It may also change as you improve in your table tennis abilities.
Speed
It's quite self-explanatory but if a paddle has a high-speed rating it will be easier to hit the ball faster. If you're an attacking player that stands a bit further back from the table and likes to hit smashes then you'll want to choose a bat that can generate a lot of power (a thicker sponge and more plies). What you gain in speed though you will sacrifice in control.
Spin
Players that want to be able to generate more spin when they hit the ball will want to choose a bat that a lot of grip. This is usually down to the rubber and quite often players will have one side of the bat with a different rubber to the other which allows them to choose depending on what style of shot they want to hit.
Control
As a beginner, the most important attribute of a racket should be control. Spin and speed will come later once you become more experienced but for now, you need to focus on getting the ball to go where you want it to.
Summing Up
We hope that's helped give you an idea of what to look for when choosing a table tennis bat. It can get very overwhelming looking through all the different options available and so we've tried to focus in on a few of the top choices. We own a lot of different bats but by far our favourite is the STIGA Pro Carbon. In our opinion, this is one of the best value paddles on the market and will help you to up your game to the next level.
Check the latest price of our recommended ping pong paddle the STIGA Pro Carbon on Amazon here.