Looking for the best ping pong paddle in 2021? We've put together our buying guide for beginners and players looking to up their games and get the best table tennis bat for their needs. Having looked at a lot of the options on the market, we've selected what we believe to be some of the best.
If you're in a rush and want to know which bats we recommend check out the list below. After that we'll go into detail about everything you need to know when buying a new racket.
The Best Table Tennis Bats in 2021
Ping Pong Paddle Buyer's Guide
A lot of new players will often ask us how to choose their paddle and what things should they look for? To help, we've written up all our advice below along with some of the basic things any budding player should know about their racket. We want you to make a great choice and have tried to answer as many questions to help you make the right decision. If we haven't answered you question though feel free to post a comment at the end or get in touch on the contact page and we'll be happy to help. 
Just remember, finding the best ping pong paddle from the many paddles that exist on the market can be overwhelming, so take your time with the research. This is an investment. If you need help we have detailed reviews on several paddles, as well as other equipment.
The different parts of a paddle
The handle
The blade
The sponge
The rubber sheet
Let's take a look at these parts in a bit more detail and see how they affect your play.
The Handle
Racket handles can come in three different shapes depending on your preference and how you prefer to hold it. These are
Flared: The most popular style. Wider towards the end of the handle to stop it from slipping out of your hand and help you have much better control when hitting the ball.
Anatomic: Wider in the middle. This style helps to fit the handle in your palm and provides you with a bit more stability.
Straight: Same width all the way from the top to the bottom and allows you to change how you grip the paddle according to the play.
If you're a beginner wondering which handle shape is best, it's usually recommended to start with a paddle with a flared grip. You can then try the other types and see which you prefer – but of course you could try professional ping pong paddles, but they will take a lot of getting used to. Baby steps!
The Blade
The blade of the bat is made out of multiple layers of wood. It can be anywhere from 5 to 9 layers, the more layers that the blade has the stiffer the bat will be. The best quality ones tend to be made of balsa wood which is extra light. Sometimes table tennis blades will have a couple of layers of carbon fiber instead of wood. This keeps the blade strong but lightweight. If you wanted to make your own custom bat then you can check out our post on the guide to table tennis blades here.
The Sponge
In between the paddle blade and the rubber (which we'll look at next) is a layer of sponge. The thickness of the sponge can vary between 1.2 mm to 2.5 mm. The thinner the sponge is the more control you will have but the less power you will generate when hitting the ball. And vice versa, the thicker the sponge the less control but more high speed shots you'll be able to make. As a result, a thicker sponge is preferred by more offensive players.
The Rubber
On either side of the blade, on top of the sponge is a layer of rubber which is the surface that will make contact with the ball. There are lots of variations, such as having long or short pimples and having them pointing in or out. These variations can affect the grip and the amount of spin that you'll be able to generate. For more information check out our guide to table tennis rubbers here.
Rubbers have to be within a certain standard to be used in official tournaments. if they comply they will have an approved by the ITTF label so you know that they're ok to be used.
Table Tennis Bat Ratings
There are three factors that determine the style of play a particular table tennis bat favors. These are speed, spin and control, and these are used to distinguish the best ping pong paddles from the rest.
Speed: Strike the ball faster. Attacking players standing further back that likes to hit smashes will want paddles that generate power (a thicker sponge and more plies). What you gain in speed you sacrifice in control.
Spin: Relates to how much spin is generated. This is usually down to the rubber and Players often have different rubbers on both sides of the bat which can facilitate different shots.
Control: Important for beginners. Speed, spin and power will come later once you become more experienced but for now, you need to focus on getting the ball to go where you want it to.
Your Playing Style
When you're a beginner to the game, you'll want to focus on improving your basic table tennis skills first. You'll want to choose a bat that is more general and has good control to allow you to focus on honing your shots. As you progress, you'll develop a style of play and this will affect what sort of bat you'll go for. Maybe you are an attacking player that likes to go for speed? Then you'll need a bat that's fast and lightweight. Or perhaps you're more defensive in which case you need something to slow the ping pong ball down with more control.
How To Grip Your Bat
Choosing the right paddle will also depend on how you grip the bat. There are lots of different ways to hold the bat but the most popular ones are the Shakehand and the Penhold. We have a more detailed guide on how to grip a table tennis bat.
Keeping Your Paddle In Good Condition
Once you've purchased a great paddle, it's really important to keep it in the best possible condition so it doesn't wear out too quickly and you get the best games possible. There are two important things you can do to keep your table tennis paddle in good condition. 
The first is to store it in a case, and we have a guide to the best ping pong paddle cases. The second is to clean your paddle every once in a while. We also have a detailed guide on how to clean your ping pong paddle.
Top Table Tennis Paddle Reviews
Now that we've covered everything you need to consider before purchasing a paddle we'll move on to our table tennis paddle reviews. We've tried to include a range of prices so there'll be an option what ever budget you have to spend on your new paddle. These are the top rated ping pong paddles, generally speaking, and we hope these reviews will make choosing your paddle a bit easier.
#1. Butterfly Timo Boll ALC Proline w/ Tenergy 05 | Suits: Advanced Players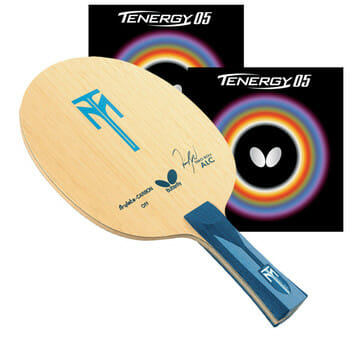 Ratings: Speed 92, Spin 94, Control 87
Blade: Timo Boll ALC 7-ply
Rubbers: Tenergy 05 2.1mm
ITTF Approved?  Yes
Price: $$$$
Rating:  9.4 (Read our full reviews for Timo Boll ALC and Tenergy 05)
It is no surprise that a complete Butterfly setup makes our list for one of the best paddles you can buy in 2021. The Timo Boll ALC Tenergy 05 setup you see before you has essentially achieved legendary status at this point. Arguably the most popular rubber of all time paired with Butterfly's most popular blade of all time, it is a match made in heaven.

The large sweet spot from the ALC and the killer catapult effect of Tenergy creates a bat that is highly enjoyable to play with. You should only purchase this paddle if you are an advanced player as it is very fast and spinny. The first time I used Tenergy all of my loops pinged off of the table! 

Although this setup is expensive, it is a worthy investment if you want to compete at the top level. As an owner of the Timo Boll ALC, I fell in love with this blade, and through adequate care, it has lasted me many years. 

This paddle deal does not offer any rubber customization. The sponge thickness is locked at 2.1mm. I suspect this is because 2.1mm is the most popular for Tenergy 05. You do, however, have the option to choose your handle type. You can choose between flared, straight, and anatomic.

#2. Butterfly Zhang Jike ZLC Proline w/ Tenergy 64 | Suits: Offensive Players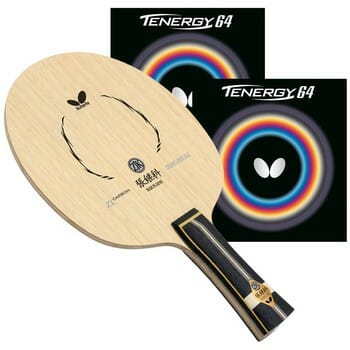 Ratings: Speed 94, Spin 87, Control 83
Blade: Zhang Jike ZLC 7-ply
Rubbers: Tenergy 64 2.1mm
ITTF Approved? Yes
Price: $$$$
Rating:  9.4 (Read our full review for

Tenergy 64

)
The Butterfly Zhang Jike ZLC with Tenergy 64 ranks as the second most expensive paddle setup on this list. But with expense comes quality. This pairing suits the all-out attacker who wants to overwhelm their opponents with blistering speed. Tenergy 64 is one of the fastest rubbers of the Tenergy line which sports a very direct style. As you would expect, it is also a very spinny rubber, but it does fall noticeably short of the likes of Tenergy 05.

The Zhang Jike ZLC also sports a step up in pace from the ALC. As a consequence, it is harder to control. Only the most controllable players will be able to use it effectively.  

For this paddle bundle, you receive both Tenergy 64 sheets in 2.1mm thicknesses, and the Zhang Jike ZLC comes with a flared handle.

#3. Butterfly Harimoto Innerforce ALC w/Tenergy 05 | Suits: Advanced Players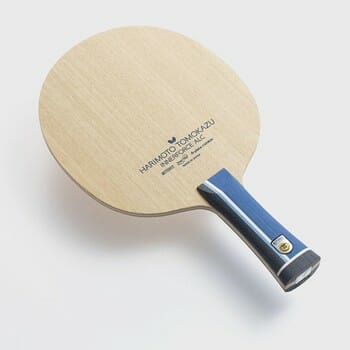 Ratings: Speed 90, Spin 94, Control 95
Blade: Butterfly Harimoto Innerforce ALC
Rubbers: Tenergy 05
ITTF Approved?  Yes
Price: $$$$
Rating:  9.5
With an above averaged size blade, the Butterfly Harimoto Innerforce ALC is an excellent blade for both aggressive forehand and backhand shots. It has excellent control and spin with a more modest speed rating. As with all Butterfly blades, it has a premium feel to it and a wonderful sweet spot when looping. It is also one of the slicker-looking blades in my opinion.
This particular Butterfly paddle works well with the Tenergy 05, which is often a good pairing for the company's blades. It is, however, expensive. In my opinion, it is overpriced, but if you don't mind spending the money, it certainly won't let you down. This setup is perhaps the hardest to control as it has crazy levels of spin and speed. Only consider purchasing if you are confident that you can tame this beast. 
You'll have to purchase the rubber separately, which you can do here.   
#4. Yasaka Goiabao 5 w/ Rakza X | Suits: Players Who Want Control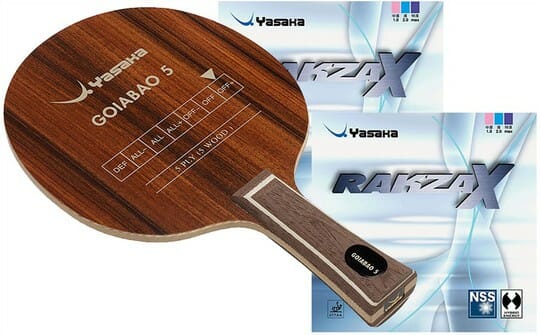 Ratings: Speed 92, Spin 90, Control 92
Blade: Goiabao 5 5-ply
Rubbers: Rakza X 2mm
ITTF Approved?  Yes
Price: $
Rating:  9.2
For players who want a fast setup with higher levels of control, the Yasaka Goiabao 5 with Rakza X is a super paddle. 
Shifting away from Butterfly, Yasaka offers similar levels of quality at a much cheaper price tag. This is most evident in the Goiabao 5 blade. It is less than a third of the cost of most of Butterfly's carbon blade ranges which is just incredible. 
It has quite a low throw angle and feels fairly hard.
Being one of the fastest rubbers from the Rakza range, Rakza X pairs nicely with the Gioabao blade. Rakza X is also controllable for a rubber of its speed giving you greater margins for error when looping. It also does not react too harshly to incoming spin, making it easy to return services and block heavy loops.
The Rakza X rubbers for this bundle come in 2mm thicknesses and you can choose whichever handle suits your preference. There is even penhold availability for this blade which is less common. 
#5. Tibhar Samsonov Force Pro Black Edition w/ Evolution MX-P | Suits: Offensive Players
Ratings: Speed 94, Spin 93, Control 84
Blade: Samsonov Force Pro Black Edition 7-ply
Rubbers: Evolution MX-P 1.8mm, 2mm, 2.2mm
ITTF Approved?  Yes
Price: $$
Rating:  9.3  (Read our full review for

Evolution MX-P

)
Note: As this is a bat combo we have individually recommended you will need to manually select the blade and rubbers yourself. They are not offered as a single listing.

Time to show Tibhar some love! For this all Tibhar bat we begin with the Tibhar Force Pro Black Edition. It is a blade of medium hardness which plays in a very linear fashion. This makes shots more predictable which should assist in developing a consistent game using the explosive Evolution MX-P.

MX-P is largely considered the greatest product Tibhar has put out. When you first unbox MX-P, the pace it generates is crazy. This is a result of the factory boost. For most people, there is an adjustment period refining their loops simply to get the ball on the table. Smashing requires very little effort – just concentrate on consistency initially!

The only issue with MX-P is that its factory boost wears off after a while which makes the rubber notably less formidable. Besides that, this combo is practically faultless.

Blade:
#6. Donic World Champion 89 – Waldner OFF w/Bluefire M1 Turbo | Suits: Spinny Players
Ratings: Speed 92, Spin 93, Control 90
Blade: World Champion 89 – Waldner OFF 5-ply
Rubbers: Bluefire M1 Turbo 2mm, Max
ITTF Approved? Yes
Price: $$$
Rating: 9.3  
Note: As this is a bat combo we have individually recommended you will need to manually select the blade and rubbers yourself. They are not offered as a single listing.
This is one of our favorite Donic bat combinations. To begin, we've chosen the World Champion 89 – Waldner OFF. It is a 5-ply blade crafted from 200-year-old Italian Spruce. 
A specialized drying procedure is used to minimize the moisture to just 4% before it is cold-pressed. This results in an elegant lightweight blade. Players love the feeling of this blade, and whilst it is not the fastest, it has very high levels of control. 
The speed from this setup derives mainly from the Bluefire M1 Turbo rubbers. Donic has multiple great series in Bluefire, Acuda, Bluegrip, and Bluestorm so you are really spoiled for choice in regards to what you want to go for. 
The reason we selected Bluefire M1 Turbo, in particular, is that it has one of the highest speed ratings among Donic rubbers, and it is a little cheaper than the other rubbers of similar speed. Bluefire M1 also produces very high levels of spin and has great durability. A solid rubber by Donic that any skilled attacker would love. 
Blade:
Rubber:
#7. JOOLA Rossi Emotion w/ Rhyzm-P | Suits: Beginners/Intermediates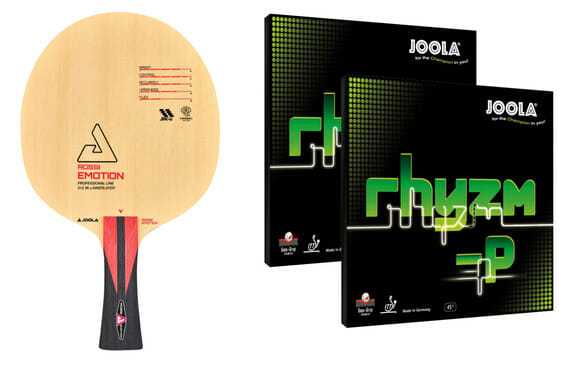 Ratings: Speed 88, Spin 93, Control 92
Blade: Rossi Emotion 7-ply
Rubbers: Rhyzm-P
ITTF Approved? Yes
Price: $$
Rating: 9.3  
This JOOLA paddle provides incredible value for money. And in our opinion, only narrowly falls short of the best bats on this list. 
For the blade, we are using the JOOLA Rossi Emotion. It is an offensive blade with a high trajectory. The placement of the carbon fiber layer adjacent to the Ayous core gives the blade a great sweet spot which helps mitigate against mishits.
Rhyzm–P is a particularly spinny rubber made by JOOLA. Where many manufacturers focused on their development of sponges to adapt to the introduction of the plastic ball, here JOOLA has adapted their top sheet. Players love the qualities of this rubber as it is not only very spinny, but also fast, controllable, and durable.   
#8. Andro Gauzy SL OFF w/ Rasanter R42 | Suits: Advanced Players
Ratings: Speed 92, Spin 94, Control 93
Blade: Gauzy SL OFF 7-ply
Rubbers: Rasanter R42
ITTF Approved? Yes
Price: $$$
Rating:  9.4 (Read our full review for Rasanter R42)  
Note: As this is a bat combo we have individually recommended you will need to manually select the blade and rubbers yourself. They are not offered as a single listing.
As a lover of Andro, we had to include an all-Andro setup for our top paddles of 2021. 
Choosing the blade was simple as one immediately came to mind: the Gauzy SL OFF. Used by the skillful Simon Gauzy himself, this blade is an all-wood build. Composed of seven layers of wood, it has a hard exterior made from Ebony. This provides great feedback when playing but may feel strange to players used to carbon blades. I wouldn't let this deter you though — the Andro Gauzy SL OFF ranks as one of the top blades of all time according to Revspin. If it's good enough for Simon Gauzy, it should certainly meet your standards.
Rasanter R42 is a potent rubber part of the series that succeeded Rasant. Using a thicker sponge than Rasant, it is more suited to the plastic ball and allows you to produce more deadly shots. In my opinion, Rasanter is easily the best series available for purchase by Andro and R42 is one of the more popular variants. With a touch more spin than some of the others, it can make your service game deadly.
Blade:
Rubber:
Conclusion: Which Table Tennis Paddle Should You Buy?
We hope that's helped give you an idea of what to look for when looking for the best ping pong paddles. It can get very overwhelming looking through all the different options available and so we've tried to focus in on a few of the top choices. If you feel that these may be too much to handle or out of your budget, feel free to look at the other reviews we have. Many of those are among the best ping pong paddles for intermediate players, which should be both more affordable and easier to handle.
But, frankly, it's hard to say which is the best one though as it really depends on you. Defensive players will want to look for something with lots of spin that isn't as fast to slow the ball down. Where as aggressive players will want to go for the power.
We own a lot of different table tennis rackets, but our favorite is the Killerspin Jet 800. In our opinion, it's one of the best pre-made table tennis paddles on the market and will definitely help you to up your game to the next level. 
If you're interested in buying it you can check the current price of our most recommended paddle, the Butterfly Timo Boll ALC Proline.
Paddle FAQs
Here are a few more common questions we get asked about table tennis paddles.
Q. Is there a difference between the red and black side of a ping pong paddle?
A good question! The answer is it depends. A professional player will use a different rubber on each side of their paddle and the reason they're different colors is so their opponent can know which side they're using and therefore what type of shot to expect.
Q. Are expensive ping pong paddles worth it?
Absolutely! But, more expensive doesn't necessarily mean better. It all depends on your ability. If you're a beginner then there's not point buying a very expensive paddle as it won't be suitable for you. But, if you're an advanced player then absolutely you should spend a bit more as the quality of the paddle jumps massively when you move up the price range
Q. What is the Best Table Tennis Paddle For Beginners?
It's hard to say exactly which paddle is best for beginners. But, what is easy to say is that you need to go for one with a high control rating. Beginners need to go for a slower a paddle to allow them time to learn the skills needed to level up their game.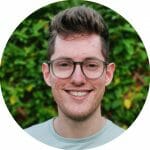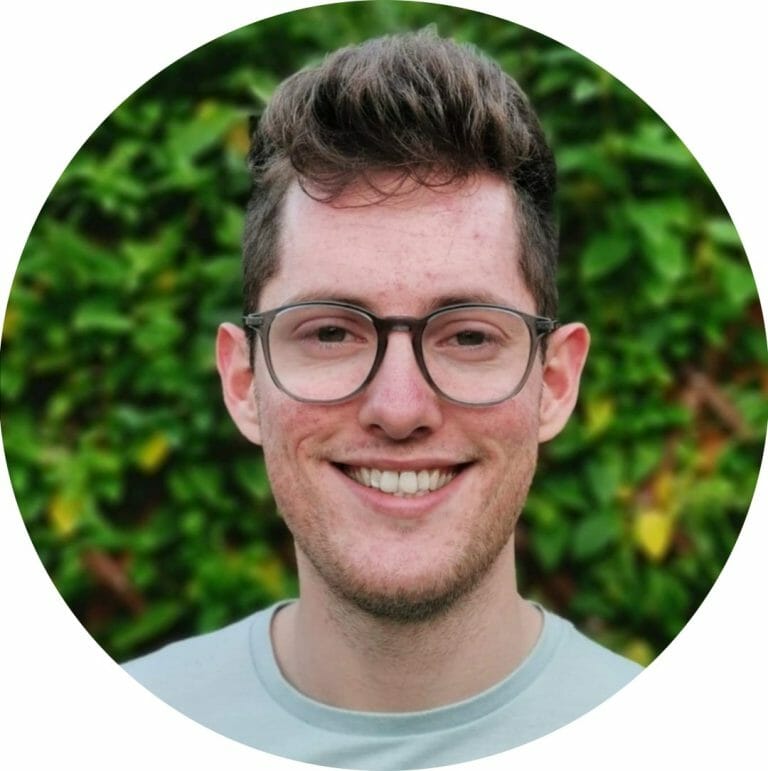 Freelance writer. Table tennis enthusiast. Lover of all things online. When I'm not working on my loop game I'm probably binge-watching some fantasy show.