The 10 Best Ping Pong Paddles: Reviews And Buying Guide
Looking for the best ping pong paddle for 2023? We've put together our buying guide for beginners and intermediate players looking to up their game with the best table tennis racket for your needs.
If you're in a rush and want to know which bats we recommend, check out the list below. After that, we'll go into detail about everything you need to know when buying a new racket.
The Best Table Tennis Bats in 2023: At a Glance
Our Research:
In the process of reviewing these paddles, we got our hands on some JOOLA rackets and made a full, head-to-head review video.
Best Table Tennis Paddle Reviews — For Beginners
#1. Palio Expert 2 | Suits: Allround Play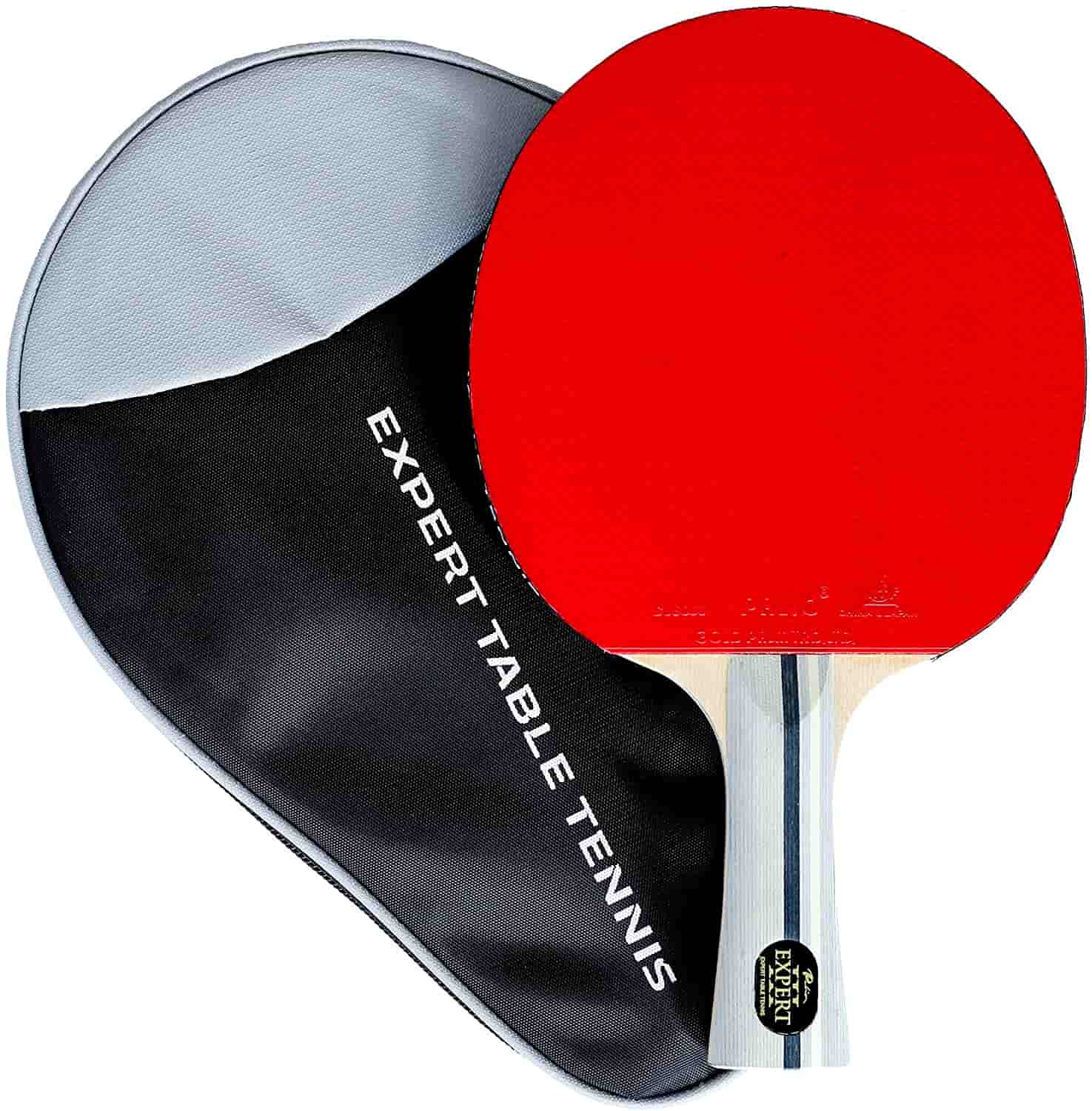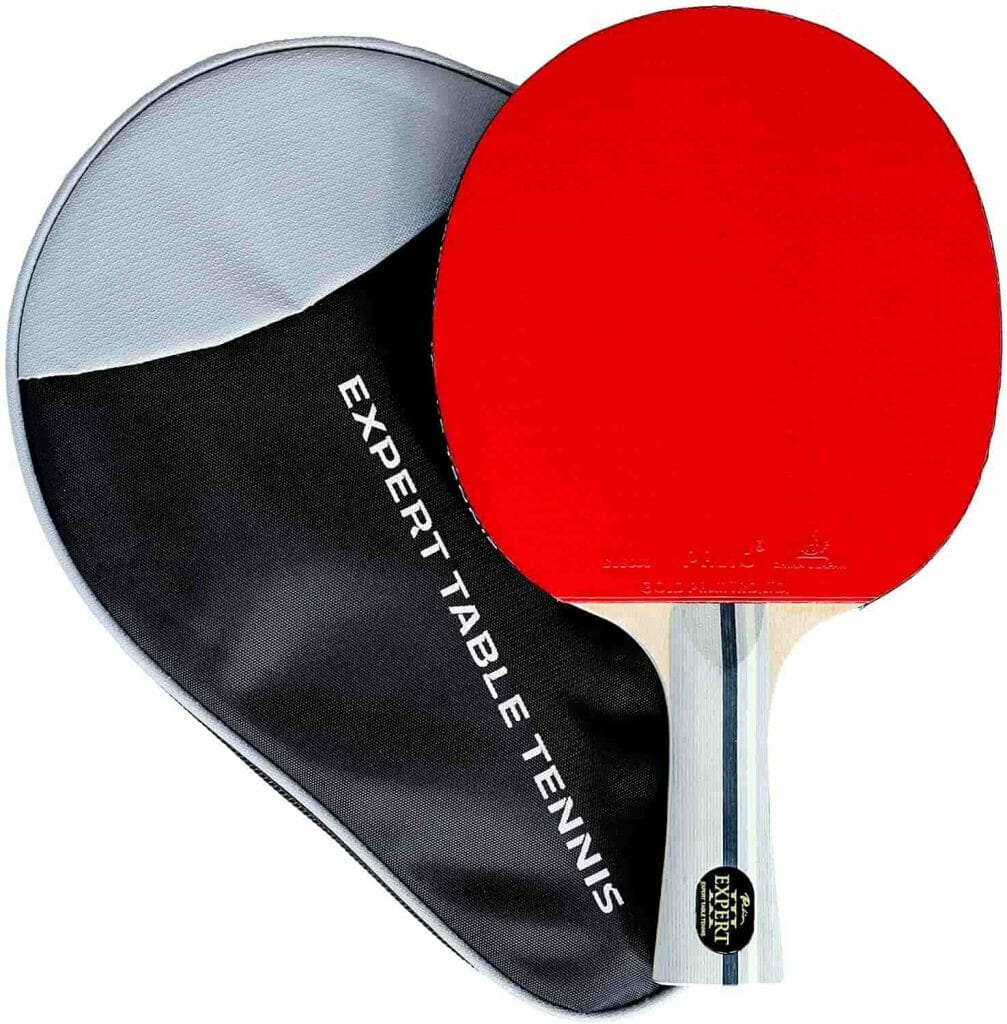 Pros
Inexpensive
Very controllable
Good spin to speed ratio to learn fundamentals of the game
Case included
Cons
Chinese rubbers can take some adjustment to get used to
You will need to upgrade when your skills are bottlenecked by the bat​
A step down from the Palio Legends 2 is the Palio Expert 2, one of the best ping pong paddles for beginners. It, too, is a collaboration between the Chinese brand Palio and table tennis specialists Expert Table Tennis. This paddle is simply a more muted version of the Expert 2, which is more fitting for beginners. It uses CJ800 rubbers which are similarly tacky but not as fast as the Hadou rubbers. As a beginner, this bat is everything you need to become familiar with strokes and understand spin mechanics.
As the third generation of the Expert line, the Expert 3 has a few new features, namely wider edge tape for better protection, a higher quality case, and a new and improved blade for higher levels of control. It can be tempting to consider cheaper, not ITTF-approved bats, but we wouldn't recommend these. They are often of poorer quality, you can't use them in competitive events, and sometimes the rubbers are permanently glued to the blade, so you can't change them out.
#2. Killerspin Jet 200 | Suits: Allround play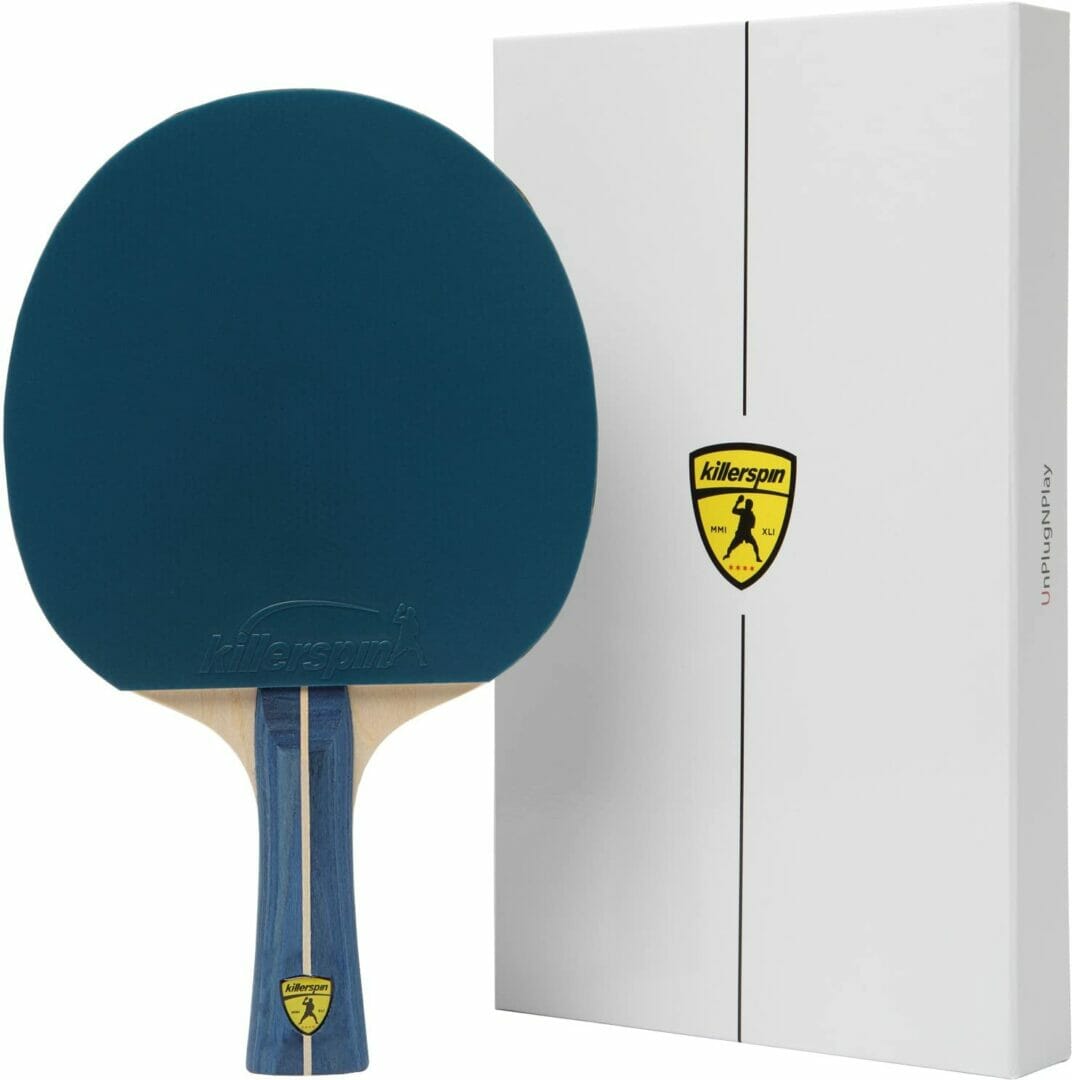 Ratings: Speed 40, Spin 42, Control 86
Blade: 5-ply wood
Rubbers: Un-named rubbers 1.8mm
ITTF Approved? No
Price: $
Rating: 5.2 (Read our full review for the Jet 200)
Pros
Inexpensive
Available in multiple colors
Case included
Cons
Non-ITTF-approved rubbers
Rubbers are permanently glued to the blade
The Killerspin Jet 200 is a flashy ping pong paddle that suits players who are just starting to learn the game. Available in navy blue, mocha, and lime it certainly stands out on the table. In terms of performance, it's okay for a beginner's bat suiting an allround style. You have access to enough spin and speed to become familiar with the basics of the game.
The un-named rubbers are not ITTF-approved so you can't use this bat for competitive play. I doubt many of you are wanting to jump straight into tournaments and league play, but for those who are, consider another bat such as the Palio Expert 3.
Best Table Tennis Paddle Reviews — For Intermediate Players
#3. JOOLA Infinity Balance | Suits: Allround play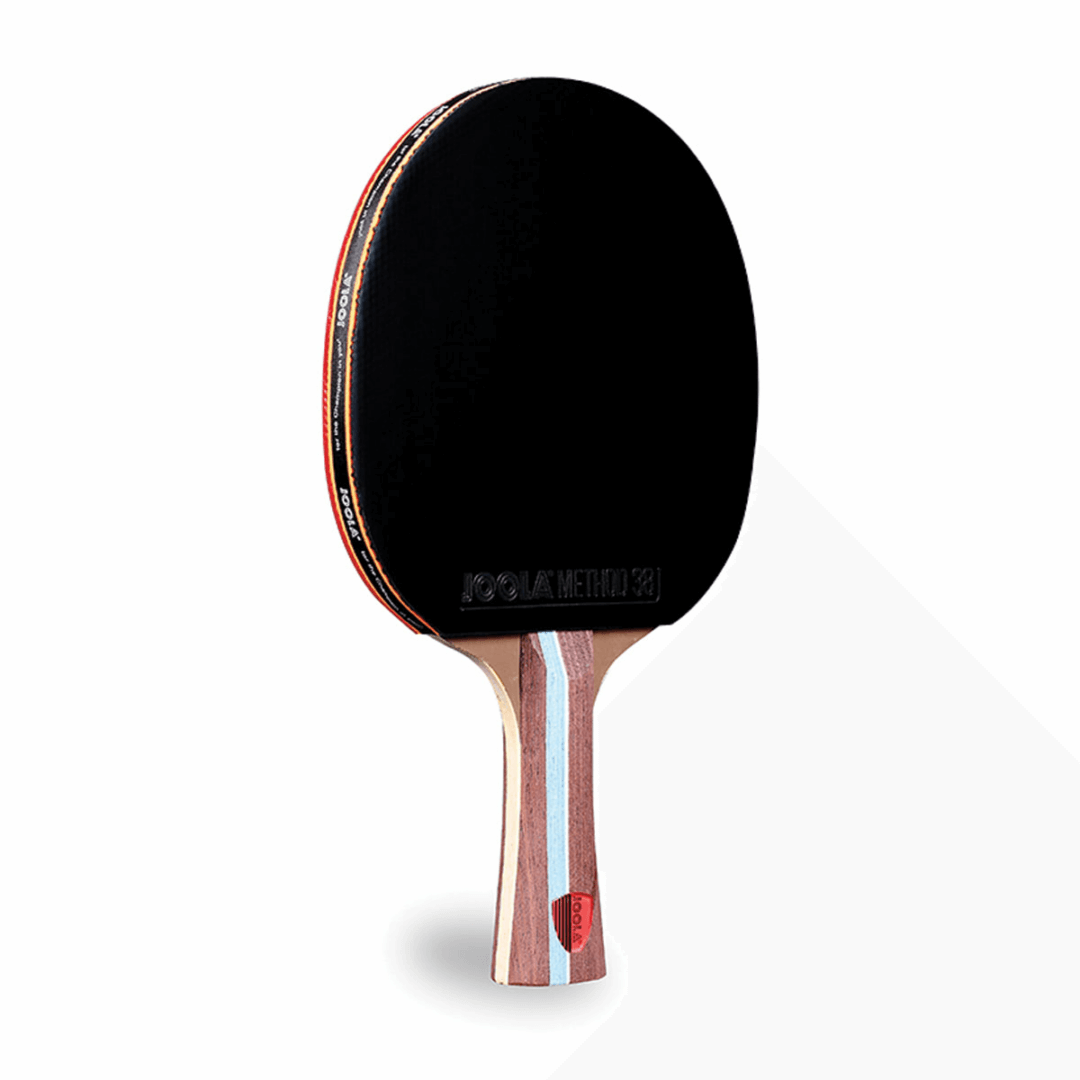 Pros
Inexpensive
Great value for money
Good looping
Fast smashes
Cons
A bit quick for beginners
Blocking slower shots
Wrong rubber listed
A top paddle for intermediate players is the Infinity Balance by JOOLA. I had the opportunity to test it out recently, and its quality really surprised me. With its 7-ply all-wood blade, it has good speed and is easy to control. It fills the gap between 5-ply all-wood blades and 7-ply carbon blades — perfect for intermediate players.
I could block, drive, loop, and smash to my heart's content. Its forgiving nature made it easy for me to stay consistent. The only real issue I faced was some of my blocks against slower shots went into the net. But after some adjustments, I started getting them in!
I happily recommend it to anyone looking for a great value intermediate paddle. If you're not sold, check out our dedicated review, or better yet, watch our pre-assembled JOOLA paddle comparison video below. The Infinity balance features, so you'll get to see it in action!
#4. Yasaka Mark V Racket | Suits: Allround Play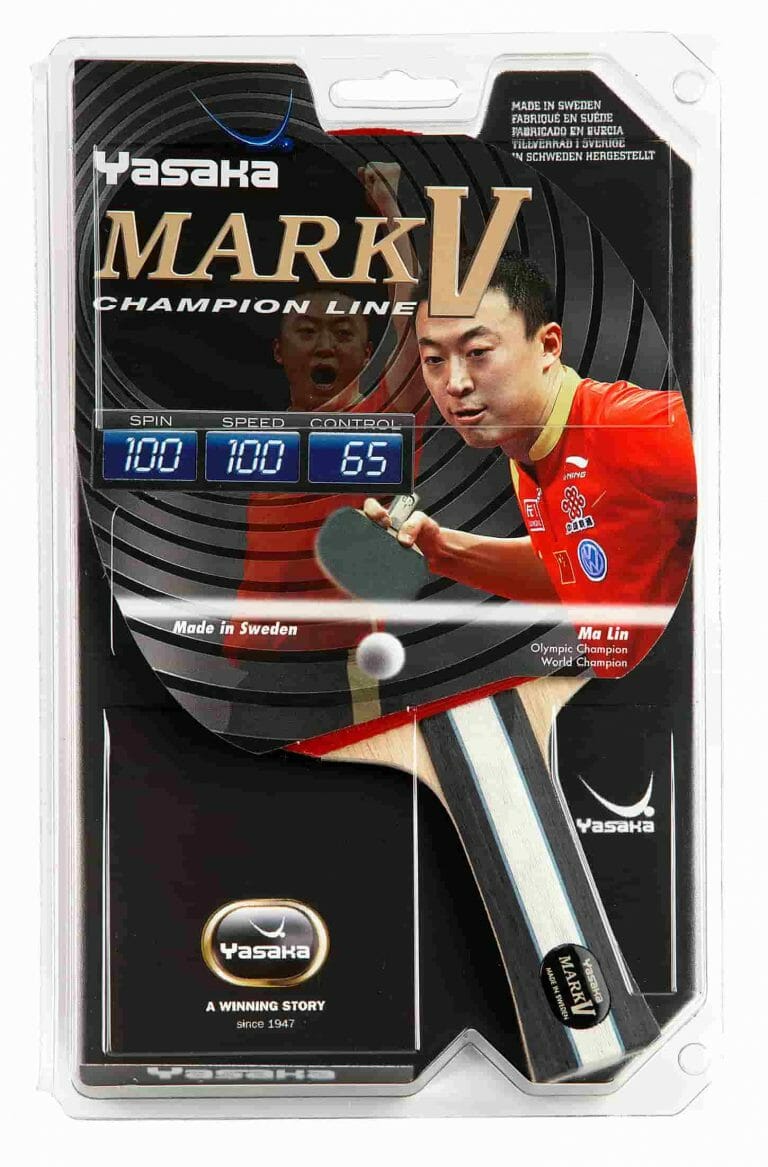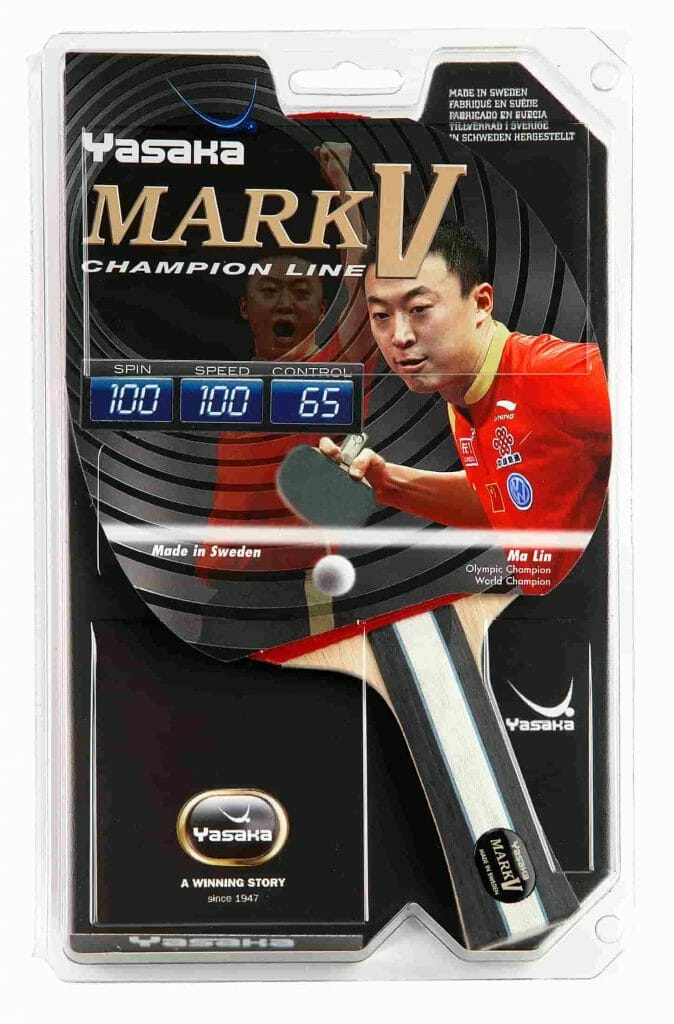 Ratings: Speed 80, Spin 82, Control 90
Blade: Swedish Competition Blade
Rubbers: Mark V 2mm
ITTF Approved? Yes
Price: $$
Rating:  8.6 (Read our full review for Mark V)  
Pros
Well priced
One of the most widely used rubbers of all time
High control
Great bat for developing skills
Cons
Not particularly fast or spinny
Kicking off our first bat for intermediate players is the Yasaka Mark V racket. A staple of the table tennis world, the Yasaka Mark V rubber has helped table tennis players win many titles, including former world number 1 Ma Lin. However, despite its usage at the top of the sport, it is still a great rubber for players who have not quite yet reached an advanced level. It is not as fast or spinny as the top rubbers today, which means it offers more control in the lower gears. In my opinion, it is the perfect rubber for players looking to dive into custom equipment. The lack of a catapult effect means it plays very linearly, which is ideal for players trying to learn advanced shots such as loops.
The rubber pairs with a special Yasaka Mark V blade as well for a complete Mark V setup. A great allround choice! And don't be fooled by the intermediate rating. This paddle can in fact, be the end product of your table tennis journey if you prefer an allround style. Not everyone conforms to the offensive category, which is so popular today.
#5. Stiga Pro Carbon | Suits: Attacking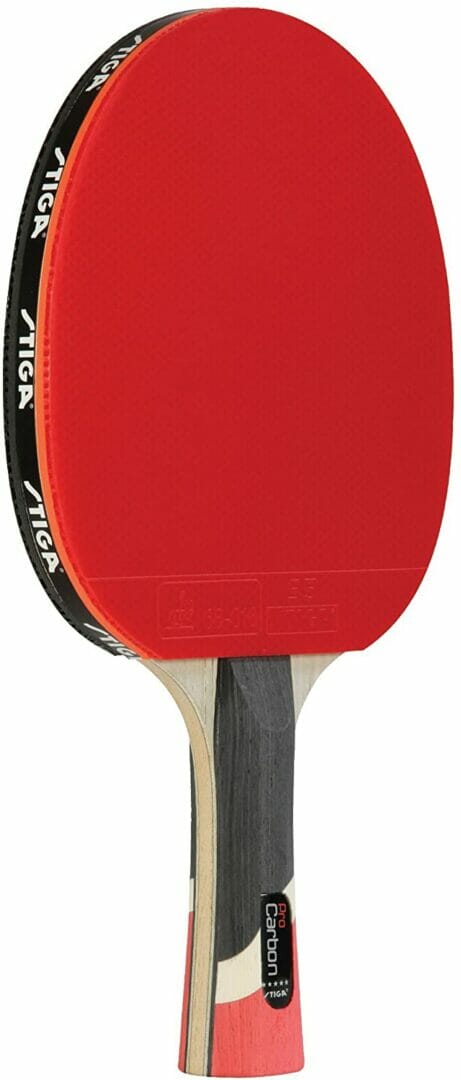 Pros
Lightweight
Fairly fast
Good spin
Fairly cheap
Cons
Price has increased over time
A little top-heavy
No option to reglue new rubbers
Where the Infinity Balance stands out as one of JOOLA's best pre-assembled paddles, the Pro Carbon is the equivalent for Stiga. In fact, it's one of the best-selling rackets on Amazon and it's easy to see why. The Pro Carbon features a 7-ply carbon blade which is pretty quick, and despite these extra 2 layers, it is still around the same weight as most 5-ply blades at 159 grams.
You can also generate decent spin with the Stiga S5 rubbers so looping is certainly on the table. You'll just need good form and moderate to high effort to execute. However, if you're a competent looper already, I would recommend a faster setup.
One irritating aspect of this ping pong paddle is that its price has risen over time by quite a bit. It's more than doubled in price since its all-time low price back in 2017.
#6. Killerspin Jet 800 N2 | Suits: Attacking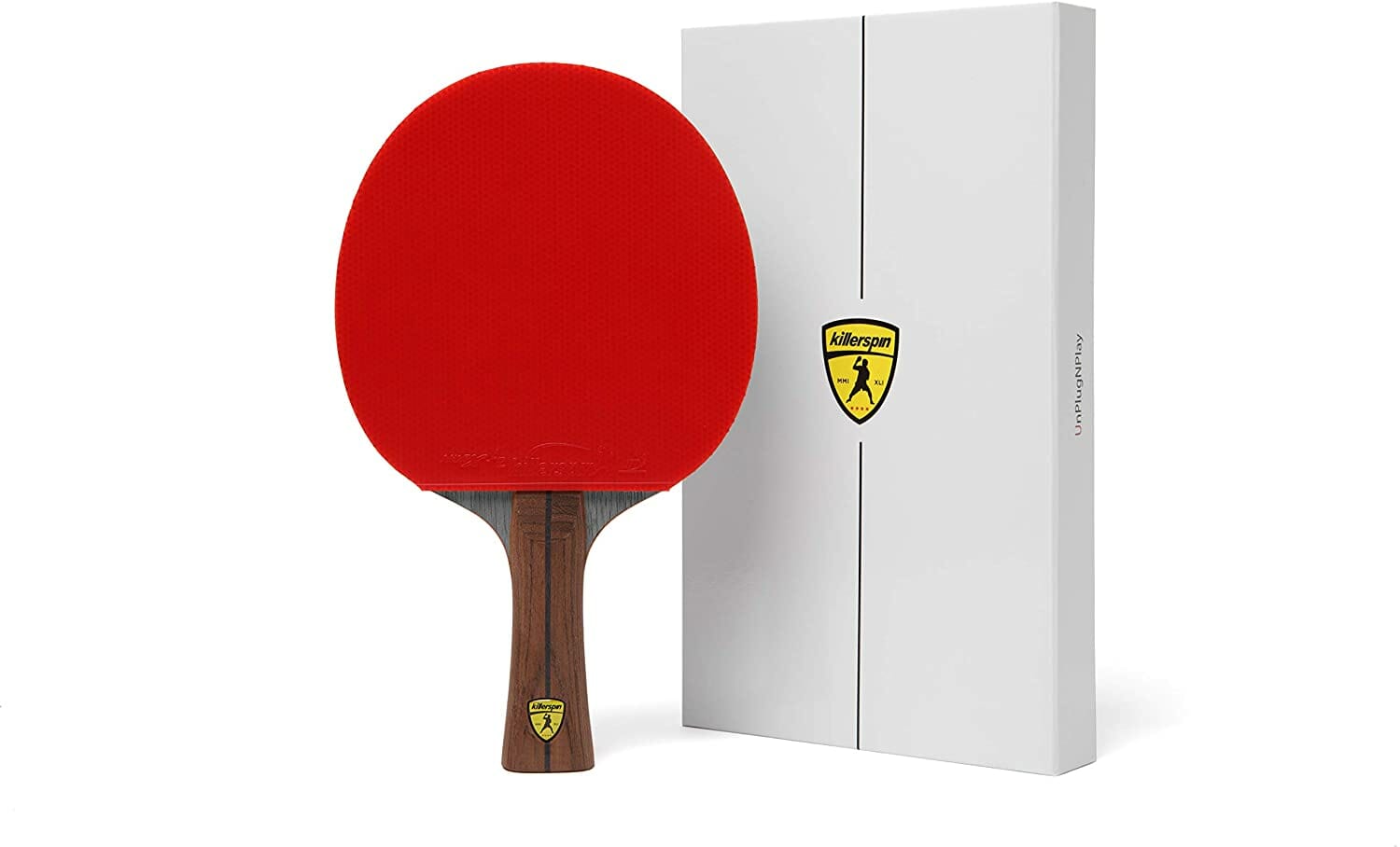 Ratings: 85 Speed, 80 Spin, Control 72
Blade: 7-ply: 5W 2 carbon
Rubbers: Nitrx 2mm
ITTF Approved? Yes
Price: $$
Rating: 7.3 (Read our full review for the Jet 800)
Pros
Fast
Good spin
Case included
Cons
More expensive than its competitors
Heavy
The Killerspin Jet800 is the fastest table tennis bat we've featured for the intermediate category. It uses a 7-ply carbon blade with Nitrx-4Z rubbers. The game plan with this setup is to overwhelm your opponents with attacking shots, be it drives, loops, or smashes. It's pretty quick and spinny — certainly one of the tougher bats to handle in the intermediate category, so make sure you have a good level of consistency before moving on to this bat.
The main issue with this paddle is the price. It's a little expensive compared to its competitors. The Jet 800 N2 is also fairly heavy, which will likely take some getting used to as you will almost certainly be coming from a much lighter bat.
#7. Palio Legend 2 | Suits: Looping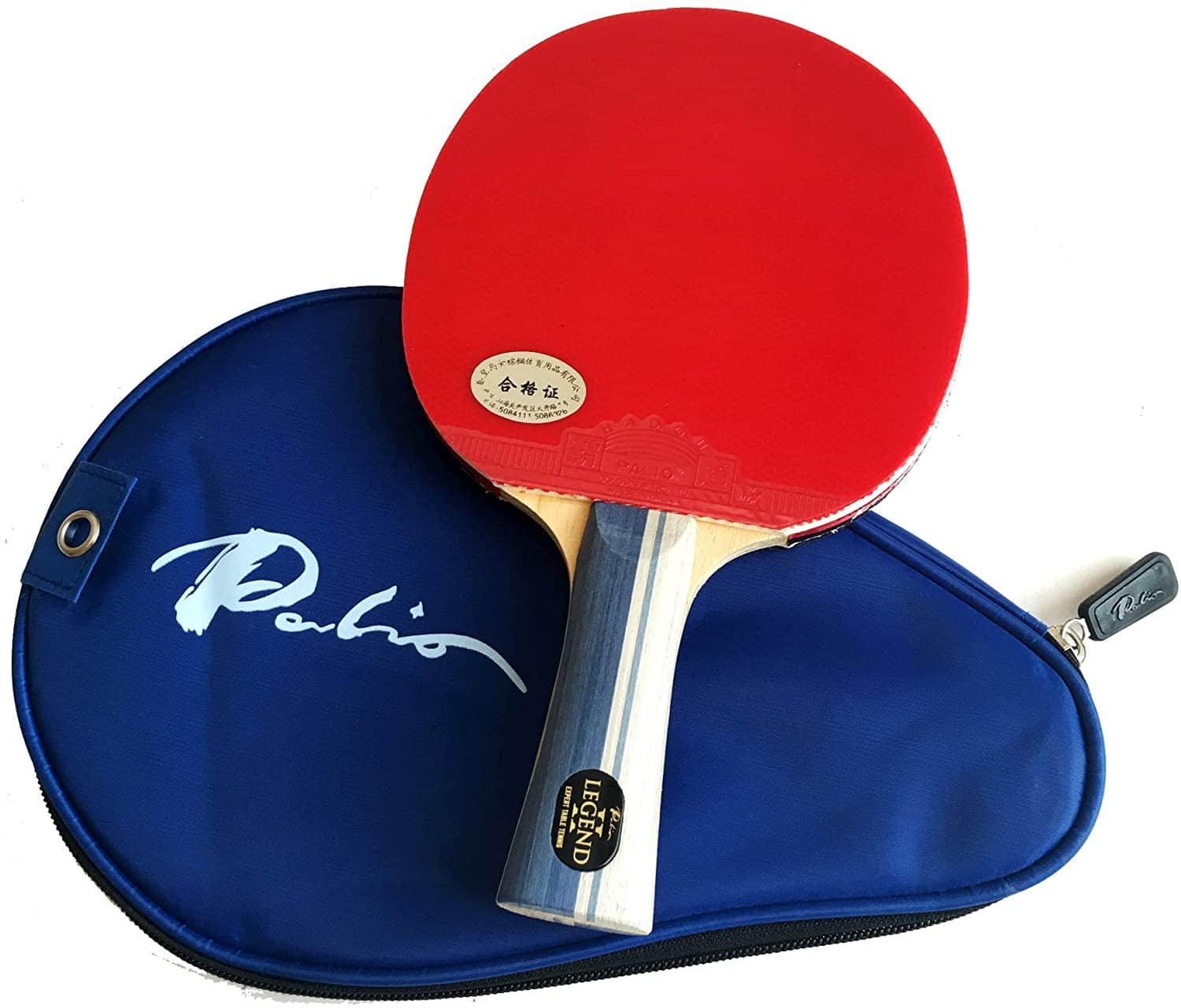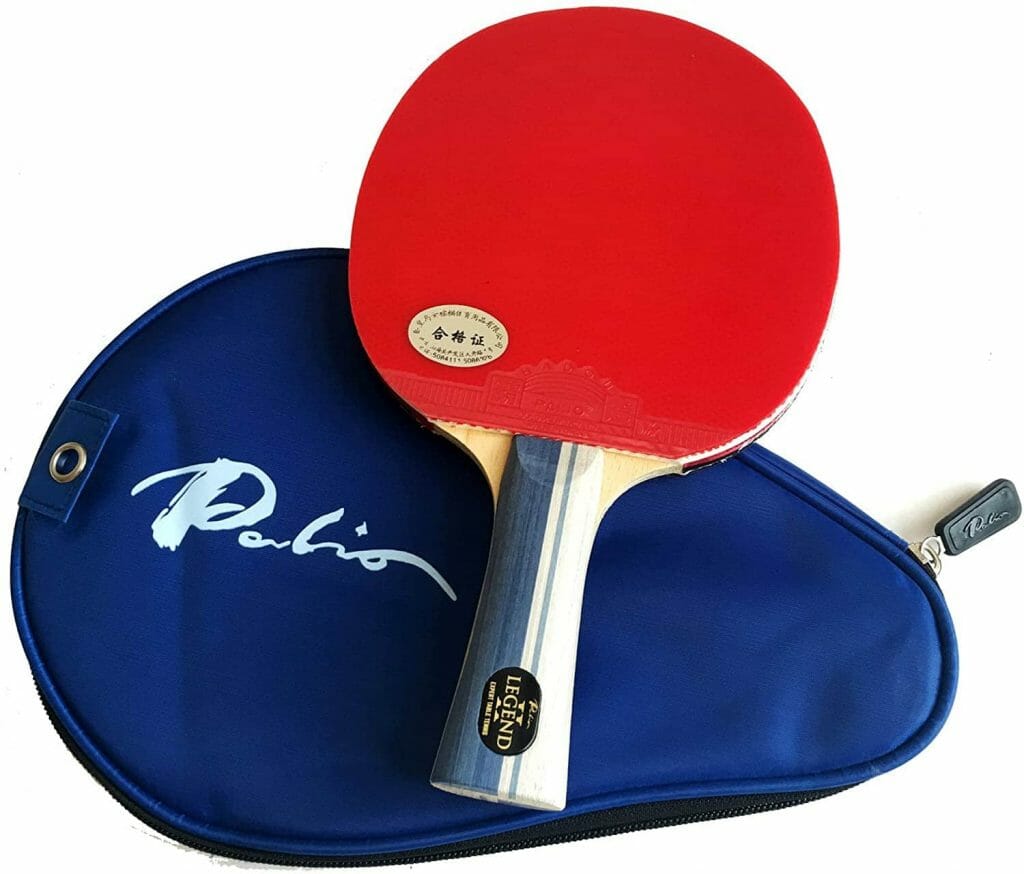 Pros
Inexpensive
Favors looping style
Linear pace is easy to predict
Cons
Chinese rubbers can take some adjustment to get used to
The Palio Legend 2 offers a very different feel to the Yasaka Mark V racket. This is because it is a Chinese-style bat. What I mean by this, is that rubbers are tacky and use a hard sponge. This is different from conventional tensor rubbers which are not tacky and use softer sponges. Therefore when you strike the ball, it doesn't sink into the sponge as much as if you were using a tensor rubber. A benefit of tacky rubbers is that you can generate high levels of spin from brushing the ball. This can make your serves very deadly to your opponents.
One of the reasons we have put the Palio Legend 2 in the intermediate and not advanced category is because it plays in a very linear way. You need fast arm movement to deliver powerful shots, so you can comfortably work your way up to playing a faster game while maintaining control. Many of the top rubbers have an in-built catapult effect that is too hard to control for beginners. And it may be a small benefit, but we like the fact that they include a case with the bat. You never get cases included when you purchase custom ping pong bats.
If you want some further reading regarding the Palio Legend 2 I recommend checking out Expert Table Tennis' review themselves. It may be their product, but their review is unbiased and honest.
The Best Ping Pong Paddle Reviews — For Advanced Players
#8. Butterfly Timo Boll ALC Proline w/ Tenergy 05 | Suits: High Spin Looping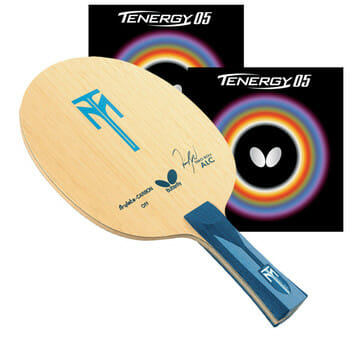 Ratings: Speed 92, Spin 94, Control 87
Blade: Timo Boll ALC 7-ply
Rubbers: Tenergy 05 2.1mm
ITTF Approved?  Yes
Price: $$$$
Rating:  9.4 (Read our full reviews for Timo Boll ALC and Tenergy 05)
Pros
Both rubber and blade are widely popular with pros and amateurs
Great feeling
Catapult effect
Cons
Expensive
Hard to control
It is no surprise that a complete Butterfly setup makes our list for one of the best ping pong paddles you can buy for 2023. The Timo Boll ALC Tenergy 05 setup has essentially achieved legendary status at this point. Arguably the most popular rubber of all time paired with Butterfly's most popular blade of all time — it is a match made in heaven.

The large sweet spot from the ALC and the killer catapult effect of Tenergy creates a bat that is highly enjoyable to play with. You should only purchase this paddle if you are an advanced player, as it is very fast and spinny. The first time I used Tenergy all of my loops pinged off of the table! 

Although this setup is expensive, it is a worthy investment if you want to compete at the top level. As an owner of the Timo Boll ALC, I fell in love with this blade, and through adequate care, it has lasted me many years. Timo Boll himself has stuck with this blade after deciding he preferred it to the Viscaria and Timo Boll Spirit.

This paddle deal does not offer any rubber customization. The sponge thickness is locked at 2.1mm. I suspect this is because 2.1mm is the most popular for Tenergy 05. You do, however, have the option to choose your handle type. You can choose between flared, straight, and anatomic. If on the other hand, you're not fussed about the deal you can buy the rubbers and blade separately so that you can choose a different sponge thickness.


#9. Butterfly Zhang Jike ZLC Proline w/ Tenergy 64 | Suits: High Speed Looping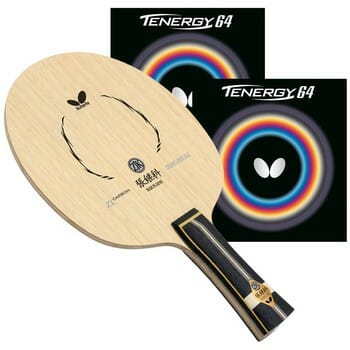 Ratings: Speed 94, Spin 87, Control 83
Blade: Zhang Jike ZLC 7-ply
Rubbers: Tenergy 64 2.1mm
ITTF Approved? Yes
Price: $$$$
Rating:  9.4 (Read our full review for

Tenergy 64

)
Pros
Great for power looping and smashing
Catapult effect
Cons
Expensive
Hard to control
The Butterfly Zhang Jike ZLC with Tenergy 64 ranks as the second most expensive paddle setup on this list. But with expense comes quality. This pairing suits the all-out attacker who wants to overwhelm their opponents with blistering speed — it is the best ping pong paddle for fast players.
Tenergy 64 is one of the fastest rubbers of the Tenergy line, which sports a very direct style. When I used it, I immediately noticed the step up in pace and it brought out my love for smashing. In fact, I often found that I favored smashing through slightly high backspin balls as opposed to power looping them. Tenergy 64 really excels in this area.
As you would expect, it is also a very spinny rubber, but it does fall noticeably short of the likes of Tenergy 05. This means it is not the best choice if you prefer arcing loops and overwhelming your opponents with heavy spin. For this type of play, Tenergy 05 is a better fit. Named after Zhang Jike, the Zhang Jike ZLC also sports a step up in pace from the ALC. As a consequence, it is harder to control. Only the most controllable players will be able to use it effectively.  

For this paddle bundle, you receive both Tenergy 64 sheets in 2.1mm thicknesses, and the Zhang Jike ZLC comes with a flared handle.

#10. Andro Treiber CI OFF w/ Rasanter R42 | Suits: Fast and Spinny Looping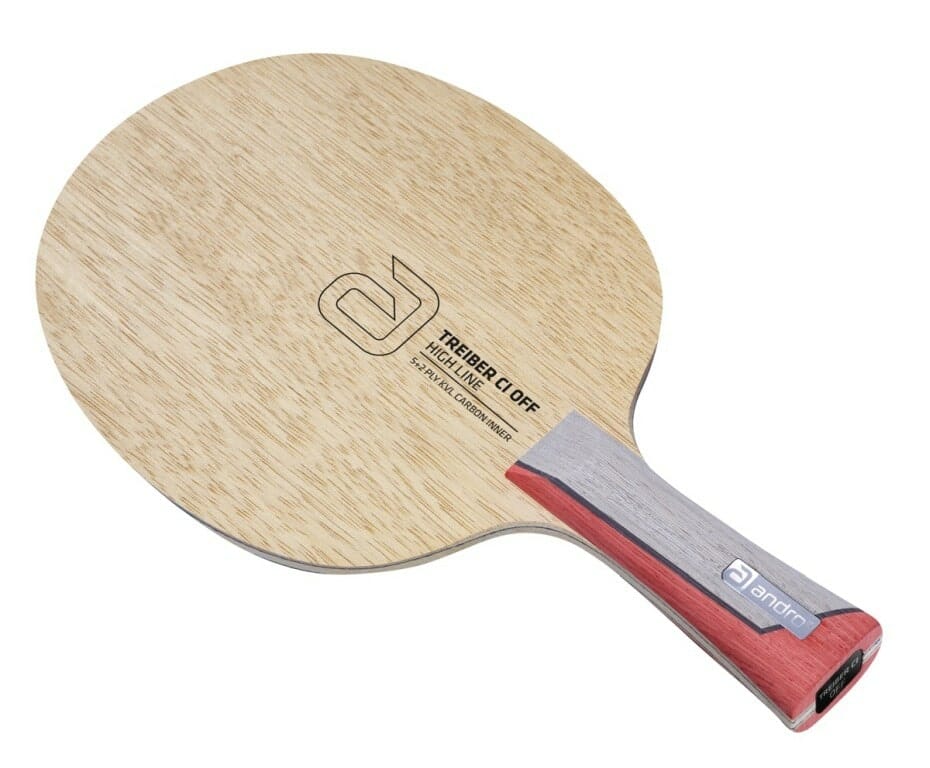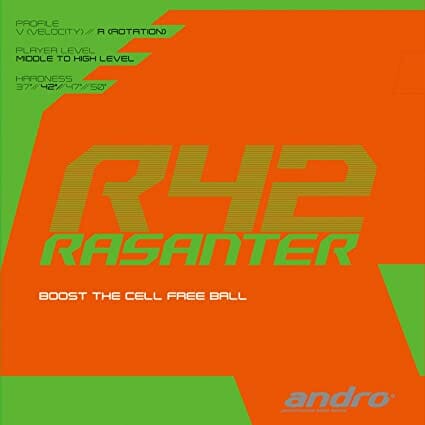 Blade:
Rubber:
Ratings: Speed 92, Spin 94, Control 93
Blade: Treiber CI OFF 7-ply
Rubbers: Rasanter R42 1.7mm, 2mm, ULTRAMAX
ITTF Approved? Yes
Price: $$$
Rating: 9.4 (Read our full review for Rasanter R42)  
Pros
Attractive blade
Killer spin and speed
Durable
Cons
Note: As this is a bat combo we have individually recommended you will need to manually select the blade and rubbers yourself. They are not offered as a single listing. Links below.
As a lover of Andro, we had to include an all-Andro setup for our top paddles of 2023. 
Choosing the blade was tough as there are so many options from a quality brand like Andro. I chose the Treiber CI OFF for its blend of price, performance, and looks. It is composed of seven plies, with five layers of wood and two layers of KVL Carbon. This blade is actually available in two variants: the CI and CO version. Besides the color reversal (red and gray position on handle swapped), the CI refers to inner, meaning the KVL Carbon layers are closer to the core. This gives a slightly rescued pace but an increased feeling. Perfect for spinny shots where you really want to feel the ball!
Rasanter R42 is a potent rubber part of the series that succeeded Rasant. Using a thicker sponge than Rasant is more suited to the plastic ball and allows you to produce deadly shots. I think Rasanter is easily the best series available for purchase by Andro, and R42 is one of the more popular variants. With a touch more spin than some of the others, it can make your service game deadly. As a player who leans on spinny serves and powerful forehand loops, Rasanter is my personal choice of rubber series. Ever since I tried Rasant I knew that I had hit a winner (no pun intended). It is simply a joy to use, and the rubber sheets last far longer than most of the other rubbers I have tried. 
Ping Pong Paddle Buyer's Guide
A lot of new players will often ask us how to choose their paddle and what things they should look for. To help, we've written up all of our advice below and some basic elements any budding player should know about their racket. We want you to make the right choice and have tried to answer as many questions as we can. If we haven't answered your question though, feel free to get in touch on the contact page, and we'll be happy to help.
Just remember, finding the best ping pong paddle from the many paddles that exist on the market can be overwhelming, so take your time with the research. This is an investment. If you need help, we have detailed reviews on several paddles and other equipment.
The Different Parts of a Paddle
The handle
The blade
The sponge
The rubber sheet
Let's take a look at these parts in a bit more detail and see how they affect your play.
The Handle
Racket handles can come in four different shapes depending on your preference and how you prefer to hold it. These are: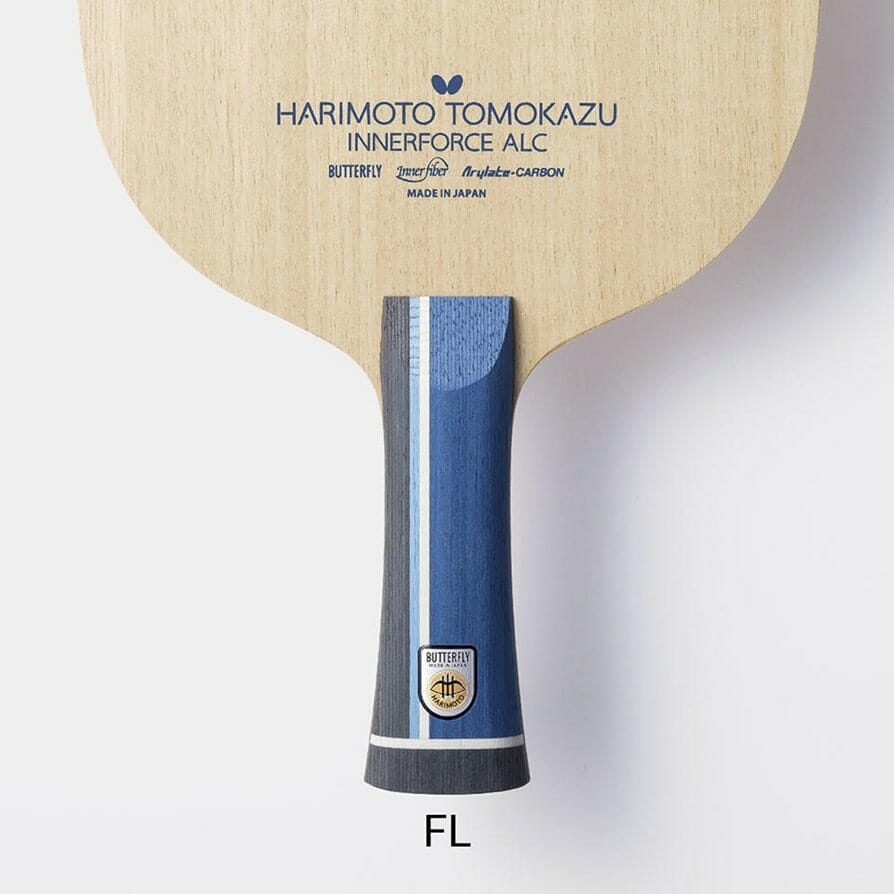 Flared: The most popular style. Wider towards the end of the handle to stop it from slipping out of your hand. Gives you better control when hitting the ball.
Anatomic: Wider in the middle. This style helps to fit the handle in your palm and provides you with a bit more stability.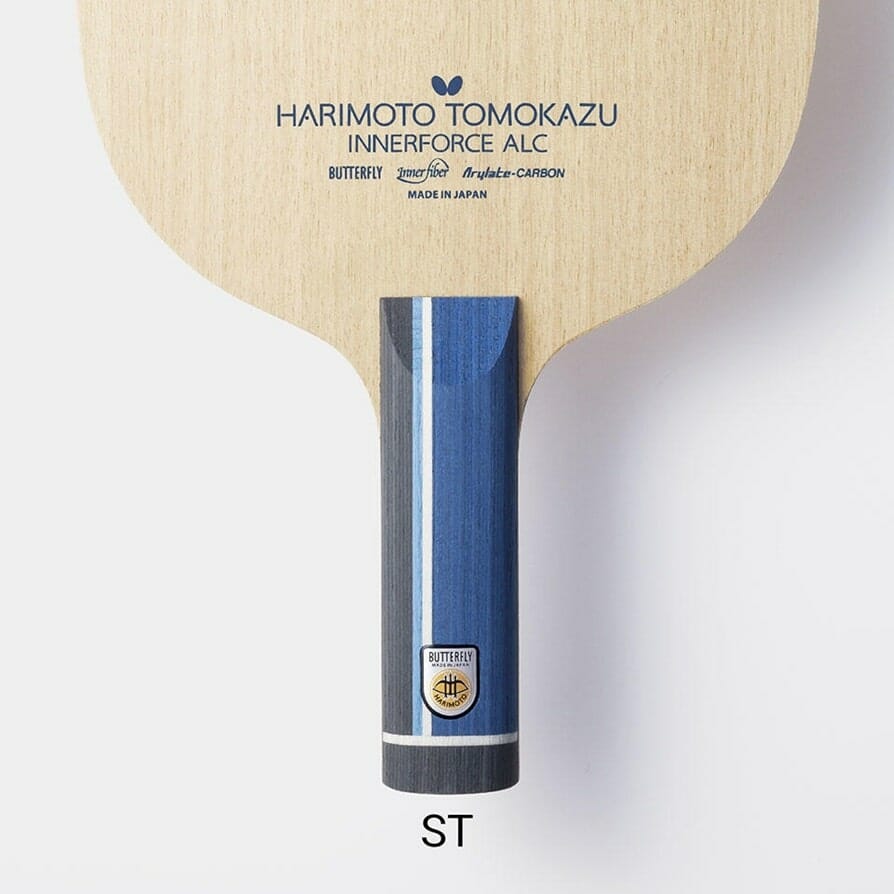 Straight: Same width all the way from the top to the bottom and allows you to change how you grip the paddle according to the play.
Penhold: Used for the penhold grip. The base of the handle tends to be a little thicker, much like flared, and the handle's overall length is much shorter. Some penhold handles are circular, whereas others are rectangular.
If you're a beginner wondering which handle shape is best, starting with a paddle with a flared grip is usually recommended. You can then try the other types and see which you prefer.
The Blade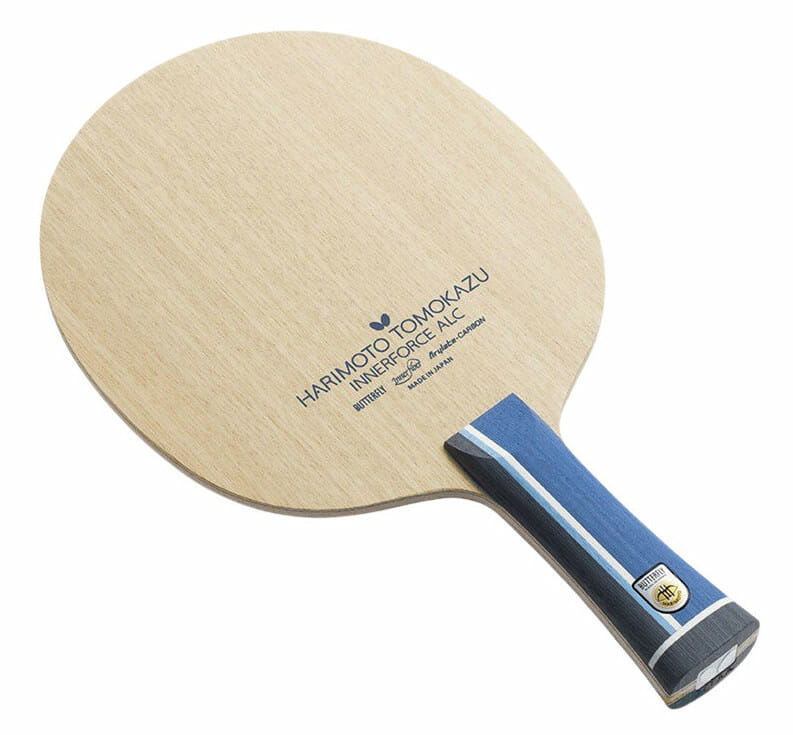 The blade of the bat is made out of multiple layers of wood. It can be anywhere from 5 to 9 layers. The more layers that the blade has, the stiffer the bat will be. Some blades are entirely made of wood which gives a great feeling. Others have a couple of layers of carbon fiber instead of wood. This reduces feeling but enhances speed.
Read more: If you want to make your own custom bat, then you should check out our
guide to table tennis blades here
.
The Sponge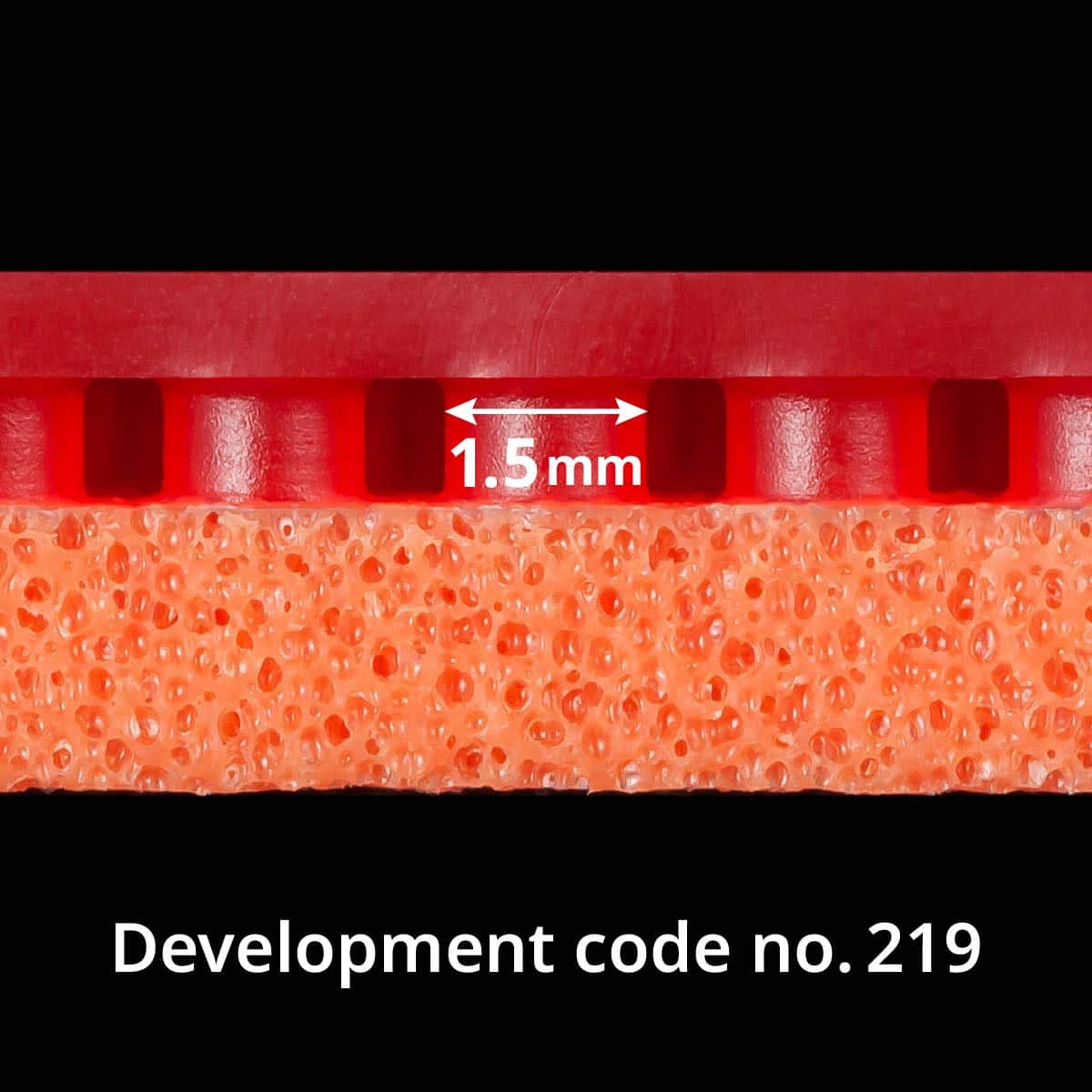 In between the paddle blade and the rubber (which we'll look at next) is a sponge layer. The thickness of the sponge can vary between 1.2 mm to 2.5 mm. The thinner the sponge, the more control you will have, but you won't be able to generate as much power. Thick sponges have less control but offer the highest levels of speed. As a result, offensive players prefer thicker sponges. The orange sponge pictured above is taken from a Tenergy 19 rubber.
The Top Sheet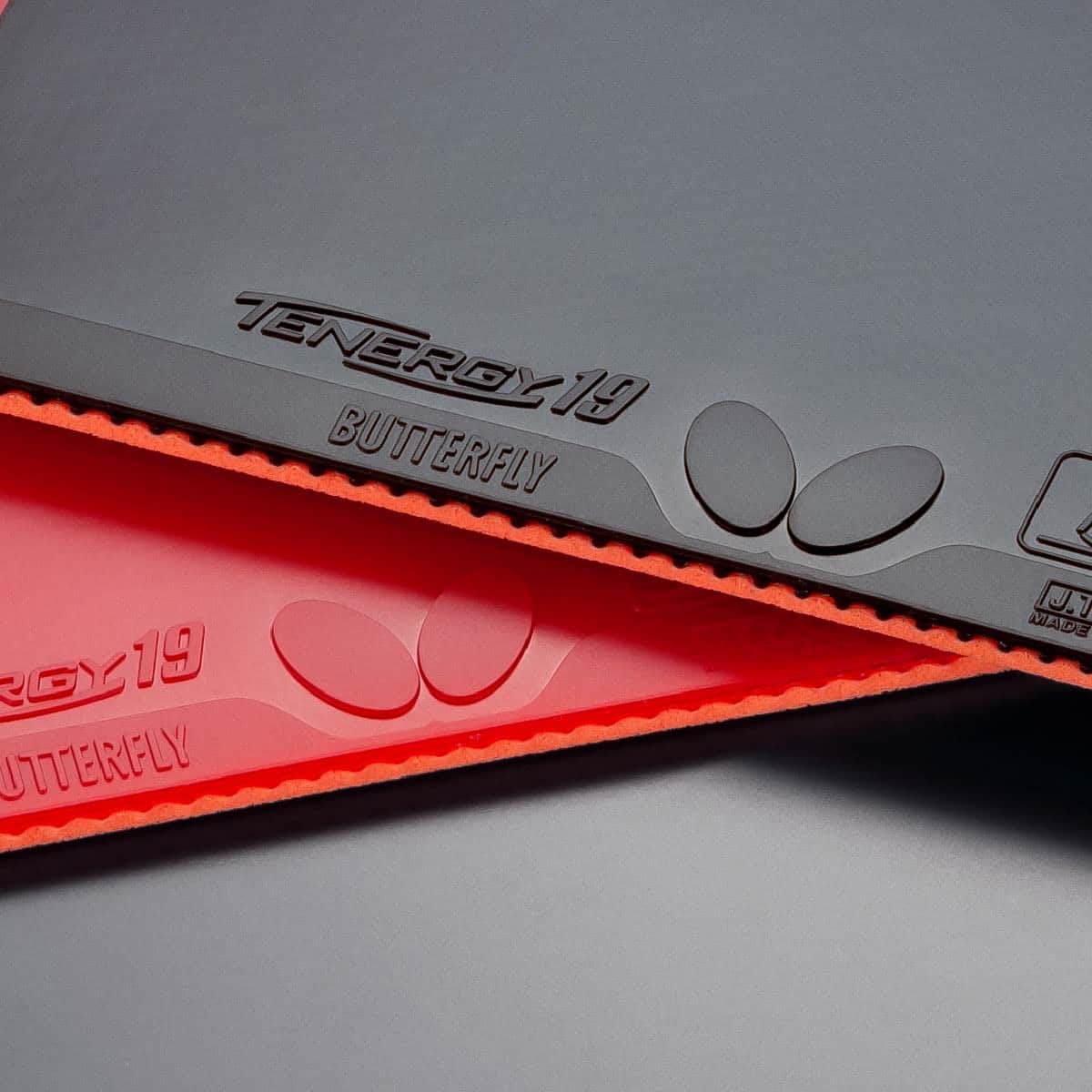 On either side of the blade, on top of the sponge is a layer of rubber which is the surface that will make contact with the ball (often called top sheet). There are lots of variations, such as short pimples, long pimples, and inverted. These variations can affect the grip and the amount of spin that you'll be able to generate.
Rubbers have to be within a certain standard for use in official tournaments. If they comply, they will have an "approved by the ITTF" label so that you know that you are ok to use them. Above is a set of Tenergy 19, an offensive inverted style rubber — the top sheet's pimples face inward rather than outward.
Table Tennis Bat Ratings
There are three factors that determine the style of play a particular table tennis bat favors. These are speed, spin, and control, and we use these to distinguish the best ping pong paddles from the rest.
Speed: The speed at which the ball leaves the paddle. Attacking players that like to stand far away from the table to hit power shots will want paddles that generate a lot of speed (a thicker sponge and more plies). What you gain in speed, you sacrifice in control.
Spin: Relates to how much spin you can generate. This is usually down to the rubber, and players often have different rubbers on both sides of the bat which can facilitate different shots.
Control: Important for beginners. Speed and spin preference come later once you become more experienced, but initially, you need to focus on getting the ball to go where you want it to.
Your Playing Style
When you're a beginner to the game, you'll want to focus on improving your basic table tennis skills first. So, choose a more neutral bat with good control to allow you to focus on honing your shots. As you progress, you'll develop a play style, which will affect what sort of bat you'll go for. Maybe you are an attacking player that likes to go for speed? Then, you'll need a bat that's fast and lightweight. Or perhaps you're more defensive? In this case, you need something to slow the ping pong ball down with more control.
How To Grip Your Bat
Choosing the right paddle will also depend on how you grip the bat. There are lots of different ways to hold the bat, but the most popular ones are the Shakehand and the Penhold grip. We have a more detailed guide on how to grip a table tennis bat.
Keeping Your Paddle in Good Condition
Once you've purchased a great paddle, it's really important to keep it in the best possible condition so it doesn't wear out too quickly. You can do two important things to keep your table tennis paddle in good condition.
The first is to store it in a case, and we have a guide to the best ping pong paddle cases. The second is to clean your paddle every once in a while. We also have a detailed guide on how to clean your ping pong paddle.


Conclusion: Which Table Tennis Paddle Should You Buy?
We hope our guide has helped give you an idea of what to look for when looking for the best ping pong paddles. It can get overwhelming looking through all the options available, so we've tried to focus on a few of the top choices. We personally undertook manufacturing research, hands-on testing, and review analysis to give you the best possible information we could.
And if you feel that none suit your level, then we can only apologize. Feel free to look at our other reviews as we have plenty!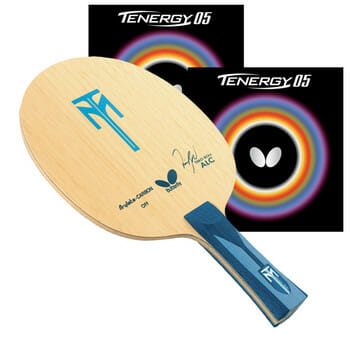 To sum up, the Butterfly Timo Boll ALC w/Tenergy 05 is the best ping pong paddle for offensive players for 2023. There really isn't much to separate bats at the top level, but if we have to choose, this setup just about edges it. Both the Timo Boll ALC and Tenergy 05 rubbers have proved time and time again that they are fan-favorite products among players. So you have peace of mind when you purchase them. We love the catapult effect of Tenergy 05 and the high clearance over the net it provides. It is very satisfying to play with, and you should notice a big difference if you come from a rubber with a medium throw angle.
For our intermediate category, the Yasaka Mark V racket is our top choice. Once again, the Yasaka Mark V rubber has stood the test of time and still remains popular today. With Mark V rubbers, you can play a controlled game while still having access to fast and spinny strokes. It is a perfect balance for emerging players who are honing their skills and trying to refine their style.
And finally, for our beginner's category, we feel the Expert 2 is the best ping pong paddle. This is mainly because of its high control, moderate speed, and moderate spin. It's just challenging enough to push beginners but not so lively that it will stunt their development — a great bat to focus on technique and learn the fundamentals of the game.
Unfortunately, we ran out of space for Stiga products on this list, but fear not, we have a breakdown of our favorite Stiga ping pong paddles, too.
Paddle FAQs
Here are a bunch of common questions we get asked about table tennis paddles.
Is There a Difference Between the Red and Black Side of a Ping Pong Paddle?
A professional player may use a different rubber on each side of their paddle for specific benefits. And the reason rubbers have to be different colors is so opponents know which side they're using and, therefore what type of shot to expect.
Does a Ping Pong Paddle Make a Difference?
Ping pong paddles make a huge difference to your game. My brother and I often joke about how we would perform against the best players in the world if we gave them unbranded table tennis bats. I, for one, reckon I would win! This just shows you how important your paddle is. By contrast, if a pro was to use their normal bat against me I'd probably only get around a point or two.
Are Expensive Ping Pong Paddles Worth It?
Absolutely! But more expensive doesn't necessarily mean better. It all depends on your ability. If you're a beginner, then there's no point buying a very expensive paddle as it won't suit you. But, if you're an advanced player, you should spend a bit more as the paddle quality jumps massively when you move up the price range.
What is the Best Table Tennis Paddle for Beginners?
You need to go for one with a high control rating. Beginners should go for a slower paddle to allow them time to learn the skills to level up their game. I also recommend choosing one with limited spin initially. Spin takes a long time to understand, and if you get a spinny bat before you're ready, it's not very fun.
How Do I know When I am Ready for a More Advanced Ping Pong Paddle?
You will reach a point where you consistently make returns across all of your different strokes, but feel limited by how much spin or speed you can impart.
Why Don't I Just Get the Best Overall Ping Pong Paddle?
Because you need to get the right paddle for you! One that is too fast or too spinny will severely stunt your development and may lead to you developing bad habits. Similarly, a ping pong paddle that is too slow or not spinny enough will bottleneck your performance. Always buy a bat that is suitable for your skill level. I see way too many intermediate players jumping the gun for top-end bats. Don't make this mistake.
What is the Best Ping Pong Paddle in the World?
We feel that Tenergy 05 with the Timo Boll ALC blade is currently the best ping pong paddle you can buy. However, there are many different paddles at the premium end which are almost identical in terms of quality.
What Ping Pong Paddles Do Professionals Use?
Professional ping pong paddles vary greatly because each player sports a unique style. But pro ping pong paddles frequently consist of Tenergy 05, Evolution MX-P, and Hurricane 3 NEO, while the Timo Boll ALC and Viscaria are very popular blades.
Are Sandpaper Ping Pong Paddles Legal?
In almost all cases, sandpaper bats are not legal. This is because they don't abide by the ITTF rules. These rules specifically state that rubbers need to form a part of your bat composition, which with sandpaper bats, they don't. However, sandpaper bats may be legal in very select competitions. Hard bat-style events or competitions use non-rubber bats, which may permit the use of sandpaper bats. It all depends on where the competition is being held and the ruleset used.

Freelance writer. Table tennis enthusiast. Lover of all things online. When I'm not working on my loop game I'm probably binge-watching some fantasy show.