Killerspin Jet 200 Review
The Killerspin Jet200 table tennis paddle is a shakehand style bat designed for beginners or recreational players. What makes this a great option for beginners, or those interested in getting better, is the paddle's great control rating and low speed and spin.
In this post we're going to give you our review and discus some of the features of the Jet 200 that make it a hugely popular option with table tennis newbies. Let's dive in.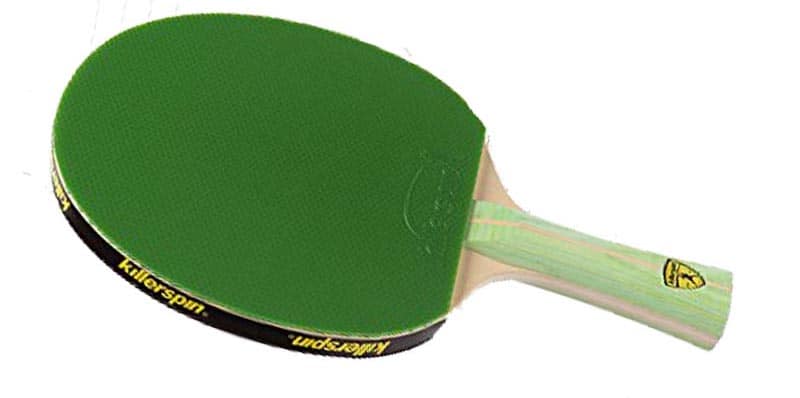 Specifications:
Performance ratings – Speed: 6.0, Spin: 7.0, Control: 8.5
Blade – 5 ply wood extra-light blade
Grip – Flared handle grip
ITTF Approved? – No, you can't use this paddle in official tournaments
Price – $ (Check Current Price)
Our rating – 8.7/10 A good budget choice for table tennis beginners
Overview of the Killerspin Jet 200
A good place to start to get an idea of what the Killerspin Jet 200 is like is to watch this video on their youtube channel below.
A look at its construction
Now we'll cover the construction and build quality of this table tennis racket to see how it stacks up.
The blade and sponge: Good for beginners
The Killerspin Jet 200 is one of their entry level table tennis bats and is ideal for those starting out in the game looking to upgrade from a paddle you'd get in a basic set.
The blade of the Jet200 is made out of extra-light 5-ply wood which is that has 1.8mm millimeter sponge layer. For table tennis beginners and recreational players it's recommended to have a sponge thickness of between 1.5mm to 1.8mm as the thicker the sponge is the more it will speed up the ball. It can be very overwhelming if you have a very fast table tennis racket and you're not used to it.
When you're starting out you want to go for a slower table tennis racket with a higher control rating to allow you to practice your shots and ball placement and the Jet 200 has both of these making it an ideal entry level ping pong paddle that will be very forgiving.
Non-ITTF approved rubbers
When it comes to rubbers, the Jet200 doesn't have ones that are ITTF (International Table Tennis Federation) approved so you won't be able to use this paddle in official tournaments but it wasn't designed with serious players in mind. Killerspin are aiming it for the recreational player market and so we don't mind so much.
The table tennis rubbers, although not high quality, will still allow you to generate some spin but as you improve you'll probably want to upgrade it to something with higher ratings.
Even so Killerspin have given the Jet 200 a spin rating of 7.0 which is just enough to learn the techniques required in table tennis and get accustomed before upgrading to more tacky rubbers when you're ready to up your game.
The Killerspin Jet 200 is available in four different colors: BluVanilla, Mocha and Lime and Black.
If we're being honest, we'd prefer it wasn't available in so many colors as in our opinion they're not the nicest looking shades. It's a shame it's not available with the standard red and black rubber that is common for most table tennis paddles but that's just our opinion.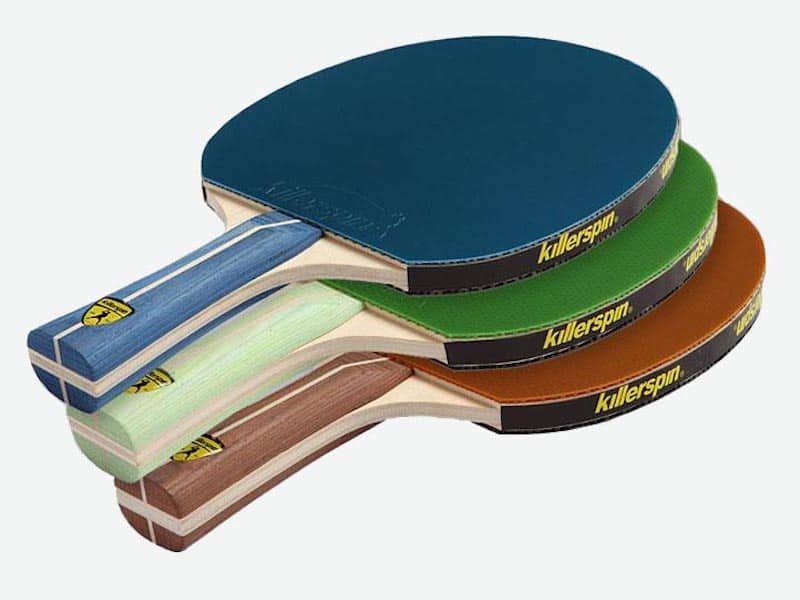 Comfortable flared handle grip
The handle on this paddle is a shakehand flared grip. That means that the handle widens towards the end helping it to sit comfortably in your hand and not slip out.
Some customers have complained that the quality of the handle wasn't great and it would fall off after a bad knock or after a lot of use. They've reported that you can glue it back on it still works but it's not ideal. Still considering the price it's to be expected that the quality won't be five stars.
Comes with a nice gift box
So this is obviously nothing to do with how the paddle plays and its quality but it does come with a nice memory book box that you can use as a case. We always advice getting a paddle case for your table tennis racket to help extend the life of it and the fact that it comes with one is great as it's one less thing to purchase. We have a post on some of our favorite ping pong paddle cases here if you're interested.
About Killerspin
The Jet 200 is from Killerspin, a relatively new table tennis brand from Chicago in the United States. They have released a whole series of table tennis rackets called Jet that are designed with different skill levels in mind from beginner and recreational players all the way to professionals.
Although Killerspin are fairly new they are producing some good ping pong paddles and other products that players are giving great feedback on. We like the progression of their table tennis rackets and the fact that you can level them up as you improve your game and skills.
Pros
Good control rating – Ideal for table tennis beginners as its got a low rating for speed and control rating is fairly high
Affordable – Probably the cheapest ping pong paddle we've looked at that isn't a basic one you get free with a table tennis set
Comes with a box you can use as a case – No need to purchase a protective case as you can keep it in the box
30 day warranty – Killerspin offer a 30 day warranty (so make sure you inspect the ping pong paddle as soon as it arrives to check for any damage during shipping)
Cons
Poor speed rating – Good for starters but more advanced players will find the Jet 200 limiting
Not a great grip – Not the best quality flared handle
Not approve by ITTF

– Sadly the Killerspin Jet 200 doesn't meet the requirements to play in official tournaments
Conclusion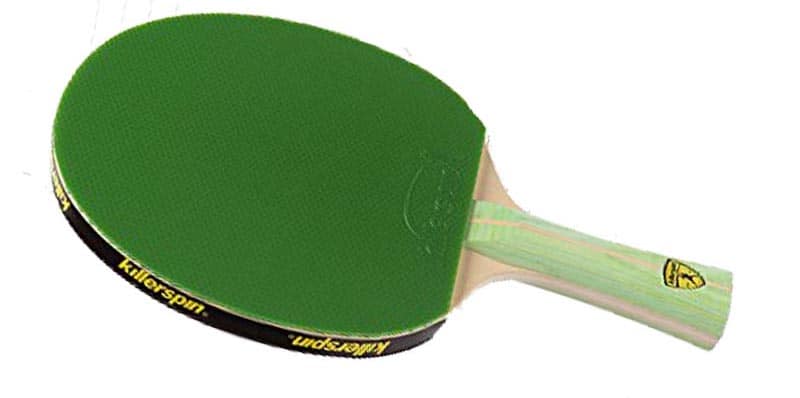 Ultimately, we would recommend the Killerspin Jet 200 as a great paddle for new and recreational players looking for a reasonable, very inexpensive table tennis racket with great control. It's definitely a step up from the paddle you found lying around in the attic but it won't win any awards for its ratings.
If you're past the beginner stages though, for not much more money you can get a very similar ping pong paddle to the Killerspin Jet 200 with better ratings and build quality. If you're a very casual recreational player it will probably be fine but if you start to take your table tennis game a bit more seriously you'll find you want to upgrade to something better.
To see what other paddles we recommend check out our post on the other good ping pong paddles here.
Related Product Reviews:

Eugene (Gene) Sandoval has been one of those guys who spent too many hours around ping pong tables in high school. However, soon enough, Gene understood that there is more to ping pong than having fun. That is how he started a journey that made Eugene one of the experienced semi-professional ping pong players in the United States. As the founder of the PingPongRuler, Eugene spends most of his time surrounded by ping pong tables and research. He always has this knack for coming up with new ping pong strategies and telling the good and bad equipment apart.