Killerspin Jet 200 Review — Fun Budget Paddle
The Killerspin Jet200 table tennis paddle is a shakehand style bat designed for beginners or recreational players. What makes this a great option for beginners is the paddle's high control rating and low speed and spin. It's the kind of bat I would recommend to new players at my club with no experience.
In this post, we'll give you our Killerspin Jet 200 paddle review, and discuss some of the features of the Killerspin Jet200 that make it a hugely popular option with table tennis newbies. Let's dive in.
Killerspin Jet 200 Review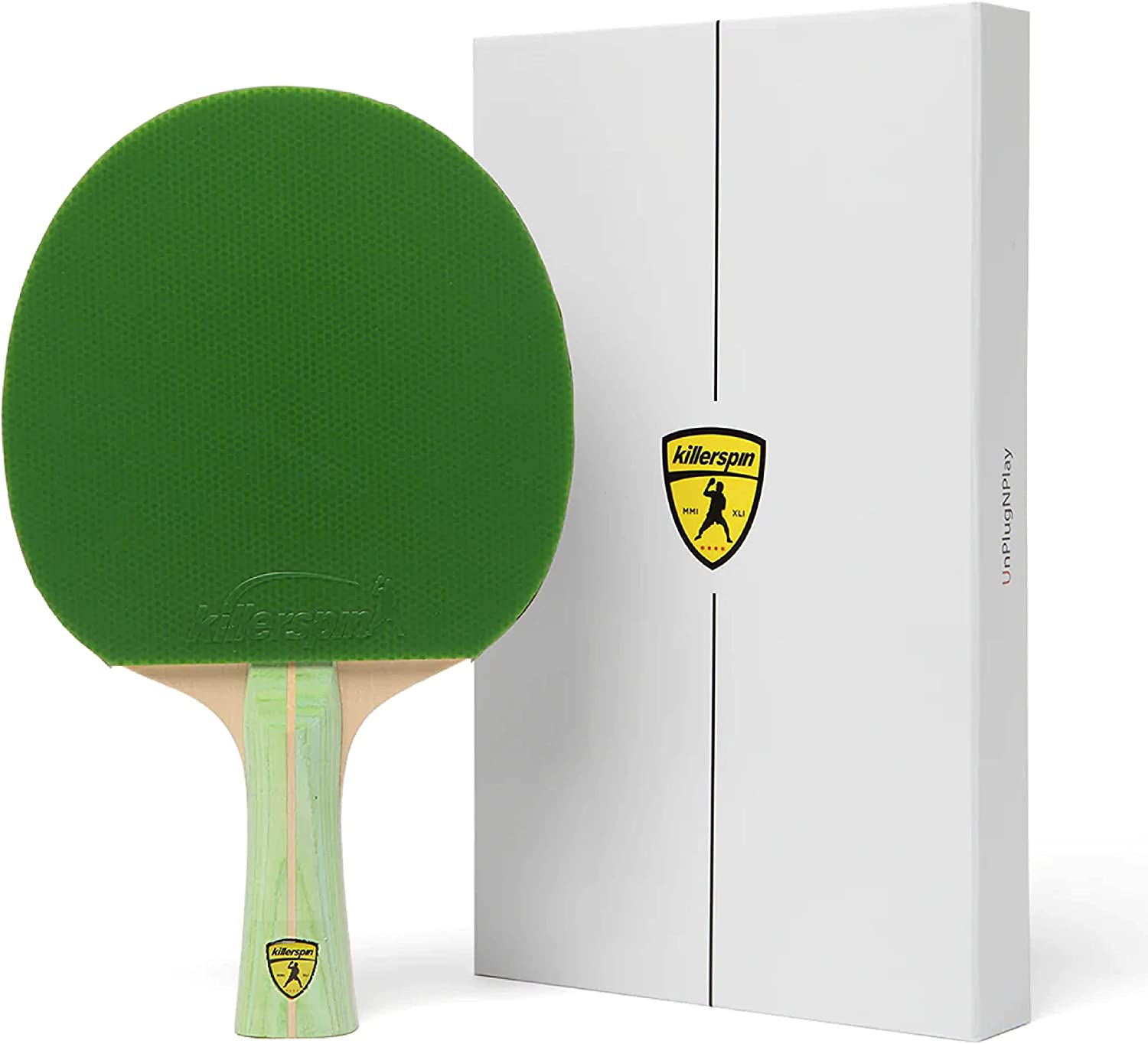 Specifications:
Performance ratings – Speed: 6.0, Spin: 7.0, Control: 8.5
Blade – 5-ply wood extra-light blade
Grip – Flared handle grip
ITTF Approved? – No, you can't use this paddle in official tournaments
Price – $ (Check Current Price)
Our rating – 8.7/10 A good budget choice for table tennis beginners
Pros
Good control rating 
Choose between 3 colors
Affordable 
Comes with a box you can use as a case 
30-day warranty
Cons
Limited speed and spin
Some buyers reported handle issues
Not approved by ITTF

 
Overview of the Killerspin Jet200
A good place to start to get an idea of what the Killerspin Jet200 table tennis paddle is like is to watch this video on their YouTube channel below.
Who Is the Jet200 Suited For?
The Killerspin Jet 200 is an entry-level table tennis bat that is ideal for those who are just starting out at the game. It could also potentially serve as an upgrade from an unbranded racket. However, given its limited abilities, you shouldn't really purchase it beyond that. 
Killerspin Jet 200 Ping Pong Paddle Review
5-Ply Blade
The blade of the Killerspin Jet200 is made out of extra-light 5-ply wood. Killerspin doesn't state which wooden veneers they used, which is hardly surprising. They are likely very cheap and of low quality given the paddle's low cost.
A 5-ply composition is optimal for players just getting started at table tennis. Anything beyond this is far too quick for a beginner. So the blade is a good pace for new players as it has high forgiveness and allows them to focus on technique while minimizing the number of unforced errors.
Killerspin rates the speed of the paddle 6/10 and the control 8.5/10.
Comfortable Flared Handle Grip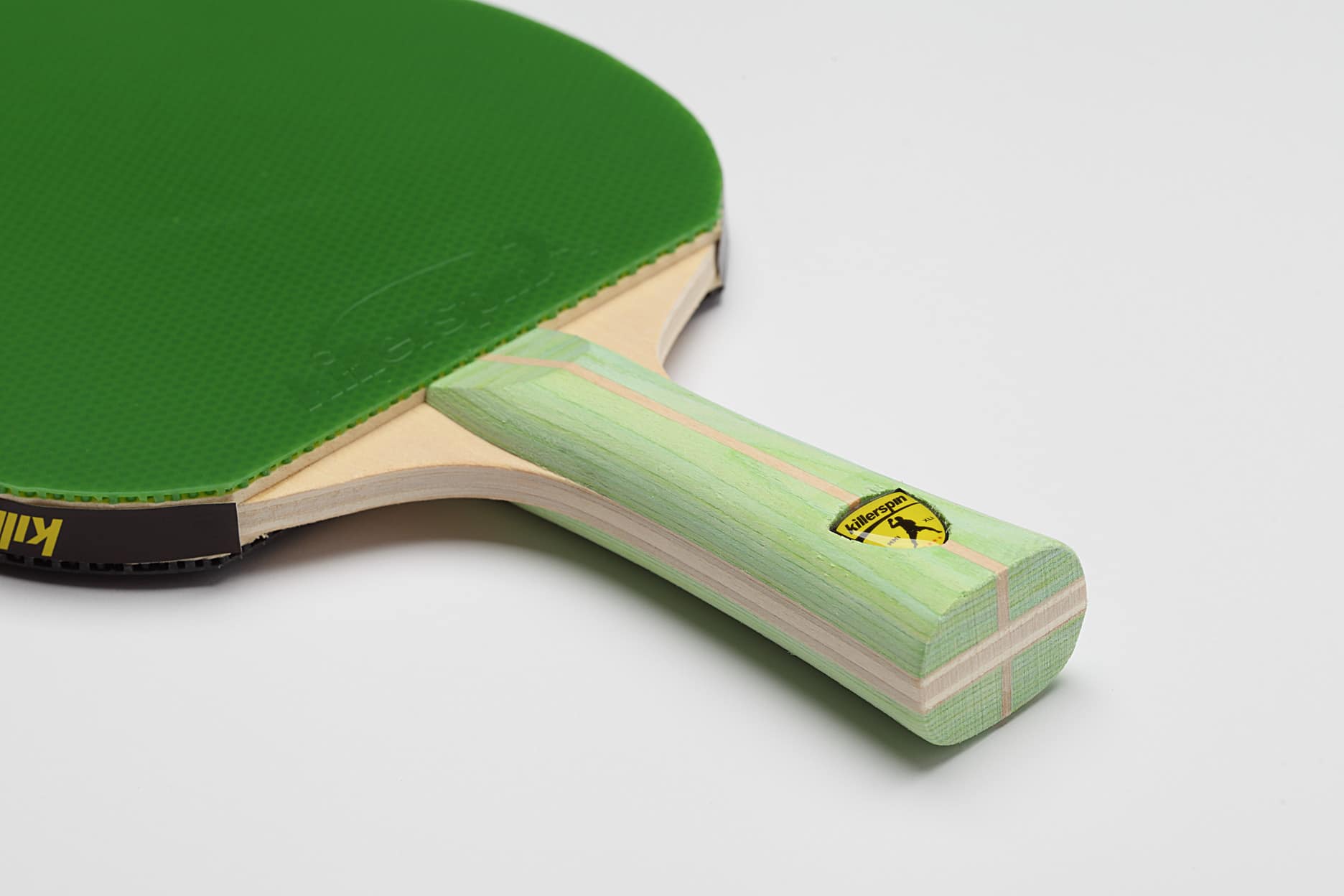 The handle on the Jet 200 is a shakehand flared grip. That means that the handle widens towards the end, helping it to sit comfortably in your hand and not slip out. I've exclusively used flared handles throughout my table tennis career as I have found them to be the most comfortable to use, and I am certain you will like them too.
While customer reviews for this paddle are excellent, some did report experiencing issues with the handle. It seems to be a weak area that is a little prone to splitting. This is pretty atypical for a quality brand like Killerspin, but as this is one of their low-end products, perhaps we expect too much.
We should note, however, that this issue was only reported in a limited number of cases. The Killerspin Jet200 currently sits at 4.7/5 stars on Amazon.
Non-ITTF Approved Rubbers
Unfortunately, the Jet200 doesn't have ITTF (International Table Tennis Federation) approved rubbers, so you won't be able to use this paddle in official tournaments. But then again, it wasn't designed with serious players in mind. Killerspin is aiming for the recreational player market, so it really doesn't need ITTF-approved rubbers, in our opinion.
The paddle uses unnamed rubbers that sport the Killerspin logo. They feature a 1.8mm millimeter sponge layer which is a good size for the target audience. For table tennis beginners and recreational players, it's recommended to have a sponge thickness of between 1.5mm to 1.8mm. This is because with increased sponge thickness, the rubber becomes harder to control. It can be very overwhelming if you have a very fast table tennis racket if you're not used to it.
Given the rubbers are unnamed, it should come as no surprise that they are slow and lack spin. As mentioned earlier, Killerspin gives the spin a 7/10 rating. Essentially, the bat produces enough spin for you to become semi-familiar with spin mechanics. Just know that won't be winning many points from spinny serves, though. Again, this is more or less ideal for new players as spin is tough to handle at first.
Comes in Three Fun Colors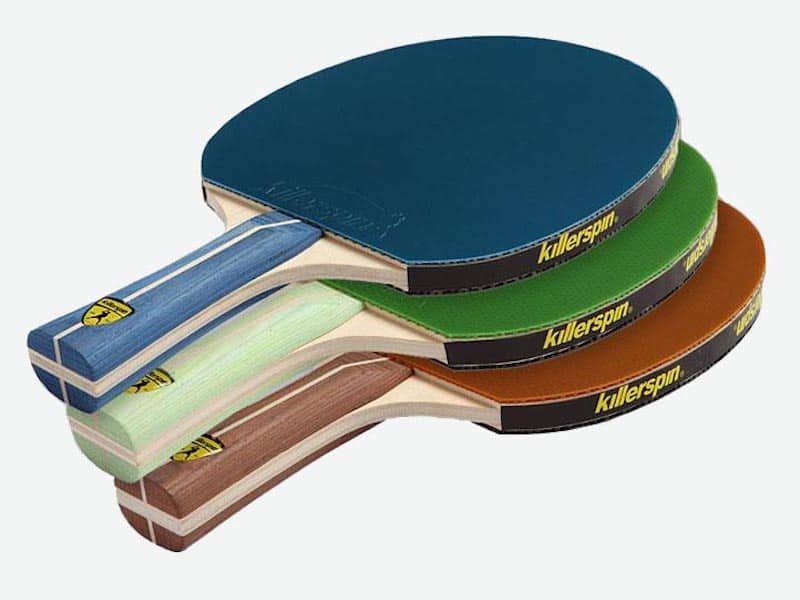 The Killerspin Jet 200 is available in three different colors: BluVanilla, Mocha, and Lime.
If we're being honest, we're not a huge fan of these colors as Killerspin has not picked the best shades. It's a shame that these paddles are not available with the standard red and black rubbers for players that want the classic look. However, while the brown and blue versions are not to my taste, I don't mind the green variant. With new colors besides red becoming eligible for tournament play, green is quickly becoming popular, so perhaps that is the best way to go.
Gift Box Included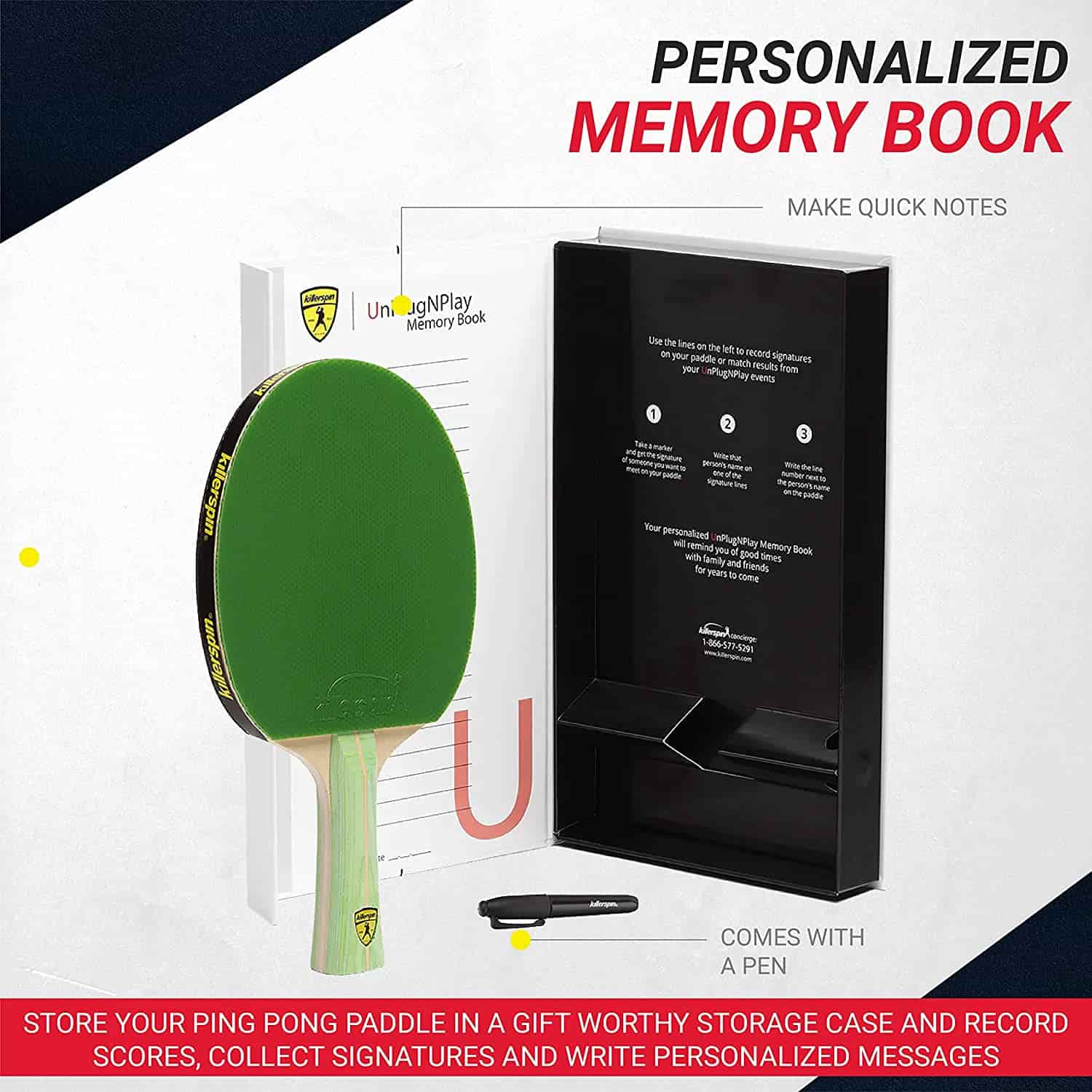 So this obviously has nothing to do with how the paddle plays, but it is still something you should consider. This Killerspin paddle has a nice memory book box that you can use as a case. We always advise getting a paddle case for your table tennis racket to help extend its life. And the fact that it comes with one is great as it's one less thing to purchase. We have a post on some of our favorite ping pong paddle cases here if you're interested.
Inexpensive
One of the strongest qualities going for the Jet200 is its low price tag. It costs less than most other pre-assembled paddles, which makes it a great entry point for people on low budgets. However, while it is cheap, it doesn't offer the best value at its price point — we prefer the JOOLA Omega Strata instead.
30-Day Warranty
Long warranty periods are not really a thing regarding table tennis paddles. This is because of the nature of their use. Table tennis rackets can take a lot of damage if wielded poorly, so it doesn't make sense for manufacturers to offer long warranty periods. For this bat, Killerspin offers 30 days which we think is perfectly reasonable.
About Killerspin
The Jet 200 is from Killerspin, a relatively new table tennis brand from Chicago in the United States. They released a series of table tennis rackets under the Jet line. These are designed with different skill levels in mind, from beginner through to advanced.
Although Killerspin is fairly new, they produce good ping pong paddles and other great table tennis equipment. We find them to be a very trustworthy brand.
Alternative Options
JOOLA Omega Strata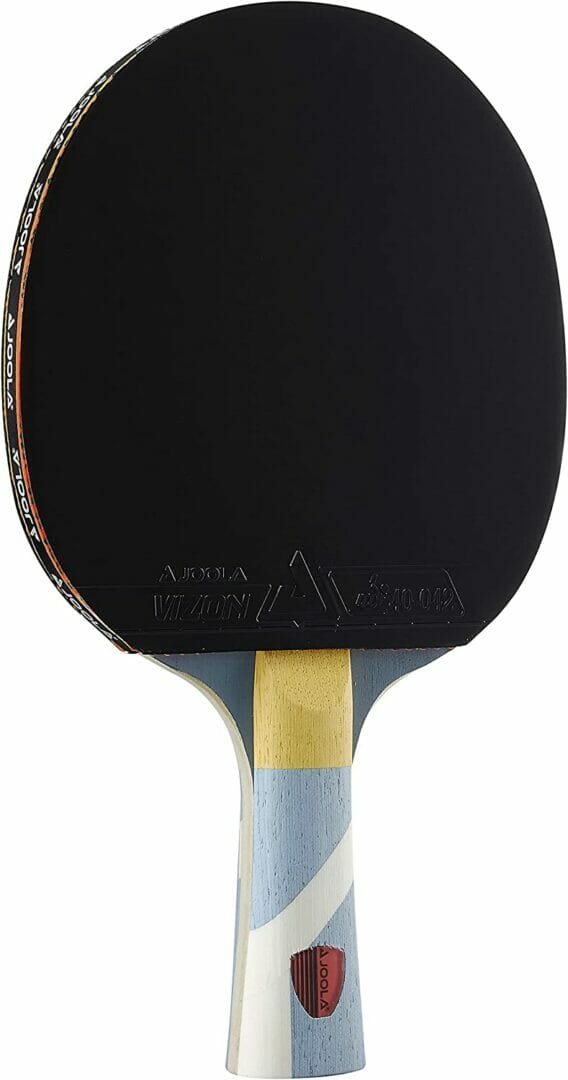 Priced almost the same as the Killerspin Jet 200 the JOOLA Omega Strata is a far better buy in my opinion. It has a good build quality, and while it is not very fast you can get good pace if you really drive through the ball. The paddle is also capable of decent spin, but nothing crazy. The only drawback compared to the Jet 200 is that it is more lively and therefore harder to control. If you're interested, check out this video of me reviewing it.
Killerspin Jet 400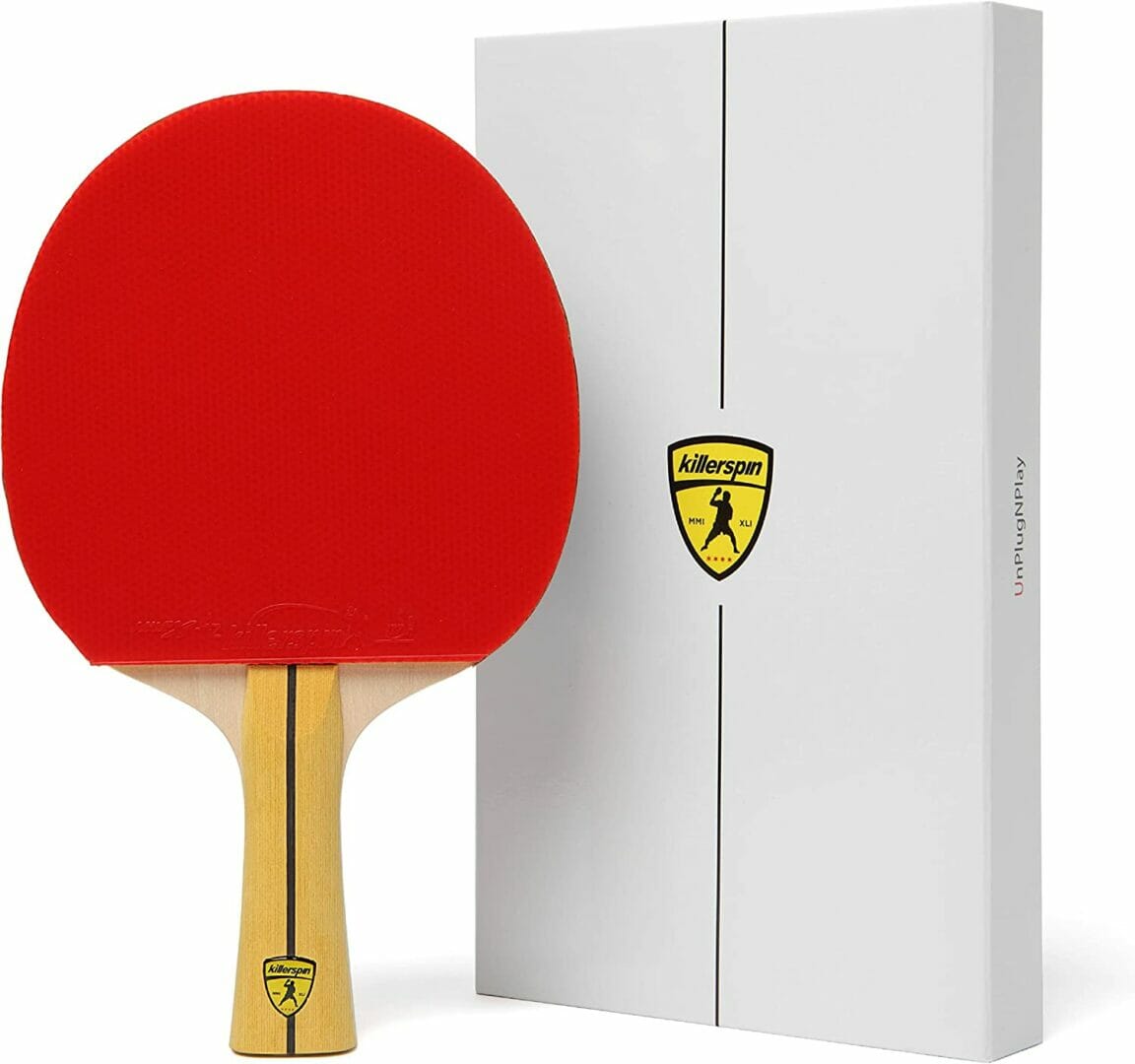 While the Jet 400 represents a significant price increase over the Jet 200, we can't ignore its significantly improved quality. The paddle still uses a 5-ply blade but the unnamed rubbers have switched to Nitrx-4z which are far superior. As such, while the bat still sports an all-around game it is much faster and has greater spin. Again, this means it takes more getting used to, but it will take much longer to outgrow this paddle than the Jet 200 which is very basic.
Conclusion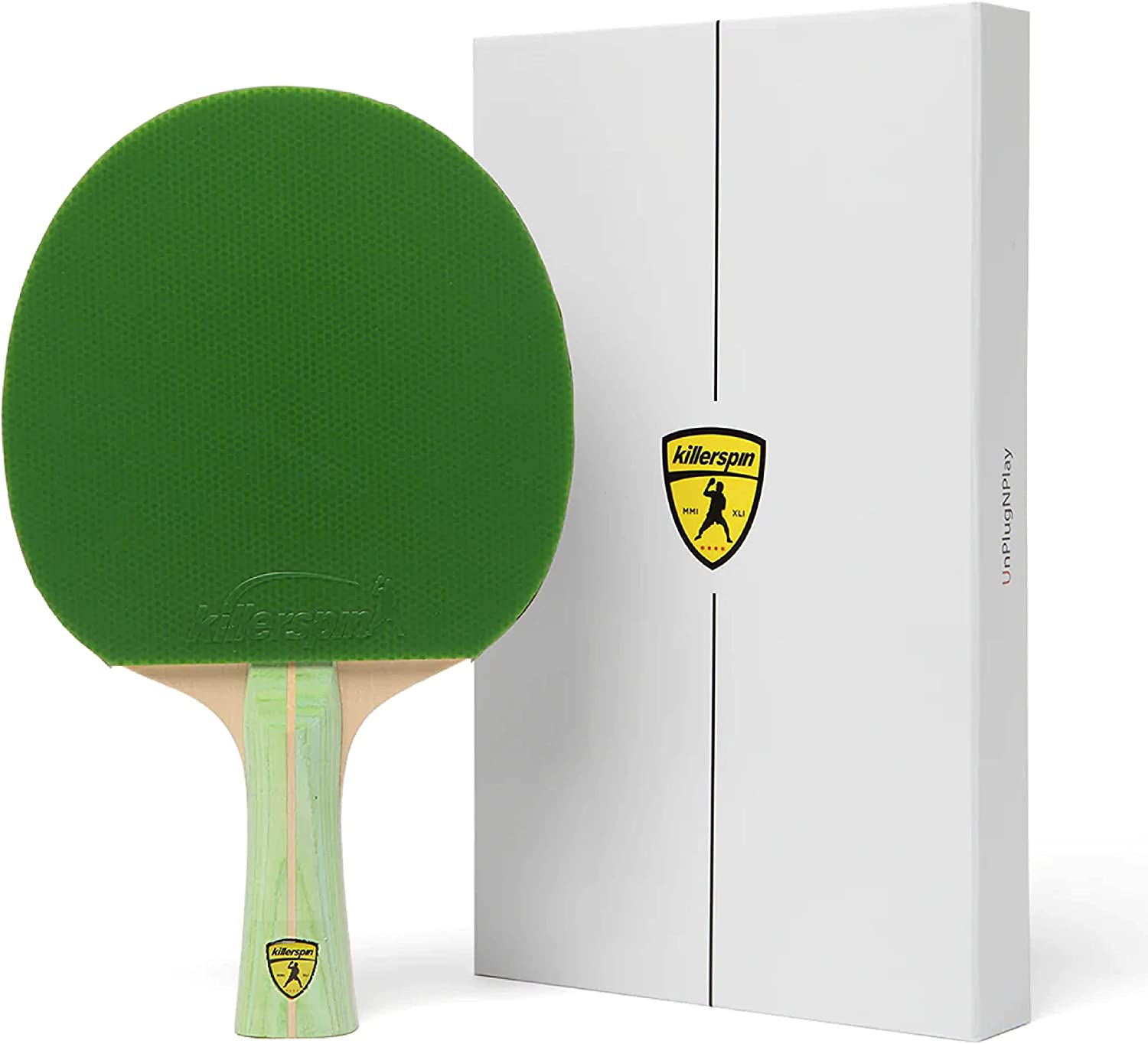 That marks the end of our Killerspin Jet 200 review. Ultimately, we would recommend the Killerspin Jet200 as a paddle for new and recreational players looking for a reasonable, inexpensive table tennis racket with great control. It's definitely a step up from the likes of a paddle you find lying around in the attic, but it won't win any awards for its ratings.
If you're not an absolute beginner though, you'll likely want to pick up something a little better. I thoroughly enjoyed using the JOOLA Omega Strata, so that's the bat I recommend for players with a little more experience.
To see what other paddles we rate check out our post on our favorite ping pong paddles here.
Related Product Reviews:

Freelance writer. Table tennis enthusiast. Lover of all things online. When I'm not working on my loop game I'm probably binge-watching some fantasy show.