Killerspin Jet 400 Review — Pros, Cons, & Alternatives
The Killerspin JET 400 table tennis paddle is a shakehand style racket that suits intermediate players. With good speed and spin, it could be just what you need to gain a competitive edge over your opponents! I'd have loved to have such a racket in the early stages of my career!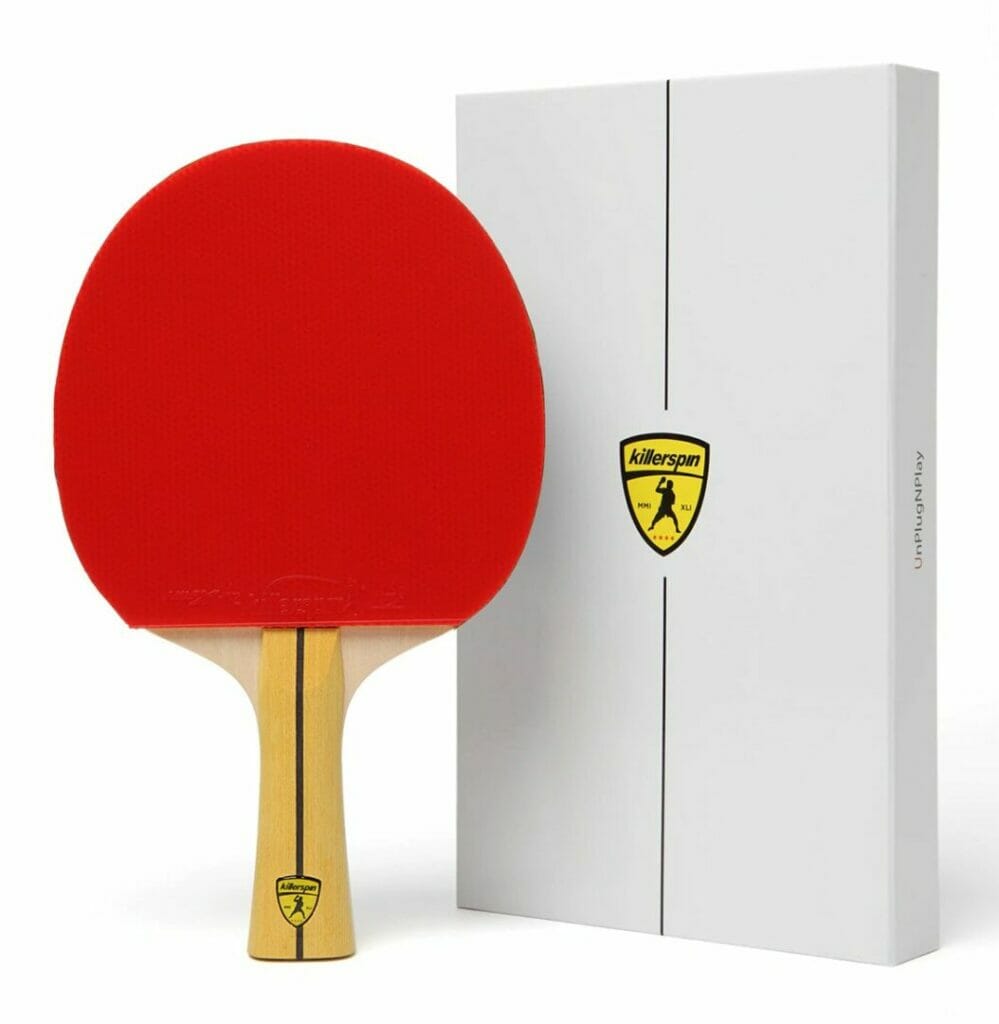 Performance: ★★★☆☆
Value: ★★★★☆
Overall Rating: ★★★★☆
Pros
Inexpensive, great feeling and control.
Cons
Doesn't suit advanced players.
Specifications
Manufacturer ratings: Speed: 7, spin: 9, control: 8
Rubbers: Nitrx-4Z 1.8 mm
Blade: 5-ply wood
Grip: Flared
ITTF approved?: Yes
Price: $
Weight: ~170 g
Pros
Inexpensive
Good feeling
High control
Includes luxury storage box
Cons
Killerspin Jet 400 Review
First things first, let's get linguistics out of the way. The official name this racket goes by is the Jet 400 Smash N2. However, it has gone through a few iterations. The previous racket was the Killerspin Jet 400 Smash N1. Having studied the descriptions for both rackets, there does not appear to be any clear difference besides the paddle's name, which is printed on the handle.
If we go back even further, the racket is simply called the Killerspin Jet 400, which the current racket is usually abbreviated to. Once again, the performance of this paddle is identical. The only difference that we could identify is the color of the handle, which is black and green with a red window. We much prefer its new look!
Give the below video a watch to see how the Jet 400 used to look.
5-Ply Blade
The Killerspin Jet400 sports a 5-ply all-wood blade which is fairly aesthetically pleasing for an inexpensive pre-assembled paddle. The handle is yellow with a black stripe going down the center. This intersects rather nicely at the window on both sides. One has a yellow background with the Killerspin logo, and the other, has a black background with white text naming the paddle.
The blade's handle is flared, and its dimensions measure 151 mm x 153 mm.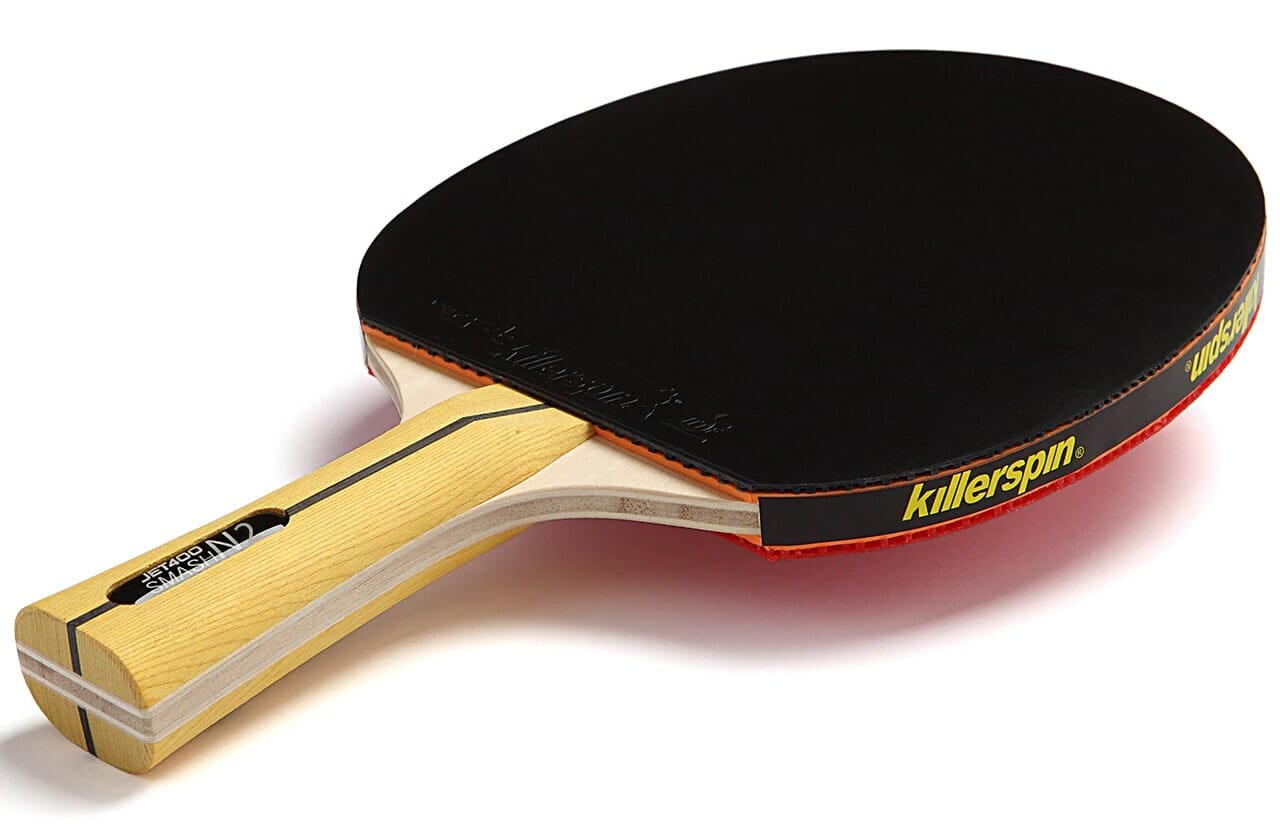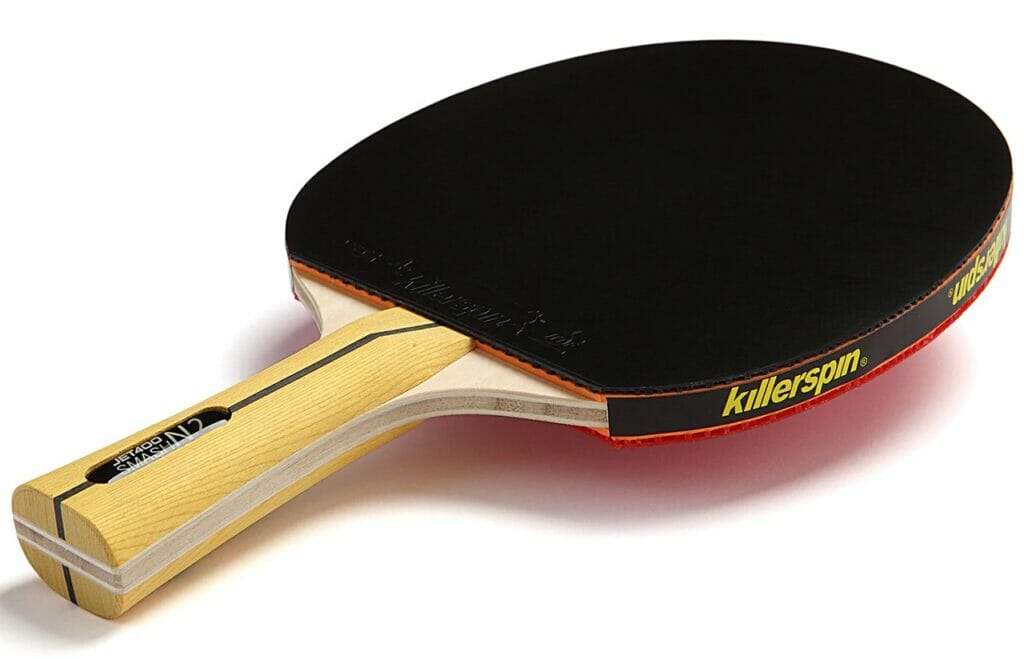 Nitrx-4Z Rubbers
Unlike most cheaper pre-assembled paddles, which include nameless rubbers or those that you cannot purchase separately, the Jet 400 breaks this trend. It uses Nitrx-4Z rubbers.
These rubbers are pretty good quality, and what's funny is that purchasing two sheets separately actually costs more than what the whole Killerspin Jet 400 does! So you really are getting it for a good price!
Nitrx-4Z has a fairly thin top sheet and is somewhat hard, unsurprising given it was made in China. On the Jet 400, both sides feature the sponge in a 1.8 mm thickness for a more all-round game. However, you can pick up Nitx-4Z separately in greater thicknesses of 2.1 mm.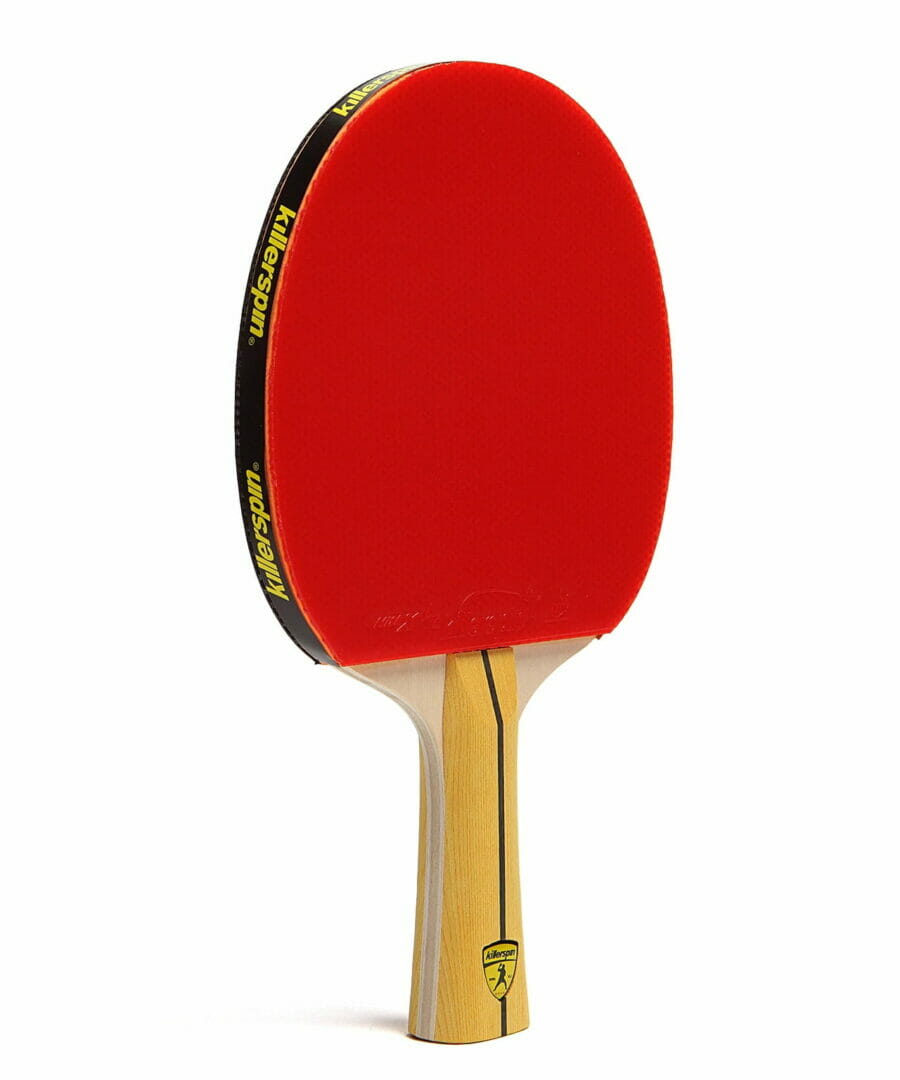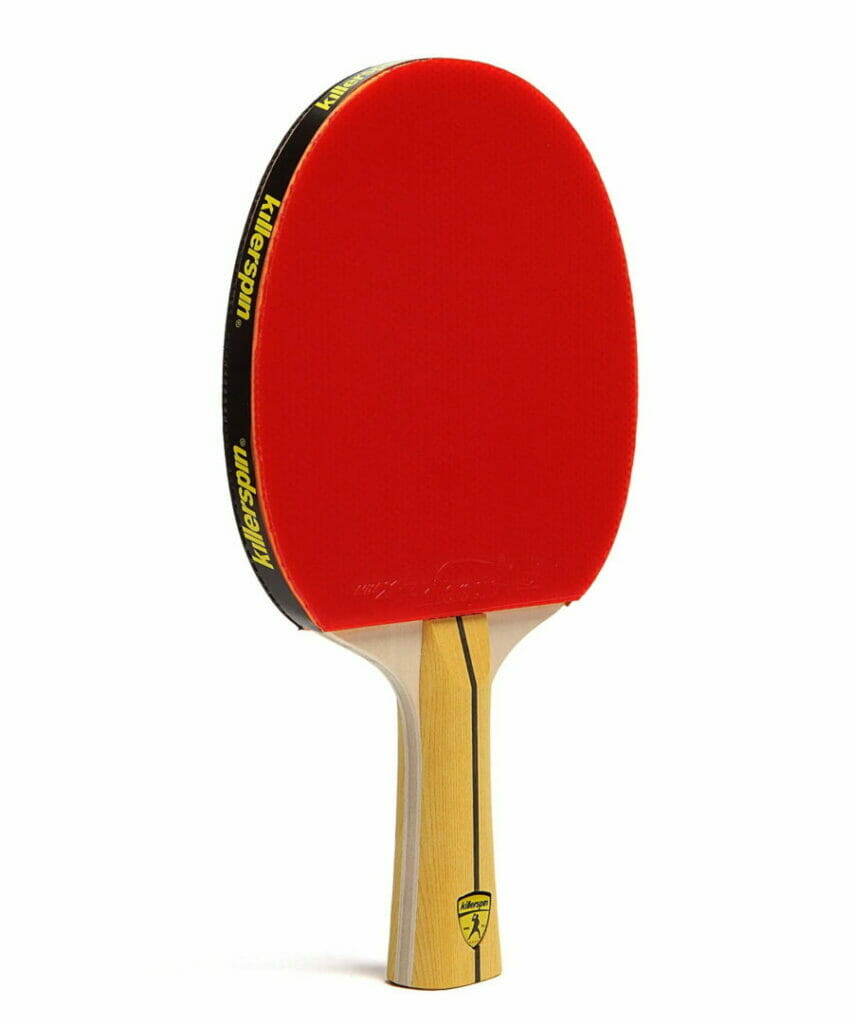 Includes Gift Box
As a nice extra, this Killerspin ping pong paddle includes a special gift box that doubles up as a memory book. The intention here is to get people's signatures and reminisce on past matches. It's a nice sentiment, but the reality is you probably won't use it for this purpose.
In addition, while the case looks pretty good, you will want to pick up a higher-quality racket case. Unfortunately, the box is only made of cardboard. As such, it won't be long before it's looking tatty, especially if you carry a lot of stuff around with you in your table tennis bag.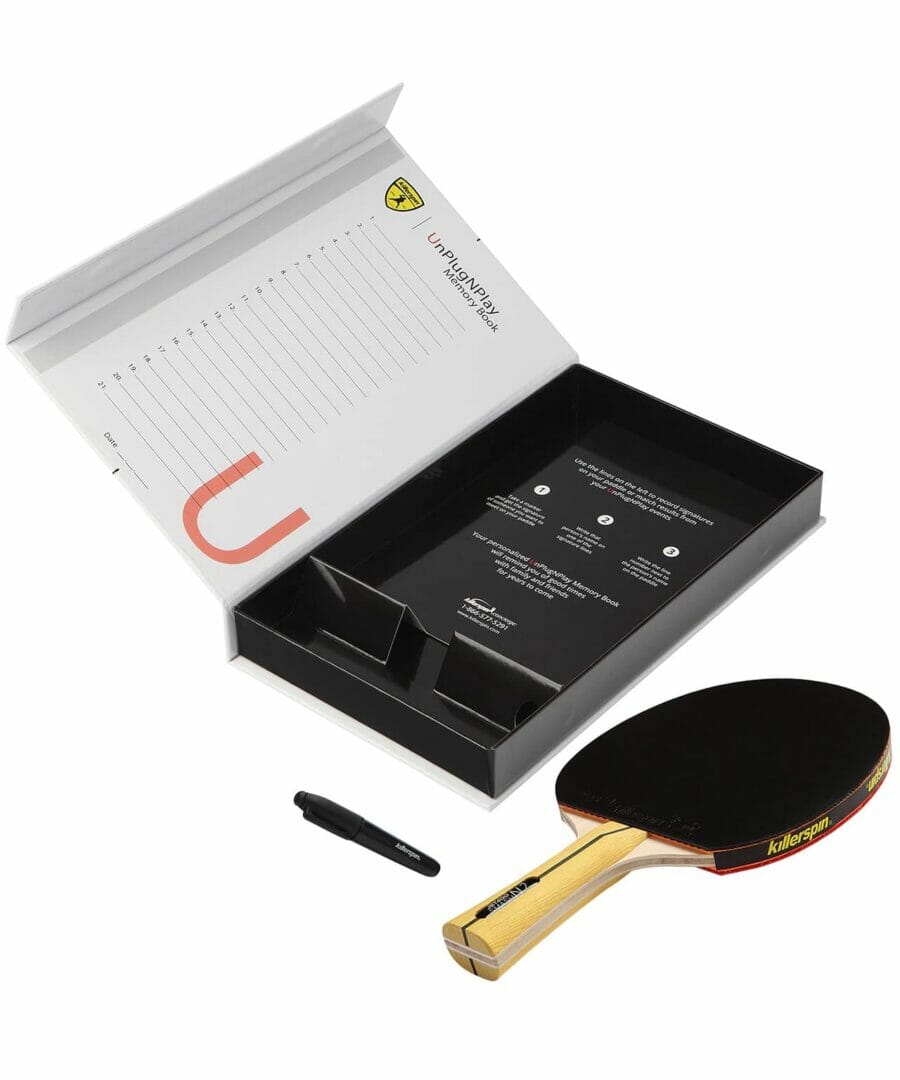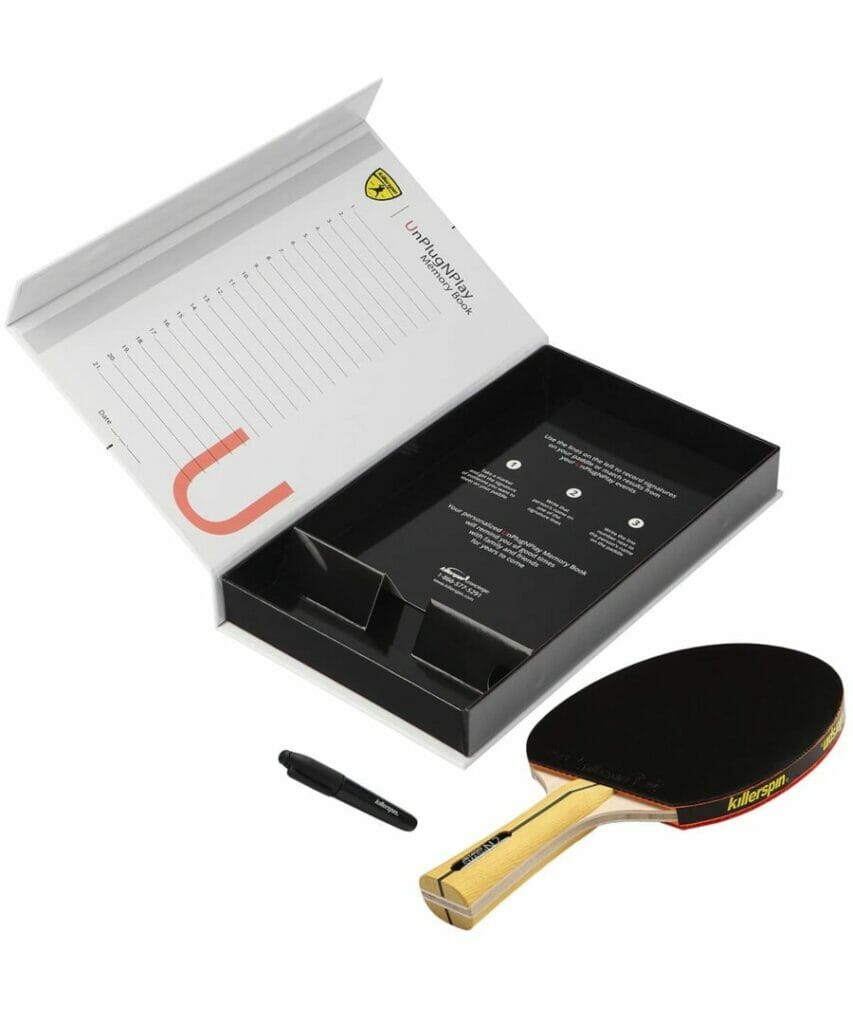 Performance
The Jet 400 by Killerspin is aimed toward intermediate players, and its properties are highly suited to this skill level. It's fairly spinny and fast, but not overly so. In almost all areas of the game, it is highly forgiving which is absolutely needed for an intermediate racket.
Drives are reliable and feel very easy, and if you want to put your foot on the gas and start producing more explosive shots, you can. You should have no trouble putting the ball away with a powerful smash, and equally, if you want to loop, it's no trouble at all. Loops are consistent and not particularly fast unless you put a little more force into the ball.
The reason for this is the linear nature of the Killerspin Jet 400. As a 5-ply all-wood blade with standard attacking rubbers, there are no carbon layers or catapult effect to give you an amplified pace. Instead, you've got a high level of feeling that all developing players will appreciate.
As such, I feel that this is a great paddle to become familiar with faster-attacking shots. Its high forgiveness and moderate speed make it a perfect stepping stone before progressing to a more lively racket. Simultaneously, this means it's not a good pick for most advanced players. It's simply too slow for players who have been playing regularly for more than a couple of years.
To see some of the other bats we like, check out our post on the best table tennis paddles.
About Killerspin
Killerspin was founded by Robert Blackwell Jr. in 2001. He was spurred to start the company after sponsoring a table tennis festival in Chicago. The high turnout was surprising to him and he knew that it was an industry he wanted to get into.
Killerspin's mission is to "bring style and intensity to table tennis". And they certainly do that. Their tables are among the most stylish you can buy, and by helping build table tennis communities, they are certainly assisting with the intensity of the sport.
Alternative Options
JOOLA Infinity Balance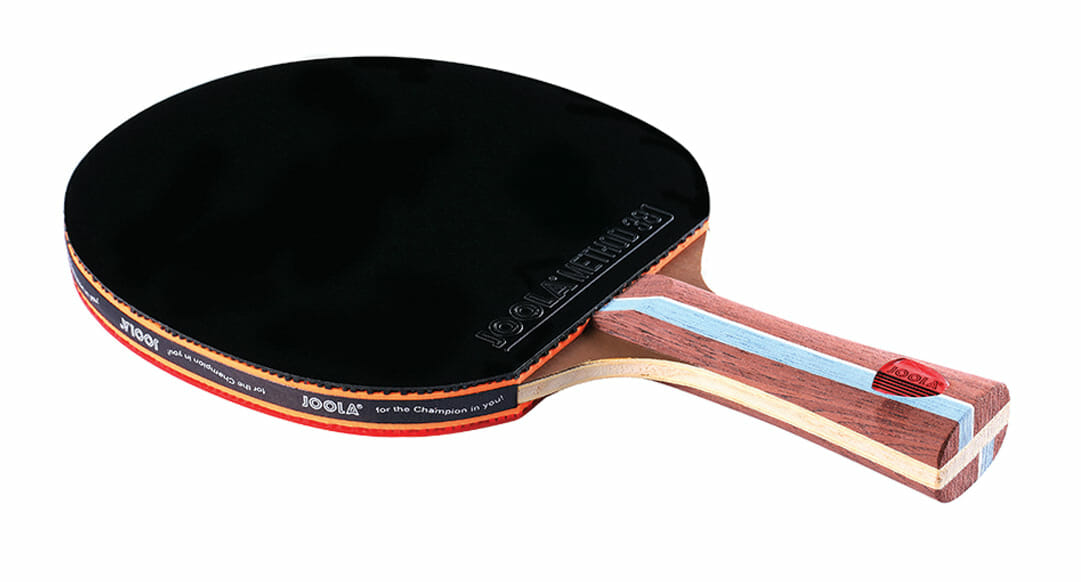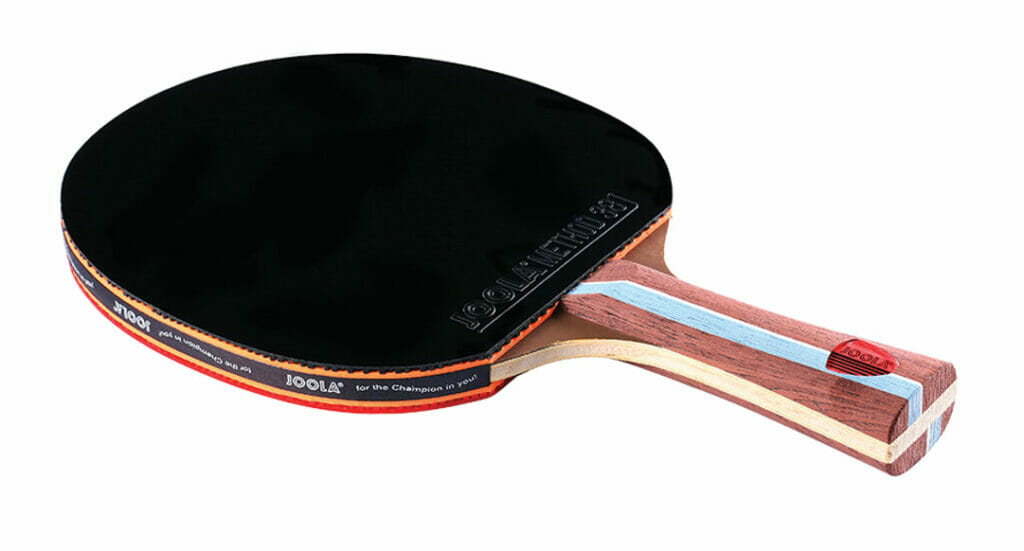 Another racket I really like for intermediate players is the JOOLA Infinity Balance. It is a little quicker than the Killerspin Jet 400 thanks to its 7-ply composition and 2.1 mm thick Micron rubbers. However, it still has good feeling as its blade has no carbon layers.
My main issue was that many of my blocks went into the net. I should note that this is an issue unique to me as I am used to a much faster paddle. Beginners/intermediate players would not have this same problem.
To see my full thoughts on the racket, give my review a read.
Killerspin Jet 600 Spin N2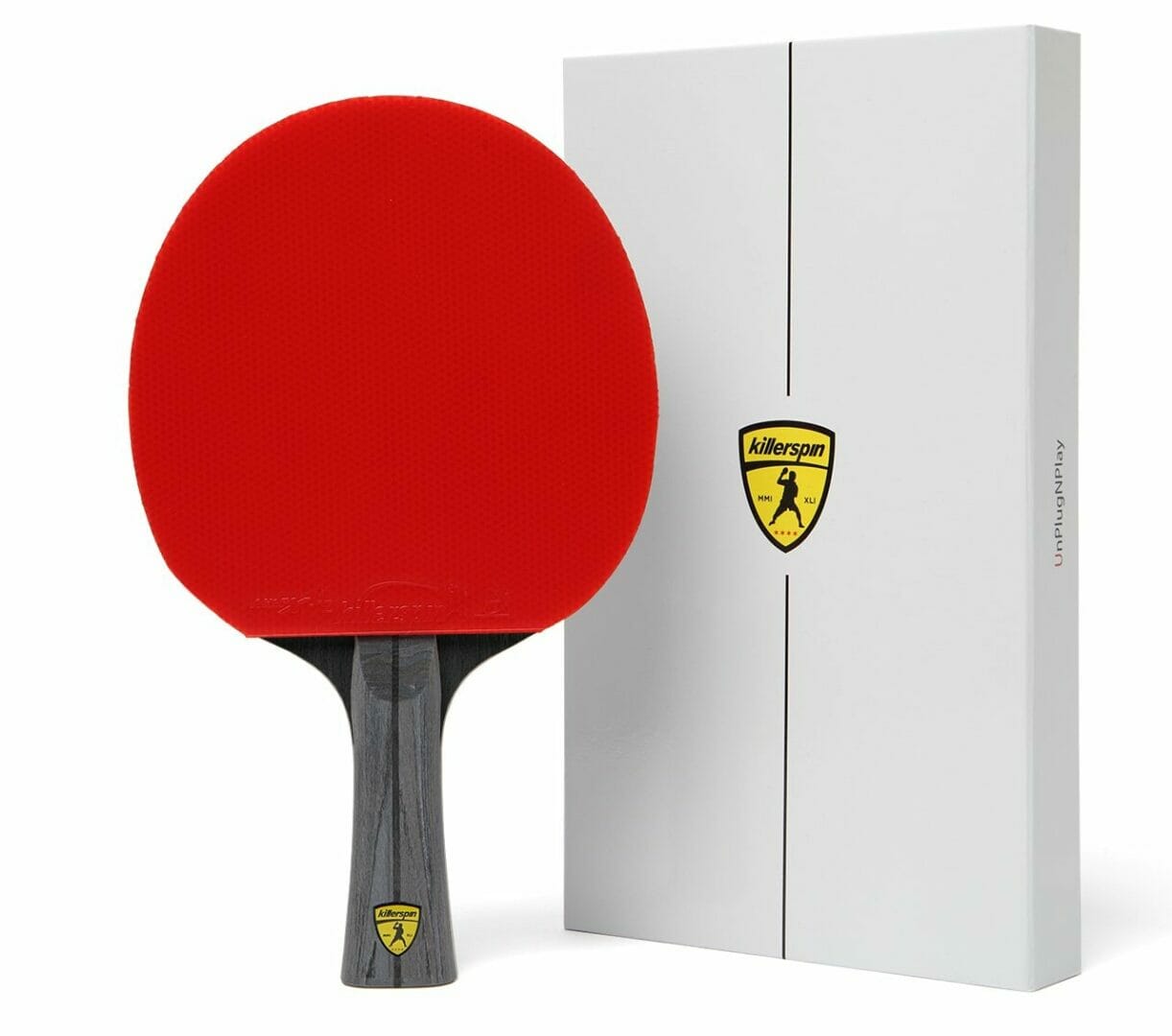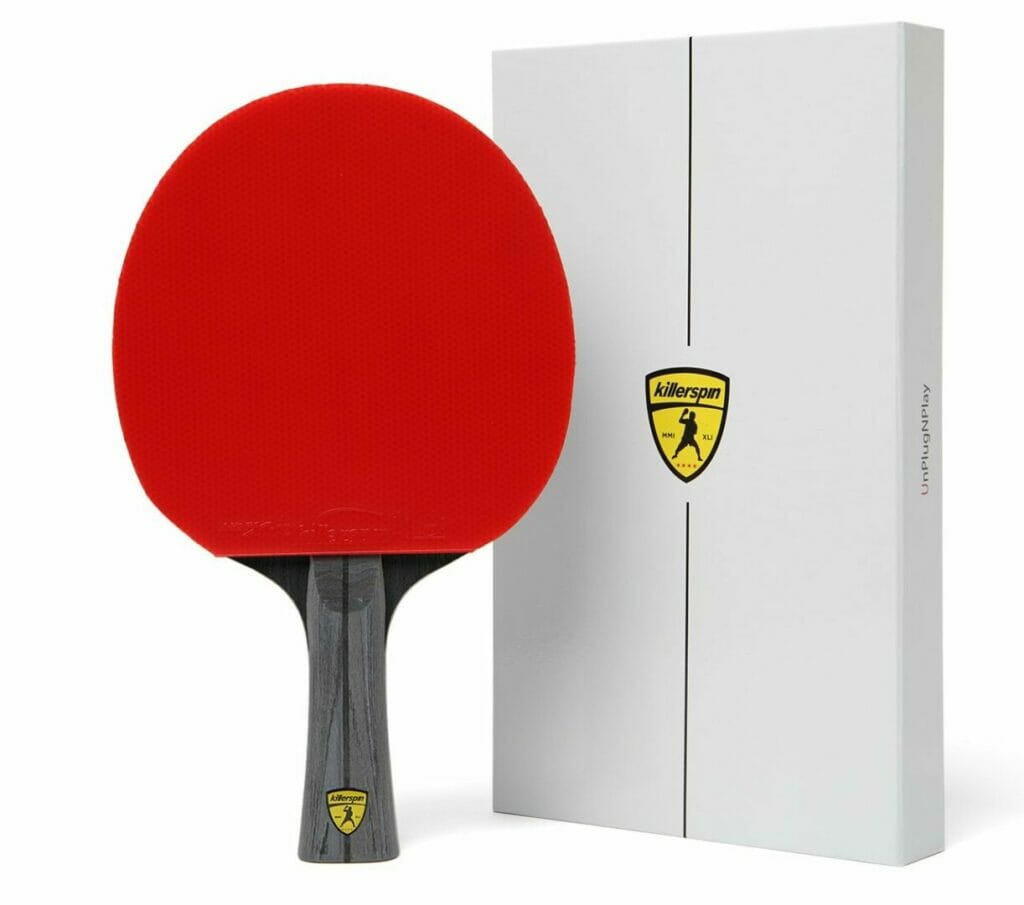 As a step up from the Killerspin Jet 400, the Jet 600 is a paddle that offers more pace at an increased price tag. It comes in the same memory storage box and uses the same Nitrx-4Z rubbers. However, this time Killerspin elected for a 2 mm sponge for more explosiveness.
The blade is also different. It's still 5-ply, but presumably, it is a little faster given the minor speed increase rating assigned by Killerspin. The main issue I have with this paddle is the price tag, it's a bit expensive — you could purchase a custom bat for the same price. However, it's still a great option if you don't want to have to faff around with this yourself, and would rather purchase a pre-assembled paddle.
To learn more about this racket to see if it's for you, give our full review a look over.
Conclusion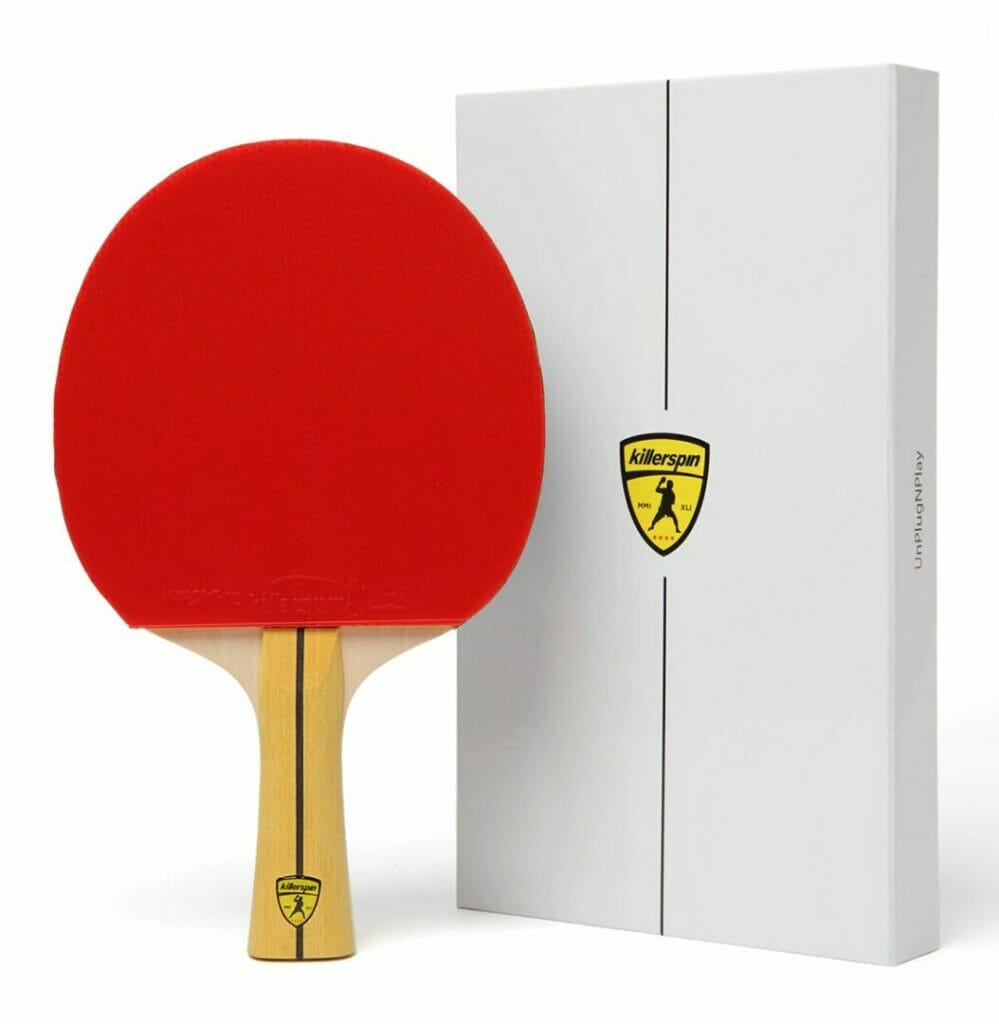 That concludes our Killerspin Jet 400 paddle review. It's a great pre-assembled racket for intermediate players. It has decent speed and spin but ultimately enough control for you to start attempting more complex shots.
For the price, it's a tough racket to beat, and it should last you a decent amount of time before you feel the need to upgrade.
That being said, you might want to check out the rest of the Jet line before committing to buy. Here are the links for our reviews:

Freelance writer. Table tennis enthusiast. Lover of all things online. When I'm not working on my loop game I'm probably binge-watching some fantasy show.