Killerspin Jet 800 Review
The Killerspin Jet 800 Speed N1 is an intermediate to advanced level shakehand style table tennis racket. It's approved by the ITTF and features a 7-ply blade with 5 wood layers + 2 layers of carbon to increase the speed for competition level performance.
Let's take a look at some of its features that make it one of the most popular paddles on the market today in our Killerspin Jet 800 review.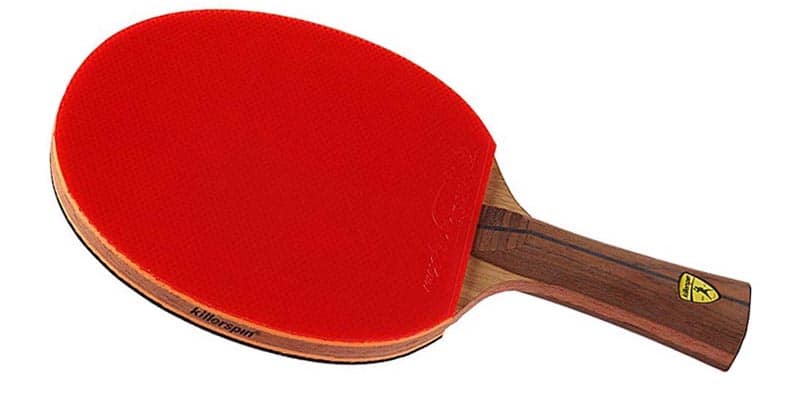 Specifications
Performance ratings – Speed: 9.5, Spin: 9.0, Control: 8.0
Blade – 7 ply blade made with 5 wood layers + 2 carbon layers for lightweight competition level performance
Rubbers – Nitrx-4Z table tennis rubbers
Sponge – 2.0mm high tension sponge
ITTF approved? – Yes, can be used in official tournaments
Weight – 190 grams (6.7oz)
Price – $$$
Our rating – 9.1/10
Overview of the Killerspin Jet 800
We loved the Killerspin Jet 800, in fact, it's in our best table tennis bats of 2020! There are a number of reasons why it's such a good table tennis paddle to choose, let's take a look at some of the features that we liked and what we didn't like about it.
Features
Lovely blade with 9.5 speed
The blade of a ping pong paddle is made up of layers of wood (and sometimes layers of carbon fiber) called plies. Generally, the more layers that the bat has the more speed and power it will have (but this isn't always the case). The Killerspin Jet800 table tennis bat has seven layers which is on the upper end of table tennis paddles. It shows in its speed rating of 9.5 out of 10 and so you'll be able to generate a lot of power with this bat.
The Jet 800 has five wood layers but to keep the bat from being incredibly heavy two layers of the seven are made out of carbon fiber which allows you to play those aggressive, offensive shots but without having too much weight. That being said at 190 grams it's one of the heaviest table tennis paddles that we've tried. If you're not used to such a heavy bat you may want to look for something that isn't quite as heavy to get used to the weight. You'll find your arm getting tired a lot quicker if you're more of a defensive player.
The Jet 800 also a very good looking paddle, in fact it's probably our favorite table tennis paddle when it comes to design. We particularly like the wooden side tape that goes around the edge. A very nice touch.
Approved Nitrx-4Z rubber
The Killerspin Jet800 table tennis racket has 2 Nitrx-4Z rubber sheets that are 2.0mm in depth and high tension which means that they generate more speed as the ball won't sink into the rubber and sponge. This tension causes the ball to ping off the bat quickly which is great for aggressive players (but not necessarily good for brand new players). The heavy spin you'll be able to generate too is good. It has a 9.5 spin rating (although we'd argue it should be slightly less).
The Killerspin Jet 800 is also approved by the ITTF (the international table tennis federation) so it can be used in official tournaments, another good sign of the quality of this racket.
Flared handle grip
The Killerspin Jet800 features a flared grip, ergonomic handle. A flared grip is where the handle gets wider towards the end of the handle. This stops the bat from slipping out of your hand and helps it sit comfortably in your hand.
The handle on the Jet 800 is a little shorter than some other table tennis rackets so it might not be suited to someone with larger hands but when we tried it we thought it had exceptional grip.
About the brand: Killerspin
A relatively new company, Killerspin was founded by former professional table tennis player Richard Blackwell Jnr. Richard is also a tech entrepreneur but wanted to help more people disconnect from technology. So in the year 2000, he started Killerspin to bring more people together through their mutual love of the sport. They've released a number of paddles in their jet series of paddles we're big fans of all their table tennis products.
The Pros
Good speed – With a speed rating of 9.0/10 you'll be able to generate a lot of power with this bat (although that's not a good thing for complete beginners)
7 ply large blade – Lots of layers means more power but two of them are carbon fiber which are lighter than the ply wood. It's also larger making defensive shots easier
Nitrix-4Z Rubbers – High-quality 2.00mm rubbers that you'll be able to generate a reasonable amount of spin with
ITTF Approved – The Killerspin Jet800 Speed N1 is approved for official tournaments so is a great option for competitive level players
Great look – Great looking paddle with lovely wooden side tape
The Cons
Low control rating – Depending on your ability this may or may not be a good thing. This paddle is not suitable for complete beginners
Only 30-day warranty – The Jet 800 only has a 30-day warranty so make sure to thoroughly check your bat for defects as soon as you get it
Quite expensive – The Killerspin Jet 800 is more expensive than some of its competitors
Short handle – Not idea for players with large hands as the handle isn't very big
Heavy – At 190 grams it's a lot heavier than most of its rivals
Customers reported the handle comes off – A handful of customers have reported the handle snapping off when they've knocked it. Be careful to not bash or drop the Jet 800 as it can be quite fragile
Conclusion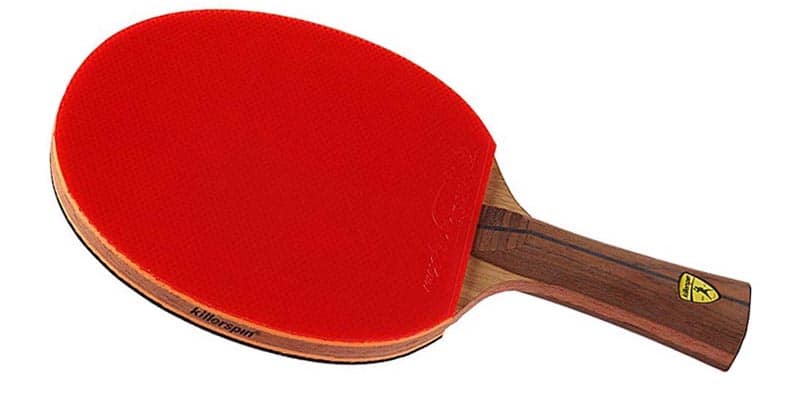 The Killerspin Jet 800 is a fantastic table tennis paddle. It's ideal for intermediate to advanced players looking to develop their ability and who need a paddle that can allow them to hit the winning shots they want.
The Jet 800 has one of the biggest power ratings (being able to hit shots faster) that we've played with and can be good at generating spin in the right hands. It's a firm favorite with lots of professional table tennis players such as Chinese Olympic gold medalist Chen Qi so you'll be in good company by purchasing this bat.
Related Product Reviews:

Eugene (Gene) Sandoval has been one of those guys who spent too many hours around ping pong tables in high school. However, soon enough, Gene understood that there is more to ping pong than having fun. That is how he started a journey that made Eugene one of the experienced semi-professional ping pong players in the United States. As the founder of the PingPongRuler, Eugene spends most of his time surrounded by ping pong tables and research. He always has this knack for coming up with new ping pong strategies and telling the good and bad equipment apart.