JOOLA Infinity Edge Review
The JOOLA Infinity Edge is a budget pre-assembled paddle that is one of three bats in JOOLA's Infinity line. It sports an offensive style and uses a carbon-composite blade. This gives it a good amount of pace and a large sweet spot.
We were fortunate enough to get our hands on this great bat, thanks to Megaspin, who shipped it over for us to review. We studied it in all areas of the game to highlight its strengths and weaknesses. Here is our honest review.
JOOLA Infinity Edge Review
Specifications
·         Class – OFF
·         Plies – 5W+2C
·         Rubber – Driver 42/Micron
·         Sponge thickness – 2.2mm
·         Blade thickness – 5.7mm
·         Handle type – Flared
·         Weight – 186g
·         ITTF Approved? – No/Yes
·         Price – $
·         Our rating – 7.9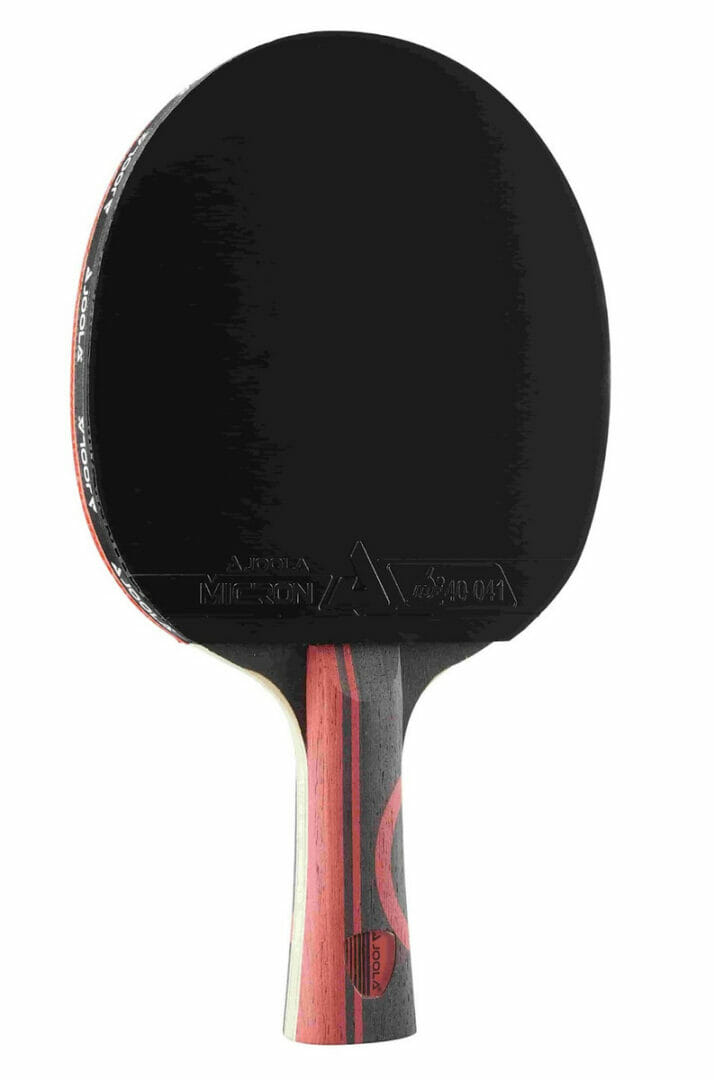 JOOLA Infinity Edge Construction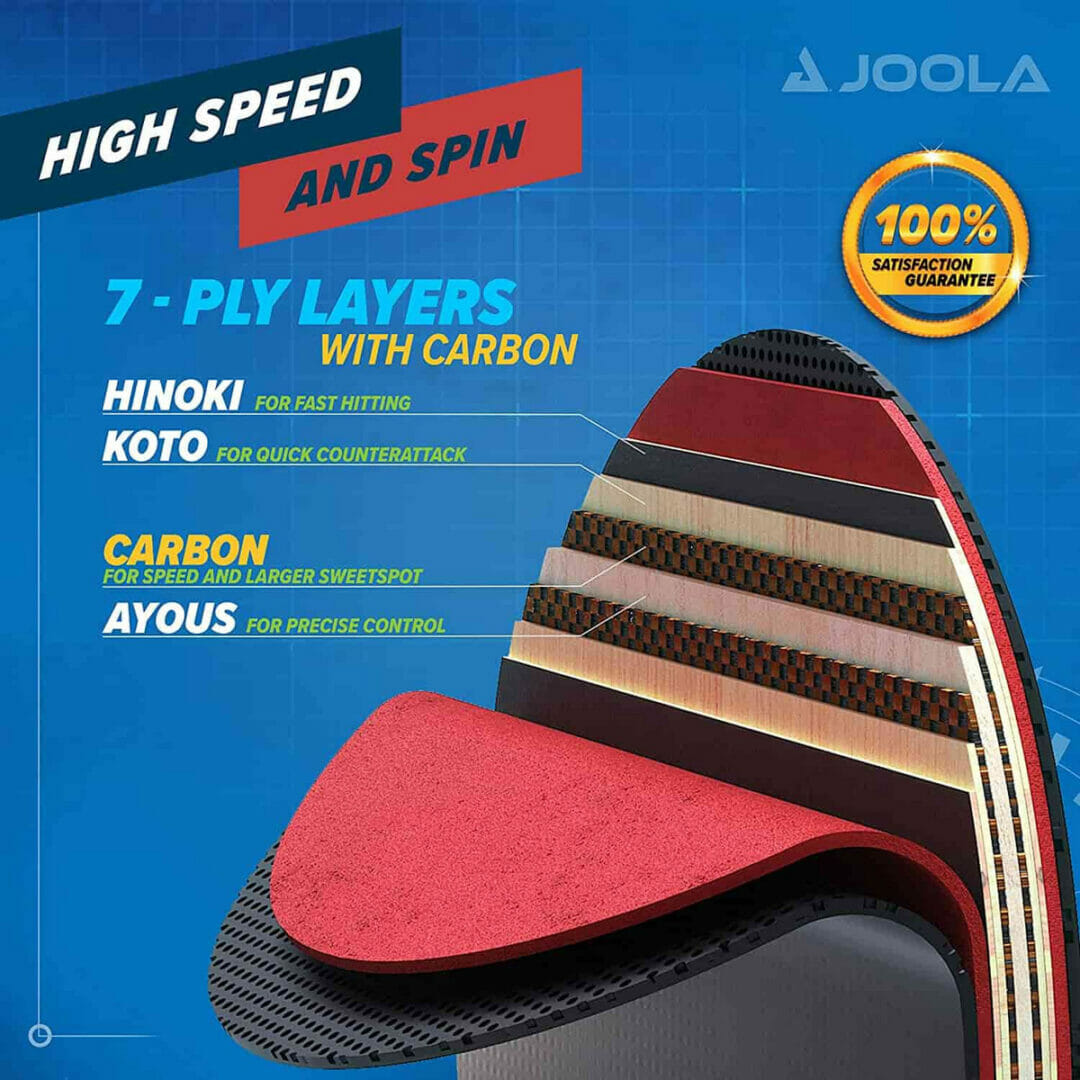 The JOOLA Infinity Edge table tennis racket is a paddle from JOOLA's pre-assembled bat line. This means you are getting a complete bat with a specially selected blade and rubbers.
Blade
Many beginner and intermediate paddles do not break down their blade composition. This is somewhat of a red flag. However, the Infinity Edge gives a complete breakdown, and it uses veneers that are very common among popular table tennis blades. The presence of carbon also indicates a more premium product as most cheaper bats have an all-wood composition.
The Infinity Edge has 5 layers of wood composed of Hinoki, Koto, and Ayous. And two layers of carbon that sandwich the central Ayous veneer.
Hinoki: Hinoki is a form of Cypress and is native to central Japan. It's soft, fast, and offers good feedback. Commonly found in the outer plies. Kiso Hinoki (the top Hinoki wood) is only used when it reaches at least 300 years of age, making it rather expensive.
Koto: A lightweight, stiff wood often found in the outer veneers. Has a punchy feel — great for fast blocks and snappy counters.
Ayous: A common wood for the core and often present in all-around blades. Soft and lightweight, but a touch heavier than Kiri.
Carbon: Used to enhance the sweet spot of the blade. Not ideal for beginners as it deadens your sense of feeling.
Rubbers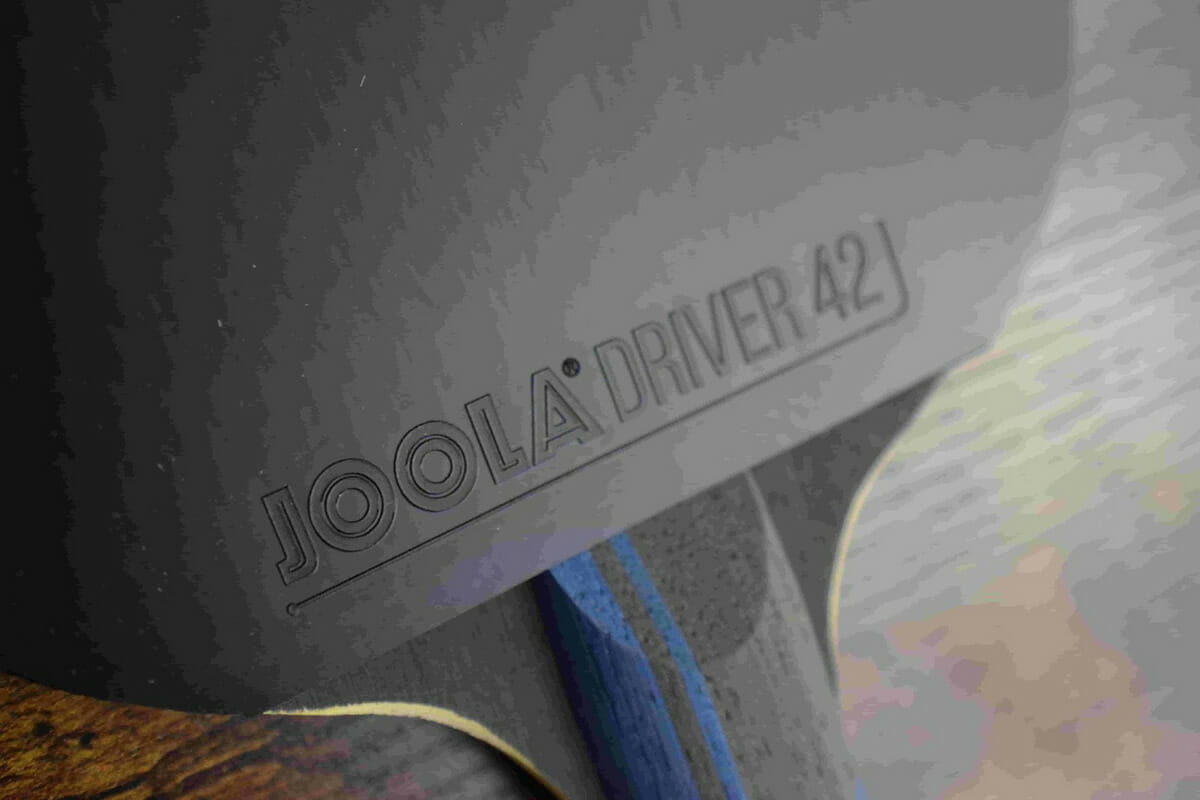 The Infinity Edge we got our hands on uses Driver 42 on both sides. Driver 42 is a traditional inverted rubber that has a smooth top surface. The sponge thickness is 2.2mm, which suits the offensive style. This is ideal for players that like to counter-attack and produce heavy spin. Unfortunately, Driver 42 is not ITTF-approved, so you cannot use it in an official competitive setting.
However, we should note that the product photos listed on Megaspin show the Infinity Edge with Micron rubbers — the same rubber used for the Infinity Balance and Infinity Overdrive. It appears that JOOLA has switched from using Driver 42 in this paddle, and the bat we received is one of the older paddles. At least, that's our best guess. If you're concerned in this regard, we recommend contacting Megaspin before you buy. They are a quality company and will certainly ensure you are satisfied.
JOOLA Infinity Edge Pros
Pros
Inexpensive

Great value for money

Good looping

Fast smashes
As the Edge racket is a pre-assembled paddle, it eliminates the guesswork of having to choose your blade and rubbers. JOOLA has instead done this for you. And at a very competitive price at that. The quality of the bat feels many times greater than the price, so if value for money is what you are after, the Infinity Edge will impress you.
The bat suits offensive players that like to mix up attacking shots such as loops, smashes, and punches. As a highly offensive player, this paddle piqued my interest, and I just knew that I had to give it a go, and I am glad that I did. I expected to feel rather restricted in the higher gears when looping, but this wasn't really the case. Sure, was it as fast or spinny as my normal setup? No, not even close. But I was still easily able to hit blisteringly quick loops and smashes. And I felt a good amount of control before I unloaded with loop kill shots.
While the Infinity Edge has the capabilities to play very fast, it falls very short of the fastest custom paddles you can build yourself. Therefore, I slightly lean towards recommending the paddle for intermediate players instead of advanced players. But, just know this is my personal opinion. It may well be too quick for you as an intermediate player, and I would only recommend purchasing it if you already have good technique.
I also found that the Infinity Edge performs perfectly well when defending. Whenever I took the back foot to block I was highly consistent, and I couldn't help but disrupt my opponent's rhythm with pacey punches. Flowing in and out of offense and defense is very easy, and the Infinity Edge calls for it!
JOOLA Infinity Edge Cons
Cons
Too fast for beginners

Doesn't have great feeling

Included rubbers unclear
The main issues from the Infinity Edge stem from its speed and make-up. As it's a carbon-composite blade, it's fast and doesn't have a lot of feeling. Of course, this isn't much of an issue in the hands of a capable player. But many of you who are interested in this paddle do not likely possess impeccable technique (sorry!).
So it's important to understand that you need to have good control over your striking ability for one. Otherwise, you'll be hitting balls off the end of the table. And two, you need to have a good understanding of technique. The Infinity Edge doesn't have an all-wood blade, so it doesn't provide a lot of feeling, and as such, it can be difficult to tell the quality of your shots.
About JOOLA
JOOLA is a market leader for table tennis goods and is an expert on table tennis tables. However, they also produce a range of other equipment such as bats, blades, rubbers, and balls.
JOOLA is the official provider of tables for USA Table Tennis (USATT). Still, they have also had the honor of supplying tables on an even bigger stage for the Olympics games in Atlanta 1996, Sydney 2000, and Athens 2004.
Alternative Options
We also reviewed the Joola Infinity Edge head-to-head in comparison with 4 other Joola paddles in this range, which you can check out here.
JOOLA Infinity Balance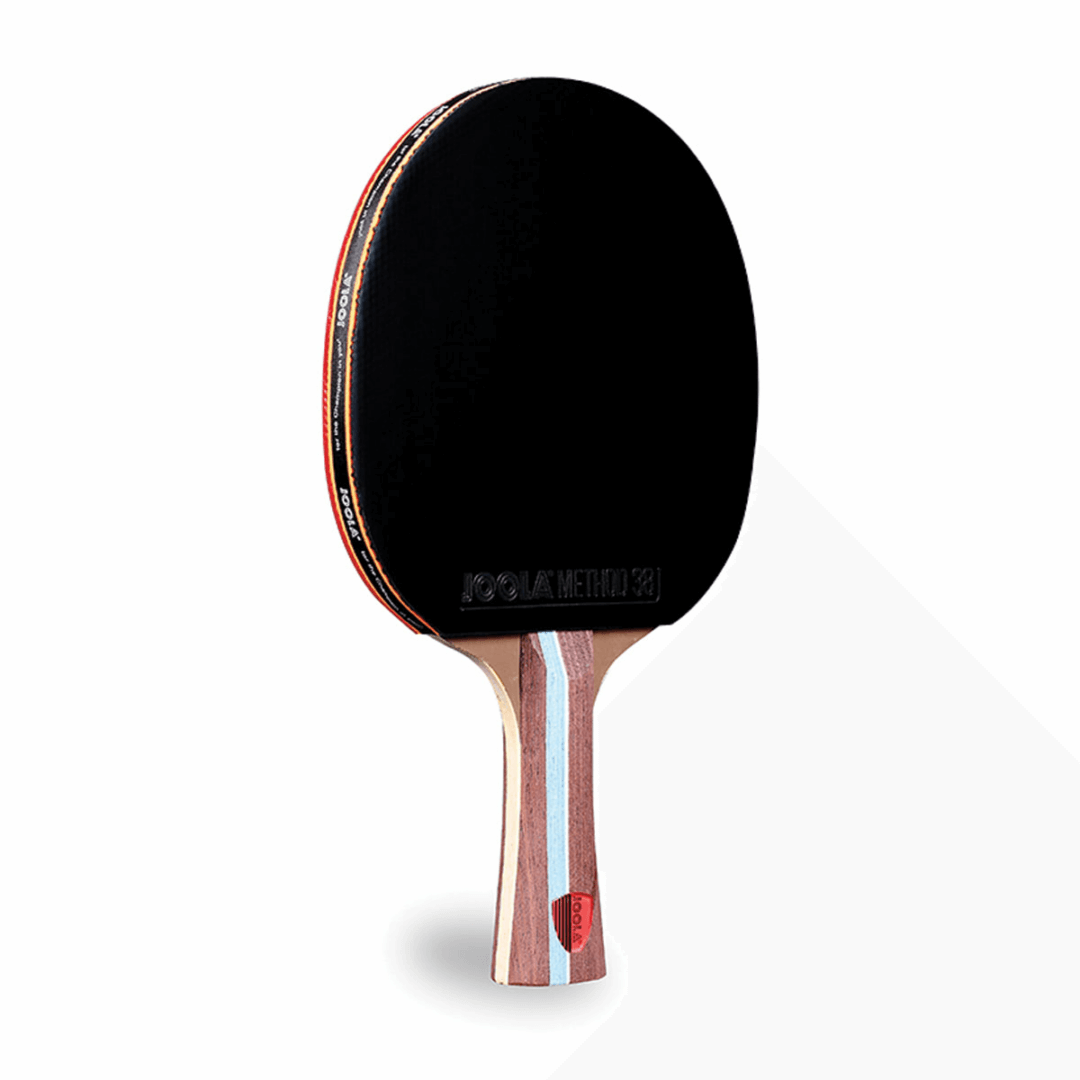 (For our full review, click here)
The Infinity Balance is a slower bat than the Infinity Edge, which is more suited to an allround game while fast. It also has a differing blade composition. It uses 7 layers of wood and no carbon. This means it has a better feeling and it also costs less.
JOOLA Infinity Overdrive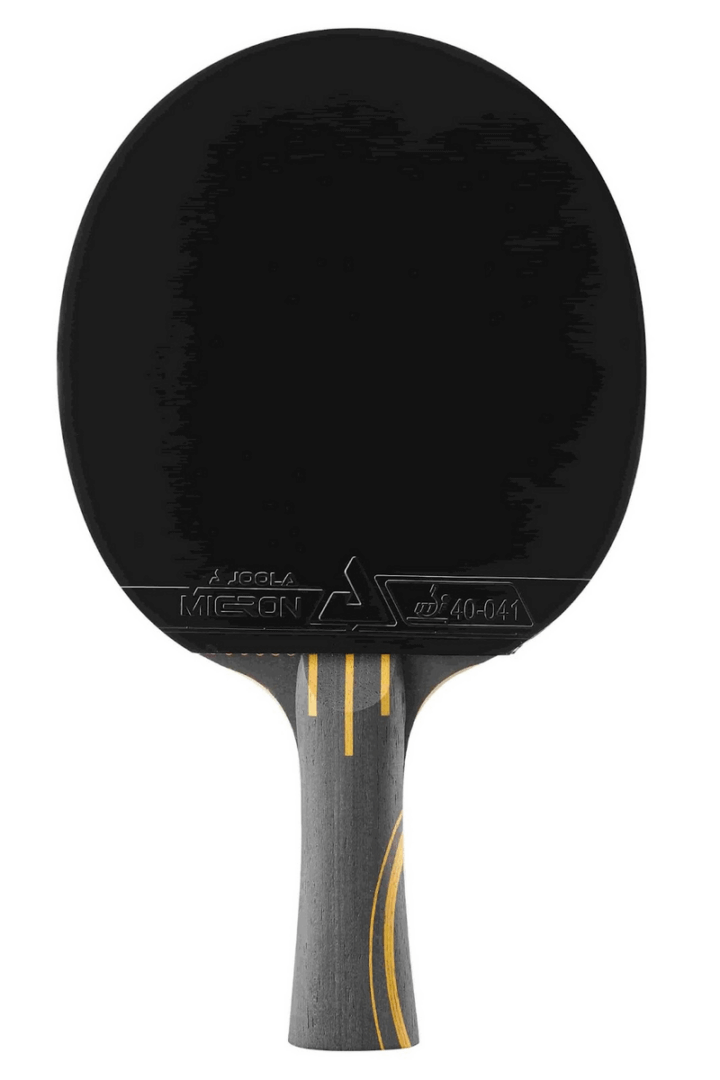 (For our full review, click here)
The Infinity Overdrive is the most expensive and most explosive pre-made paddle from the Omega and Infinity line. This bat is certainly suited towards advanced players and has killer point-ending potential.
Conclusion
The JOOLA Infinity Edge is a fast pre-assembled paddle by JOOLA that provides incredible value for money. Carbon blades tend to be pricey, which can deter many players. But the Infinity Edge provides an inexpensive choice to get your hands on a pre-assembled bat that features carbon layers. You'll struggle to find a similar ping pong paddle for the same price.
The main caveat to this solid paddle is that it lacks control in the higher gears relative to slower bats without carbon layers. This is why I recommend that only consistent players with good technique at around an intermediate level should consider purchasing it. These players will get the most out of its abilities.
Read more: You might also be interested in our top table tennis bat cases.

Freelance writer. Table tennis enthusiast. Lover of all things online. When I'm not working on my loop game I'm probably binge-watching some fantasy show.