Best Foosball Table [2022 Buyer's Guide]
Ah, foosball. Matches are intense, unpredictable, and highly immersive. This is why foosball tables are such common choices for bars and games rooms. Unlike sports such as pool or darts where skill is immediately apparent, in foosball it is less so. This means it is easy for anyone to get involved and have a great time.
Before you go out and purchase the first table you see, it's time to take a breath. There's no use in wasting your money on a table that will fall apart in a week. Instead, take a moment to learn our top foosball table tips and have a browse of the best foosball tables we could find.
Choosing the Best Foosball Table
Types of table
There are three main types to choose from when you are in the market for foosball tables.
The first are standard tables. These usually remain stationary once erected and can be fairly heavy depending on how much you spend.
The second are combination tables. These types of tables have multiple games in one. Such common games include hockey, pool, and table tennis. In a sense, these tables offer the greatest value for money as there is no need to purchase separate tables for individual games. However, if you are a serious foosball player, these are likely to not be the best choice for you as the value is essentially spread out across the games. Meaning the foosball experience is likely to be enjoyable, but not top-notch.
The final type of foosball table are the tabletops. Tabletop tables are a lot cheaper as they have no base to make themselves freestanding. Instead, they need to be placed on a solid surface such as a table or countertop. Of course, you can always use the floor but it makes it a little awkward to play and it might strain your back, especially in the long run.
Due to the nature of tabletops, they are much lighter and easier to transport. This means you can move them around as you see fit.
Size
Foosball tables come in a range of sizes. And you'll want to choose a table which comfortably fits in your available space. If you have the room, a full-size table is always best. These are around 56-inches long and 30-inches wide.  
Remember you also have to fit around the table and account for the rods once extended.
This means the actual space you'll need will probably end up being closer to a 100-inch square.
Before making a purchase, it's essential you cross-compare measurements to make sure you aren't left with a claustrophobic feeling foosball area!
Table levelers
Having sports surfaces level is important irrespective of what it is you are playing. But it is perhaps never as important as it is in foosball. Even a slight incline on one end produces a major advantage for the upslope player. Therefore table levels are highly important and if for whatever reason you opt for a table without one, we suggest you level the table yourselves with a sturdy object.
Rods
Rods will take a great deal of beating during matches due to the intensity of foosball. This means they need to be built to last. This is why you should always look out for foosball tables that use steel rods. Some of the high-end tables use hollow rods as they are lighter. This makes the games a little faster.  
Construction
The best tables will use quality solid wood. This gives them the best strength and provides a solid table as they are very heavy. Having a heavy foosball table is really important as players tend to get a bit erratic with the rods which will move a table that isn't firmly rooted to the ground.
There are many other materials manufacturers use, but the main one to avoid is particle board. It is a cheap, light material that lacks durability. For use in foosball, a table made of particle board won't last all that long.
Table Surface
Where professional tables use glass, consumer-grade tables will often use wood or plastic. What should be consistent among all table surfaces is smoothness and durability.
Our Top 6 Foosball Tables for 2022
1. Kettler Carrara Outdoor Foosball Table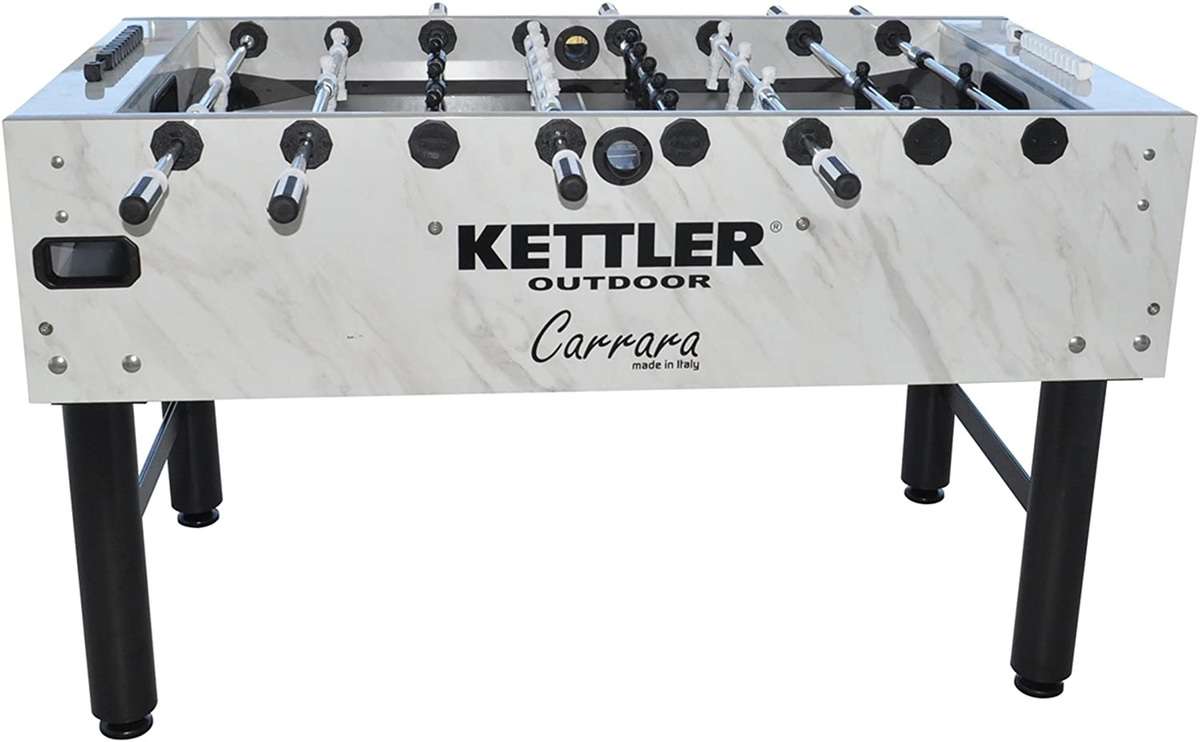 Pros:
Suitable for outdoor use
Steel anti-rust rods
Nylon bushings
Raised corners
12 balls included
Leg levelers
Outdoor cover
3-year warranty
Cons:
If you've got the money to spend, this 58" foosball table by Kettler is sure to impress (Kettler is one of the top foosball table brands).
For starters, it is the only table on our list that is suitable for outdoor play. Not everyone has space for such a big piece of kit inside their home, so having a table adapted for the outdoors means virtually anyone (with a yard) can get one.
And fear not, it does seem to tackle outdoor use well. The steel rods have anti-rust chromium plating so not only do they last outdoors, but they also play really well. The entire table is water-resistant and the playing surface is made of high-speed melamine which is practically unbreakable.
Even the players are molded directly onto the steel rods for additional strength.
Simply put, this table's built to last. Using the provided outdoor cover will help to ensure that it does.
The appearance of the table is another area it gets right. Made with a resin that mimics Italian Carrara Marble, this foosball table fits right into a variety of potential spots, not only the garden, but indoors too.
2. KICK Legend 55" Foosball Table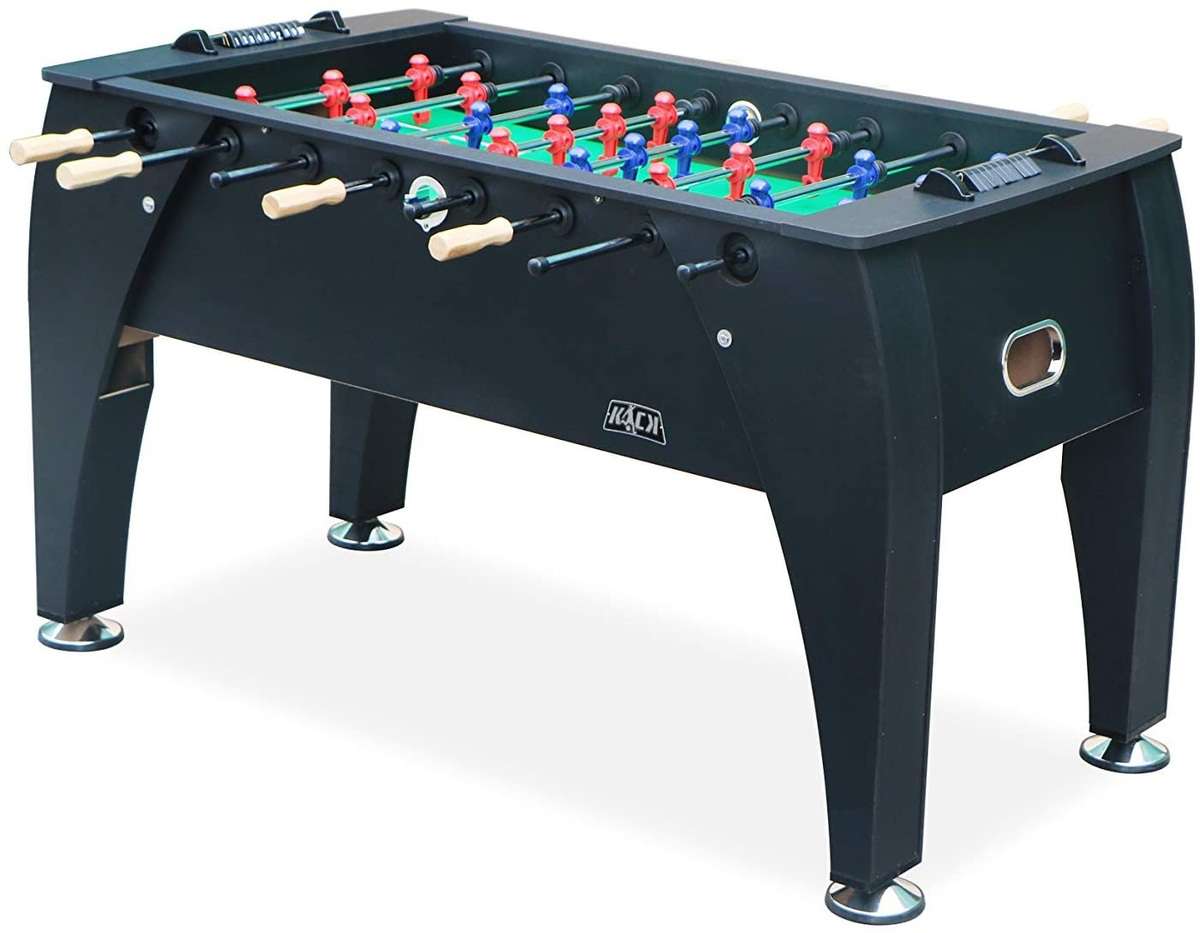 Pros:
Counterbalanced men
Unlimited lifetime warranty
1 or 3 goalie design
⅝" stainless steel chrome plated rods
Leg levelers
Free rod lubricant
Cons:
This full-size foosball table by KICK is one of the best foosball tables money can buy. Sitting at 143lbs, it is a solid table composed of wood. The playing surface is a ½" thick laminate , which makes for a robust and smooth playing field.
What we like in particular about this model are the counterbalanced men. This is a great feature that resets the foosball men to a horizontal position when not in use. By having them raised, the men do not get in the way of your own shots making it easier to score from greater distances for more exciting gameplay.
The option of having both single man and 3-man goalies is another neat feature. 3-man tends to be more popular in the USA and single man is more common in the UK but having the option to try both is favorable.
Having an unlimited lifetime warranty brings this deal home. Besides the poor plastic balls which you can cheaply replace, the Kick Legend 55" has everything you would want in a foosball table. And having a lifetime warranty ensures peace of mind.
3. Hathaway 56-Inch Primo Foosball Table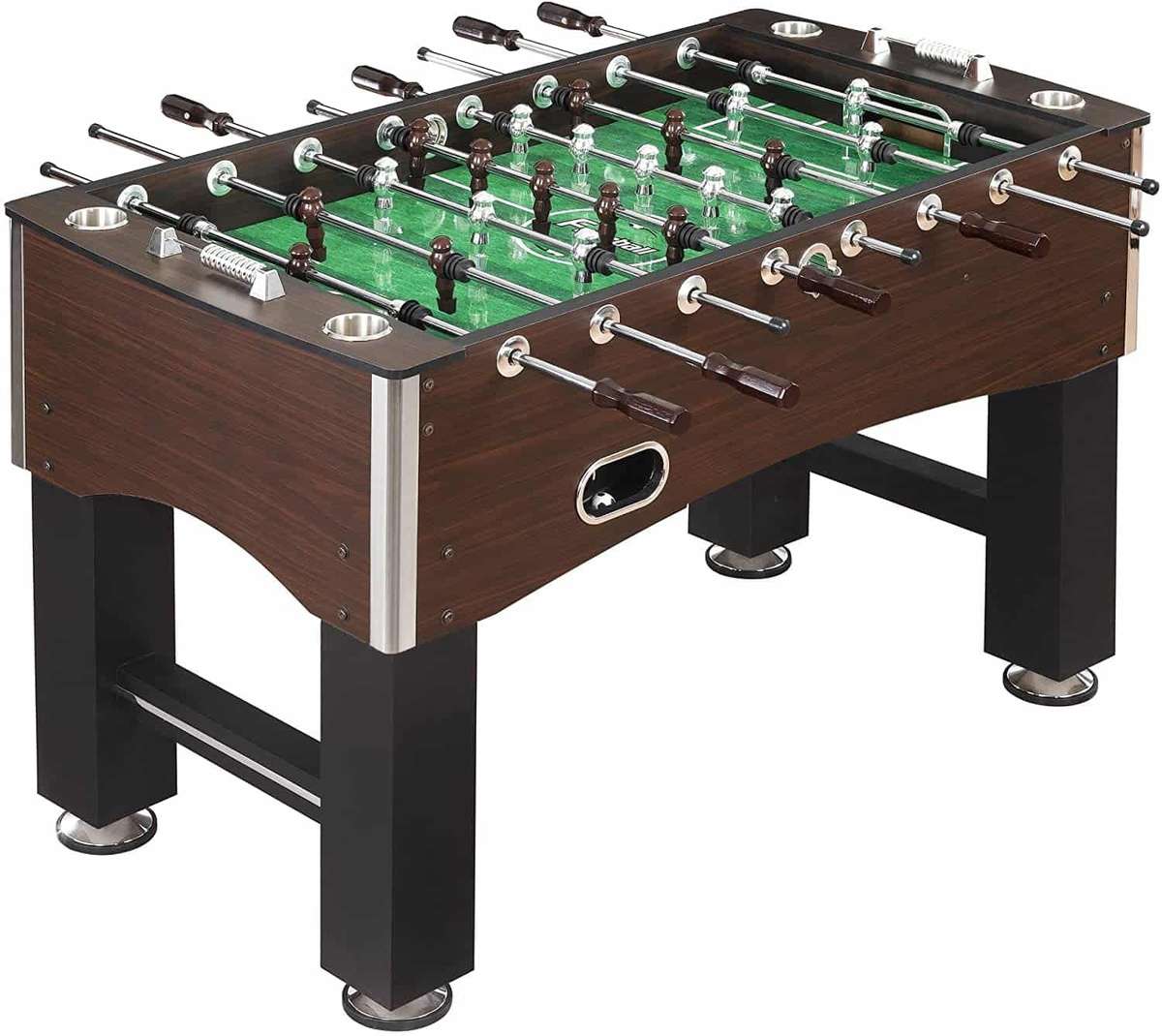 Pros:
Strong build
Solid steel rods
Cons:
Some buyers were missing parts
Men not the strongest
Cup holders
E-Z spin bearing
Leg levelers
Counterbalanced men
Stunning design
Sitting at 181 pounds, the Hathaway 56-Inch Primo Foosball Table is a solid table made from CARB certified MDF. Just be aware at such a weight it will be difficult to transport if it needs moving.
The table uses solid steel rods which spin effortlessly due to the use of E-Z spin bearings. And the playing surface is a coated realistic mock grass design that guarantees fast gameplay. The accompanying espresso finish with stainless steel/chrome accents makes this table a marvel to look at. Certainly one of the best on this list.
A few of the main drawbacks to the Hathaway table are the warranty and missing parts. Some buyers had to get in contact with the supplier due to having parts missing in their packages. And the included warranty only spans 180 days. Ideally, we would really like to have seen a longer warranty period from one of the best foosball tables.
4. EastPoint Sports Official Competition Size Deluxe Foosball Table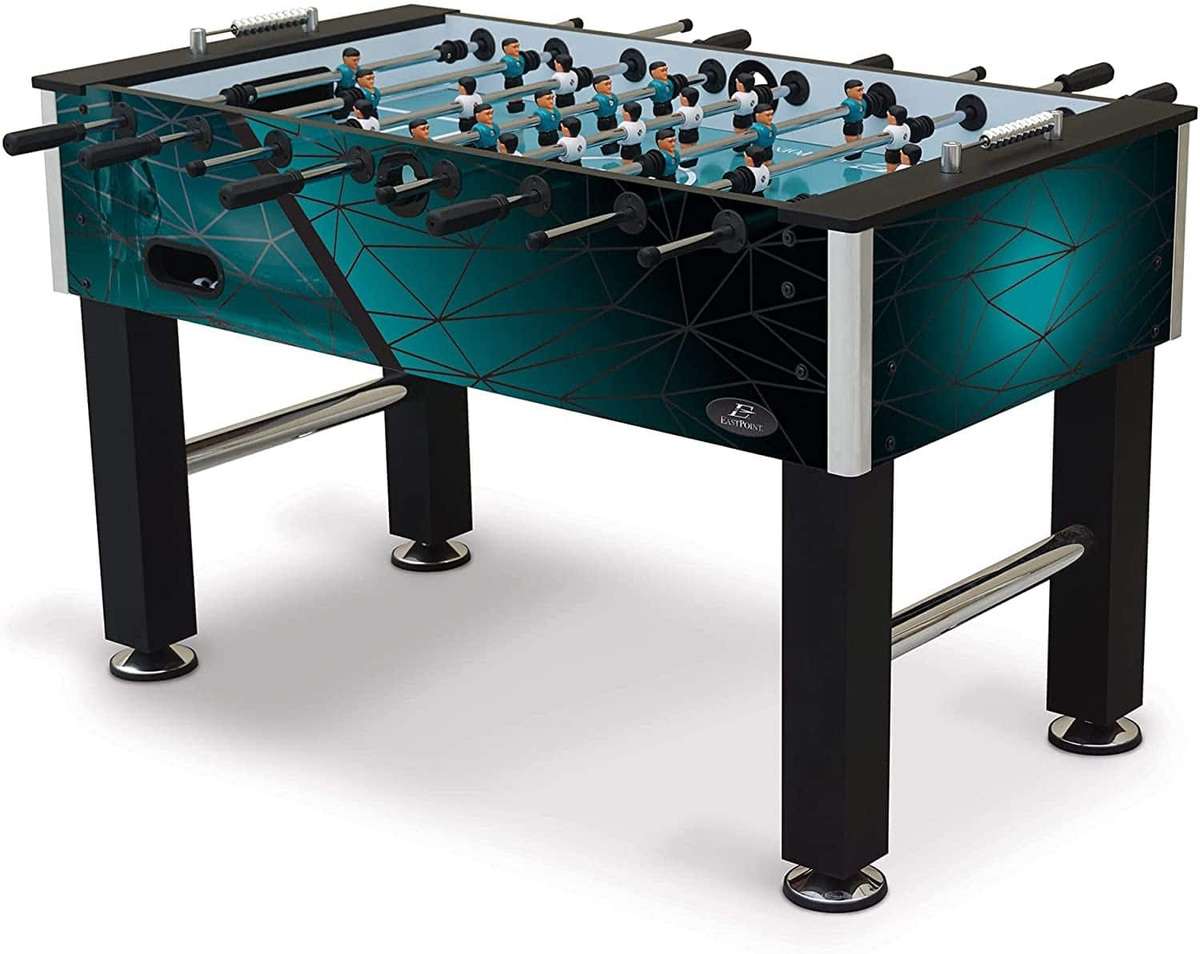 Pros:
Solid wood and alloy steel construction
Fluid spin with player rod bushings
Hollow steel rods
Counterbalanced men
Leg levelers
Eye-catching geometric design
Cons:
This foosball table by Eastpoint is a great model for serious foosball players. The presence of alloy steel in the frame and base provides plenty of support for those extra aggressive matches.
The steel rods used for this table are hollow, meaning they are lighter. This makes them easier to maneuver.
The High-Performance Bushings also ensure minimal friction when moving the rods. As such, playing with this table is a delight as the men are super easy to move. Having the counterbalanced feature on top ensures the action rarely stops.
The only real issue with the Eastpoint table is the delivery. The dispatch time is 2-3 weeks which is considerably above average. But if you can wait, it is well worth it.
5. Best Choice Products 4-in-1 Multi-Game Table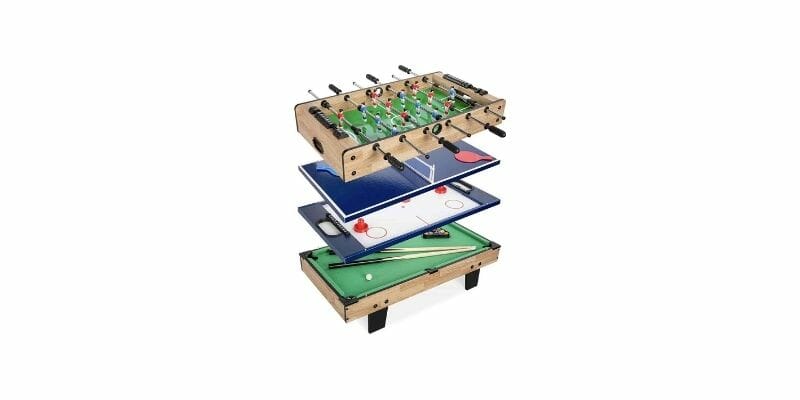 Pros:
Multi-game table
MDF Frame
Easy to transport
Very space-friendly
Affordable
Cons:
The Best Choice Products foosball table is the only multi-game table to make our list and the smallest of all of our foosball table reviews. It measures 32-inches by 17-inches. As it lacks a frame to play in a standing position, it is exceedingly light, weighing just 31 pounds. This means it will not take much to budge the table during games so it should be securely fixed to prevent the table from moving.
Due to its small size, it's feasible to play in any house and can easily be stored away when it is not in use. However, where full-size tables can have up to 4 players, this table is more suited to 2. And despite the fact it is more tailored towards children, adults can still have a great deal of fun with it. Just don't expect the quality of the tables higher up on this list.
The class of the other games is also a little lacking. Table tennis and air hockey appear to be the worst of the bunch. Yet as we are obtaining access to four games on one table at such a low price, we can hardly complain.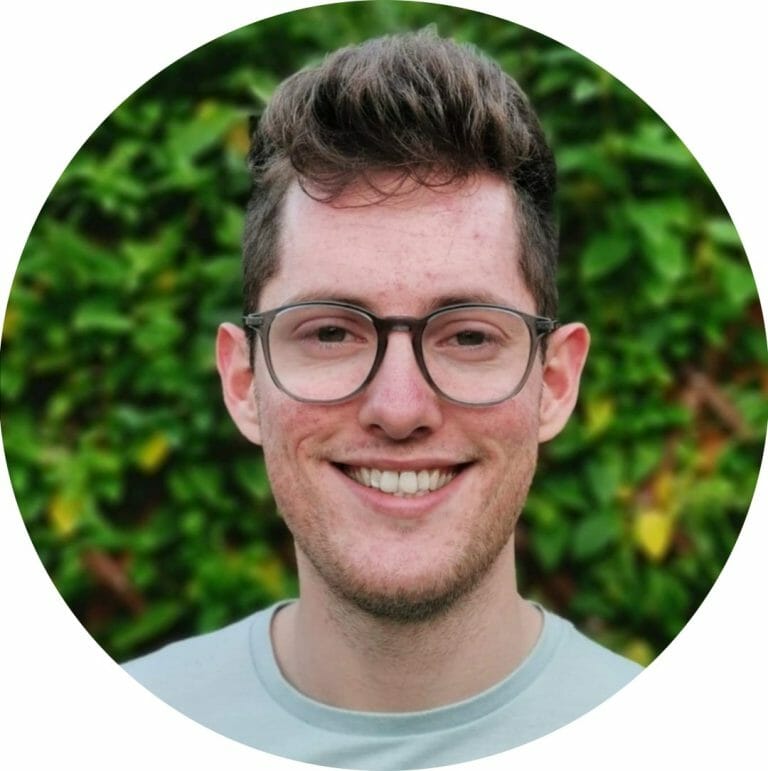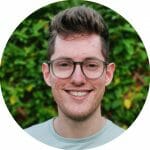 Freelance writer. Table tennis enthusiast. Lover of all things online. When I'm not working on my loop game I'm probably binge-watching some fantasy show.