6 Best Foosball Tables [Buyer's Guide]
Ah, foosball. Matches are intense, unpredictable, and highly immersive. This is why foosball tables are common for bars and games rooms. Unlike sports such as pool or darts, where skill is immediately apparent, in foosball, it is less so. This means it is easy for anyone to get involved and have a great time. Trust me, I have no skill for foosball, but I always have a blast every time I play!
Before you go out and purchase the first table you see, it's time to take a breath. There's no use in wasting your money on a table that will fall apart in a week. Instead, take a moment to learn our top foosball table tips and give each of our foosball table reviews a read. That way, you guarantee you'll get one of the best foosball tables on the market rather than something shoddy.
Featured Products
The Best Foosball Tables at a Glance
Choosing the Best Foosball Table
Types of Table
There are three main types to choose from when you are in the market for soccer tables.
Standard tables.

These usually remain stationary once erected and can be fairly heavy, depending on how much you spend. They are also always the highest quality foosball tables.

Combination tables.

These types of tables have multiple games in one. Such common games include hockey, pool, and table tennis. In a sense, these tables offer the greatest value for money as there is no need to purchase separate tables for individual games. However, if you are a serious foosball player, these are likely to not be the best choice for you as the value is essentially spread out across the games. Meaning the soccer table game experience is likely to be enjoyable but not top-notch.

Table tops.

Table top tables are much cheaper as they have no base to make themselves freestanding. Instead, you need to place them on a solid surface such as a table or countertop. Of course, you can always use the floor, but it makes it a little awkward to play, and it might strain your back, especially in the long run.
Due to the nature of tabletops, they are much lighter and easier to transport. This means you can move them around as you see fit.
You might also spot some folding foosball tables when browsing around, but these are few and far between. 
Size
Foosball table dimensions, like price, vary quite a bit. And you'll want to choose a table that comfortably fits your available space. If you have the room, a full-size table is always best. These are around 56″ long and 30″ wide. However, smaller tables are a great option if you are short of space. A foosball table size of 48″ x 24″ is perfect for smaller rooms. 
Remember, you must also fit around the table and account for the rods once extended.
This means the actual space you'll need will probably end up being closer to a 100″ square.
Before making a purchase, you must cross-compare measurements to ensure you aren't left with a claustrophobic feeling foosball area!
Table Levelers
Having sports surfaces level is important irrespective of what it is you are playing. But it is perhaps never as important as it is in foosball. Even a slight incline on one end produces a major advantage for the upslope player. Therefore table levels are highly important, and if, for whatever reason, you opt for a table without one, we suggest you level the table yourselves with a sturdy object.
Rods
Rods will take a great deal of beating during matches due to the intensity of foosball. This means they need to be built to last. As such, you should always look out for foosball tables that use steel rods. Some of the high-end tables use hollow rods as they are lighter. This makes the games a little faster.  
There are also two types of rods to choose from: telescopic and solid rods. Telescopic rods are the safest as the opposing end from the handle does not stick out of the table so it poses no hazard. Solid rods are the opposite. Their rods slide back and forth at the other end as you play. Almost all soccer table games use solid rather than telescopic rods.
Construction
Top-rated foosball tables will use quality solid wood. This gives them the best strength and provides a solid table as they are very heavy. Having a heavy fooseball soccer table is really important as players tend to get a bit erratic with the rods, which will move a table that isn't firmly rooted to the ground.
There are many other materials manufacturers use, but the main one to avoid is particle board. It is a cheap, light material that lacks durability. For use in foosball, a table made of particle board won't last all that long.
Playing Surfaces
Professional tables use glass, but consumer-grade tables will often use wood or plastic. What should be consistent among all table surfaces is smoothness and durability.
Price
Foosball table price varies from around $100 to over $3,000, which is quite the range. Most are less than $700, and many great models are in the $300-$500 bracket. However, if quality rather than foosball table price is your priority, I recommend you spend at least ~$600 to secure a quality foosball table.
Foosball Tables Reviews
1. Kick Legend 55″ Foosball Table — Best Overall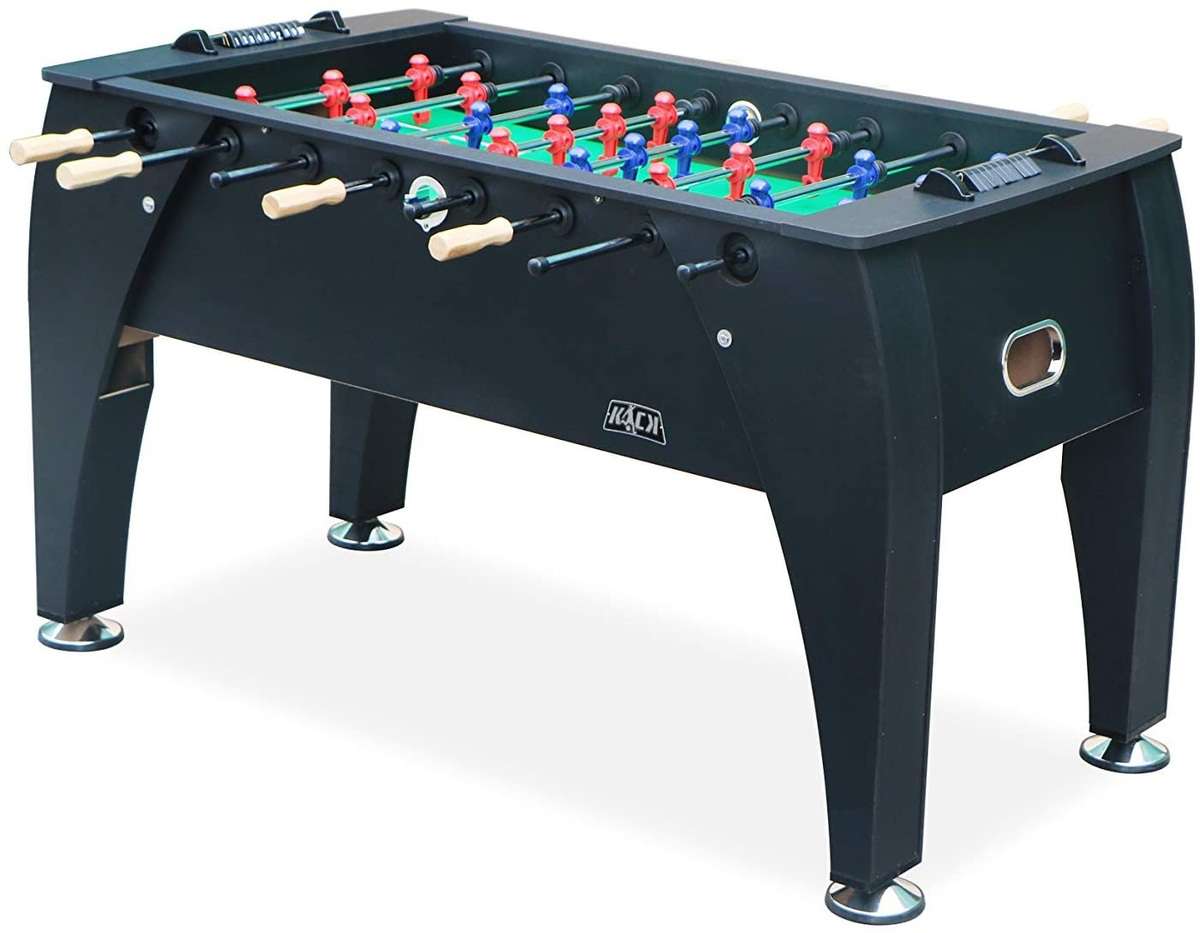 Specifications
Size: 55″ (L) x 30″ (W) x 36″ (H)
Material: Wood, stainless steel
Type: Standard table
Weight: 143 lbs
Warranty: Lifetime warranty
Pros:
Lifetime warranty
Full-size
Includes counterbalanced and balanced men
Unrivaled warranty period
1 or 3 goalie configuration
⅝" stainless steel chrome plated rods
Abacus scorers
Leg levelers
Free rod lubricant
Cons:
Poor plastic balls
Not very attractive
Rating: 9.6
This full-size foosball table by KICK is one of the best foosball tables money can buy. Sitting at 143 lbs, it is a solid table composed of wood. The playing surface is a ½" thick laminate, making for a robust and smooth playing field. This is exactly what we expect from one of the best foosball table brands. 
What we like in particular about this model is that they include both balanced and counterbalanced for you to choose from. This gives you the freedom to decide whether you want your men to return to the upright position automatically or if you want to pose them horizontally so that you can attack from the back. 
The option of having both single-man and 3-man goalie configurations is another neat feature. 3-man tends to be more popular in the USA, and single-man is more common in the UK, but having the option to try both is favorable.
However, what really brings the deal home with this table is the unlimited lifetime warranty. This towers over all of the other models on this list. The only issue we could find with this table are the poor plastic balls, but you can easily replace these. With everything considered, the Legend is the best foosball table of 2023 for us.
2. Best Choice Products 48″ Competition-Sized Foosball Table — Budget Buy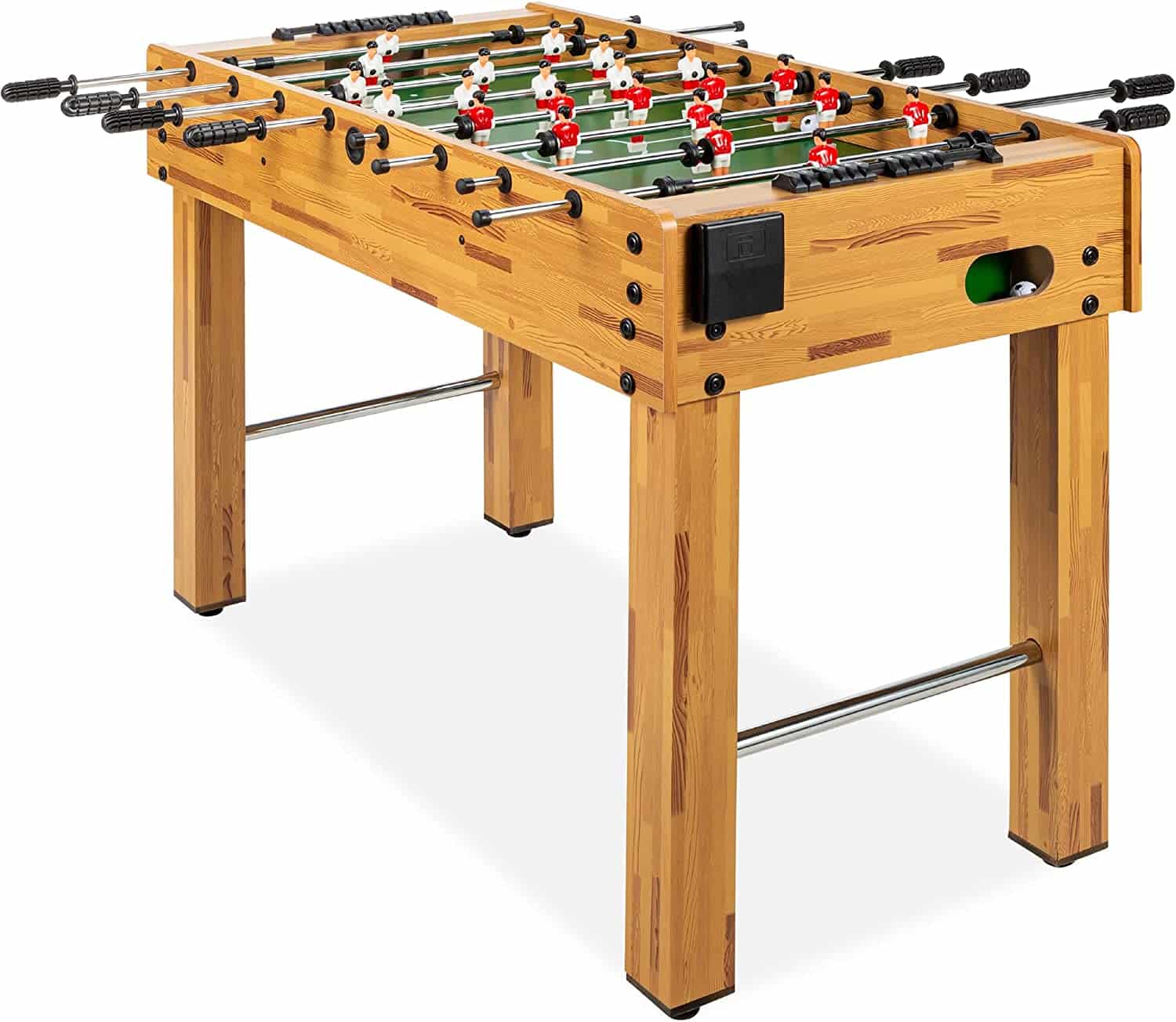 Specifications
Size: 48″ (L) x 24″ (W)
Material: MDF, steel, wood
Type: Standard table
Weight: 52 lbs
Warranty: 60 days
Pros:
Very inexpensive
Abacus scorers
Painted players
Ergonomic handles
Built-in cup holders
Leg levelers
Cons:
Short warranty
Very light
Rating: 9.3
Currently the Best Choice Products 48″ foosball table is the best-selling on Amazon and it's easy to see why. It doesn't have the best features, but it looks the part and is less than half of the price of most of the tables on this list — pretty incredible! The men are painted, the shafts are finished with chrome, and the handles have an ergonomic grip for comfort and playability. 
One feature unique to this cool foosball table are the built-in cup holders on either end. This ensures you can quench your first without having to leave the table! I like that these fold out and are not fixed, it makes the table much easier to store in the corner of a room this way. Speaking of moving the table, it's very easy given it weighs just 52 lbs. However, at such a weight, it is prone to budging if you violently spin the shafts. Therefore I feel that this model is more suited to casual players, perhaps even families — not those who take the game very seriously. 
3. American Legend Manhattan Foosball Table — Most Attractive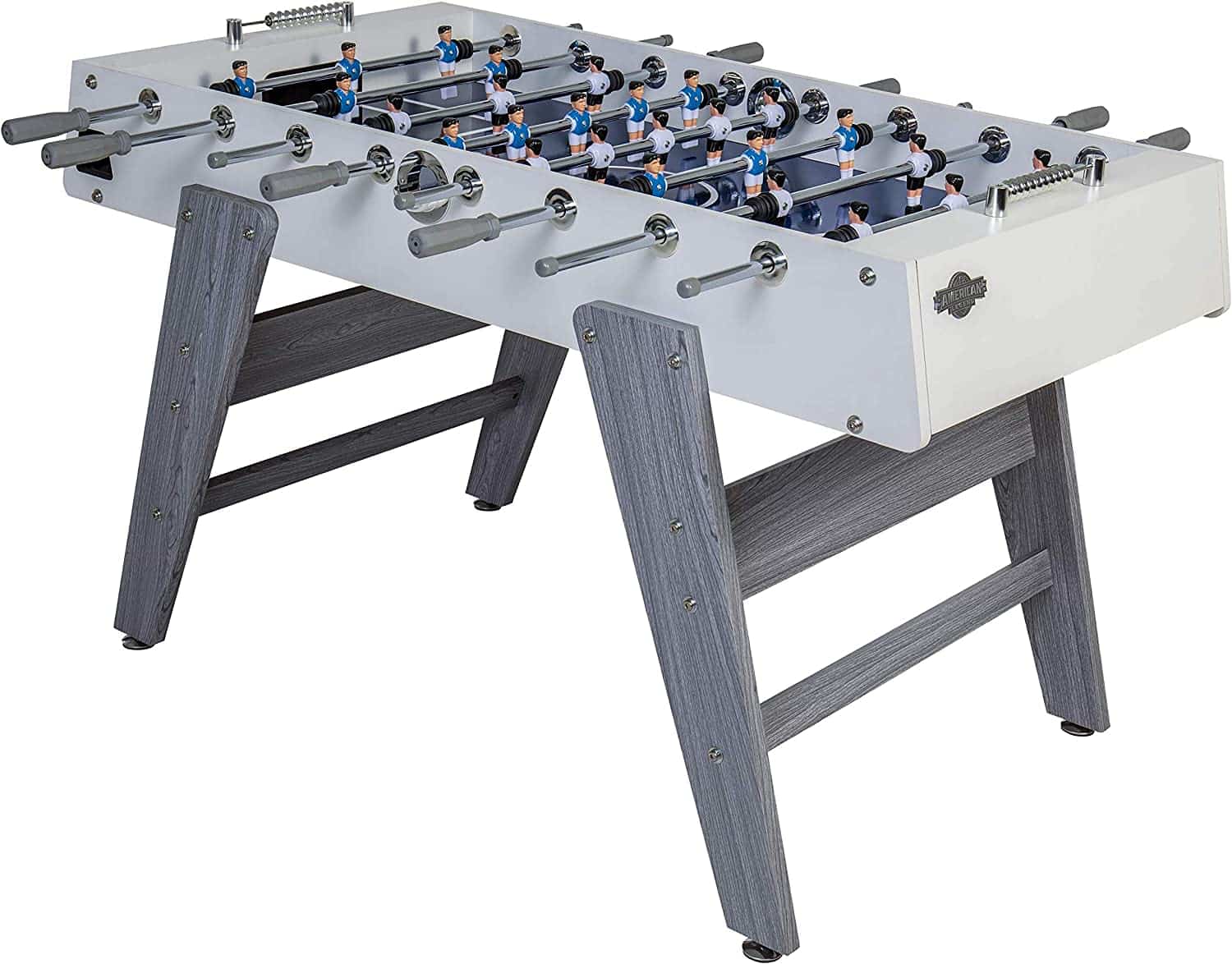 Specifications
Size: 59.5″ (L) x 29″ (W) 33″ (H)
Material: Alloy steel, wood
Type: Standard table
Weight: 92.4 lbs
Warranty: 30 days
Pros:
Very attractive design
Inexpensive
Steel chrome rods
Abacus scorers
Painted players
Soft grip handles
Leg levelers
Cons:
Short warranty
A little light
Rating: 9.2
If you're after an inexpensive foosball table, the Manhattan by American Legend could be just what you are looking for. Featuring chrome steel rods and painted men you get both strength and a quality look with this table. In fact, its appearance is what first stood out to us, as it has a very modern look from its grey and white color scheme to its attractive frame. There's no doubt that if you're looking for a foosball table to occupy anything other than a games room, the Manhattan is a table that won't feel out of place. This is why it's one of the best foosball tables for the home. 
Besides the issue of the short 30-day warranty period, the American Legend Manhattan is also a little on the light side. Weighing 92.4 lbs it's almost half the weight of some of the heavier models. We don't feel it's light enough to cause any major issues, but if you're heavy-handed you might be able to budge the table which disrupts ongoing games. On the other hand, this does make the table easier to move if needed, so its light weight is not without its positives.
4. Hathaway 56-Inch Primo Foosball Table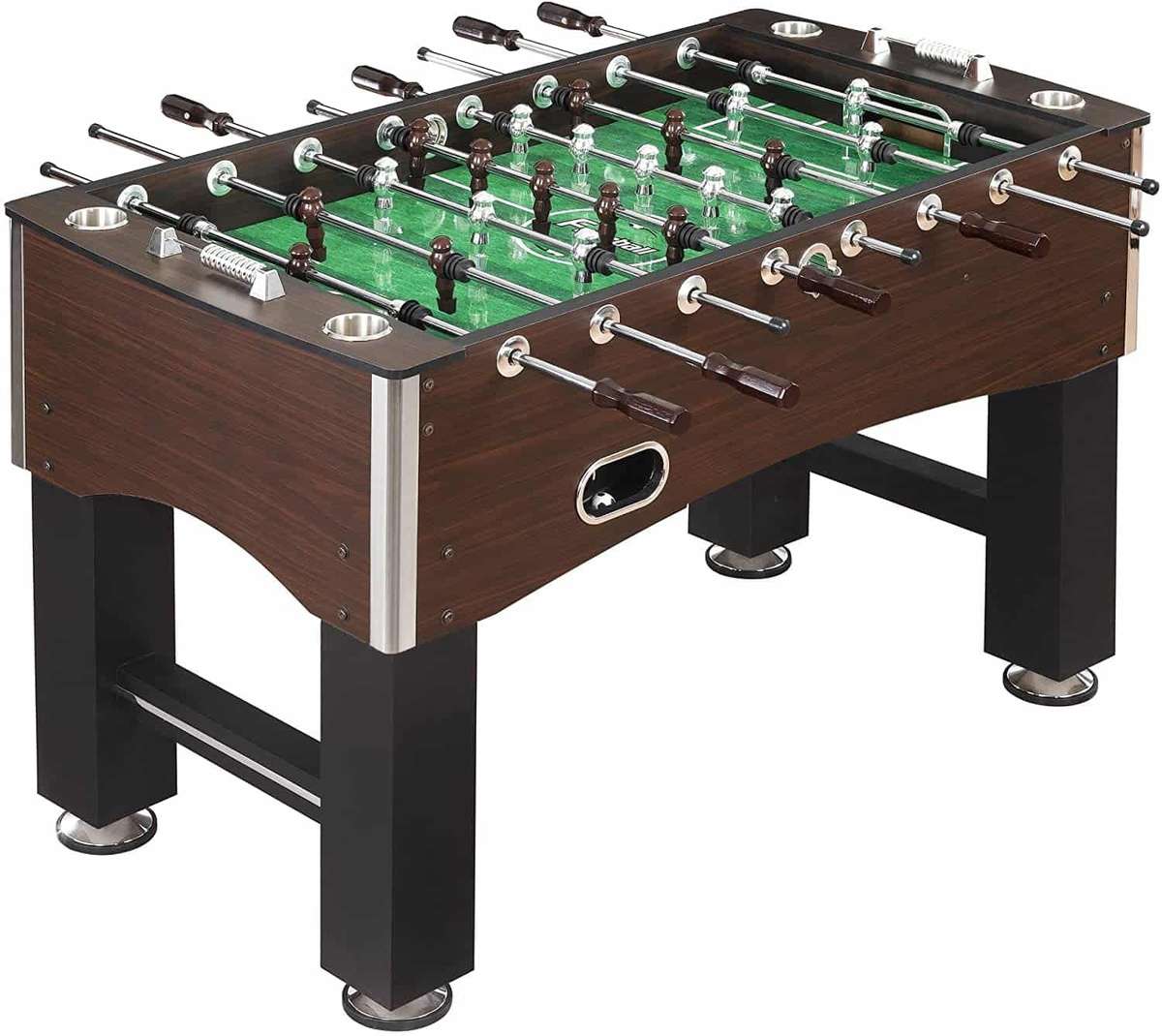 Specifications
Size: 56.5″ (L) x 29″ (W) x 34″ (H)
Material: Engineered wood & stainless steel
Type: Standard table
Weight: 181 lbs
Warranty: 180 days
Pros:
Strong build
Full-size
Solid steel rods
Cup holders
E-Z spin bearing
Abacus scorers
Leg levelers
Counterbalanced men
Stunning design
Cup holders
Moneyback guarantee
Cons:
Some buyers were missing parts
Men are not the strongest
Rating: 9.2
Sitting at 181 pounds, the Hathaway 56-Inch Primo foosball table is a solid table made from CARB-certified MDF. Just be aware at such weight it will be difficult to transport if it needs moving.
The table uses solid steel rods which spin effortlessly due to the use of E-Z spin bearings. And the playing surface is a coated realistic mock grass design that guarantees fast gameplay. The accompanying espresso finish with stainless steel/chrome accents from the cup holders to the ball returns makes this model a marvel to look at. Certainly one of the best on this list. It's very easy to mistake for a high-end foosball table.
A few of the main drawbacks to the Hathaway Primo are the warranty and potential missing parts. Some buyers had to get in contact with the supplier due to having parts missing in their packages. And the included warranty only spans 180 days. Ideally, we would like to see a longer warranty period from one of the best foosball tables.
5. ESPN Arcade 56″ Foosball Table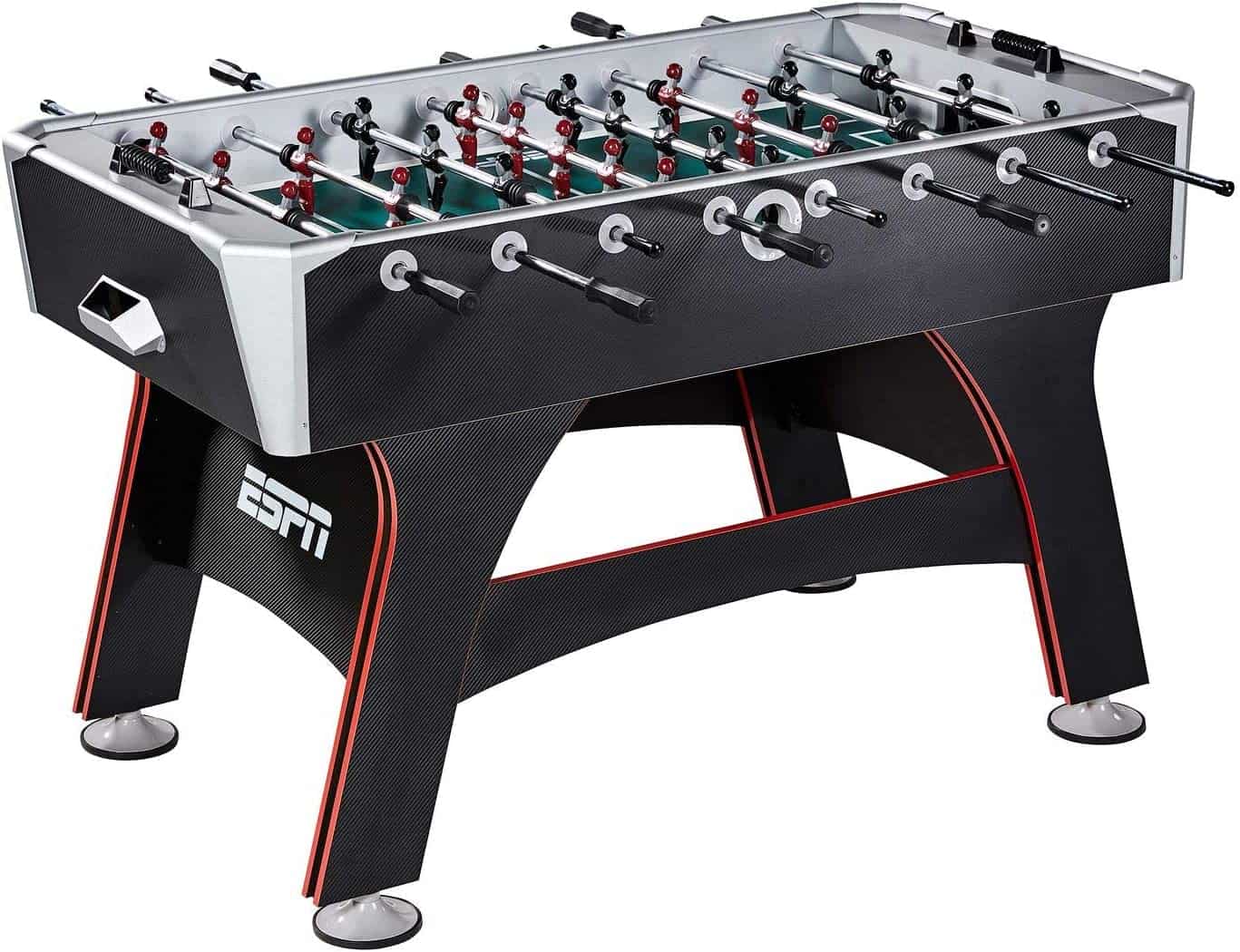 Specifications
Size: 56″ (L) x 28.75″ (W) x 34.5″ (H)
Material: Metal, MDF, PVC
Type: Standard table
Weight: 92 lbs
Warranty: 90 days
Pros:
Full-size
Solid metal chrome-plated rods
Abacus scorers
Leg levelers
Hand-painted players
Players are easy to assemble
Cons:
Short warranty
Does not have a premium feel
Rating: 8.8
The ESPN Arcade 56″ foosball table offers a more affordable route into the full-size models, falling hundreds of dollars short of the likes of the Hathaway Primo and Kick Legend. This should certainly appeal to some buyers. However, clearly, it does not quite have the quality to match. The table is light at 92 lbs, the playing surface is thin, and much of it is made from PVC rather than wood. 
The biggest miss for more serious players though, is that the men are balanced rather than counterbalanced, meaning you cannot position your attackers in a parallel position with the playfield so that you can attack from the back. On the other hand, the table has a nice matching red and black color scheme between the players and the frame. The players are also easy to assemble. 
So all in all, the ESPN arcade table is a good option if you want the full-size foosball experience at a reduced cost.
6. Giantex 48″ Foosball Table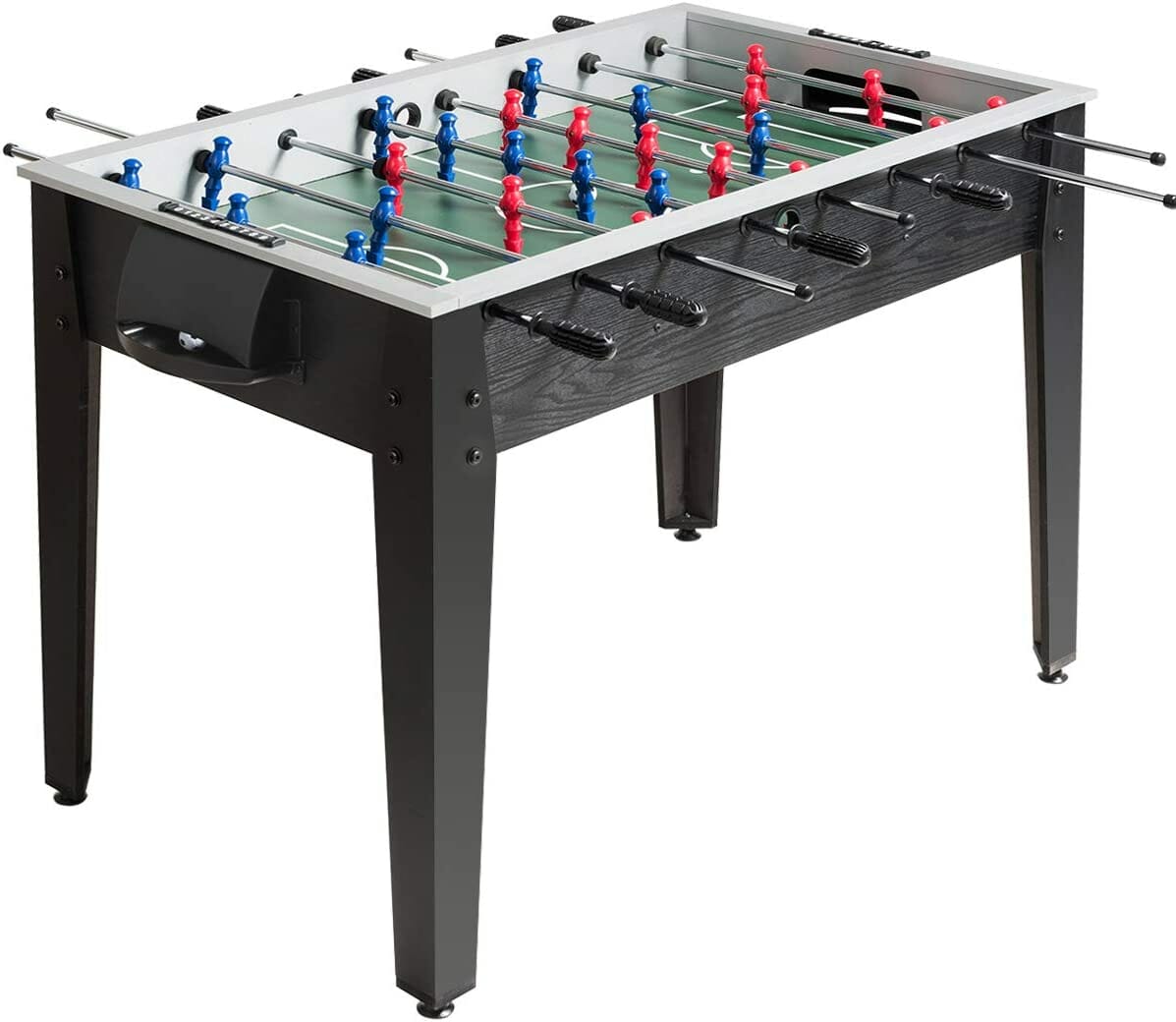 Specifications
Size: 48″ (L) x 24″ (W) x 31″ (H)
Material: MDF, steel, polypropylene
Type: Standard table
Weight: 26.5 lbs
Warranty: 90 days
Pros:
Very inexpensive
Plastic scorers
Steel rods
Leg levelers
Cons:
Too light
Plain design
Short warranty
Rating: 7.7
If the Best Choice Products foosball table wasn't cheap enough for you, then the Giantex table is our proposed model. It's 50% cheaper, which is truly incredible, but with this reduction in price comes sacrifice. This is seen in the weight department as the table weighs just 26.5 lbs. Frankly, I'm shocked Giantex managed to make a table so light. Especially considering it has the same 48″ x 24″ dimensions as the Best Choice Products model. 
The issue with this weight is that there's just no escaping the fact that this table will move during games unless you are very careful. In my opinion, it is a nice foosball table for casual games, but as those of you who have played foosball before will know, casual games can quickly turn violent as foosball is both an exhilarating and frustrating sport! 
While this model is one of the best-rated foosball tables according to buyers, I think it's worth spending a bit more on a higher-quality model. Not only will it stay planted to the ground when you play, but it will also last longer. 
FAQs
What Is the Best Foosball Table on the Market?
The top-rated foosball table available right now is the Kick Legend. It includes all of the features you expect from a high-quality table and outperforms its competition with its lifetime warranty. With unending coverage, you really are getting the most out of your dollars with the Legend.
How Do You Pick a Good Foosball Table?
Build quality is very important as players can get rough playing foosball. This means you should seek tables with steel rods and a thick frame. You also want your table to be heavy. Otherwise, it might move around during matches. Leg levelers are another key feature, they ensure your playing surface is flat, if it isn't the ball will unfairly roll to one side.
What Is the Standard Size of a Foosball Table?
A standard-size foosball table measures 29-30″ wide by 54-56″ long by 34-36″ tall.
What Is the Best Size Foosball Table?
The best size foosball table depends on how much space you have. If you have the space we recommend choosing a full-size model as these are the most exciting to play on. But remember, you need to account not only for the table itself but also for the players and the rods. A 100″ square is the approximate space required for a full-size table.
What Foosball Table Is Used in Tournaments?
Tournaments use the top foosball tables that measure 56″ long by 30″ wide by 36″ tall. Competition tables are always full-size. This way it is easy to keep the foosball tournament playing dimensions consistent.
Is It Legal to Spin in Foosball?
Spinning is defined as "the rotation of any soccer figure more than 360 degrees before or more than 360° after striking the ball". Despite spinning being common among beginners, it is in fact an illegal move. It diminishes the game's skill and encourages a frenzy rather than using wit and flair to beat your opponent.
How Do You Clean a Foosball Table?
When cleaning a foosball table, you want to avoid using harsh chemicals. The best cleaning choice is soapy water and a sponge. And remember. less is more. Foosball tables are not waterproof so it is not a good idea to soak your table with water. Instead, use just enough as you need and wipe away the excess when you you're done.
How Many People Can Play on a Foosball Table?
In theory, you can have as many players as there are rods on the table, which would mean a total of eight players. However, this can get a bit cramped. We instead recommend playing with up to four players, two on each team. This gives you plenty of space and means you can control two rods of men.
How Do You Set Up a Foosball Table?
Foosball tables usually take a good chunk of time to assemble. This is because you are assembling almost everything from scratch, whereas with other game tables, you might only be assembling the legs and a few other parts.
See the video below detailing the assembly of the Kick legend.
So Which Table Should I Buy?
While we rate all of the foosball tables on this list, some did stand out above the rest. For us, the crown of the best foosball table goes to the Kick Legend. It may not be the flashiest looking table, but it has among the best quality, isn't unreasonably priced, and, most importantly, comes with a lifetime warranty. A lifetime warranty is a highly sought-after quality you rarely find, so when you do, it's time to grab it with both hands.
Now, if you want to save a sizable sum of money, our top foosball table is the Best Choice Products 48″ Competition-Sized Foosball Table. Sure, it's smaller than some of the other models and behind in terms of quality, but it provides a lot of bang for your buck, and it's very popular among buyers.
Recommended reads:

Freelance writer. Table tennis enthusiast. Lover of all things online. When I'm not working on my loop game I'm probably binge-watching some fantasy show.