Shuffleboard tables are a great addition to any games room or bar. But whilst a comfy chair or dartboard requires little thought, a shuffleboard is a purchase that requires adequate research.
They are expensive pieces of furniture that vary wildly in price and quality from brand to brand. So knowing what to look for is vital. In this guide, we will break down not only what to look out for when purchasing a shuffleboard, but also our recommendations to save you the hassle.
What is the Best Size for a Shuffleboard Table?
The very first thing to decide when purchasing a shuffleboard table is what size you are after. Shuffleboard tables come in a range of sizes most commonly spanning from 9ft to 22ft. However, if you are really short of space but strongly set on buying a shuffleboard, there are 8ft models available. Generally speaking, 9ft and 12ft shuffleboard tables are the most common.
Of course, space will be a bit of a restriction here. You need to break out the tape measure and ascertain how much room you have to work with. Not only must you account for the dimensions of the table, but also clearance on all sides for adequate table access. 2-3ft will suffice for most people.
You'll also want to consider the logistics of actually getting your indoor shuffleboard into its desired location. They are very large pieces of furniture –  small doorways and tight corners may present unexpected barriers. Always cross-compare the compact dimensions of the table with the route it will take to get to its desired home.
What Thickness is Most Ideal?
Thickness is just as important to consider as size. A shuffleboard table's thickness influences its reliability and durability. The top-end shuffleboard tables are 3 inches thick, but these come with a hefty price tag. A benefit of having a 3-inch-thick playing surface is that you can refinish the table by sanding it if needed. Many of the mid-range models come in at around 1.5 inches thick.
Indoor shuffleboard playing surfaces are composed of wood with a top finish of resin. The resin thickness is usually around 0.25-0.5 inches. Some manufacturers will artificially inflate table thicknesses by including resin in the figure. Be aware of this, and try to find out the thickness of both the wooden block and the resin finish.    
What are the Best Shuffleboard Table Materials?
As with a variety of table lengths, there are a whole host of materials to choose from. The material your shuffleboard is made from will affect durability. And being as expensive as they are, you want to ensure your shuffleboard is built to last. They face a lot of wear and tear over the years. Especially if you are just learning the game!
Common materials used for shuffleboard tables are North American Maple Wood, Russian Birch, White Maple, Canadian Soft Maple, and Poplar. Whilst these are softer maples, they are still quite durable when finished with resin.
However, hardwoods are the best as they provide the greatest durability. The most common types of hardwood are birch, oak, maple, and mahogany. If your budget allows, one of these hardwoods is well worth the money.
Which Finish Provides the Greatest Durability?
Another element of durability to consider is the table's finish. Older shuffleboards used lacquers and shellacs. These are spray-on finishes that don't provide a great deal of durability – often wearing out in 3-4 years.
Instead, epoxy resin is the common finish these days. It is poured instead of sprayed, cures without air bubbles, and does not warp. Resin provides a great deal of resistance to dents and scratches. This would otherwise ruin your playing experience.    
Some manufacturers are so confident in their resin, that they will sometimes provide a lifetime warranty for premium shuffleboard tables. This provides a great deal of peace of mind knowing that your table should last. And if for some reason it doesn't, you can claim your money back.
Climatic Adjusters
The use of climatic adjusters ensures the playing surface of the table maintains its optimal shape. Factors such as temperature and humidity can cause your table to warp which ruins the playing experience. Outdoor tables are less vulnerable to warping as they use different materials such as metal. Wood, on the other hand, is more susceptible to warping — even for indoor shuffleboard tables. In humid conditions, wood expands, and in dry conditions, it contracts.
Level the table by adjusting the bolts between the climate adjusters. The playing surface should be ever so slightly concave. This helps prevent the pucks from falling into the gutter.
Be aware that not all shuffleboard tables come with climatic adjusters pre-installed. You always have the option of purchasing them separately and getting them fitted. But this is pricey. I would aim to purchase a table that already has them included.
What to Look Out for in the Outer Cabinet
The final thing to consider when buying your shuffleboard is the outer cabinet. Often neglected, it is a key component of the table. It holds everything together, and as such, should not be overlooked.
The best outer cabinets will be heavy, made of solid hardwood, and have a sleek finish. It's important your table is heavy and built well so it doesn't budge during games. Cheaper tables will substitute hardwood for MDF which is a notable downgrade.
Again, you will want to pay particular attention to how the seller describes the table. "Oak finish" is different from solid oak and it's simply a method to deceive uninformed buyers.
Top 6 Best Shuffleboard Tables Available Online
#1. Playcraft Georgetown Shuffleboard Table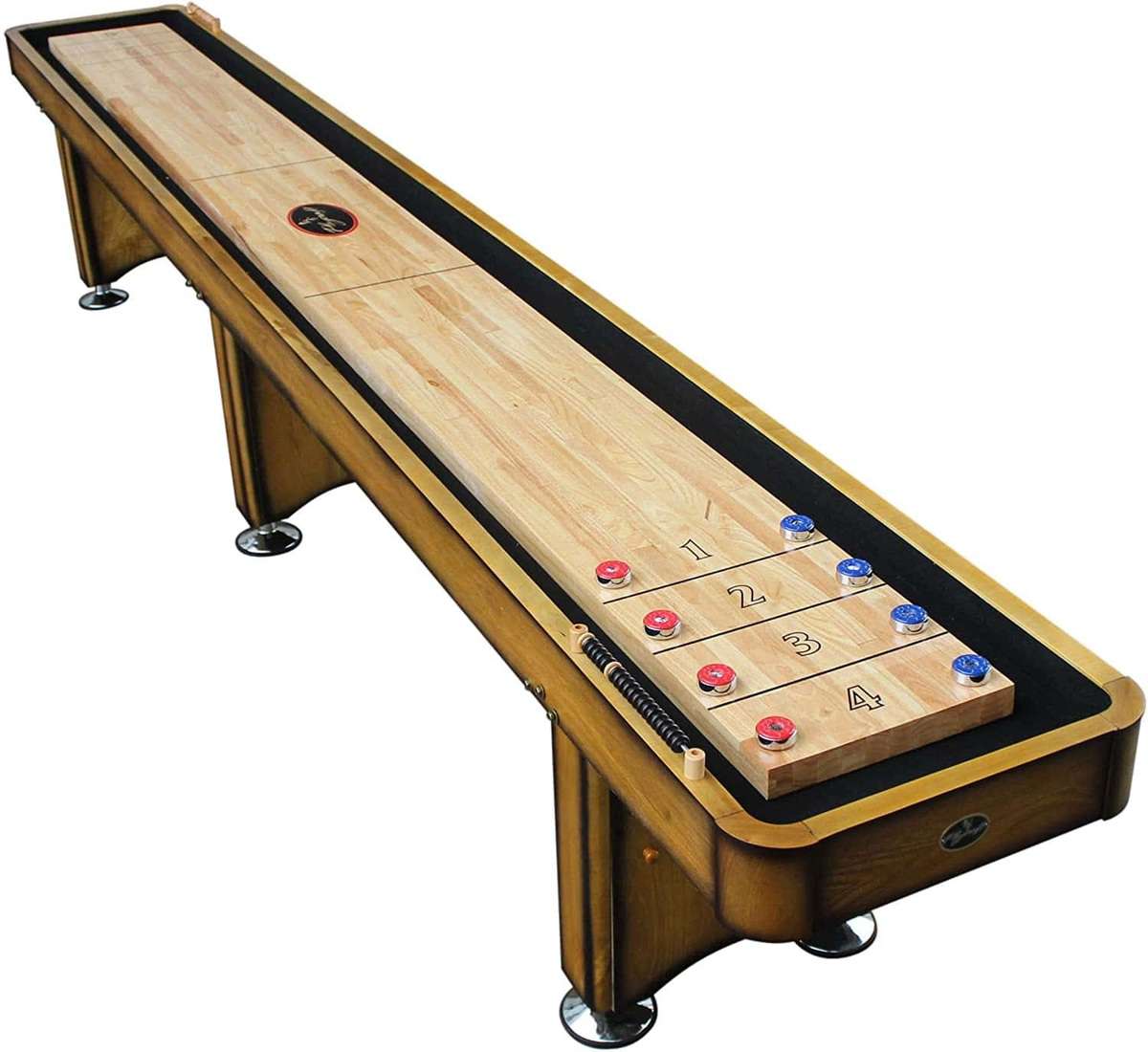 Colors: Cherry, Espresso, Honey
Available Sizes: 12ft, 14ft
Playing Surface: Hardwood Veneer
Playing Surface Finish: Polyurethane
Playing Surface Thickness: 1 ¾ inch
Extras: Pucks, speed wax
Climatic Adjusters?: Yes
Price: $$
A beautiful shuffleboard table available in 3 colors which should provide enough variety to suit any room. The Playcraft Georgetown table features reinforced double-paneled legs with built-in storage. This means you can keep your equipment out of the way when it is not in use.
It also has metal leg levelers, carpeted walls, and carpeted gutters. The corners are composed of solid wood and use rail caps which show strength and durability were in mind in the making of the table.
#2. Playcraft Montauk Shuffleboard Table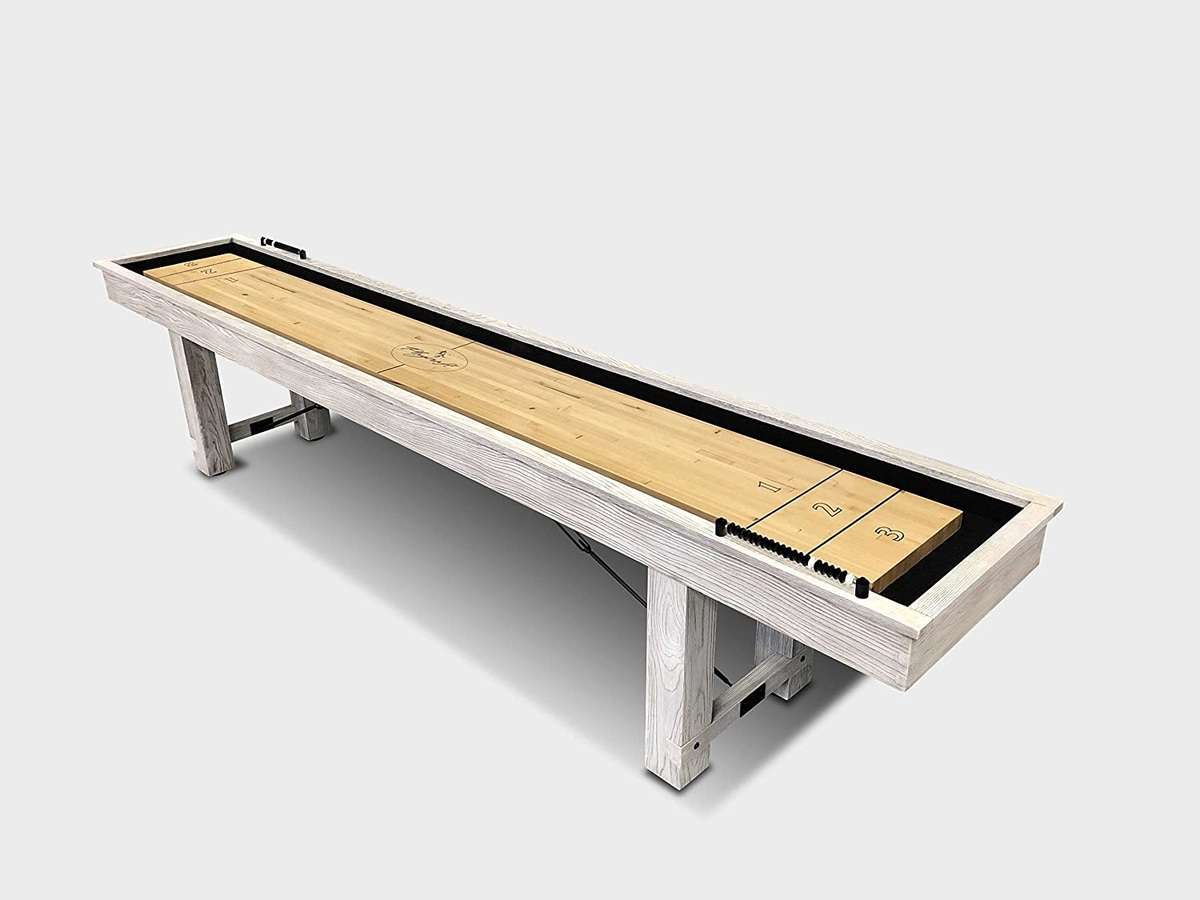 Colors: Weathered whitewash
Available Sizes: 9ft, 12ft
Playing Surface: Hardwood Veneer
Playing Surface Finish: Polyurethane
Playing Surface Thickness: 1 ¾ inch
Extras: Pucks, speed wax
Climatic Adjusters?: Yes
Price: $$
Available in 9ft, the Montauk Shuffleboard Table is one of the smallest shuffleboard tables you can purchase. The black carpeted wall and gutters compliment the weathered whitewash body well.
This model also has adjustable leg levelers. The only drawback is its lack of storage. A somewhat small issue, but far from being a deal-breaker for such a stunning table.
Equally well-built, the Montauk uses a combination of hardwood and alloy steel making it a solid shuffleboard.
#3. Playcraft Telluride Pro-Style Shuffleboard Table with Electronic Scorer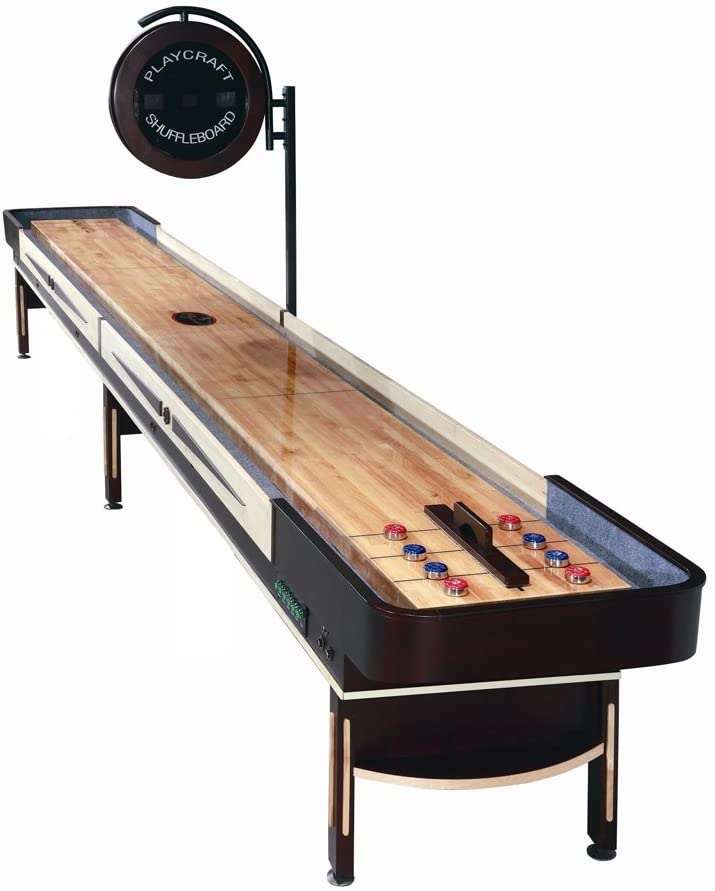 Colors: Espresso, honey
Available Sizes: 12ft, 14ft, 16ft, 18ft, 22ft
Playing Surface: Russian Birch
Playing Surface Finish: Polymer
Playing Surface Thickness: 3 inch
Extras: Pucks, board sweep, speed wax, playing instructions
Climatic Adjusters?: Yes
Price: $$$
The Playcraft Telluride Pro-Style Shuffleboard table is the most premium model on our list. It is available in 5 different lengths all the way up to 22ft which is tournament level.  
Composed of solid hardwood it uses one-piece horseshoe ends which provide maximum strength. The carpeted wall and gutters are grey and the legs can be leveled. These offer storage for your equipment
The standout feature is the electronic scorer. A great modern take on the shuffleboard that you don't see often. The scorer is composed of plexiglass which is robust and shatterproof.  
#4. Barrington Belden Shuffleboard Table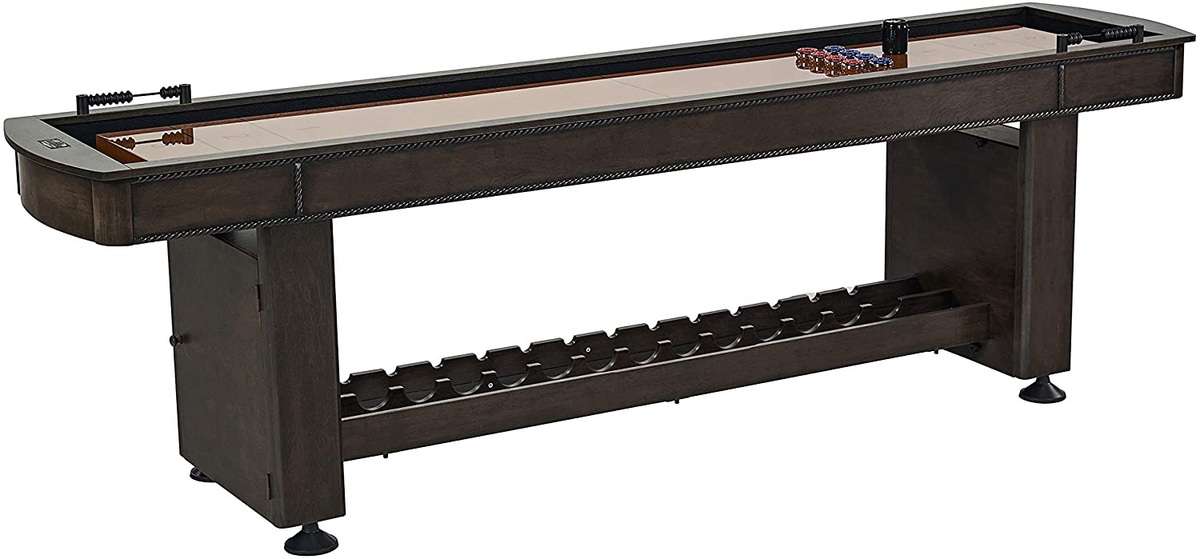 Colors: Dark cherry
Available Sizes: 9ft
Playing Surface: Solid Wood
Playing Surface Finish: UV coating
Playing Surface Thickness: 1 inch
Extras: Pucks, speed wax
Climatic Adjusters?: Yes
Price: $
This no-tool assembly shuffleboard table is the cheapest model on our list. At a length of 9ft, it is a small shuffleboard table.
The heavy-duty legs are built to last and as with the other models, they are adjustable. It also features 5 ¼ inch aprons and solid wood corners for further strength.
The Barrington Belden table uses black carpeted walls and gutters for protection and noise reduction.
The standout feature for this table is its integrated wine rack at the base. It can store up to 13 bottles making it ideal for any home bar or man cave. What's more, it also includes a pre-assembled storage cabinet at the end. Leaving you plenty of space for your pucks and wax.    
#5. Carmelli Shuffleboard Table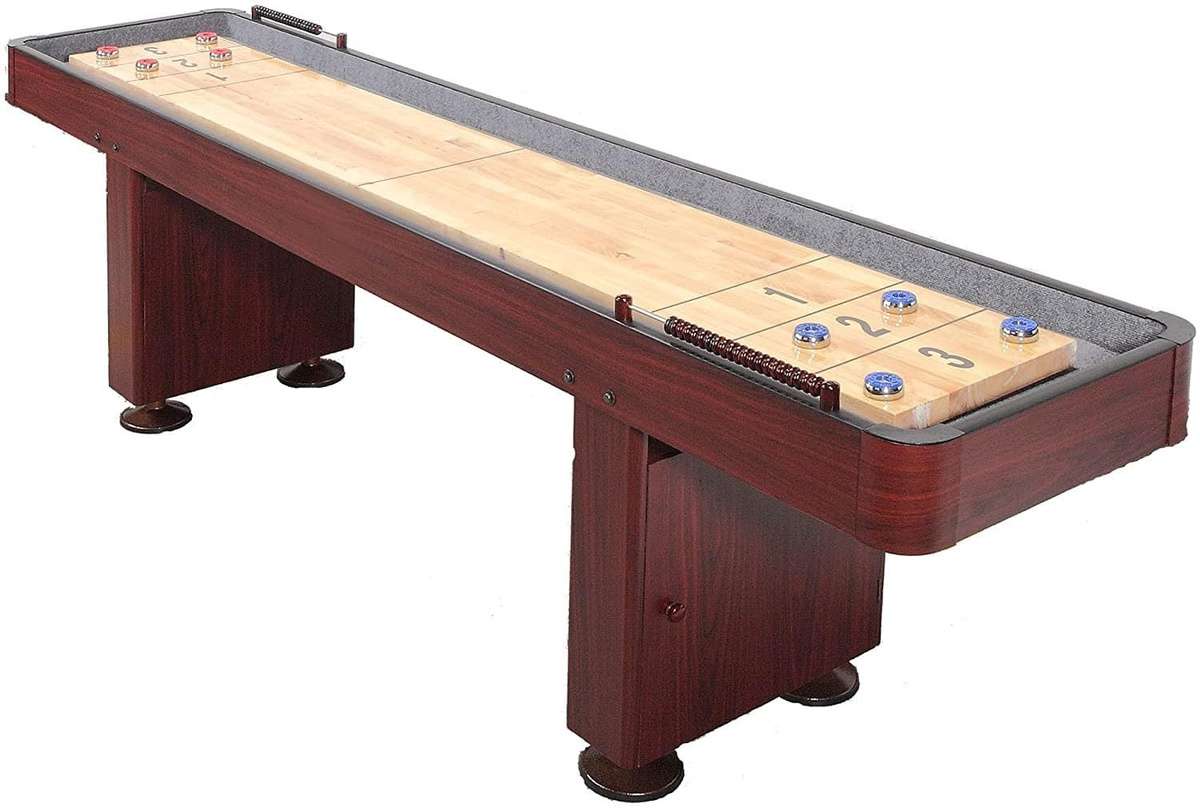 Colors: Dark cherry
Available Sizes: 9ft
Playing Surface: Hardwood
Playing Surface Finish: Polyurethane
Playing Surface Thickness: 1 ½ inch
Extras: Pucks, speed wax
Climatic Adjusters?: Yes
Price: $$
The final indoor shuffleboard table comes from Carnelli, and it is the last small shuffleboard table we recommend. This dark cherry table is 9ft long and has grey carpeted walls and gutters. As with most of the other tables on our list, it has built-in leg storage for your pucks and is height adjustable.  
The corners are molded for additional strength and the packaging for the unit is thorough, harshly minimizing the risk of damage in transit. The aprons are 1 inch thick with a dark cherry laminate finish.
#6. Hathaway Crestline Shuffleboard Table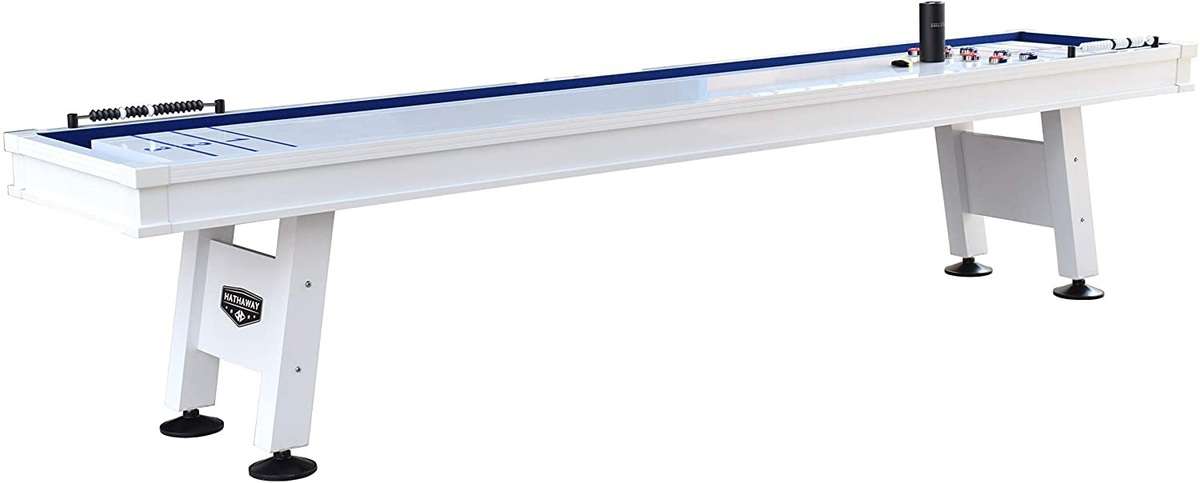 Colors: White
Available Sizes: 12ft
Playing Surface: CompositeWeatherproof
Playing Surface Finish: 1 ¼
Playing Surface Thickness:
Extras: Pucks, speed wax, cover
Climatic Adjusters?: –
Price: $$
The Hathaway Crestline Shuffleboard Table is the only outdoor table on our list. Not everyone has the space for such a large piece of furniture, so we've provided a great outdoor pick.
It's a 12-foot shuffleboard table with an aluminum build. Being an outdoor table, it can be left outside all year round and it won't shrink or expand. But the included cover is a nice addition as it can keep the playing surface dry and free of debris so you can be ready to play at any time.
The carpeted walls and gutters are brilliant blue and UV resistant, so they are insusceptible to fading.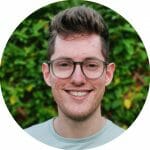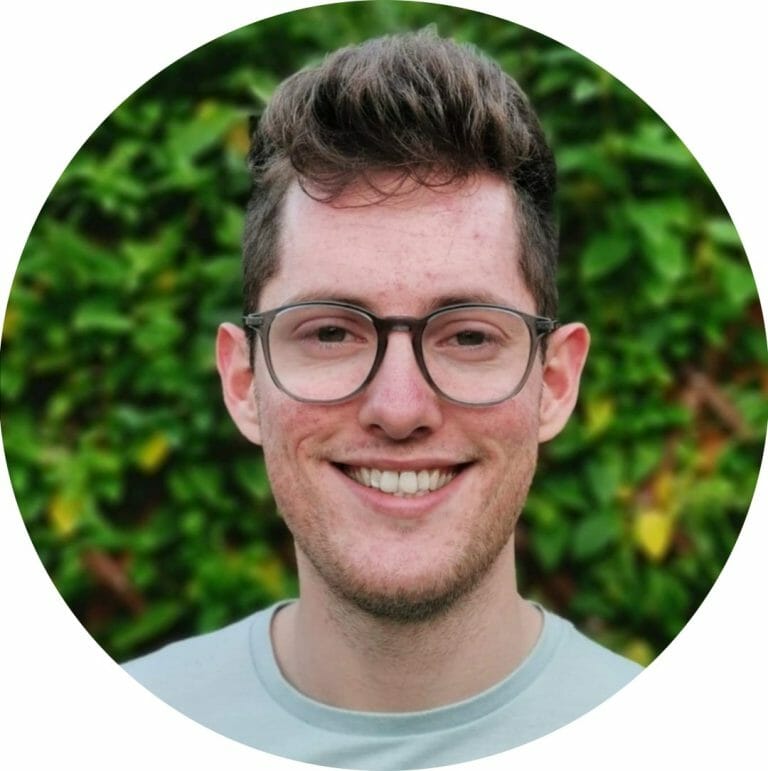 Freelance writer. Table tennis enthusiast. Lover of all things online. When I'm not working on my loop game I'm probably binge-watching some fantasy show.