The 6 Best Shuffleboard Tables + Buyer's Guide
Shuffleboard tables are a great addition to any games room or bar. But while a comfy chair or dartboard requires little thought, a shuffleboard table is a purchase that requires lengthy research. I, for one, would never jump into such a purchase without sinking in many hours into meticulous comparison.
The best shuffleboard tables are expensive pieces of furniture that vary wildly in price and quality from brand to brand. So knowing what to look for is vital. You'll want to consider the size, thickness, materials used, extras included, warranty, and of course, the price.
In this guide, we will break down not only what to look out for when purchasing a shuffleboard table but also our recommendations to save you the hassle. As a side note, if you're after shuffleboard pucks, we have a guide for that too!
| Picture | Name | Size | Rating | Buy |
| --- | --- | --- | --- | --- |
| | Playcraft Woodbridge Shuffleboard Table | 9 ft, 12 ft, 14 ft | 9.6 | CHECK PRICE |
| | Barrington Allendale Shuffleboard Table | 9 ft, 11 ft | 9.5 | CHECK PRICE |
| | Barrington Urban SHuffleboard Table | 9 ft | 9.3 | CHECK PRICE |
| | Playcraft Montauk Shuffleboard Table | 9 ft, 12 ft | 9.2 | CHECK PRICE |
| | Atomic Shuffleboard Table | 9ft | 9.2 | CHECK PRICE |
| | Playcraft Telluride Pro-Style Shuffleboard Table with Electronic Scorer | 12 ft, 14 ft, 16 ft, 18 ft | 9 | CHECK PRICE |
Top 6 Best Shuffleboard Tables — Reviews
Let's dive into our in-depth shuffleboard table reviews now. At the end, we'll briefly touch on table care and answer some frequently asked questions. 
#1. Playcraft Woodbridge Shuffleboard Table — Best Overall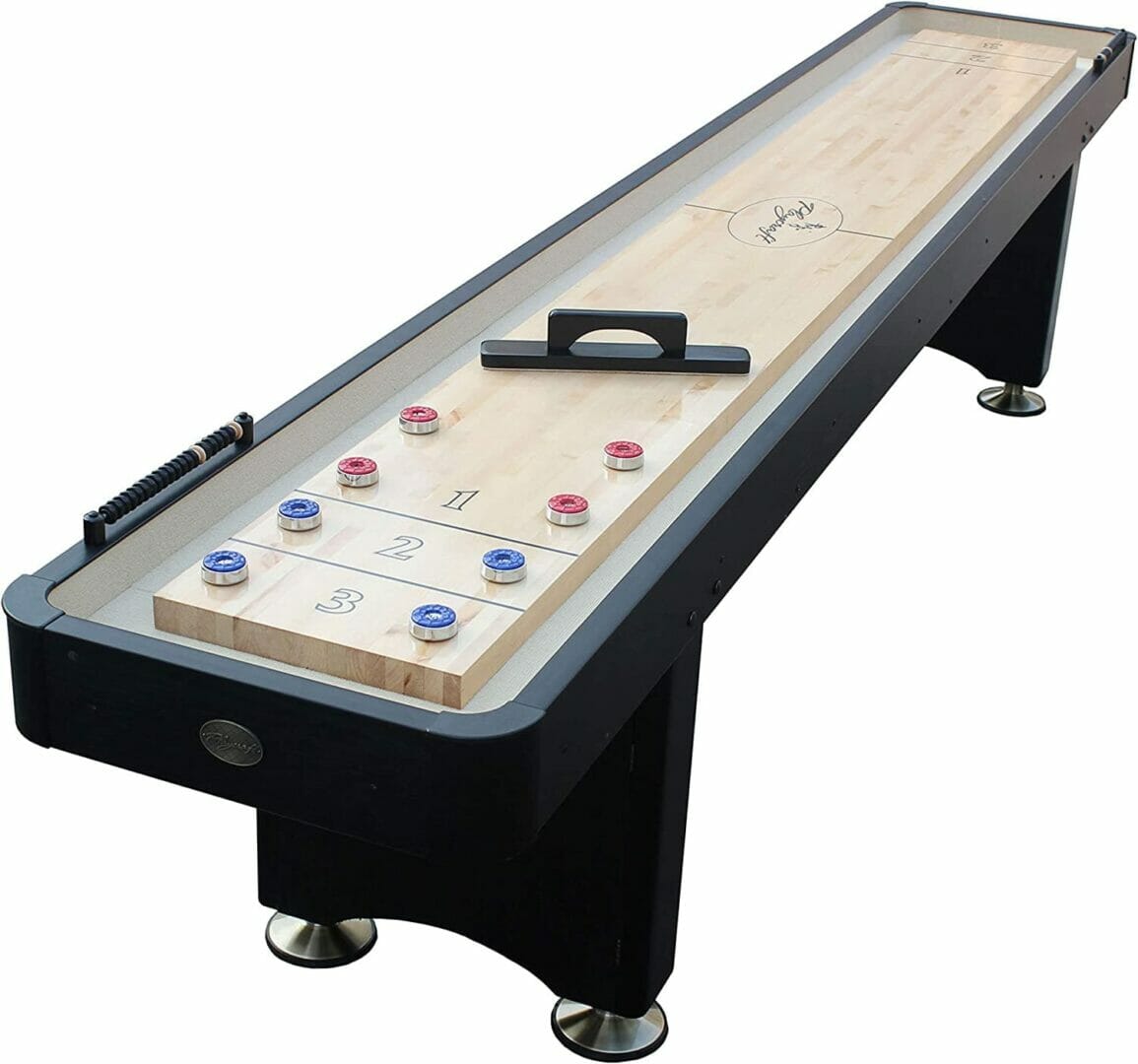 Specifications
Colors: Black, cherry, espresso, honey oak
Available Sizes: 9 ft, 12 ft, 14 ft
Playing Surface: Solid hardwood 
Playing Surface Finish: Polyurethane
Playing Surface Thickness: 1-3/4 inch
Extras: Brush, wax, abacus scorers
Climatic Adjusters?: Yes
Price: $$$
Pros
High-quality playing surface
Hardwood construction
Features climatic adjusters
Storage space in legs
Leg levelers
Cons
1-year warranty
No instructions
Rating: 9.6
Kicking things off with our best shuffleboard table review, we have the Playcraft Woodbridge, which is a cracking table that we feel fits the needs of most buyers. It features a 1 3/4″ inch solid hardwood butcher block that is finished with numerous layers of satin polyurethane. This is adequately thick, and the smooth finish ensures pucks can effortlessly glide down the length of the table.
As for ensuring the playing surface is optimal, the Woodbridge ticks both boxes. The legs feature metal leg levelers, and the table comes with climatic adjusters. No more will pucks be sliding around unpredictably! Another quality to note with the legs is that they include in-built storage.  This is perfect for housing all accessories and keeping your table nice and tidy.
Speaking of appearances, the Woodbridge comes in four stunning colors, so you can pick the best option for your home. The Woodbridge is also available in three different lengths: 9 ft, 12 ft, and 14 ft. 
We only have two issues with this table. The first is that there are no instructions. It's not a big issue, as you can easily look them up online, but we really feel they should come as standard. The more pressing issue, however, is the 1-year warranty. While it's not particularly short, I feel that 2-3 years is far more fitting for such an expensive unit. Nevertheless, the Woodbridge is still the best 9-foot shuffleboard table that you can buy.
#2. Barrington Allendale Shuffleboard Table — Best Appearance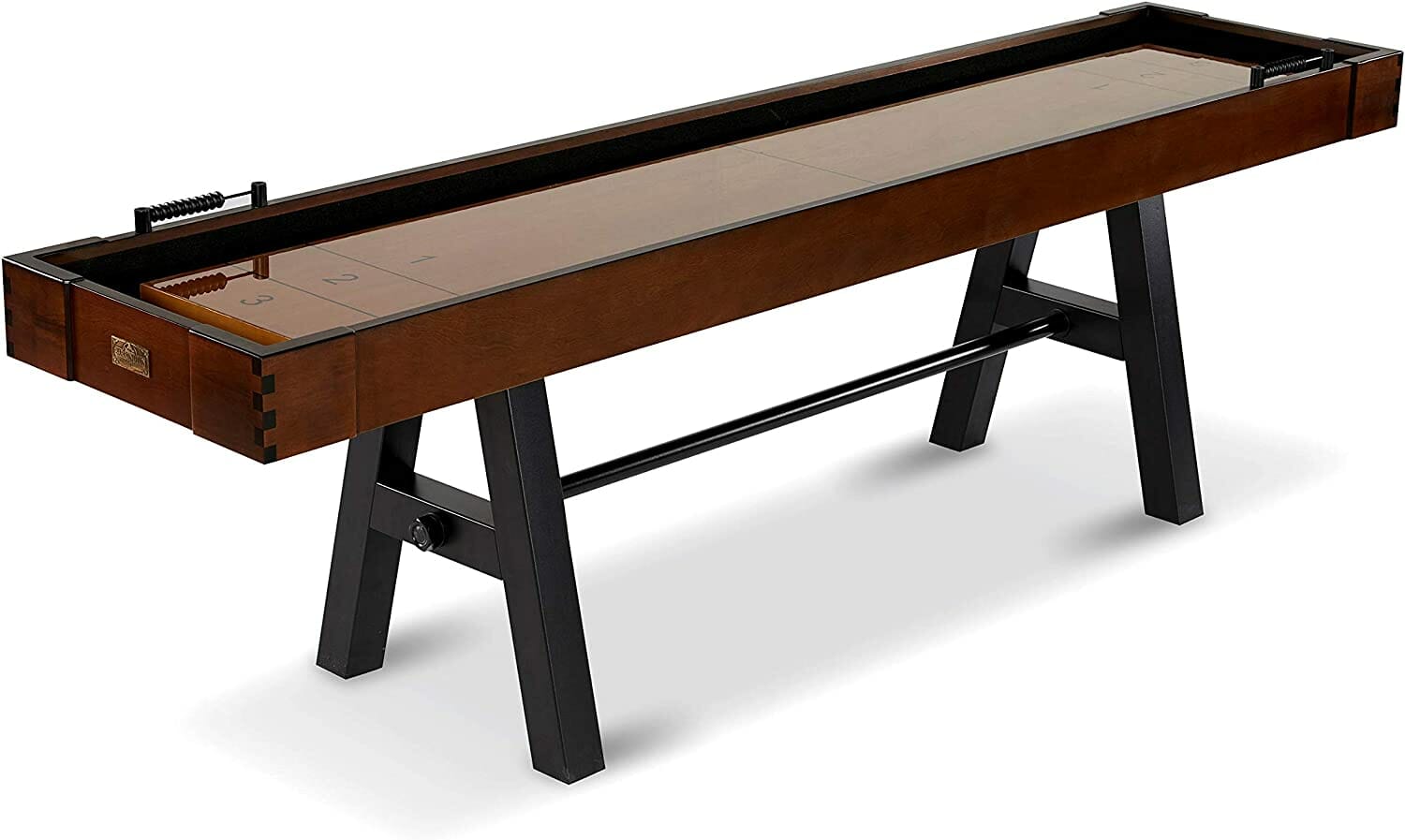 Specifications
Colors: Dark wood
Available Sizes: 9 ft, 11 ft
Playing Surface: Wooden veneer
Playing Surface Finish: UV coating
Playing Surface Thickness: 1-7/16 inch
Extras: 8 pucks, shuffleboard wax
Climatic Adjusters?: Yes 
Price: $$
Pros
Stunning appearance 
High-quality playing surface 
Features climatic adjusters
Leg levelers
Cons
1-year warranty
No storage 
No color options
Rating: 9.5
Barrington makes a lot of shuffleboard tables, and the Allendale is one of our favorites. It has a majestic appearance thanks to its dark wood finish and reinforced corners which feature dovetail joints. Undoubtedly, it's the best-looking shuffleboard table we have seen to date, and we believe it could quite easily feel right at home in your abode.
The playing surface is 1-7/16 inch thick and made from wooden veneer, so it's not as high quality as the Woodbridge's playing surface. However, it's still pretty good, especially considering the Allendale's must cheaper price point. It also comes complete with hidden leg levelers in the attractive A-style legs and climatic adjusters, so you can do any tinkering you need. 
 The drawback once again comes down to the warranty, which is 1 year long. While we feel it is pretty short, it's much easier to accept with the Allendale because the table is much cheaper. Another drawback is the lack of storage. Then again, if it were included, we feel the table would lose its slick appearance. So it's probably better that it wasn't. If you go for this model, you'll simply have to store your accessories elsewhere. Hardly a big deal in our eyes. 
#3. Barrington Urban Shuffleboard Table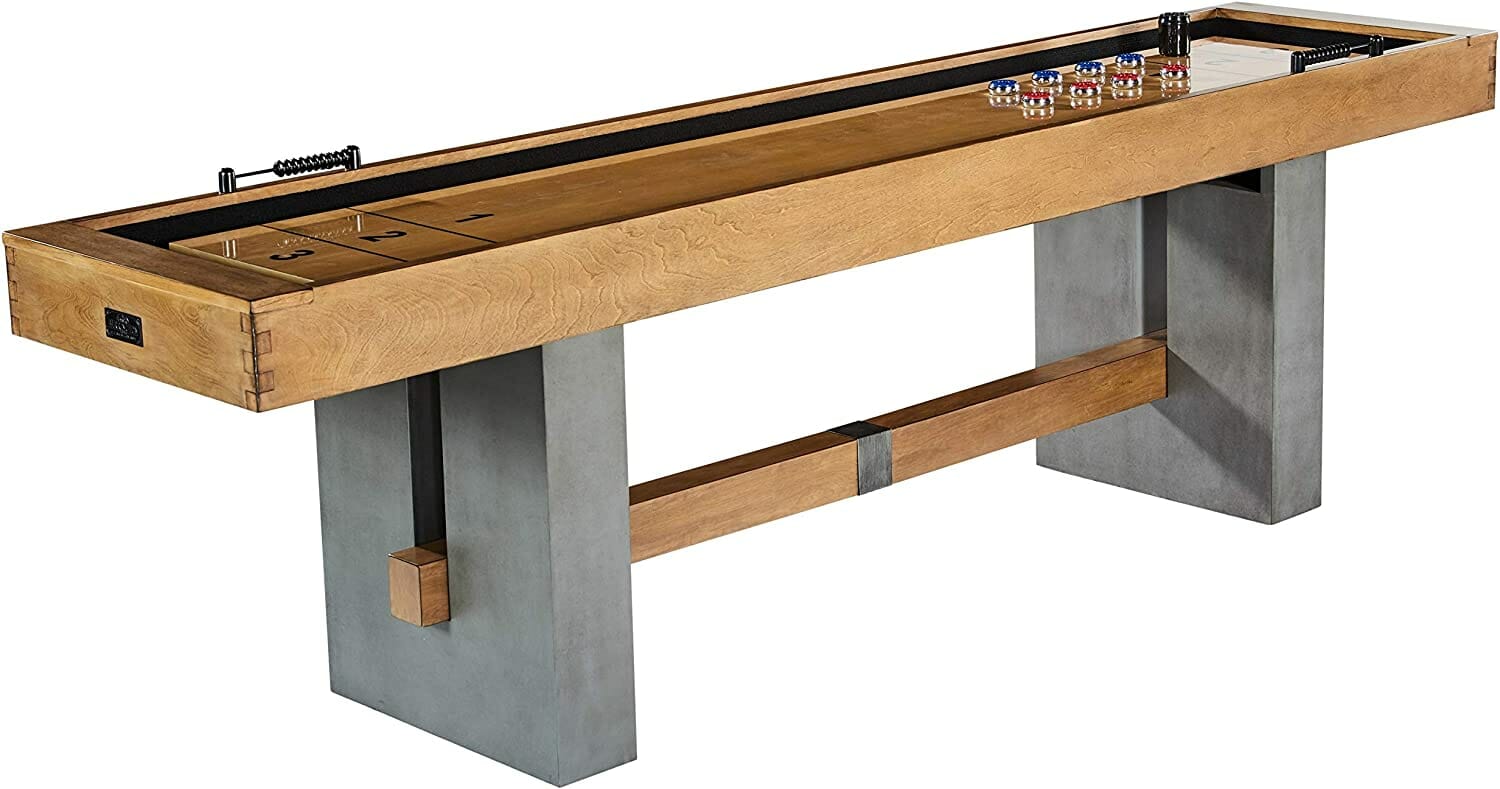 Specifications
Colors: Birchwood
Available Sizes: 9 ft
Playing Surface: Wood veneer
Playing Surface Finish: UV coating
Playing Surface Thickness: Not listed
Extras: 8 Pucks, wax
Climatic Adjusters?: Yes
Price: $$
Pros
Similar styles available
Features climatic adjusters
Cons
90-day warranty 
Play surface thickness not listed
Rating: 9.3
Next up, we have the Urban, another 9 ft shuffleboard table by Barrington. Like the Allendale, the Urban excels in the appearance department. It has a contemporary look; the birch top and support paired with the faux concrete legs make it look like a very high-end product. It's the sort of statement piece I could see in an apartment or luxury office. If I had to choose, though, I give the slight edge to the Allendale for appearance, but it's pretty damn close.
As for the playing surface, it appears as though the two match. It's made from wood veneer and finished with a UV coating. While the thickness is not indicated, I expect it is the same as the Allendale at 1-7/16 inches, although I can't say for sure. 
What's great about this table is that it is available in three different versions. The larger 10 ft edition has the same name, but the 12 ft version is called the Clyborne. It has a slightly different appearance from the other two but has the same design style featuring a natural wood finish with faux concrete legs. 
Probably the biggest issue with this shuffleboard table is the 90-day warranty. It is the lowest on this list, and while Barrington is very reputable and makes quality products, having just 90 days of warranty doesn't instill much confidence. Furthermore, it's strange that the Urban has just 90 days warranty when the Allendale has 1 year.
#4. Playcraft Montauk Shuffleboard Table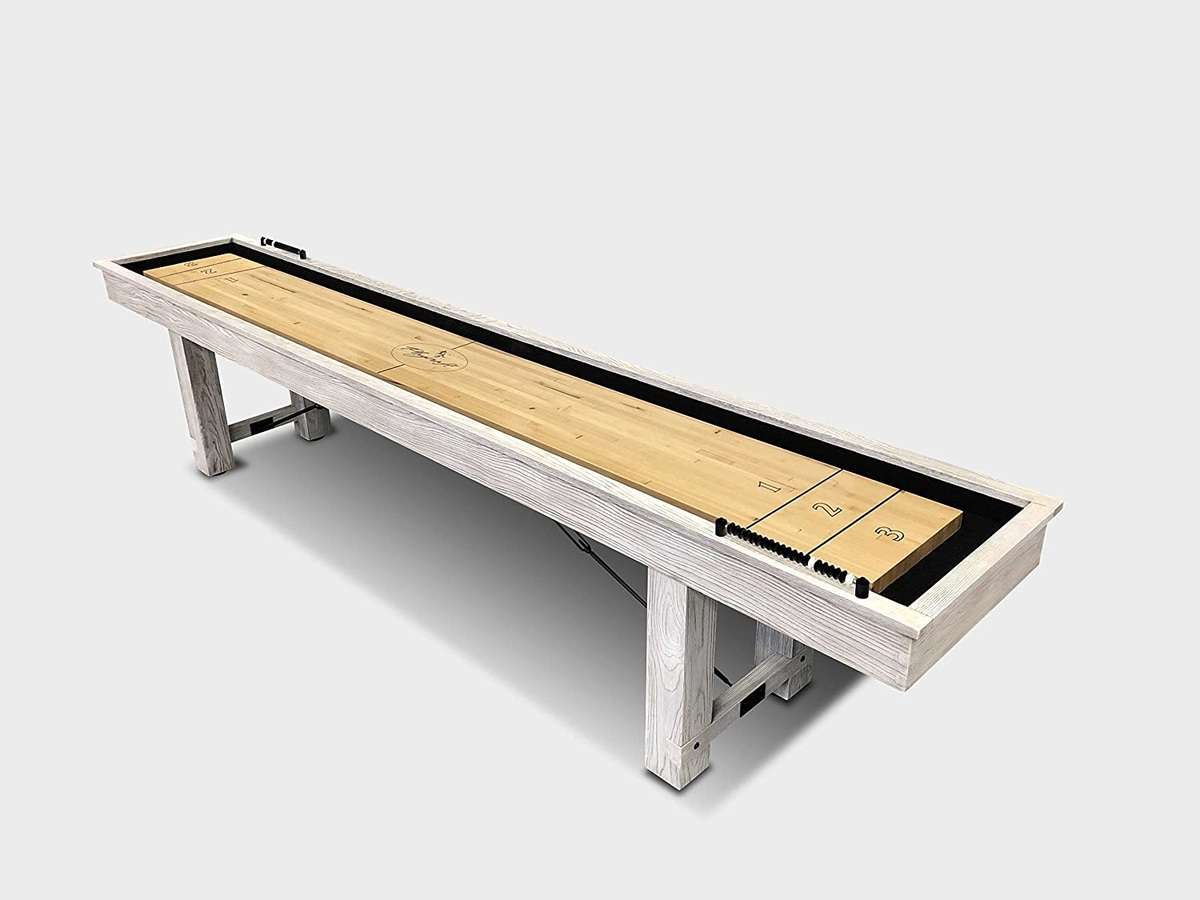 Specifications
Colors: Weathered whitewash
Available Sizes: 9 ft, 12 ft
Playing Surface: Hardwood veneer
Playing Surface Finish: Polyurethane
Playing Surface Thickness: 1-3/4 inch
Extras: Pucks, speed wax
Climatic Adjusters?: Yes
Price: $$$$
Pros
High-quality playing surface
Hardwood construction
Features climatic adjusters
Leg levelers
Cons
Expensive
No color options 
No storage 
1-year warranty
Rating: 9.2
Available in lengths of 9 ft or 12 ft, the Montauk shuffleboard table is one of the smaller shuffleboard tables you can purchase. The black carpeted wall, gutters, and abacus scorers complement the weathered whitewash body well.
This model features adjustable leg levelers and climatic adjusters like the tables discussed previously. However, one area it falls behind as the Allendale does is its lack of storage. You'll have to find somewhere to store your accessories or just leave them on the table. 
Made from high-quality hardwood with a depth of 1-3/4 inch and complete with a satin finish, the playing surface is very good quality. In fact, it appears to be identical to the Woodbridge, which makes sense given the same company makes them. 
Yet unlike the Woodbridge, it features no in-built storage and comes in only one color. As such, while it is one of the best 12-foot shuffleboard tables, it only makes the fourth spot on our list. 
Read also: Interested in table games? Check out the Best Multi-Game Tables
#5. Atomic 9′ Platinum Shuffleboard Table — Most Affordable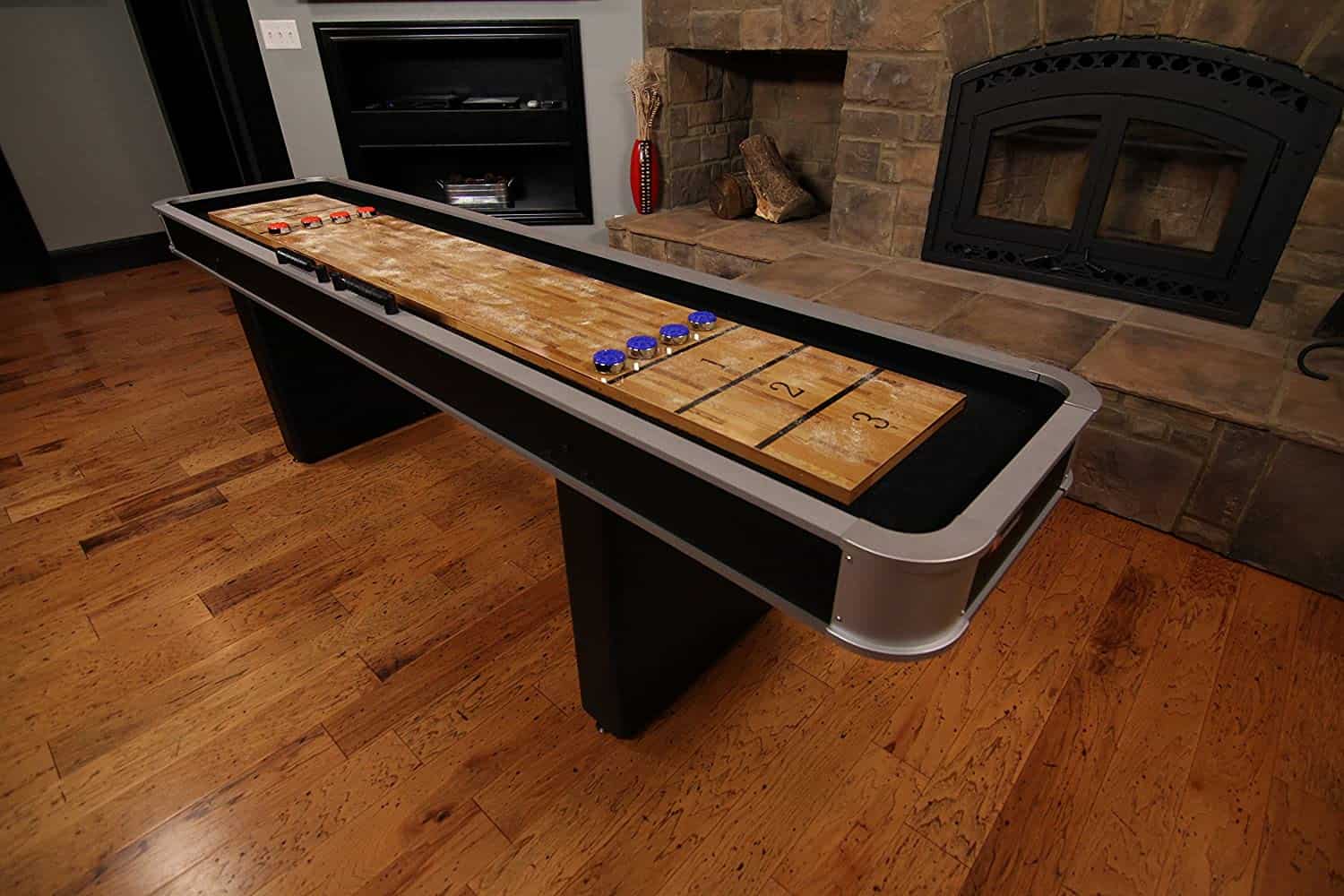 Specifications
Colors: Black, platinum
Available Sizes: 9 ft
Playing Surface: Not listed
Playing Surface Finish: Poly-coated
Playing Surface Thickness: Not listed
Extras: 8 Pucks, wax
Climatic Adjusters?: No
Price: $
Pros
Inexpensive 
Good size for home use
Leg levelers 
Cons
No climatic adjusters
No size options 
No storage  
180-day warranty
Rating: 9.2
As our budget offering, we have the Atomic Platinum shuffleboard table. It's cheaper than most shuffleboard tables by a landslide, and almost half the price of our second cheapest table, the Barrington Allendale. Of course, with this much-reduced price tag, you should expect some shortcuts here and there. Unfortunately, there is little info relating to the playing surface. All we know is that it is poly-coated for protection, but my guess is, given the limited info, its thin and made from laminate rather than solid wood. However, one clear drawback we know for certain is that there are no climatic adjusters, making this table susceptible to changes in humidity. 
Furthermore, while you can pick this table up in either platinum or black, there are no size options, only 9 ft. If you've not played on a shuffleboard table before, just know that this is very small. On the flip side, this does make it easier to fit in your home. As such, we feel the Atomic shuffleboard table best suits buyers on a limited budget with limited space. It's easily the best shuffleboard table for the money under $700.
#6. Playcraft Telluride Pro-Style Shuffleboard Table with Electronic Scorer — Premium Pick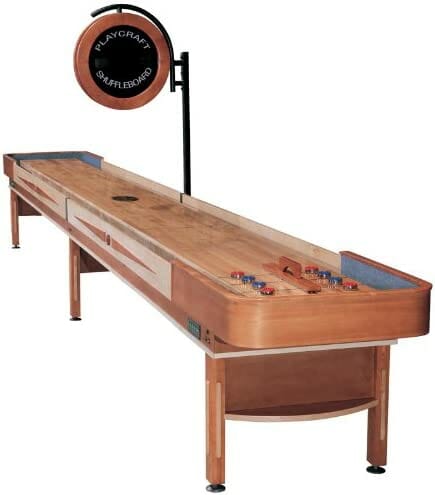 Specifications
Colors: Espresso, honey
Available Sizes: 12 ft, 14 ft, 16 ft, 18 ft
Playing Surface: Russian Birch
Playing Surface Finish: Polymer
Playing Surface Thickness: 3 inch
Extras: Pucks, board sweep, speed wax, playing instructions
Climatic Adjusters?: Yes
Price: $$$$$
Pros
Available in multiple colors
Available in multiple lengths
Features climatic adjusters
Overhead Scorer
On-leg storage
Leg levelers   
Cons
Expensive 
1-year warranty
Rating: 9
As our third and final installment from top shuffleboard table brand Playcraft, we have the Telluride pro-style shuffleboard table, which is the most premium model on our list. It is available in 4 different lengths all the way up to 18 ft which is just below tournament level.
Composed of solid wood, it uses one-piece horseshoe ends, providing maximum strength. The playing field is also 3 inches thick, almost twice that of the other tables on this list. So in terms of the playing surface, you are getting unrivaled quality. It's so thick that you can re-finish the surface several times over without issue — handy if you're an avid player and want the table to last a lifetime. 
Unsurprisingly, the Telluride features climatic adjusters, and each of the 6 legs are adjustable. Speaking of the legs, the support beams have small shelves for accessories which is rather handy. This is the only table on this list to have open storage like this.
The standout feature of this high-end shuffleboard table is the electronic scorer. A great modern take on the shuffleboard that you don't see often. The scorer is composed of plexiglass which is robust and shatterproof.
If you can stomach the sizeable price tag and have the space to situate one of the larger editions, we think the Telluride is one of the best indoor shuffleboard tables that you can buy.
Why You Should Trust Us
Ping Pong Ruler are sporting experts, and we have hundreds of guides to help you learn more about sports and equipment. As specialists in the space, we pride ourselves on providing the best information possible and invest many hours into each post.
All content is free and always will be. We earn money through ads and small commissions when you purchase a product using one of our links.
What Is the Best Length for a Shuffleboard Table?
The very first thing to decide when purchasing one of the best home shuffleboard tables is what size you are after. So you may be wondering, how long are shuffleboard tables? Well, shuffleboard tables come in various sizes, most commonly spanning from 9 ft to 22 ft. However, if you are really short of space but strongly set on buying a shuffleboard table, there are 8 ft models available. Generally speaking, 9 ft and 12 ft shuffleboard tables are the most common.
Of course, space will be a bit of a restriction here. You must break out the tape measure and ascertain how much room you have to work with. You must account for the table's dimensions and clearance at the end to make your shot and access the cabinet. 2-3 ft of extra space around the table will suffice for most people.
You'll also want to consider the logistics of actually getting your home shuffleboard table into its desired location. They are very large pieces of furniture – small doorways and tight corners may present unexpected barriers. Always cross-compare the compact dimensions of the table with the route it will take to get to its desired home.
What Thickness Is Most Ideal?
Thickness is just as important to consider as size. A shuffleboard table's thickness influences its reliability and durability. The best shuffleboards are 3 inches thick, but these come with a hefty price tag. A benefit of having a 3-inch-thick playing surface is that you can refinish the table by sanding it if needed.
Many of the mid-range models come in at around 1.5 inches thick.
Indoor shuffleboard playing surfaces are composed of wood with a top finish of resin. The resin thickness is usually around 0.25-0.5 inches. Some manufacturers will artificially inflate table thicknesses by including resin in the figure. Be aware of this, and try to find the thickness of both the wooden block and the resin finish if possible.    
What Are the Best Shuffleboard Table Materials?
As with various table lengths, there are a whole host of materials to choose from. The material your shuffleboard is made from will affect durability. And being as expensive as they are, you want to ensure your shuffleboard table is built to last. They face a lot of wear and tear over the years. Especially if you are just learning the game!
Common materials used for shuffleboard tables are North American Maple Wood, Russian Birch, White Maple, Canadian Soft Maple, and poplar. While these are softer maples, they are still quite durable when finished with resin.
However, hardwoods are the best as they provide the greatest durability. The most common types of hardwood are birch, oak, maple, and mahogany. If your budget allows, one of these hardwoods is well worth the money.
Which Finish Provides the Greatest Durability?
Another element of durability to consider is the table's finish. Older shuffleboards used lacquers and shellacs. These spray-on finishes don't provide a great deal of durability – often worn out in 3-4 years.
Instead, epoxy resin is the common shuffleboard tabletop finish these days. It is poured instead of sprayed, cures without air bubbles, and does not warp. Resin provides a great deal of resistance to dents and scratches. This would otherwise ruin your playing experience.    
Some manufacturers are so confident in their resin that they will sometimes provide a lifetime warranty for their best shuffleboard tables. This provides great peace of mind knowing that your table should last. And if for some reason it doesn't, you can claim your money back.
Climatic Adjusters
Using climatic adjusters ensures the table's playing surface maintains its optimal shape. Factors such as temperature and humidity can cause your table to warp, which ruins the playing experience. Outdoor tables are less vulnerable to warping as they use different materials, such as metal. On the other hand, Wood is more susceptible to warping — even for indoor shuffleboard tables. In humid conditions, wood expands, and in dry conditions, it contracts.
Level the table by adjusting the bolts between the climate adjusters. The playing surface should be ever so slightly concave. This helps prevent the pucks from falling into the gutter.
Be aware that not all top-rated shuffleboard tables come with climatic adjusters pre-installed. You always have the option of purchasing them separately and getting them fitted. But this is pricey. I would aim to purchase a table that already has them included.
What to Look Out for in the Outer Cabinet
The final thing to consider when buying your shuffleboard is the outer cabinet. Often neglected, it is a key component of the table. It holds everything together, and as such, you should not overlook it.
The best outer cabinets will be heavy, made of solid hardwood, and have a sleek finish. It's important your table is heavy and built well so it doesn't budge during games. Cheaper tables will substitute hardwood for MDF which is a notable downgrade.
Again, you will want to pay particular attention to how the seller describes the table. "Oak finish" is different from solid oak and it's simply a method to deceive uninformed buyers.
Shuffleboard Table Care
Shuffleboard table care begins with the positioning of your table. As we have already mentioned, their wooden composition makes them vulnerable to contraction and expansion, therefore, it's a good idea to keep them in temperature-controlled areas. So do not place your table next to a window where natural sunlight will shine upon it daily. Even if you do a great job keeping conditions consistent, you still need to check your table for contraction/expansion. Seasonal changes are out of your control. Simply refine the climatic adjusters as needed.
Cleaning is another key area to keeping your table tip-top. And the process you undertake depends on what type of finish your shuffleboard table has. Wiping it over with a diluted water vinegar solution works best for a natural wood finish. For polymer, it's plain old water/multi-purpose cleaner/glass cleaner, and for lacquer finishes, it's furniture wax. 
Finally, we come to the optional step of applying a table cover. While outdoor tables need a cover, indoor tables don't need them — rather, they are recommended. 
A cover protects your table from various means, such as spillages, dents, and dust. And considering how expensive shuffleboard tables are, it only makes sense to purchase a cover to protect your investment.
FAQs
How Much Is a Good Shuffleboard Table?
Most shuffleboard tables cost around $1,000 to $2,000, but these are for smaller, more affordable models that provide good value. Instead if you're seeking one of the best shuffleboard tables that is full-sized and made of solid wood, you can expect to pay over $5,000.
Do You Put Salt or Sand on a Shuffleboard Table?
Shuffleboard tables require a specific type of material for their surface. Also called wax, sand, dust, and shuffleboard powder, it is not regular salt or sand. Shuffleboard wax is commonly made from small beads of silicone. To learn more about which wax is best, we recommend reading our guide.
Is a 12-Foot Shuffleboard Table Too Short?
12-foot tables, while small, are large enough to have fun games on. On the other hand, we commonly hear that players find 9 ft tables a bit small. Therefore if you have the space to buy a 12 ft table over a 9 ft, we feel that you should. 
What Is the Most Recommendable Way to Clean the Shuffleboard Table?
Most shuffleboard tables come with some kind of polymer finish. For these tables, cleaning is as simple as wiping them down with a wet cloth. However, if you want to perform a more thorough clean, you can try using multi-purpose cleaners or window cleaners in place of water. 
Conclusion
Shuffleboard tables may be pretty big, but they are great game tables for the home and provide hours of fun for all of the family. To recap, the best shuffleboard table is the Playcraft Woodbridge. It is available in multiple lengths and colors and is well-built and adjustable, it ticks all of the boxes for us.
However, we feel that the Barrington Allendale is worth noting as well. This shuffleboard table is simply gorgeous, and with its cheaper price point, it may be more appealing to some buyers. 

Freelance writer. Table tennis enthusiast. Lover of all things online. When I'm not working on my loop game I'm probably binge-watching some fantasy show.