The 6 Best Multi-Game Tables
Game room tables are a great activity to bring the family together, but unfortunately, they can take up a lot of room. So much room that you're often forced to choose which one you'd rather have. I, for one, have nowhere near enough room for multiple game tables!
However, for those of us who find it hard to choose between the likes of pool and ping pong, there is another option: multi-game tables. These wonderful creations are tables that accommodate two or more games, allowing you to switch the game you want to play whenever you feel like it. Some have as many as 12 games!
We'll be sharing our reviews of what we think are the best multi-game tables on the market for 2023 and a buying guide to help you choose the right one for your rec room.
The Best Multi-Game Tables
Our Favorite Combo Games Tables
Why Trust Ping Pong Ruler?
As sports lovers, we have made it our mission to provide the best information to help you purchase sporting goods. Our reviews are the result of many hours of hard work where we scour the marketplace to pick out the best products from the masses. 
Each product is carefully analyzed across key criteria such as the quality of materials used, design quality, physical appeal, and various other characteristics. We then go a step further to compare our favorite choices and provide recommendations for different buying needs.
Best 3-in-1 & 4-in-1 Multi-Game Tables
1.
MD Sports Multi-Game Combination Table Set — Best Choice for Traditional Foosball Lovers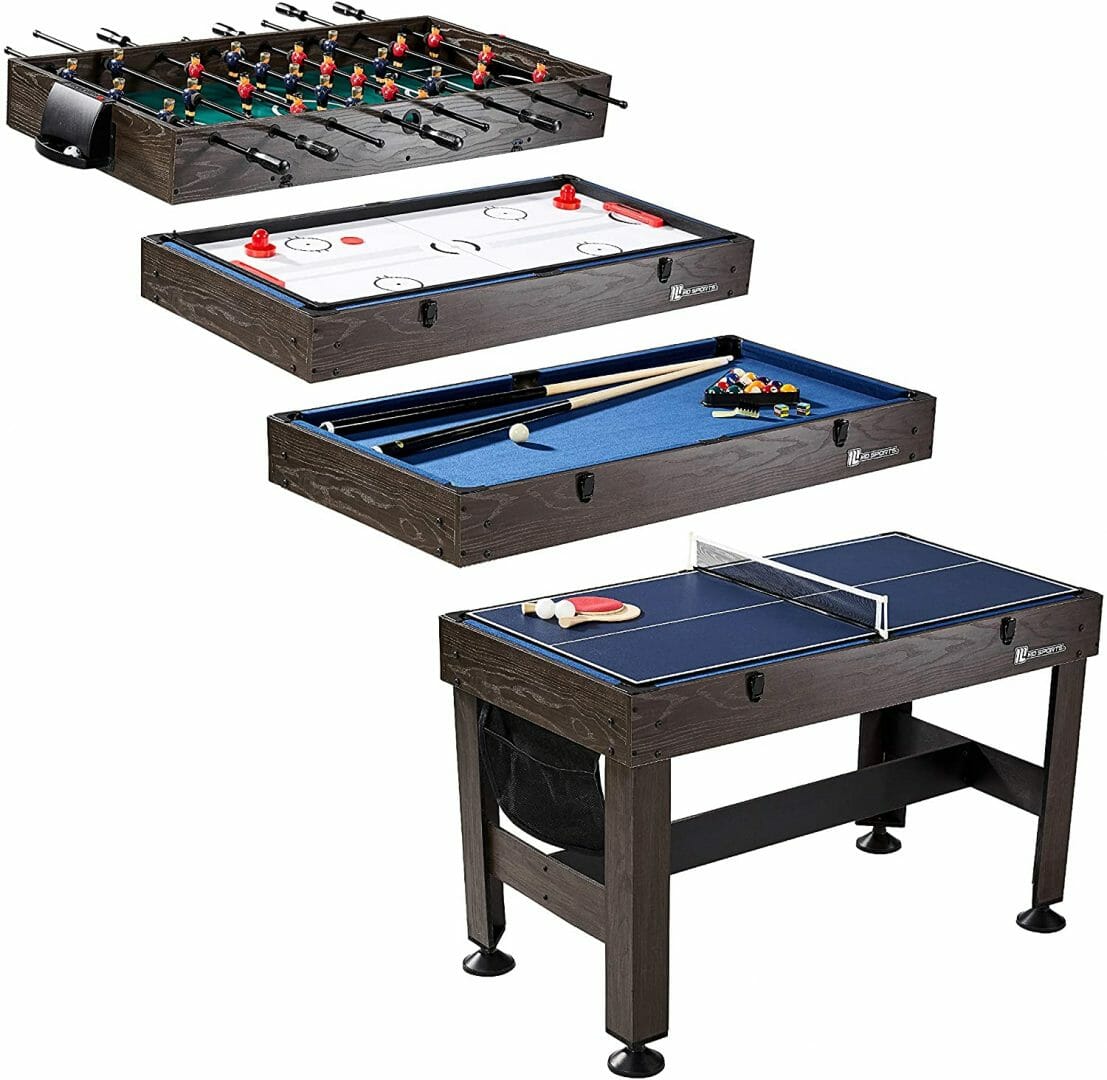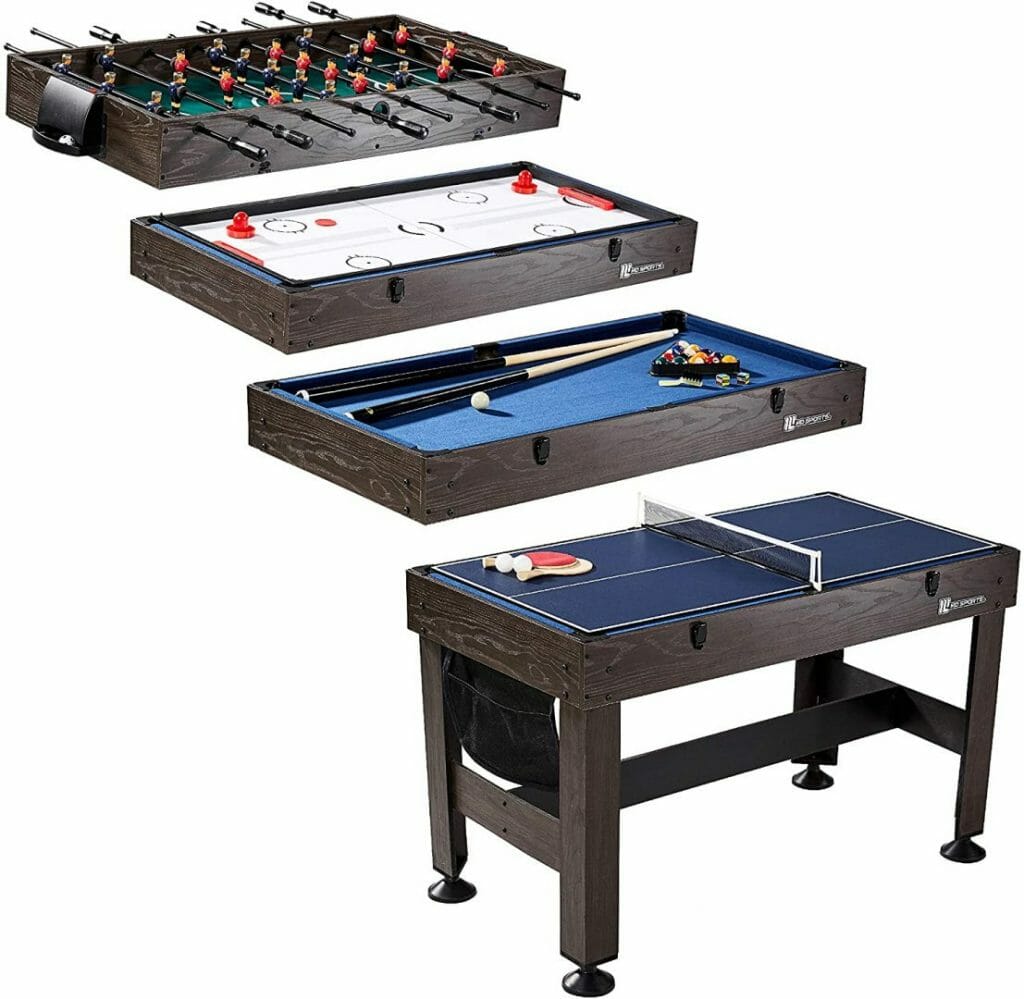 Specifications
Games: foosball, pool, air hockey, table tennis

Overall Dimensions: 54" L x 35.25" H x 24.5" W

Weight: 80 lbs

Materials: MDF, ABS, PVC, and metal
Kicking off this list, we have the MD Sports multi-game combination table set, our best 4-in-1 game table, and the largest table featured. Therefore, it is suitable for children and adults alike.
Reviewers note that this full size multi-game table is well-built and is great value for the money. What's more, if you can spare a little extra, you can get a 5-in-1 or 12-in-1 combination table as well. If you want air hockey, then we recommend you go for the 12-in-1 version as all of the other models use slide hockey which isn't as fun. The main aspect that we love about this table is how easily and securely the games stack. This provides superior stability to tabletops that simply rest on the underlying table. The unit is also very well built — it has a thick frame and legs supporting the action!
The foosball is also of very high quality. The self-balancing men is a key feature if you are serious about playing the game. And the rods are made from premium steel, which measures 1/2″ in diameter. For the quality of foosball alone, the MD Sports multi-game table is up there with the best.
Pros:
Lightweight, but also has reinforced bases and a lock-in-place mechanism

4 games to play
Games stack for simple storage
Self-balancing foosball men

Includes all required accessories

Leg levelers
No assembly required
Cons:
Slide hockey as opposed to air hockey
Our Rating: 9.1
2. IFOYO 48″ Multi-Function 4-in-1 Combo Table — Best Space Saver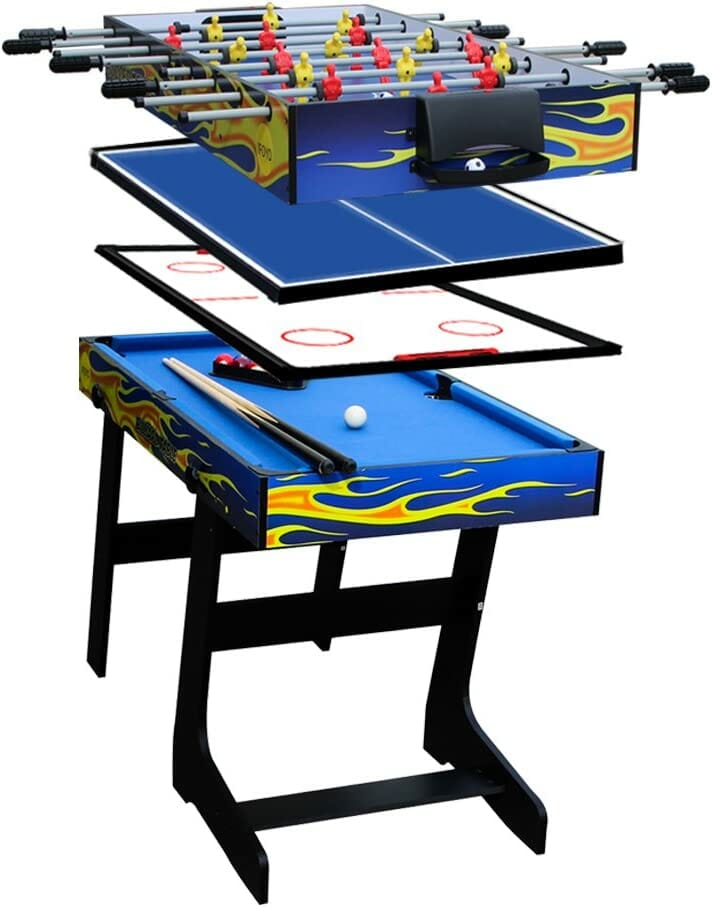 Specifications
Games: foosball, hockey, pool, and ping pong
Sizes:

Regular: 48" L x 24" W x 32" H
Folded: 49" L x 24" W x 31" H

Weight: ~51 lbs
Material: MDF, and PVC surface
Here we have a good 4-in-1 game table supporting foosball, push hockey, pool, and ping pong. Assembly can be a bit rough and require some persistence. Once assembled, though, it will provide a lot of fun for you and your family.
As with all many-in-one products, the game tables' sizes are something in between, and may not be ideal for any particular game. This product is also on the lighter side, with a weight of around 51 lbs. It's also relatively cheap, so you won't have to break the bank to get it. 
IFOYO's Multi-Function 4-in-1 Combo Table has solved the problem with multiple tables by designing a cabinet (the foosball pitch) that contains them all. All you have to do is lift up the foosball top side and remove tabletops until you reach the desired game. We also love that the table folds upright so it takes up less space. This is the only product on the list with this function. Therefore it is the best games table for those looking to save space.
This IFOYO multi-game table comes with a 90-day warranty which you could perceive as a benefit, but we feel it is on the short side. 
Pros:
Inexpensive

4 games to play

Games stack for simple storage

Can store vertically to save space

Includes all required accessories
Cons:
Tough assembly

90-day warranty

Slide hockey as opposed to air hockey
Our Rating: 8.5
3. Triumph 4-in-1 Rotating Swivel Multi-Game Table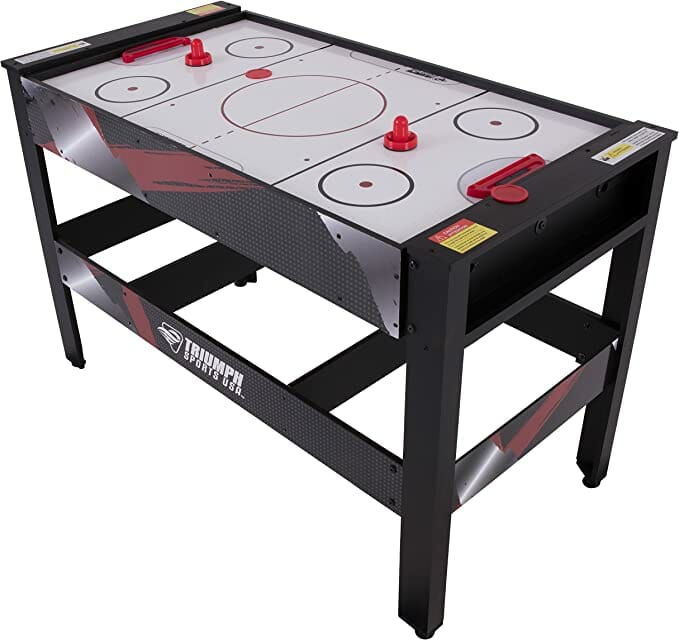 Specifications
Games: Air hockey, billiards, table tennis

Dimensions: 84" L x 44.5" W x 32" H

Weight: 316 lbs
The Triumph 4-in-1 table may offer the least amount of games, but it's certainly an appealing table. This begins with its dimensions, at 84" L x 44.5" W x 32" H it is the largest multi-game table on this list by a large margin. As such, if you have the space, the games are more enjoyable than some of the other tables as they are more true to real size. 
We also really rate the innovative rotating swivel technology that this model uses. It gives the table a more premium feel than the others, as their game surfaces stack instead
The biggest turn-offs for the Triumph 4-in-1 multi-game table are its price and weight. It is many times more expensive than the other tables and weighs 316 lbs which is incredibly heavy. On the bright side, this is a sign that the table uses sold materials, and therefore should last for a long time.
Pros:
4 games to play

Large play surface

Space-saving swivel surface

Includes all required accessories

Includes air hockey, not push hockey
Cons:
Our Rating: 8.2
Best 10-in-1 or More Multi-Game Tables
4. Sunnydaze 10 Combination Multi-Game Table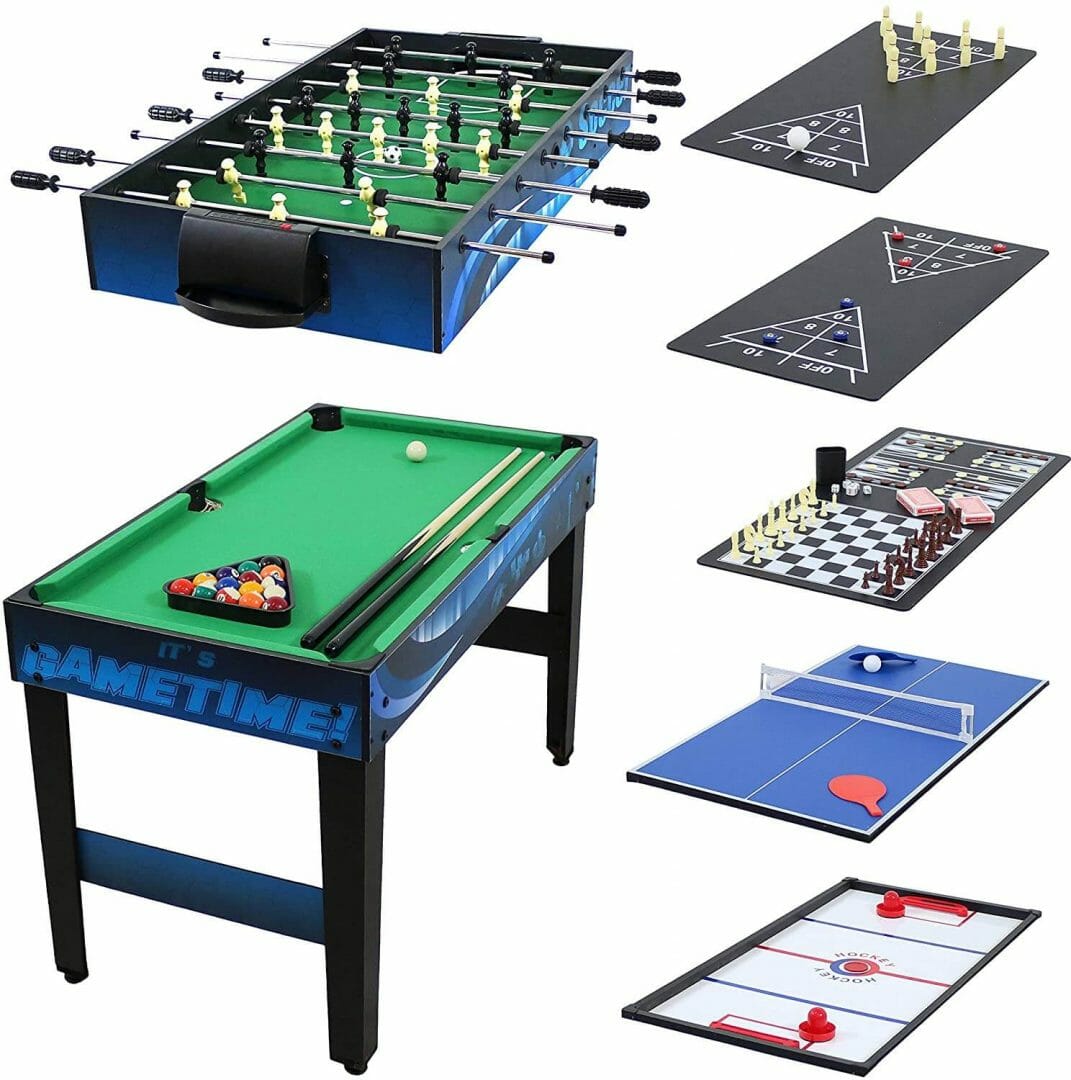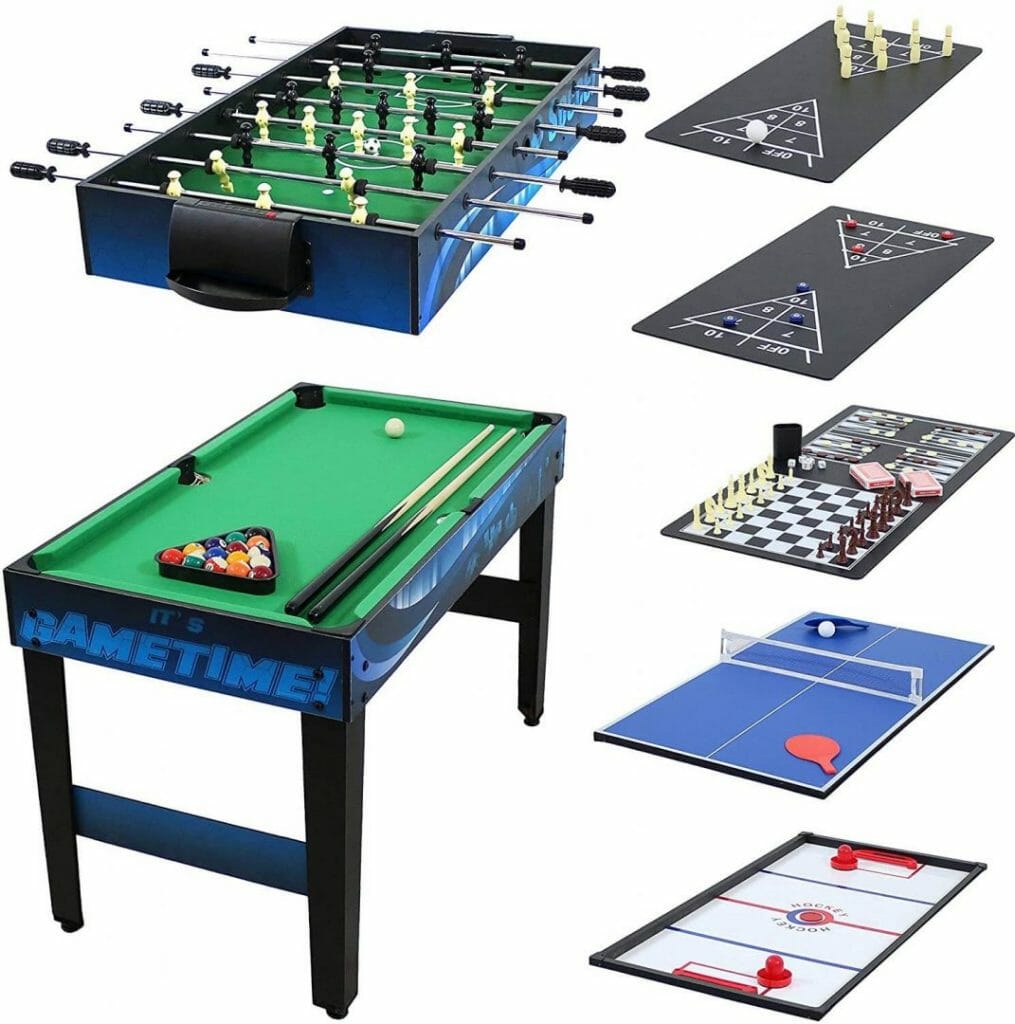 Specifications
Games: Pool, slide hockey, shuffleboard, bowling, table tennis, foosball, chess, cards, checkers, and backgammon

Dimensions for billiards: 40" L x 22.5" W x 27.5" H (other games vary)

Weight: 59 lbs

Material: Engineered wood
The Sunnydaze 10 combination multi-game table offers 10 fun games to pique your interest. 
All of the game tables stack conveniently between the billiard base and foosball, meaning they take up minimal room in your home. This is further supported by the table size, which only measures 40" L x 22.5" W x 27.5" H.
A drawback to this model is the playing height of the games. All but the foosball have a height of 27.5", which is a little short for most people. Therefore expect to have to hunch over slightly if you are an adult. This may make it more fitting for children. Also, there's no airpower for hockey, so you have to rely solely on your own force to push the puck, leading to less exciting games.
Sunnydaze offers a 1-year manufacturer's warranty period with each purchase which is a sizeable chunk of time given its price. As such, we think it is one of the best combo game tables out there.
Pros:
Range of games to play

Games stack for simple storage

Includes all required accessories

1-year warranty
Cons:
Slide hockey as opposed to air hockey

Cheap accessories

A little small
Our Rating: 8.3
5. Best Choice Products 10 Games 48 Inch Multi-Game Table — Most Stylish
Specifications
Games: Slide hockey, foosball, billiards, shuffleboard, table tennis, chess, cards, checkers, bowling, and backgammon

Dimensions: 48" L x 24" W x 30.5" H

Weight: 57 lbs
This 10-in-1 multi-game table by Best Choice Products is the perfect table for the family. Unlike the Sunnydaze model, it has a contemporary wooden tabletop finish with black legs, which is far easier to fit in as home decor. It is also relatively strong, so as long as it is not abused, it should last many years.
 The sheer variety of games on offer is what makes this table so great. Whatever your mood, there is a game to play! Whether it is a fast-paced game of table tennis or a more casual card game, you are spoilt for choice. We also love that the games stack easily and securely, which is a quality many models simply fail to deliver.
The main drawbacks to the Best Choice Products multi-use games table are the cheap accessories and slide hockey. But for its inexpensive price, we can hardly complain. 
Pros:
Range of games to play

Games stack for simple storage

Includes all required accessories

Fits with home decor
Cons:
Slide hockey as opposed to air hockey

Cheap accessories
Our Rating: 8.7
6.
MD Sports Multi-Game Combination Table Set — Top Overall Pick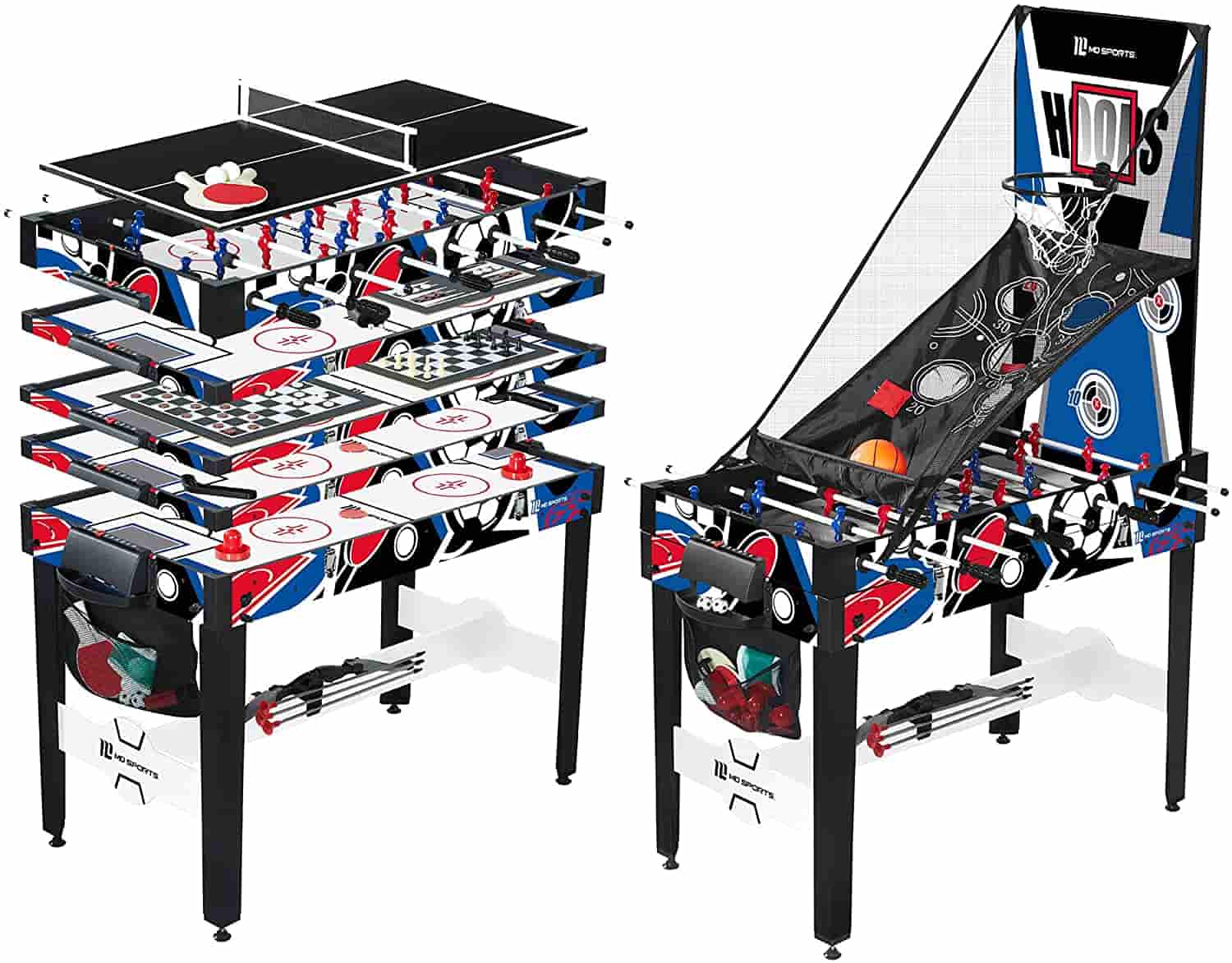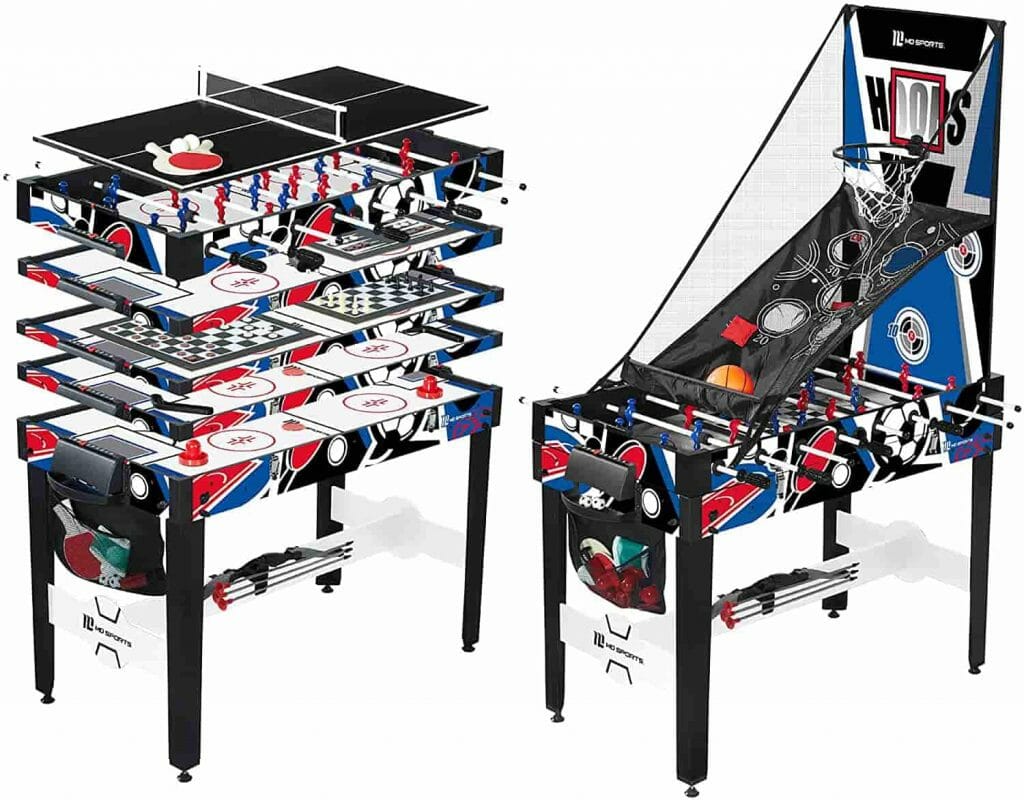 Specifications
Games: Air hockey, foosball, hover foosball, knock hockey, shootout basketball, ping pong, bag toss, archery, chess, checkers, backgammon, and dice

Dimensions: 48" L x 22.75" W x 32" H

Weight: 51 lbs
There's a lot to like about this multi-game set. It is a definite upgrade on MD Sports' 4-in-1 model in many respects. For starters, there's the increased availability of games. You've got a staggering 12 games to choose from, more than any of the other featured convertible game tables. These games include some rarer picks, such as bag toss and archery which is a huge plus. But hover foosball, in particular, caught our eye. Using the air power from the hockey field (which is an advantage in itself), traditional foosball transforms into hover foosball. A more fluid, faster game that will likely have you never wanting to play regular foosball again! 
However, it does fall short in a few areas relative to the 4-in-1 version. Namely, the weight of the table is some 30 lbs lighter, and as a consequence, it is not as strong. The design is also not to everyone's liking. While it feels right at home in a games room, we couldn't imagine it as a permanent feature in the living room.
We also like that all of the accessories store neatly as there is a lot of them. All but the archery set fit in the mesh bag attached to the table's front. Instead, the archery bow and arrows rest on the table's support beam. With all this considered, it's the best combination game table in our eyes.
Pros:
Range of games to play

Games stack for simple storage

Includes all required accessories

No assembly required

Includes air hockey, not push hockey

Leg levelers
Cons:
Striking design may clash with home decor

Not as sturdy as other models
Our Rating: 9.2
How to Choose the Best Multi-Game Tables

There are several different types of multi-purpose game tables. And it can be difficult to decide which is best for you. This section will explain some of the differences and advantages of each kind of combo table.
How Many Games Can You Play on a Multi-Game Table?
It depends. Multi-game means more than 1. But often, the minimum is 3-in-1 game tables. Given that you can only play a few games on these, the best 3-in-1 game tables should provide very high-quality play, or they are not worth the money. However, we found that 3-in-1 game tables are pretty few and far between. This make it easier to find the best 3-in-1 game table as there are fewer options on offer. By comparison, 4-in-1 game tables are far more common. Multi-game tables tend to top out at around 12 games which is plenty to keep you entertained. Of course, you can even buy extra accessories to play more games on them. 
Pool (Billiards)
The pool table surface of multi-game pools isn't made of the normal felt material you would expect. Instead, it's typically made out of Tetolon cloth — a cheaper material that many consider sub-par. It is also difficult to level the table, ultimately making it challenging to play a controlled game of pool.
A major drawback that you should be aware of is that multi-game pool tables are not full-size. Reviewers frequently voice their disappointment upon witnessing the unexpectedly small size of their tables. To see our top picks of the best pool tables, check out our guide.
Table Tennis
A drawback of multi-game table tennis tables is that they are typically split into three parts. This results in a seam on both sides of the table that can affect gameplay which can be a little disappointing. Most multi-game table tennis tops are also rather thin. This means they are not as fun to play on as full-size tables.
Air Hockey
Air hockey is a must if you want to play good quality hockey. For cheap multi-game tables, there is no airflow, often referred to as slide hockey or push hockey. This is far inferior to the standard air hockey you know and love. So always check what type of hockey it is before you buy. The best game tables always feature air hockey rather than push hockey. 
Even with air hockey, you may notice dead spots due to poorly drilled air holes which is a nuisance. Some manufacturers suggest using a small drill bit to clear any blocked air holes in such cases. It may be a fix, but it's an annoying drawback, given that it shouldn't occur in the first place. If air hockey is more your thing than multi-game tables, check out our dedicated air hockey tables write-up.
Avoid Poor Quality Accessories
It seems to be a common theme among multi-game tables that the accompanying accessories are of relatively poor quality. Paddles, pucks, and cue sticks are all quite cheap, and you would be better off buying a separately sold set along with the table.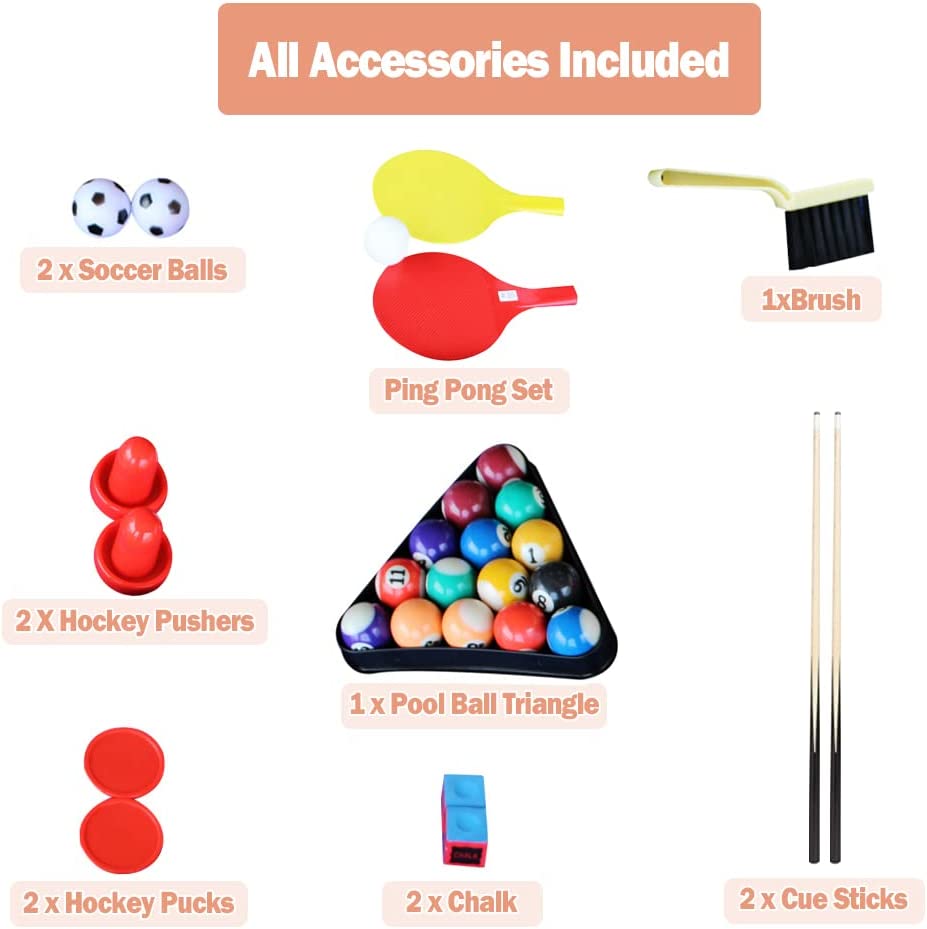 Multi-Game Table or Conversion Top?
First, you must decide whether you want a multi-game table or a conversion tabletop. A multi-game table will have the features of each game built into the table itself. On the other hand, a conversion top is a separately sold top that you simply place on the previous table (i.e., on your pool table) or even over a common dining room table.
Setting Up a Multi-Game Table
Unfortunately, there is no blanket guide we can provide for setting up multi-game tables. Depending on your model, you can have a short or lengthy setup process. We recommend paying close attention to the product listing. Many of the simpler tables will indicate a quick setup.
Below is a well-explained video showing the building process of a particular multi-game table. This should give you a good idea of the process you will likely have to undertake.
How to Store a Multi-Game Table
Your storage options depend on the model that you purchase. That being said, most multi-game tables offer pretty limited storage options. 
As the legs are not foldable, you can't compact the table to fit in a cupboard. Instead, if you need to free up some space, we recommend lifting it to the corner of the room. Fortunately, most multi-game tables are not that heavy, so this should be a relatively easy task with a few people. 
As for the extra games, you can usually stack them on the table or the shelf beneath the playing surface. This means you probably won't have to store the extra games separately which is a plus. 
Finally, some tables, such as the IFOYO 48″ multi-function 4-in-1 combo table, have a unique folding mechanism that allows you to store the table outright. However, tables such as this are pretty uncommon. 
Multi-Game Table Maintenance
To ensure your table stays tip-top, you should maintain regular maintenance. This doesn't take all that long to perform and ensures that your table performs the best that it can. Here are some simple maintenance steps we recommend:
Wipe all surfaces with a damp cloth. Use rubbing alcohol where needed on select surfaces.
Ensure the foosball rods are well-lubricated.
Ensure all of the air hockey holes are unblocked. Use a small drill bit to clear stubborn blockages.
Inspect the table for damage. Catching damage early increases the chance of it being repairable.
How to Transform a Pool Table Into a Table Tennis Table
If you already have a pool table at home, you don't necessarily need to purchase a multi-game table to play table tennis if you are not afraid to undertake some DIY. 
The first step to creating your multi-game table tennis table begins in the hardware store. Have them cut you a plywood piece (4' x 8', ¾" plywood), which they will further need to cut in half. Then get yourself some stain, polyurethane, nuts, bolts, and corner braces. Attaching the two pieces with the corner braces is a fairly easy job, resulting in a conversion top. This lets you easily remove the ping pong tabletop when switching games to pool.
You can go with a pre-made table tennis net for the net or attach some other material to replace it. Ideally, you want to shoot for a net height that correlates with the length of the table. One that is too high or too low will noticeably affect your games!
If the whole DIY process is too intimidating for you, a better option is to purchase a premade table tennis top. Check out our article on the best table tennis conversion tops. An advantage to this is that you can always return your table tennis top if you have an issue (while it's under warranty). 
How to Transform a Pool Table Into a Multi-Game Table (Air Hockey)
Creating an air hockey table from a pool table is complicated and certainly not for the faint-hearted. For air hockey, you need to have a wooden frame around your existing plywood piece (which you cut to the same dimensions but not in half) so that your puck doesn't go out of the field of play. Then you need to drill miniature holes (say with a width of ¼") to enable the air to escape. 
An air compressor ('blower') is then installed to power the game. The frame must be well-built and air-tight. Otherwise, air will leak where it is not supposed to, leading to poor pressure and slow air hockey games.
Simple plywood also can accommodate any standard board games you are into: backgammon, chess, checkers, and the rest. It will provide fun for the whole family. Failing this, you can just convert your dining table into a gaming table in no time at all. It's how many of us got started with table tennis!
Conclusion
We hope this guide helped you choose the best multi-game table for you, or at the very least what to look out for if none of the tables on this list caught your eye. We understand that it can get confusing with so many different games. And it doesn't help that sellers often provide inadequate descriptions. Just remember that if you are going to do your own research and find tables that were not featured, simply take your time and refer to the "How to Choose the Best Multi-Game Tables" section. 
With all that out of the way, we quickly want to recap our favorite multi-game table, and that's the 12-in-1 MD Sports multi-game combination table set. The reason we chose this table above the rest is that it features 12 games which is sure to provide countless hours of entertainment and because it features air hockey rather than push hockey, which is far superior.
If you liked this article, the best shuffleboard tables or the best floating ping pong tables might interest you as well.
FAQS
What Is the Best Multi-Game Table?
The best multi-games tables will feature many games to play but not scrimp on quality. Having reviewed all of the tables available, at this time, we feel that the 12-in-1 MD Sports multi-game combination table set is the best table that you can buy. But we are aware that it may not be ideal for everyone.
Pay attention to the features you want for each game, and don't simply purchase an all-in-one game table because it offers many games. Push hockey is the standout feature we see that indicates corner-cutting. While these tables can still be great, push hockey is a massive downgrade on regular air hockey.
We recommend you also check out buyer reviews to see what others say. They often provide useful insight.
How Much Does a Game Table Cost?
The cheapest you can expect to pay is around $150, with the most expensive tables costing more than $1,000. These are often much larger than most on the market.
However, you likely won't need to spend this much. With a budget of around $500, you can more or less take your pick as most multi-game tables will cost less than this. Multi-game tables vary wildly in price though for many reasons such as build quality, size, and the number of games offered.
Do Multi-Game Tables Comes With Accessories?
Yes, all multi-game tables come with accessories. Some may not include all that you need to play every game, but most do. However, be aware that you may need to buy additional accessories for some games if parts become damaged or missing. For instance, it's not very difficult to lose a foosball ball, and ping pong balls crack after repeated use.
What Size Should a Game Table Be?
This depends on the space you have available and what games you are going to play. Provided you have the space, I would get as big of a multi-game table as you can get. This is because you want your games to be as close to actual size as possible, as this is the most enjoyable. But please note, there is no set "full-size multi-game table" size as each game has different regulation sizes. 
Common multi-game table games such as table tennis, air hockey, and pool are harshly cut down compared to regulation size. Foosball, on the other hand, is the smallest common multi-game table sport, and standard foosball sizes measure around 30″ W x 55″ L x 36″ H. Therefore aim to get a table of similar dimensions — foosball will virtually be full-size. The other games will be enjoyable too. Such multi-game tables are full-size in the eyes of most consumers. 
How Much Room Is Needed for a Game Table?
This depends on what games you will be playing. Generally speaking, the best games tables for your basement often come with pool, and as it takes up the most space, we will base our figures on this. For full-size pool, we recommend 5′ of clearance as the minimum space around the table. However, as these multi-game tables are much smaller, so are the pool cues. We estimate around a 3′ clearance on all sides should be sufficient. Of course, if you are not going to play pool, your space requirement lessens quite a lot.
Is a Multi-Game Pool Table Bigger Than a Ping Pong Table?
Multi-game pool tables are smaller than ping pong tables. Even the largest models top out at around 75" L x 37" W, whereas full-size ping pong tables measure 108" L x 60" W, so there is quite a difference.     
You may also find that the ping pong table top is slightly larger than the pool play surface for your given multi-game table. This is because some models have the table tennis tabletop rest on the pool table (with a slight overhang) rather than slot into place. 
Can You Put a Ping Pong Tabletop on a Pool Table?
Separately purchased ping pong tabletops, or conversion tops as they are commonly called, are a great way of having a pool table with ping pong. But you need to be aware of issues you may face — the size of your conversion top.
Conversion tops tend to match the full-size playing area of standard table tennis tables. This is why we recommend purchasing a full-size pool table (88" L x 44" W) if you plan on purchasing a conversion top. If you choose not to get a full-size model, there will be a lot of overhang, making the conversion top unstable. 
What Is the Difference Between Flip-Top and Rotational Tables?
There is no difference. Both of these names refer to the same type of table where the playing surface can rotate to reveal another playing surface on the underside.

Freelance writer. Table tennis enthusiast. Lover of all things online. When I'm not working on my loop game I'm probably binge-watching some fantasy show.