The 2 Best Floating Ping Pong Tables
Have you ever been soaking up the sun in the swimming pool and thought, "it would be pretty cool if I could play table tennis in here." Well, it turns out you are not alone!
Manufacturers have addressed this desire in the form of floating ping pong tables. They are super fun tables that float on the surface of the water. If you're table tennis mad like us, you might want to give them a try!
The Top Floating Ping Pong Tables for Pool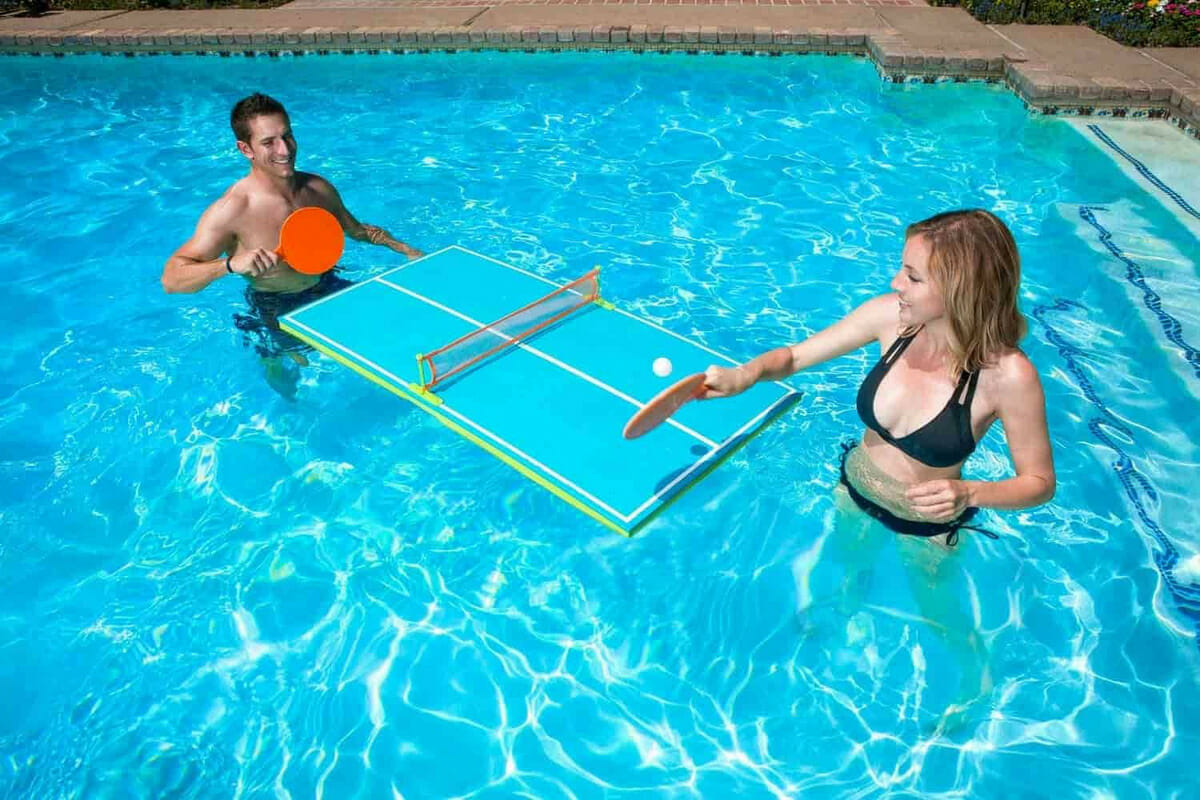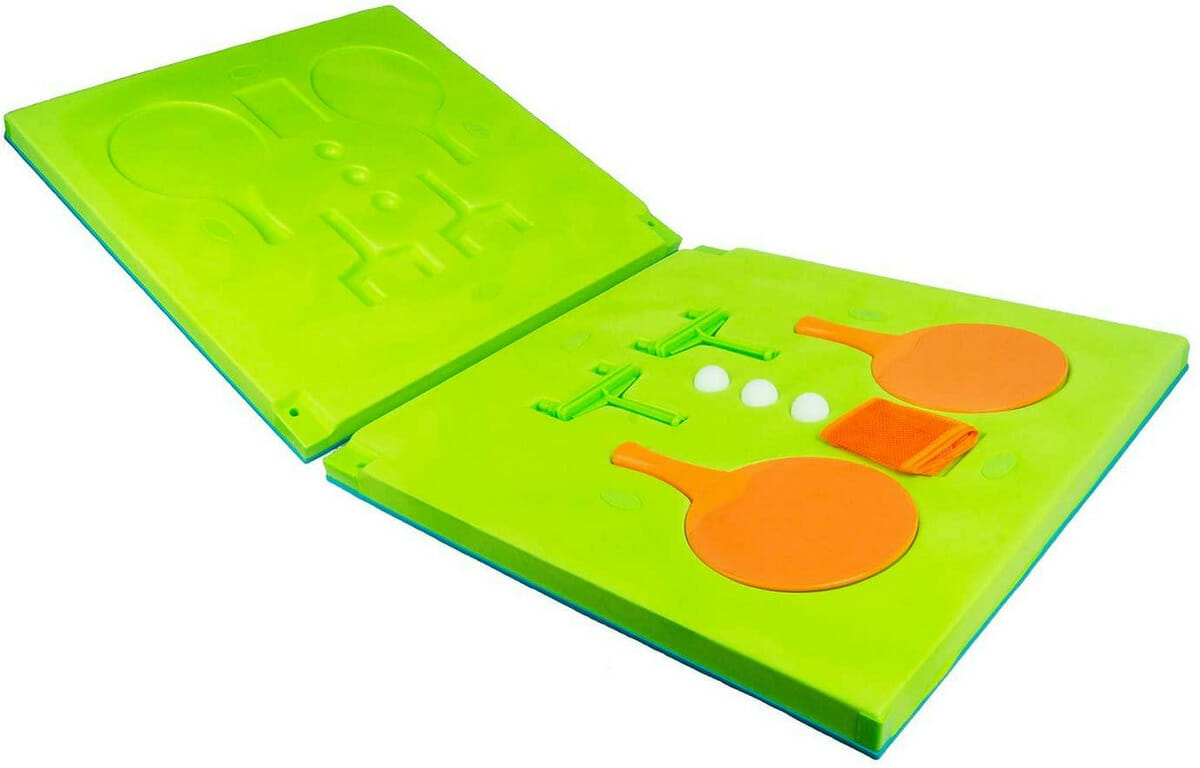 Specifications:
Dimensions: 54" x 27"
Material: Non-corrosive EPS Foam, ABS plastic
Weight: 10lb
Warranty: 1 year
Accessories: 2x oversized paddles, net and post set, 3x balls
Pros:
Lightweight

Oversized bats

Carry box
Cons:
Our rating: 8.1
First up, we have the Poolmaster floating table tennis table. It measures 54" x 27" and is primarily composed of non-corrosive EPS foam. However, the top surface of the tabletop is made from ABS plastic. This ensures the ball bounces better as foam tends to absorb impacts rather than redirect them.
Included with the tabletop are all the accessories you need to play with, and Poolmaster even gives you a carry box to help transport and keep all of the accessories together. The bats are not standard size. Instead, they are oversized, which is probably a better choice for a floating table for pool ping pong. Playing in the swimming pool can be quite tricky!
One particular feature we like about this table is the 1-year warranty period. It's pretty respectable for such an item and more than we anticipated. The only issue we have with this otherwise great model is the net. It's pretty weak and comes off a little too easily. We recommend picking up a retractable net if it inconveniences you too much. They are much better. You can learn more about them in our net and post guide.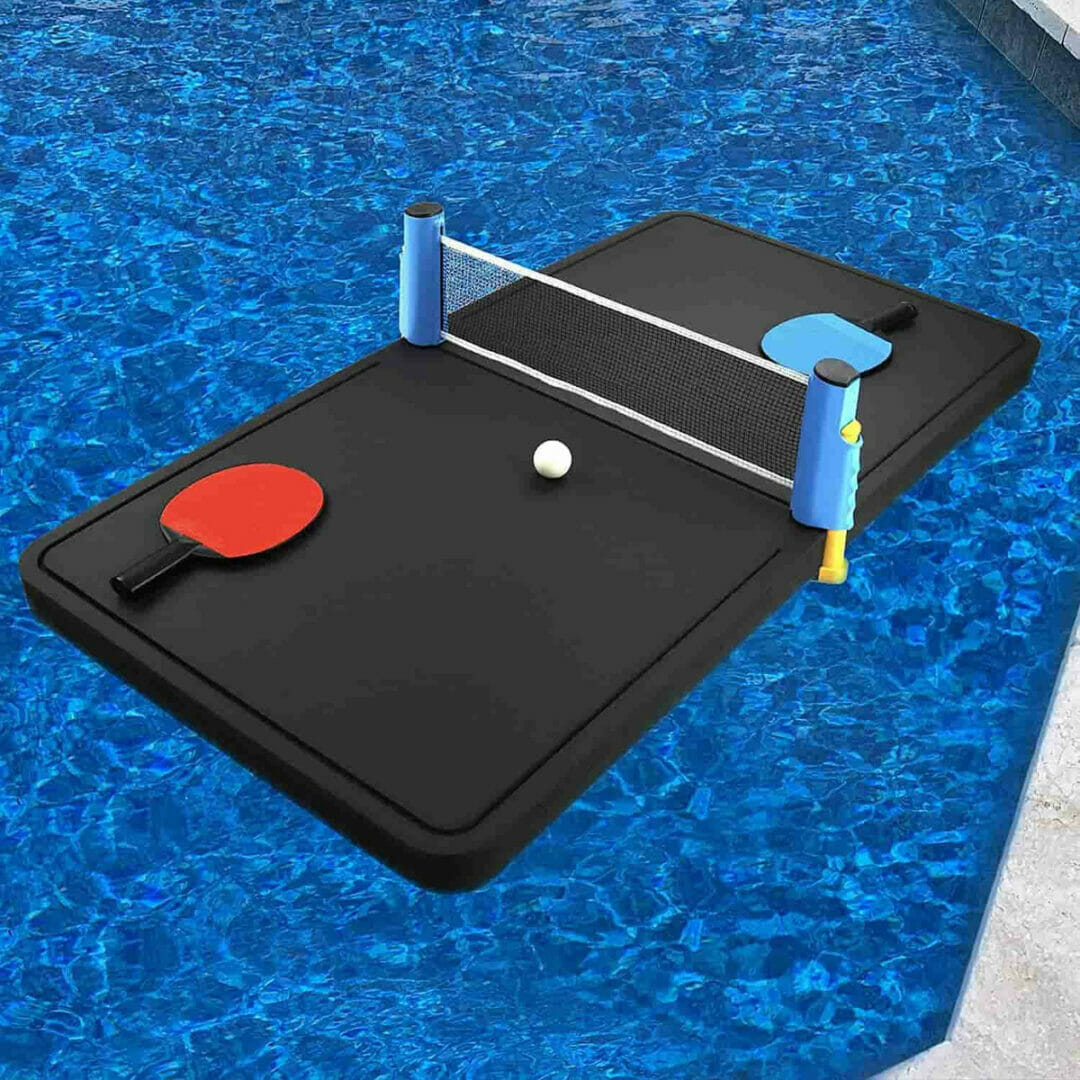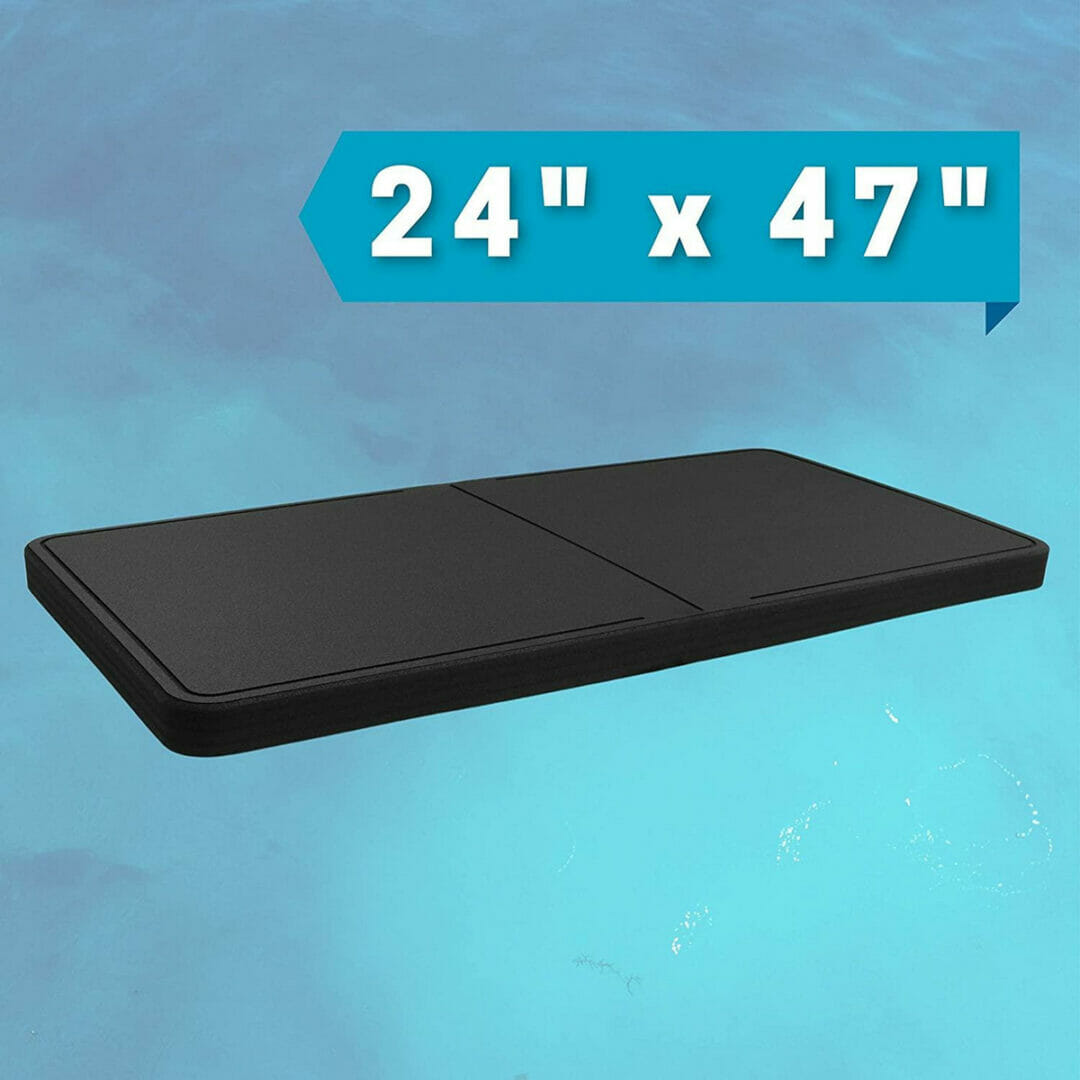 Specifications:
Dimensions: 47" x 24"
Material: Dense foam
Weight: 5lb
Warranty: Unlisted
Accessories: 2x waterproof paddles, retractable net, 3x balls
Pros:
Very lightweight

Retractable net

UV protected

Less glare while playing
Cons:
Our rating: 7.4
The Polar Whale floating ping pong table is a little smaller than its competitor at 47" x 24". It also has a different composition. Unlike the Poolmaster, which uses a foam base with an ABS plastic top, the Polar Whale tabletop is entirely made from dense foam. This comes with its benefits and disadvantages.
The main issue with having dense foam as the playing surface is that the ball doesn't bounce all that well. Of course, you don't need it to bounce as high as for regular table tennis, but it's still a negative and something you should be aware of.
However, we do rate the benefits associated with the foam top. Firstly, it's matte and black, which means you get minimal glare when playing. This is super, as you'll probably only want to play on the sunniest of days!
The foam is also UV protected. This means it will not degrade over time which is another plus. Lastly, foam is softer than ABS plastic (plus rounded edges). This makes the Polar Whale ping pong table for the pool that extra bit safer.
It should also go without saying that the net is far superior for this model. It's a retractable kind, which some players use on regular tables, so it's built to a higher standard.
The biggest issue with the Polar Whale ping pong table is the cost. It's over twice that of the Poolmaster, which is pretty overpriced, in our opinion. Ultimately, floating ping pong is a bit of fun, and I can't see many people paying how much Polar Whale is asking for.
FAQs
Q. What Is a Floating Ping Pong Table Made From?
Unlike a regular table tennis table made from wood, floatable ping pong tables are instead made from compressed foam and plastic. This ensures they are light and buoyant enough to float. It also means they are adapted to the water; they don't rust or degrade as most other surfaces would.
Q. Do Floating Ping Pong Tables Come With Accessories?
You get all accessories included when you purchase a floating ping pong table for the pool most of the time. This means you don't have to buy any equipment separately so that you can get playing right away. As the equipment is likely to get very wet, it is waterproof. So don't go bringing any custom ping pong paddles into the pool, as you will likely ruin them.
Q. Can I Only Use Floating Ping Pong Tables in Water?
While this is their primary purpose, you can really use them anywhere. They are essentially fun little conversion tops. You can put them on any flat surface to start playing ping pong, be it a table, a countertop, or even the floor.
Q. What Size Are Floating Ping Pong Tables?
Water ping pong tables are very small compared to full-size tables, measuring around 50" x 25". So don't purchase one expecting to play normal table tennis. They are even smaller than mid-size ping pong tables.
Q. Why Should I Purchase a Floating Ping Pong Table?
To be clear, floating ping pong tables are fun pieces of table tennis kit, but you're not going to get nearly as good of a game playing on one as you would a full-size table. Not even close. It's too small for the shots you are used to, and the ball doesn't bounce particularly well.
That being said, I can think of plenty of reasons why you'll get a lot out of purchasing a swimming pool ping pong table:
It helps you play with friends and family
You get to show off your hard-earned table tennis skills
Can bring the fun back to the game after monotonous training
It helps you work on your short game
Improves your tactics (you can't play your normal shots!)
You get to make the most of great weather
So Which Should I Buy?
This depends if you are seeking value for money or the best overall floating ping pong table. Poolmaster undoubtedly gives you more bang for your buck, and as a keen player, I expect that's what you're after. I know I am! I'd rather save the difference for a fresh new set of rubbers or a blade.
However, if you are fine spending more on a floating table for the pool, the model by Polar Whale is a touch better, in my opinion. You shouldn't overlook the fact it's anti-glare as this really comes in handy on particularly sunny days. There's also no denying it looks far more stylish!
Read more: If you are looking to add some fun for the family, check out the best multi-game tables to make your very own game room.

Freelance writer. Table tennis enthusiast. Lover of all things online. When I'm not working on my loop game I'm probably binge-watching some fantasy show.