The 3 Best Mid-Size Ping Pong Tables
If you're a lover of table tennis, you have probably considered buying a table for your house. But ping pong tables are large pieces of kit. Many of us have nowhere near enough room to erect one, let alone safely use it.
But what if you could shrink down the size of a table so that it fits into our homes? Well… you can!
Smaller ping pong tables already exist, and they are called mid-size ping pong tables. These models are convenient alternatives to their full-size counterparts. Just move a bit of furniture around, and bingo! You've got enough space for a table tennis table.
Of course, you could go smaller with a mini table tennis table, but we prefer mid-size table tennis. This way, the gameplay is at least somewhat similar to that of a full-size, which is ultimately what we are shooting for.
There are plenty of options for smaller ping pong tables, but which mid-size ping pong table is right for you? Read on.
The Main Differences Between Mid-Size and Full-Size Tables
To begin with, let's start with the obvious: the size.
Full-length tables measure 152.5cm x 274cm x 76cm as outlined by the International Table Tennis Federation (ITTF). That's about 60" x 108" x 30'' for all you imperial users.
For a more detailed analysis, check out our table tennis table dimension guide.
Mid-size table tennis tables, on the other hand, do not have a fixed set of dimensions. They will vary from brand to brand. However, a good estimation is around 2/3s the size of full-size tables. The height will always be the same.
The next obvious difference between the two is the price. Mid-size tables use fewer materials, so they are cheaper to make. As such, you should be saving at least a few hundred dollars by choosing a mid-size table.
They are also often built lighter. The frame is significantly thinner, as is the thickness of the table, which will affect the ball's bounce. But with this comes improvements in portability.
Some tables are so light that they can even be easily transported by car, perhaps for a picnic or some other social event — a move that would be impossible with a full-size table.
Another benefit of purchasing a mid-size table tennis table is that they are commonly pre-assembled upon delivery. This means you can play instantly without worrying about building the table or missing parts.
Where Mini Ping Pong Tables Fit In
Now that we've covered mid-size ping pong tables, let's switch over to the mini models.
While there isn't a clear size threshold as to what constitutes a mini table, the term is useful for defining tables that are notably smaller than what we would consider mid-size.
As mentioned earlier, mid-size ping pong tables measure roughly 2/3 that of full-size models.
However, mini ping pong tables, by comparison, are usually around half the size of full-size tables or less (50″ x 28″ x 30″). Given this large variation, it is useful to separate these tables as it makes your buying decisions easier. For example, if you are really short of space, a mini table is probably better than a mid-size table.
What Is It Like to Play on a Mid-Size Table?
Unlike a 3/4 size junior or youth ping pong table that plays rather closely to full-size tables, mid-size table tennis tables play very differently.
This is mostly due to the reduced length of the table. Good accuracy can help you get around the width, but the diminished length simply prevents you from playing the shots you would usually play.
If you're used to playing attacking shots, you'll have to tone down the speed you play at, or else the ball will fly over the end of the table. Playing loops, for instance, will be exceedingly difficult. I'd recommend leaving those for full-size tables.
Instead, consider playing on a mid-size ping pong table as a different table tennis experience where you can get creative. You can create all kinds of fun games, work on your short play, and develop your flick shots.
The 3 Best Mid-Size Ping Pong Tables You Can Order Online
#1. Stiga Space Saver — Best Surface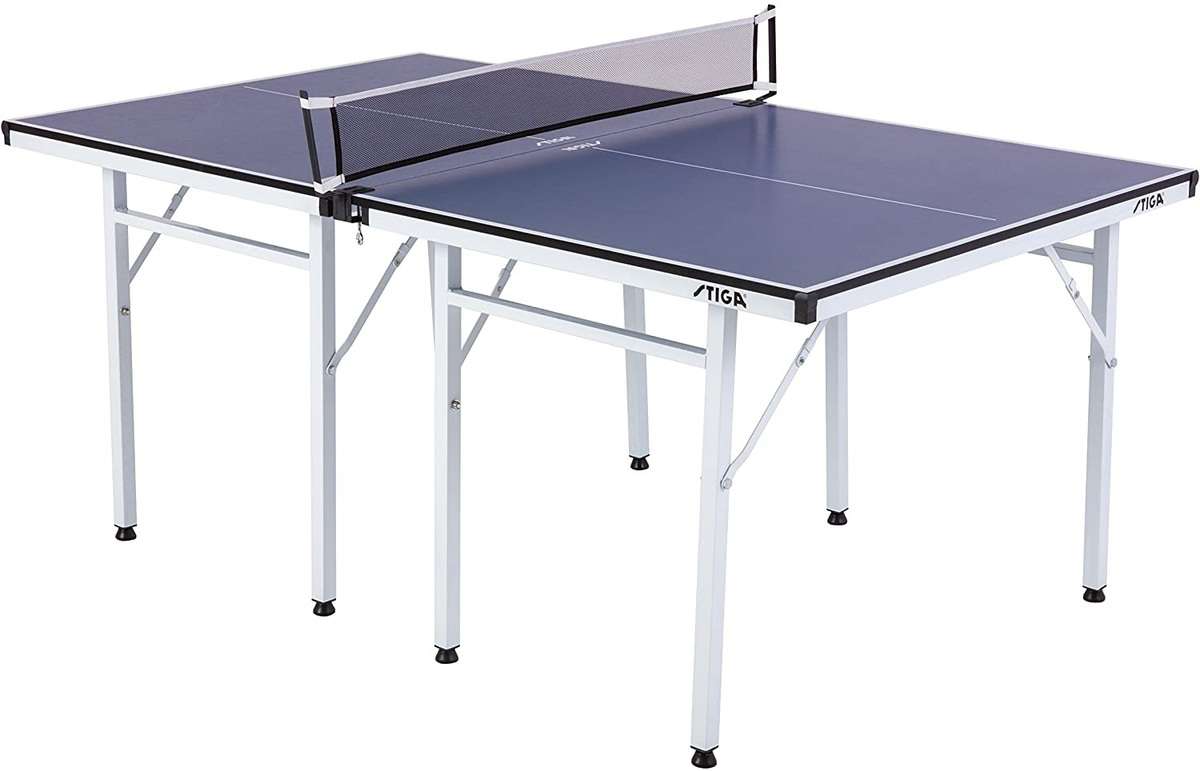 Pros:
Leg levelers
Fully pre-assembled
⅝" thick playing surface
Sturdy 1.25" legs
Cons:
Rating: 9.5
The Stiga Space Saver is one of the best mid-size ping pong tables you can purchase today. The playing surface measures 70" x 40.5 x 30", which are pretty standard dimensions for a mid-sized table tennis table.
The main aspect of this table we love is its thickness. Generally speaking, the thicker the table, the better the bounce. And with smaller tables, manufacturers tend to make the playing surface thinner to save money. But not with the Stiga Space Saver.
The playing surface measures ⅝ inch thick, which is around 16cm, the same as the full-size Stiga Advantage. 16cm will not provide the best bounce, but it should compare very respectfully with the Stiga Advantage, a super popular table tennis table.
The thick 1.25-inch legs and frame are another great addition. Many mid-size tables are not built with strength in mind, so their legs are much thinner than full-size tables. There is no doubt that the Stiga Space Saver is a tough table that will stand up to punishment.
The legs are also able to level as one would expect, and the table arrives fully pre-assembled so that you can get playing straight away.
The only issues we can see are that there is no playback position (which you won't get with mid-size tables), and the included net is rather flimsy.
For more information on this table, check out our full review of the Stiga Space Saver.
#2. GoSports Mid-Size Table Tennis Table — Outdoor Choice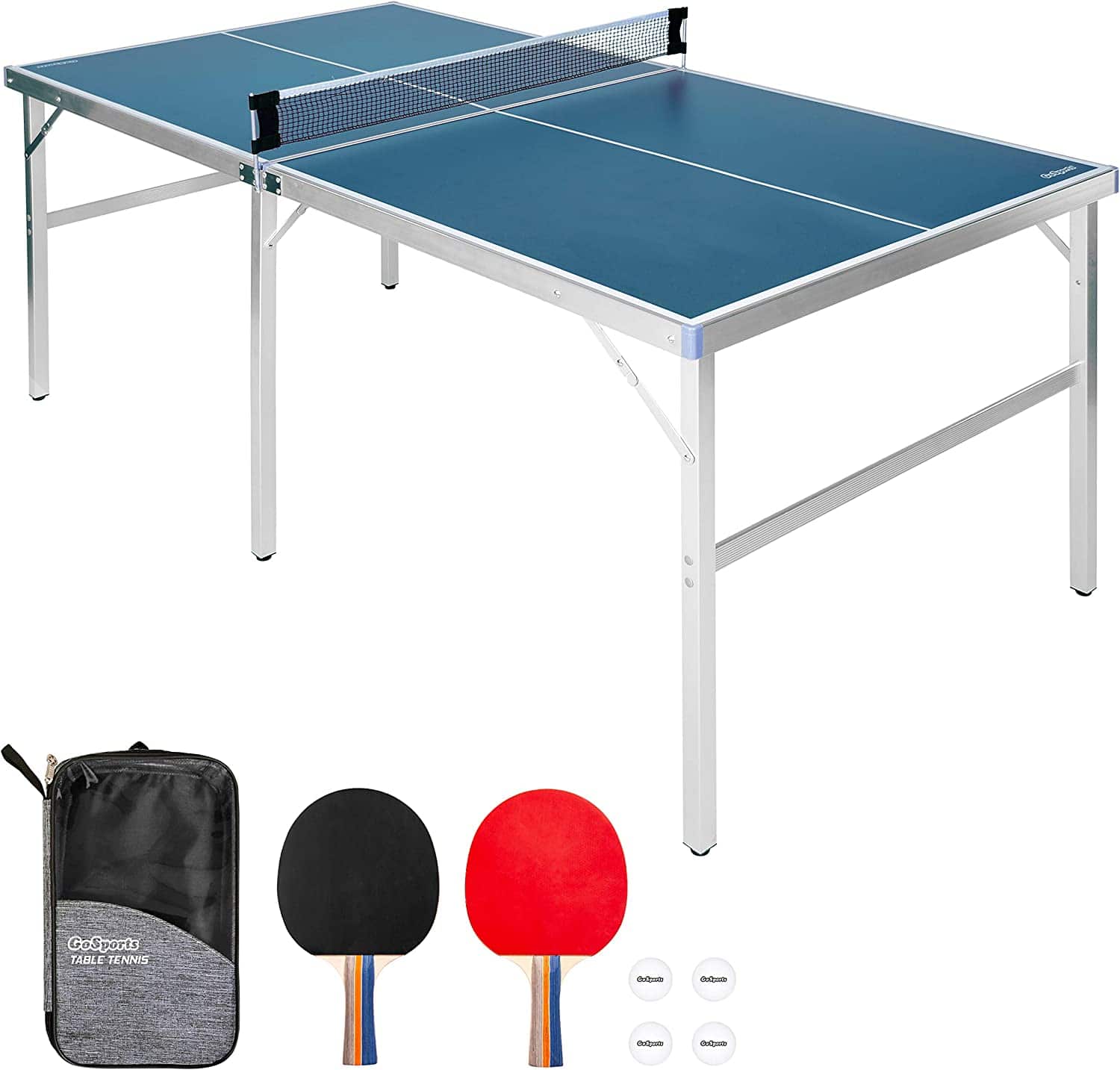 Pros:
Available in blue and red
Suitable for indoors & outdoors
Net, bats, and balls included
Fully pre-assembled
Sides fold together
Lightweight
Cons:
Unpredictable bounce on the edges
Folding mechanism can be problematic
Rating: 9.3
The GoSports Mid-Size Table is a best seller on Amazon, and it's easy to see why. Available in both blue and red, this table is suitable for indoor and outdoor use — the only such table on this list. This is thanks to its aluminum build, which also makes the table exceedingly lightweight at just 36lbs!
The drawback to this is that it is not as strong as it appears. It will not stand the test of time as well as some of the other tables on this list. The folding mechanism is a particularly weak spot. Some customers complained of the hinge breaking after just a few uses which is a shame.
But overall, this table has been highly reviewed.
The table folds and locks together much like a suitcase. This makes the GoSports Mid-size table the most portable model on our list despite being sizeable at 72" x 36" x 30". A super choice for anyone that likes to go outside and play.
#3. JOOLA Midsize Compact Sport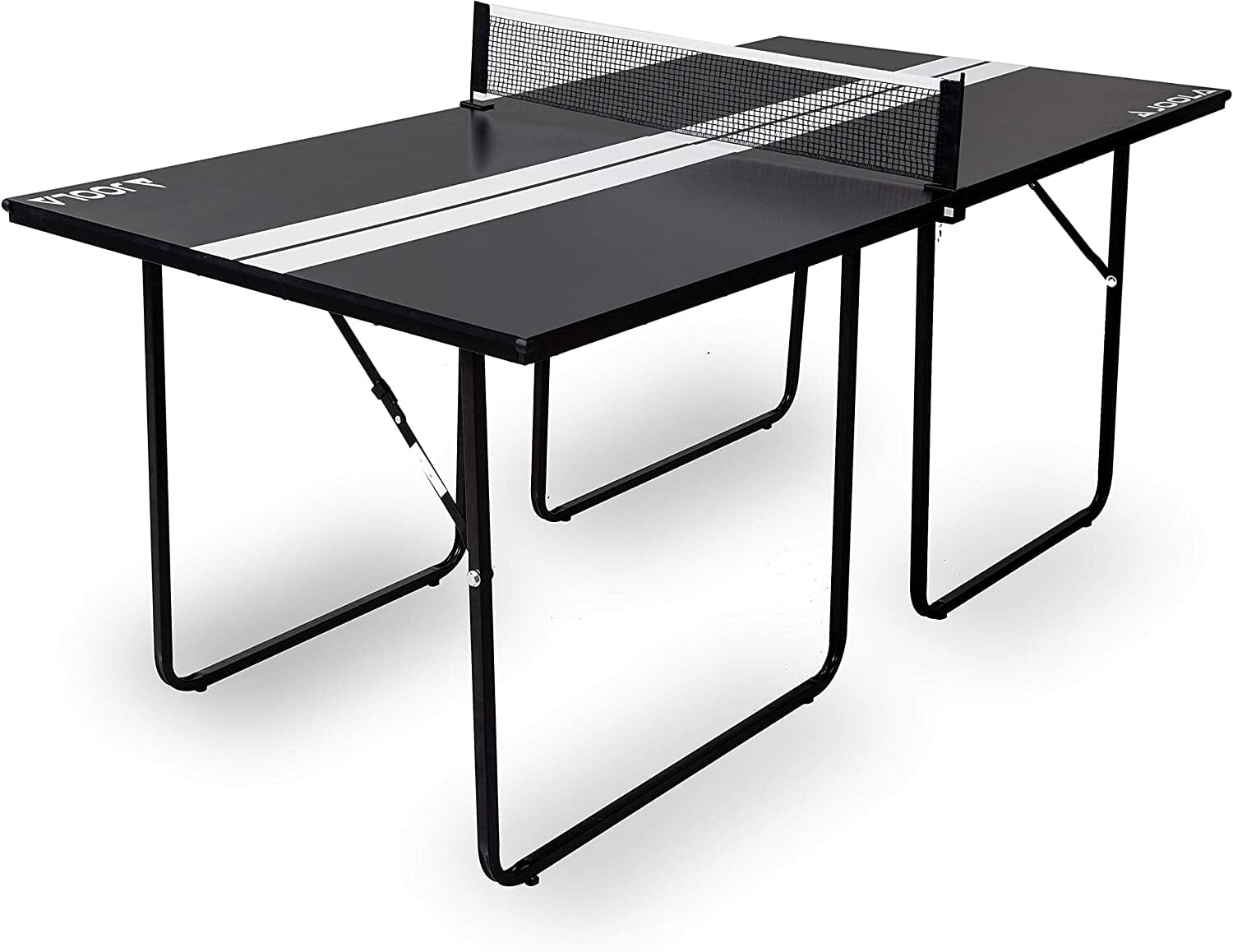 Pros:
Fully pre-assembled

Slick design

Lightweight

Net included
Cons:
Not very Sturdy

No leg levelers
Rating: 8.9
The JOOLA Midsize Compact Sport is one of the most aesthetic mid-size table tennis tables on this list. Sporting an all-black color scheme with two white stripes down the center, it is one of the coolest looking tables we have seen, let alone in the mid-size range.
Measuring 72" x 36" x 30" this table is very lightweight coming in at 62 lbs. Each side folds independently making moving and storing the table very simple. The table comes with a net included and while it is not the sturdiest, it does the job for a table of this size.
The JOOLA Midsize Compact Sport arrives fully pre-assembled which is another plus. The main issue with it is its stability. It does not have leg levelers. The legs instead connect in a U shape. This unfortunately means the table is not as stable and shakes a little when in use.
You can learn more about this table in our full review of the JOOLA Midsize Compact Sport.
The 3 Best Mini Ping Pong Tables You Can Order Online
#1. Franklin Sports Mini Table Tennis Table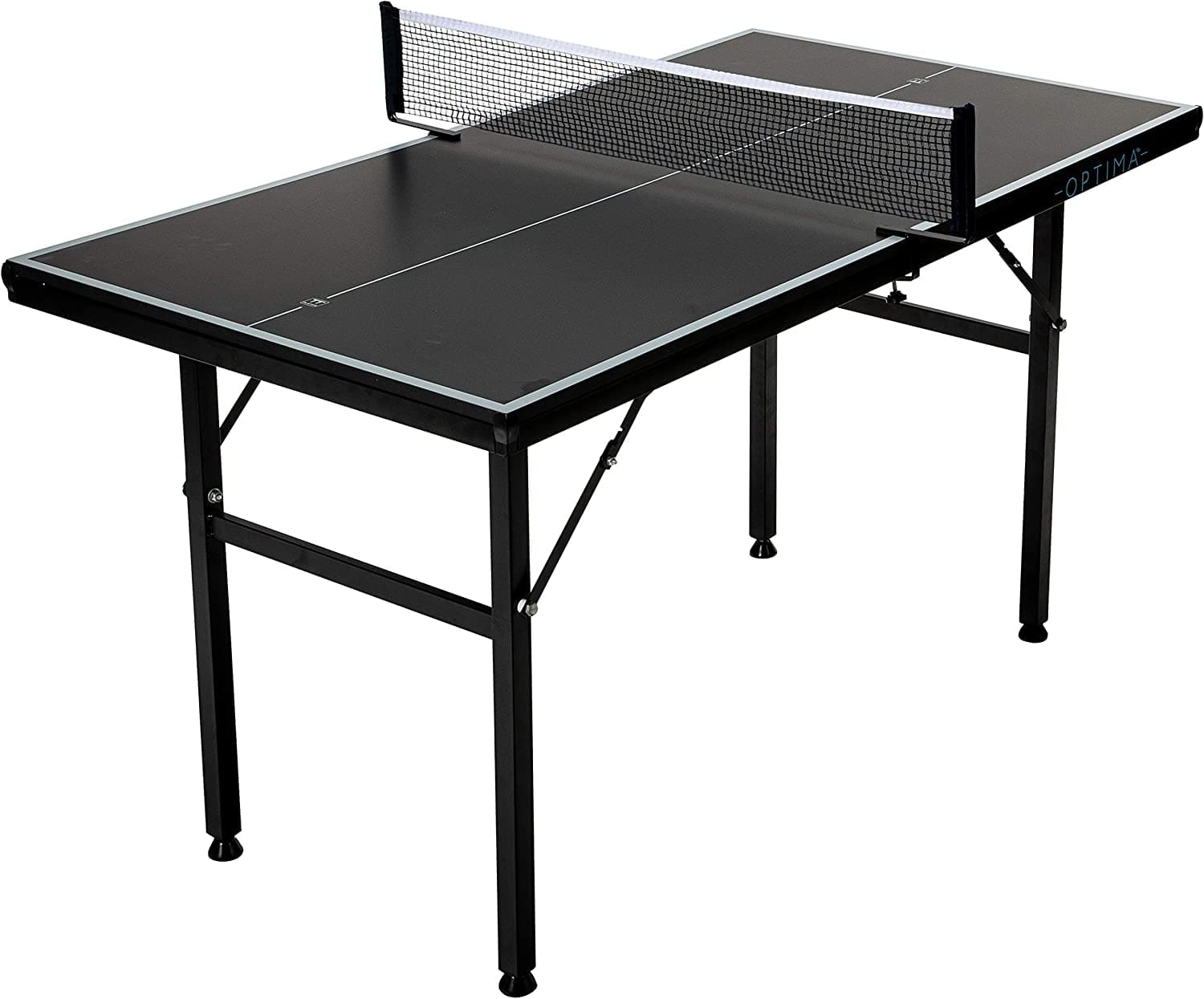 Pros:
Thick legs and frame
Leg levelers
Easy to erect
Net included
Cons:
Some assembly required
Does not come in two halves
Rating: 8.9
Despite classification as mid-size by Franklin Sports, this is a much smaller ping pong table than those above. Its dimensions measure 53" x 29.5" x 30", therefore we saw fit to include it in the mini ping pong tables category. With its smaller size, it is a great choice for anyone needing a ping pong table for particularly small spaces. Just be aware that games on this table will be much slower as you do not have the length to execute more powerful strokes on small ping pong tables.
We like the thickness of the legs. They provide adequate strength and they also level to ensure you are always playing on a flat tabletop. The table does, however, have to be partly assembled. According to the manufacturer, this can take up to 30 minutes. This is more than many full-size tables, so for a mid-size, it is certainly above average.
Once assembled, it is rather easy to erect. The legs simply fold out and lock into place. Just be aware that this table comes as one solid piece. It does not break into two halves as most of the other mid-size tables do. This can make storage a little more challenging.
However, if you are table tennis crazy like us you can actually use this table as a desk as pictured by the Amazon listing, which is something we would never have thought of. It's a great size for this use case and adds some flair to your house!
#2. Stiga Mini Table Black Edition — Best Looking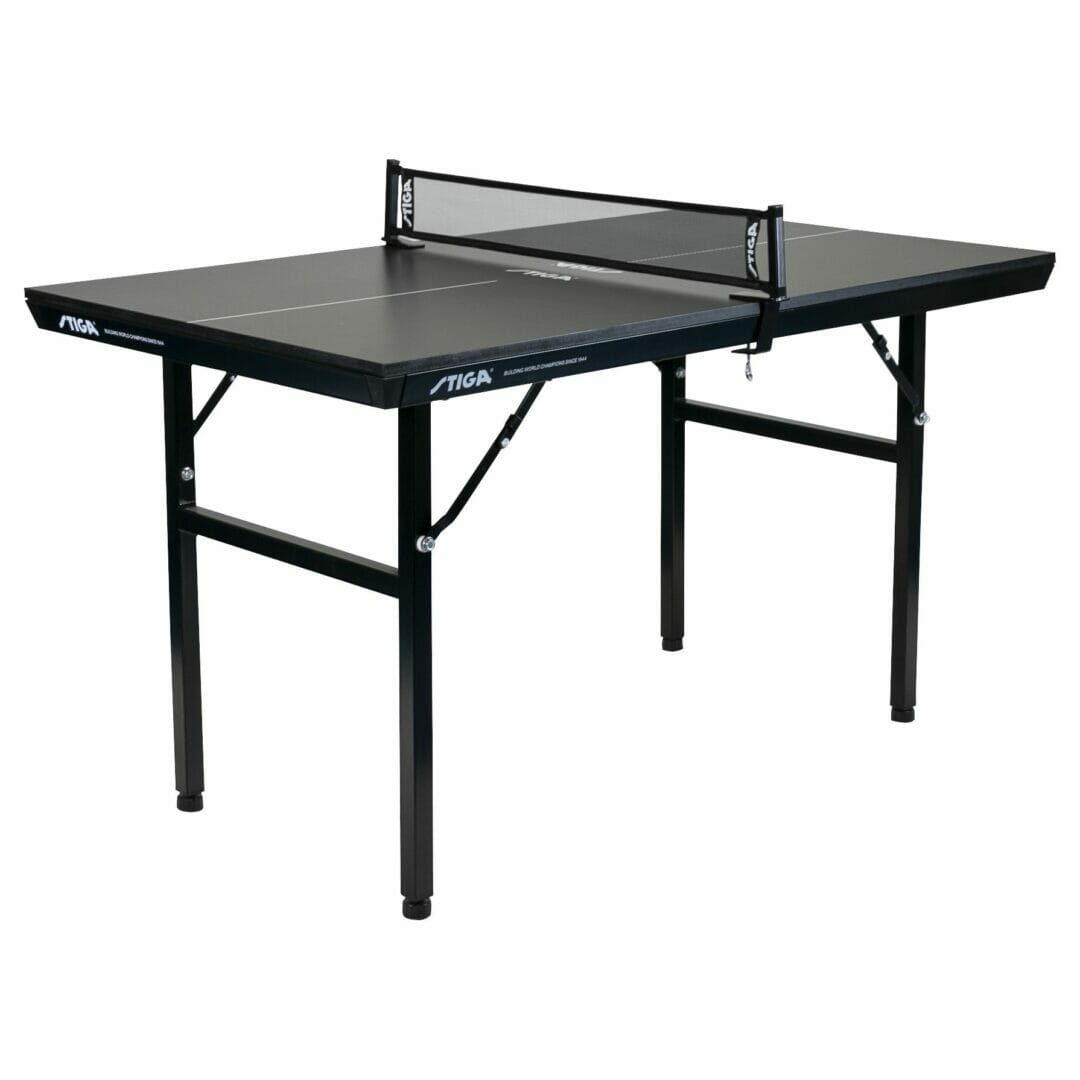 Pros:
Very stylish
Leg levelers
Net included
1-year warranty
Cons:
Rating: 9
The Stiga Mini Table Black Edition is one of our favorite-looking models on this list. With its all-black design, it looks very slick — black table tennis tables are pretty rare!
The table sports a 12mm table top which is around average for a mini table. You wouldn't really need anything thicker, given the playing area is so small. The dimensions measure 50″ x 28″ x 30″, making it ever so slightly smaller than the Franklin Sports table.
Our main issue with this table is the cost. It's pretty pricey, given that it is twice the cost of some of the mid-size tables, and it is obviously smaller too. So you don't get very good value for money with this model. You also can't pick up the Midi table tennis table version of this table (mid-size) any longer as it has been discontinued. However, for some, the more attractive design, and smaller size may be worth it.
#3. Killerspin Impact Mini Deep Chocolate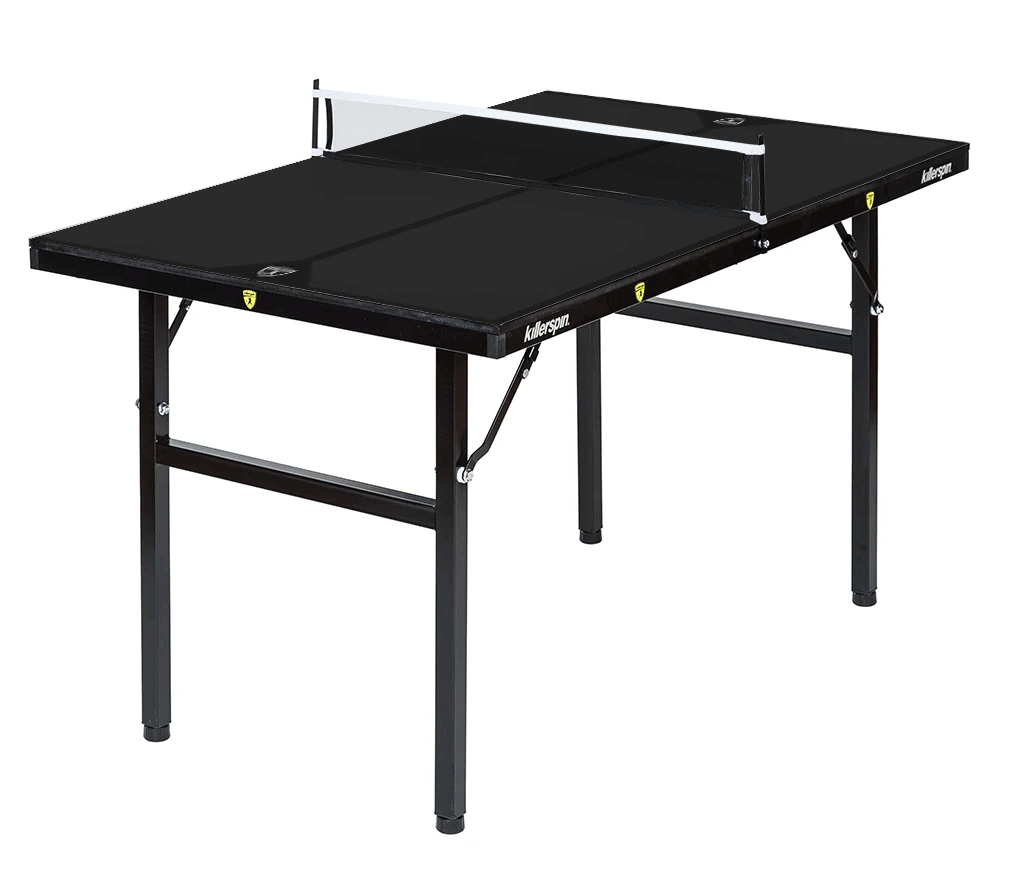 Pros:
Very stylish
Leg levelers
Net included
1-year warranty
Cons:
Rating: 8.9
The Killerspin Impact Mini is similar to the Stiga Mini table in many ways. First and foremost, they look very similar. The only notable differences between the two models are that the version by Stiga has inclined borders. In contrast, the Killerspin table does not, and the Killerspin Impact has a white strip along the top of its net.
Regarding similarities, it shares a 12mm thick playing surface, a simple folding design, leg levelers, and a 1-year warranty. It is also priced the same, making it rather expensive for what you get.
The Killerspin Impact Mini measures 49.2″ x 29.5″ x 30″.
Mid-Size and Mini Ping Pong Table Buying Guide
Table Thickness
While table thickness is far more important for full-size models, you should still consider it for mid-size tables. The thicker the table, the higher the bounce quality. Most smaller tables are around 12mm thick, so anything more than this is advantageous. However, we find many listings omit table thickness info, so you may struggle to find it.
Dimensions
The primary benefit of mid-size and mini ping pong tables is that they are far smaller, and, therefore, easier to fit in around your home. Despite this fact, you shouldn't buy any old mid-size table, they come in different sizes, so you should measure your available space, add a buffer for a player on either side and use those dimensions to purchase the perfectly sized table.
Lightweight & Foldable
More benefits of mid-size and mini ping pong tables are that they are lighter and easier to store than full-size tables. Almost all models fold for compact storage. This means they are very easy to fold and store.
Most measure around 40lbs, so you should comfortably be able to pick up and move each side of the table (20lb). Due to their compact size, they fit nicely under the bed, in a cupboard, behind the sofa, and in many other places!
FAQs
Are There Smaller Ping Pong Tables?
While most table tennis tables are full-size, there is a good variety of smaller tables to choose from. Junior tables are 3/4 size, mid-size ping pong tables are usually around 2/3 size, and then what we consider mini tables are around 1/2 size.
Are Mid-Sized Tables Good to Play on?
Mid-sized ping pong tables are certainly fun to play on, but their reduced length means you are a bit limited in how you can play. Rallies are slower and longer as you can't hit the ball as hard as you would be able to on a full-size table.
What Are the Dimensions of Mini Table Tennis Tables?
We consider mini table tennis tables to be 1/2 size relative to full-size models. This means you can expect mini tables to be around 50″ x 28″ x 30″.
How Big Is a Mid-Size Ping Pong Table?
At roughly 2/3 the size of full-size tables, medium size ping pong tables measure around 72" x 36" x 30".
What Size Is a 3/4 Ping Pong Table?
Not all 3/4 size ping pong tables measure the same, there is often slight variation. However, 81″ x 45″ x 30″ is a good estimation. This is the size of the Butterfly Junior 3/4 size table.
Is a 7ft Table Tennis Table Too Small?
7ft ping pong tables are around 3/4 size. Whether they are too small depends on your intention. If you are just playing to have fun, they are great. If, however, you are training for the purposes of competing, you should buy a full-size table instead. You need the extra space to hit more offensive shots.
Can I Easily Fold up a Mini Ping Pong Table?
Mini ping pong tables fold very easily. You simply fold in the support brackets, and then the legs fold inwards against the underside of the table. It takes less than a minute.
Conclusion
Mini and mid-size ping pong tables are great alternatives for people lacking space. While they are not as enjoyable to play on as full-size tables, they are still pretty great, and they even level the playing field a bit if you have members in your household who are much better than everyone else at the sport!
To summarize, our favorite table of the lot is the Stiga Space Saver. It has the thickest play surface by some margin, and the only clear fault with it we could find is the net which is rather flimsy. However, this is a very minor issue, you could even buy a better replacement net if you want to.
Another table we really liked is the Stiga Mini Table Black Edition. If you're super short of space and need a mini ping pong table this is our favorite. It only just beat out our other two models as they were all of very similar quality.
Enjoy this read? Check out our write-ups on the top cheap ping pong tables and the best foldable tables too!

Freelance writer. Table tennis enthusiast. Lover of all things online. When I'm not working on my loop game I'm probably binge-watching some fantasy show.