The 7 Best Foldable Ping Pong Tables
If you're in the market for a table tennis table, chances are you want one that's foldable. The good news is that you have many options. Foldable ping pong tables dominate the market due to their practicality. Very few table tennis tables are fixed, and those are often more expensive outdoor models. I'd estimate that they make up no more than 5% of tables. 
Space is often an issue when it comes to sports. But storage doesn't need to be a burden for your table tennis passion if you have a foldable ping pong table. Fold-up ping pong tables take up a fraction of their erected size when put away, making them easy to store. You can comfortably store a foldable ping pong table anywhere — in your garden, garage, or even inside the house.
Some fold-up pong tables are more portable than others. The best portable ping pong tables are light, have large wheels, and often nest for storage.
What to Look for When Buying a Foldable Table Tennis Table
Table Thickness
When shopping for a ping pong table that folds up, adequate thickness should always be your first priority. Tables vary greatly in thickness, and it's one of the most influential factors on price and quality.
Thin tables of 12mm thickness are usually of poor quality. You should avoid these wherever possible. They have a weak bounce that will noticeably affect gameplay. They are also more susceptible to damage, which is a big deal if you want your table to last!
Most tables fall within the 16mm-19mm range, where the bounce is notably better. A 16mm table is adequate for a beginner or casual player; however, more advanced players shouldn't purchase a table with a thickness of no less than 19mm. With this table thickness, you'll get a nice bounce that won't interfere with your game.
The top fold-up ping pong tables tend to be 25mm. These are the gold standard. Most tables in high-level competitions will use tables that are 25mm thick. Unsurprisingly, they are considerably more expensive than the rest. But, if you have the money to purchase such a table, they're well worth it.
Strong Body
A table needs a strong body to ensure long-lasting life. Ideally, you want a predominantly stainless-steel build, as this will provide maximum protection.
Tables with especially thick legs are also more robust, which is important if you have children using the table. Thick legs and a strong body will reduce the risk of children leaning on and collapsing the table.
Safety
Most tables have effective standard safety measures, but it's always best to check. For example, wheel-locking mechanisms help keep the table fixed in place while you're playing and when the table is in storage.
You should also consider weight and mobility. Some folding table tennis tables are cumbersome, while others are rather light. Light tables might not move as safely, increasing the risk of the table falling on its side.
Most important, however, is an effective ping pong table folding mechanism with quality locking. Tables are often heavy and could do serious damage if one fell on you. All tables require you to pull a lever that disables the lock to erect the table. But some have multiple levers and locking mechanisms — these are the safest ping pong tables that are foldable.
Fast & Easy to Build  
Although not as important as the other features mentioned, having a fold-up ping pong table nearly ready to go on arrival is a nice luxury. Most tables do not take too much time to set up, as they're already partially assembled. Yet there are tables out there that may take you several hours to build on your own. Always best to check before buying, and consider getting a friend to help you build the table if needed.
Why Should You Trust Us?
Over here at PingPongRuler, we are simply obsessed with table tennis and have been playing since we were kids. We eat, breathe and sleep it. We love to learn new skills and test out different equipment. This continual drive to learn has led to thousands of hours of experience, making us experts in the field. We strive to provide the best information so that we can fast-track your improvement.
The 7 Best Foldable Ping Pong Tables You Can Order Online
#1. Stiga Expert VM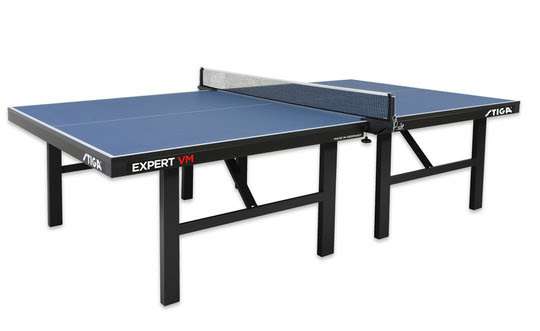 Features
Dimensions

: 9 x 5 feet

Weight

: 362lbs

Assembly required?

: None

ITTF Approved?: Yes
Pros:
30mm thick surface
Strong build
Stores in two halves for compact storage
Heavy-duty wheels
2 safety locks
Cons:
No fold-up playback position
Hard to maneuver
Very heavy
1-year warranty
Expensive
The Stiga Expert VM is one of the thickest folding ping pong tables available today. While elite tables are 25mm thick, the Stiga Expert VM is 30mm thick. With an additional 5 mm of thickness, the Expert VM provides an unparalleled playing experience. It also comes in two pieces, with wheels that don't stick out as much as other foldable ping pong tables, making it easier to store.
As one of the heaviest tables available, the Stiga Expert VM weighs 362 pounds. This is a great plus for the table's foundation strength for playing, but the heavyweight also makes it harder to maneuver.
The main drawbacks of this table are the expensive cost and the short warranty period of only one year. However, the short warranty shouldn't be an issue since the table is so strong, and the 30mm thickness makes it well worth the high price tag.
#2. Donic Waldner Premium 30 — Best Playing Surface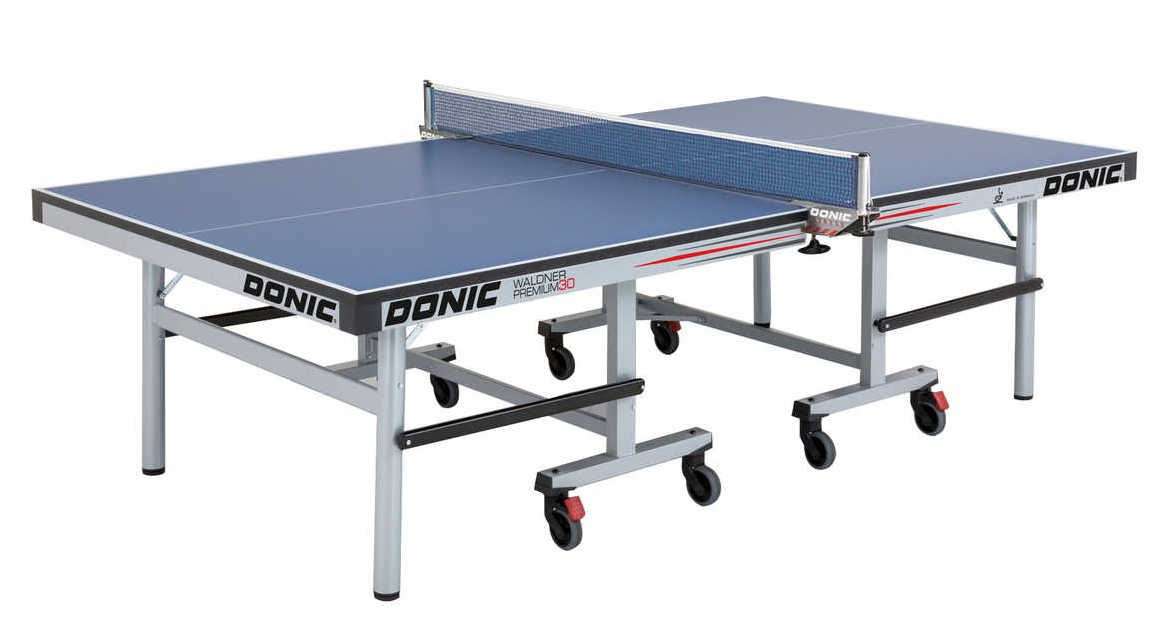 Features
Dimensions

: 9 x 5 feet

Weight

: 280lbs

Assembly required

: Moderate

ITTF Approved?: Yes
Pros:
30mm thick surface
Steel frame and legs
Nest storage
4-inch, easy-to-move wheels with brakes
Fold-up playback feature
Adjustable legs
Safety locks
Cons:
Fairly heavy
Requires some assembly
1-year warranty
Expensive
The Donic Waldner Premium 30 is another world-class foldable table tennis table that blesses us with a 30mm thick playing surface for a faultless and consistent bounce. This table's build is a little different from the Expert VM. It uses nest storage, which takes up more space when put away. But, it does allow for single-player playback.
At 280 pounds, this table is lighter than the Expert VM — but don't think it's a light table. The frame has thick steel tubing and very strong legs.
The Donic Waldner Premium 30 is easily one of the best folding ping pong tables, and a lot easier to move around than the Expert VM. But like the Expert VM, it is rather expensive and only comes with a 1-year warranty. We consider it to be one of the highest quality ping pong tables with wheels.
#3. Tibhar/San-Ei SP Allstar — Great All-Around Choice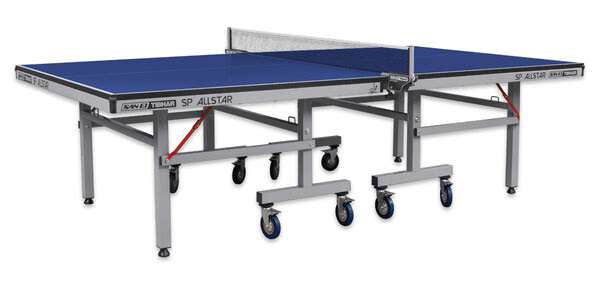 Features
Dimensions

: 9 x 5 feet

Weight

: 308lbs

Assembly required

: ~Moderate

ITTF Approved?: Yes
Pros:
25mm thick playing surface
Strong build
Nest storage
Fold-up playback feature
5-inch wheels with brakes
2 safety locks on each half
Adjustable legs
Cons:
Heavy
Expensive
Requires some assembly
The Tibhar/San-Ei SP Allstar marks the beginning of the 25mm thick ping pong tables. With an elite thickness, this table will provide outstanding bounce and feel a lot nicer to play on than your average, run-of-the-mill 16-19mm thick table.
Thanks to its thick metal chassis, the SP Allstar is very heavy at 308lbs. However, its 4 wheels per table half make it easier to move around than the Expert VM.  With 8 5-inch wheels, this is a fairly portable table tennis table.
The two halves nest for simple storage, but you'll still have to assemble this table. Unfortunately, the manufacturer does not specify how long this takes.
#4. Sponeta Super Compact 8-37W — Best Folding Mechanism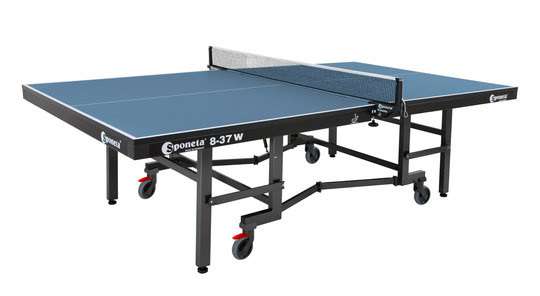 Features
Dimensions

: 9 x 5 feet

Weight

: 257lbs

Assembly required

: None

ITTF Approved?: Yes
Pros:
25mm thick playing surface
Strong build
Safe one-handed folding mechanism
5-inch wheels with locking mechanisms
Adjustable legs
Suitable for wheelchair users
Fully assembled
2-year warranty
Cons:
No fold-up playback feature
Very heavy
Expensive
The Sponeta Super Compact 8-37 is an excellent 25mm thick folding ping pong table on wheels with an interesting folding mechanism that we love. Rather than nesting like most fold-up ping pong tables, the Super Compact 8-37W uses a one-handed folding mechanism that allows one person to set up the table easily.
The one-handed folding mechanism uses air pistons to counteract the table's weight when opening and closing the table. You must follow the guide to move the metal arm, and both sides of the table will unlock simultaneously. The two halves also rest flush with each other during storage, which means the table takes up less space.
The drawback of having this one-handed locking mechanism is that there is no playback feature since both sides of the table fold out simultaneously. In our opinion, this is a small price for an otherwise awesome foldable ping pong table.
#5. Butterfly Europa 25 – Green — Best Warranty / Easiest to Store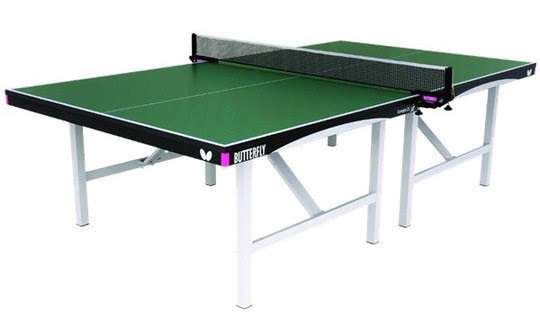 Features
Dimensions

: 9 x 5 feet

Weight

: 270lbs

Assembly required

: None

ITTF Approved?: Yes
Pros:
25mm thick playing surface
Strong build
Safety-certified in Europe
Fully assembled
National League Net Set
4 safety locks
5-year warranty
Cons:
No fold-up playback feature
Fairly heavy
The Butterfly Europa 25 is the most compact folding table tennis table on our list and the most compact table that Butterfly offers. It folds to just 6 inches in width, making storage a breeze.
The Europa 25 uses a similar folding mechanism to the Expert VM. The table comes in two halves, and the legs lock in place with 4 safety locks. It also holds a European safety certificate, an advantage you won't find with any other tables on our list.
We love this collapsible ping pong table because it has a 5-year warranty and comes fully assembled. Most of the other tables referenced only have a 1- or 2-year warranty. Five years knocks this out of the park.
Impressively, this table is a favorite of table tennis aficionados and was selected as the official table of the 2014-2016 Butterfly National Tour.
Butterfly maintains its reputation by delivering a superb product at a fair price. The only drawback is that it has no playback feature, but it's otherwise one of the best foldable ping pong tables you can buy. If you're curious about a slightly higher-end model by Butterfly, you might want to check out our review on the Centrefold 25.
#6. JOOLA Inside 25mm — Best Value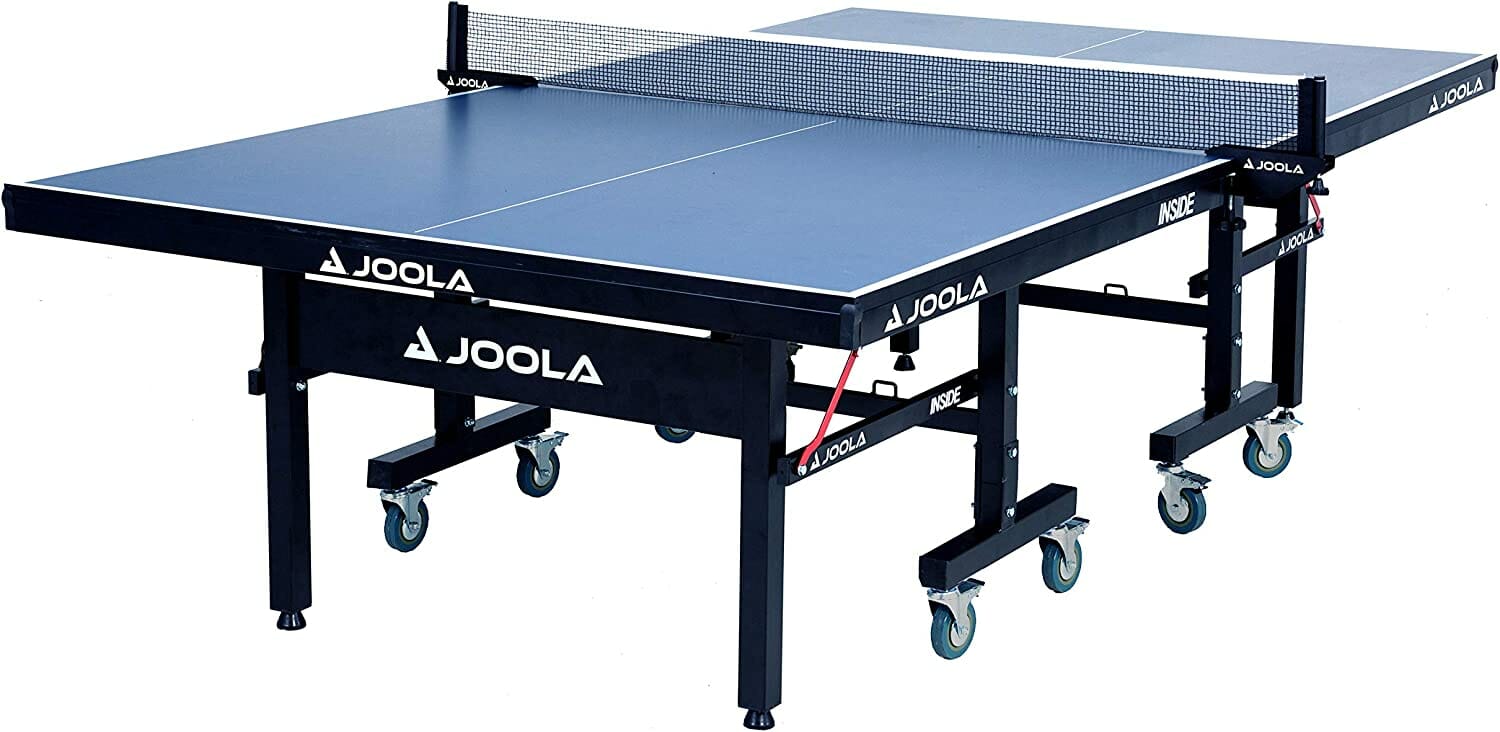 Features
Dimensions

: 9 x 5 feet

Weight

: 238lbs

Assembly required

: Minimal

ITTF Approved?: No
Pros:
25mm thick playing surface
Very good value for money
Strong build
95% pre-assembled
Fold-up playback feature
4″ wheels
High-quality net included
Adjustable legs
Cons:
Not ITTF approved
Heavy
1-year warranty
While the JOOLA Inside may come off as a little more basic than some of the other models on this list, it provides the greatest return for your money by a landslide. It costs less than half of the others mentioned thus far, yet it still has features indicative of a premium table, including a 25mm tabletop, and a 2″ frame and legs. The table also arrives 95% pre-assembled, meaning you can be up and running in just 10 minutes. You don't even need to buy a decent net separately, as JOOLA includes a high-quality net.
The are only two real issues I can see with the JOOLA Inside 25mm. The first is that it is not ITTF-approved. This is one of the reasons the table is so cheap. However, I expect most of you aren't buying a table for tournament use, so it's not something you need. To me, it doesn't matter if a table is ITTF-approved or not, I'm only concerned with how it plays, and you should be too.
The second issue is the 1-year warranty period. It's a little short, but largely what we expect given the advertising price tag. All things considered, the JOOLA Inside 25mm is a marvelous table, and while it is not quite the best quality, it is more than good enough for most people and really puts your dollars to work.
#7. JOOLA Tour 2500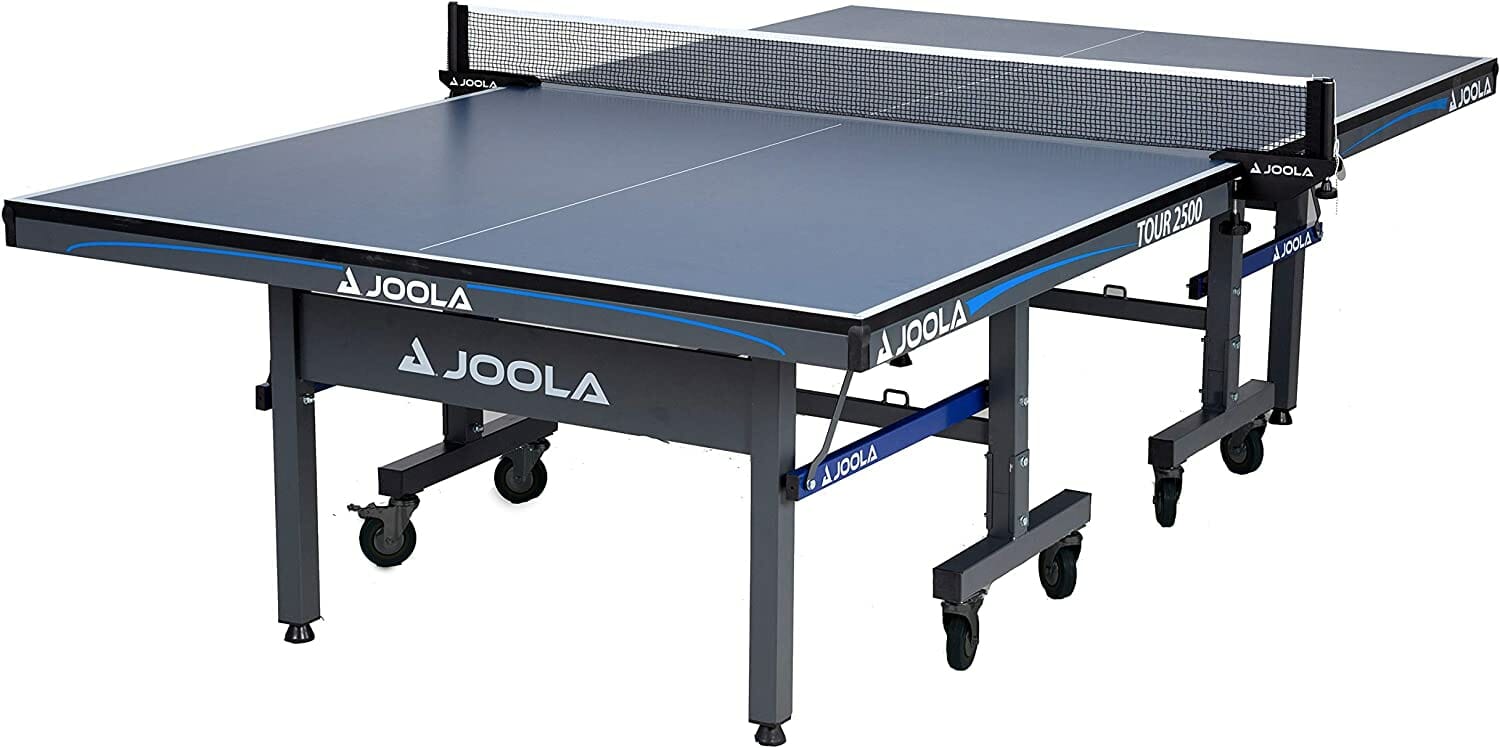 Features
Dimensions

: 9 x 5 feet

Weight

: 238lbs

Assembly required

: Minimal

ITTF Approved?: No
Pros:
25mm thick playing surface
Very good value for money
Strong build
95% pre-assembled
Fold-up playback feature
4″ wheels
High-quality net included
Adjustable legs
Cons:
Not ITTF approved
Heavy
1-year warranty
The JOOLA Tour 2500 is a great alternative to the JOOLA Inside 25mm. It costs a little more but still represents incredible value when compared to the other tables on this list. It appears to be identical to the Inside 25mm in virtually every way besides the price. It shares a 25mm table top, arrives 95% preassembled, weighs 238lbs, and the list goes on.
The only other change than price is a visual one. The Tour 2500 has a darker blue play surface with a grey undercarriage rather than black.  
Like the Inside 25mm, the Tour's folded dimensions measure 63″ x 63″ x 24″. 
FAQs 
How Big is a Foldable Ping Pong Table?
Foldable ping pong tables come in a range of sizes, this is because virtually all ping pong tables fold up to some degree. 
The smallest foldable table tennis tables are around mid-size. They equate to roughly ½ or ⅔ the size of a full-size table. However, most of the foldable tables you find are full-size, that's 9 x 5ft.
How Do You Fold a Ping Pong Table?
Folding up a ping pong table is a straightforward process. Each table might be a little different, but once you've opened a few, you soon understand how most of them work. With many foldable ping pong tables with wheels resting on the ground, it is simply a case of lifting either end of the table until it locks into place.
Each table has some mechanism you have to use to enable the sides to lift. This usually takes the form of a handle, lever, or latch. Some of the safer tables may have multiple.
The wheels are often located on the underside of the playing surface for the top storage-friendly fold-up ping pong tables. Pull the tables apart and gently lift the outer side of one half of the table onto its wheels. Afterward, disengage the legs from their locking point and fold them into the table. Then repeat for the other table half. 
To see an example of a ping pong table folding, check out this video. It features the Easifold Outdoor Rollaway that uses both a lever and a latch to keep the table securely upright.
How Much Do Foldable Ping Pong Tables Cost?
This is entirely dependent on how much you want to spend. As stated earlier, you can purchase mid-size fold-up ping pong tables. These tend to be quite a bit cheaper. However, if you are after a full-size model, you can pay anywhere from around $300 all the way up to $2000. 
Of course, the most expensive tables are rarely worth what they charge, and the cheapest tables are often of poor quality. You are better off investing what you can afford and finding a model with an adequately thick playing surface. 
Do All Ping Pong Table Fold in Half?
Almost all tables fold, but a select few can't, so it is worth checking before purchasing. Such tables are usually referred to as "fixed" or "stationary" tables. They are not intended to be moved and are often heavy — think concrete tables.
Conclusion 
Our favorite foldable ping pong table is the Expert VM by Stiga. If you are serious about table tennis and want an elite table for your training, this is the best foldable table that money can buy. It features a 30mm thick playing surface and provides a consistently high bounce that will blow most other tables out of the water.
It is also incredibly strong. You can be certain that it will last a very long time, especially if it is well looked after. We also love how compact it is. Its legs fold flat against the table, making it easy to store in tight places. A big plus given how hard ping pong tables can be to put away.
*As a bonus, if you like the Expert VM, check out the Expert Roller CSS. It's a similar foldable ping pong table by Stiga with more wheels. This makes it much easier to maneuver.

Freelance writer. Table tennis enthusiast. Lover of all things online. When I'm not working on my loop game I'm probably binge-watching some fantasy show.