The 5 Best Portable Ping Pong Tables
Full-size table tennis tables are great, but they have limitations. For starters, consider the space they take up. Few of us have enough space to accommodate such a large piece of furniture. Then there's the lack of portability. Full-size tables are very heavy, so beyond wheeling it a short distance, your table will stay wherever you assemble it.
This is where ping pong tables that are portable shine. They usually take up considerably less room and are far easier to maneuver. With these tables, you can take them with you to picnics or other events to play outside your home.
Even if you are an advanced player, I wouldn't let the smaller size of a portable ping pong table deter you from buying one. Sure, you won't be able to play anywhere close to your regular style, but you can still have a lot of fun playing on a portable ping pong table. I know I certainly do!
If you are still after a full-size table, take a look at our top 13 ping pong tables on the market today.
What Is a Portable Ping Pong Table?
Portable ping pong tables are built with ease of mobility in mind. More often than not, portable ping pong tables are smaller than full-size models. This not only means they have smaller folded dimensions and are therefore easier to carry or store in a car. But also, they are much lighter. This, again, makes them easier to move from point a to point b. 
Full-size tables usually have poor mobility as they are too heavy and too large to move across large distances. 
Benefits of Portable Ping Pong Tables
Multiple sizes to choose from: While most portable ping pong tables are around mid-size, there are even full-size models which we consider portable because they are lighter than most and have large wheels. Choose the right size for you!
Lightweight: Portable ping pong tables are comparatively lighter than other models. This makes them far easier to move around. Lightweight ping pong tables are perfect for family outings.
Easy to store: One of the reasons full-size tables might put off consumers is their size — there is nowhere to store them! Portable collapsible ping pong tables, on the other hand, are usually much smaller and lighter, making them far easier to put away. Out of sight, out of mind.
Inexpensive: Short of cash? Portable ping pong tables are cheaper than full-size models, so they might be a better choice for you.
Disadvantages of Portable Ping Pong Tables
Poor playing surface: The playing surface thickness pales compared to high-quality tables, often being 6mm thinner or more. Fortunately, this isn't a huge deal for such a small playing area.
Restrictive gameplay: As the table is much smaller than full-size, you can't play the same way you usually would. You have to be more passive and focus on consistency to win points. This can be a bit of a turn-off if you're an offensive player.
Not robust: As these tables are often smaller, they have thinner frames than usual. This means they cannot stand up to as much punishment. Putting all of your weight on such a table may cause it to collapse.
The 5 Best Portable Ping Pong Tables You Can Order Online (Based On Portability)
1. GoSports Mid-Size Table Tennis Table — Best Overall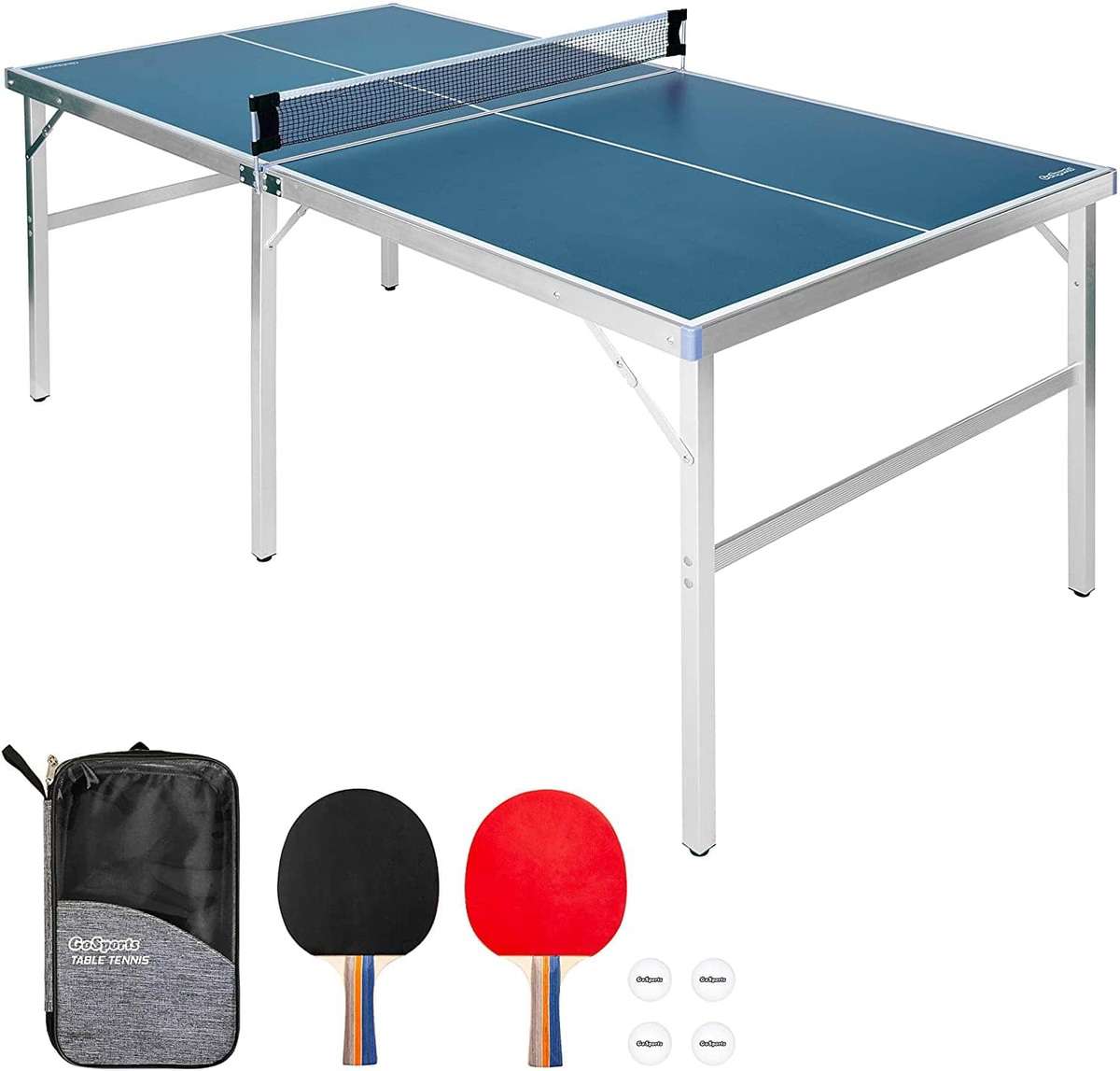 Specifications:
Color: Blue or red
Storage dimensions: 36″ x 36″
Playing dimensions: 72" x 36" x 30″
Weight: 36 lbs
Leg levelers: Yes
Pros:
Weatherproof
Bat and balls included
No assembly required
Clamshell design with carry handle
Among the cheapest tables on this list
Lightweight at 36lbs
Cons:
Awkward bounce at the table's edges
Some buyers reported issues with the hinge
This mid-size table by GoSports is one of our favorites for portability. It also ranks 2nd on our mid-size ping pong table list.
Measuring 72" x 36" x 30″ when erected, and 36" x 36" x 3" when folded for storage, this table is fairly compact. The clamshell design and carry handle also means you can easily move it to wherever you need it. Weighing just 36 pounds, it is one of the lightest tables on this list.
We also love that it has been built for the outdoors so that you can leave it outside if you need to. However, given its portability, there really is no need. Having the choice of color between blue and red is another nice feature. I, for one, have never owned a red table before!
It arrives fully pre-assembled, so you can get playing straight away. You even get paddles and balls, which is a plus if you don't own any yet. Besides the limited number of reviews about issues with the table's hinge, there is little to complain about. Currently the cheapest of the bunch, it is the best portable ping pong set in our opinion.
2. Stiga Space Saver — Best Bounce Quality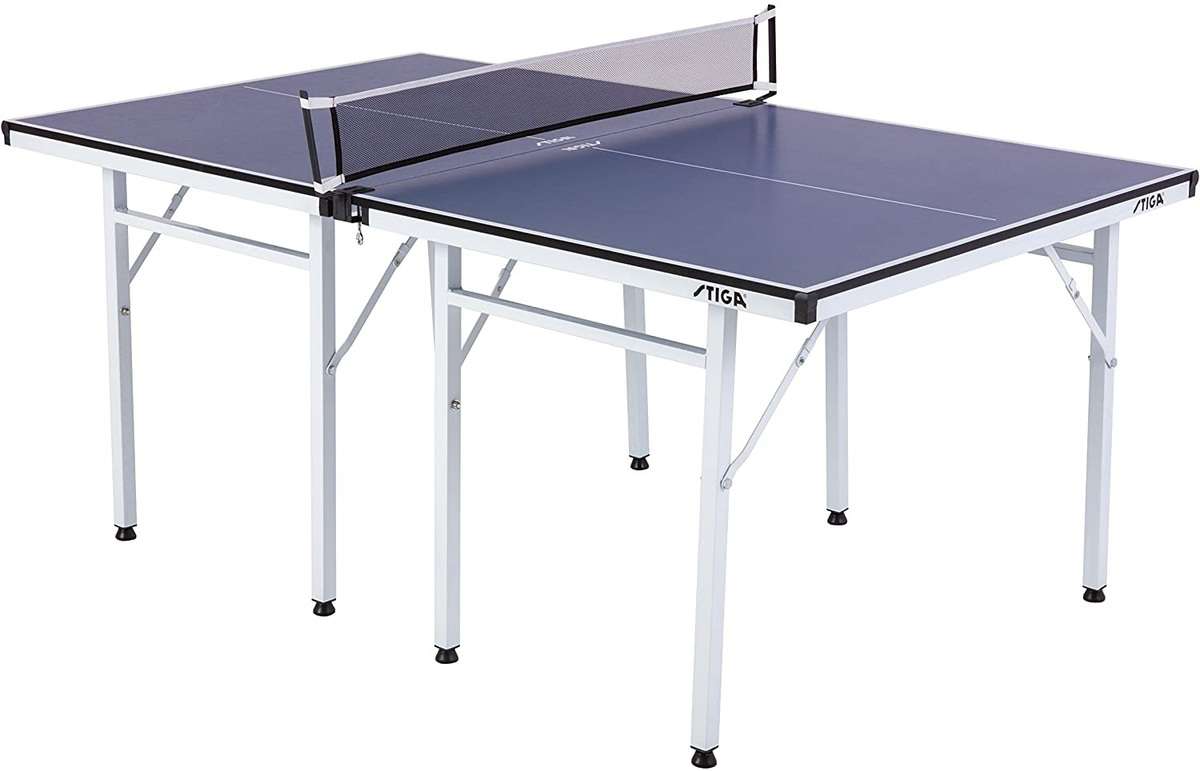 Specifications:
Color: Blue or woodgrain
Storage dimensions: 35.5" x 40.5" x 3.6"
Playing dimensions: 70" x 40.5" x 30"
Weight: 73 lbs
Leg levelers: Yes
Pros:
16mm-thick playing surface
Strong build quality
No assembly required
Cons:
Check out our full review of the Stiga Space Saver.
The Stiga Space Saver is a top portable table if you're after a great bounce. At 16mm thick, it is superior to nearly all other small tables in terms of bounce quality. Instead, its bounce rivals basic full-size tables.
When erected, it measures 70" x 40.5" x 30". This then shrinks down to 35.5" x 40.5" x 3.6" when folded. Unlike the GoSports Mid-size, it does not use a clamshell design and instead has two halves. This design-build makes more sense for the Space Saver, as it weighs 73 pounds —  too heavy for just one person. Transporting each half of the table at around 37 pounds is far more manageable.
The main issue with Space Saver is the rather flimsy net. However, you could replace it with another net if you wish.
3. Butterfly Family Table — Most Portable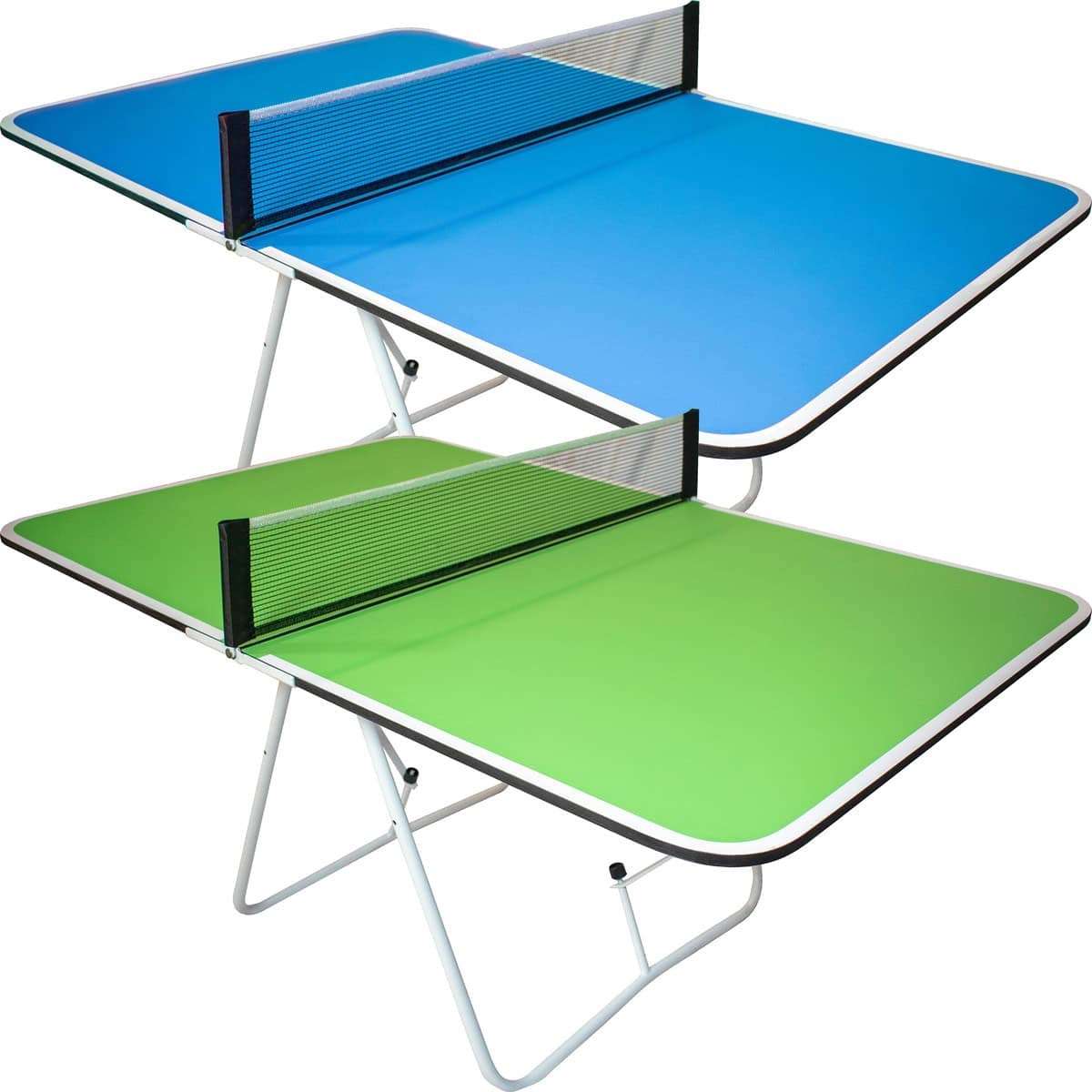 Specifications:
Color: Blue or green
Storage dimensions: 27" x 36" x 3"
Playing dimensions: 54" x 36" x 24"
Weight: 44 lbs
Leg levelers: No
Pros:
12mm-thick playing surface
No assembly required
3-year warranty
Lightweight 
Playing surface can be set flat or tilted
Round edges for safety
Cons:
Formerly known as the Butterfly Fun, the Family Table, as the name implies, is ideal for family use. With this model, we see a few features that are rarely seen on other tables. The first is its rounded edges. This makes the table safer to use as there is nothing pointy that could injure a player. Another feature is the adaptable tilt. The surface of most tables lie perpendicular to the ground, but the Butterfly Family offers the choice of a slight incline on either end. This slows down the game slightly and makes it easier to play — perfect for kids and the elderly. The Butterfly Family table measures 54" x 36" x 24" when erected and 27" x 36" x 3" when folded.
Each table comes with a 3-year warranty, which is a great bonus considering this warranty length is comparable to what you get for full-size tables. Just be aware that the Family Table does not appear particularly strong. The frame is very thin to aid portability. At 44 pounds, two people can easily carry it. The table folds in the middle but does not seem to have a locking mechanism to keep it together when folded — a small price to pay for the most compact ping pong table going!    
4. Killerspin Impact Mini Deep Chocolate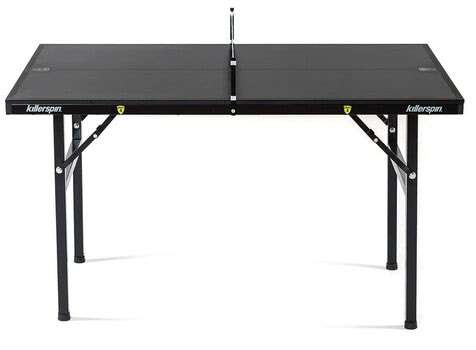 Specifications:
Color: Blue or green
Storage dimensions: Unlisted
Playing dimensions: 49.2" x 29.5"
Weight: 42 lbs
Leg levelers: Yes
Pros:
12mm-thick playing surface
No assembly required
1-year limited warranty
Lightweight 
Minimalist design
Cons:
Unclear if the table folds together
Like many of the name-brand table manufacturers, the Impact Mini by Killerspin has a 12mm playing surface, a suitable thickness for such a small table. The playing dimensions are 49.2" x 29.5" making it rather small, which can be positive or negative depending on your requirements.
Coming in at 42 pounds, the Impact Mini is well-weighted for a portable table. It appears to fold in the center based on its design as it has no central support. However, the listing does not specify whether the table folds, which is an overlooked omission given how important a feature it is for portability.  
The Impact Mini comes with a 1-year warranty, not bad for a mini table. Like most of its competitors, it arrives fully pre-assembled.
5. Kettler Axos Outdoor 1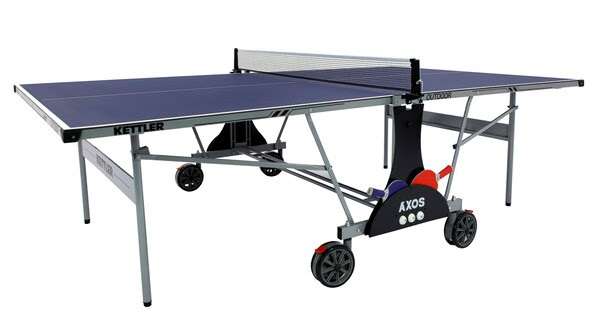 Specifications:
Color: Blue 
Storage dimensions:  68″ 28.5″x 64.5″
Playing dimensions: 9′ x 5′ x 2.5′
Weight: 140 lbs
Leg levelers: Yes
Pros:
7-inch wheels
4 mm, high-pressure laminate playing surface
Anti-glare and anti-skid
Single-handed locking mechanism
Playback feature
Storage for bat and balls
Includes 2 weatherproof bats and 6 balls
10-year table top warranty/3-year undercarriage warranty
Cons:
Given that all of the other tables on this list have been mid-sized or smaller, it only felt right to provide a portable full-size ping pong table. The best portable table tennis set that's full size we could find is the Kettler Axos Outdoor 1.
Of course, this table is nowhere near as easily transportable as the rest on this list due to its weight and size. Yet it has plenty of features that make it stand above the other full-size portable ping pong tables we analyzed. It uses a centerfold design for stability, which makes it easier to maneuver as it's more stable than many other tables that separate into two halves.  
It also weighs 140 pounds. This is a good weight for a portable full-size table — not so light that it may fall over during transport, but also not heavy enough that moving it is taxing. Undoubtedly the top feature of the Axos Outdoor 1 that helped secure its place on this list is its wheels. At seven inches, these wheels are huge. They also lock in place when needed for safety purposes.
As such, you will have no trouble moving this table across difficult terrain. You can also get playing straight away as the Axos Outdoor 1 is a portable table tennis set. Weatherproof bats and balls are included.
Things to Consider When Buying the Best Portable Ping Pong Tables
Not all ping pong portable tables are born equal. Consider the following elements before making a purchase.
Weight of the Portable Ping Pong Table
Undoubtedly, the weight is the main characteristic of your table that will affect its portability. Full-size tables are very heavy, which makes them difficult to move.
Portable ping pong tables are built with weight in mind so they tend to be quite light. Often one person is strong enough to carry the table, assuming they're traveling a short distance. If you're planning to take your table with you for a day out, chances are you'll need a car.
Size of the Portable Ping Pong Table
The second most influential factor affecting portability is size. The most portable tables tend to be smaller — often mid-size or less, around 72" x 36" 30." Full-size tables are often too impractical to transport beyond where they can be wheeled.
If you want a particularly small table, you might even want to go one step further and opt for a mini model. Mini ping pong tables are around 50″ x 28″ x 30″. The Killerspin Impact Mini falls into this category.
Again, if you intend to take your table out with you, a car or other vehicle is probably your best bet. But, remember to check the table's folded dimensions to ensure it fits in your car as there is no guarantee that it will.
Thickness of the Portable Ping Pong Table
As with all ping pong tables, you always want to consider thickness. Simply put, a thicker table means a better bounce.
However, thickness matters far less for smaller tables than for full-size models. The gameplay style is very different, and you don't need the ball to bounce as high since you won't be playing the same kind of shots. Having a thicker playing surface also drives up the weight and the price.
Many listings for portable ping pong tables may not include the thickness of the table, which can make it difficult to determine the bounce quality. For smaller portable ping pong tables, around 12mm is usually the top end for thickness.
Look for Leg Levelers
Your table tennis portable ping pong table will likely get a lot of use outdoors, probably in a variety of locations. This is why leg levelers are so useful for portable ping pong. You can adjust the length of the table legs as you see fit, which enables you to situate the table on any type of ground.
You only have to play once on a wonky surface to realize how downright frustrating it is. If you plan to use your table outside a lot, we strongly recommend buying one with leg levelers.
Clamshell Storage
To make portable table tennis tables simpler to store and transport, many foldable ping pong tables use a clamshell design. The sides of the table connect with a hinge that is lockable at the opposing end.
Clamshell storage is an advantage over two-piece tables in many cases. Due to their limited weight, having the two halves connected means you can transport the table by hand in one journey as opposed to two.
Most clamshell tables also come with a carry handle. This makes it far easier to maneuver as, without it, the table's awkward size makes it challenging to carry.
Conclusion
Portable ping pong tables are excellent purchases for families, fun days out with friends, or simply sporting fun for the home. The only people we wouldn't recommend them to are more serious players. That being said, as a serious player myself, I still have a tonne of fun playing on small tables!
We really rate all of the models we have discussed on this list, but for us, it's the GoSports mid-size table that clinches our top spot. The reason we chose this model over the rest is because it ticks all of the boxes. It is lightweight at 36 lbs, is really easy to carry with its clamshell design with carrying handle, and also because it is weatherproof. As the only weatherproof mid-size table on this list, this means it is the best choice for fun days out. And ultimately, if you're looking to buy a portable ping pong table, this is probably a feature that is high on your priorities. 
It's also the best portable ping pong set as bats and balls are included. The only other table to feature these is the Axos Outdoor 1, but this table is likely too big for most buyers. 
FAQs
What is the Price Range for Portable Ping Pong Tables?
Portable ping pong tables are much cheaper than ordinary tables, as they tend to be a lot smaller and lack premium features.
Most portable ping pong tables fall within the $150-$300 range.  
Are These Tables Easy to Assemble?
Most portable mid-size or smaller ping pong tables require no assembly. Simply unfold and play.
However, the most portable full-size models usually require at least 15 minutes of assembly. 
What Are the Best Brands of Portable Table Tennis or Ping Pong Tables?
Our favorite portable table tennis tables are made by GoSports and Butterfly. While GoSports is not a specialist table tennis manufacturer, their table is perfect for days out. It's weatherproof, lightweight, and uses a clamshell design with a handle making it tough to beat. 
Should I Get a Stationary or Movable Ping Pong Table?
This depends on where you will situate the table. However, in almost all cases a movable ping pong table is the better option. Stationary tables are highly restrictive, and only for outdoor use which means their bounce quality isn't the best.
Read more:

Freelance writer. Table tennis enthusiast. Lover of all things online. When I'm not working on my loop game I'm probably binge-watching some fantasy show.