Butterfly Timo Boll ZLF Review
The ALC may be the blade that soaks up all of the praise from the Timo Boll line, but many others are excellent in their own right. Enter the Timo Boll ZLF.
Featuring ZL fiber as opposed to carbon fiber, it brings high performance and lightness to the blade that could be just what you are looking for.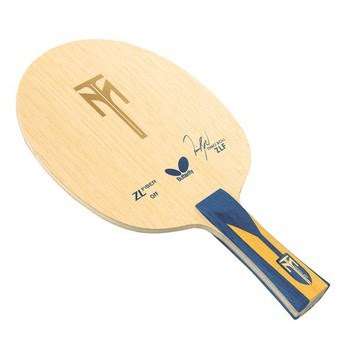 Specifications
·         Class –  OFF
·         Style – Attack
·         Plies – 5W + 2ZLC
·         Weight – 82g
·         ITTF Approved? – Yes
·         Price – $$$
·         Our rating – 9.5
Butterfly Timo Boll ZLF Composition
This Timo Boll blade has seven layers — five are wood, and the remaining two are ZL fiber. From its appearance, it is immediately obvious that it is part of the Timo Boll series as it sports the unique Timo Boll logo on the handle.
The ZLF is available in all handle types. However, the penhold version is sold as a different blade. You can purchase it here. Just be aware that it is a lot more expensive than the other handles!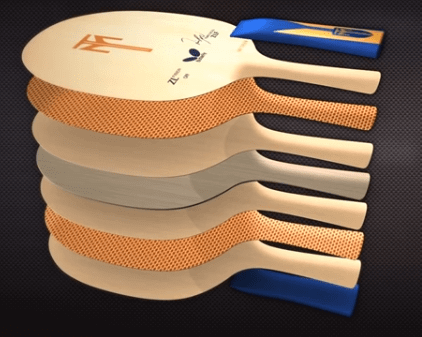 What Table Tennis Pros Use the Butterfly Timo Boll ZLF?
Several professional table tennis players are currently using the ZLF blade. The highest-ranked player is Lisa Lung of Belgium. She ranks 119 globally and uses Tenergy 05 on her forehand with Evolution MX-P on her backhand.
The next highest player is Leila Oliviera from Portugal. Her ranking is 190. She uses a complete Butterfly setup with Tenergy 05 FX on her forehand and Tenergy 05 on her backhand.
The top-ranking male player using the ZLF is Patryk Zatowka of Poland, ranked 314. He uses a similar setup to Leila, only differing on his forehand, using regular Tenergy 05 instead of the FX version.
The Positives of the Timo Boll ZLF
The Timo Boll ZLF blade is a unique blade that is easy to love. The first thing you need to understand about the ZLF is that it contains no carbon. It instead uses ZL fiber which is harder, lighter, and more flexible than carbon fiber.
This brings with it some benefits. For starters, the blade is a touch lighter than most carbon blades at around 82g. Of course, with variance, you could end up getting a blade up to 5g heavier, but on average, the weight stands at 82g.
With its raised flexibility, you also get a little more dwell time on your shots. This is always advantageous with fast blades and helps you unlock a little more spin. Several players switching from carbon blades voiced how their loops had more spin with the ZLF.
When looking at Butterfly's blade matrix, the ZLF's vibration property clocks in at 9.4. This is a measure of feeling — the higher the number, the less vibration you feel.
In comparison, the popular ALC blade has a vibration property of 10.3. This is due to its carbon make-up which deadens the vibration. As such, the ZLF provides superior control, which is its strongest sell. The feedback also does not feel overly excessive, so Butterfly has done a great job here.
Furthermore, the ZL fibers give you a large sweet spot which adds to its appeal. If you're looking for a high have great technique and are after a large sweet spot and more feeling than a carbon blade can give, the Timo Boll ZLF could be an excellent fit for you.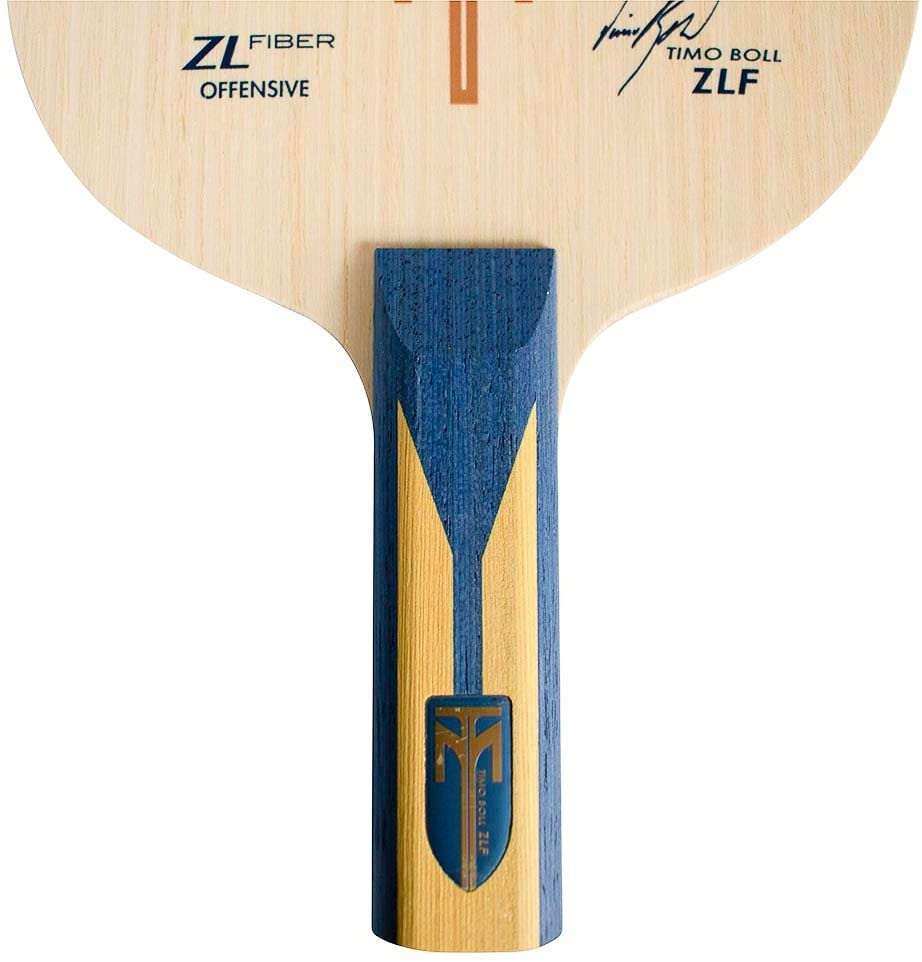 The Negatives of the Timo Boll ZLF
The glaring issue with this blade is the Timo Boll ZLF's high price. This is a common complaint about Timo Boll's line, and in my opinion, it's too costly compared with similar blades by other manufacturers.
You can easily get better value for money elsewhere. But I wouldn't shut the door on this blade simply because of the price. Ultimately, you want the perfect blade for your style. And if the ZLF ticks all of your boxes, I would still go for it.
If you've read my review on the Timo Boll ALC blade, you'll know that it has been my blade of choice for many years now. And while I was a little hesitant to spend so much money on a blade, it was entirely worth it.
If you choose to purchase the ZLF, for the love of all that is holy, look after it! You don't want to be replacing it within a year because of unnecessary damage.
Another small drawback to the ZLF is its speed ceiling. While being a fast blade, it is not quite as capable of delivering kill shots as some of the fastest blades. This is the sacrifice you make for having a blade with such high levels of control.
The Best Rubbers for the Butterfly Timo Boll ZLF Blade
Most players tend to favor rubbers that are not too soft with the ZLF. This is because the flexibility of the blade paired with soft rubbers can leave shots feeling a little deadened. Especially at lower speeds.
Instead, medium rubbers and above are a better fit. The likes of Tenergy 05 and Evolution MX-P are examples of rubbers I feel would pair nicely with the ZLF. We have reviews for both Tenergy 05 and Evolution MX-P available.  
About Butterfly
Founded in Yanai City, Japan in 1950, Butterfly has been a leading table tennis equipment supplier for decades. During this time, they established themselves as experts in the sport.
Most table tennis players will be familiar with the brand. Not only because of their comprehensive equipment range but also because the company sponsors so many players.
Alternatives to the Butterfly Timo Boll ZLF
There is no shortage of alternatives to the Timo Boll ZLF. The first blade you might like is the Innerforce Layer ZLF. The main difference between this and the Timo Boll ZLF is the layer thickness. The Innerforce has a thinner central core and uses thicker ZL fibers. This gives more feedback but makes the blade slower. 
Another great choice is the Timo Boll ZLC. This is for players who want a compromise between ZL fiber and carbon. The result is a fast, controllable blade capable of high spin.
Beyond these two alternatives, you still have a tonne of options. Butterfly has a habit of going a little overboard, releasing different versions of similar blades. Examples are the:
If ZLC blades interest you, you can explore the full range of blade options here.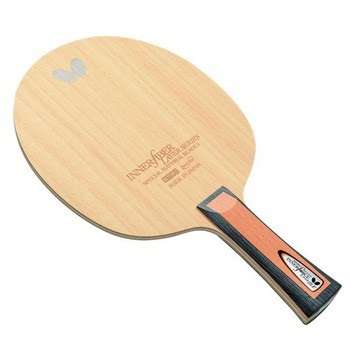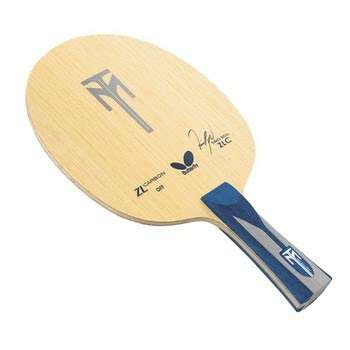 Pros (Simplified)
High control — Provides more feedback than carbon blades
Lightweight — At only 82g it is very lightweight
Large sweet spot — Large sweet spot allows you to play quality shots across the surface of the blade
Promotes spin — Its considerable dwell time allows you to loop with more spin
Cons (Simplified)
Expensive —While high-quality the value for money is poor
Slower Kill Shots — Not as effective at finishing rallies as faster rubbers
Conclusion
The Timo Boll ZLF is a high-performance blade with many desirable attributes. The ZL layers create a blade that is simultaneously fast, lightweight, and controllable with plenty of dwell.
It is a serious contender to the rest of the Timo Boll blade series.
Although pricey, we believe it is worth the money if it resonates with your playstyle. It acts as somewhat of a blend between all-wood and carbon blades. Players who sport a fast game and want more feedback than carbon blades provide will likely enjoy using the ZLF.

Freelance writer. Table tennis enthusiast. Lover of all things online. When I'm not working on my loop game I'm probably binge-watching some fantasy show.