Timo Boll ALC Review (Expert Opinion)
The Timo Boll ALC blade is one of the most popular blades on the market for advanced players. So much so, that over 10 years after its release, it is still regarded as a top-tier blade. In fact, it ranks 2nd for most popular blades on revspin.net, only falling to the Viscaria – another classic, older, butterfly blade.
Timo Boll himself helped to design the Timo Boll ALC after wanting a bit more speed than what the Timo Boll Spirit could offer. He also liked the feeling of the Viscaria. Butterfly took this feedback in mind and went on to make the ALC. Timo Boll has since stuck with this blade for the rest of his career winning numerous titles.
The ALC has been my blade of choice for some years now. And I love the way that it performs.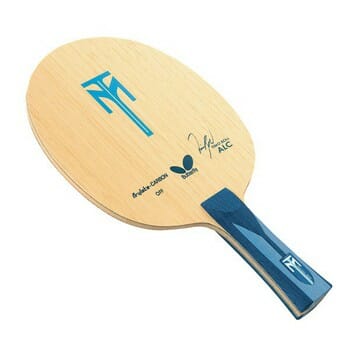 Specifications
· Class – OFF
· Style – Attack
· Plies – 5W + 2 ALC
· Weight – 86g
· ITTF Approved? – Yes
· Price – $$$
· Our rating – 9.6
Construction
The Butterfly Timo Boll ALC has 7 plies, composing of 2 layers of arylate carbon, 2 plies of koto, 2 plies of limba, and one ply of kiri. The arylate-carbon is lightweight, and provides speed, whereas the layers of wood assist with feeling.
What Table Tennis Pros Use the Timo Boll ALC?
As previously mentioned, Timo Boll is the most reputable user of this blade as he helped develop it, and it was named after him.
Robert Gardos is the next highest-ranked player using the ALC. Based in Austria at a ranking of 25, he has several men's doubles and men's team medals to his name.
Marcelo Aguirre is another user of the ALC. A Paraguay player who is currently ranked 62nd in the world. Marcelo is pursuing a fourth Olympic Games appearance.
The Taiwanese player Liao Cheng-Ting is also said to be using the Timo Boll ALC. Currently ranked 117, he has won a number of U-21 competitions such as the Swedish, Bulgaria, and Belgium Open.
I suspect many other world-class players are using the ALC but finding this information can be difficult. Many pros also regularly change blades making it even more challenging to obtain a true representation of how many pros use the Timo Boll ALC blade.
The Positives
Even from just holding the Timo Blade in your hand before you even play you can tell that it is a premium product. It is light, relatively soft to the touch, and has an eye-catching design.
The blade is rated 85/100 in terms of speed by the manufacturer and I think this is a pretty accurate estimation. The blade is quite hard and offers good pace but it is certainly not as fast as the quickest blades on the market. It is marginally faster than the likes of the Timo Boll Spirit, but falls short of blades such as the Jun Mizutani Super ZLC.
I would argue this is a good thing. Having too much pace can make the blade hard to control and the ALC gets the balance just right. It has the most gears out of any blade I have owned and I always feel in control of my shots whether I'm blocking, looping, or smashing.
Undoubtedly, the best trait of the ALC is its large sweet spot and great dwell time. Featuring a medium to high throw angle, players can effortlessly generate a steep curve on their loops from virtually anywhere on the blade. In fact, this is what Timo Boll stated he liked most about the ALC. After trying faster blades, he found that for lower looping he could not keep the ball on the table.
Simply put, looping is where the ALC shines. And given that table tennis mainly consists of looping, it is the perfect blade for advanced players. When I switched from the Michael Maze OFF- to the ALC my loops popped more — they felt sharper, and the transition was seamless. For a blade that delivers such powerful shots, it is very forgiving if you are an advanced player.
It also has a good degree of feeling which helps your touch. As such, blocking feels very comfortable, as does serving. I am able to produce very high levels of spin with the ALC.
Negatives
In all honesty, there aren't really many negatives to talk about. The ALC is a dynamic blade for the modern-day attacker. That said, people who shouldn't be buying the ALC blade are beginners. Even with the ALC's high level of control, beginners will not be able to handle the pace it produces.
The only other negative I could mention (albeit, very picky!), is that the ALC does not produce the fastest shots when compared with the quickest blades on the market. But it does come pretty close. This is more noticeable for smashing than power-looping.
However, I would be confident that any advanced player would argue that the ALC generates more than enough speed needed for smashing. In this instance, it is more of a matter of using your ability with the speed of the ALC. Pick a corner, and finish your opponent with a well-placed smash.
About Butterfly
Butterfly was founded in Yanai City, Japan back in 1950. The founder, Hikosuke Tamasu was a popular international player at the time. He named the company Butterfly as it symbolizes peace, springtime, and joy. From humble beginnings, Butterfly went on to become the most popular table tennis brand today who sponsor many athletes.
Renowned for premium quality, their products are often priced on the higher end relative to other table tennis manufacturers. But more often than not their merchandise is worth the price tag.
Considered as experts in the field of rubbers and blades. They produce some of the most widely used equipment such as the aforementioned ALC blade, and Tenergy05 – the most popular rubber of all time.
Other Options
If you are not quite convinced by the Timo Boll ALC then there are a lot of other great Butterfly blades available. The Timo Boll Spirit has unfortunately been discontinued, but the Viscaria is still available.
There are also the likes of the Innerforce ALC and ZLC. The Innerforce ALC has its arylate-carbon layers closer to the center for a softer feeling, whilst the ZLC uses zylon-carbon. It has a slightly longer dwell time and is pacier. You will have to pay a little more if you choose to go this route though.
We also have a guide of 5 of our top blades for 2021 that might help give you some useful insight for selecting your blade. Click here for that.
Conclusion
The Timo Boll ALC blade is as close to perfection as you can get. The versatility it provides to the modern-day attacker makes it a favorite among the table tennis community. The sweet spot and dwell time provide effortless looping – opening up from backspin is a breeze, and the same can't be said for many blades out there.
If you are considering upgrading your blade to elevate your loop game I wholeheartedly recommend the ALC. Since upgrading I have not looked back. The ALC is worth every penny.

Freelance writer. Table tennis enthusiast. Lover of all things online. When I'm not working on my loop game I'm probably binge-watching some fantasy show.