The 10 Best Table Tennis Blades for All Players in 2023
Once your table tennis game begins to improve and you transition from a beginner to an intermediate player and beyond, you might find that the normal pre-made ping pong paddles don't quite suit your playing style. It's then that you'll want to consider building your own racket. There are thousands of combinations of different rubbers and blades to choose from, and it can be hard to know where to start. I remember my first time purchasing a custom blade, I was a little overwhelmed by all the options!
This is why we at Ping Pong Ruler have put this comprehensive guide together on the best blades for table tennis. It should help you understand the world of custom-built paddles and push you in the right direction toward the ideal blade for you.
For advanced attackers, the best table tennis blade in our opinion is the Timo Boll ALC. Used by Timo Boll himself, it is an exquisite carbon blade that boasts lots of power and a good amount of control. While expensive, it is a worthwhile investment that will last you many years if you look after it. 
To see which other blades we recommend, make sure you check out all of the reviews below. We've also provided a comprehensive blade buyer's guide to give you pointers with respect to what you should look for. 
The Best Table Tennis Blades for 2023
Why Trust Ping Pong Ruler
As experts in table tennis, we are well-versed in testing table tennis equipment and helping players to improve. I, myself, have been playing for over a decade and competed against some of the top players in the country.
All reviews are impartial and our honest thoughts. Ping Pong Ruler is not paid to endorse products. We instead ask you to use one of our affiliate links if any of the below products interest you. This helps us maintain the website and craft more content for you to enjoy. 
Carbon Table Tennis Blade Reviews
1. Butterfly Viscaria 
Class: Offensive
Plies: 5W+2ALC
Thickness: 5.8 mm
Weight: 87 g
Handle Types: Flared, straight
Recommended Rubbers: Tenergy 05, Rasanter R47
Rating: 9.4
As you'll see from our list of recommended table tennis blade reviews, Butterfly holds many of the spots. And the Viscaria is one of our favorites. It's made using a combination of five wooden layers and two arylate carbon fiber layers to make it fairly lightweight (around 87 grams) while still packing power and control. We were surprised at how large the sweet spot was, it's a lot bigger than the allwood blades that we've played with.
It has a compact head that we loved for hitting quick counter-looping returns, and it could be a good option if you're an offensive player as you can generate a good amount of spin due to its moderate dwell time. It's available in two handle styles: flared and straight, so make sure you get the right one depending on your preference.
The Viscaria is one of the best carbon table tennis blades among professionals. It was formerly used by the legendary Timo Boll, and is currently used by 4 players in the top 50 that we know of: Wang Chuqin, Liam Pitchford, Anton Kallberg, and Jonathan Groth. Therefore it would be silly for us not to include this exceptional piece of kit among the best table tennis blades.
The main drawback to the Viscaria is the price which is well above most blades from competing brands. However, with respect to carbon Butterfly blades, it is not particularly expensive as Butterfly charges more than most. Its super quality also justifies picking it up. Just make sure that if you do so you look after it to get the most out of your investment.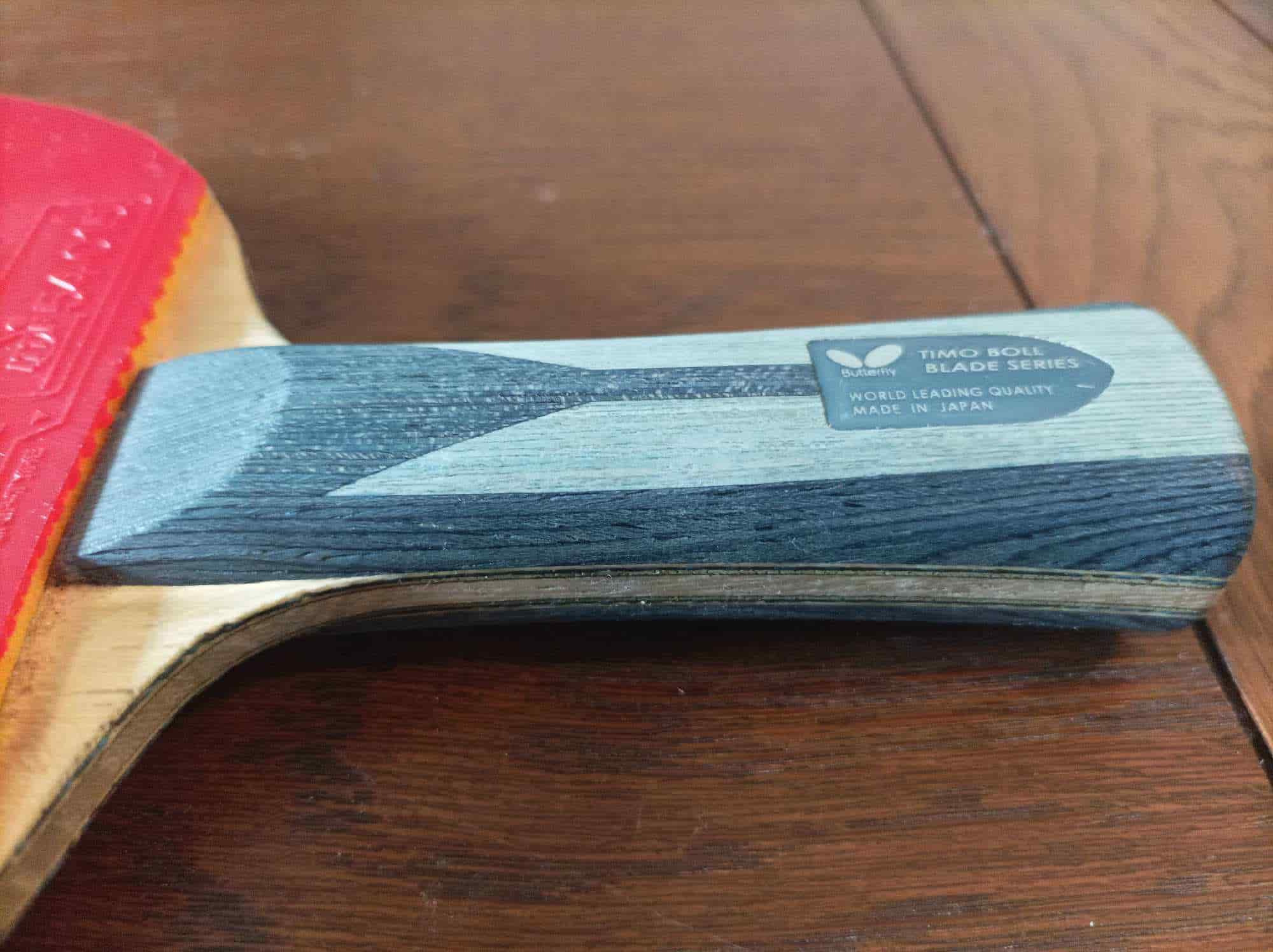 Specifications
Class: Offensive
Plies: 5W+2ALC
Thickness: 5.8 mm
Weight: 86 g
Handle Types: Flared, straight, anatomic
Recommended Rubbers: Tenergy 05, Rasanter R47
Rating: 9.6
Another offensive blade to consider is the Butterfly Timo Boll ALC, it's a seven-ply blade with the same five wood and two arylate carbon fiber layer construction as the Viscaria making it incredibly similar. Also like the Viscaria, it is pricey for a blade, but well below what Butterfly's latest blades cost. It was designed by a partnership between Butterfly and three-time European champion Timo Boll. The result is this great blade that combines large amounts of power and control.
This is one of the reasons Boll uses the blade himself. He found that he struggled to keep the ball on the table for faster blades — the balance with the ALC is just right. I too, found it the best of all the blades I have tested over the years. Looping with it is marvelous, and while it is not the best for smashing, it is still very good in this area. As such, in our opinion, it is the best table tennis blade in 2023 for offensive players.
The Timo Boll ALC blade is available in three handle styles: anatomic, flared, and straight. So again, make sure you get the correct one.
Specifications
Class: Offensive
Plies: 7W 
Thickness: 6.6 mm
Weight: 95 g
Handle Types: Flared, straight, anatomic
Recommended Rubbers: Mark V, Vega Europe
Rating: 9.2
The Stiga Clipper Classic is a much older blade than the others featured on this list, dating all the way back to 1981. Therefore I wouldn't be surprised if you overlooked it. Table tennis technology has come a long way in that time. And this blade pre-dates key changes to the sport, such as the 38 mm to 40 mm ball change, and the speed glue ban. And yet, it still performs marvelously. 
You have to remember that this blade was the choice of many ex-champions such as Jean-Michel Saive and Liu Guoliang, which speaks volumes about its caliber. In fact, Stiga has sold more than 1 million units since its release — it really is that popular!
It's classified as an offensive blade but is probably on the lower end now that carbon blades are so common. Yet it still has plenty of pace as this allwood blade has 7 layers of wood rather than 5. Most players favor using it close to the table. It's fairly hard and stiff which makes countering and smashing rather effective, but as it's not blistering fast, control remains high throughout. We'd say it's one of the top table tennis blades for intermediate players.  
8. Yasaka Goiabao 5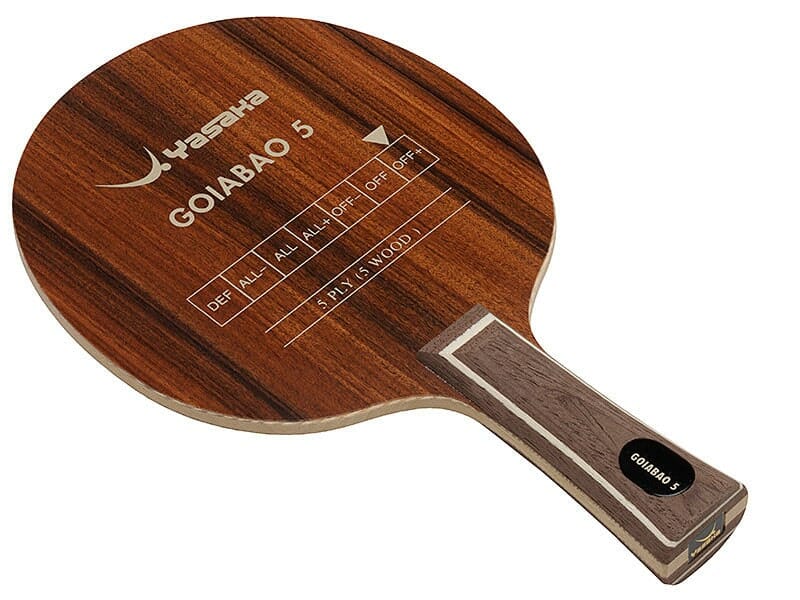 Specifications
Class: Offensive
Plies: 5W 
Thickness: 6.2 mm
Weight: 90 g
Handle Types: Flared, straight, anatomic, penhold
Recommended Rubbers: Rakza 7 Soft, Acuda Blue P2
Rating: 9.5
Initially released to the Chinese market in 2015, the Goiabao 5 is now available worldwide. Its name literally means "nice wood," and let me tell you, it packs a punch considering it has just 5 plies with no carbon. It has a thick middle veneer and a hard outer veneer, this translates to a hard feel when you wield it, making smashes and counters deadly. However, looping can be a bit troublesome if you have a rubber that is too hard. I recommend going for medium-hard or softer to get the most out of this blade. A rubber such as Rakza 7 Soft could be perfect.
One of the reasons this blade is so great in my eyes is that it is very well-priced. It hangs with the best blades in table tennis while being a fraction of the cost. Even if you're not entirely convinced that it's for you, there's not much harm in trying it out. It doesn't decimate your wallet like a lot of Butterfly blades do.
And as a small bonus, Yasaka seals this blade for you, so there is no need to varnish. You can remove your rubbers easily.
Defensive Table Tennis Blade Reviews
9. Yasaka Sweden Classic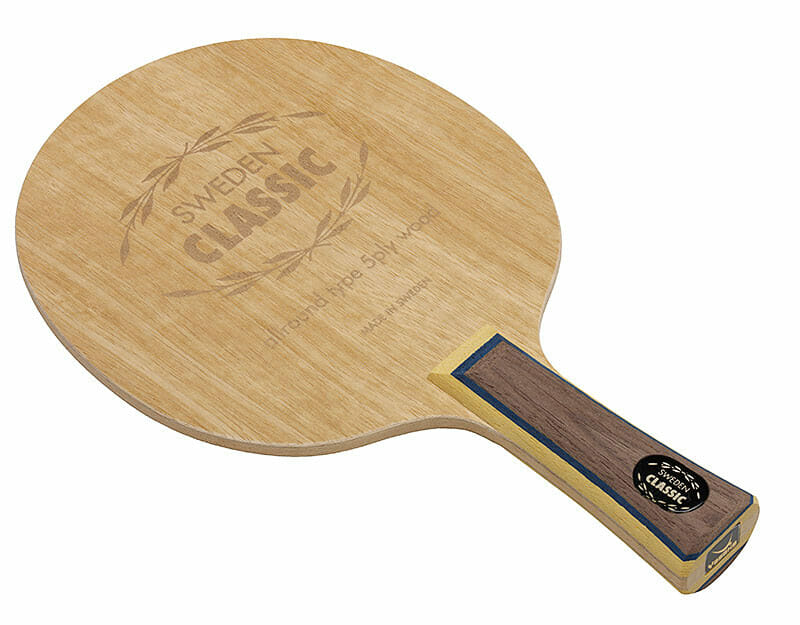 Specifications
Class: All-round/defensive
Plies: 5W 
Thickness: 5.5 mm
Weight: 82 g
Handle Types: Flared
Recommended Rubbers: Mark V, Curl P1V
Rating: 8.8
The Yasaka Sweden Classic blade is an all-time favorite with all-round and defensive table tennis players alike due to its super level of feeling. With its 5 wooden veneer construction, you get plenty of feedback, which is perfect for a beginner or a seasoned veteran who likes very high levels of feeling. 
As its pace is fairly low, you need to put a decent amount of power into your strokes if you want to put your opponent under pressure. I would also recommend keeping fairly close to the table if you want to attack — there is no carbon to help you here. However, the high level of flex does make producing spin rather easy. Perhaps a slow spinny loop or two can be your offensive route to winning points.
Whatever the case may be, the Sweden Classic is hard to go wrong with as a defender. Its super level of feeling and forgiveness are just what a defender needs.
10. Donic Defplay Senso V3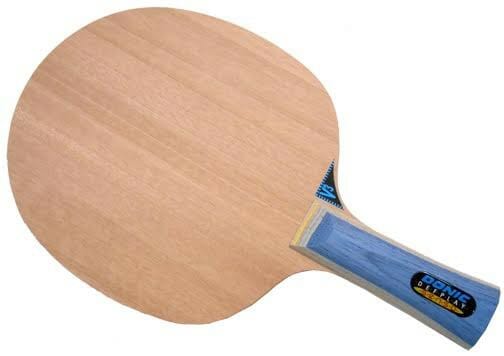 Specifications
Class: Defensive
Plies: 5W 
Thickness: 5.5 mm
Weight: 74 g
Handle Types: Flared
Recommended Rubbers: Curl P1RV, Feint Long III
Rating: 9.3
As a staple of the chopping world, the Donic Defplay Senso V3 is a top table tennis blade to enhance your defensive game. Soft with lots of flex, it's a great blade for producing spin. It's also very lightweight at just 74 g which makes it comfortably the lightest blade on this list.
In terms of rubber pairings, you've got lots of options depending on how you like to play. Long pips are always a good choice, but a defensive inverted rubber is equally a quality option. You could even opt for an offensive rubber to attack on one side — just know that you'll need something fast as Defplay Senso V1 is pretty slow. 
Another aspect you'll like, as for the Sweden Classic, is that this defensive blade is remarkably cheap. It represents incredible value and kind of makes me jealous I'm not a defensive player, as my wallet would certainly thank me for it. For a defender, it's as close to a perfect table tennis blade as you can get.
Think of it this way. Hardness relates to the feeling of the outer ply, whereas stiffness is the overall flex of the blade. This has multiple components such as the number of plies, thickness, and composition. For example, you may want a stiff and soft blade or a flexible and hard blade. 
Frequently Asked Questions

Do Table Tennis Blades Matter?
Your blade choice has a major impact on how you play, so if you choose wrong your game can suffer, and equally, if you choose wisely your game can flourish. Take an offensive looper, for instance, a fast and flexible blade is a good choice for this player. However, if this player chooses a slow and hard blade instead their performance will take a hit.
What Is More Important the Blade or Rubber?
Most people will lean on the blade being more important and we have to agree. It's the main part of the bat you hold and is effectively an extension of your arm. 
Which Is the Best Blade in Table Tennis?
This depends on what style you like to play. While we personally prefer the Timo Boll ALC over the rest, it may not be the best blade for you. Choose a blade that matches your style.
What Is the Fastest Table Tennis Blade?
According to players, the best ping pong blades for speed are:
DHS Hurricane Long 5X
Butterfly TriCarbon
Yasaka Spelancer
We also find the Butterfly Sardius to be pretty damn quick. 
What Blade Does Timo Boll Use?
Timo Boll currently uses the Timo Boll ALC blade. In the past, he has also used the Timo Boll Spirit and Viscaria too.
How Do I Choose a Ping Pong Blade?
The first step is to identify how you like to play and your strengths on the table. Then custom select your blade to match your preferences. For instance, consider a stiff and hard blade if you like to smash.
How Long Does a Table Tennis Blade Last?
High-quality blades can last a very long time — well over a decade. However, their life ultimately depends on how heavy-handed you are. The main reason to bin a blade is from natural wear and tear. This occurs during match play when you dent the edges, and during rubber removal where you might splinter certain sections.
Summing Up
So, to sum up, we liked the Butterfly Timo Boll ZLF a lot, and we think this is one of the best table tennis blades for the money. It's quite flexible and should suit a good range of players who play a fast attacking game. 
However, the Butterfly Timo Boll ALC is our top pick. Used by the legend Timo Boll himself, it ticks all of the boxes for an offensive looper, making it the best blade in table tennis that you can buy. Click below to check its availability and the best price.

Freelance writer. Table tennis enthusiast. Lover of all things online. When I'm not working on my loop game I'm probably binge-watching some fantasy show.