Butterfly Petr Korbel Review
Ah, the Butterfly Petr Korbel blade, one of the classics! Well known throughout the table tennis community, this blade is among Butterfly's top 10 best-selling all-wood blades. As such, if you are after good levels of feeling and speed, it is a blade you should learn a little more about.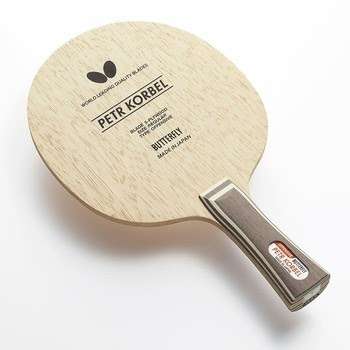 Specifications
·         Class – OFF / ALL+
·         Style – Attack
·         Plies – 5W
·         Weight – 91g
·         ITTF Approved? – Yes
·         Price – $$
·         Our rating – 8.9
Butterfly Petr Korbel Construction
The Petr Korbel blade is an all-wood blade which means it has no carbon layers. The blade is 5-ply and follows the composition limba-limba-ayous-limba-limba.
You can purchase it in two handle types: either flared or straight.
Check out the video below for a more detailed look at the blade.
What Table Tennis Pros Use the Petr Korbel?
Well, the most obvious player who used the blade was Petr Korbel himself. An elite player from the Czech Republic who peaked at 16th in the world.
Today, it's a little less clear who is using the blade as there is a lot of conflicting information online regarding the equipment of professionals. However, according to TableTennisGuide, quite a few players in the top 100 use the blade.
Most notably, South Korean Jeoung Youngsik uses it with Tenergy 05 on both sides (review here). He's currently ranked 16th. The next highest is Croatian Gacina Andrej, who is 49th. He uses Tenergy 05 on the forehand with Tenergy 80 on backhand. And finally, in 61st is Gionis Panagiotis of Greece. He uses Tenergy 05 on his forehand with the tricky Feint Long II on his backhand.
Is There a Difference Between the Japanese and European Version?
First things first, the Petr Korbel blade by Butterfly comes in two variants: Japanese and European.
According to Butterfly, they are supposed to be identical in composition but glued differently, leading to a slightly harder feeling. However, many players noted in their Korbel reviews how the Japanese handle feels smaller. We should note that the flared Japanese handle measures 100x24mm. This is nothing out of the ordinary as it is identical to the Timo Boll ALC blade.
In any case, with so many players voicing this, we recommend paying particular attention to which rubbers you pair with this blade. A heavy blade with a thin handle can quite easily lead to a top-heavy bat if you are not careful. Perhaps avoid thicker or overly heavy rubbers.
And if the handle is too thin for you, you can always use some soft grip tape to beef the handle up a little bit. I actually quite like thin handles though, and you may do too.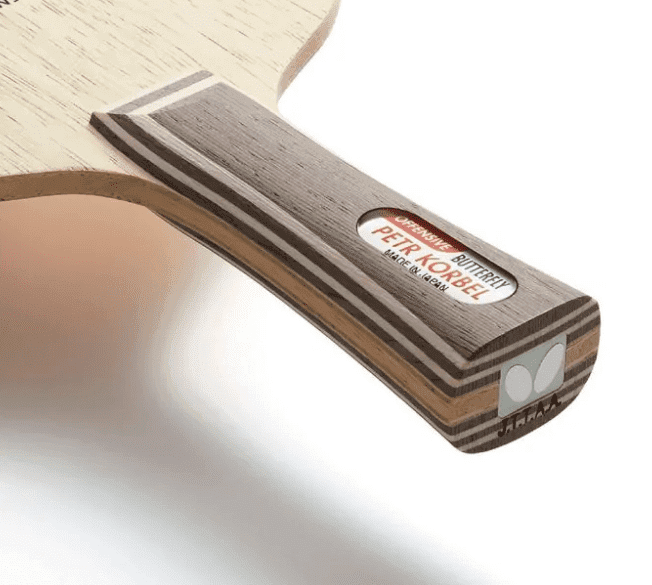 Butterfly Petr Korbel Pros and Cons
The Butterfly Korbel blade has a lot going for it. With its all-wood composition, it has great feeling, which players love. Of course, this means it has no carbon layers so it does sacrifice a little in the speed department.
But we still feel that the speed is adequately high for most advanced players. Often people become wrapped up in obtaining the fastest equipment as they feel that they need it for their game. But a blade that feels better may be a superior alternative. And this comes to mind when thinking about the Petr Korbel. One player noted in his Petr Korbel blade review how his switch from the Viscaria (a faster, far more expensive blade) improved his game:
"I was looking for something only a tad slower than Viscaria but with more control and feeling: Korbel delivers!!! Looping is a pure joy, I feel very solid and safe" – Federico
What is certain, is that it is suitable for a much wider range of players than the Viscaria. It offers more control, and increased feedback which is vital for players developing their strokes. If you sport an attacking game but are not quite sure what blade to go for it's a solid option.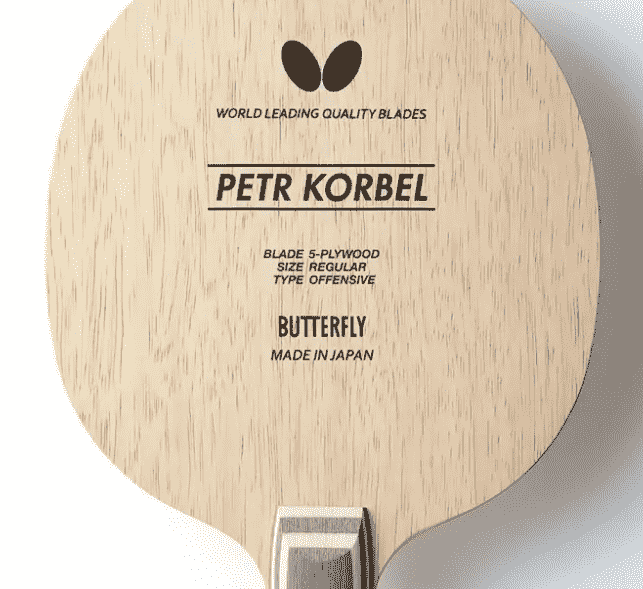 The stiffness and hardness of the blade are around average and the throw angle is a little high. So the blade doesn't possess any extreme qualities that will take a while to get used to. That's provided you haven't overloaded it with heavy rubbers. As mentioned earlier, it's a heavy blade and prone to top-heaviness. But assuming you've selected suitable rubbers, you should feel pretty comfortable with it after a session or two, and then you can refine your strokes from there.
I feel that the blade is best suited to mid-distance loopers and players who want a strong short game. The feeling of the blade really shines here, and you want to get the most out of it. If you have a lot of power in your swing, you'll also have no trouble looping far away from the table, but this is not where the blade excels.
Last, let's talk about the price. The Petr Korbel blade is very well priced for a Butterfly blade. You could call it a steal at its price point, given Butterfly blades are so sought after. It's also competitively priced among other brands.
Pros
Great feeling
Strong in short game
Excels at mid-distance looping
Well-priced
Cons
Heavy
Could be faster
Plain-looking
About Butterfly
Butterfly is an elite table tennis manufacturer that is constantly pushing the boundaries of rubber and blade innovation. For their blades, Butterfly uses their own techniques derived from 60 years of experience. All materials undergo rigorous testing to ensure they meet  Butterfly's high standards. Players expect the utmost quality with Butterfly, and this is what they receive. Butterfly is also well-known to produce some of the most attractive blades on the market. Their blades are both highly functional and aesthetically pleasing.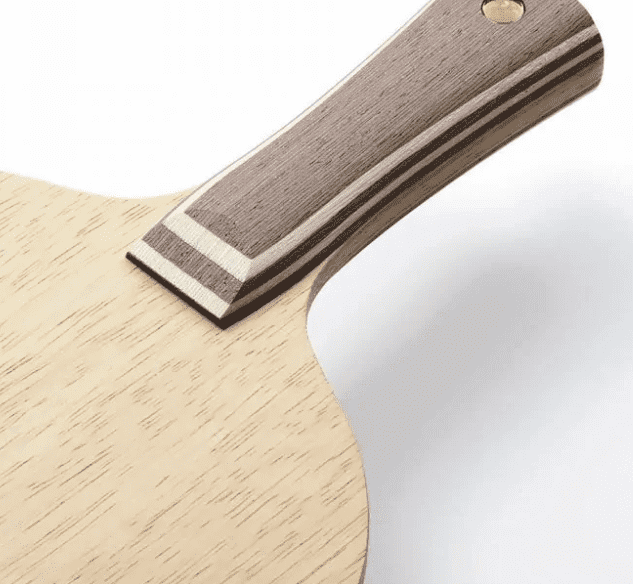 Alternative Options
Butterfly Primorac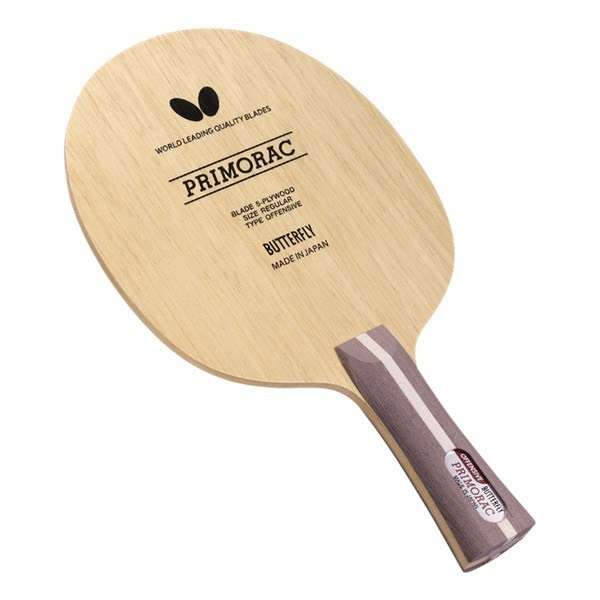 A blade that is often compared to the Petr Korbel is the Primorac blade which is Butterfly's best-selling shakehand blade to date. It also has an all-wood makeup with an identical composition of limba-limba-ayous-limba-limba. The blades play rather similarly with the most notable differences being that the Korbel is slightly faster, and as such, has a little less control.
We'd say the Primorac is more suited to fast players which prioritize technique over pace. Please note, the Primorac blade also has different Japanese and European versions too. If neither of these alternatives tickles your fancy have a read of our best blades article.
Stiga Clipper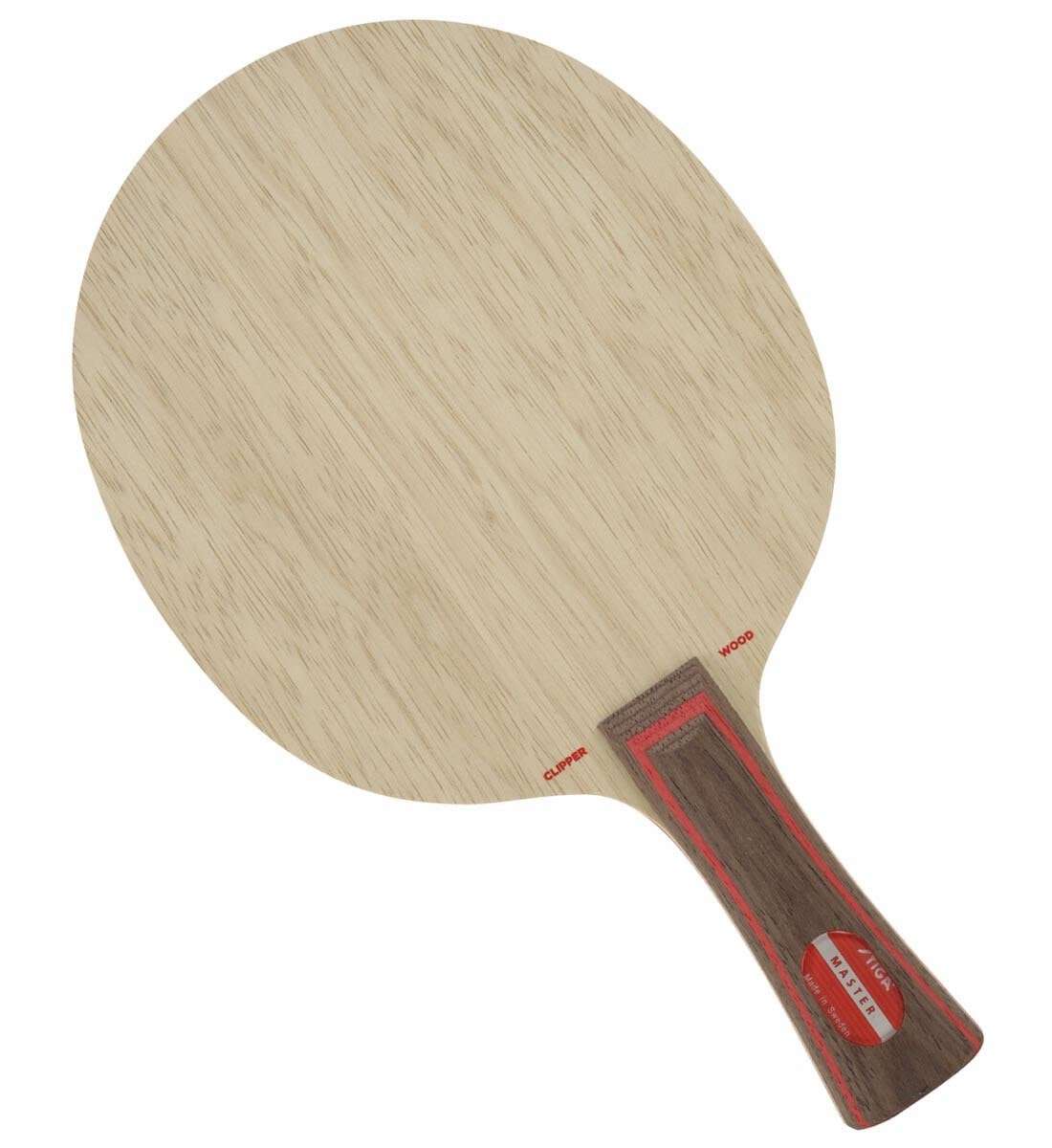 The second blade that might interest you is the Clipper by Stiga. It is a very popular blade that was used by exceptional players such as Peter Karlsson and Liu Guoliang. Guoliang, in particular was a very successful player. And following his retirement, he has become the most successful coach in history leading China to greatness.
The Clipper is another all-wood blade but it has 7 plies to the Peter Korbel's 5. It's also 0.7mm thicker which makes the blade very heavy at 95g. The Clipper boasts similar levels of control but a bit more speed for players that like to kill the ball.
Conclusion
The ButterflyPetr Korbel is a competitively priced offensive / allround+ blade by Butterfly. It may not be the most aesthetically pleasing blade, but ultimately, it performs very well. Its all-wood build provides great feeling and is lethal in the hands of a capable attacker. We feel it suits a wide variety of styles and skill levels. However, if we have to hone in a little more, we think it is best equipped in the hands of a mid-distance looper.
The blade isn't lacking in any particular area. Our only words of warning are to make sure you check that you are getting the Japanese version (use the links provided), and to not use heavy rubbers as your paddle could become top-heavy.

Freelance writer. Table tennis enthusiast. Lover of all things online. When I'm not working on my loop game I'm probably binge-watching some fantasy show.