Butterfly Sardius Review – The Fastest Blade?
The Butterfly Sardius is rather different from many of the blades we have previously reviewed. Boasting incredible amounts of speed — it is one of the all-time top-selling carbon fiber blades by Butterfly. This blade has found a lot of fame in Southeast Asia, with Vietnamese players particularly loving the way it plays. So if you are a speed-demon of a player, stick around and check out our Butterfly Sardius blade review.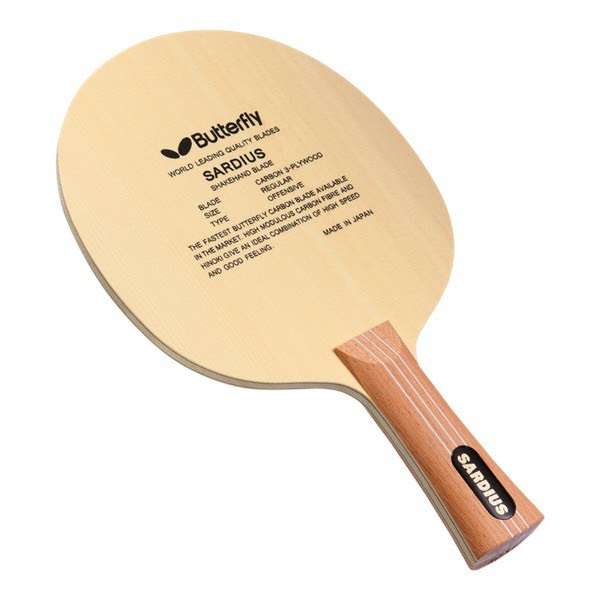 Specifications
·         Class – OFF+
·         Style – Attack
·         Plies – 3W + 2T5000
·         Weight – 92g
·         ITTF Approved? – Yes
·         Price – $$$
·         Our rating – 8.8
Butterfly Sardius Construction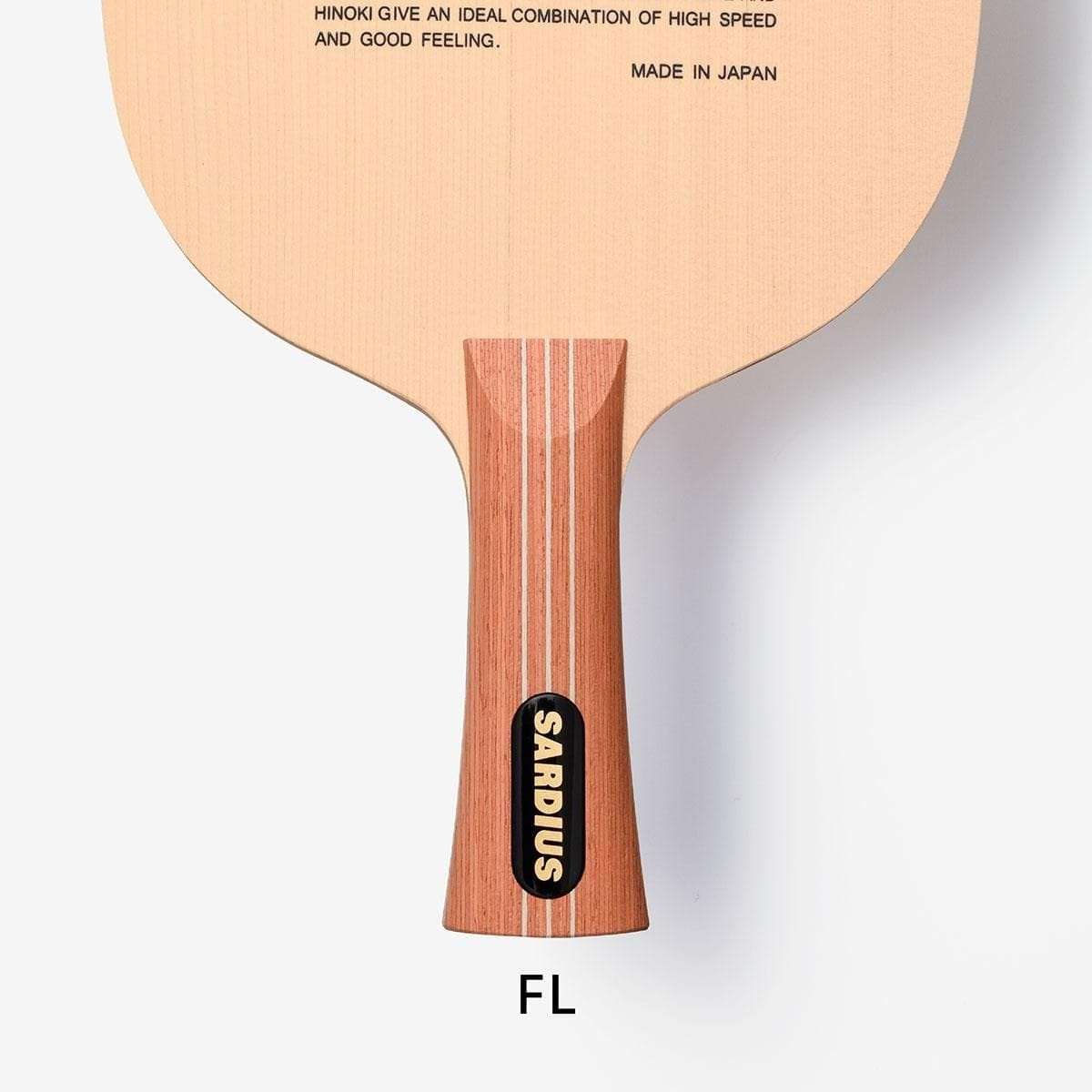 The Butterfly Sardius is a carbon fiber composite blade. It has 3 layers of Japanese Cypress, a type of Hinoki, and 2 layers of carbon (Tamca 5000). This means the Butterfly Sardius blade only has 3 layers of wood which is fewer than most advanced blades.
The Sardius is also a touch thicker than standard at 7.2mm. Most Butterfly blades are around 5.7mm thick. So this is worth noting.
What Table Tennis Pros Use the Sardius?
Unfortunately, we couldn't find any players currently using the Sardius Butterfly blade, but there may indeed be players who we do not know about.
The main reason it is not a popular blade at the professional level is because dwell time and spin are important in the modern game, and the hardest blades hurt these qualities. Most professionals favor using more balanced equipment that is not overly hard and gives a good mix of speed, spin, and feeling.
However, many players use blades that are very close in hardness to the Sardius. Werner Schlager was such a player — a former world champion from Austria. He was well-known for using hard blades such as the Schlager Off+ and the Primorac Carbon.
Butterfly Sardius Pros and Cons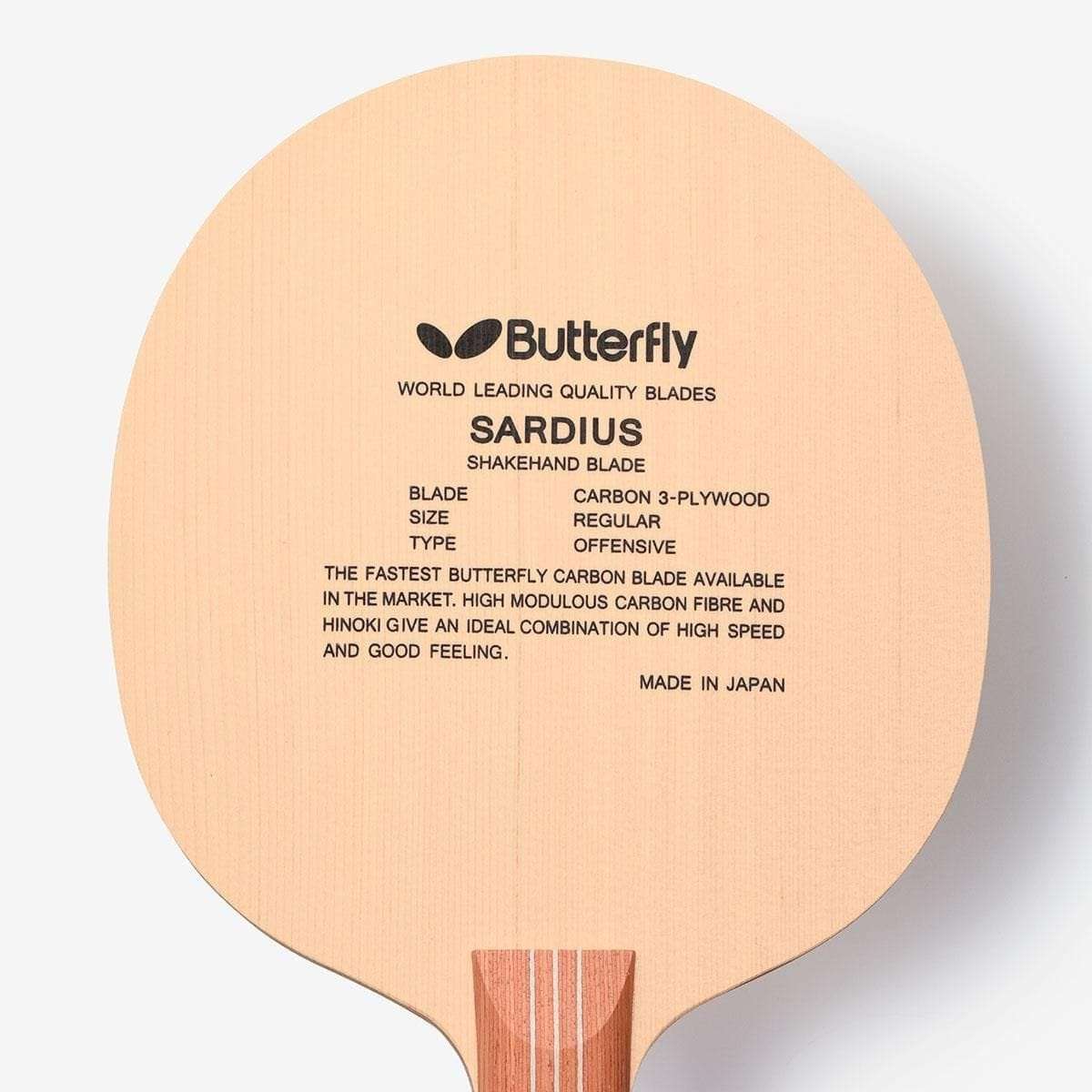 Unlike most blades, which boast exemplary stats in all areas, the Sardius by Butterfly is quite different. It sports a very particular style, so it is much easier to determine whether it is a good fit for you.
Simply put, the Sardius blade is a powerhouse. It is the fastest, yes you heard me right, the fastest blade produced by Butterfly. This means it is predominantly aimed towards fast players who seek to kill points quickly. Its speed is attributed to the Tamca 5000 carbon layers, present in other fast blades such as the Primorac Carbon and Zhang Jike T5000.
Clearly, if you are going to use this blade, you want to utilize its unrivaled speed, and the best way to do this is to play close to the table. The Sardius best suits pips-out hitters and inverted rubber users who like to flat smash. It is quite precise in this regard, so you can dominate at this range.
Of course, you can take a few steps back and start to attack at a distance too. You can even play more of a power looping style, but such shots are harder with the Sardius than most other carbon blades. This is because the Sardius table tennis blade is so damn hard and stiff.
You get minimal feedback on your shots which means you need superb form. And the complete lack of dwell time makes it hard to loop with precision. You also lose a bit of spin here, and for me, your options when choosing shots. It's hard to loop from a low position or use sidespin on your loops — all shots I use regularly.
That's the trade-off you make for such a rapid blade. It's a bit like a deal with the devil. You have to consider how it will hurt other elements of your game and weigh up whether it is worth it. I wouldn't recommend it for players who focus on spin at all. You lose feeling in your serves which makes them weaker, and similarly, it's hard to effectively play slow-rollover loops off of backspin.
You'll also suffer quite a lot in the short game where feeling is really important. Pushes, flicks, and touch play will take quite a lot of time to get used to with the Sardius blade, and it may be a deal-breaker for some people.
The takeaway here is that only players with super feeling and control will reap the benefits of the Sardius' speed while continuing to play all of their ordinary shots as usual. This is one of the reasons we see no professionals using it. As the looping style dominates, so does the need for at least some degree of feeling. This is why I feel that players who stick tight and favor smashing over looping will benefit the most from this blade.
Pros:
Unbelievably fast
High-quality
Cons:
Poor feeling
Poor dwell time
Hard to control
About Butterfly
Butterfly is a Japanese table tennis manufacturer that sells equipment all over the world. Always at the forefront of equipment innovation, their blade and rubber lines have proved exceedingly popular with casual and professional players alike. They do this with the help of industry experts and table tennis players themselves. They have produced many signature blades, two of which you will learn about in the "alternative options" section.
Alternative Options
Butterfly Primorac Carbon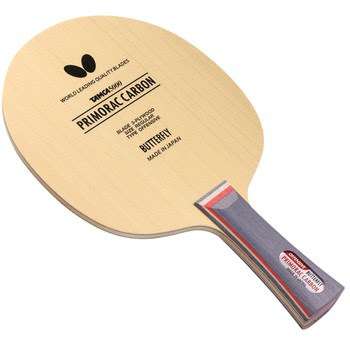 As I have referenced the Primorac Carbon multiple times already, it should come as no surprise that it is a great alternative to the Sardius. Named after the legendary Zoran Primorac, it has an identical composition to the Sardius except for its inner core, which is made from Kiri as opposed to Hinoki.
It plays largely the same except for being a little slower and having more feeling (albeit very low feeling relative to most blades). The Primorac Carbon also comes in an XXS version for those who favor a smaller handle.
Butterfly Mizutani Jun ZLC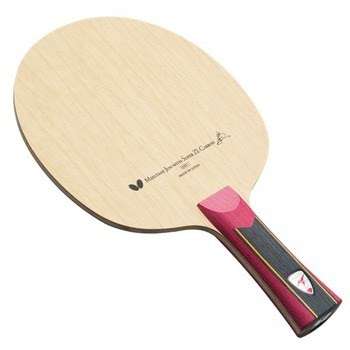 A super alternative to the Sardius is the Mizutani Jun Super ZLC. Not only is it gorgeous (we have a serious Timo Boll ALC contender here, folks!), but it also possesses similar levels of speed to the Sardius. What's more, it has far better feeling, which gives it more mainstream appeal. I am certain that most looping-dominant players will favor this over the Sardius. It's just a shame it's so expensive. There's no escaping the fact that it's wildly overpriced, but at least the quality is there.
Conclusion
The Butterfly Sardius is undoubtedly an elite blade that demonstrates super craftsmanship on the part of Butterfly. It is a delight to use for players who play a straightforward smashing game and will really compliment their style. However, such players are fairly few and far between these days. Almost all skilled players loop in modern table tennis, and the Sardius is somewhat of an obstacle in this regard. I can't help but feel most players will be better off choosing a softer, more flexible blade, but of course, deciding this is entirely up to you (click here to check out our top blades).
Perhaps a good bridge to wielding the offensiveness of the Sardius while retaining a little more control and dwell is to choose a soft rubber to go with it. Even if it's just on one side, this gives you the ability to twiddle as needed (it might be a little difficult given how fast it is, though!). So perhaps avoid the likes of Tenergy 05 and choose a softer rubber such as Tenergy 25 FX. I feel that could be a great pairing!

Freelance writer. Table tennis enthusiast. Lover of all things online. When I'm not working on my loop game I'm probably binge-watching some fantasy show.