Best Stiga Ping Pong Paddles on the Market Today
Stiga is a well-recognized table tennis brand based in Sweden. They began producing table tennis products in 1944. While their equipment isn't quite as popular as top brands such as Butterfly and DHS, Stiga still provides quality table tennis equipment, including some of the best mid-size table tennis tables.
They are also very well known for their high-quality all-wood blades. In fact, my first custom blade ever was a Stiga allwood blade: the Stiga Allround Classic! It's a great blade for intermediate players and it really helped me to improve.
Below you will find 6 Stiga paddle reviews. They have been carefully selected, and we believe they are the best Stiga ping pong paddles available.
Top Advanced Stiga Ping Pong Paddle Reviews
1. Stiga Clipper WRB w/ Calibra LT Spin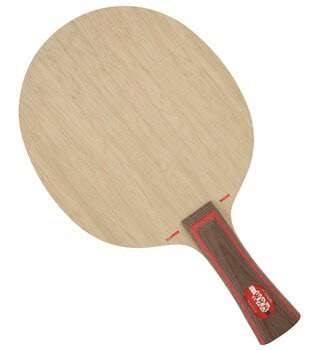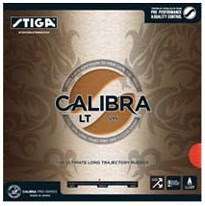 Our Ratings: Speed 8.9, Spin 9.1, Control 8.8
Blade: Stiga Clipper WRB 7-ply
Rubbers: Stiga Calibra LT Spin (2mm, max)
ITTF Approved? Yes
Price: $$$
Overall Rating: 9
The Stiga Clipper WRB is a legendary offensive blade. It was developed in partnership with the Chinese National Team. Unlike many of the standard advanced blades that we recommend, the Clipper WRB is an all-wood blade which means no carbon layers are present.
The WRB acronym stands for weight, recovery, and ball sensitivity. Much of the handle is hollow which reduces its weight but may make the blade somewhat top-heavy to some. Even with this hollow handle, the blade is a little on the heavy side, being 90g with a 5g variance either way.  
Most of the Calibra series has been well-received by players. And for this setup, we chose the LT Spin version. This will suit spinny attackers who like to win points with heavy loops and potent serves.
In our opinion, it's the best Stiga ping pong paddle available, and one that most players would be jealous of.
Blade
Rubber
2. Stiga Intensity NCT w/ DNA Pro M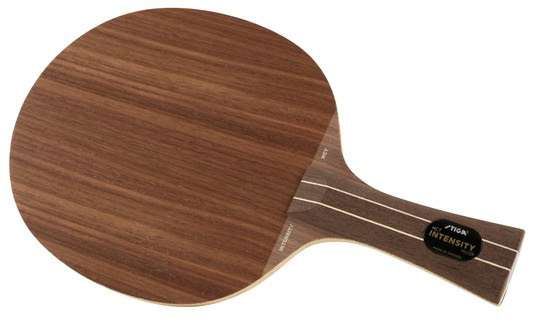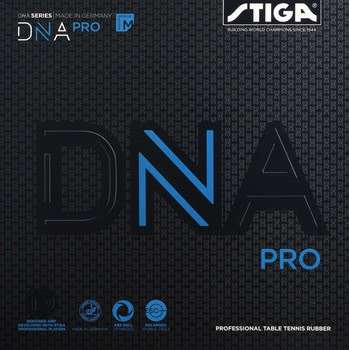 Ratings: Speed 8.8, Spin 8.9, Control 8.9
Blade: Stiga Intensity NCT 5-ply
Rubbers: Stiga DNA Pro M (2.1mm)
ITTF Approved? Yes
Price: $$$$
Rating: 8.9
The second blade for our Stiga Paddle Reviews is the Intensity NCT. It's another superb all-wood blade. Classified as offensive, it is fast, but not quite as fast as the quickest on the market.
Interestingly, this is Xu Xin's personal blade of choice (current world number 3). As a master of feeling and touch, Xu Xin must have spotted qualities he loved about the blade. It is fairly lightweight and offers decent control.
DNA Pro M is the first Stiga rubber made in Germany. Unlike some of the other rubbers, it was produced as a combined effort on the part of both the Chinese National Team and the Swedish National Team.
As one of the newer releases on this list, it's optimized for the plastic ball. DNA Pro M uses Enlarged Sponge Cells technology. This gives the sponge bigger pores which creates a more pronounced catapult effect. As such, it is great for players who like to use a high throw angle when looping for deadly arcing loops.
Blade
Rubber
3. Stiga Pro Carbon+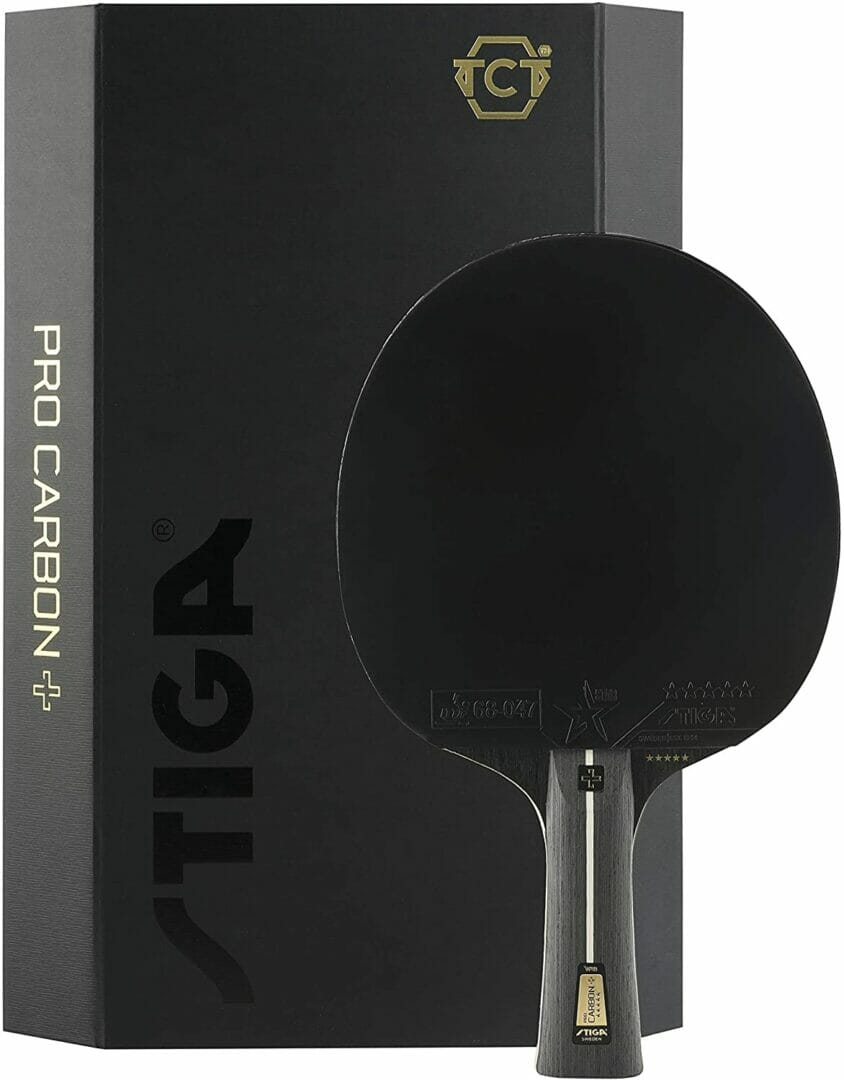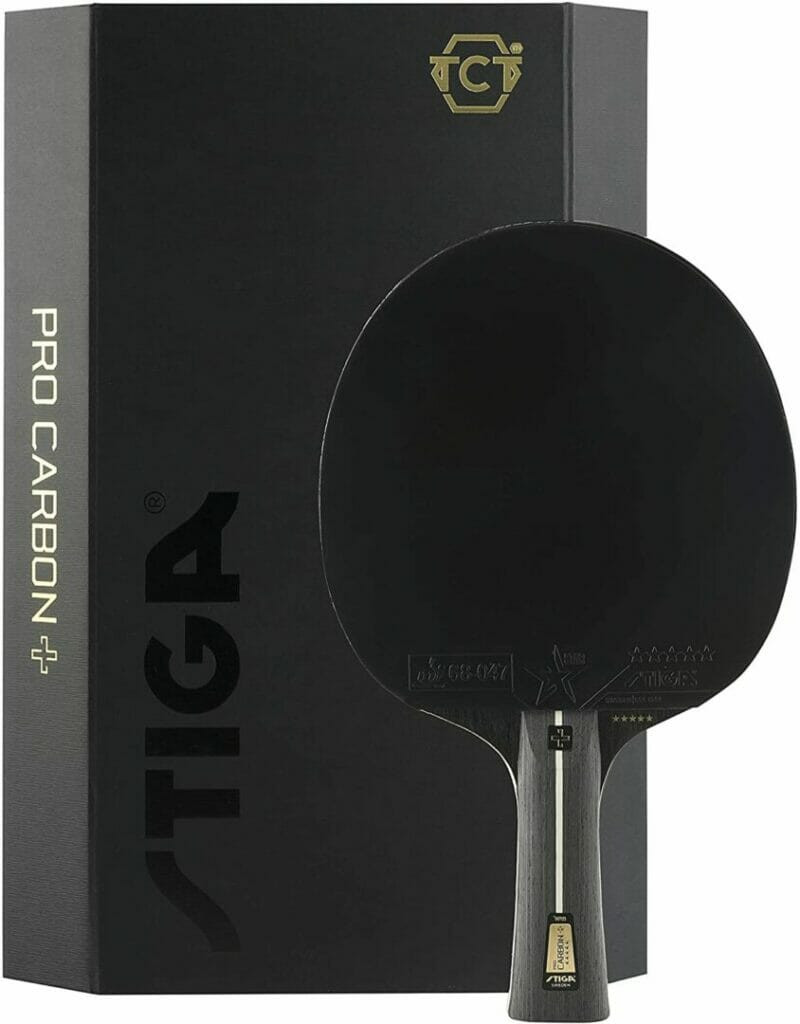 Our Ratings: Speed 8.2, Spin 8, Control 8
Blade: 7-ply (5W+2C)
Rubbers: Star5 (2mm)
ITTF Approved? Yes
Price: $$$
Overall Rating: 8.1
As the cheapest and only pre-assembled advanced Stiga table tennis racket on this list, the Stiga Pro Carbon+ is an excellent choice if you're looking to save a little money and don't want to have to worry about gluing the rubbers yourself.
The Pro Carbon+ features a very clean-looking black, gold, and white blade. This blade is 7-ply with 5 layers of wood and 2 layers of carbon. This keeps the speed of the bat high and increases the sweet spot. The rubbers are also 2mm which contributes to a fast setup.
Included with the bat is a luxury box that you can use as a bat cover. It sports a similar black and gold theme to the Pro Carbon+ and has a magnetic closure.
Top Intermediate Stiga Ping Pong Paddle Reviews
4. Stiga Pro Carbon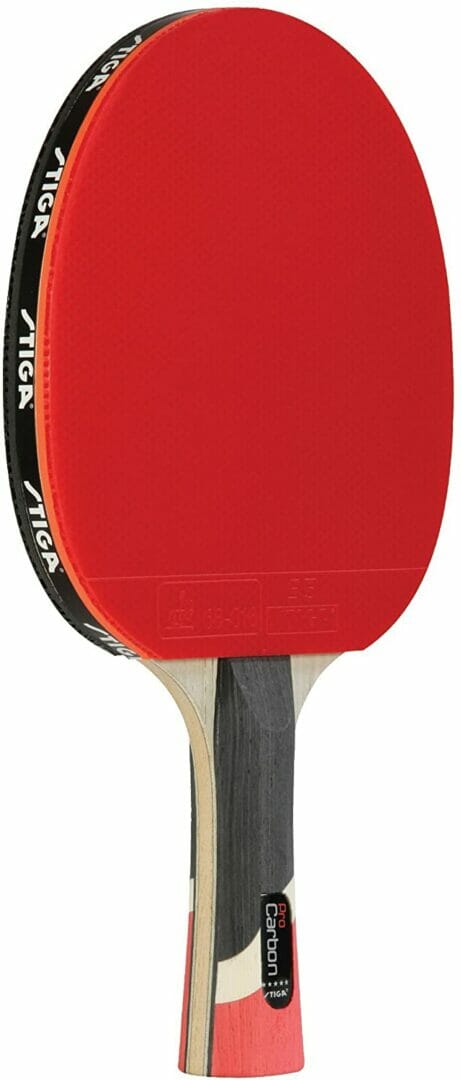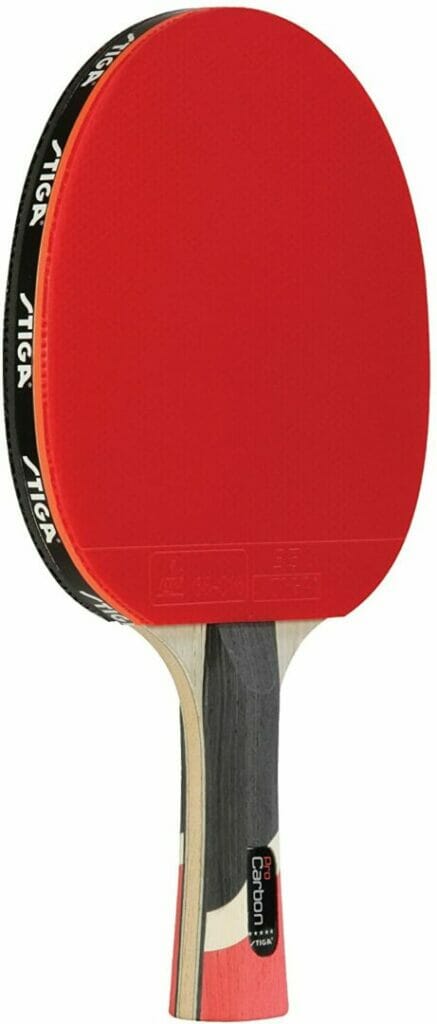 Manufacturer Ratings: Speed 9.9, Spin 100, Control 80
Blade: 7-ply (5W+2C)
Rubbers: Stiga S5 (2mm)
ITTF Approved? Yes
Price: $$
Rating: 7.7
The Stiga Pro Carbon is the predecessor to the Pro Carbon+, and it could be a great choice for attacking players. While the Pro Carbon produces good amounts of spin, its speed levels are noticeably higher. This is in part due to its 2mm thick S5 rubbers and its 7-ply blade which features 2 layers of carbon. The top selling point of this bat is its widespread popularity. It is perhaps the most positively reviewed paddle on all of Amazon.
The Pro Carbon is also fairly cheap compared with its competition. It's just a shame that its price has risen quite a lot since its all-time low. However, we still feel it is a good buy.
To learn more about this Stiga table tennis paddle check out our review.
5. Stiga Raptor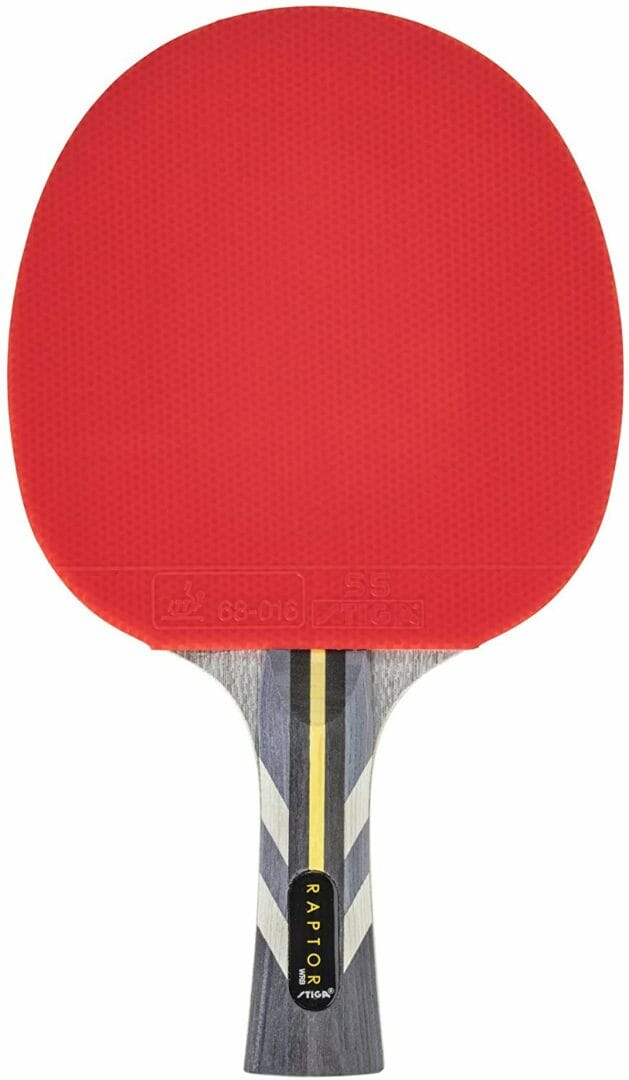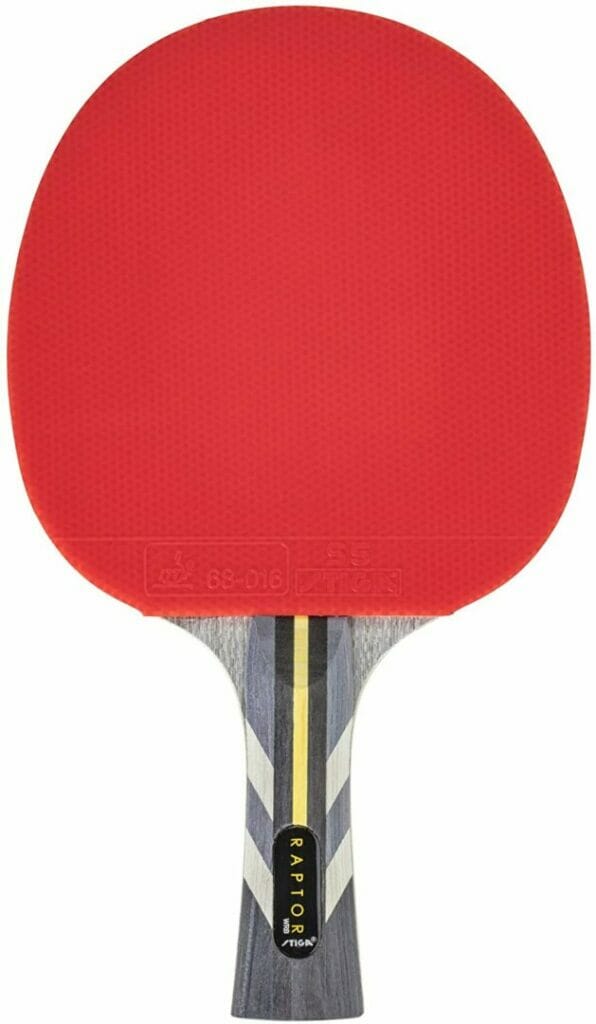 Manufacturer Ratings: Speed 99, Spin 100, Control 80
Blade: 7-ply (5W+2C)
Rubbers: Stiga S5 (2mm)
ITTF Approved? Yes
Price: $$
Overall Rating: 7.9
Think of the Stiga Raptor as a cheaper Stiga Pro Carbon, because that's essentially what it is. It is not as well known, but it really should be given that its cost has fallen notably lower.
It shares a near-identical make-up with the Pro-Carbon. It too uses S5 rubbers and has a 7-ply carbon blade featuring balsa wood. The only real difference we could find is the different design of the handle which we should note is still concave! Stiga even scores the performance ratings identically on their end.
Therefore as it stands, if you're torn between the two bats, we recommend the Raptor despite the prestige of the Pro Carbon. For further reading, read our review.
6. Stiga Evolution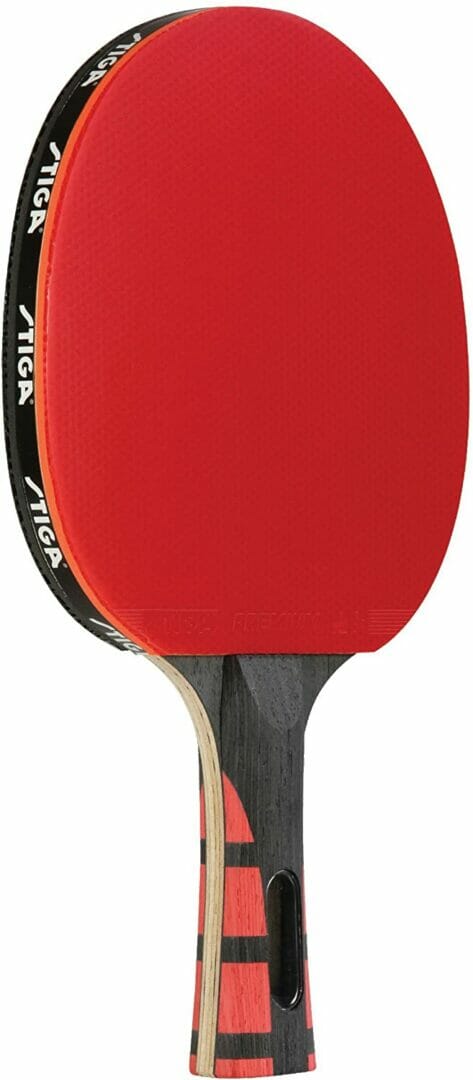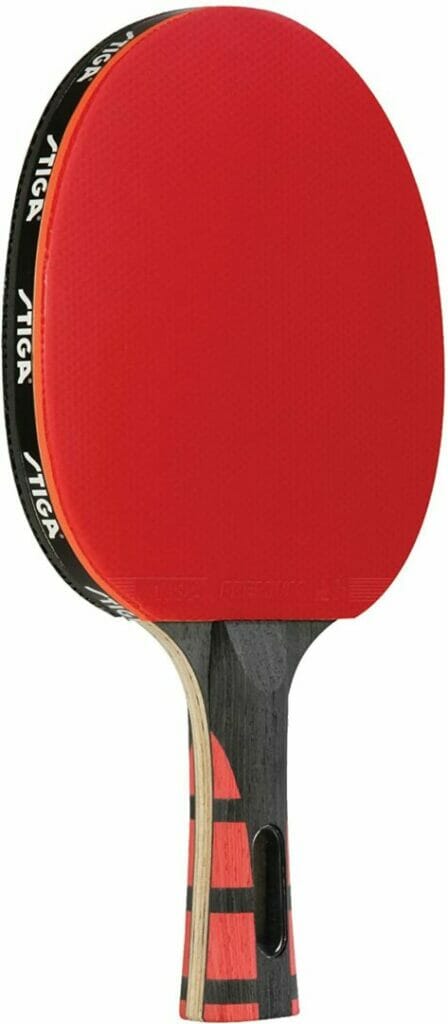 Manufacturer Ratings: Speed 96, Spin 94, Control 90
Blade: 6-ply (6W)
Rubbers: Premium (2mm)
ITTF Approved? Yes
Price: $
Overall Rating: 7.5
Moving on from paddles that feature carbon blades we come to the Stiga Evolution which uses an all-wood blade with 6 plies. The lack of a carbon blade means it is considerably slower than the setups above, however, it does still use a 2mm rubber which conforms to an attacking style.
The benefit of choosing the Stiga Evolution is that it provides a lot of control which helps to keep you consistent. This is pretty essential as an intermediate player. Lots of people use paddles that are too fast for them which results in a significant amount of unforced errors.
The Evolution is also very fairly priced, it sits just below the Raptor. So if you employ a controlled attacking style we think it's a good buy. Here is our full breakdown of this Stiga paddle.
7. Stiga Supreme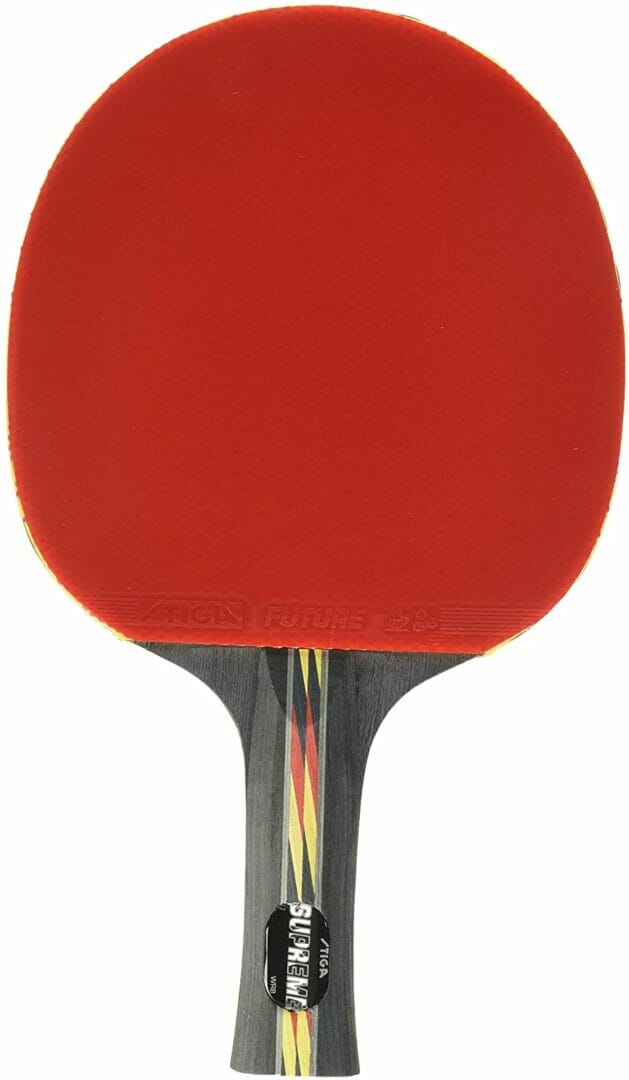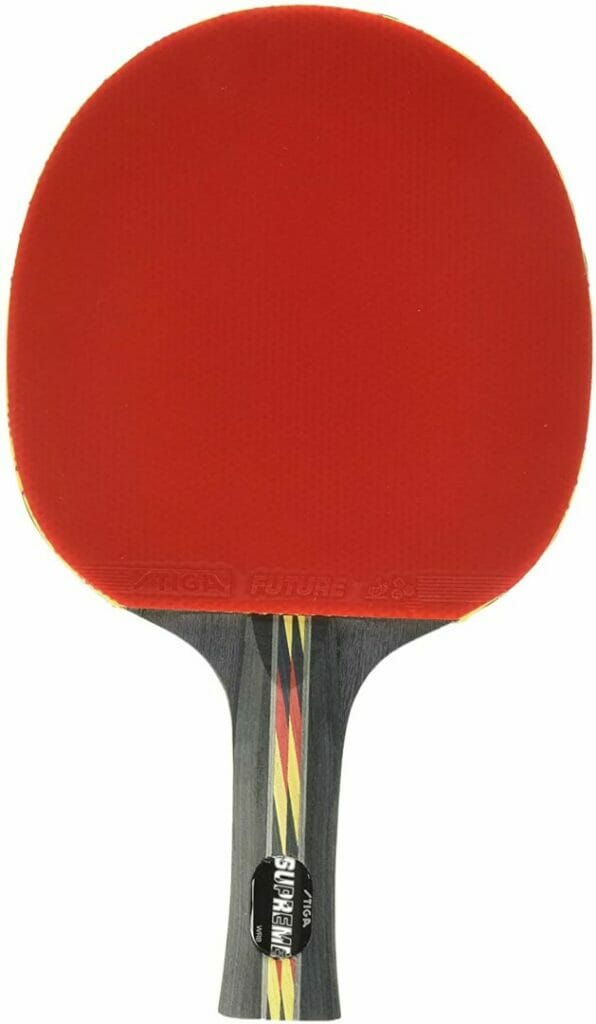 Manufacturer Ratings: Speed 90, Spin 92, Control 89
Blade: 6-ply (6W)
Rubbers: Future (2mm)
ITTF Approved? Yes
Price: $
Overall Rating: 7
The Stiga Supreme is another cheap pre-assembled paddle that just edges into the intermediate category. While it is not as powerful as the more expensive Stiga paddles, it does include a lot of similar tech such as microscopic air bubbles in the rubber for improved elasticity, and a Shock Dispersion Tube in the handle to dissipate vibrations.
In terms of spin, the Supreme can produce a good amount, marginally more so than its speed, but nothing exceptional. This again helps mitigate your mistakes, as spinny rubbers can take a lot of getting used to. There is no doubt in my mind that the Supreme is a good fit for many intermediate players, and I feel even adaptable beginners will make great use of this bat.
We have a full review of this Stiga paddle available if you're interested.
Top Beginner Stiga Ping Pong Paddle Reviews
8. Stiga Titan


Manufacturer Ratings: Speed 80, Spin 77, Control 82
Blade: 5-ply (5W)
Rubbers: Stream (2mm)
ITTF Approved? Yes
Price: $
Overall Rating: 6.6
If you're a beginner seeking to purchase your first bat you can't really go wrong with the Stiga Titan. Its 5-ply balsa wood composition makes it very lightweight, so it takes little adjustment to transition over from basic unbranded table tennis bats.
The Titan has very high control with limited speed and spin, making it perfect for players who are learning the fundamentals of table tennis. As such, it's not a good fit for intermediate players or above as it is too restrictive for players of this skill level.
The paddle is also pretty cheap and I feel it is well worth the investment given how much it can help improve your ability.
To learn more about the Titan, read our review.
9. Stiga Apex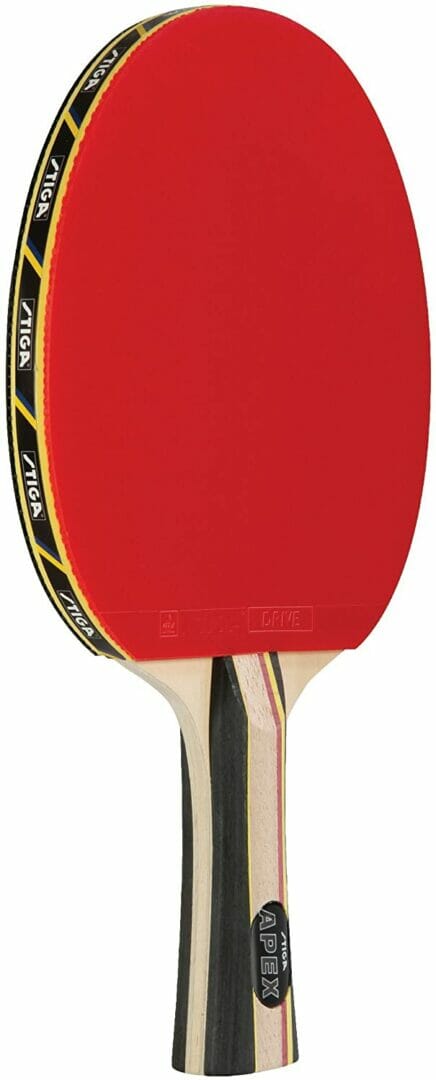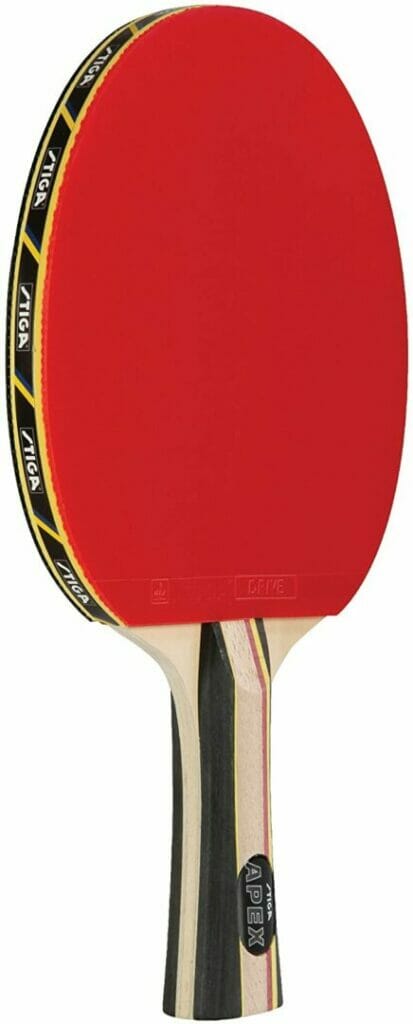 Manufacturer Ratings: Speed 65, Spin 52, Control 80
Blade: 5-ply (5W)
Rubbers: Drive (2mm)
ITTF Approved? Yes
Price: $
Overall Rating: 5.4
The Stiga Apex is the most basic pre-assembled paddle on this list, and a great choice if you want to save some money as it is the cheapest by a fair margin. Of course, this means the quality of the bat is not as refined as the rest. It feels cheaper and is a little prone to warping. Overall we don't feel there is much merit in choosing it over the Titan unless you are really short of cash.
In terms of its playstyle, the Apex is quite slow despite its 2mm thick rubbers. You also won't be able to produce much spin with it. Therefore its best suited to very casual players — those who are not set on rising through the ranks to reach an advanced level.
To learn more about the Apex click here.
FAQs
Where Are Stiga Paddles Made?
Stiga produces all of its blades at its site in Eskilstuna, Sweden. This way they can ensure that the quality of their blades remains very high. As for their rubbers, they are produced across multiple countries. The likes of Calibra, Airoc, and Mantra are made in Japan. And their newest rubber series: DNA, is made in Germany.
Is Stiga a Good Ping Pong Brand?
Stiga is one of the top ping pong brands globally. They produce all kinds of table tennis equipment, not just rubbers, blades, and paddles. They also sponsor some of the top players and coaches such as Xu Xin, Truls Möregårdh, and Liu Guoliang.
Final Thoughts
So that wraps up our Stiga table tennis paddle picks. We hope you found each Stiga paddle review useful. Any of these bats will perform very well provided you pick the right one to match your skill level.
To Summarize, the best Stiga paddle for advanced players is the Stiga Clipper WRB w/ Calibra LT Spin. There wasn't much to separate it and the Intensity NCT w/ DNA Pro M in terms of performance, but given the large price disparity, we felt the Clipper WRB w/ Calibra LT Spin deserved the top spot.
Moving on to intermediate players, the Raptor is our favorite Stiga ping pong paddle. Once again, cost made the decision for us here. The Raptor is almost identical to the Pro Carbon, yet it's around 25% cheaper, so we recommend the Raptor in the interest of saving money.
And finally, for beginners, the Titan is our top Stiga ping pong paddle. It simply gives you more room to improve than the Apex which we feel is too basic.
If you want to explore equipment beyond this Stiga paddle comparison, we recommend checking out our dedicated reviews for the best rubbers, blades, and paddles.
Read also:

Freelance writer. Table tennis enthusiast. Lover of all things online. When I'm not working on my loop game I'm probably binge-watching some fantasy show.