Best Stiga Ping Pong Paddles on the Market Today
Stiga is a well-recognized table tennis brand based in Sweden. They began producing table tennis products in 1944. While their equipment isn't quite as popular as top brands such as Butterfly and DHS, nevertheless, Stiga provides quality table tennis equipment, including some of the best mid-size table tennis tables.
Below you will find 6 paddles, carefully selected, that we believe are the best Stiga paddles on offer.
Top Stiga Ping Pong Paddle Reviews
1. Stiga Rosewood NCT V w/ Boost TX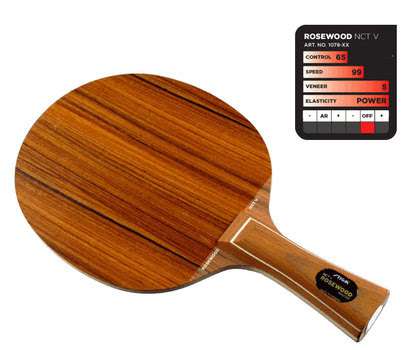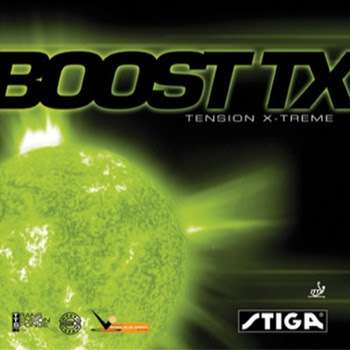 Ratings: Speed 9.1, Spin 9, Control 8.7
Blade: Stiga Rosewood 5-ply
Rubbers: Stiga Boost TX max
ITTF Approved? Yes
Price: $$$
Rating: 9
To kick things off we are starting with the Stiga Rosewood NCT V. This is a fast yet controllable all-wood blade that suits players who like to have feeling when they attack. It is one of the most popular high-end blades that Stiga produces.
For the rubber, we went with Boost TX. It's a super rubber and as the name suggests it's very fast. You'll also be able to produce great levels of spin with it, but the spin is not quite able to match its speed.
TX is of medium hardness. If you want a harder version TP should be your choice. Conversely, if you want it to be softer, TC is more suitable.
We are certain most direct loopers will love this Stiga paddle.
Blade:
Rubber:
2. Stiga Clipper WRB w/ Calibra LT Spin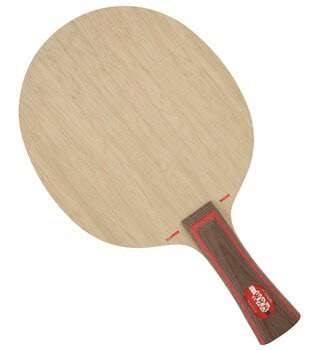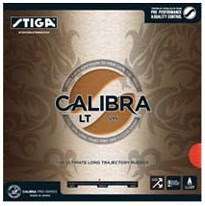 Ratings: Speed 8.9, Spin 9.1, Control 8.8
Blade: Stiga Clipper WRB 7-ply
Rubbers: Stiga Calibra LT Spin max
ITTF Approved? Yes
Price: $$
Rating: 9
The Stiga Clipper WRB is a far more affordable alternative to the Rosewood and significantly cheaper – the trade-off is that it is a little slower. It was developed in partnership with the Chinese National Team.
The Clipper WRB is another all-wood blade. The WRB acronym stands for weight, recovery, and ball sensitivity. Much of the handle is hollow which reduces its weight but may make the blade a little top-heavy to some. Even with this hollow handle, the blade is a little on the heavy side, being 90g with a 5g variance either way.  
Much of the Calibra series has been well-received by players. For this setup, we chose the LT Spin version. This will suit spinny attackers who like to win points with heavy loops and potent serves.
A super Stiga table tennis paddle that most players would be jealous of.
Blade:
Rubber:
3. Stiga Eternity VPS V w/ Mantra H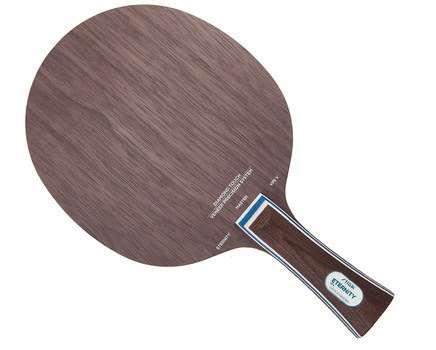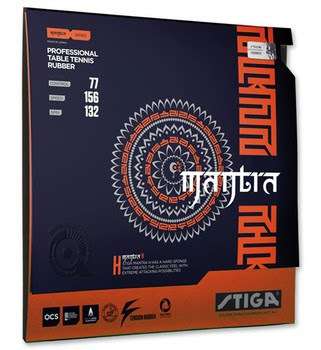 Ratings: Speed 9.2, Spin 9.1, Control 8.8
Blade: Stiga Eternity VPS V 5-ply
Rubbers: Stiga Mantra H 2.1mm
ITTF Approved? Yes
Price: $$
Rating: 9.1
The Eternity VPS V is another blade that was produced with the input of the Chinese National Team. It contains temperature-treated middle veneers (VPS) that reduce vibrations and enhance stability. At 90g, it is slightly above the average weight of a paddle.  
Mantra H gives this setup a little speed boost, as the H stands for hard. It is one of Stiga's fastest rubbers and is surprisingly neglected given just how good it is. I can't recall ever seeing a player use it. Mantra H uses microscopic air bubbles in the sponge which impart a high level of pace whilst remaining consistent. The sponge is a beautiful red.
We consider this to be one of the best Stiga paddles currently on the market.
If the hardness is too much for you, which it may well be (rated 8.8/10 by players), try the softer M version instead. This version has average hardness which most players will be more used to, probably in between Baracuda and Rakza 7.
Blade:
Rubber:
4. Stiga Carbonado 145 w/ Calibra LT Sound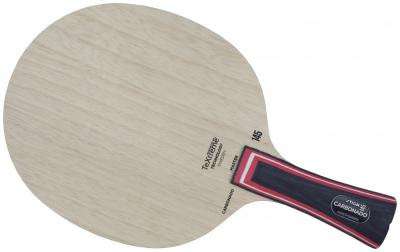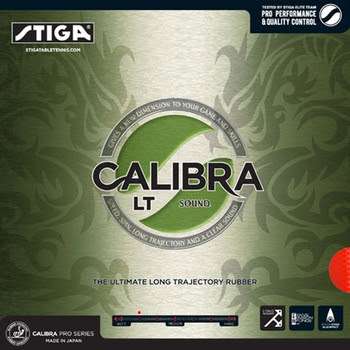 Ratings: Speed 9.3, Spin 8.7, Control 8.5
Blade: Stiga Carbonado 145 7-ply
Rubbers: Stiga Calibra LT Sound max
ITTF Approved? Yes
Price: $$$
Rating: 8.9
Did someone say speed? Because that's what the Carbonado 145 delivers. Unlike the other all-wood blades, the Carbonado is a carbon blade. This means it has a larger sweet spot making it easier to play with.
The carbon technology employed goes by the name of TeXtreme®. Made in Sweden, the carbon is flexible in only one direction. Two layers feature in the blade, one at a 45-degree angle and the other, at a 90-degree angle. Stiga states that it is completely unique and provides a revolutionary playing experience that players will love.
For the rubber pairing, we have gone with Calibra LT Sound. Calibra is a great series across the board. We recommend you take a look at all of the rubbers. We thought it beneficial to provide you with a soft rubber, given that the rest have been medium or hard. LT Sound is very soft and may feel strange if you are not used to it. It has both strong speed and spin. You will, however, need to hit the ball a little harder than the other rubbers to unlock its full spin potential.
If you're after an even faster setup, try pairing the Carbonado 145 with Boost TX or Mantra H. This will really kick your speed into overdrive. Just be careful about handling it. Only elite attackers will benefit from such a fast bat.
Blade:
Rubber:
5. Stiga Infinity VPS V Diamond Touch w/ Airoc S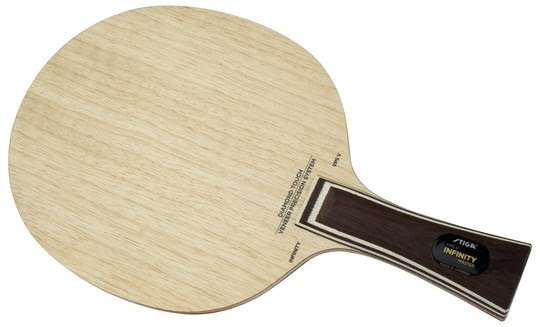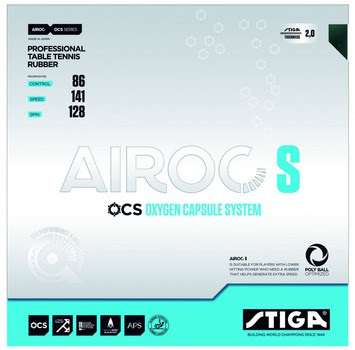 Ratings: Speed 9, Spin 8.6, Control 9
Blade: Stiga Infinity VPS V Diamond Touch 5-ply
Rubbers: Stiga Airoc S 2.1mm
ITTF Approved? Yes
Price: $
Rating: 8.8
This setup is the budget Stiga ping pong racket option. The Infinity VPS V Diamond Touch Blade uses the same VPS technology as the Eternity VPS with two hand-selected middle veneers. The Diamond Touch Technology makes the veneers extra hard and gives the blade a finish that is smooth to the touch. It is also marginally lighter than average.
Stiga Airoc S is a soft rubber. It uses Stiga's Oxygen Catapult System (OCS) which amplifies catapult effect without causing a loss of spin. Developed for the plastic ball, Stiga engineers studied the relationship between air pocket size, pimple structure, and top sheet elasticity. The result is a pacey rubber with high levels of control.    
Blade:
Rubber:
6. Stiga Intensity NCT w/ DNA Pro M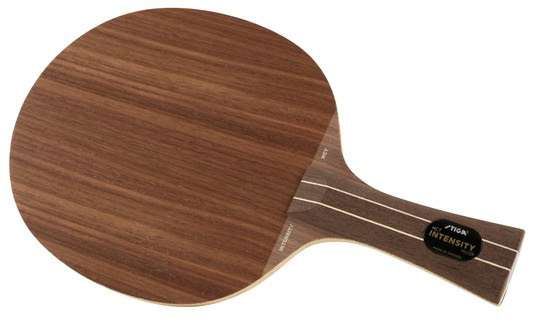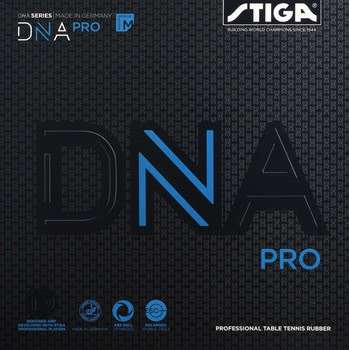 Ratings: Speed 8.8, Spin 8.9, Control 8.9
Blade: Stiga Intensity NCT 5-ply
Rubbers: Stiga DNA Pro M 2.1mm
ITTF Approved? Yes
Price: $$$
Rating: 8.9
The final blade for our Stiga Paddle Reviews is the Intensity NCT. Another superb all-wood blade. Classified as offensive, it is fast, but not quite as fast as the quickest on the market.
Interestingly, this is Xu Xin's personal blade of choice (current world number 3). As a master of feeling and touch, Xu Xin must have spotted qualities he loved about the blade. It is fairly lightweight and offers decent control.
DNA Pro M is the first Stiga rubber made in Germany. Unlike some of the other rubbers, it was produced as a combined effort on the part of both the Chinese National Team and the Swedish National Team.
As the newest release on this list, it's optimized for the plastic ball. DNA Pro M uses Enlarged Sponge Cells technology. This gives the sponge bigger pores which creates a more pronounced catapult effect. As such, it is great for players who like to use a high throw angle when looping for deadly arcing loops.
Blade:
Rubber:
Final Thoughts
So that wraps up our Stiga ping pong paddle picks. Any of these bats will perform very well at the highest level. We've also reviewed other Stiga paddles, including the Stiga Raptor and Stiga Titan. Check those out, especially if you're more of a beginner! 
All-wood blades seem to be a particular area where Stiga shines. They produce many besides the ones that we have listed here today. If you're looking for more feeling from your blade, I would certainly consider going for all-wood as opposed to carbon. But this is a decision you will have to make for yourself!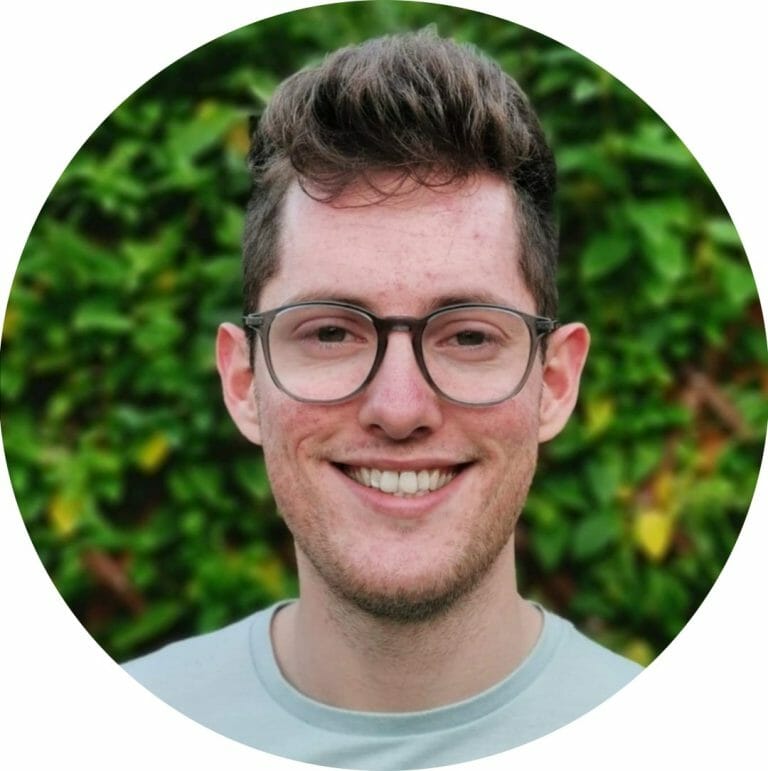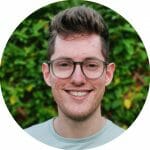 Freelance writer. Table tennis enthusiast. Lover of all things online. When I'm not working on my loop game I'm probably binge-watching some fantasy show.