7 Best Pickleball Paddles for Beginners: Pros, Cons, Reviews
You'll find plenty of options if you're looking for pickleball paddles for beginners. But figuring out which pickleball paddle you should get is fairly difficult. There are hundreds of models to choose from, with many confusing terminologies thrown around.
Since pickleball is one of the fastest-growing sports in the US, with many people comparing it to a mesh of tennis, badminton, and table tennis all in one, there's a big need for great pickleball paddles. In the USA, there are 4.8 million pickleball players, and 3.5 million were defined as casual players, so you'll find plenty of community as you look for paddles.
But which are the best paddles for beginners? To save you the trouble of hours of research, we've broken down the best pickleball paddles for beginners. These are:
But before you randomly choose one of these, you should learn a bit about each one to see which best suits you. Below you will find reviews for each model and a buyer's guide to help you understand what you should look for when buying pickleball paddles.
Why You Should Trust Us
Our guides are some of the most comprehensive and well-written online guides. We provide the best information and lay it out in an easily digestible way. What's more, our content is free and always will be. We aren't paid to review products. Instead, we earn money through small affiliate commissions.
For this review, we looked at pickleball paddles specifically for beginners, so we have only considered paddles that are affordable and fairly easy to control. In addition to these characteristics, we also examined:
Control
Weight
Shape
Appearance
Durability
USA Pickleball approval
Noisiness
Warranty/satisfaction guarantee
Best Pickleball Paddles for Beginners — Lightweight
PickleballCentral Rally Tyro 2 Pickleball Paddle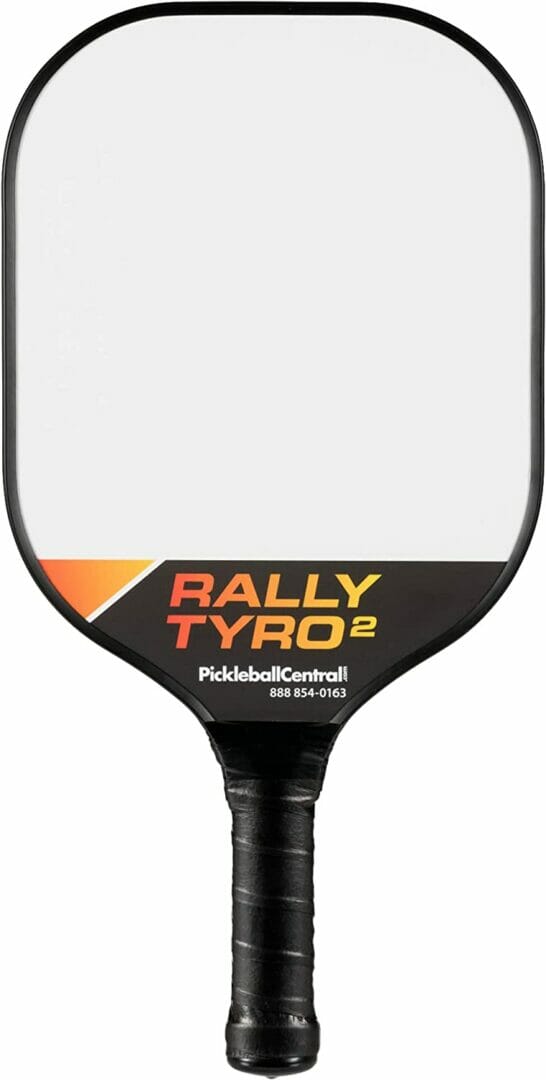 Features
Surface: Fiberglass
Core: Polypropylene
Shape: Wide-body
Grip dimensions: 4"
Weight: 6.8-7.2 oz
Included: 1x paddle
Edge guard: Yes
Warranty: 1 year
Cost: $$$
Pros
Long warranty period
High control
Fast
Quiet
Satisfaction guaranteed
Cons
Not USAPA approved
Plain appearance
The Tyro 2 from PickleballCentral is the lightest paddle on this list, making it a good choice for slower players or those carrying injuries. It's also one of the more eye-catching paddles, not in the usual sense. It sports a plain white face which is highly irregular — most racket faces have either dark or very busy designs. While this is not to my taste, you might like it if you're more of a minimalist person.
The racket features a fiberglass face and is lightly textured so that you can produce a degree of spin but nothing exceptional. As for the core, it is 1/2″ thick and made of the ever-popular polypropylene. As such, it has a fairly soft feel and is quite quiet, even for harder hits.
We rate the 1-year warranty that comes with the Tyro 2 and also the attitude of PickleballCentral. They guarantee satisfaction, so if you pick up this beginner paddle and are not fully satisfied, you can give them a ring, and they will ensure you are well looked after. Therefore we see no issuing endorsing the Tyro 2. It is one of the best beginner pickleball paddles, especially so in the lightweight paddle category.
Onix Stryker 4 Pickleball Paddle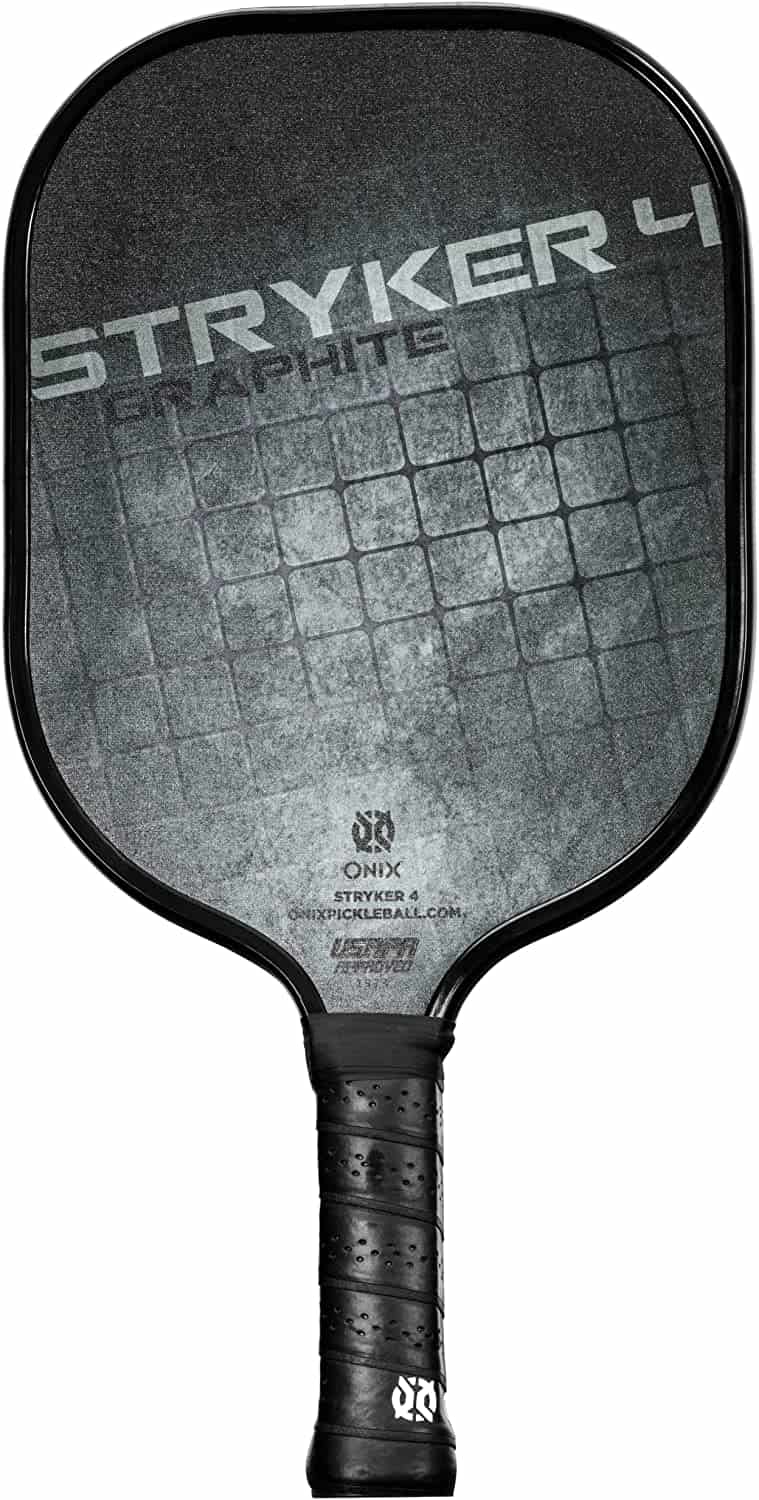 Features
Surface: Graphite
Core: Polypropylene
Shape: Oversized
Grip dimensions: 4 1/2"
Weight: 6.8-7.4 oz
Included: 1x paddle
Edge guard: Yes
Warranty: 1 year
Cost: $$$$
Pros
Very attractive design
Long warranty period
High control
Quiet
Cons
The Onix Stryker 4 is the most expensive pickleball paddle to feature on our list. This is partly due to its graphite face, which helps keep it so light. The polymer core also adds a soft touch, and the oversized shape gives the racket a large sweet spot that beginners love.
The attractive design may also have caught your eye. If we had to describe it in one word, it would be 'badass.' The textured ombre effect from grey to black, coupled with the bold text, is a real stunner, certainly one of the nicest-looking rackets we've seen thus far. It's also available in four other attractive colors to pick the right pickleball paddle to fit your aesthetic.
To be honest, our only real complaint is that the Stryker 4 is a little on the expensive side. It is not overpriced, but many beginners will likely choose a more cost-effective option. However, if you're happy spending a little more for a high-quality product, we imagine you will be very happy with the Strkyer 4, as it's one of the best entry-level pickleball paddles on the market.
Best Beginner Pickleball Paddles — Midweight
Uteeqe Pickleball Paddle Set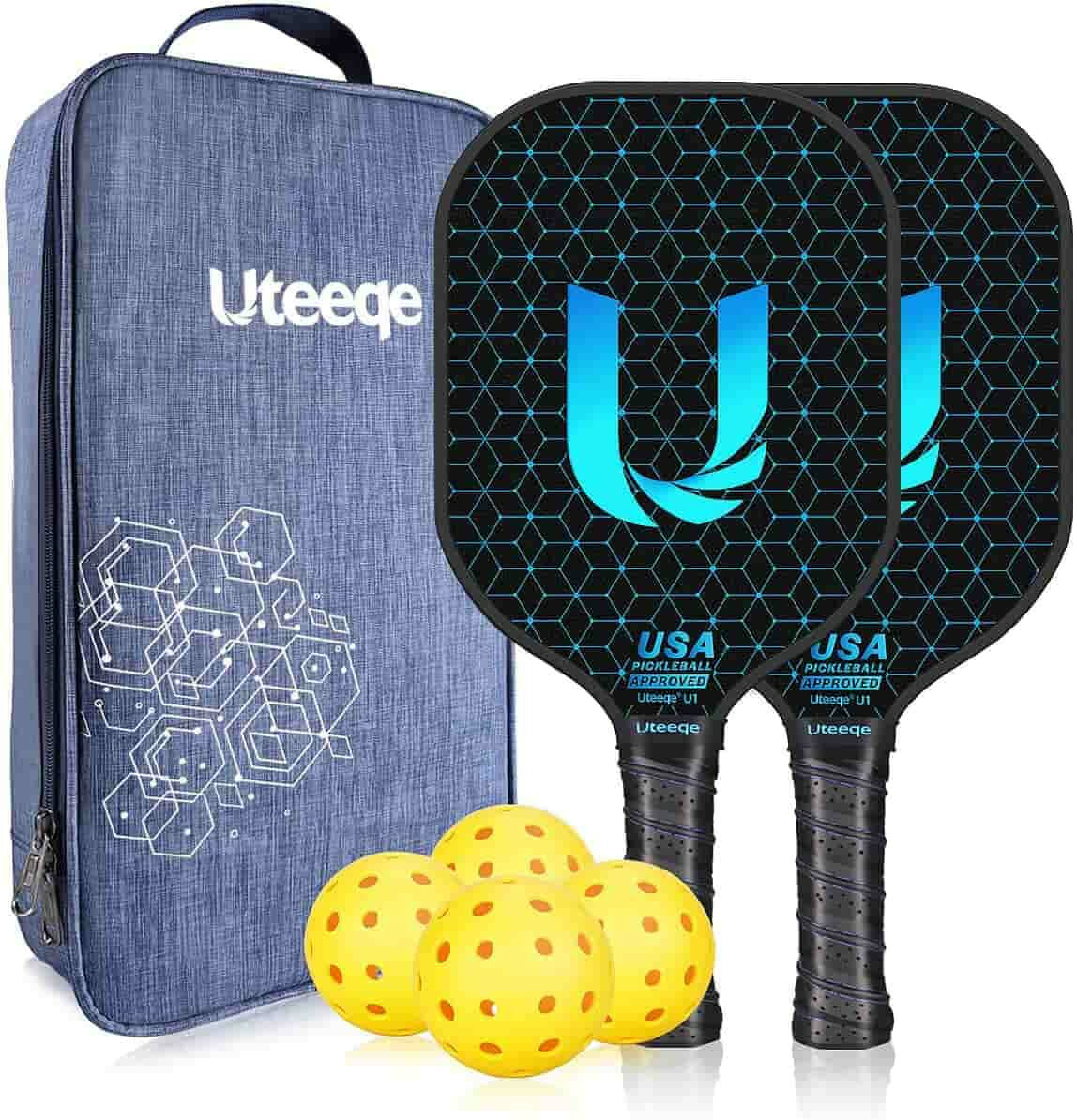 Features
Surface: Graphite
Core: Polypropylene
Shape: Wide-body
Grip dimensions: 4 ¼"
Weight: 7.8 oz
Included: 2x paddles
Edge guard: Yes
Warranty: 1 year
Cost: $$$
Pros
4.7 stars on Amazon
Long warranty period
Textured surface
High control
Fast
Unique stitched grip
Quiet
Cons
History of missing balls and case
First up for the midweight category, we have the Uteeqe pickleball paddles set. It includes two graphite paddles, both of which have polymer cores. This means they aren't too heavy, have high control, and are not that loud. This set also has a full 5 out of 5-star rating on Amazon, making it a very safe buy.
The rackets feature a unique stitched grip that is durable and highly effective at absorbing sweat while playing. This makes the Uteeqe paddles great for players who brave the outdoors in particularly hot areas during summer. However, you could always pick up a less sweat-absorbant racket and simply towel dry your handle as needed.
Our main issue with this pickleball paddle set is that sometimes buyers did not receive the balls or case that should have come with the rackets — a pretty large error on the seller's part. However, it appears this problem has existed long, so we won't dwell on it.
In fact, there's not much to critique for this set at all, as the value is outstanding. If we are being picky, the balls are what let this bundle down. But then again, balls that are included as part of racket sets are always of low quality in our experience. So this shouldn't deter you. Simply purchase some quality outdoor balls separately and perhaps keep the ones from this set as backups.
To summarize, while the balls are of a poor standard, the racket quality and value of this bundle are tough to match. That's why we consider the Uteeqe set the best pickleball paddles for beginners in 2023.
Onix Graphite Z5 Pickleball Paddle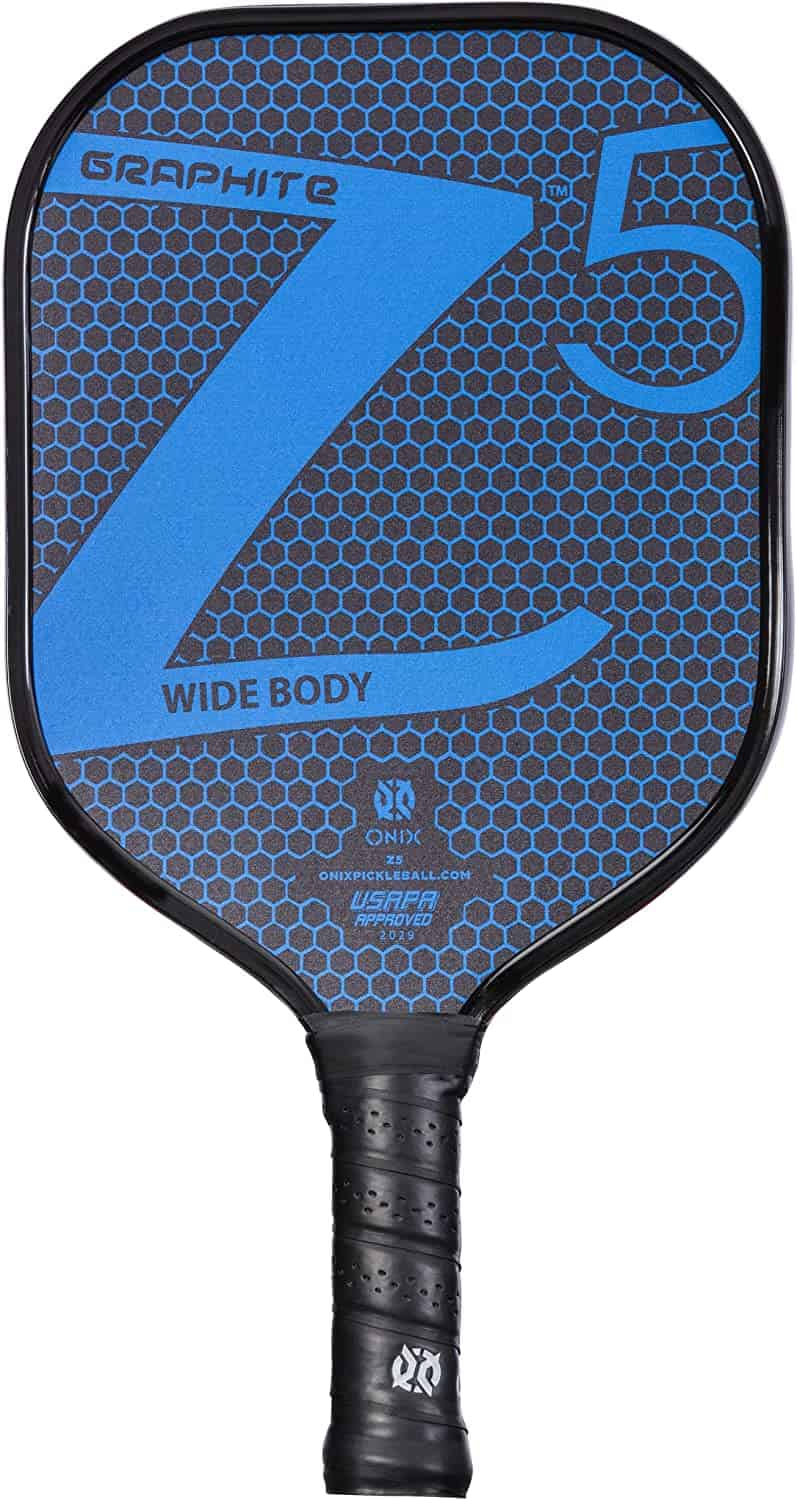 Features
Surface: Graphite
Core: Nomex
Shape: Wide-body
Grip dimensions: 4 ¼"
Weight: 7.5-8.2 oz
Included: 1x paddle
Edge guard: Yes
Warranty: 1-year warranty
Cost: $$$
Pros
Onix's most popular racket
Available in multiple colors
USA Pickleball approved
Cons
Loud
Too fast for some beginners
Although the Onix Z5 represents a more costly paddle investment, it is undoubtedly one of the best to choose from. It is the most popular paddle that Onix makes and is used by beginner and advanced players worldwide.
The racket features a classic paddle shape which is the ideal type for new players, and an edge guard for protection against damage you may cause (and to begin with, there may be a lot!). As for the face material, the Onix Z5 uses graphite, like most other mainstream paddles, for superior accuracy. However, its core is not polypropylene like most. Instead, it uses Nomex, which behaves rather differently.
Nomex is rock hard, which gives the paddle a hard feeling. This contrasts polypropylene which gives the racket a much softer feeling. Moreover, Nomex produces a satisfying cracking sound when you strike the ball, and polypropylene produces a much more muted sound. And finally, Nomex is faster than polypropylene.
While this may benefit some players, it will be too fast for many beginners. If you're proficient with other racket sports, it's worth picking up. However, if you're not particularly well coordinated, I'd advise using a midweight paddle with a polypropylene core instead.
Niupipo Pickleball Paddle Set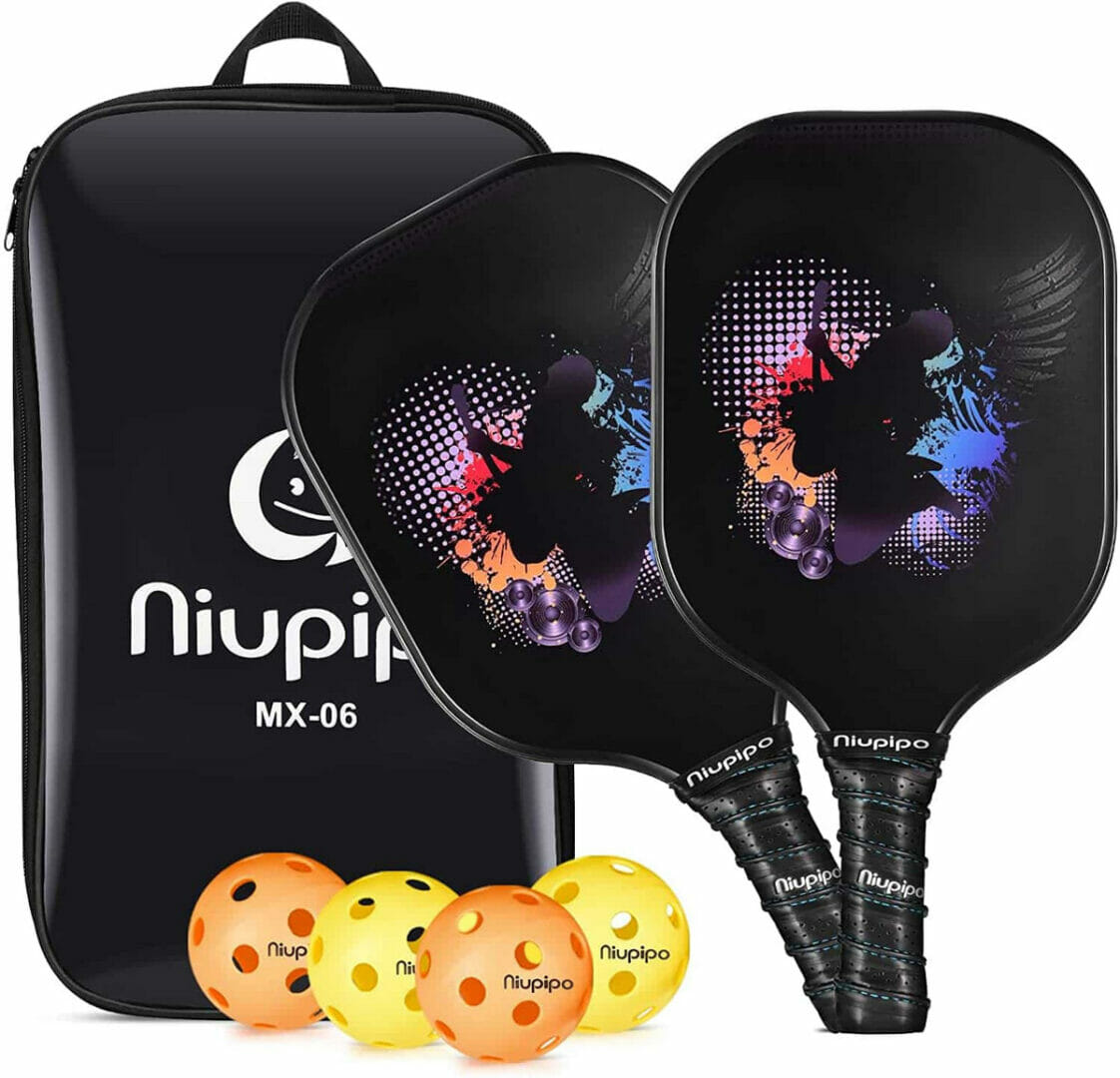 Features
Surface: Graphite/carbon fiber
Core: Polypropylene
Shape: Wide-body
Grip dimensions: 4 ¼"
Weight: 8 oz
Included: 2x paddles, 4x indoor pickleballs, 1x carry case
Edge guard: Yes
Warranty: 1-year warranty
Cost: $$$
Pros
Long warranty period
High control
Fast
Quiet
Cons
The Niupipo rackets are midweight paddles that combine the popular graphite racket face with a polypropylene honeycomb core. This means they are very similar in structure to our favorite rackets: the Uteeqe pickleball paddle set. So naturally, they are some of the best starter pickleball paddles. Yet one area they fall behind is the cost. While still well-priced, the Uteeqe set is notably cheaper.
You can expect fairly fast rackets with a decent amount of control. They are also not very loud when you strike the ball, which is beneficial if you play in a residential area.
Included with the set are 4x indoor balls and a carry case. If you plan on playing outdoors, we recommend purchasing some outdoor pickleballs.
Best Pickleball Paddles for Beginners — Heavyweight
Franklin Sports Jet Pickleball Paddle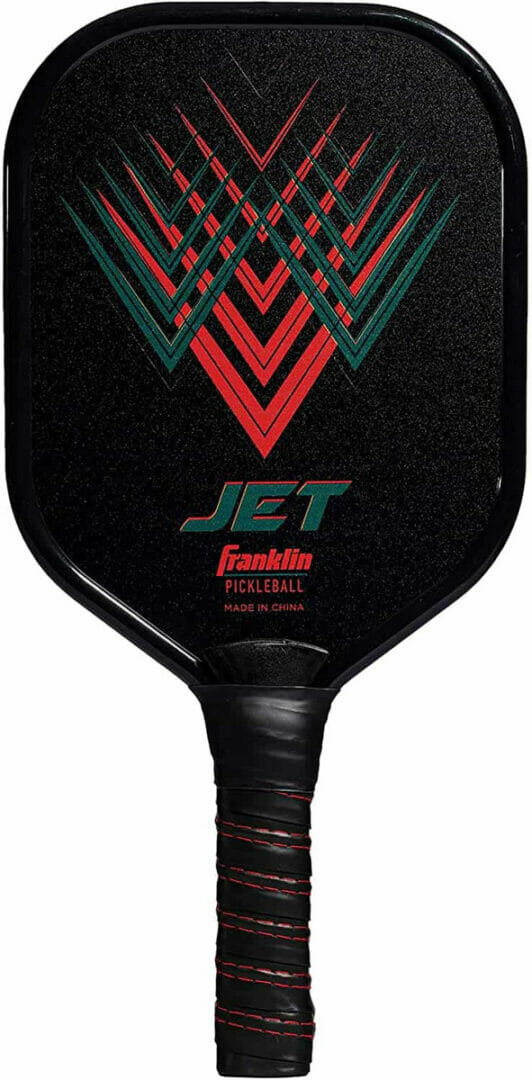 Features
Surface: Aluminum
Core: Aluminum
Shape: Wide-body
Grip dimensions: 4 ¼"
Weight: 10.7-11 oz
Included: 1x paddle
Edge guard: Yes
Warranty: 90 days
Cost: $
Pros
Affordable paddle
Fast
Fairly quiet
Cons
Heavy
Basic
Flakes of aluminum may fall off after repeated use
The Franklin Sports Jet racket is a good beginner pickleball paddle — one of the cheapest on this list. Made almost entirely from aluminum, we wouldn't be surprised if you expected it to be lightweight. However, this is far from the case. At 10.7 – 11 oz, it's certainly on the heavy side. This makes it a great pickleball paddle for beginners who lack power when they are near the baseline. Of course, its extra power over many of the other rackets means it falls behind in terms of precision.
It plays somewhat similarly to a wooden paddle and feels very primitive — especially if you've used a composite paddle before. Strikes feel harsh and not that satisfying. Yet, some players may want to pick it up for the cheap price tag. Personally, I recommend exploring the composite midweight rackets instead. You get a much more resilient paddle for only a little extra investment, which is considerably more satisfying to play with.
WIn SPORTS Pickleball Paddle Set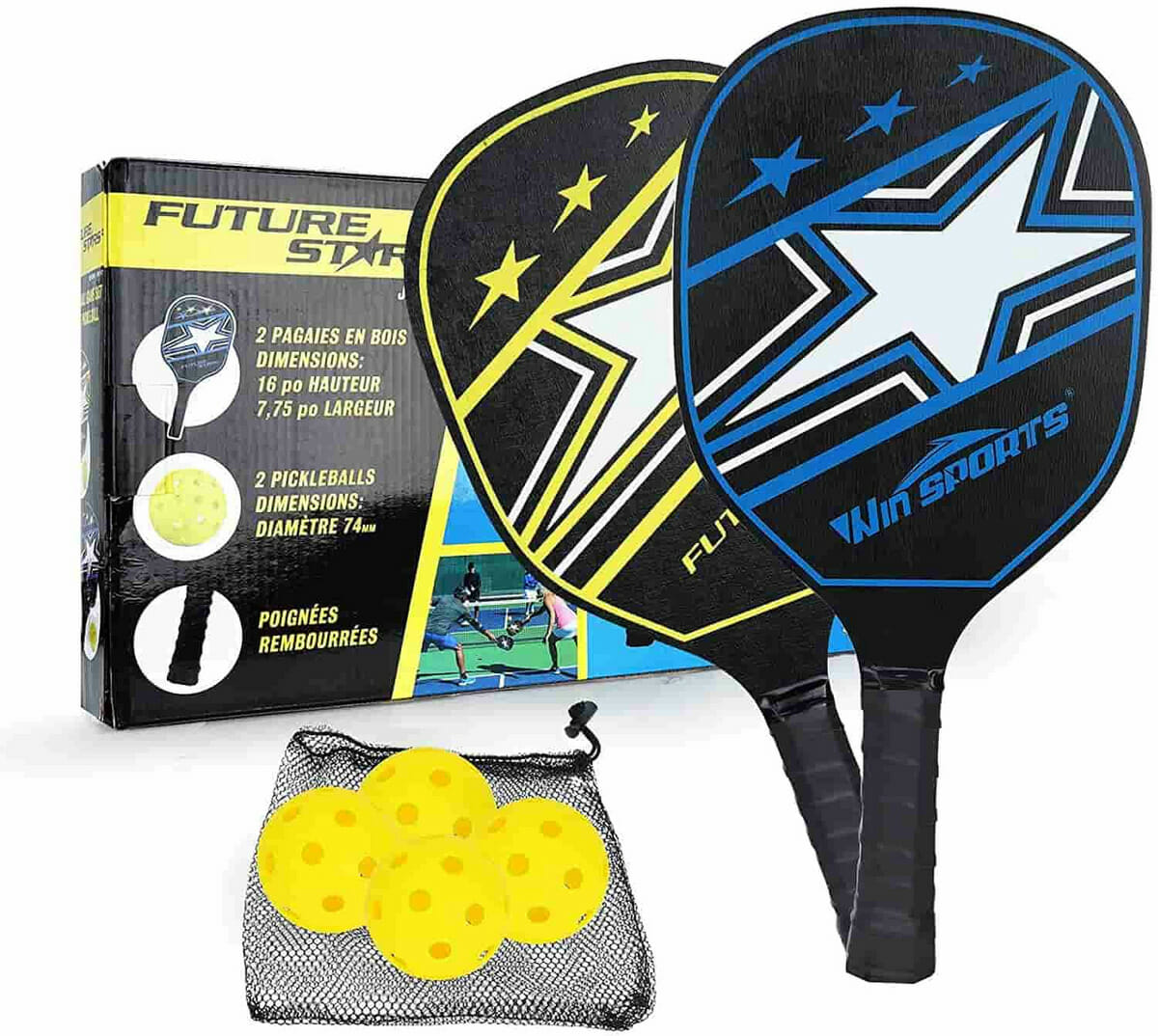 Features
Surface: Wood
Core: Wood
Shape: Wide-body
Grip dimensions: 4 ¼"
Weight: 9-10 oz
Included: 2x paddles, 4x pickleballs, 1x mesh bag
Edge guard: No
Warranty: Unknown
Cost: $
Pros
Inexpensive
Great value for money
Fast
Cons
Not very durable
Poor feeling
This two-set of pickleball paddles is another good choice if you want to try out pickleball without investing a lot of money. The beginner paddles are both made from 7-ply wood. Therefore, they are quite fast.
These heavier paddles vary in weight between 9-10 oz, so there isn't a lot of quality control — this helps keep the cost low. Unfortunately, it does seem they are not particularly durable relative to the other models. So you may want to spend more to purchase a paddle that you can be certain will last.
You also can't produce much spin with them as the face is not very textured. This is a fundamental issue with wooden paddles. Fortunately, as a beginner, you won't be producing a lot of spins, so it isn't a particularly big issue.
While it is clear that the Win SPORTS beginner pickleball paddles are incredibly basic, they offer the most cost-effective route to giving pickleball a try. So if you are fending to test the sport for yourself, this cheap bundle is an excellent choice. However, if you enjoy pickleball or are confident you will be on it for the long run, we recommend investing in higher-quality rackets. For as little as $25, you can purchase a model of significantly higher quality.
Pickleball Paddle Buyer's Guide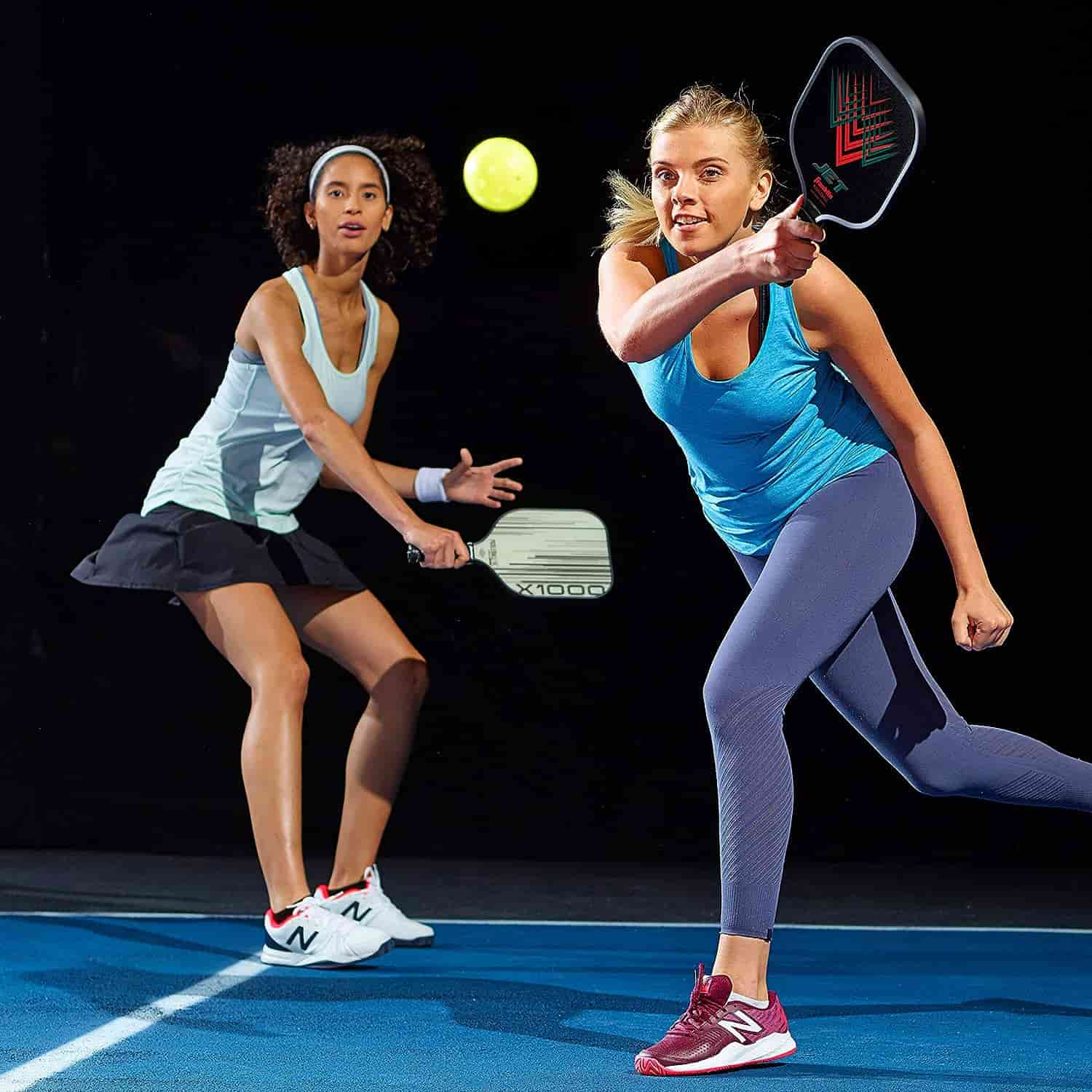 Price
The prices of pickleball paddles vary from around $10 to $200. And while it can be tempting to purchase a more expensive model (in the hopes of higher quality), it makes sense to purchase a fairly cheap beginner pickleball paddle.
As a beginner, you lack the skill to use more advanced paddles effectively. And who knows, you may grow bored of the sport after a while, leaving you more out of pocket. We recommend spending around $30-$70 for a great starter paddle. You can help reduce your paddle cost by purchasing a pickleball paddle set.
Weight
Besides price, pickleball paddle weight is the next most important property you should consider — it will significantly affect how you play. Paddles are split into three categories: light, average, and heavy. Heavier paddles offer the most power, so you don't need to put as much force into your strokes. They can, however, be quite hard to control.
Lighter paddles are the exact opposite. They provide the most control, but lack power, instead requiring more force on your part to play strokes. Midweight paddles offer the best of both worlds, so if you are undecided as a pickleball beginner, perhaps consider going for a midweight option. It's important to recognize that this is not a one-size-fits-all approach — the perfect paddle for each player will weigh differently.
| | |
| --- | --- |
| Pickleball Paddle Size | Weight |
| Lighter paddles | <7.3 oz |
| Average paddles | 7.3 – 8.4 oz |
| Heavier paddles | >8.4 oz |
Paddle Surface
There are three main types of pickleball paddle face materials. The first and oldest of the three is wood. Wooden paddles are the most basic and are often cheap but fairly heavy. Pickleball has moved on a lot since the introduction of wood, so it's rarely the best pick. However, it is still suitable for beginners, and it just feels a little unrefined.
Next up is composite, one of the most popular paddle types for beginners. Composite paddles include a variety of materials, namely fiberglass. They are characterized as feeling like a mix between wood and graphite. Their price is usually around average, and they have good power. Many also tend to be on the heavier side. However, these traits depend entirely on each composite paddle's materials. 
The final type of paddle face material is graphite. This is the most popular alongside composite. Graphite is the most expensive of the three types and is lightweight with high ball control. It often feels the best to play with and rewards a great touch. As such, it is very popular with advanced players. That being said, the price of graphite paddles is coming down, and newer pickleball players are starting to pick them up.
Paddle Core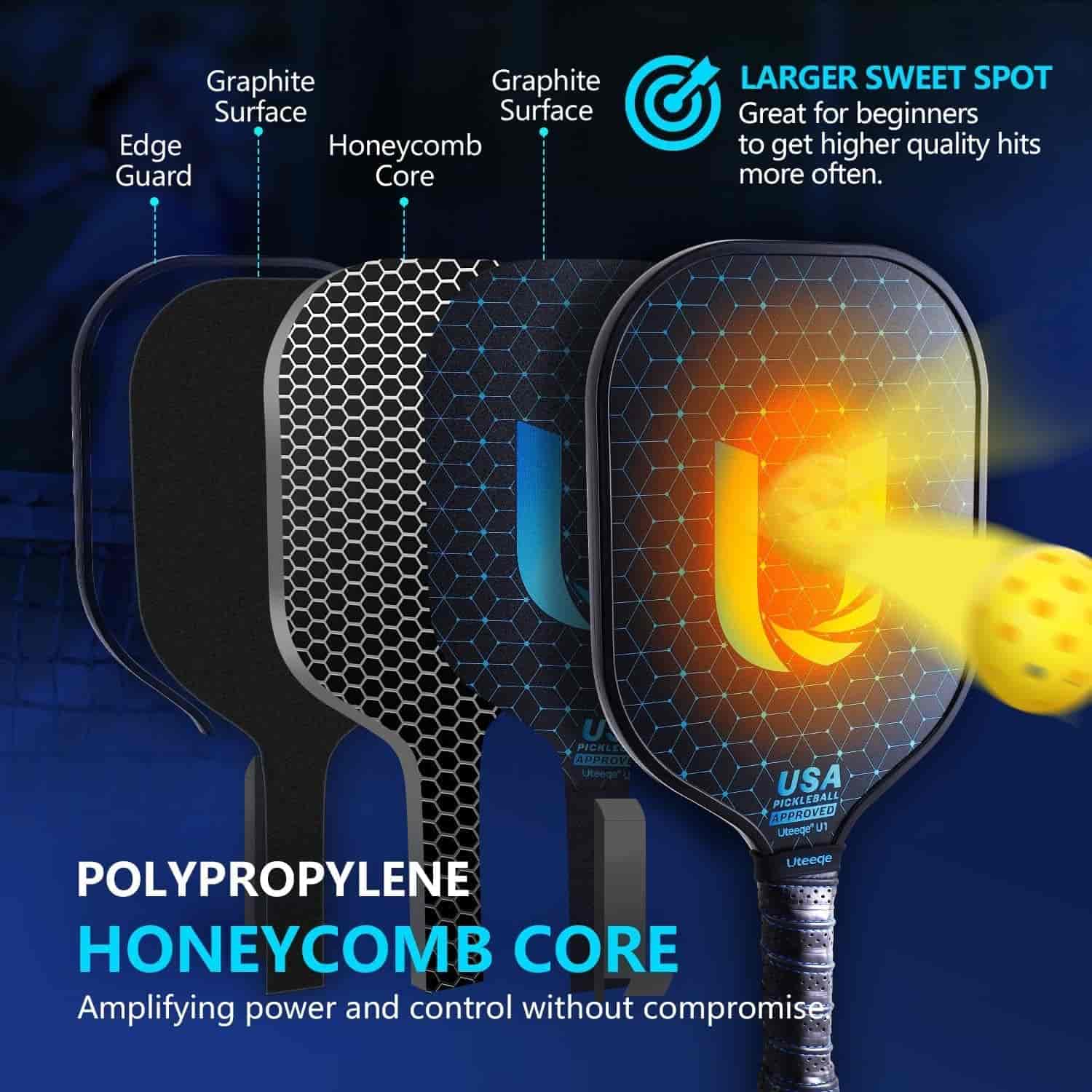 Aluminum
As for paddle cores, there are three options. The first type is aluminum, and it is becoming increasingly rare. Its core forms a honeycomb shape and is very lightweight. Players who favor control will like this type but note that you sacrifice power, so you need good arm speed to use it effectively.
Nomex
Next up is Nomex, which has a very particular feel to it. This core type starts as a soft cardboard-like material shaped in a honeycomb arrangement but becomes rock-hard after being dipped in resin. Unsurprisingly, paddles with Nomex cores feel rock hard and produce a loud cracking side when you strike the ball. This can be a bit of a nuisance if you are in a quiet area, so be aware of this fact. Nomex excels in the speed department, so if you want the best pickleball paddle for speed, this is the core you should select. However, as beginners lack control and technique, it is generally not a core we recommend.
Polymer
Lastly, we have polymer (polypropylene) cores. They are the newest addition to the pickleball world and seem to have taken over. Almost all new paddles are made of polymer, the most popular core material. First and foremost, it is the quietest core, meaning you can play almost anywhere without irritating anyone. It also has a rather soft feeling to it and offers more control. The only area it lacks somewhat is pace, but it is by no means slow. In fact, when paired with a fiberglass face, which it often is, it's pretty quick! We tend to find that the best pickleball rackets for beginners mostly feature polymer cores.
Core Thickness
Pickleball paddles range in thicknesses from 11 mm to 16 mm+. Most listings merely state the core material and do not specify the core's thickness. However, it certainly affects how the paddle behaves, so if you can, I would try to find out how thick it is if possible.
Paddles with thin cores are the easiest to wield. They are lightweight and cut through the air giving you quick arm speed and exceptional power. The ball rebounds off the paddle's face because it is thin and can't sink in.
On the other hand, paddles with thicker cores are slower. This may seem a little illogical as they have more weight behind them, but the increased core depth dampens the ball's speed. The result is less power but a softer feeling racket with more control. As such, thick cores are a great fit for beginners, but thin cores certainly still have their appeal.
Paddle Shape
Paddle shape is generally split into two types: wide-body and elongated. However, you may find paddles that are a cross between both. Wide-body is the most common and the type we recommend for beginner pickleball players. It has a good margin for error and offers a large sweet spot.
Elongated paddles, by comparison, are longer and thinner. As a result, it is easier to miss the ball. However, the advantage of these paddles is that they offer more reach, making them an option for players who often get caught out by drop shots.
Grip Size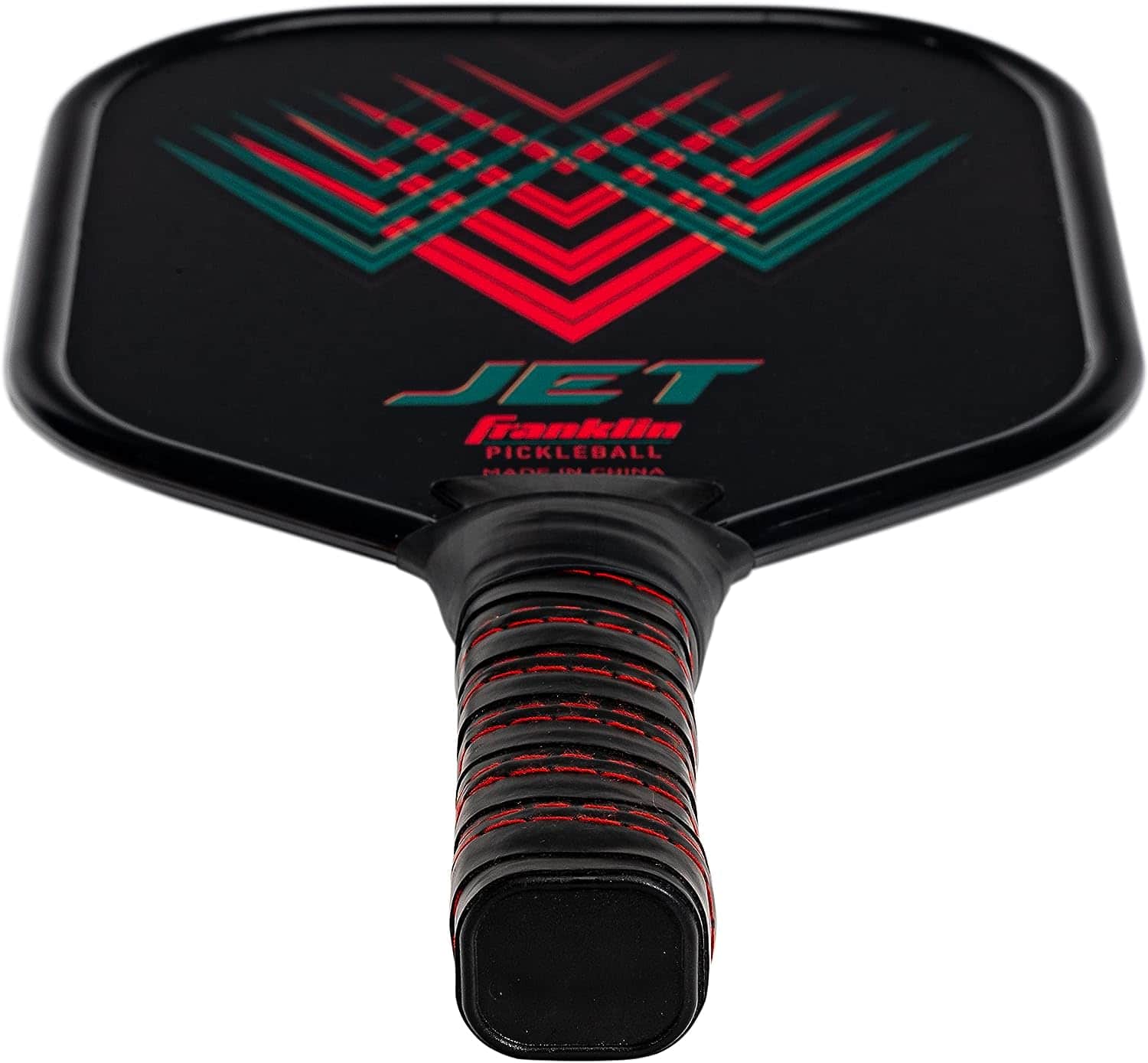 You should purchase a grip size that suits the size of your hand. Otherwise, the paddle will feel awkward to use. The easiest way to do this is to equate grip size to height. See the useful table below to determine which of the pickleball paddle grip sizes you should use.
| | | |
| --- | --- | --- |
| Height | Category | Grip Size |
| <5' 2" | Small | 4" |
| 5'3" – 5'8" | Medium | 4 ¼" |
| >5'9" | Large | 4 ½" |
Edge Guard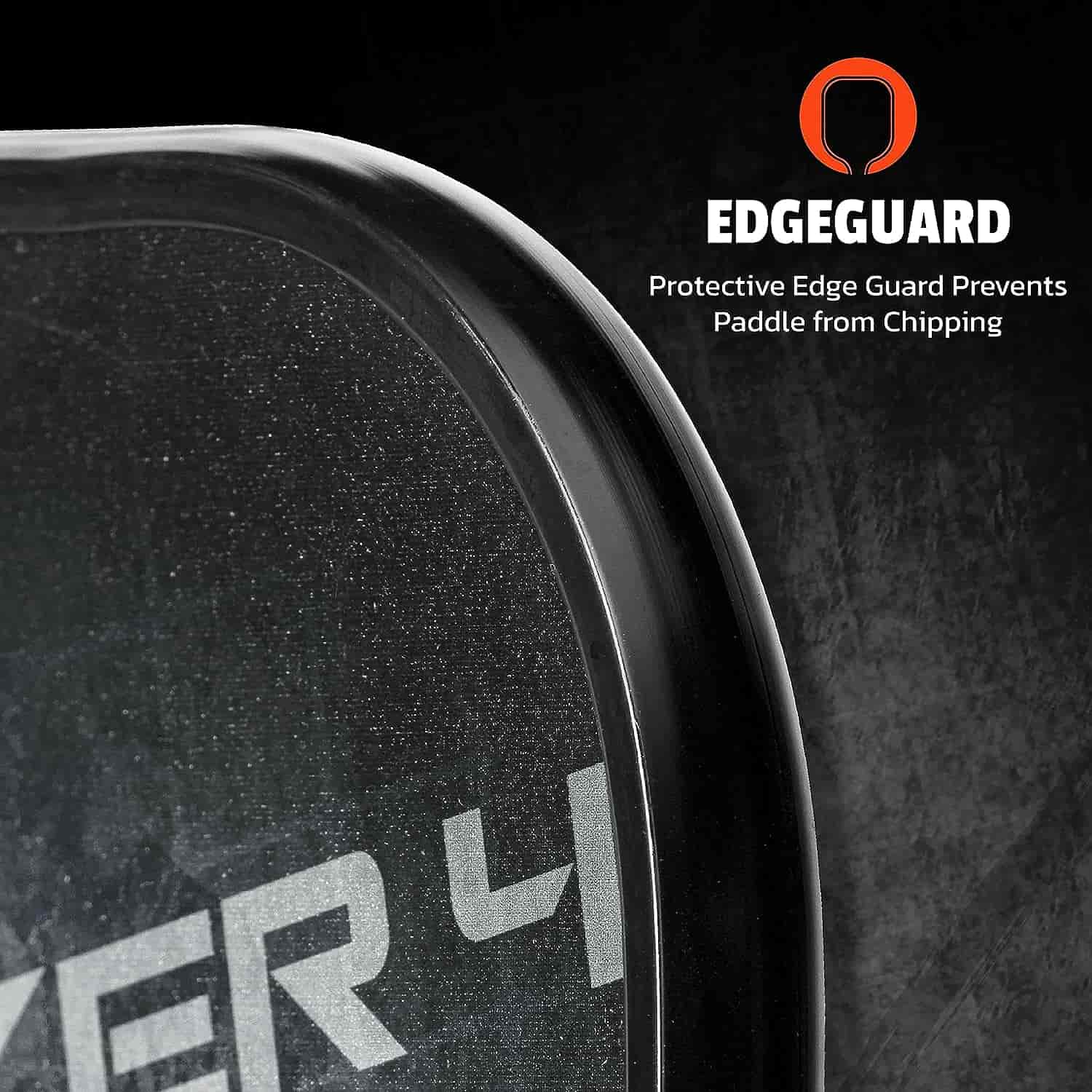 An edge guard helps protect your beginner pickleball paddle from damage. Having one is always a good idea — as a beginner, you will hit the ground more than elite players. If you choose to go without one, you may have to replace your paddle sooner than expected.
The advantage of going with an edgeless guard is that your paddle has a cleaner look and a slightly larger hitting area. Overall though, we don't feel the trade-off is worth it. You shouldn't be hitting the ball that close to the edge of your racket, anyway.
Appearance
While appearance is the least important factor when choosing your pickleball paddle, it is still something you will want to consider. Paddles come in all sorts of designs, and we've seen our fair share of sleek-looking paddles and, equally, our fair share of horrid-looking ones.
Given that appearance is a subjective quality, it's tough for us to give you recommendations. So all we can really say is don't choose a paddle with a tacky design. We find a minimal art style is often much better.
Frequently Asked Questions
What Is the Best Pickleball Paddle for Beginners?
We find the Uteeqe pickleball paddle to be the best pickleball racquet for beginners. It features a high-quality graphite face and polypropylene honeycomb core making it very quiet. The Uteeqe paddle also comes as a set of two which is great if you have a partner who is also new to the game.
How Much Does a Beginner Pickleball Paddle Cost?
Beginner pickleball paddles cost anywhere from around $10 to $60. We find $30 to be around the average. You can help bring the price per paddle down by purchasing multiple paddles as a set.
Is it Better to have a Lighter or Heavier Pickleball Paddle?
Pickleball paddles vary in weight from around 6 oz to 14 oz. Light paddles are less than 7.3 oz. These paddles offer the most control. By comparison, heavy paddles weigh more than 8.4 oz, and these paddles give you more power but they lack control. Therefore you should choose a paddle depending on the strength of your shots and how much control you require.
What Is a Good Pickleball Paddle for Beginners?
A good beginner pickleball paddle is easily controlled and well-weighted for your preferences. You should avoid any too-heavy or fast rackets as your mobility will suffer, and you will struggle to keep the ball in play. A good example of a quality beginner paddle is the PickleballCentral Rally Tyro 2. 
Final Thoughts — Our Pickleball Paddle Recommendations
By now, you should understand what features to look out for in a beginner's pickleball paddle and potentially have some models that you like the look of. Of all the paddles we have reviewed, we found that the Uteeqe pickleball paddle set is the best pickleball paddle for beginners.
Textured graphite surfaces and polypropylene honeycomb cores offer a mix of control and speed and are not very loud. This means you can play in your garden without annoying your neighbors. These rackets also have an average of 4.7 stars on Amazon across 2,300 reviews, so you'll almost certainly like how they perform.
Related:

Freelance writer. Table tennis enthusiast. Lover of all things online. When I'm not working on my loop game I'm probably binge-watching some fantasy show.