The 6 Best Graphite Pickleball Paddles
Looking for a high-quality paddle to give you an edge on the court? A graphite pickleball paddle could be just what you need. Lightweight, fast, and durable, graphite paddles are great choices for players as they easily exceed the likes of wood and polymer plastics in terms of performance.
In this guide, we are first going to walk you through the different features of a graphite paddle — specs you need to be aware of before buying. And then, after you're all clued up, we'll dive into looking at some specially selected graphite pickleball paddles which we feel are the best. Without any further ado, let's begin.
Graphite Paddle Buyer's Guide
Graphite pickleball paddles feature a graphite face with a core such as Nomex. They are popular at a professional level due to their playing characteristics. They are lightweight, fast, and precise.
Core
While most graphite paddles use a polymer core, other core compositions are available, such as Nomex. Nomex is a very hard core material that is lightweight and loud when striking the ball. Polymer, by comparison, is much softer and has a large sweet spot.
Weight
Where standard pickleball graphite paddles weigh from 4 oz to 14 oz, graphite paddles tend to occupy the 7.3 oz to 8.1 oz range. This makes them fairly lightweight and well-suited to players who suffer from injuries such as tennis elbow.
Price
Although graphite paddles are associated with a high cost this is not always the case. You can actually pick up a graphite pickleball racket for around $40. However, for such a price you should not expect top quality. Most graphite paddles cost around $60 to $80, and the most expensive models go for several hundred bucks.
Grip
You shouldn't overlook the grip of pickleball paddles as these influence your accuracy when hitting the ball. Ideally, you want a grip that is adequately long enough for both hands and comfortable and functional enough that you can play without soreness or slippage. Most handles measure from 4 ¼ – 5 ¼".
Shape
While wide-body pickleball paddles made of graphite dominate the scene, there are two other kinds you should know about. Each has its benefits and drawbacks:
Wide Body: Offers the best overall balance. Forgiving and has a large sweet spot.
Elongated: These paddles are longer and thinner than wide-body paddles. As a result, they are less forgiving but great for reaching short balls.
Oversized: These graphite pickleball rackets have a larger racket face but smaller handle size to keep within regulation. They offer the largest sweet spot but lack the space to easily play two-handed strokes.
Read More: You can also get one of the best pickleball sets, which have multiple paddles and balls.
Graphite Pickleball Paddles Reviews
1. Rally Graphite PX – Best Overall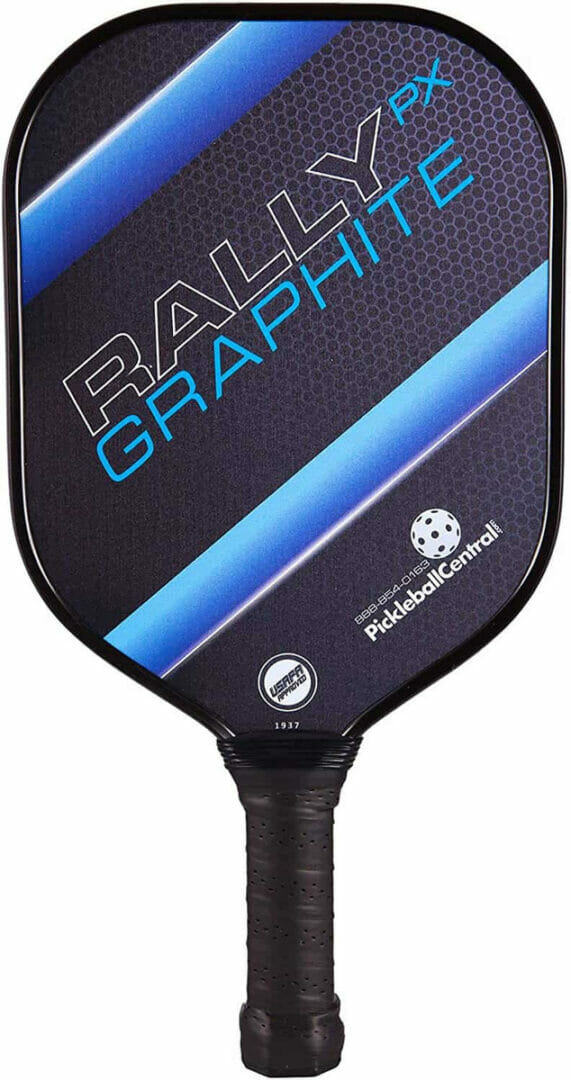 Specifications
Shape: Wide-body
Core material: Polypropylene honeycomb core
Paddle dimensions: 15 ¾" x 8 ⅛"
Grip dimensions: 4 ¾" (length) 4¼" (circumference)
Weight: 7.7-7.9 oz
Price: $$$
Rating: 9.3
First up we have the Rally Graphite PX which is one of the most popular paddles on the market. It uses a polypropylene honeycomb core which gives the paddle a soft feeling. As such, you have more control over the ball and also it doesn't make the large cracking sounds that hard-core paddles do.
The racket face is heavily textured. This further adds to your control and gives you more of an ability to produce spin which is key if you want to become a top player. As for the handle, it uses a non-slip perforated cushioned grip. It has a tacky feel so you shouldn't experience any slippage while using it, even if you sweat a lot or play during wet weather.
To round it all off, the paddle is USAPA approved so you can compete using it. You also have the choice of four different colors: blue, purple, red, and yellow.
2. Onix Graphite Z5 — For Players Seeking Power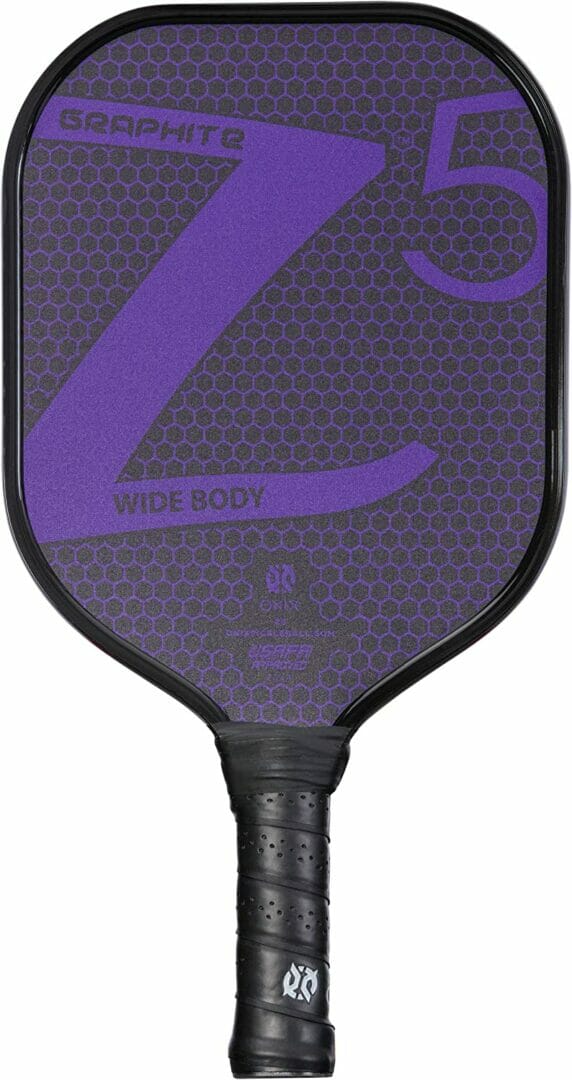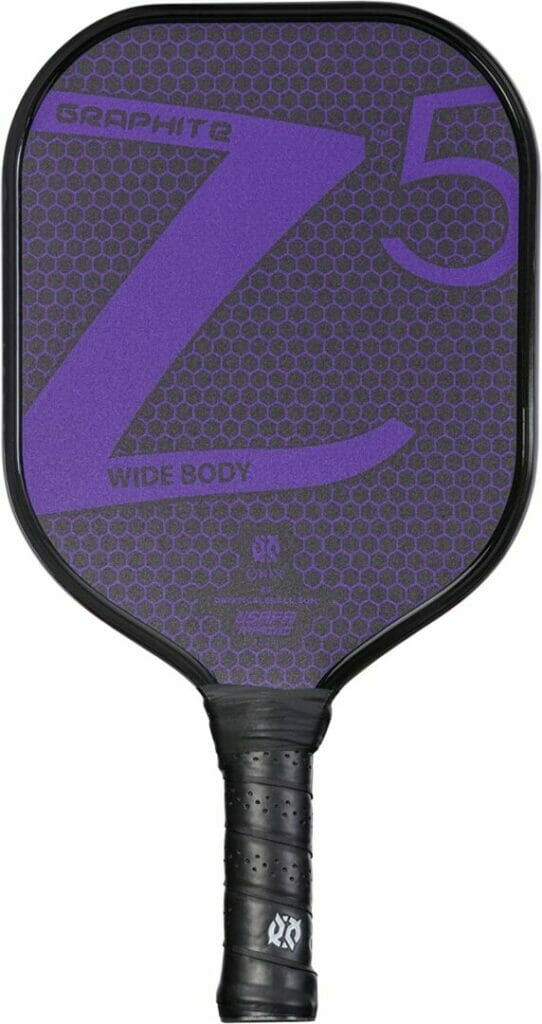 Specifications
Shape: Wide-body
Core material: Nomex honeycomb core
Paddle dimensions: 15 ½" x 8 ¼"
Grip dimensions: 4 ⅛"
Weight: 7.5-8.2 oz
Price: $$$
Rating: 9.6
The Graphite Z5 is the most popular paddle from the Onix line. Sporting a wide body, it has a large sweet spot and is around average weight. However, there is quite a large degree of weight variation as there is up to a 0.7 oz variance, and unfortunately, you don't get to choose which you receive.
The Z5 uses a Nomex honeycomb core. This provides a hard feeling and is loud when you hit the ball, but not as loud as some other rackets. Marketed as the ideal blend between power and control we feel it is a good fit for a wide range of players. It is very popular with beginners, but equally popular at the competitive level. In fact, pro player Tyler Loong has been spotted using the Graphite Z5.
Therefore if you have a moderate budget and are pursuing a versatile racket with good power the Z5 could be a great fit for you. It's available in a staggering 11 colors which is the greatest color selection on this list by a landslide.
3. Amazon' Aces Signature Pickleball Paddle — Budget Choice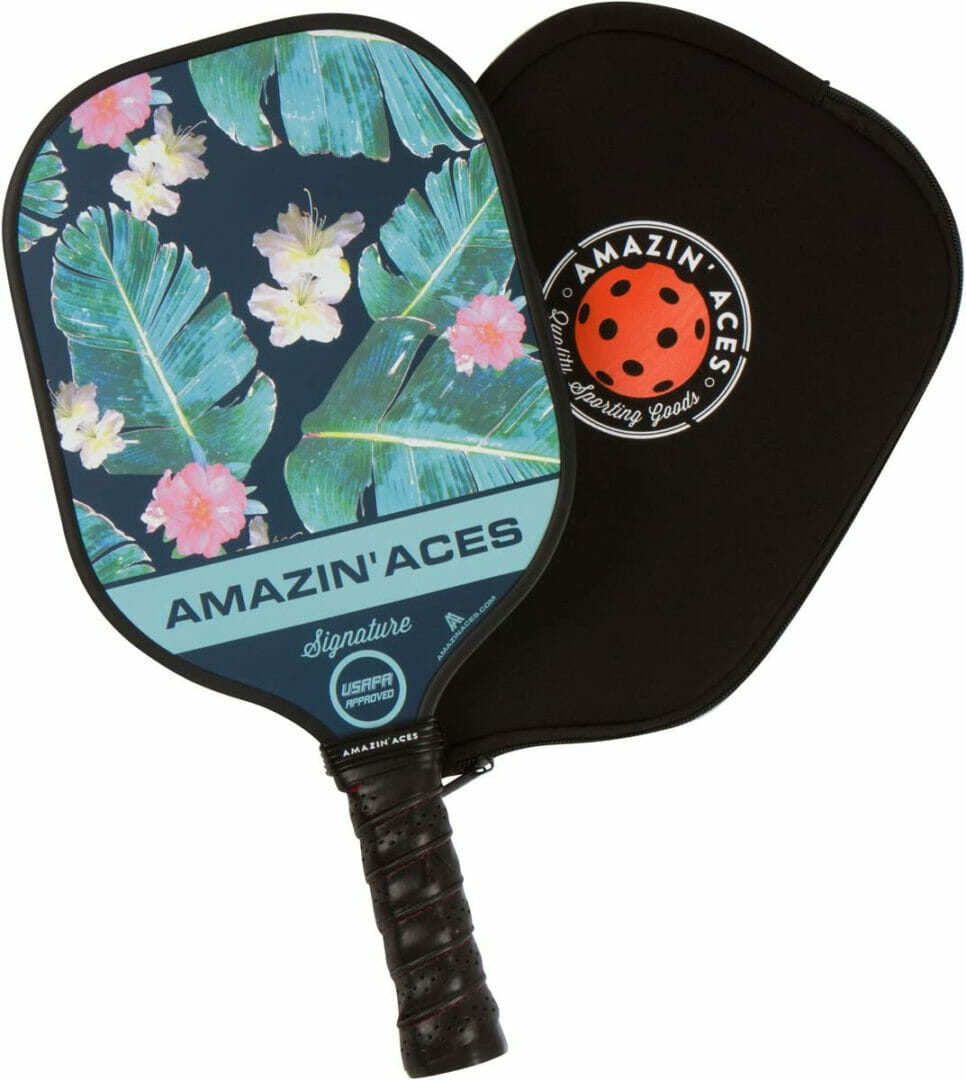 Specifications
Shape: Wide-body
Core material: Polymer honeycomb core
Paddle dimensions: Not listed
Grip dimensions: 4 ¾" (length) 4 ½" (circumference)
Weight: 8.1 oz
Price: $
Rating: 9
The signature pickleball paddle by Amazin' Aces is the perfect graphite paddle for those on a budget, you'll struggle to find anything cheaper. And that's probably the reason why players love it so much. It has a 5-star review average on Amazon and is currently the Amazon Choice product for women's pickleball paddles.
It features a polymer honeycomb core like the Rally Graphite PX, making it a great choice if you play in a residential area because it is very quiet. However, you need not limit yourself to casual home play with this racket. It's actually USAPA approved so you can compete with it, although when you reach this level you may want to upgrade to something a little more advanced.
The Signature paddle comes with a soft zipped racket face cover for protection and you have 4 different colors to choose from, gray is our favorite! You will also be pleased to know that Amazin' Aces stands behind their product with a 1-year warranty period.
4. Onix Stryker 4 — Lightweight Choice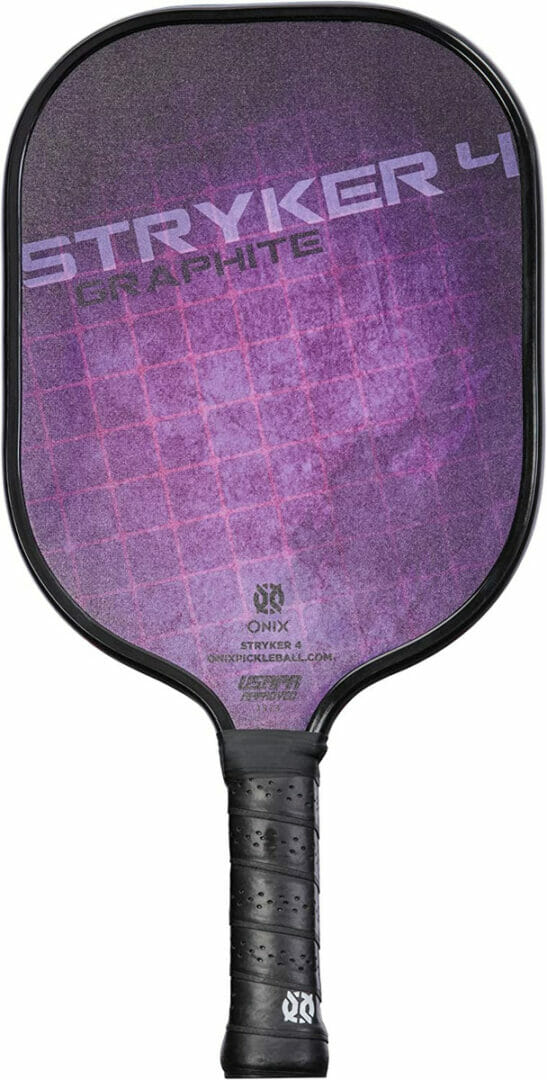 Specifications
Shape: Oversized
Core material: Polypropylene honeycomb core
Paddle dimensions: 15 ½" x 7 ¾"
Grip dimensions: 4 ½"
Weight: 6.9-7.4 oz
Price: $$
Rating: 9.1
The Onix Stryker 4 is a good pick for players that want a lighter racket. On average it weighs around 7.2 oz which makes it very easy to maneuver. Onix also classifies it as an oversized racket rather than wide body. This gives it a larger sweet spot than most of its competitors.
However, we should note that the grip size is no smaller than for a normal racket at 4 ½", so the racket head does not seem particularly enlarged. The only obvious difference to a wide-body shape is that it looks a little elongated.
In any case, it is well-priced and uses a high-quality polypropylene core. It has all the makings of an elite pickleball paddle. As for color choices, you are pretty limited. This racket only comes in purple or gray. If you want a graphite paddle, don't make the mistake of purchasing a differently colored Stryker 4 racket as those have a composite composition.
5. Gamma NeuCore Compass — Premium Pick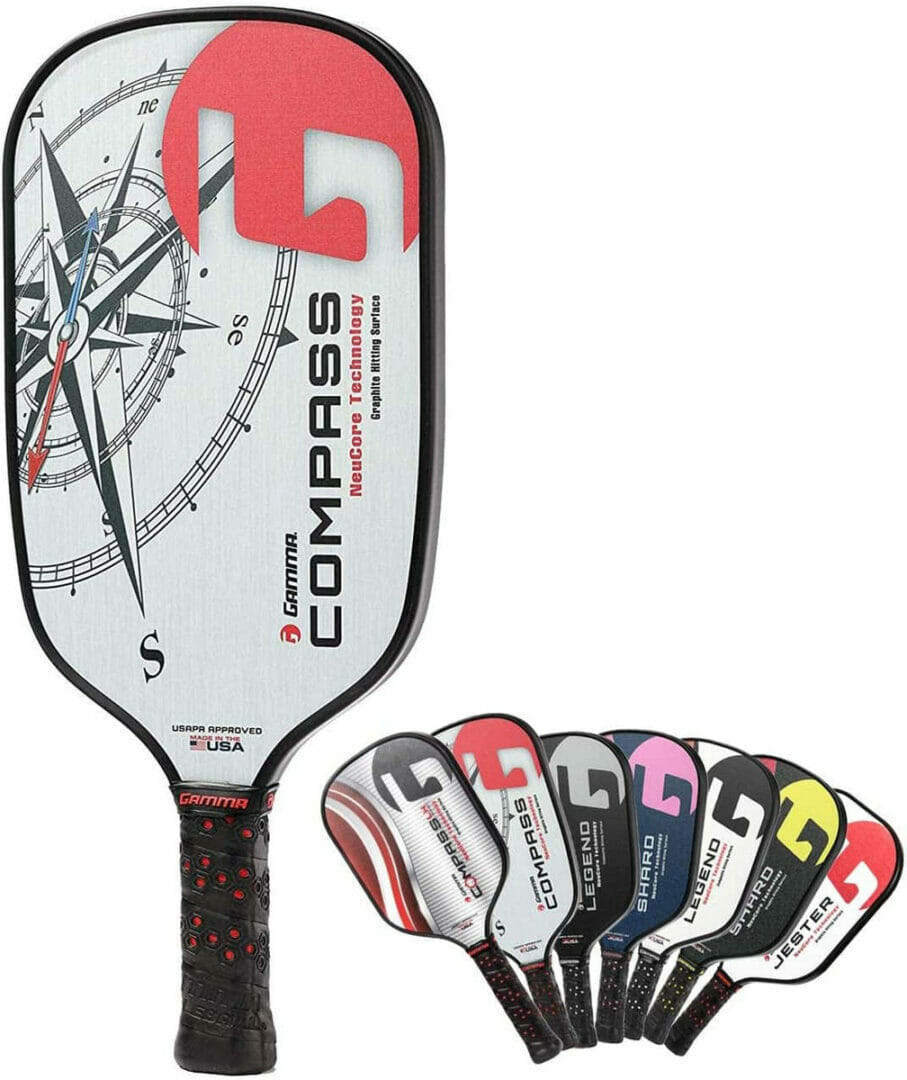 Specifications
Shape: Elongated
Core material: Polypropylene honeycomb core
Paddle dimensions: 16 ⅝" x 7 ⅛"
Grip dimensions: 4 ¼"
Weight: 7.8 oz
Price: $$$$
Rating: 9.5
The Gamma NeuCore series is exceptionally popular with more skilled players as they offer premium tech accompanied by multiple style options. We chose to go with the Compass which has an elongated shape. However, there are other great picks like the Hellbender and Typhoon, both of which offer an enlarged sweet spot.
The Compass uses NeuCore tech which incorporates a ⅝" polypropylene core that is 25% thicker than standard. The individual hexagonal cores are also larger than normal at 10mm. These changes produce a very quiet racket with superior control.
In terms of the grip, the Compass uses a signature Gamma honeycomb cushion grip. Its appearance is much improved over standard grips as the hexagonal cut-outs reveal an underlying red cushioning that matches the red on the racket face. Therefore it excels both in terms of performance and aesthetics!
6. SLK Atlas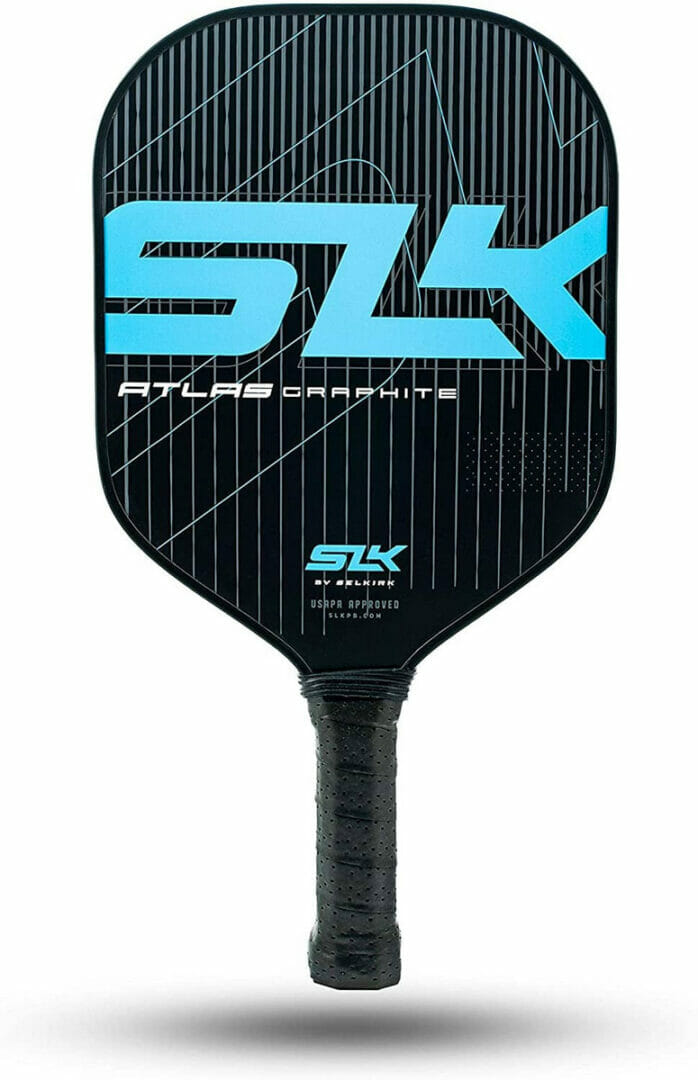 Specifications
Shape: Wide-body
Core material: Polymer rev core+
Paddle dimensions: 15 ½" x 8 ¼"
Grip dimensions: 5 ½" (length) 4 ¼" (circumference)
Weight: 7.5 oz
Price: $$
Rating: 9.2
The final racket on our list is the Atlas Selkirk pickleball paddle. Aimed toward beginners and intermediate players it shares a similar composition to the Rally Graphite PX and Amazin' Aces Signature paddle. Paired with the graphite surface is a polymer core with a soft feel and a wide body for a large sweet spot with high forgiveness.
Moving on to the handle, it uses an SLK ultra-comfort grip. This grip is very effective at absorbing both heavy impacts and vibrations which saves your forearm and elbow from excessive strain.
Unsurprisingly, the racket is USAPA approved as are all the other rackets on this list, so you can use it to compete. You are also covered by a 1-year manufacturer's warranty should the Atlas not stand up to normal use.
You can also pick up a similar SLK graphite pickleball set if you're in the market for more than one paddle.
FAQs
What Is a Graphite Pickleball Paddle?
A graphite pickleball paddle is a racket that features a graphite surface with an inner core of another material such as Nomex or polymer. Graphite paddles suit a wide range of players but can be a little expensive.
Is Graphite Best for Pickleball Paddles?
Graphite is undoubtedly one of the best surface materials for pickleball paddles alongside fiberglass/composite.
What Is Better for a Pickleball Paddle Graphite or Composite?
Graphite and composite are largely on the same level as one another, so preference comes into play. Graphite excels at being lightweight and fast whereas fiberglass provides the greatest levels of accuracy.
Why Is There an Edge on Graphite Pickleball Paddles?
Almost all graphite paddles have a raised edge around the racket face known as an edge guard. This protects the racket's face from damage and ensures it lasts for a long time.
What Is the Best Graphite Pickleball Paddle?
To us, the best overall graphite paddle is the Graphite Z5. It is one of the best-selling graphite rackets on the market.
Conclusion
Graphite pickleball paddles are some of the highest quality paddles you can buy, and despite this fact, most are within what we would consider being an affordable price range. After scouring the web for the top-performing rackets the 6 listed in this article stood out as some of the best on offer.
That being said, if we had to recommend one in particular that honor would go to the Onix Graphite Z5. With its Nomex core, it may be loud but it offers a great balance between power and control. And the fact that it is so popular with beginner, advanced players, and even the pros means it is the most reliable option across the board.
Want to learn more about pickleball paddles? Check out our guide on the best paddles for beginners and the best paddle sets.

Freelance writer. Table tennis enthusiast. Lover of all things online. When I'm not working on my loop game I'm probably binge-watching some fantasy show.