The 7 Best Pickleball Sets You Can Purchase in 2023
With pickleball exploding as one of the fastest-growing sports in the US, it's only natural for you to want to play pickleball! Of course, buying a top paddle for a competitive edge can be tempting, but don't get ahead of yourself. Try out the sport first to make sure it's something you want to play on the regular.
The best pickleball sets provide two or four paddles and at least two balls. Some even have a net, so you have everything you need to start playing.
In this post, I'll be looking at the top pickleball sets available to provide a range of choices, with varying quantities of paddles and sets with and without nets.
If you're short of time, here are the best pickleball sets from my research:
Our Research Parameters
PingPongRuler is independent, and we were not paid for the reviews in this article. These pickleball sets were selected by our team, who have over 25 years of experience playing ping pong and other sports. We have also spent hundreds of hours reviewing products. We may earn an affiliate commission when you purchase something through our retail links.
For this post, we carefully reviewed all available pickleball sets on the market and tested each for:
Quality
Value for money
Completeness of each set
Warranty
USA Pickleball compliance
The Best Pickleball Sets for 2023
Helium Versus Pickleball Set of 4 — Best for 4 Players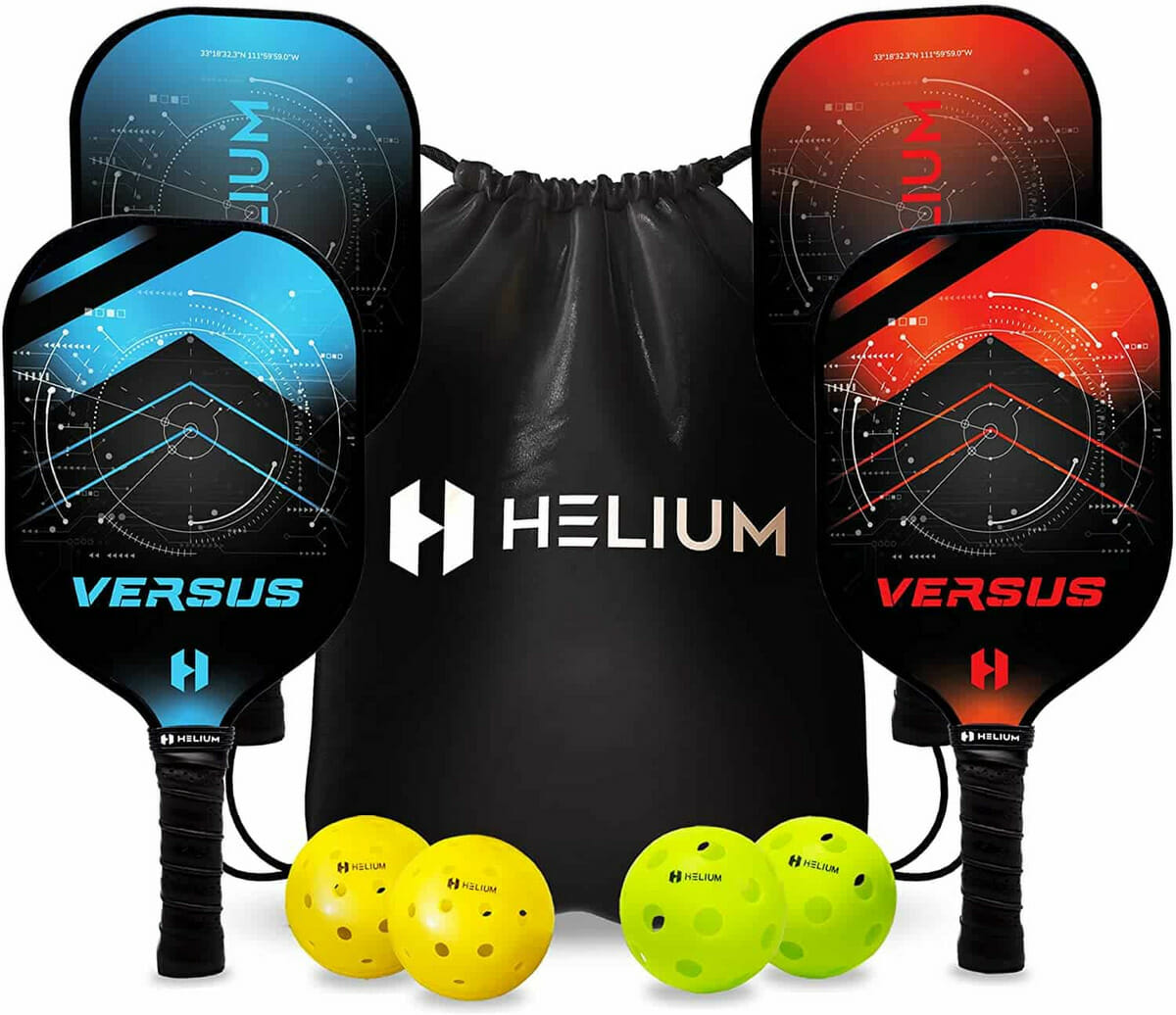 Features
Bats: 4x graphite paddles
Bat weight: 7.5-7.7 oz
Balls: 2x indoor balls, 2x outdoor balls
Net: No
Includes: Paddles, balls, and drawstring carry bag
Pros
High-quality paddles
Both indoor and outdoor balls
Cons
No warranty period listed
Rating: 9.6
The Helium Versus is the best pickleball set of 4 rackets. If you've got 3 or 4 players keen to try pickleball, we think it's the best bundle to purchase. The rackets have an eye-catching abstract design, with two indicating the red team and two for the blue team. This provides a nice balance as all of the other sets on this list include paddles that are either identical or offer very little difference in appearance.
Moving past the look of the paddles, they are very high quality. The Helium versus rackets feature a high polymer honeycomb core with a graphite fiber surface. It's incredible to think you are getting four of these paddles at a great price.
Also included with the bundle are four balls — two for indoor play and two for outdoor, which gives you multiple choices regarding where you can set up.
Vinsguir Graphite Pickleball Paddles Set — Best for 2 Players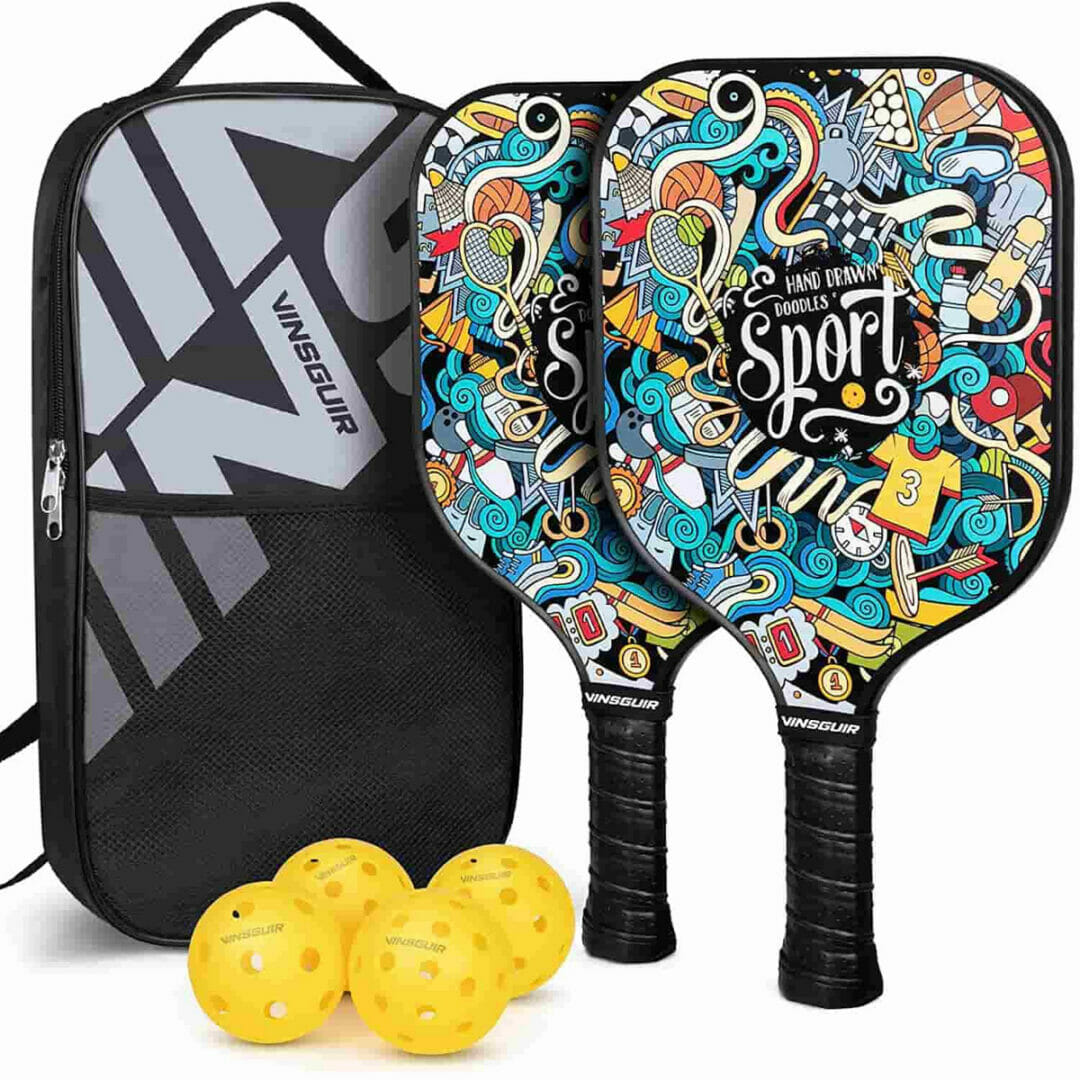 Features
Bats: 2x graphite paddles
Bat weight: 8 oz
Balls: 1x indoor balls, 3x outdoor balls
Net: No
Includes: Paddles, balls, and zipped carry bag
Pros
#1 best seller on Amazon
High-quality paddles
1-year warranty period
Cons
Doodle design is not very professional looking
Rating: 9.6
The Vinsguir pickleball bundle is not dissimilar from the Helium Versus set. It, too, features high-quality graphite rackets with a honeycomb core and four balls to play with.
The main difference between the two sets is that you get two rackets with the Vinsguir set and four with the Helium Versus set. Choosing between these bundles should be pretty easy. If you have two players, this is the more fitting set, but the Helium Versus set is a better option if you have more.
Another difference is that three out of the four balls are for outdoor use. We believe this is slightly better as most people favor playing pickleball outdoors. You should also consider the warranty period, which is 12 months for the Vinsguir set — pretty respectable. 
Overall, of all the two-racket bundles we looked at, the Vinsguir set impressed us the most. So if you're looking for the best beginner pickleball set at a reasonable cost, we think you can't go wrong with the Vinsguir set.
MTEN Pickleball Set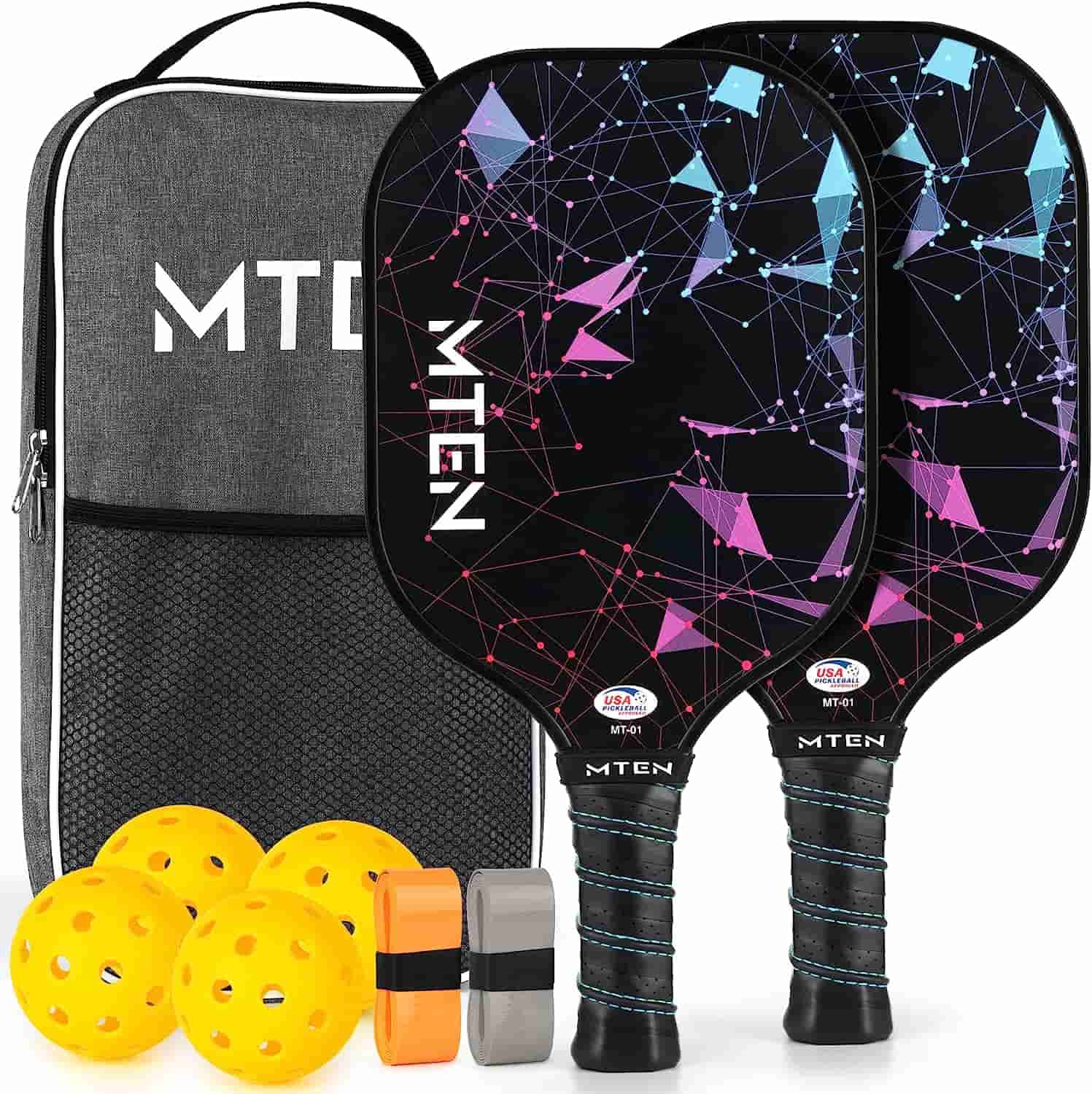 Features
Bats: 2x fiberglass paddles
Bat weight: 7.78-8.11 oz
Balls: 4x outdoor balls
Net: No
Includes: Paddles, balls, 2x grip tapes, and zipped carry bag
Pros
#1 best seller on Amazon
High-quality paddles
1-year warranty period
Cons
Abstract geometric patterns may not be to all player's liking
Our third paddle and ball bundle comes from MTMEN. It includes two paddles, 4x outdoor balls, a carry case, and 2x grip tapes. This differs slightly from the Vinsguir set which features 3x outdoor balls and 1x indoor ball, and no grip tapes.
The paddle face is also composed of a different material. The MTMEN rackets feature fiberglass which is renowned for its power and durability. The Vinsguir rackets instead use graphite, which is often typical of a higher-quality racket, but not always. Graphite is lighter and more responsive, but usually not quite as powerful.
All in all, there's not much to separate these two sets — they even have the same warranty period of one year. We marginally prefer the Vinsguir set because it's 14 bucks cheaper.
Rating: 9.6
Aceletiqs Pickleball Net Set — Best Pickleball Set with Net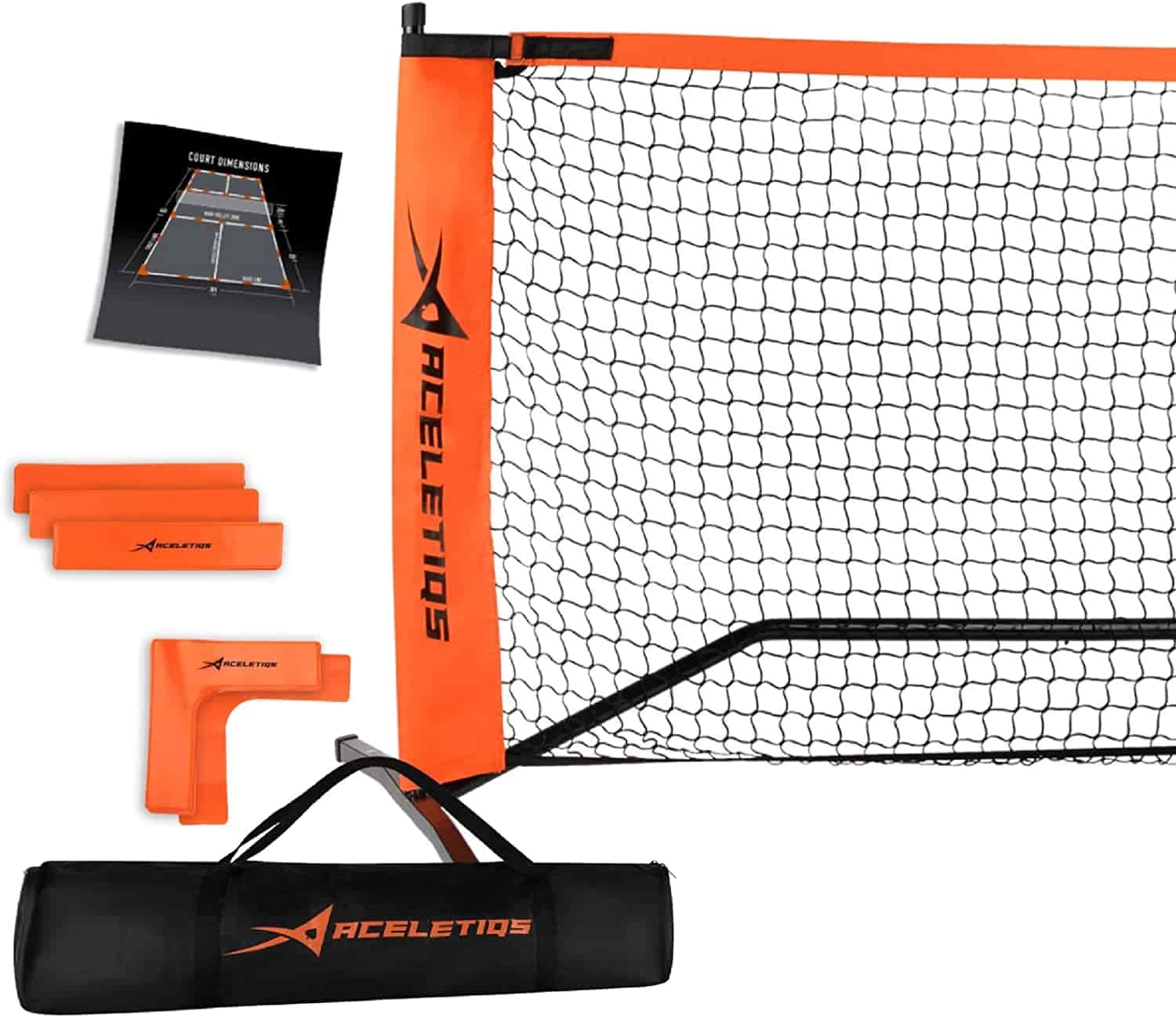 Features
Bats: None
Bat weight: N/A
Balls: None
Net: Yes
Includes: Net, carry bag, and pickleball court markers
Pros
High-quality net that meets USA Pickleball's regulations
Includes court markers
Lifetime guarantee
Cons
No paddles included
No balls included
Rating: 9.5
The Aceletiqs pickleball bundle may be missing paddles and balls, which is atypical of pickleball sets, but it's a cracking buy if you don't have a pickleball court near where you live and want to make your own. For starters, the pickleball net isn't the small kind that you often find advertised. It's a full-size pickleball net that meets USA Pickleball's specifications.
In addition to this net, the bundle includes pickleball court markers, so you can quickly set up a court wherever you are. You don't need to mess around with chalk or tape; this is the simplest way to make a temporary court.
Also included are all of the extras you might need to get set up. This includes the likes of a tape measure and ground steaks. Aceletiqs even throws in a free wristband for good measure — how cool!
These features alone make this bundle worth recommending, but the lifetime warranty really conveys how great of a set this is. With lifelong coverage, you can purchase with complete peace of mind. There is simply no beating that.
Anything Sports 3 in 1 Pickleball Set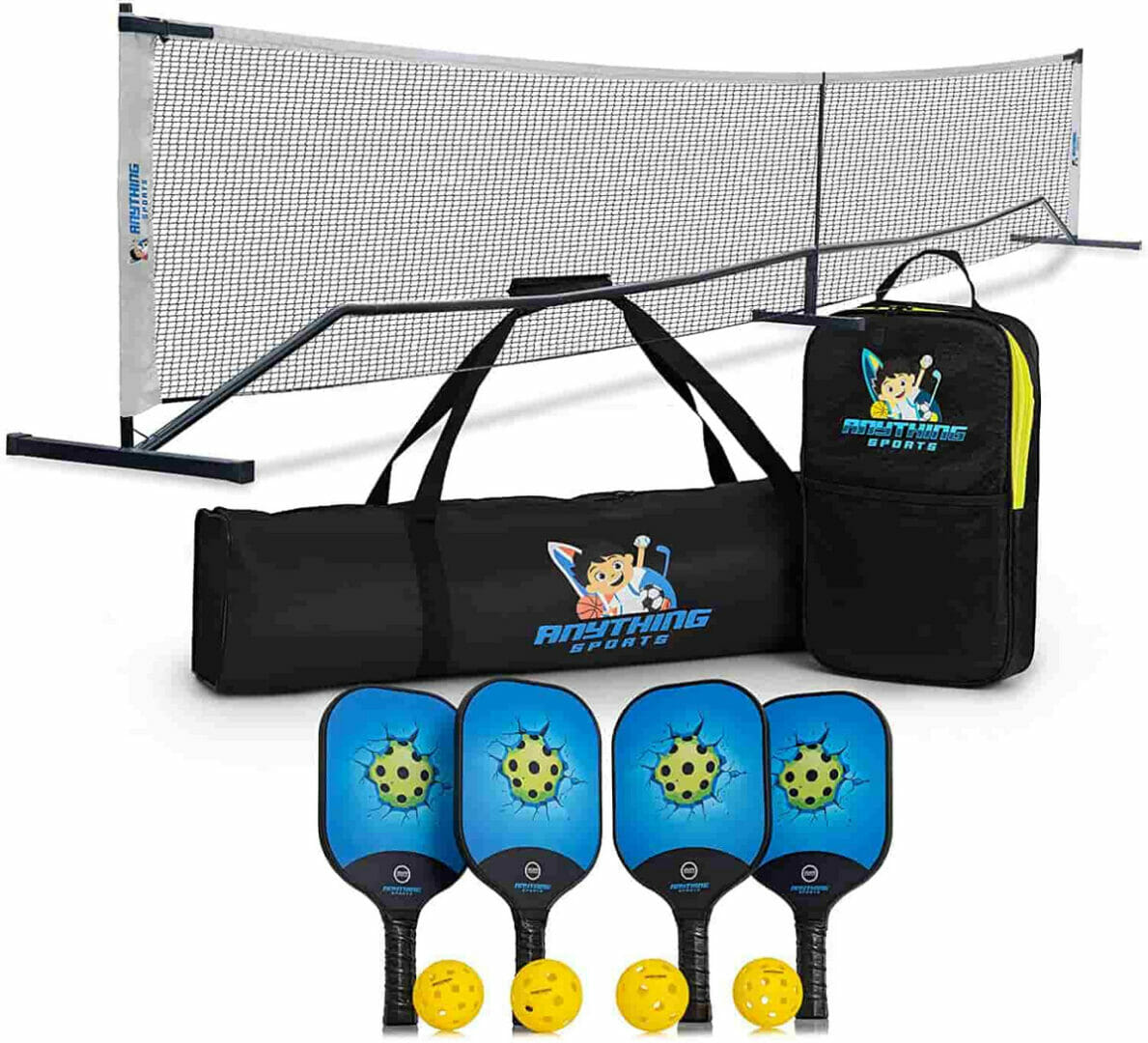 Features
Bats: 4x graphite paddles
Bat weight: Unknown
Balls: 2x indoor balls 2x outdoor balls
Net: Yes
Includes: Net, carry bag, and paddle carry bag
Pros
Includes a high-quality net that meets USA Pickleball's regulations
High-quality paddles
1-year warranty period
Cons
Rating: 9.4
If you're in the market for a high-quality net and paddles, this could be the set for you. It features four graphite face paddles for maximum control and accuracy, although there is no mention of how much they weigh or the core material, which is a little disappointing.
But the net more than makes up for this. It meets USA Pickleballs' regulations, and like the Acelitiqs pickleball net, it's very easy to transport and set up.
My main issue with this set is the lack of overall information in the listing. No weight is listed for the paddles, which is pretty basic information to omit. Anything Sports even claim that multiple 5.0 top 200 players worldwide endorse the set, but they reference no names — certainly a missed opportunity. However, they claim that the price of the equipment in the bundle doubles what they sell it for when sold separately.
Fostoy Pickleball Net Set — Best Complete Pickleball Set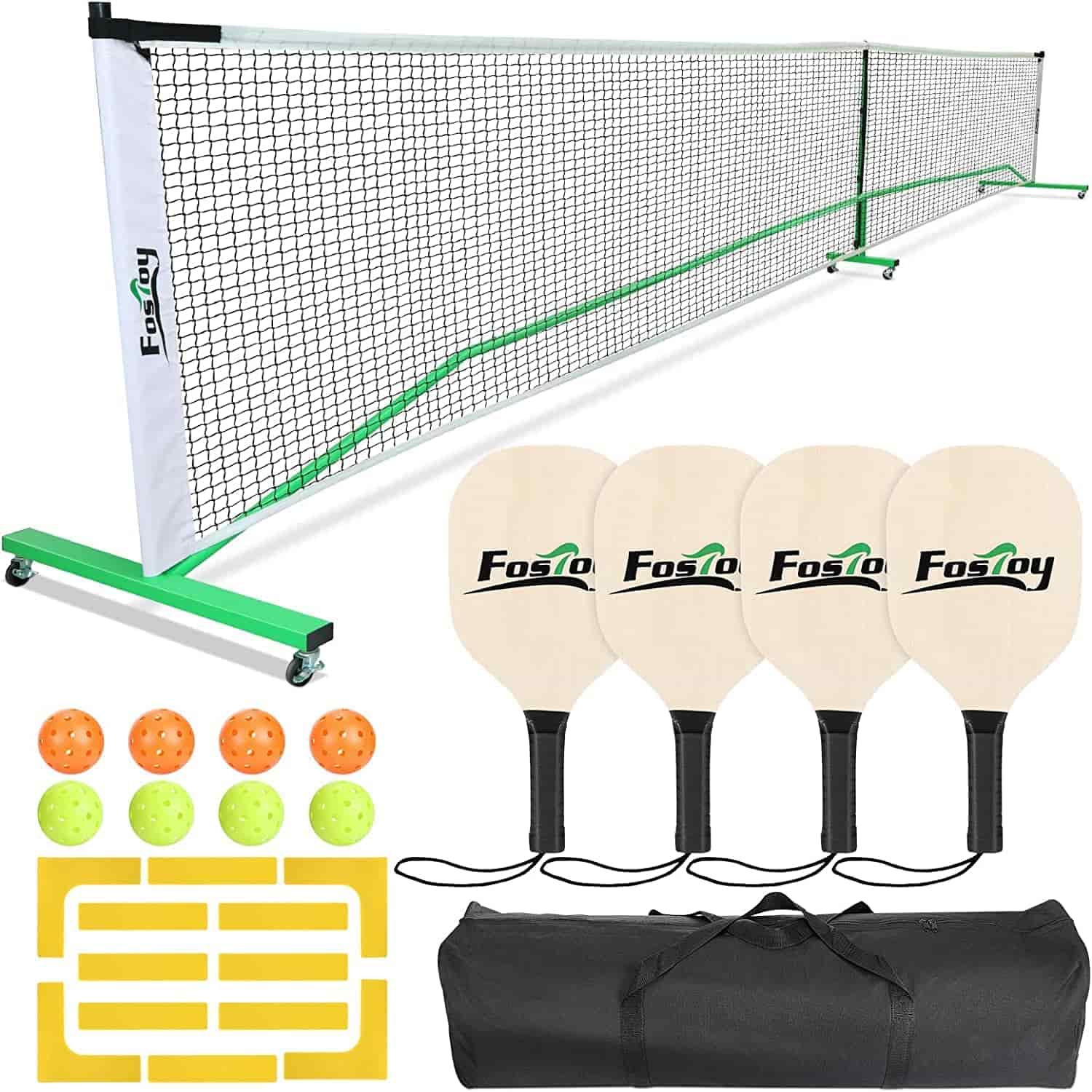 Features
Bats: 4x wooden paddles
Bat weight: Not listed
Balls: 8x balls
Net: Yes
Includes: 4x pickleball paddles, 8x pickleball balls, court marking set, carrying bag
Pros
Has everything you need to start playing
High-quality net that meets USA Pickleball's regulations
Cons
Rating: 9.5
If you're after everything you need to get playing pickleball right away, you need look no further than the Fostoy pickleball set. Where the Aceletiqs bundle is missing paddles and the Anything Sports Bundle is missing pickleball court markers, the Fostoy set has it all!
Moreover, the net is full-size and features central support, ensuring it complies with USA Pickleball's rules. It even has wheels so that you can move it around easily — this is something neither of the other net bundles can claim.
It also comes with eight pickleballs which is unmatched by any of the other sets. The most balls included by other competitors is only four.
The sole issue with this set is the paddles. While having four is the perfect number, they are of poor quality as they are made out of wood. This is less than ideal for pickleball enthusiasts with experience, yet we think they are a fine introduction to pickleball games for casual players. As such, we strongly believe that the Fostoy bundle is the best complete pickleball set for beginners.
SGSPORT Portable Pickleball Net Set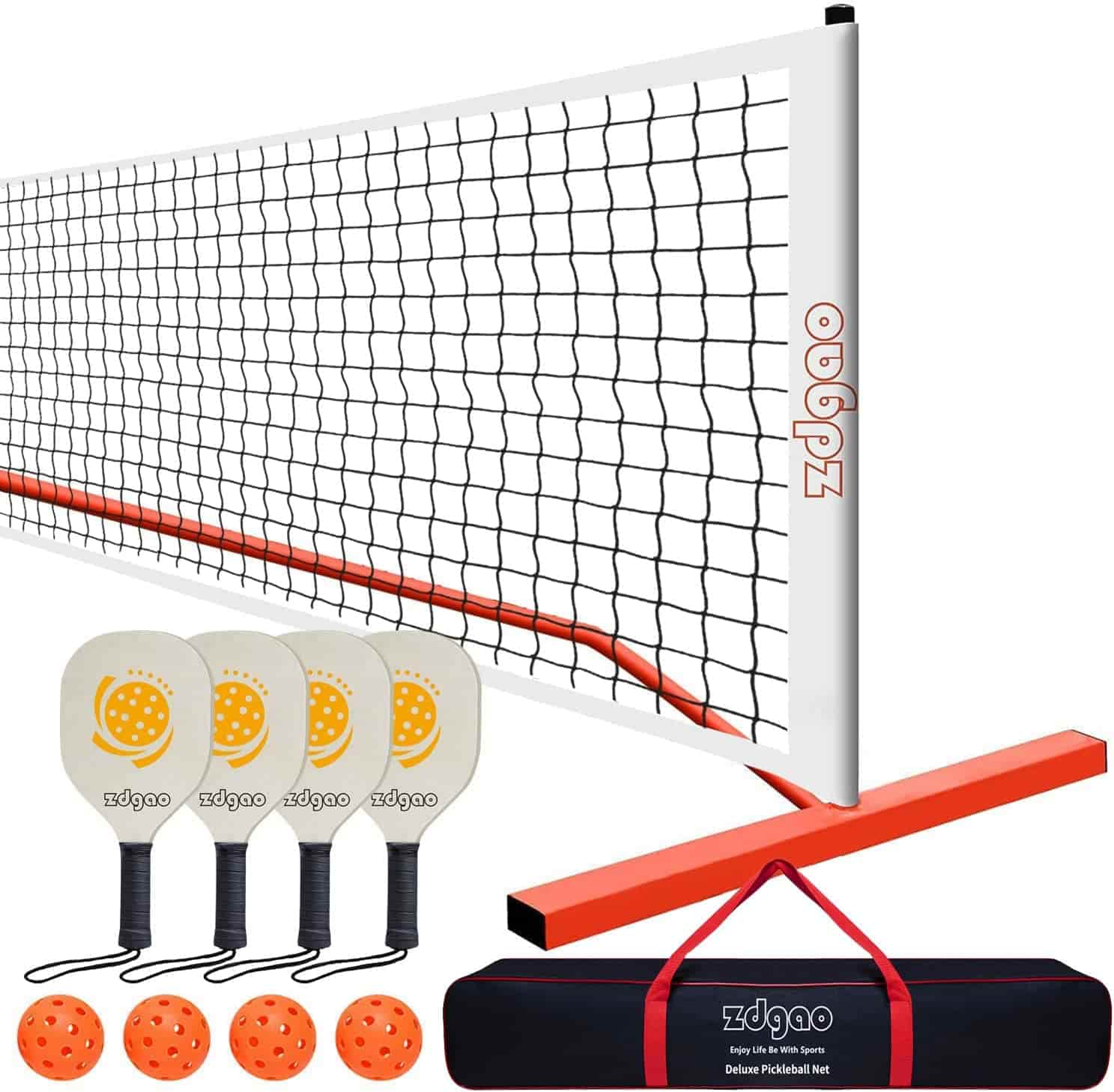 Features
Bats: 4x wooden paddles
Bat weight: Not listed
Balls: 4x balls
Net: Yes
Includes: 4x pickleball paddles, 4x pickleballs, carrying bag
Pros
High-quality net that meets USA Pickleball's regulations
Net is weatherproof
Cons
Basic paddles
No court marking system included
Rating: 9.5
Another solid option if you are seeking a pickleball net set is the bundle by SGSPORT. Like the others discussed thus far, the net is full size and fully compliant with pickleball rules. However, unlike the other models, the net is waterproof. This is thanks to its rust-resistant powder-coated steel frame. It also comes with a handy waterproof bag.
Of course, even though the net is waterproof, we don't recommend you leave it outside all year round. Rather, you don't have to worry about catching it in the rain on the odd occasion.
Besides the net and carry case, the set includes four paddles and four balls, but the net really is the standout component. You'll likely want to purchase better balls and paddles. That being said, they are fine for beginners. Also, if you're tempted to pick up this set, remember it doesn't include court markers, so you'll have to mark the court out yourself.
Why Should You Buy a Pickleball Set?
Pickleball sets are the best way to dip your toes into pickleball as they give you everything you need to start. You simply need to purchase the right pickleball set for your needs.
For example, if you have local courses available and just two of you are seeking to play pickleball, purchase a set with two rackets and some balls. Alternatively, if no courts are around and four of you are looking to play, purchase a more comprehensive set with four rackets, balls, court markers, and a net.
Much of the appeal of purchasing a pre-made set is that it largely takes out the guesswork of buying the right gear. With so many rackets, nets, court markers, and the like, things can get confusing quickly. Yet a pre-made set collects all of the necessary pickleball equipment in one convenient bundle for you. Moreover, the cost is often much cheaper than buying each piece separately.
Pickleball Set Buyer's Guide
Before buying your pickleball set, you should consider your skill level, budget, how often, and where you will play. These factors will affect which pickleball set is the right one for you. Here's everything you need in a pickleball set.
Pickleball Paddles
Pickleball sets never come with a single paddle. Instead, they usually consist of two or four pickleball paddles, so it's important to know how many people you will be playing with. On top of this, you'll have various paddle types to choose from.
You've got more basic options like wood. These paddles are hard and heavy and often inexpensive.
If you want to spend more money, choose a graphite paddle set. These are among the best pickleball paddle sets, which are fast yet lightweight. If you're going to play often, we recommend investing in higher-quality paddles as they are more enjoyable and help develop your skills faster.
Pickleball Balls
Every pickleball set comes with pickleball balls. You can expect at least two, but more commonly, four. Pickleballs come in various colors; as you might expect, the quality varies depending on the brand.
Unfortunately, all the products in a set are often made by the same brand, so you likely won't get super high-quality pickleball balls — this is true of even the best beginner pickleball sets. While most are okay to use, they fall well below the likes of the Franklin Sports X-40 which is our favorite ball.
Instead, pay attention to what type of balls are included. Pickleball balls are split into two categories: indoor and outdoor. And no, we don't recommend using indoor balls outdoors and vice-versa. So take that into consideration!
Pickleball Net
Pickleball nets are a great addition to pickleball rackets and balls, although you'll find most sets don't include a net. Nets are pretty damn expensive, you see, so you'll be paying a lot more if you buy a set with a net.
The main question you have to ask yourself is, do you need a net? If you already have access to a pickleball court, having one of your own might not make sense.
However, if you decide you do need a pickleball net, make sure you get one that meets the USA Pickleball's requirements.
Some bundles you see online may use multi-sport nets. These nets never adhere to USA Pickleball's requirements as they aim to bridge the net dimensions between multiple sports. A pickleball net should measure 22' in length by 36" in height at the post and 34" in height in the middle.
Frequently Asked Questions
Should I Purchase a Set if I Plan on Going to a Pre-Made Court?
I wouldn't be deterred from purchasing a pickleball set even if you have a pre-made court in mind. You can simply purchase a pickleball set with only paddles and balls. However, you may want to buy a pickleball set with a net even if you usually play at a pre-made court as it allows you to play almost anywhere.
How Much Does a Pickleball Set Cost?
The cheapest pickleball sets featuring two paddles and balls tend to start at around $30. If we bump that up to four paddles, you're likely looking at around $50-$100. Then if you choose to include a net as well, the cost is typically $100-$200+.
Which Pickleball Set Is Best For Me?
The easiest way to determine the best pickleball set for you is to ascertain your skill level, goals, and how many people you will be playing with.
For 2 players, the best pickleball starter set is the Vinsguir pickleball bundle. With ~2,000 5-star reviews, there's no need to worry about quality with this bundle. It does the job perfectly, provided you are not an advanced player.
For 3-4 players, the Helium Versus pickleball set is our top choice. It features a very similar design to the Vinsguir set but looks a lot cleaner, in our opinion. We really like the geometric design with the two color pathways to separate teams.
And finally, for those of you who want the best starter pickleball set with a net, we recommend the Fostoy pickleball net set. The wooden bats are fairly basic, but the net is very high quality and easy to set up and move around thanks to its wheels. In our eyes, the steep price jump for the net is well worth it.
Enjoy this guide? Perhaps you might like our write-up on the best pickleball bags or the best cheap pickleball paddles.

Freelance writer. Table tennis enthusiast. Lover of all things online. When I'm not working on my loop game I'm probably binge-watching some fantasy show.