8 Best Pickleball Bags in 2023
To conveniently take all of your pickleball equipment to the court, you will need a bag. Now pretty much any old bag will get the job done. But it could be ripping at the seams, getting your equipment scratched, and generally be a nightmare to deal with. Speaking from experience, I put up with an old backpack for too long, and when I finally made the switch, I hated myself for not doing it sooner.
That's why I recommend picking up a dedicated pickleball bag that meets your needs. There are lots of different designs to choose from. To help you pick the best one for you, I have selected a range of different pickleball bags, and I'll cover the benefits and drawbacks of each.
If you're short of time, here are the best pickleball bags in 2023:
To learn more about each of these exceptional models, read our full pickleball bag reviews below. We've also provided a buyer's guide towards the bottom of this article to give you further insight regarding how you should choose your pickleball bag.
Why Trust Ping Pong Ruler?
While Ping Pong Ruler specializes in table tennis gear, pickleball has won over our hearts and now we can't get enough of the game. We've written a plethora of articles relating to pickleball gear and we have no intention of stopping any time soon.
For this post, we considered the following criteria:
Storage space
Comfort
Physical appeal
Convenience
Build quality
Value
Anti-theft measures
The 8 Best Pickleball Bags in 2023
1. Franklin Sports Pickleball Bag — Best Overall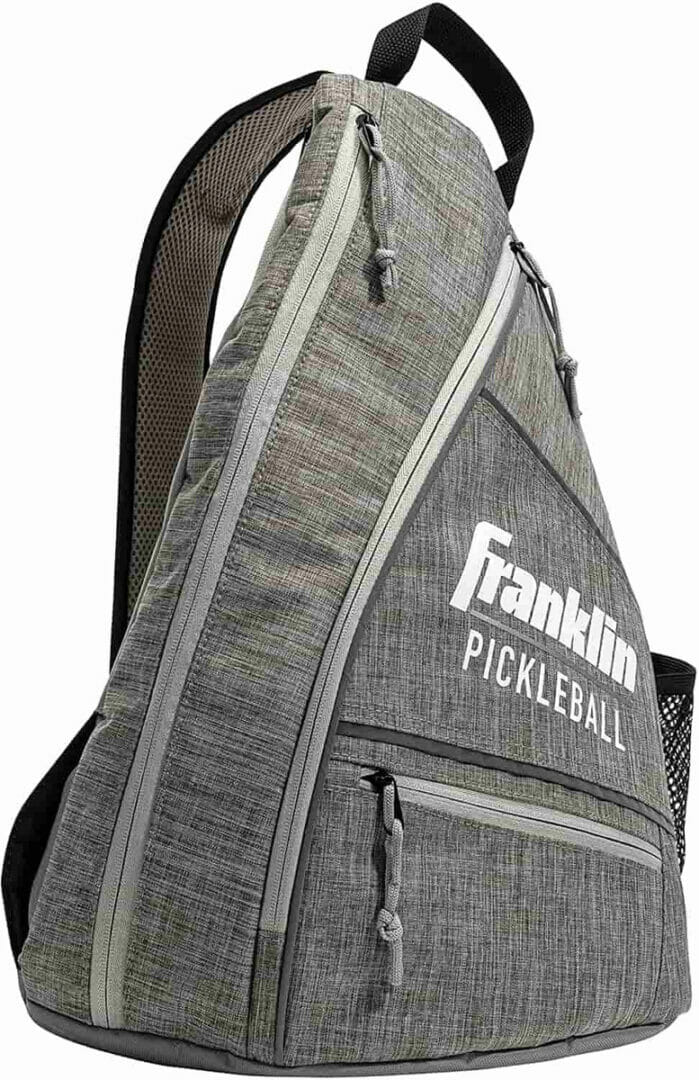 Features
Type of bag: Sling
Colors: Gray, black/green, grey/pink, gray/pink
Material: Polyester
Size: 18.5" (L)  x 13" (W)  x 8" (H)
Pros
Official bag of US Open Pickleball Championships

Used by the #1 ranked pickleball player in the world

Adjustable straps

Fence hook

Fits 3 paddles, 2 cans of balls, and accessories

External elasticated compartment
Cons
Uncomfortable to wear after long periods (weight on one shoulder)

Easy for belongings to fall out of the main section when opening
Rating: ★★★★★
The Franklin Sports pickleball bag stands tall as the most popular bag for players, and it's easy to see why. This sling-style bag is the best-looking product, in my opinion, and it's available in five different colors, which gives you plenty of choices.
I love the amount of storage options you have with this small bag. It can fit up to three paddles, two cans of pickleball balls, plus a range of accessories. You have three zipped sections in total plus an external elasticated compartment. Great for your water bottle for quick access. Equally, pickleball balls would make a good option here too.
The sling is such high quality that it was the official bag of the US Open Pickleball Championships. It's also the bag of choice for the top player worldwide: Ben Johns. With such strong backing, it's hard to see a world where this bag doesn't impress you.
The main drawback of this model is that it is not the most comfortable to wear as it only has one shoulder strap. However, we doubt you're planning on piling loads of heavy gear into it, so this is not much of an issue. As a result, it's the top pickleball bag in my opinion.
2. Mangrove Pickleball Bag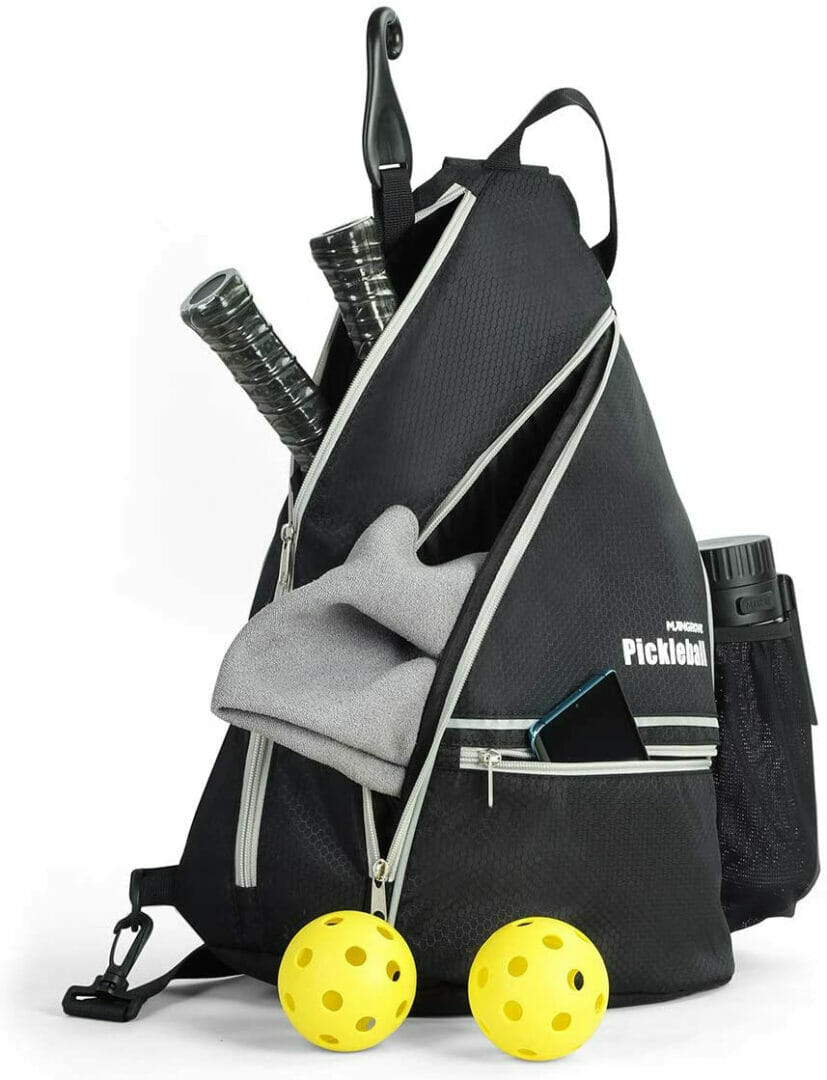 Features
Type of bag: Sling
Colors: Black/gray, black/green, gray/pink
Material: 600D polyester
Size: 19.3" (L)  x 15" (W)  x 7.7" (H)
Pros
Inexpensive

Adjustable shoulder sling

Fence hook

XL secondary pocket

Felt-lined pocket for valuables

External elasticated compartment
Cons
Uncomfortable to wear after long periods (weight on one shoulder)

Easy for belongings to fall out of the main section when opening

Plain design
Rating: ★★★★★
The Mangrove pickleball bag is a great alternative to the Franklin Sports bag. Priced much cheaper, it shares a similar look and storage options. Its three pockets are located in the same areas, and it too has an external elasticated compartment.
However, it is a touch bigger as it's designed to be 10-20% larger than other pickleball bags. We found it can even hold a 15" laptop which is pretty incredible! Although we'll doubt you'll be taking that with you to the pickleball court!
The felt-lined pocket is perfect for valuables such as your phone. If you don't have a wrap-around phone case, this will make sure your screen doesn't get scratched.
The bulk of the sling is made from 600d polyester, a smooth material that is both scratch-resistant and water-resistant. Considering the low price, it's easy for one to make a case for it to be the best pickleball bag.
Like with the Franklin Sports bag, it only has one shoulder strap so it could become uncomfortable to wear if you put anything too heavy in it. In my opinion, a bigger drawback is that the three colorways on offer are a little plain.
3. ACOSEN Tennis/Pickleball Backpack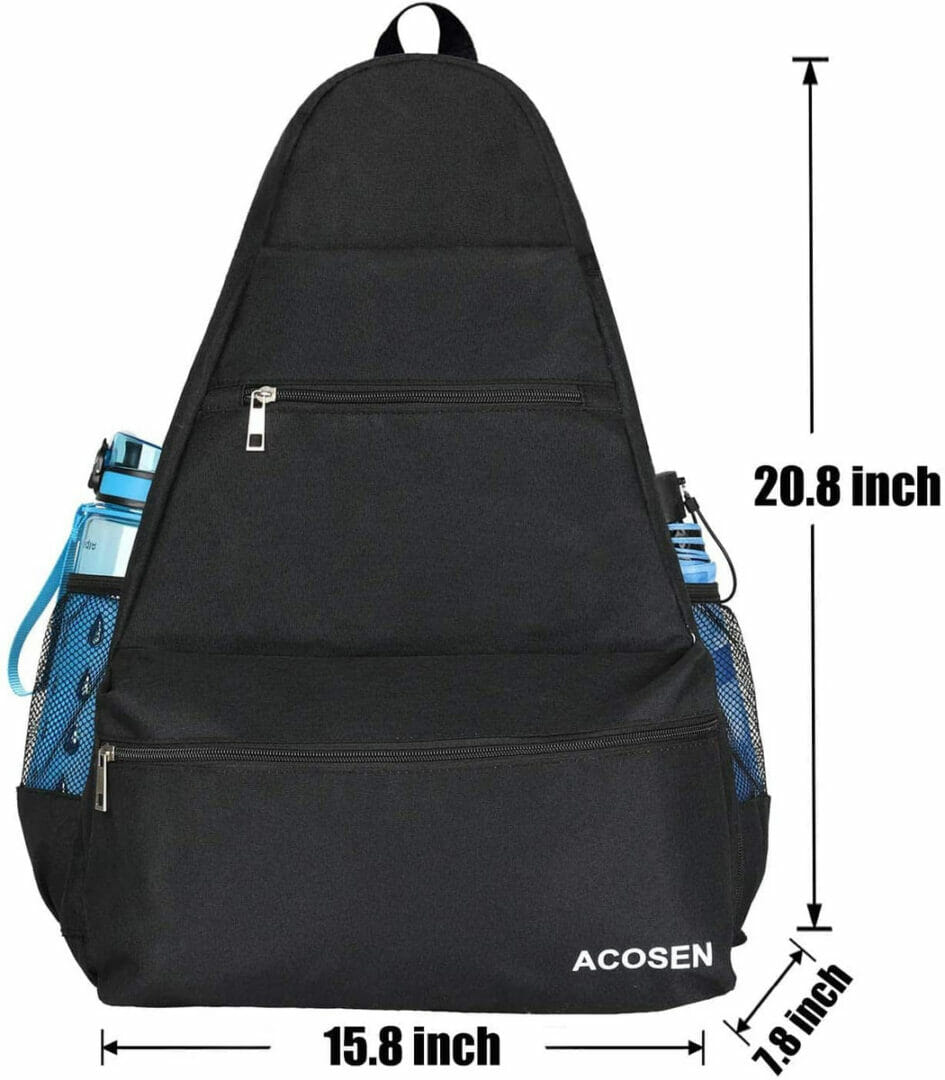 Features
Type of bag: Backpack
Colors: Black, blue, gray, green floral, purple, rose red
Material: Polyester
Size: 20.8" (L)  x 15.8" (W)  x 7.8" (H)
Pros
Inexpensive

Adjustable shoulder straps

Fence hook

Padded racket compartment — fits 2-3 rackets

5x zipped compartments

2x external elasticated compartments
Cons
Rating: ★★★★☆
ACOSEN makes one of the best pickleball backpacks I could find. It's only marginally bigger than the Mangrove sling bag at 20.8" (L) x 15.8" (W) x 7.8 (H). Complete with 5 zipped compartments, you have plenty of sections to separate your belongings so that you can quickly find what you need.
It not only fits more pickleball goodies, but it's also more comfortable to wear given it has two shoulder straps. The price you pay is that it doesn't look quite as slick as the Franklin Sports bag and Mangrove bag, however, I still admire the design. As far as backpacks go, it's pretty attractive, and there are plenty of colors to choose from.
The hidden pocket is located on the back portion of the backpack. This means it will be up against your back when in use. Therefore we don't recommend storing anything too bulky in this section.
The ACOSEN backpack comes in two styles labeled A and B. The only difference between the two is that B is the newer-style backpack. It is more expensive and has an additional section on the back for your footwear. We prefer version A because it keeps costs lower and because the new pocket eats into your main section's storage space.
4. Athletico Pickleball Backpack — Best for Organized Storage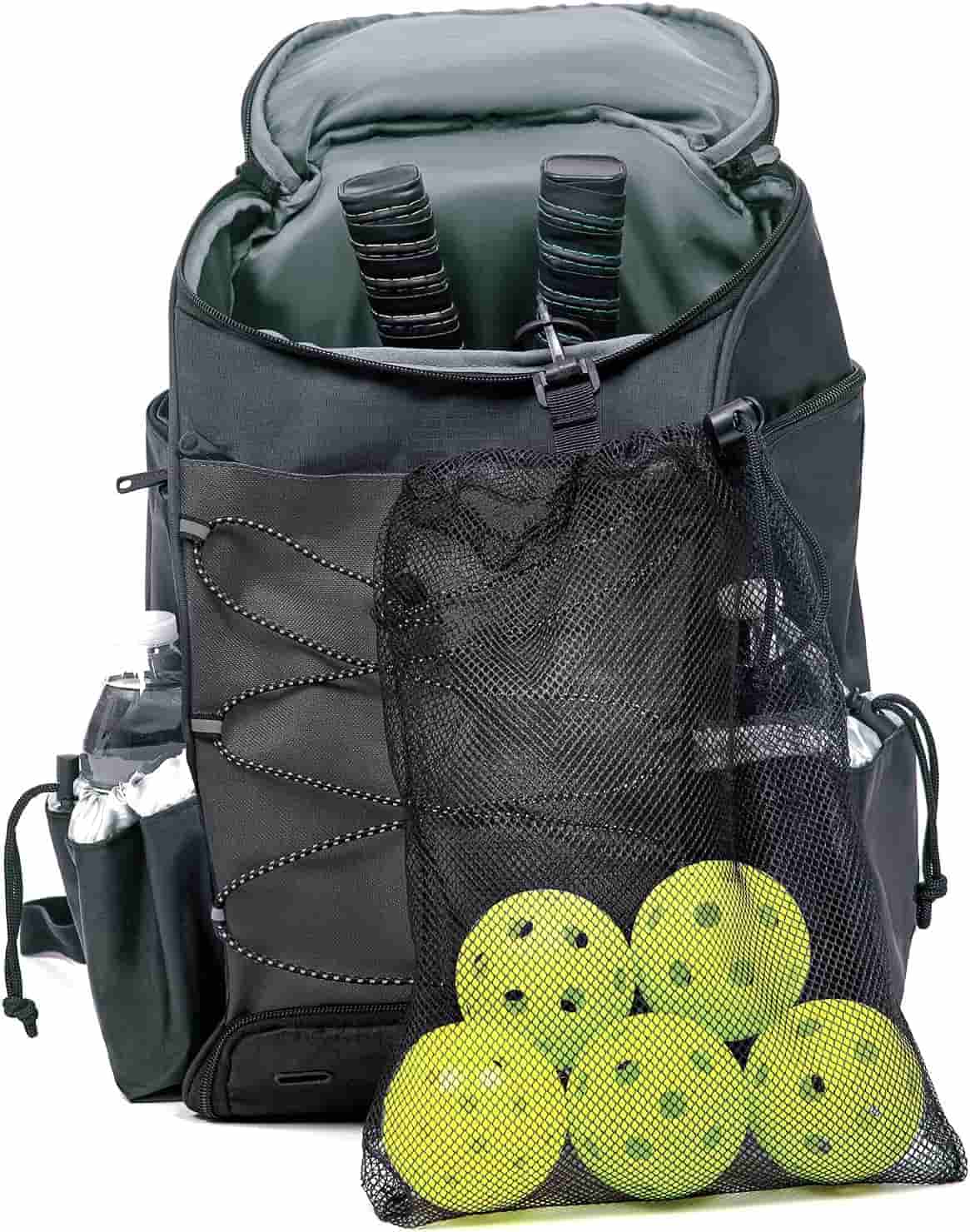 Features
Type of bag: Backpack
Colors: Black, blue, pink, red
Material: Polyester
Size: 18" (L)  x 12" (W)  x 10" (H)
Pros
Adjustable shoulder straps

Fence hook

Padded racket compartment 

Fits 4 paddles

Shoe compartment

Exterior storage
Cons
Not particularly appealing visually
Rating: ★★★★☆
If you're a player that seems to carry around way more gear than you will need, the Athletic pickleball backpack could be the bag of your dreams. This model boasts way more space than the slings and ACOSEN backpack we have looked at thus far.
It can fit up to 4 pickleball rackets with plenty of space left over for other equipment. The main racket section is padded, making it a great compartment for a laptop if you have one, and it also features a zippered shoe compartment for easy access.
But for me, the standout feature is all the external storage space you get. Not only does it use a bungee on the front which is great for storing your jacket, but it also comes with a clip-on mesh drawstring bag. This is perfect for your pickleball balls and helps to free up space within the bag itself.
Beyond this, you also get two water bottle holders and multiple zippered compartments for organizing and storing various items. In terms of storage, this backpack is pretty incredible!
Unfortunately, there's a glaring issue for me, and that's simply the design. There's no denying this backpack is very plain looking. To me, it's the worst looking on this list. But ultimately I feel function is more important than appearance, and if you agree, it's a backpack that should be on your radar.
5. Sucipi Pickleball Bag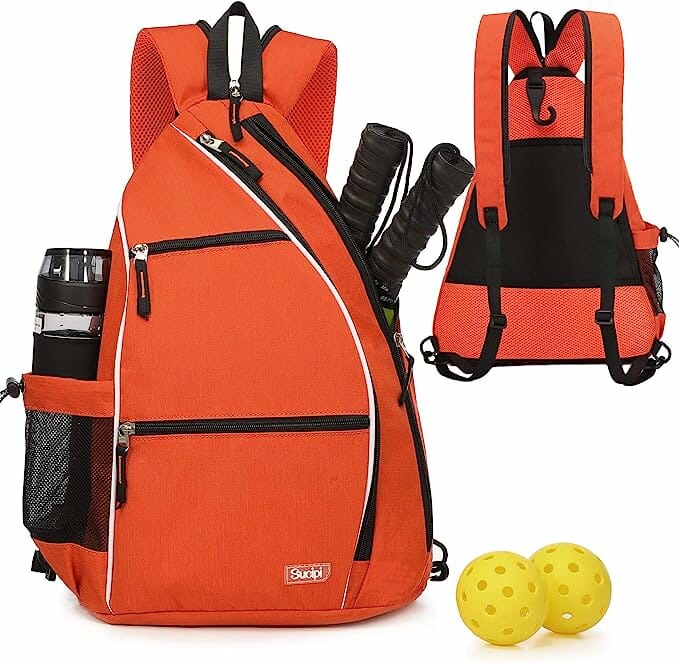 Features
Type of bag: Sling bag/backpack
Colors: 13 colors available
Material: Polyester
Size: 14" (L)  x 10" (W)  x 19" (H)
Pros
Attractive and comfortable

Many colors available

Adjustable shoulder straps

Fence hook

Fits 6 paddles

Includes anti-theft pocket
Cons
Cheaper options are available

Easy for belongings to fall out of the main section when opening
The Sucipi shoulder bag is quite the eye-catcher, it shares a similar sling-style look to the Franklin Sports and Mangrove sling bags we looked at, and yet, it isn't a sling bag. Rather it's both a sling bag and a backpack! You can zip the shoulder straps together or use them separately. I have to say, this is a feature I love, and I'm surprised that I don't see it more often.
In terms of functionality, the Sucipi bag fits the bill. It can store up to 6 pickleball paddles and features two main sections and two pockets for smaller items. It also has an anti-theft pocket for your phone or wallet.
I couldn't identify any major flaws with this backpack, only I noticed you have to be careful when opening the main section. It's easy for your belongings to fall out if it's full, this is because the bag opens from the bottom. This is an inherent weakness of the design and sling-style bags as a whole, so I'm not too critical of it. And given how great it otherwise functions I still feel it is one of the best pickleball sling bags/backpacks on the market.
Rating: ★★★★☆
6. Franklin Sports Pro Series Pickleball Bag — Premium Pick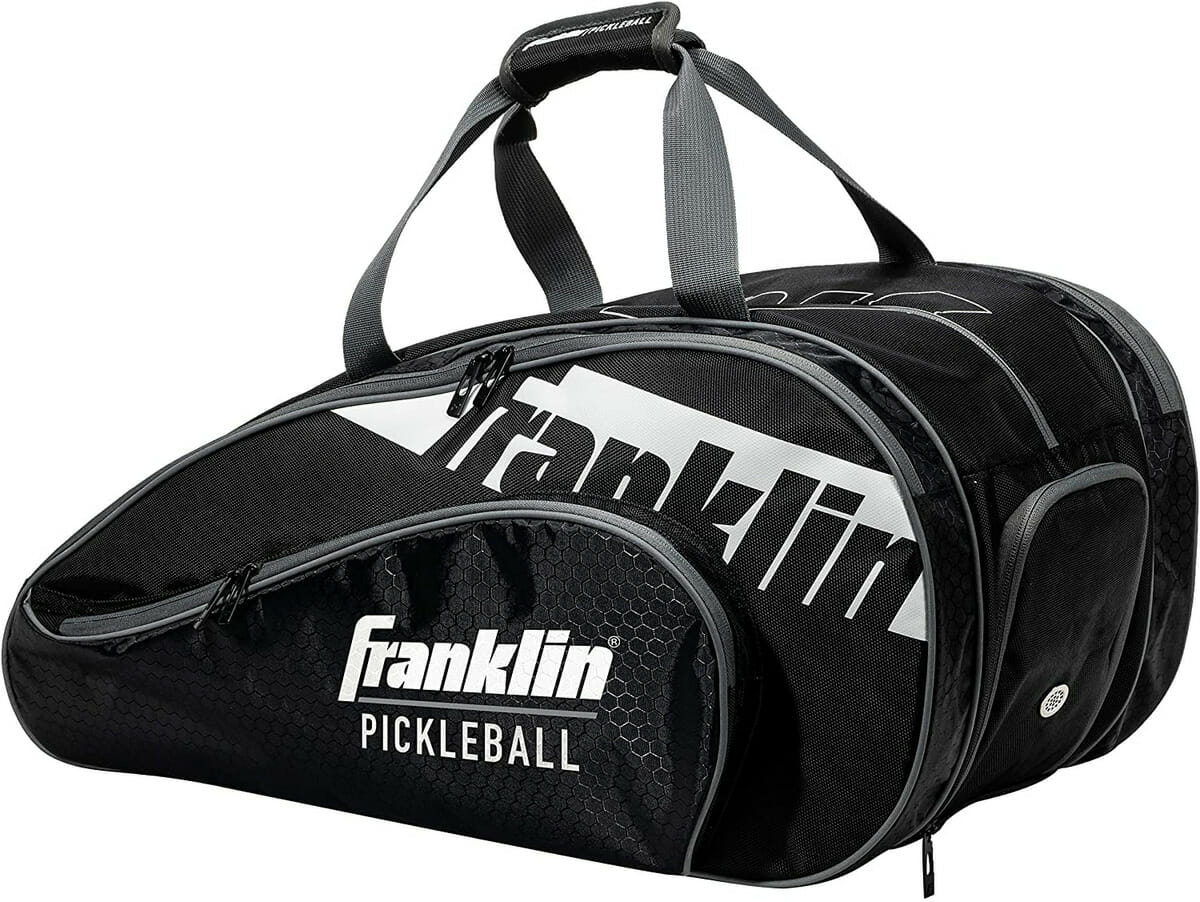 Features
Type of bag: Backpack and duffel bag
Colors: Black/blue, black/white, grey/orange
Material: Polyester
Size: 24.4" (L)  x 11.4" (W)  x 11.4" (H)
Pros
Use as a backpack or a duffel bag

Extra-large main compartment

Shoe compartment

Fleece-lined valuables pocket

Adjustable shoulder straps

Fence hook

Self-stick closure (duffel bag handles)
Cons
Rating: ★★★★☆
The Franklin Sports Pro Series bag is a premium option for players who carry a lot of belongings to and from the court. No surprise that we found it to comfortably be the largest bag on this list, and it certainly has the most professional look. If anyone sees you sporting this, they will likely think you're a skilled player!
What makes this bag unique is that it is versatile. You can use it as either a pickleball backpack or a pickleball duffel bag, which is great. You can separate your belongings across the various sections. The bag has four external pockets, including a dedicated shoe compartment, and on top of this, it has several internal zipped pockets. This includes a fleece-lined pocket for your valuables.
We really rate the Franklin Pro Series pickleball paddle bag, but we do think it's a bit expensive for what it is. Unless you require a lot of space, we recommend going for something cheaper.
7. Franklin Sports Pickleball-X Single-Paddle Carry Bag — For Light Travelers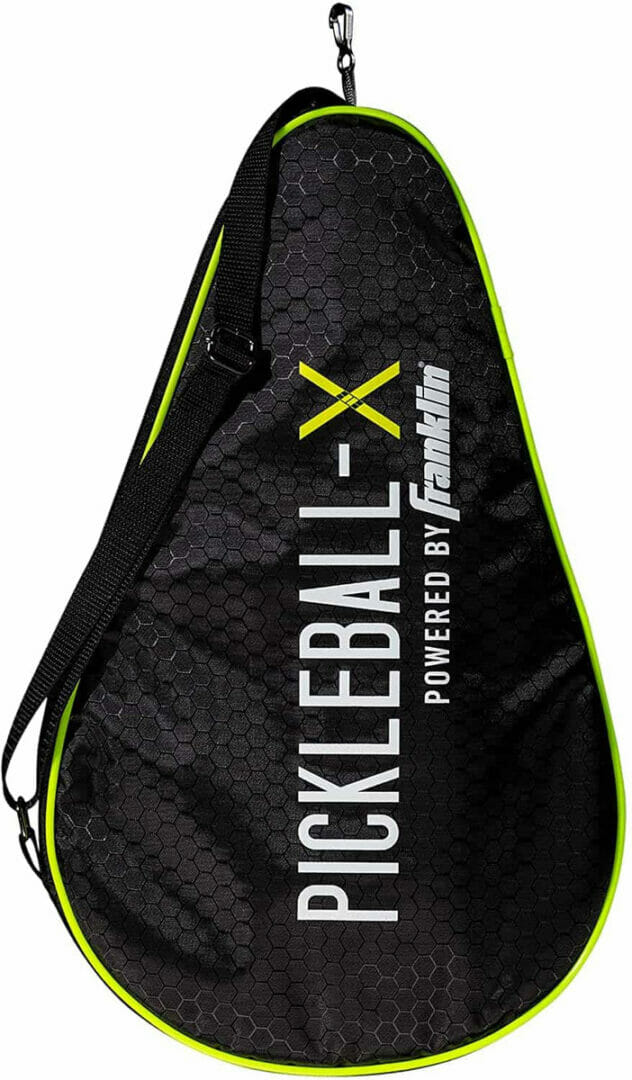 Features
Type of bag: Single-carry sling
Colors: Black/optic yellow, gray, gray/pink
Material: PVC
Size: 13" (L)  x 9" (W)  x 20" (H)
Pros
Official bag of the US Open Pickleball Championships

Lightweight

Adjustable shoulder strap

Padded for protection

Fence hook
Cons
Rating: ★★★☆☆
The Franklin Sports single-paddle pickleball carrying case is quite different from the other bags on this list. It only fits one pickleball paddle and nothing else making it the most compact bag on this list. This means you need another bag at a minimum to carry your pickleball balls. But you will likely need space for other items such as your wallet, phone, keys, and a water bottle.
As such, I don't feel it's a good fit for most players. The only people who this would suit are those who already have a quality backpack that lacks the room for a pickleball racket.
It is, however, very lightweight and made by a top pickleball manufacturer.
8. Pik'le'Ball Women's Premium Pickleball Bag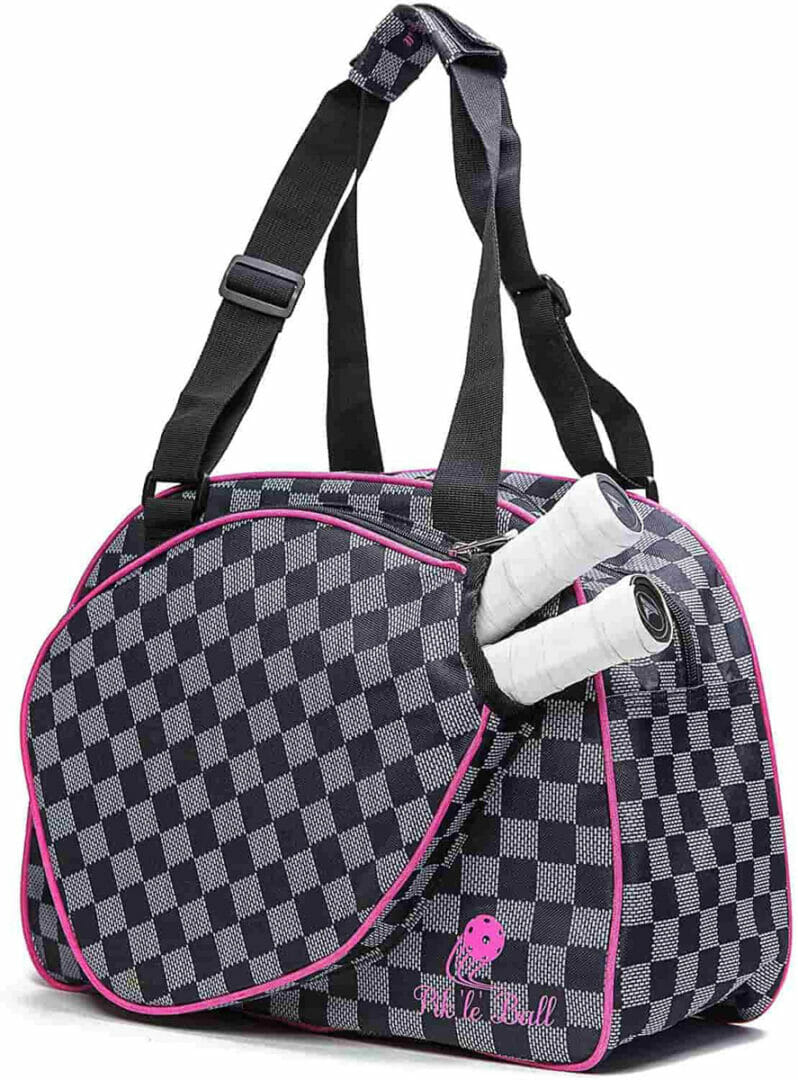 Features
Type of bag: Tote
Colors: Pink checkers, pink stripes, blue stripes
Material: Polyester
Size: Not listed
Pros
Adjustable strap

Padded for protection

Several internal compartments

External elasticated compartment

Self-stick closure (handles)

1-year warranty
Cons
Not very suitable for men
Rating: ★★★★☆
The bag by Pik'le'Ball is the only pickleball tote bag to make this list. When you think of pickleball bags, totes don't really come to mind, but this bag is a great choice. It has a dedicated padded section specifically for pickleball paddles, and it can fit up to three rackets — the handles stick out of the end, unlike the other bags.
There are also several internal pockets for pickleball balls, valuables, and other items to keep all of your belongings organized. There's also an exterior mesh to secure your water bottle just like the sling bags and rucksacks we looked at. Both the Franklin Sports duffel bag and single racket carry case have no such dedicated section.
The tote comes with a 1-year warranty and a 100% satisfaction guarantee. This gives you peace of mind if it is a bag you want to go for.
We couldn't find anything in particular wrong with it. Rather, it's not particularly suited to a male audience, given the colors on offer.
Read More: Looking for Pickleball Clothing? Check Out Our Article on the Best Pickleball Skirts!
Pickleball Bag Buyer's Guide
Type of Bag
Most pickleball paddle bags come in three different types: slings, backpacks, and duffel bags. Which is best for you will depend on your style and needs. Slings are slick and have limited storage space, whereas pickleball duffel bags are bulky but give plenty of room for your equipment. Backpacks tend to offer the best of both worlds, they are also usually the most comfortable to carry.
Beyond this, you may occasionally see pickleball tote bags. These often feature less space and are less convenient to carry than pickleball sling bags and backpacks.
Protection
Your top priority should be the level of protection your bag provides. Pickleball rackets aren't the most expensive equipment, but you should certainly protect them as best you can to prolong their life.
This means you should look out for top rated pickleball bags with sufficient padding. Compartments can also help mitigate scratching as you won't have items rubbing up against one another.
Storage Space and Compartments
Pickleball bags come in various shapes and sizes, so you need to ask yourself how much space you need. Perhaps you take a change of clothes with you when you play pickleball. That will mean you need more space.
A large main section that can fit at least one pickleball paddle and a few other items will suffice for most people. But you will also likely want a variety of other compartments to organize all of your belongings. Having your belongings loose can be a bit of a pain as it may take some rummaging around before you find what you need!
Even having just a few compartments can make all the difference. This gives you the ability to set aside dedicated space for key items such as your keys, wallet, and perhaps even a water bottle.
What Is the Best Pickleball Bag of 2023?
So we've covered lots of the best pickleball bags thus far —time to break down which I recommend you to buy. Based on my findings, the best pickleball bag is the  Franklin Sports sling pickleball bag. I chose this over the rest because it is highly functional and the most stylish (although there wasn't much in it between the pickleball sling bags).
With the Franklin Sports sling bag, you have plenty of room for your belongings, provided you're not carrying around lots of pickleball gear. And as mentioned earlier, it's also used by the top pickleball player in the world. And if it's good enough for him, it should be good enough for us!
However, if you need extra space for your belongings, I recommend the Franklin Sports Pro Series backpack. It's overpriced, in my opinion, but there is no denying its quality. It looks professional, has various sections to organize your belongings, and most importantly, it can house a tonne of items. For an avid pickleball player, it is a sound purchase.
Frequently Asked Questions
Can a Slinger Bag Be Used for Pickleball?
A Slinger Bag is a portable tennis ball launcher, not to be confused with a sling bag. Unfortunately, it is not compatible with pickleball balls. However, Slinger Bag has expressed exploring other sports in the future, including pickleball.
What Should I Pack in My Pickleball Bag?
As a minimum, you should pack a pickleball paddle, pickleballs, and something to drink. However, many players include a range of different items, including:
A spare paddle
Change of clothes/footwear
Hat
Protective eyewear
Sunscreen
Towel
Antiperspirant
Of course, there are many other products you might want to store in your bag. Below you can see what former player and coach Sarah Ansboury stores in her bag.
Do I Need a Waterproof Bag?
Although not essential, having a waterproof bag is certainly advantageous over having one that is not. Especially if you play outdoors in an area with high rainfall, remember that there is a difference between water-resistant and water-proof. The latter will provide full protection, whereas the former will not.
Is a Bag With a Lot of Storage for Other Items Good for My Paddles?
Certainly, having a large pickleball bag with many sections means keeping your paddles separated from other items. This prevents scratches and keeps your pickleball paddles looking great!

Freelance writer. Table tennis enthusiast. Lover of all things online. When I'm not working on my loop game I'm probably binge-watching some fantasy show.