The 25 Best Pickleball Gifts for Players
Following pickleball's recent explosion in popularity, there are a mountain of new players flooding the market. Enjoyed equally by young and old, male and female, there is a lot of demand for pickleball equipment. While the likes of pickleballs and pickleball paddles are well-discussed, other pickleball gifts do not receive the same spotlight. And I feel that this is a damn shame.
This is why we decided to put together a list of our top pickleball gift ideas from one of our favorite sports. We've separated each pickleball gift into categories to make for easy viewing. There are so many great options to choose from!
Why You Should Trust Us
We over here at Ping Pong Ruler are sports-crazy. Products, guides, you name it, if it's about sports, it interests us.
We spend many hours writing and refining our posts to provide you with the best information possible, and we are not paid to endorse any of these gift ideas. We instead rely on small affiliate commissions we earn if you make a purchase using one of our links.
Best Pickleball Gifts for Him
I'd Rather Be Playing Pickleball Chrome License Plate Frame
Features:
Chrome-plated frame
Pre-drilled holes for simple installation
Weather-proof
If this doesn't scream pickleball gift for dad, I don't know what does. License plates have always been a fun way to express yourself wherever you go. However, while custom license plates are pricey and rather restrictive, this funny pickleball license plate frame is not. Particularly great for car lovers. and an excellent father's day gift.
Franklin Sports Pickleball Single Glove
Features:
Choose from S to XL
Premium leather
Padded thumb and index finger
Adjustable wrist strap
Pickleball gloves are great for players who profusely sweat. They soak up sweat to prevent players from losing grip. This glove in particular, which sells in singles, caught our eye. It is made by one of the top pickleball manufacturers: Franklin Sports. The design is very appealing and the glove features a wrist strap to keep it secure on the wrist.
An elite gift for pickleball players who want a competitive edge.
Shadow Ball Glow-in-the-Dark Pickleballs
Features:
4x USAPA standard glow-in-the-dark pickleballs
Charges quickly with included batteries and flashlight
High-quality box
This is a standout pick for players who play outdoors in the evenings when light is dwindling. Usually, quirky balls tend to be fairly low quality, but these glow-in-the-dark outdoor balls by Shadow Ball impressed us.
They charge very quickly and you can easily ensure you always have bright pickleball balls by charging those that you are not using in the included high-quality box.
These glow-in-the-dark balls make for a great pickleball Christmas gift as evening light does not last for very long at that time of year.
Franklin Sports Pickleball Bag
Features:
5 colors to choose from
Official bag of the US Open Pickleball Championships
Fits 3 paddles, 2 cans of balls plus other accessories
The Franklin Sports pickleball bag is our favorite bag on the market. Available in 5 colors, and used by the top pickleball player in the world Ben Johns, it's a cracking buy. The grey version is our preferred color, and the only people that we feel this bag might not suit are those who carry a lot of equipment with them to and from the court. If your intended receiver doesn't yet own a pickleball bag this is a perfect pickleball gift.
Fitbit Inspire 3
Features:
3 straps to choose from
Tracks calories burnt, steps, distance, heart rate, and more
Compete with friends using the Fitbit app
Up to 10-day battery life
A smartwatch is a great gift for a pickleball lover. And you need look no further than the Fitbit Inspire 3. As one of the company's most recent releases, it boasts some of their top engineering at an affordable cost. As a Fitbit owner myself, I love their smartwatches, and I feel the Inspire 3 is a great universal pick as it is not as bulky as some of their other models. In my opinion, it's one of the best pickleball gifts you can buy, and one they might not see coming.
NVJUI  JUFOPL Pickleball Baseball Cap
Features:
100% cotton
Available in multiple colors and styles
Built-in headband wicks away sweat
Anyone who plays pickleball outdoors needs a hat and we think this "JUST DINK IT" cap is a great choice, particularly as a pickleball gift for dads. It's made from 100% cotton and you've got multiple colors to choose from. There are even ponytail versions for women or men with long hair.
What made us choose this hat over others was the fact that it is embroidered rather than screen-printed, and its exemplary reviews. Buyers rate it 5 out of 5 stars!
HULISLEM S1 Sport Polarized Sunglasses
Features:
TR90 frame
Polarized
UV protection
Much like a hat is a solid pick for outdoor players, so is a pair of sunglasses. The S1 Sport sunglasses are an inexpensive reliable pair for your pickleball needs. The frame is made from TR90, a highly durable, flexible, and lightweight material, while the lenses are HD grade, polarized, and provide full UV protection.
This means you can not only be sure that they will last for a long time, but also your eyes will not feel fatigued after long pickleball sessions. One of the best gifts for pickleball players who play outside.
PickleUpper
Features:
Easily picks up pickleballs
Lightweight
Does not interfere with play
Know someone who is tired of bending down to pick up pickleballs? Then this could be a great buy! The PickleUpper seamlessly attaches to the end of pickleball paddles and saves your knees and back when you retrieve pickleballs.
The top target audience that comes to mind is older players, however, speaking as a 25-year-old, I kinda want one too!
A11N Portable Pickleball Net System
Features:
Easily portable — weighs just 20 lbs
Choose from yellow and black or black and white
Carry case included
No tools required for assembly
As the most expensive pickleball gift on this list, we recognize this net may be out of a lot of people's price range. However, we have found this to be one of the best pickleball nets available, and it makes for a great gift so we are including it.
It's very lightweight, meets USAPA regulations, and you can pick it up in either yellow and black or black and white. A perfect pickleball gift for players who do not have any pickleball courts nearby.
Best Pickleball Gifts for Her
Tourna Hipster Pickleball Holder
Features:
Available in S to XL
Holds up to 2 balls
Snug comfortable fit
Playing without pockets is a bit of a nightmare, you just spend way too much time retrieving balls which cuts into your playtime. This is where the Tourna Hipster ball band comes in. It's an elasticated band that fits over your skirt or shorts.
It fits up to 2 pickleballs and is comfortable to wear. A super gift for female pickleball lovers lacking pockets.
Pickle Baller Wine Tumbler
Features:
Made from 100% stainless steel
Keeps beverages hot for 3 hours and cool for 9 hours
BPA free
It's hard to go wrong with a quality tumbler, and this model ticks all of the boxes. With its funny pickleball text on the front and 100% stainless-steel build it makes for a great gift. Whether you are buying for someone that loves wine, cocktails, smoothies, or a hot coffee, the Pickle Baller tumbler is a solid choice.
Werena Pleated Skirt
Features:
Choose from XXS to XXL
Made from 95% polyester and 5% spandex
20 colors
3 pockets
After reviewing all of the skirts on the market for our pickleball skirts guide, the Werena pleated skirt topped our list. It's a best seller on Amazon, has a wide selection of colors to choose from, and simply looks great. It has a very flattering fit and is a great choice for all sports, not just pickleball.
Mini Pickleball Earrings
Features:
Measures 1cm in diameter
Nickel-free
Available as dangles or studs
These cute pickleball earrings are just to die for! You can also almost be certain that your intended recipient doesn't own anything like this as it's certainly a quirky gift.
They are available as either dangles or studs (we are particularly fond of the dangles).
Queen of the Pickleball Court Towel
Features:
Made from cotton and embroidery thread
Includes a clip for hanging
Help your friends or family up their towel game with this funny pickleball towel. A great gift for players who play outdoors or who sweat a lot.
Pickleball Paddle Necklace
Features:
Made from .925 sterling silver and cubic zircons
Pendant measures 15 mm x 30 mm
For our classiest gift recommendation, we have the pickleball paddle pendant. It is made from .925 sterling silver and features dazzling cubic zircons. Equally great for a day out on the court or an evening meal at a restaurant.
KCT Store Ceramic Coasters
Features:
6 funny designs
Highly absorbent
Cork backing to protect surfaces
Includes steel holder and box
Integrate your love for pickleball into the home with these stylish pickleball coasters. Made from ceramic they are very high quality — condensation takes just 10 seconds to soak up!
They are also cork-backed as you would expect which ensures they don't scratch any surfaces.
We really like the included black steel holder. It's very fancy and a surprising addition given how cheap the coasters are. A super prezzie for pickleball lovers.
Pickleball Personalized Christmas Ornament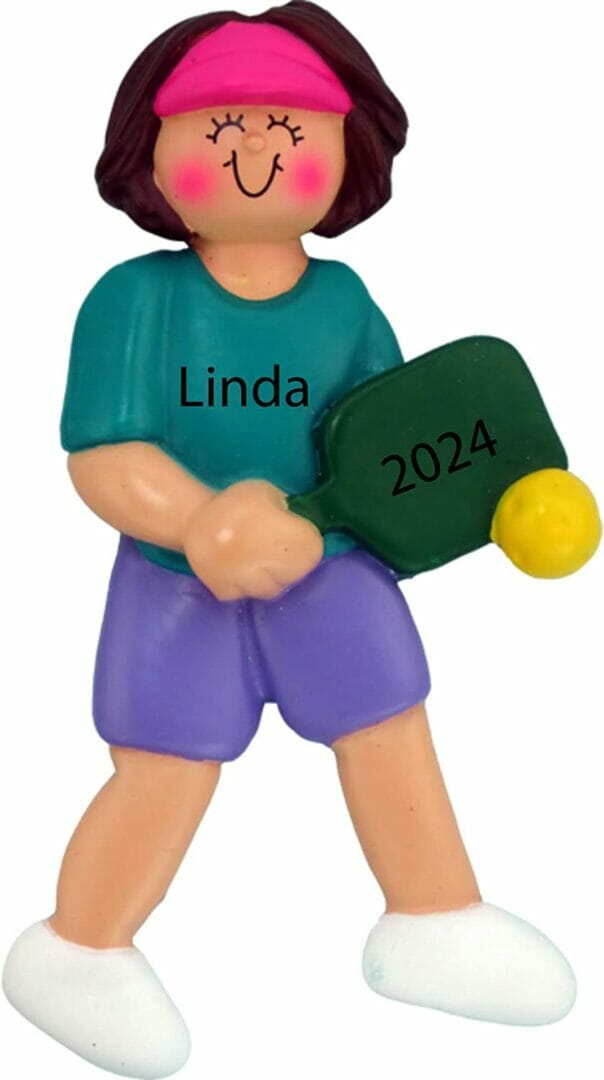 Featured:
This cute ornament makes for the perfect gift for the holiday season. Each one is made from resin and hand-painted with just a 1-day production time prior to delivery.
You get to customize both the name of the individual and the year.
Best Gifts for Recovery
Liquid I.V. Hydration Multiplier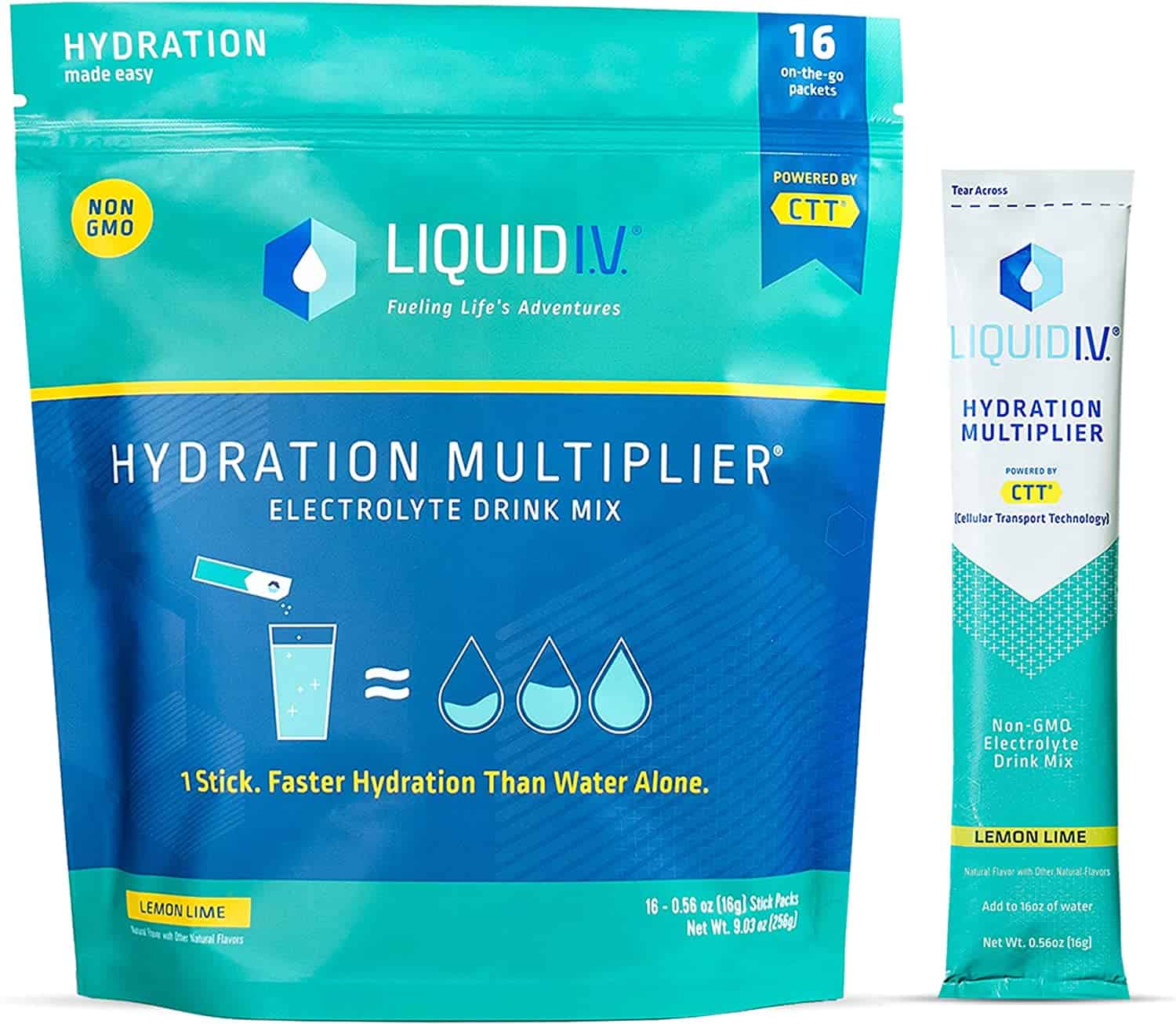 Features:
Available in 5 quantities
Contains 3x the electrolytes of sports drinks
Contains 5 essential vitamins
While pickleball isn't quite as demanding as some racket sports, it certainly is still very taxing — especially if you're playing under sunny conditions. All that sweating causes you to lose electrolytes and become dehydrated. Therefore taking a supplement is a good way to refuel those lost electrolytes, and no brand is better than Liquid I.V.
Idson Muscle Roller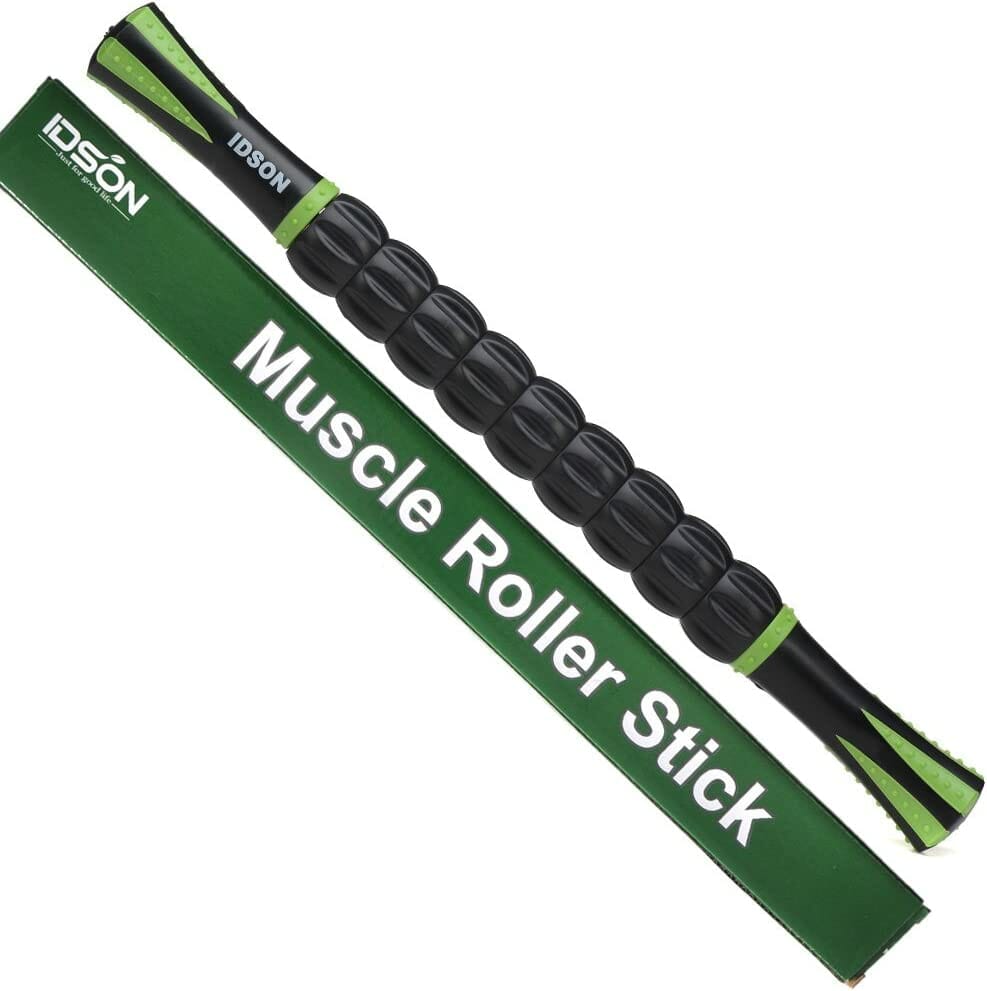 Features:
Eases muscle soreness
Highly portable
Made from a steel core with thermoplastic rubber and polypropylene handles
Know someone who suffers from frequent muscle soreness following pickleball? Well, tell that poor person to cool down and stretch! Not working? Okay. Buy them a muscle roller instead. Muscle rollers are recommended by personal trainers and physical therapists as they are highly effective at alleviating muscle soreness. They are also very thin and lightweight making them easy to carry around.
XTEND Original BCAA Powder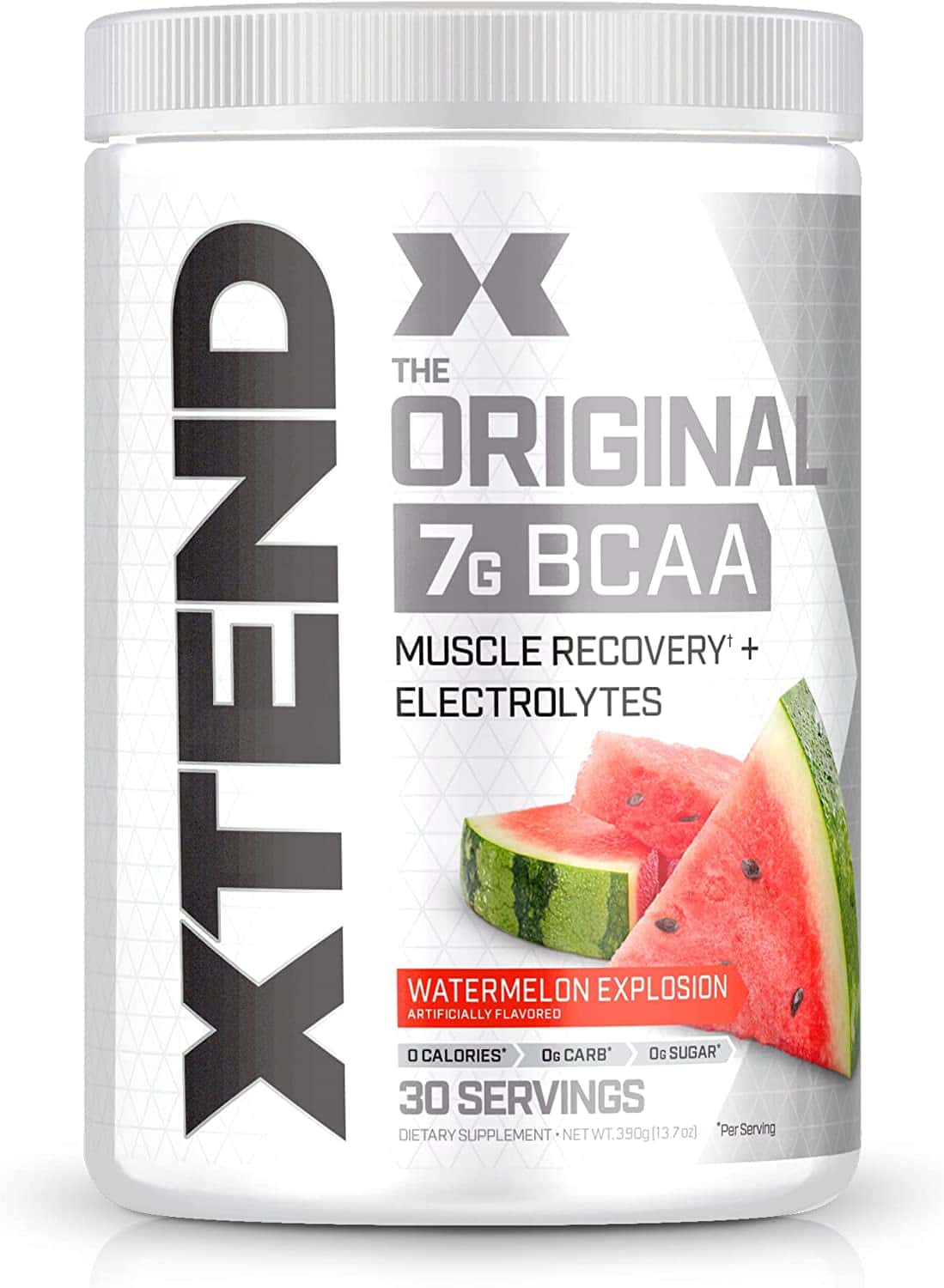 Features:
Choose from 11 flavors
Contains 7 g of BCAAs for muscle recovery
Zero sugar and zero calories
While liquid I.V. is perfect while training or immediately after, BCAAs serve as a longer-term supplement to repair the damaged muscle from pickleball sessions. The XTEND Original BCAA blend contains 7 g of BCAAs in the golden 2:1:1 blend which has proven the most effective in clinical studies. It also contains electrolytes to restore your hydration levels.
Dacorm Massage Gun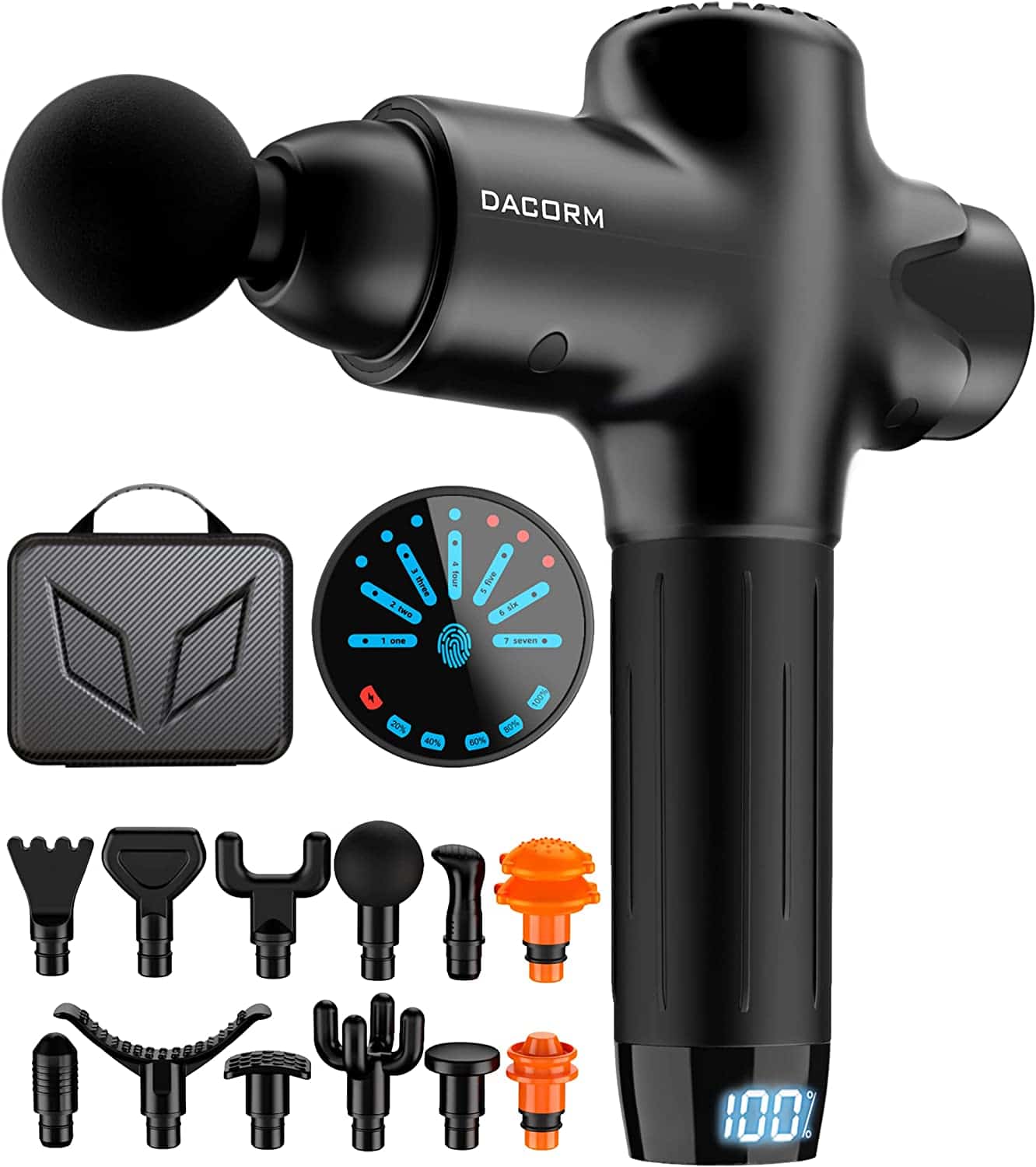 Features:
7-speed levels and 12 massage heads
Charge lasts 8-15 hours
Less than 40 dB
While muscle rollers are great for injuries, they pale in comparison to the effectiveness of massage guns. These guns are able to penetrate much deeper into your muscle tissue to address stubborn injuries.
The Dacorm massage gun has 7-speed levels and 12 massage heads for the ultimate customization. Its battery also lasts for 8-15 hours so you barely ever have to charge it.
Great Pickleball Gifts Ideas Under $15
63Pcs Pickleball Stickers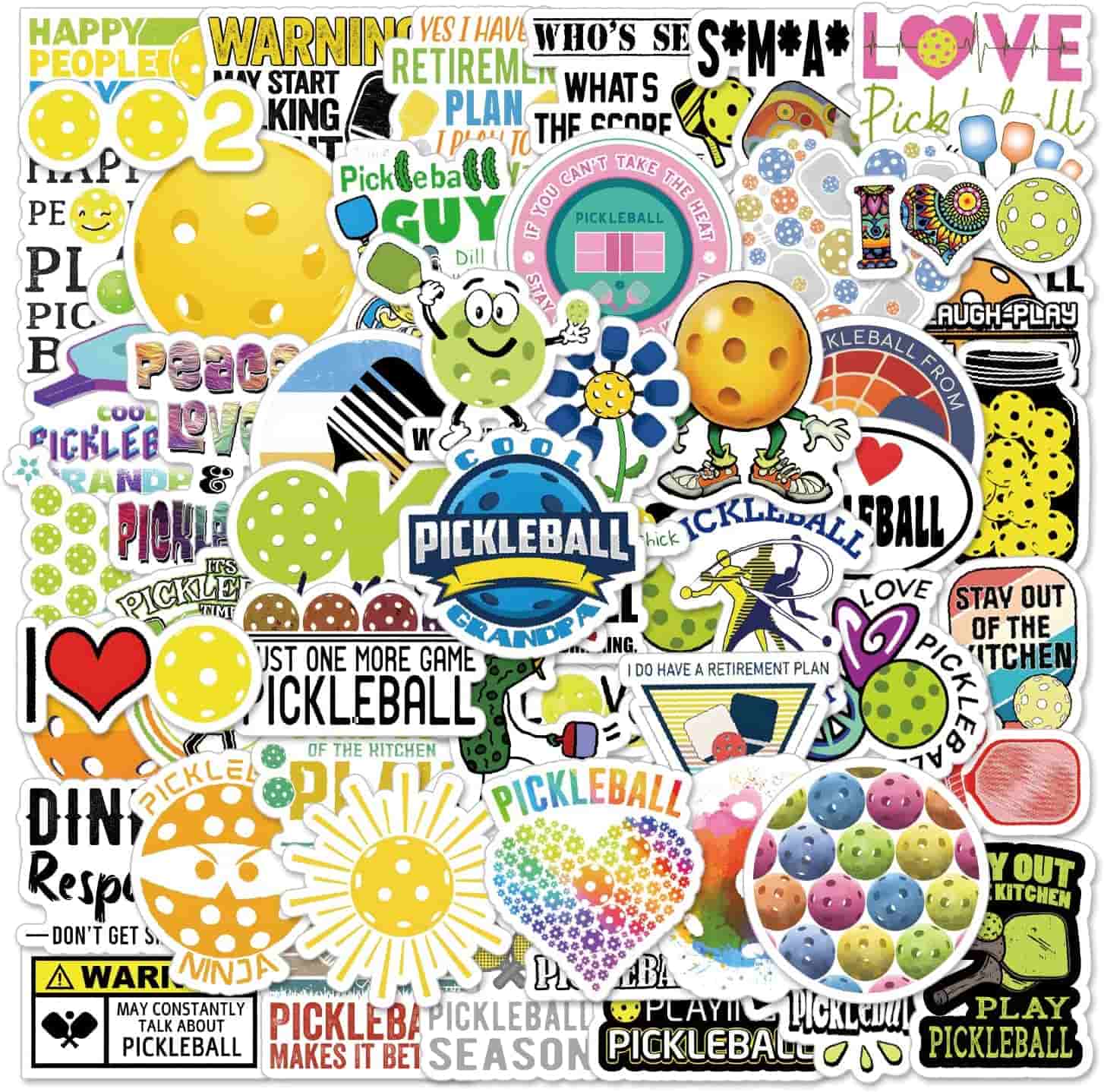 Features:
No duplicates
100% money-back guarantee if product arrives damaged
Have that one friend or family member who just won't shut up about pickleball? Perhaps stickers will do the trick. Rather than pestering you every 5 minutes about how great the sport is they'll channel their pickleball love to putting stickers on random objects.
Foot Traffic Pickleball Socks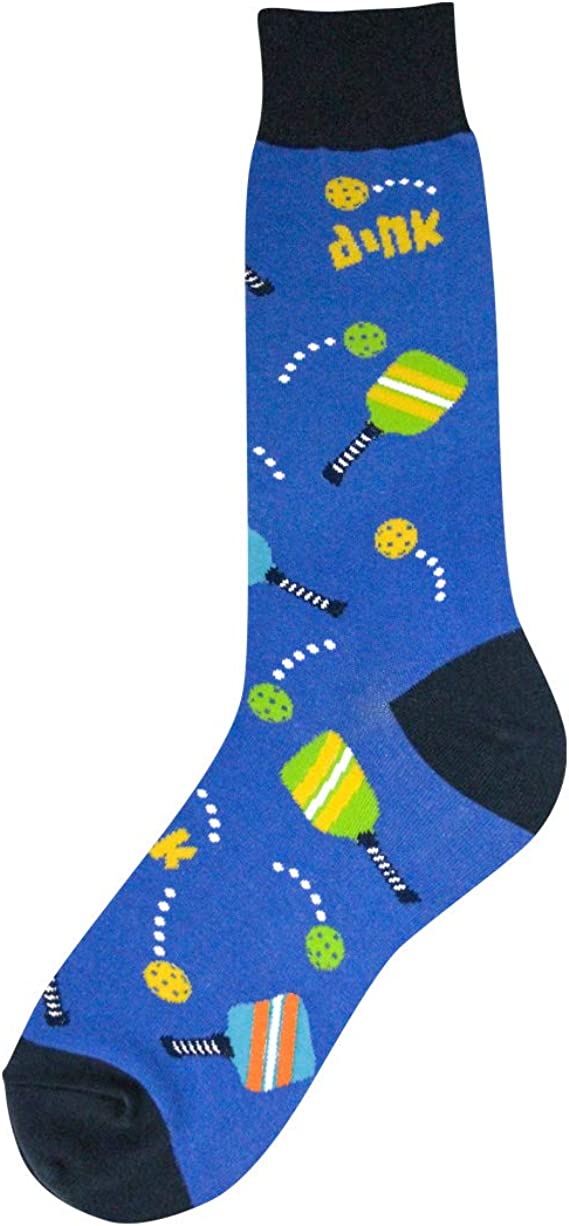 Features:
65 cotton, 15% nylon, 15% polyester, and 5% spandex
Machine washable
200 needle count
Reinforced toe
Not only do these socks look great, but they are also made by a high-quality brand with over 30 years of experience making creative socks. So don't think you are getting a poor quality novelty present with these, because you're not!
These pickleball socks have a reinforced toe for durability, a 200 needle count for crisp designs, and they are soft and breathable. What more could you want?!
Tourna Pickleball Bottle Opener Keychain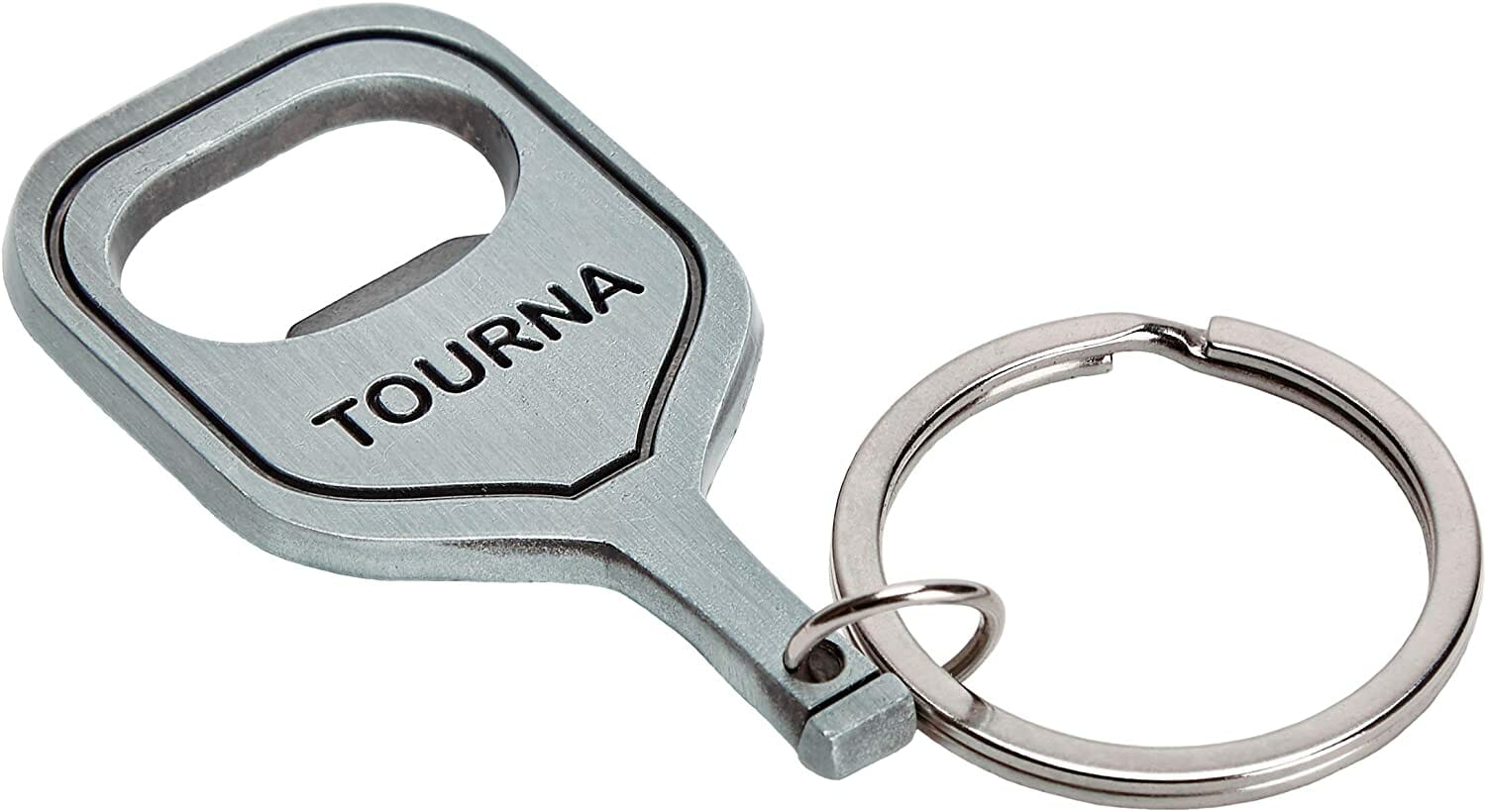 Features:
Made from metal
2.5″ x 1.25″
For players who prefer a subtle approach to displaying their pickleball passion, this keychain may be the perfect gift. Not only is it shaped like a pickleball paddle, but it also acts as a bottle opener. People are sure to take note when this little guy is presented to open bottles at parties and BBQs.
The Fern Trail Pickleball Sweatband Set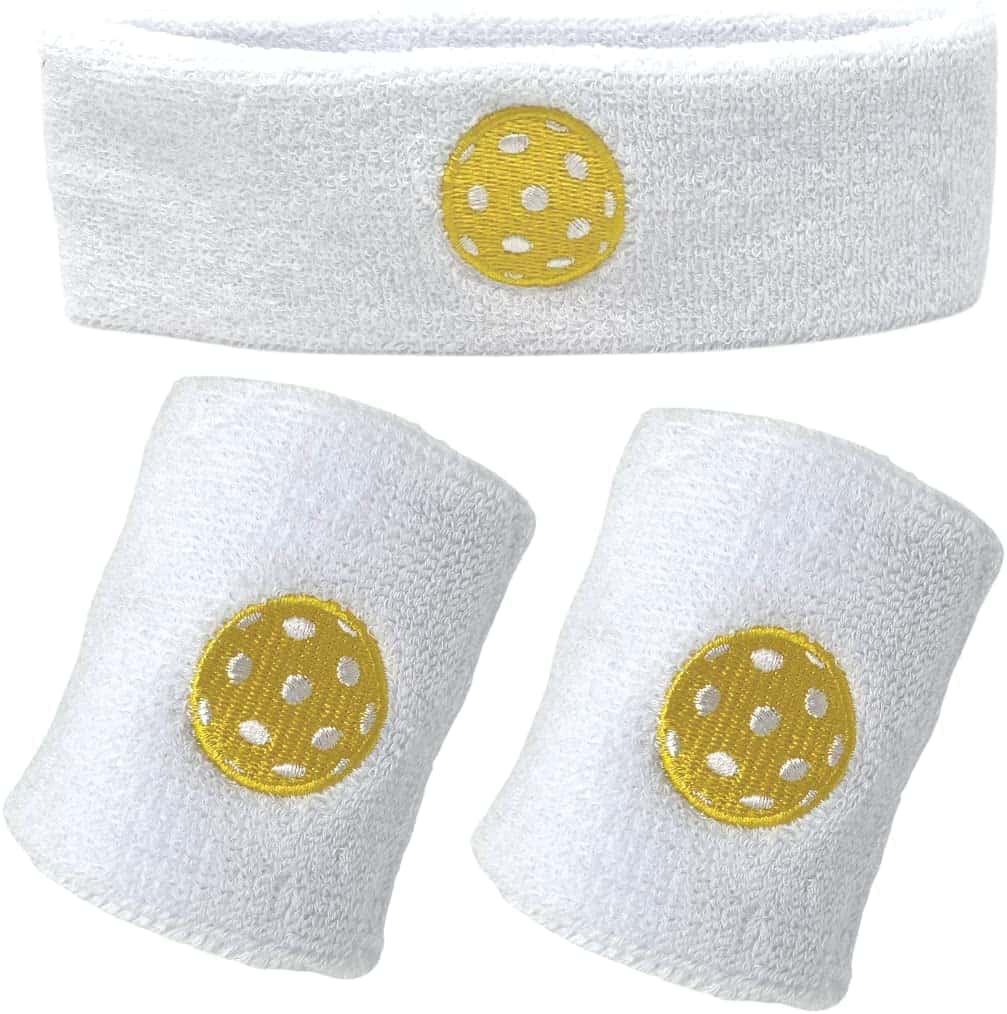 Features:
100% cotton terrycloth
Available in white or black
Includes two wristbands and one headband
Machine washable
Playing pickleball outside can be tough work, and sunglasses alone might not cut it. If you know someone who finds themselves sweating profusely this stylish pickleball sweatband set could be a good gift.
The attractive pickleball designs aren't merely ironed on, they are embroidered, so you know you are getting quality. The bands are also machine washable so you can chuck them in the washing machine with the rest of your pickleball gear when you're all finished playing.
Pickleball Can Coolers
Features:
Set of four with two designs
Keeps your beverages cool
Don't let your beverages become warm, insulate them with pickleball can coolers! Also called koozies, these sleeves fit right onto aluminum cans and look great while doing so. Perfect for pickleball club socials!
Tips for Buying Pickleball Gifts
Price
The first thing to consider is your budget. Set a price and stick to it — don't get tempted into buying pickelball gifts you can't afford. Most of the gifts on this list come in at under $25, which we feel is a good price for a pickleball gift.
Type of Player You are Buying for
An easy mistake to make is buying an inappropriate gift for a pickleball player, even if it is pickleball-related. Consider the ability of your recipient and what will be useful/enjoyable for them.
If they play at an advanced level, for example, avoid the likes of paddles and balls as they will already have what they need. Instead, we recommend more unique pickleball gifts/funny pickleball gifts like a pickleball drink container.
Style
Besides ability, you need to consider the style of the receiver. A hilarious pickleball shirt will be a great gift for most players, but if your receiver has a picky fashion sense they will likely not wear it. There is nothing worse than buying a gift that will get no use, so think long and hard before buying anything bold.
Where They Play
Do they play indoors or outdoors? Is the climate hot and humid or cold? These are vital questions you need to answer if you want to choose the right gift.
Those who play outdoors in the heat will likely make great use of hats, shorts, sunglasses, hey, even sun-screen! On the other hand, players who play indoors or in colder conditions may prefer jackets, tracksuits, and gloves.
Avoid Duplicates
If you're buying for a seasoned pickleball player, chances are they have a tonne of pickleball merch, much of which you might not know about. Therefore it might be a good choice to go down the niche gift idea route — a product they have probably never seen before. An alternative is to ask a close friend or family member if they already have the item you intend on giving them.
Conclusion
So those are our top 25 pickleball gifts for players. We've tried to keep them as affordable as possible and provide a range of different products to appease any type of player. Some of our favorites include the Fitbit Inspire 3, which is a great choice for players without a smartwatch and the pickleball earrings, which are simply adorable!
If, instead, you're more interested in learning about mainstream gear, check out our other pickleball guides:
FAQs
What Do You Get a Pickleball Lover?
The best gifts for pickleball players are something that they will find useful and that you are certain they don't already have. You might have to ask one of their pickleball friends for help with this. You can opt for a more obvious gift, such as a skirt, or choose something more unorthodox, like earrings or coasters.
What to Get People Who Play Pickleball?
If you are buying for an advanced player, steer clear of more serious equipment such as paddles and balls, instead choose something more fun, such as a pickleball tumbler or pickleball license plate frame.
If you are buying for a beginner, you have far more freedom. Just choose something that matches their style and personality.
Check also gifts for ping pong players!