The 9 Best Pickleball Shirts
Moving past more technical equipment like pickleball paddles and pickleball balls we come to a piece of equipment that every player can understand: pickleball shirts!
That's right. Chances are you aren't planning on playing pickleball shirtless in the scorching heat so you need to choose shirts for the occasion. Whether moisture-wicking tees are your thing, or you're more of a funny shirt kind of person, there are plenty of pickleball shirts to choose from.
In this write-up, we explore the best pickleball shirts on the market for this year and discuss some features that you should like out for when shopping around.
Featured products
Pickleball Shirt Buyer's Guide
Comfort
Choose a pickleball t-shirt that is comfortable to wear. You can't go wrong with a soft material such as polyester. Beyond this, pick a style of clothing that you favor. You may prefer tighter-fitting clothing, or perhaps you enjoy more flowy shirts because they are unrestrictive.
Type of fabric
Each type of fabric has benefits and drawbacks. Most athletic-style shirts use moisture-wicking polyester. They also dry much faster so it is the ultimate material to keep you cool.
Cotton is another common material. You tend to find cotton more commonly among regular t-shirts. They tend to be cheaper, and heavier, and they are also more prone to shrinking.
Style
Where do you plan on wearing your pickleball t-shirt? And what look are you going for? These are questions you should ask yourself before hitting the buy button. If you are playing competitively and want a professional look, the clear choice should be athletic-style clothing.
On the other hand, if you're playing more casually and want to convey a bit of humor, then novelty-style t-shirts are your best option. There are lots of funny pickleball shirts available. You could even coordinate some funny pickleball team shirts with friends.
Best Men's Pickleball Shirts
BALEAF Men's Quick-Dry Shirt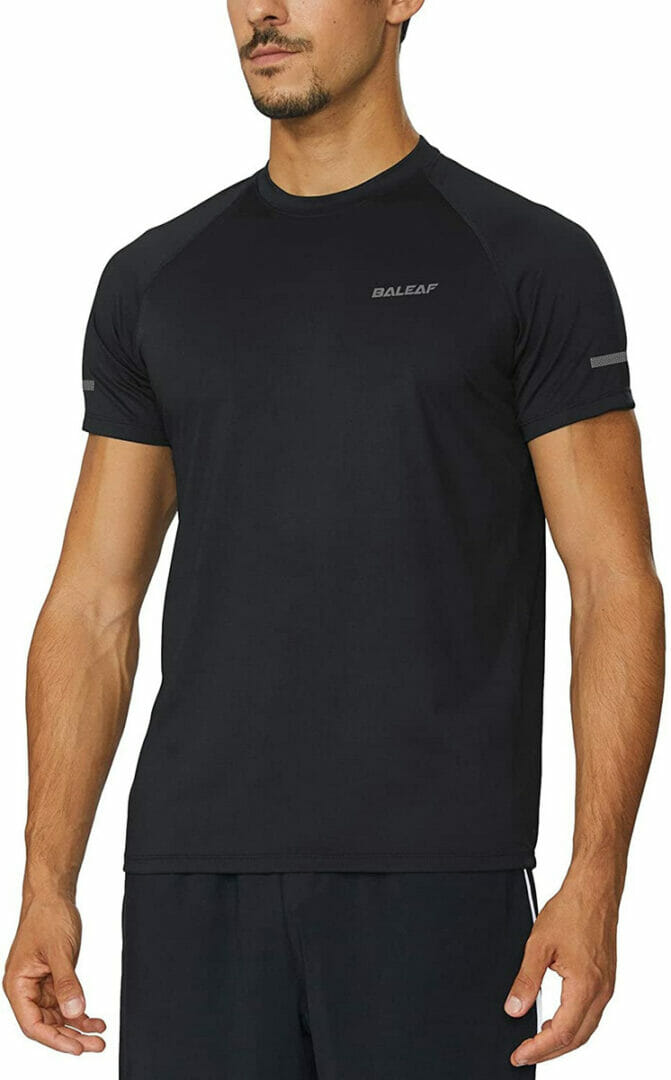 Specifications:
Material: 90% polyester, 10% spandex
Sizes: S, M, M2, L, L2, XL, XL2, XXL, XXXL
Colors: 19 colors
Price: $$
The BALEAF quick-dry shirt is a reliable choice if you're after an athletic-style shirt. The polyester-spandex mix is highly breathable and wicks away any sweat build-up. The raglan sleeves also offer additional room which is great for guys with a muscular build.
Comfort is also assured due to the flatlock seams and tagless collar. These tend to be areas that cause irritation, but you don't have to worry about them with this shirt. Another great feature we rate are the three reflective elements. This means you can double-up this shirt both for pickleball and other sports in low-light conditions.
Russell Athletic Men's Performance T-Shirt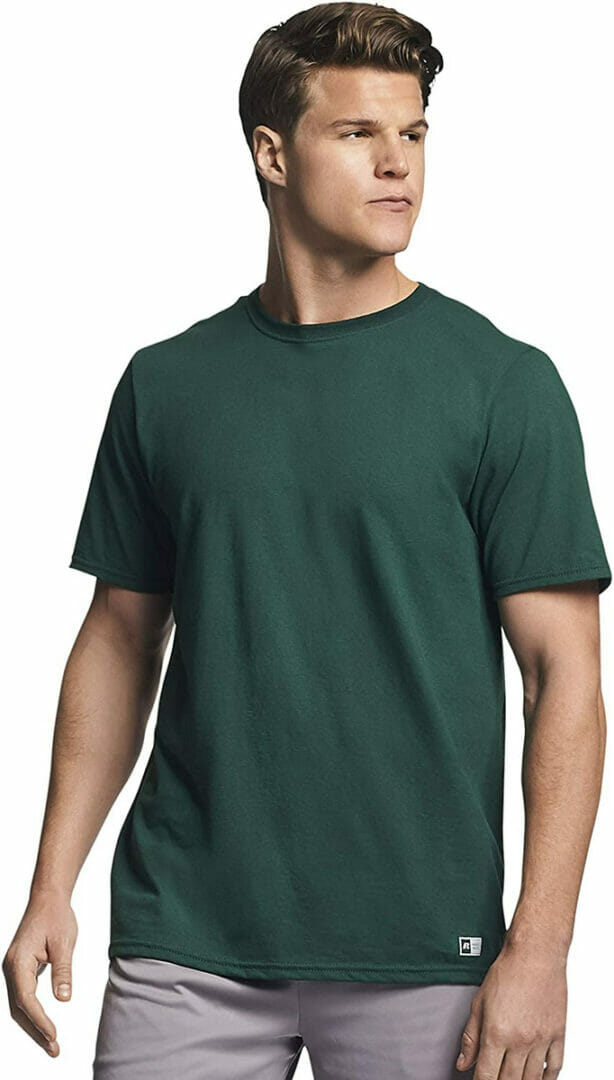 Specifications:
Material: 60% cotton, 40% polyester
Sizes: S, M, L, XL, XXL, XXXL, XXXXL
Colors: 22 colors
Price: $
The Russel athletic shirt uses a blend of cotton and polyester so it is not very susceptible to shrinking and it's not very stretchy. Like the BALEAF t-shirt, it is moisture-wicking due to the use of Dri-Power technology. Not only this, but it features built-in Intellifresh tech too. This helps fight bad odors and keeps your shirt smelling fresh.
Another plus is the UPF30+ protection you get from the sun's harmful UV rays. This is a great quality to have if you play outdoor pickleball in a particularly hot area.
Just Dink It Men's Shirt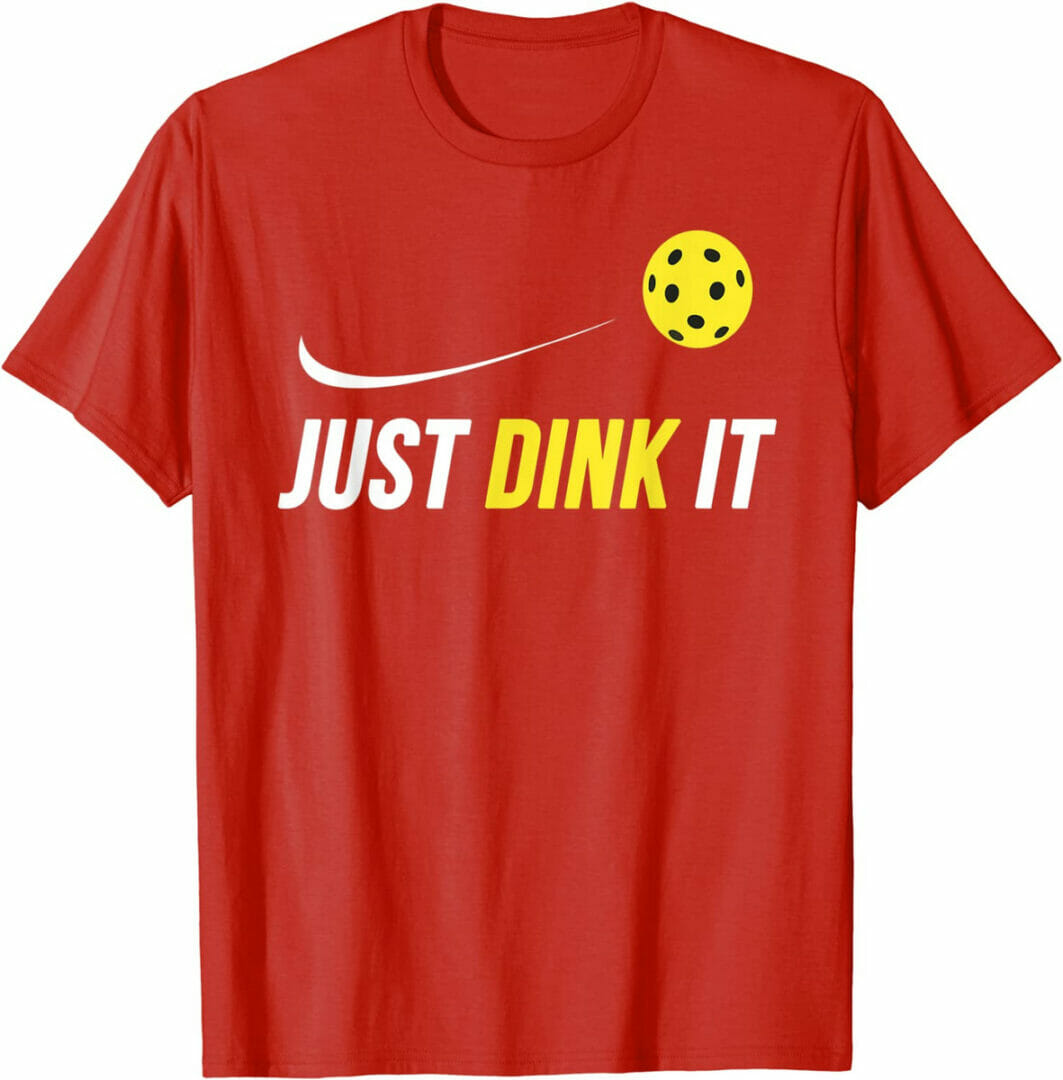 Specifications:
Material: 100% cotton (some colors also include polyester)
Sizes: S, M, L, XL, XXL, XXXL
Colors: 5 colors
Price: $$
This hilarious pickleball shirt plays on the Nike slogan "Just do it". Situated on the tick is a pickleball, and they've modified the tick to emulate a swoosh from the striking of the ball. Very clever! A super cool pickleball shirt!
This shirt is available in five colors all of which are very bright so you are sure to stand out. We've chosen to include this tee in the men's category, but if we are honest, it's more of a unisex shirt!
Real Men Stay Out of the Kitchen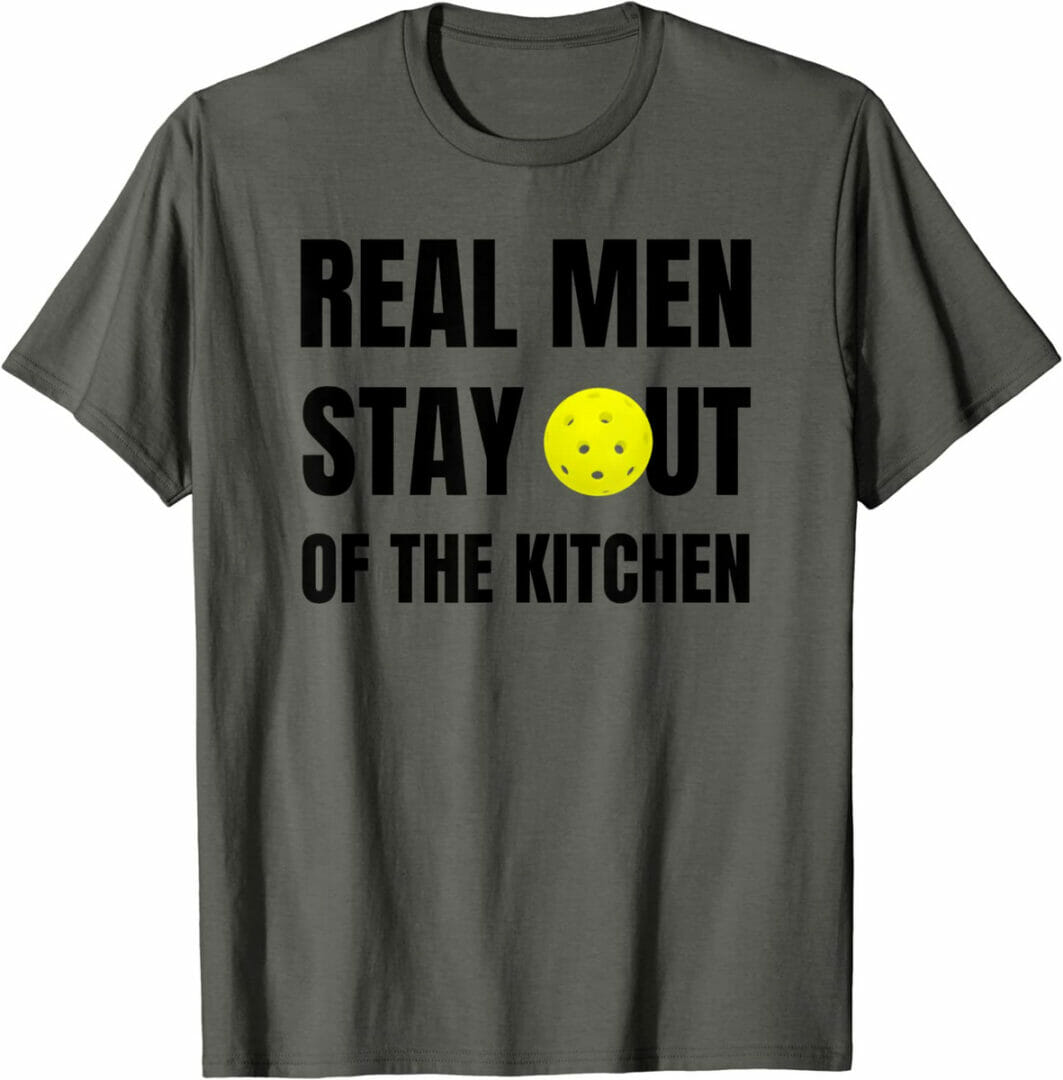 Specifications:
Material: 100% cotton (some colors also include polyester)
Sizes: S, M, L, XXL, XXXL
Colors: 5 colors
Price: $$
With bold text, this comedic shirt is to the point and demonstrates your love for the game of pickleball. Plus, points for swapping out the "O" for a pickleball. It really takes it up a step in our opinion from being a text-only shirt.
It's available in five colors, four of which are fairly understated: asphalt, silver, white and heather gray. Grass green is the color you should choose if you want to stick out from the crowd.
I Don't Always Play Pickleball Oh Wait Yes I Do T-Shirt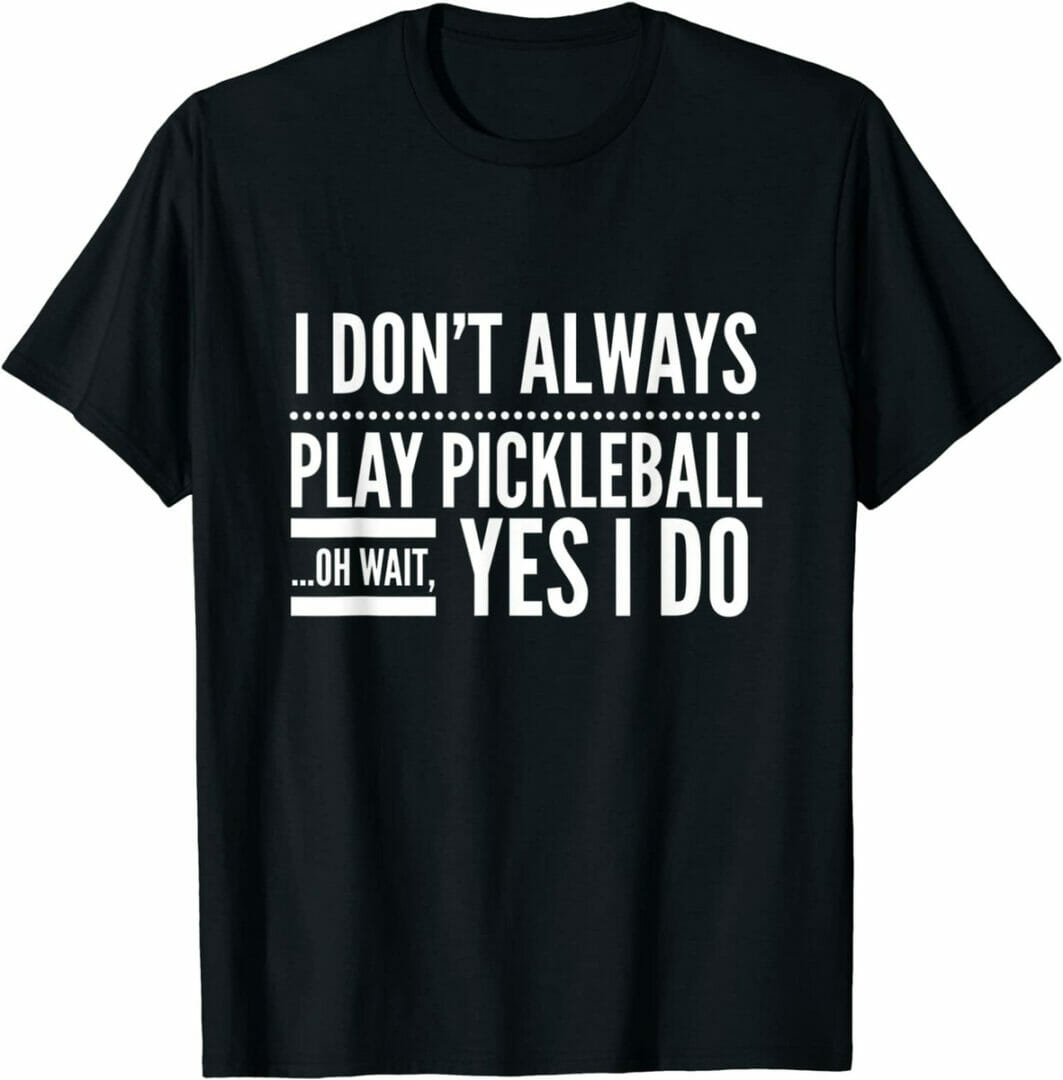 Specifications:
Material: 100% cotton (some colors also include polyester)
Sizes: S, M, L, XXL, XXXL
Colors: 5 colors
Price: $$
In our opinion, this is one of the funniest shirts on this list. It takes your mind in one way and then hits you with a funny twist. Again, we like the arrangement here as it's not just plain consistently-sized text. The typography and graphics are on point.
Best Women's Pickleball Shirts
Amazon Essentials Women's Tech Stretch Shirt (2 Pack)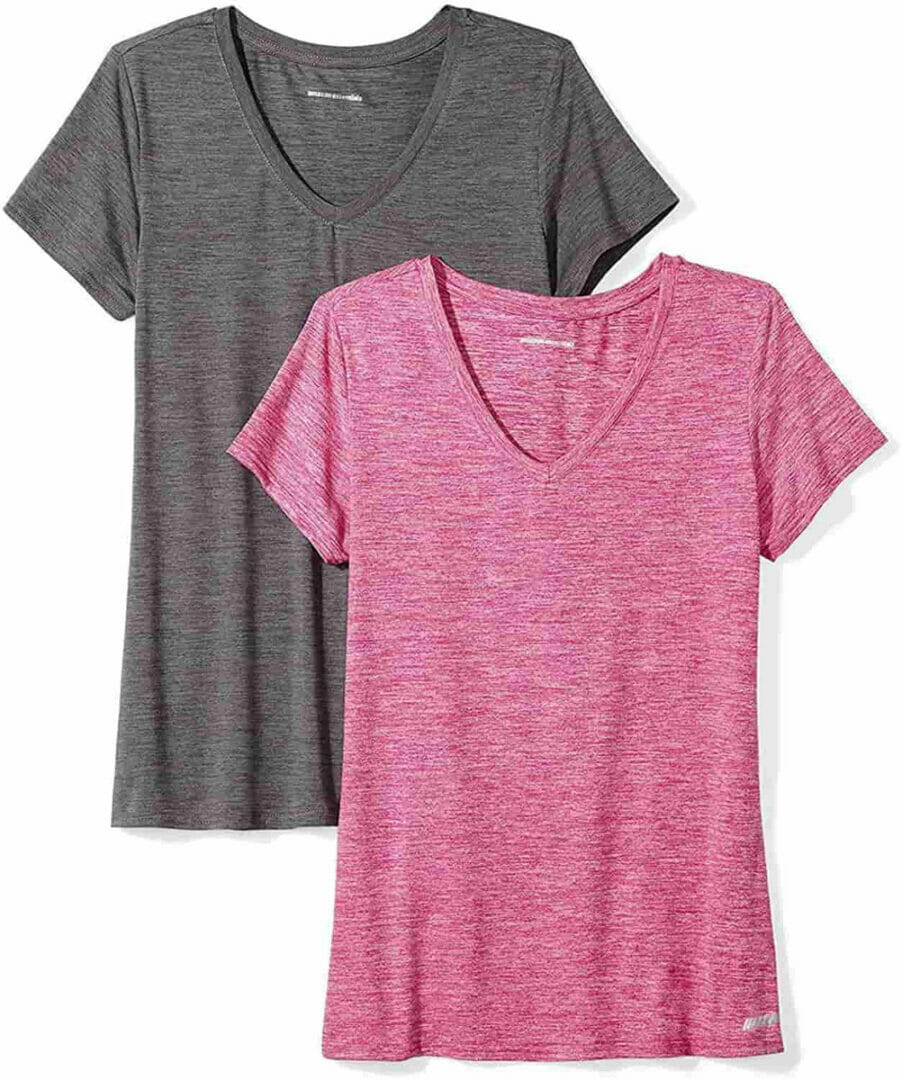 Specifications:
Material: 94% polyester, 6% spandex
Sizes: XS, S, M, L, XL, XXL
Colors: 18 colors
Price: $
You might jump to conclusions that Amazon Essentials clothing is of poor quality, but the evidence shows the opposite. These v-neck women's pickleball shirts are some of the most positively reviewed athletic shirts available.
With a polyester and spandex mix, they are breathable, stretchy, and provide a flattering look. They are flowy in all the right areas and slightly tailored through the waist.
They also have a reflective logo at the hip. And remember, this listing is for a two-pack, so they work out very cheap.
C9 Champion Women's T-Shirt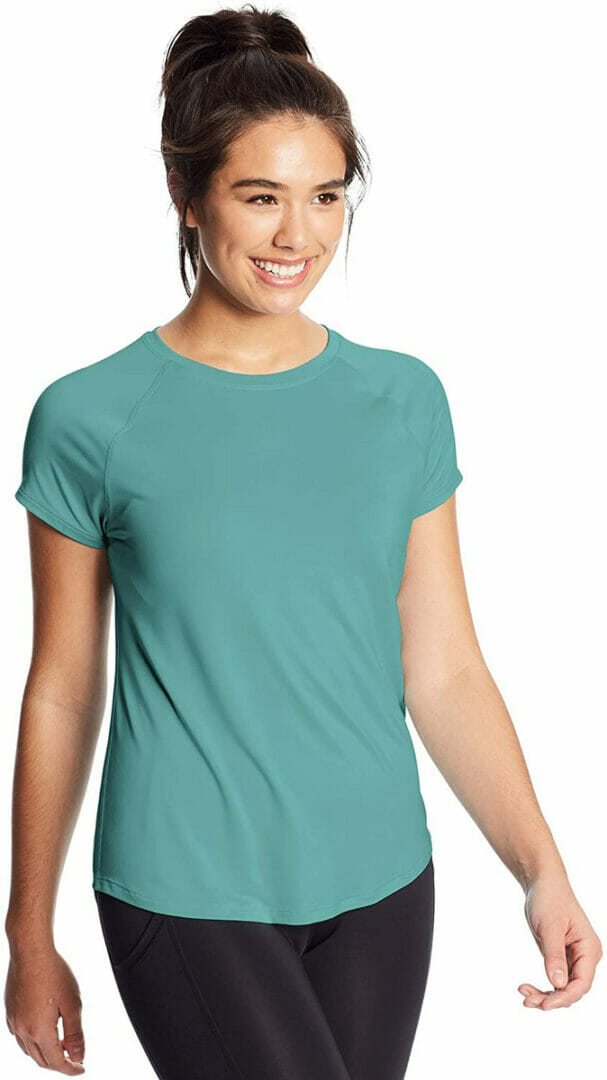 Specifications:
Material: 94% polyester, 6% spandex
Sizes: XS, S, M, L, XL, XXL
Colors: 11 colors
Price: $$
The C9 Champion shirt sports a crew neck with the exact same 94% polyester and 6% spandex make-up as the Amazon essential women's shirt. As such, it too is stretchy and very soft to the touch. The Duo Dry technology wicks away sweat and helps to cool you down.
It's semi-fitted and a little tighter on the shoulders than the Amazon Essential shirt. All of the seams are flat, this prevents chaffing which is really helpful if you play pickleball for long periods.
We recommend choosing your color carefully. A seam runs down the middle of the back and some of the thread color pairings stand out too much for our liking.
A Girl Who Loves Sunshine and Pickleball Women's T-Shirt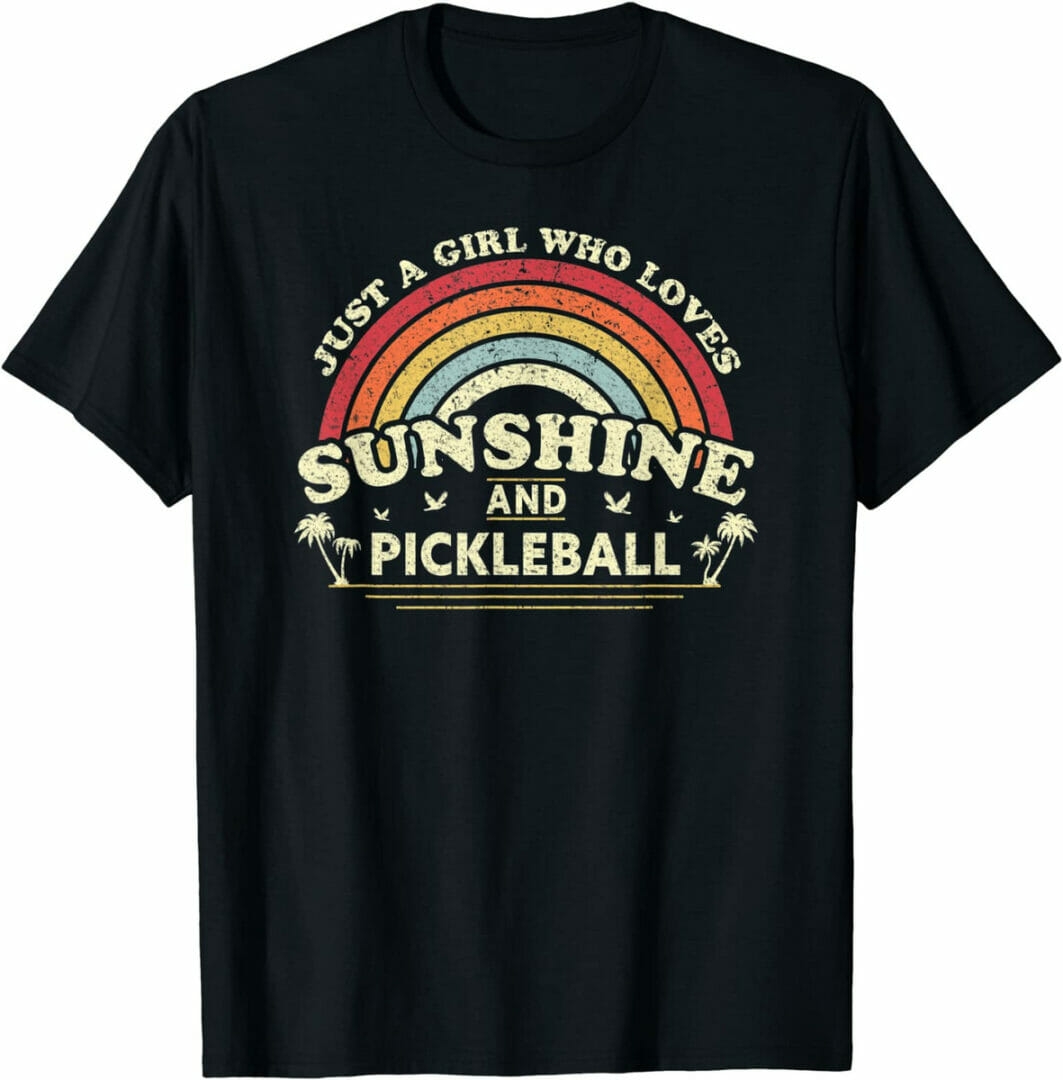 Specifications:
Material: 100% cotton (some colors also include polyester)
Sizes: S, M, L, XL, XXL, XXXL
Colors: 10 colors
Price: $$
Show your love for pickleball with this light-hearted pickleball shirt for ladies. It sports a 70s retro pickleball shirt design which looks a lot cleaner than some of the more basic novelty designs out there.
Most colors are made from 100% cotton, however, the heather grey version has 10% polyester, and the other heather colors use 50% polyester.
I Love Pickleball Women's T-Shirt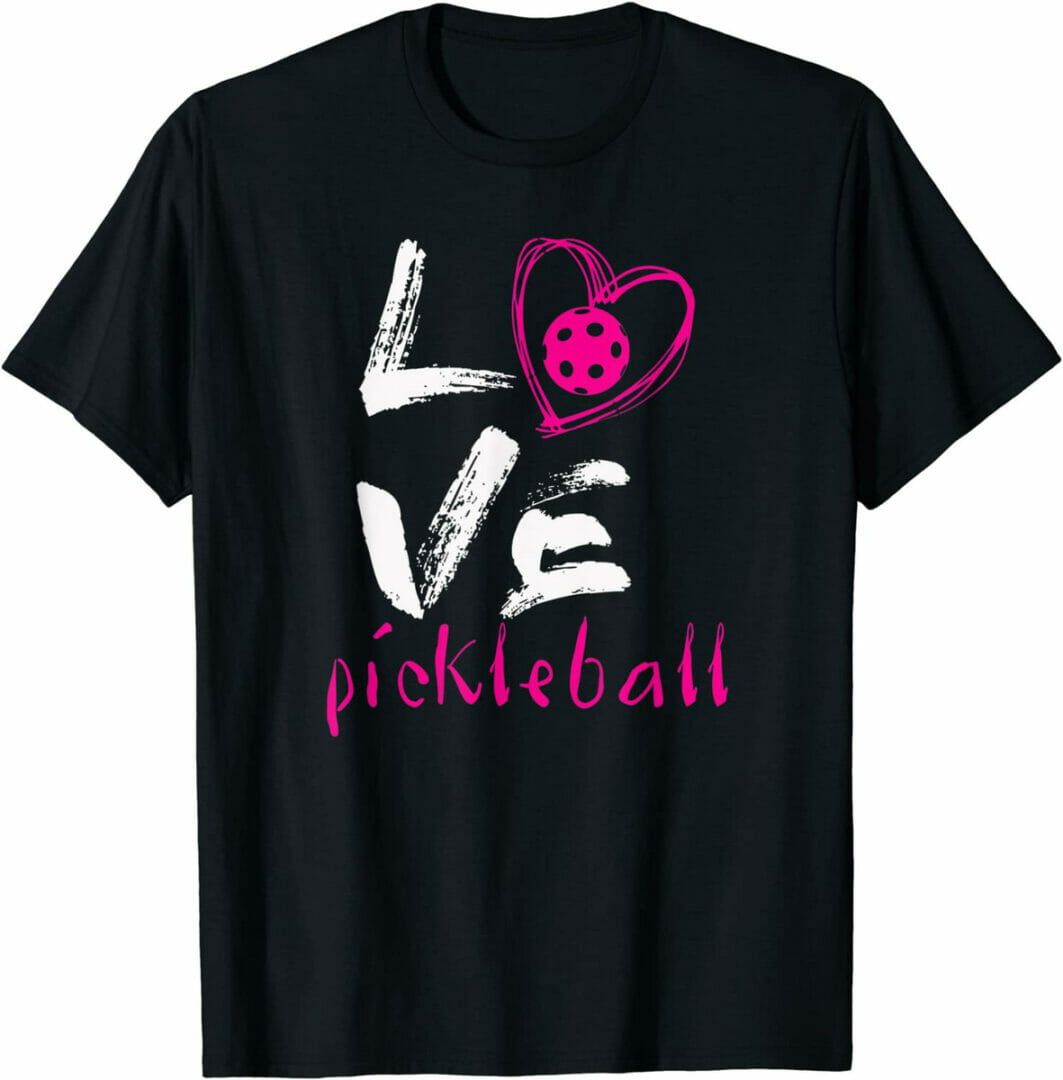 Specifications:
Material: 100% cotton (some colors also include polyester)
Sizes: S, M, L, XL, XXL, XXXL
Colors: 5 colors
Price: $$
This cute pickleball t-shirt uses a brush-stroke style design for a very casual look. The pink really stands out against the white and we love that they managed to feature a pickleball inside the love heart. Simple, yet stylish.
FAQs
Does Pickleball Have a Dress Code?
Pickleball does not have a dress code. Like many other sports, you can wear whatever you want within reason. Generic athletic-style clothing is always a solid choice for pickleball.
What Do People Wear to Pickleball?
Players wear clothes that they like the look of which offer comfort. Athletic-style clothing is very common, think moisture-wicking shirts. However, some players instead prefer something a little more casual like graphic t-shirts.
What is the Best Pickleball Shirt?
Our favorite pickleball shirt is the BALEAF men's quick-dry shirt. It is very comfortable due to its flatlock seam and tagless collar. Furthermore, it keeps you cool by wicking away moisture which is vital for those playing pickleball outside in hot conditions.
Which Brand Has the Best Quality Pickleball T-Shirts?
There is no de facto best brand for quality pickleball t-shirts. However, we have found the likes of BALEAF, Russel Athletic, and C9 Champion to be very high quality. What's more, they are inexpensive and have a vast range of colors to choose from.
Where to Buy Pickleball Shirts?
As pickleball attire can be very generic, any sports retailer should offer clothing that is a great fit for the pickleball. However, if you're after clothes that are specifically related to pickleball, you'll need to purchase from specific stores. The likes of Amazon, Etsy, and Spreadshirt all sell such shirts.
Conclusion
There are tonnes of great pickleball shirts to choose from, and which is the best for you largely depends on whether you prefer a sporty or funny shirt. With that being said, our favorite shirt for men is the BALEAF men's quick-dry shirt. Made from a polyester-spandex mix, it is highly breathable and wicks away your body's sweat to keep you dry. You also have a lot of colors to choose from, so it might be worth loading up on a few different colors for a bit of variety.
And for our favorite women's shirt, we select the Amazon Essentials women's tech stretch t-shirt. It's a v-neck style shirt, made from a similar polyester and spandex mix to the BALEAF shirt. Both flattering and comfortable, it's a great choice for pickleball play. What clinched it over the rest is the fact that it's a two-shirt deal making it very cheap. And also its outstanding reviews on Amazon — it's one of the most highly reviewed women's sports shirts on the site.

Freelance writer. Table tennis enthusiast. Lover of all things online. When I'm not working on my loop game I'm probably binge-watching some fantasy show.