The Best Pickleball Paddles You Can Buy
With the popularity of pickleball ever-growing, more and more people are dipping their toes into the sport and seeking to purchase their own paddle. But choosing which one to buy is no easy task. Hundreds of models are available online, each with different properties and varying prices.
Today, I will break down what you need to know to help you choose the best pickleball paddles for 2023. I love all things sports, especially racket sports. My heart may lie with table tennis (I've had the opportunity to play against some of the top players in England), but many of my friends are getting interested in pickleball as the sport has grown 39.3% in the past couple of years, and as a result, I am too.
I've done a bunch of research studying the best pickleball paddle brands and models to save you the trouble. And don't worry, I've selected the best pickleball paddles from beginner to advanced, so there should be one here for everyone.
Featured Products
The Best Pickleball Paddles Reviews
If you're looking to get into pickleball, or want to take your game to the next level, check out these paddles, which should be right for most people.
Best Graphite Pickleball Paddles
HEAD Radical XL Pickleball Paddle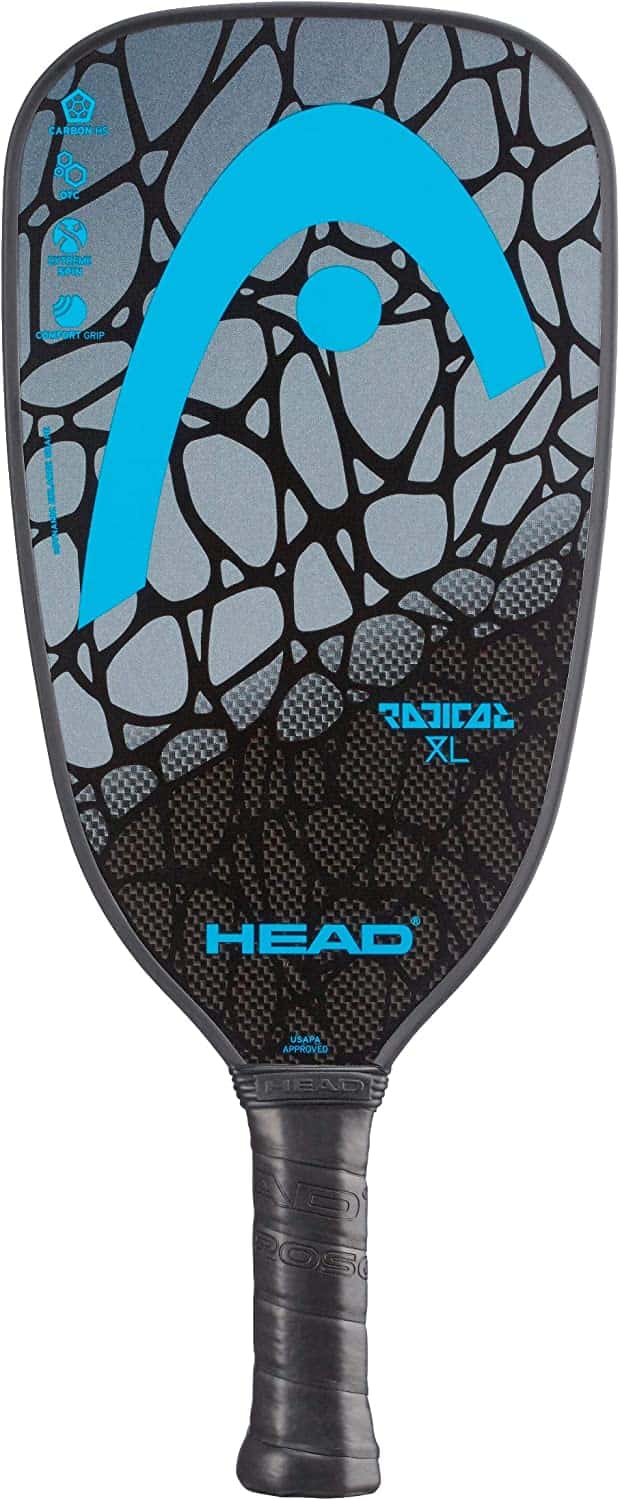 Specifications
Face material: Graphite
Core material: Polypropylene
Shape: Elongated
Paddle dimensions: 17" L x 7" W
Grip dimensions: 4.25" length
Weight: 7.6 oz
Included: 1 paddle
Cost: $$$$
Pros
Top materials
Suitable for pros
Multiple color options
1-year warranty
Cons
Expensive
Elongated head is not everyone's preference
Rating: 9.3
Kicking off the top pickleball paddles, we have the Radical XL paddle by HEAD. It's a pricey paddle but possesses undeniable quality. The racket is made from graphite and features the ever-popular polypropylene honeycomb core giving it great feeling and control. It also uses Optimized Tubular Core (OTC) technology for further refinement.
The racket surface is highly textured. This aids both with control and imparting spin — perfect for taking your game to the next level. You've also got the option of 3 different colors — blue, black/blue, or black/red — all of which look great.
[Read the Latest User Reviews]
VUFOXT Pickleball Paddles Set — Best for Beginners/Intermediate Players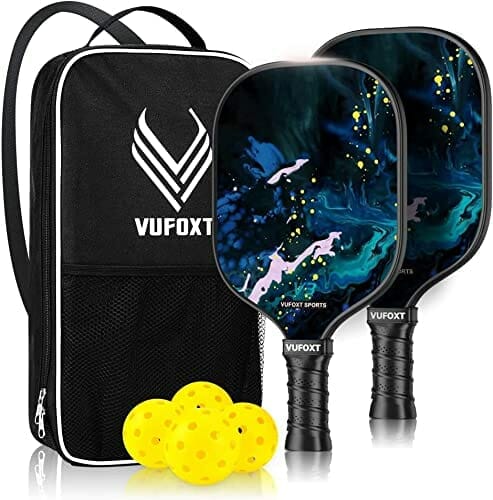 Specifications
Face material: Graphite
Core material: Polypropylene
Shape: Wide-body
Paddle dimensions: 15.5" L x 7.9" W
Grip dimensions: 4.5" circumference
Weight: 7.8 oz
Included: 2x paddles, 2x indoor pickleballs, 2x outdoor pickleballs, carry bag
Cost: $$
Pros
Top materials
Amazon Choice product
5/5 star Amazon rating
Inexpensive
Quiet
Multiple color options
Cons
Top players may want more speed
Rating: 9
This graphite paddle set is one of the top-rated pickleball paddles for beginners to intermediate players. It is very well-priced and has everything you need to play with a partner, whether indoors or outdoors. Like the HEAD Radical XL, the paddle features a graphite face with a polypropylene honeycomb core. However, these VUFOXT paddles are shaped very differently. Instead of an elongated form, they are wide-body which is a much easier shape to master for beginners. The edge guards are made from rigid carbon fiber to prevent scratches and dents.
These paddles sport a fairly balanced game. Weighing in at 7.8 oz, they are of average weight and generate good power, but equally, they have a lot of control. In our opinion, if you're new to the sport, you can't really go wrong with this set. They are also rather inexpensive and rated 5/5 stars on Amazon. You can't ask for much more than that!
[Read the Latest User Reviews]
Vinsguir Pickleball Paddles Set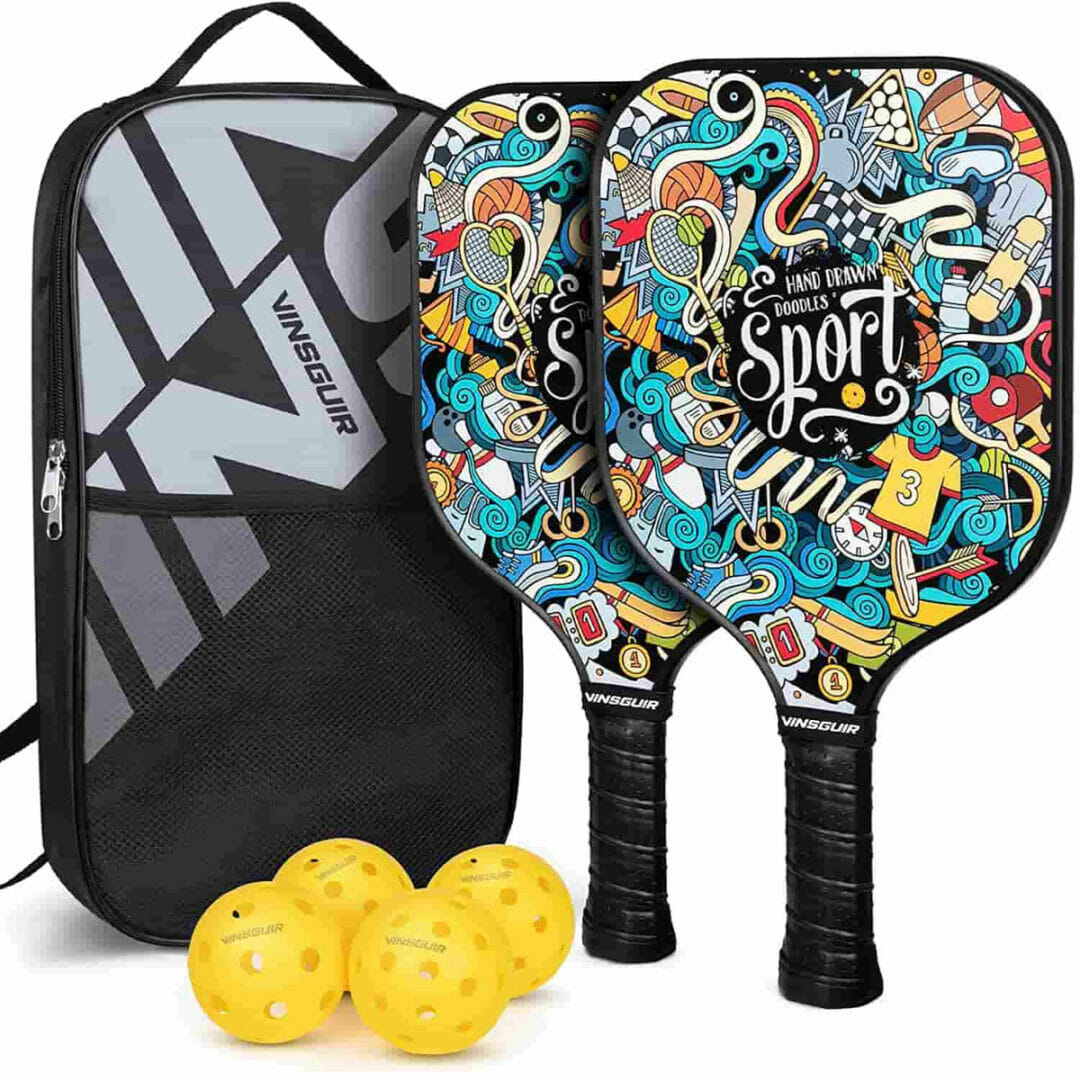 Specifications
Face material: Graphite
Core material: Honeycomb composite core
Shape: Wide-body
Paddle dimensions: 15.5" L x 8.07" W
Grip dimensions: 4.92″ length
Weight: 7.8 oz
Included: 2x paddles, 1x bag, 3x outdoor pickleballs, 1x indoor pickleball
Cost: $$
Pros
Top materials
#1 best seller on Amazon
Inexpensive
Quiet
1-year warranty
Cons
Not suitable for advanced players
Racket pattern is somewhat childish
Rating: 8.9
As one of the best-selling pickleball paddle sets right now, the Vinsguir racket bundle is easy to recommend. It is remarkably similar to the VUFOXT set as it shares the same composition, weight, and is almost identically sized. They are even within a few dollars of each other, so the two are tough to separate — they are definitely some of the best pickleball paddles for 2023.
Like most paddles, it features an edge guard for protection and comes with a 1-year warranty which is very respectable. One issue you might have with these pickleball racquets are the designs on the face. They feature doodle artwork which might look okay to some, but certainly not to others — I imagine it won't bother most beginner/intermediate players. However, if you want to be taken seriously, perhaps you should purchase a more professional-looking paddle.
To check out our top-rated graphite pickleball rackets, give our review a read.
[Read the Latest User Reviews]
Best Fiberglass Pickleball Paddle
niupipo Pickleball Paddles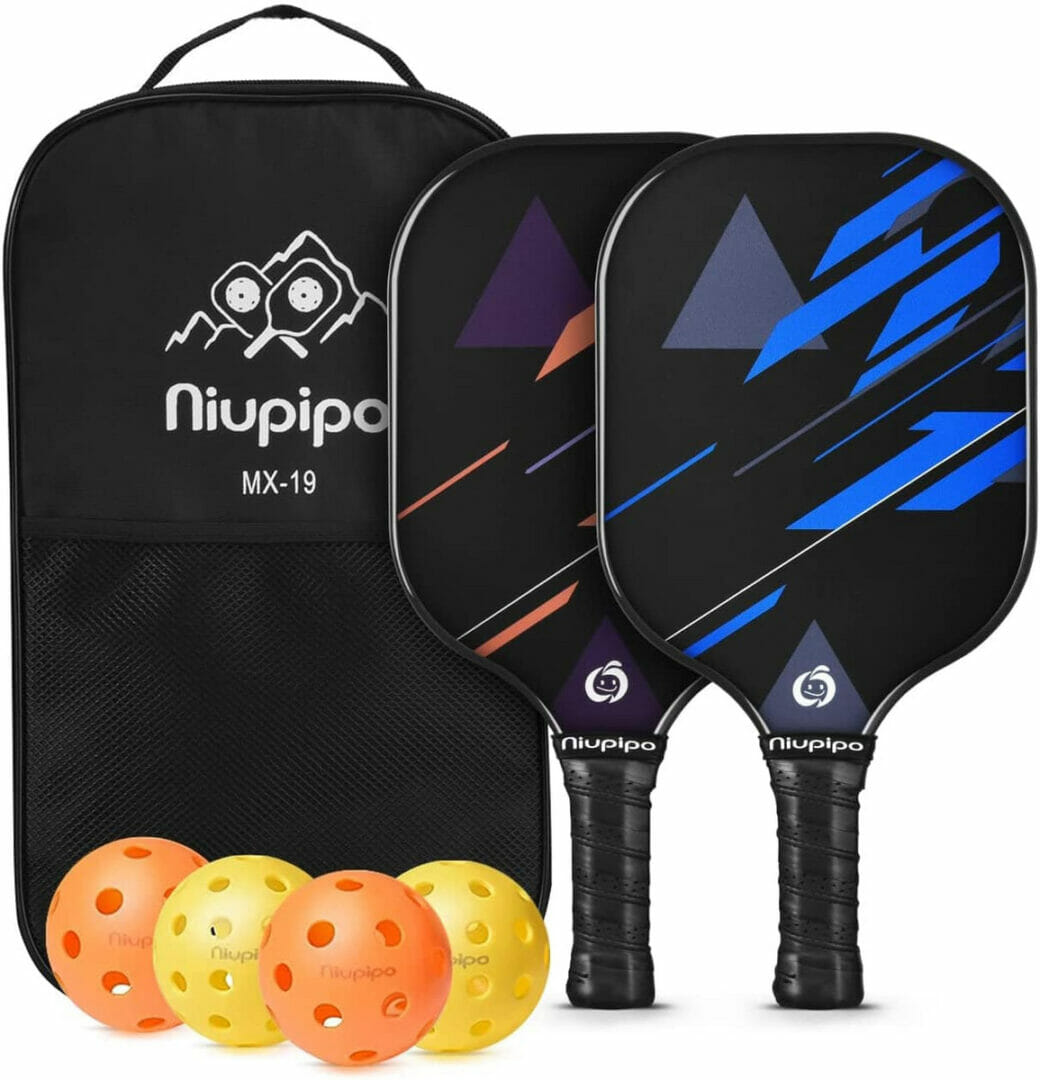 Specifications
Face material: Fiberglass
Core material: Polypropylene
Shape: Wide-body
Face dimensions: 15.5" L x 7.87" W
Grip dimensions: 4.5" length, 4.5" circumference
Weight: 8 oz
Included: 2 paddles, 1 bag, 4 pickleballs
Cost: $$
Pros
Top materials
Inexpensive
Multiple color options
1-year warranty
Cons
Not suitable for top players
Rating: 8.9
These niupipo pickleball paddles are very competitively priced, as you get two paddles for around half the cost of the most expensive models. Constructed with a polypropylene core and fiberglass face, these pickleball rackets are lightweight, durable, and somewhat soft.
Sporting a black design with an orange and blue geometric pattern, they have a professional pickleball paddle look, and if you prefer something more muted, you can also buy the same set with a black and grey pattern. They are good pickleball paddles for beginners and intermediate players, but those at an advanced level will likely want something a bit more high-tech.
[Read the Latest User Reviews]
Selkirk Amped Invikta Pickleball Paddle — Best for Advanced Players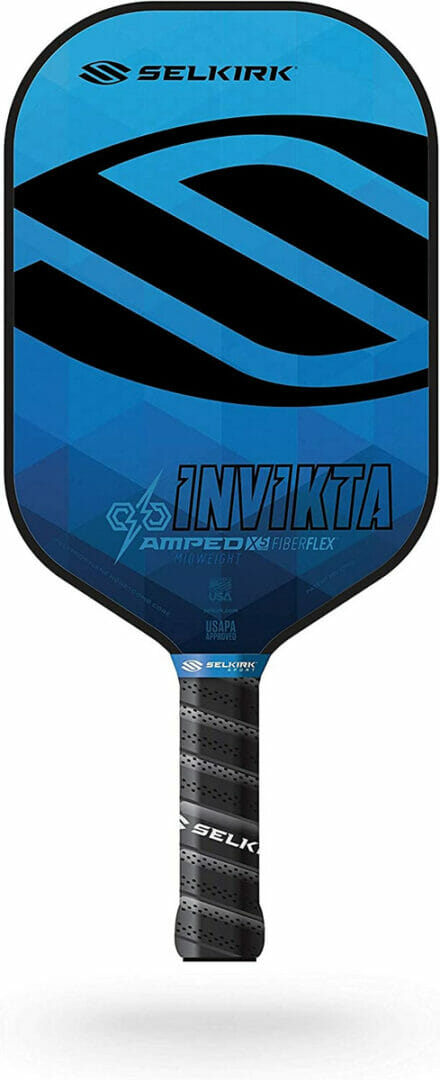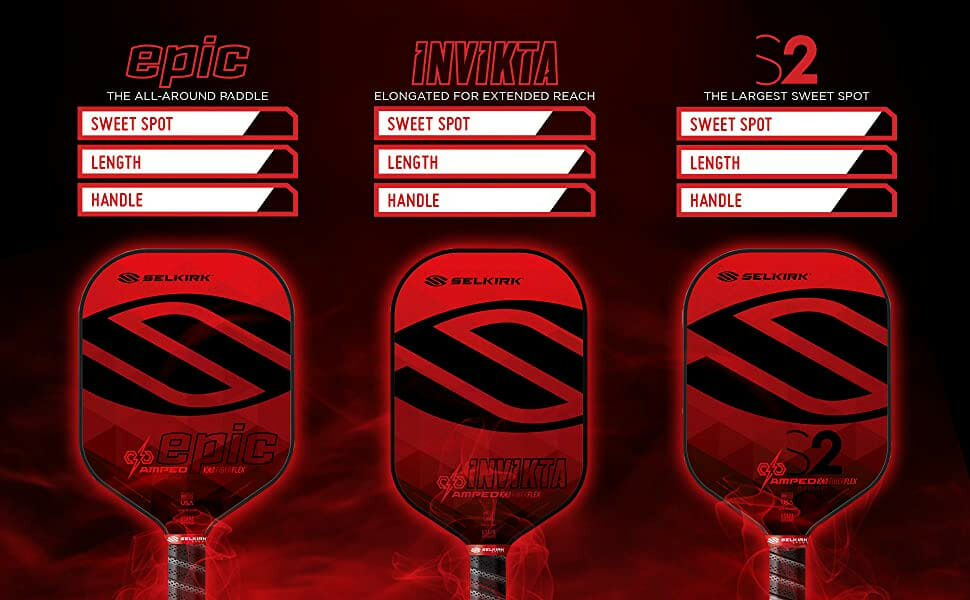 Specifications
Face material: Fiberglass
Core material: Polypropylene X5
Shape: Elongated
Face dimensions: 16.5" L x 7.38" W
Grip dimensions: 5.25" length, 4.25" circumference
Weight: LW: 7.3 oz – 7.7 oz  MW 7.8 oz – 8.4 oz
Included: 1 paddle
Cost: $$$$
Pros
Top materials
Revolutionary technology
USAPA approved
Multiple shape options
Multiple color options
Multiple weight options
Limited lifetime warranty
Cons
Rating: 9.6
For advanced players seeking unrivaled quality, this is the paddle you should be looking at. It marks a shift in the pickleball industry as it features revolutionary technology. The Amped series of paddles pair a premium FiberFlex Fiberglass face with a thicker core (polypropylene X5). This creates a larger, more consistent sweet spot which helps make you a more dangerous player to face off against.
Also, part of the paddle has vibration dampening. This gives it a better feel in your hand and helps mitigate the risk of various injuries such as tennis elbow. Furthermore, torque suppression increases stabilization which enhances control and accuracy.
Another unique advantage the Amped series possesses over other pickleball paddles is the level of customization. I have opted for the Invikta for our pick, but you can also choose from either the Epic or S2. Each sports a different shape with varying sizes for the sweet spot, racket face, and handle. In addition, each pickleball racket comes with 8 different color options with various weight choices.
All in all, the customization on offer here truly is spectacular, and to further drive home its quality, you get a limited lifetime warranty when you purchase. You won't get that with any other pickleball paddle manufacturer. In my opinion, this is the best pickleball paddle for advanced players right now.
[Read the Latest User Reviews]
Best Wood Pickleball Paddle
Amazin' Aces Pickleball Wood 2-Paddle Set — Budget Buy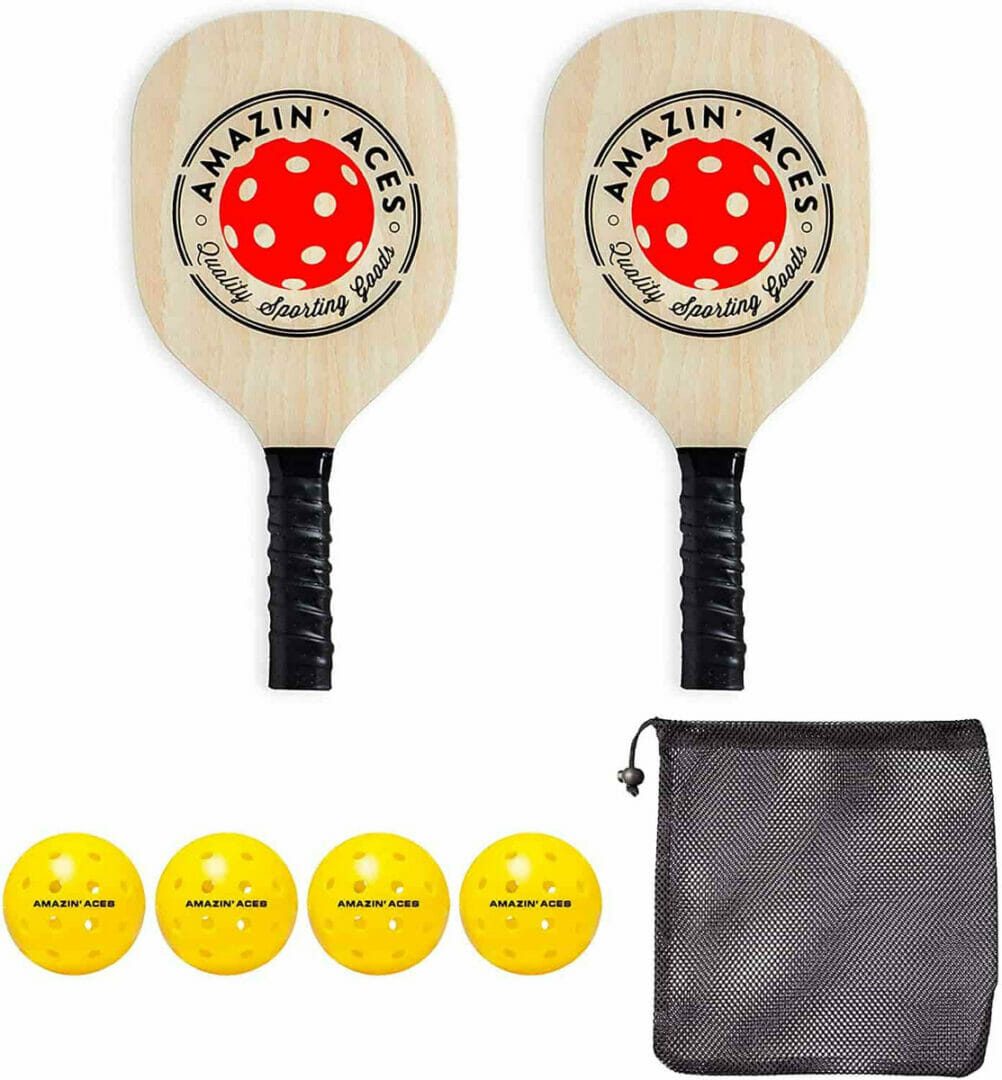 Specifications
Face material: 7-ply maple
Core material: 7-ply maple
Shape: Wide-body
Paddle dimensions: 15.6" L x 7.5" W
Grip dimensions: 5.5" length, 4.25" circumference
Weight: 10 oz
Included: 2 paddles, 1 bag, 4 pickleballs
Cost: $
Pros
Very inexpensive
No edge guard eliminates mishits
1-year warranty
Cons
No edge guard minimizes protection
Poor control
Only suitable for beginners
Might be too heavy for some players
Rating: 8.1
If affordability is your primary concern, this Amazin' Aces 2-pack is a top pickleball paddle choice. With its all-wood build and cushioned grip, these rackets are perfect for beginners who are just learning the game. You don't need to hit the ball especially hard, as the 7-ply maple wood does a lot of the work for you. The rackets also do not have edge guards. This reduces your likelihood of mishits but does compromise slightly in terms of durability. However, you do get a 1-years warranty when you purchase, so if either paddle unexpectedly breaks, you should be able to get a replacement.
[Read the Latest User Reviews]
Pickleball Paddle Buyer's Guide
Weight
Pickleball rackets, on average, weigh from 4 oz to 14 oz, which is quite a large range. No weight is inherently bad. It's more a case of choosing the right weight for you. Heavy paddles are faster and require reduced strength. This makes them a great choice for beginners. On the other hand, lighter paddles are incredibly common in the competitive scene to take advantage of the improved control they offer.
Grip Size
Pickleball paddle grips come in various lengths and circumferences, but it's the length you will want to pay the most attention to. Generally speaking, handle lengths are either 4″, 4.25″, or 4.5″. However, you can get paddles with much larger grips. Take the Amped Invikta Pickleball Paddle by Selkirk as an example. Its grip measures 5.25″ long which is very long.
Most of the time, we recommend getting a grip that correlates to your hand size. If you're 5'3″- 5'8″, a 4.25″ grip is the one for you. That being said, you should know that you can go longer. Rackets with long handles are the best paddles for power as they give you more speed.
Paddle Face Material
Perhaps the most important aspect to consider when choosing your pickleball paddle is what the thing is actually made of. There are four paddle face options to choose from, and each has unique playing characteristics.
Wood: Back in the sport's inception, wooden paddles were a staple of the game. They were often very hard and heavy. However, wooden paddles have become lighter, they are now frequently made from plywood. Wooden paddles have the advantage of being some of the most durable rackets going, but they are rather heavy.
Polymer plastics: These paddles are made from a mix of resin and plastic. They offer a more lightweight option, and they are the most affordable choice on the market. Generally speaking, they are only suitable for amateurs as the quality is not high enough for professional pickleball paddles.
Graphite: Graphite paddles are a significant step up from wood and polymer plastic paddles. It is often the material of choice for the best pickleball racquets. Graphite paddles are lightweight, fast, and precise. They are also very versatile paddles making them highly popular with the pros. As such, they are usually the most expensive.
Composite: Composite paddles are a great middle-ground for more serious players who perhaps don't want to fork out for a graphite paddle. Like polymer rackets, they use a mix of materials. However, said materials are of very high quality. Therefore, this type of paddle's performance is very respectable, it can sometimes even rival those made out of graphite.
Paddle Core Material
Aluminum: These cores are lightweight and give you exceptional control. The caveat is that they suffer in the power department — a fiberglass face can help with this.
Nomex: This is a nylon-based polymer that has a honeycomb shape. Before treatment, it is soft, but after applying resin, it becomes rock hard. Nomex paddles are very light and loud and are popular with professional players.
Polypropylene: These cores are the newest technology and are proving very common among the top-rated pickleball paddles for 2023. Unlike Nomex, polypropylene is very soft. This makes these cores quieter and gives you more control over the pickleball ball.
Paddle Core Thickness
Besides the material of your pickleball paddle core, you should also consider its thickness. Thicker cores (16mm+) are becoming increasingly common as they offer great control and finesse. The thicker the core, the longer the paddle holds the ball. This gives your strikes more of a soft feeling.
By comparison, thinner cores, act more like a brick wall. They cause the ball to immediately rebound on impact, leading to the fastest speeds. This means they are the best pickleball rackets for players who prefer a fairly hard feeling and do not mind having less control.
Paddle Shape — Wide-body vs Elongated
There are two main types of paddle shapes: wide-body and elongated. Wide-body is the more traditional paddle shape of the two as it suits all skill types. The wide playing surface is relatively forgiving. On the other hand, elongated paddles are a little less forgiving, so perhaps not the best pickleball paddles for beginners. The advantage they possess is a longer hitting area, great for players with short reach.
Edge Guard
Almost all pickleball paddles have edge guards for the sake of durability. Think about it. Actions such as scooping the ball up off the floor and dropping your racket mean you impart quite a lot of damage to the paddle's edge. Therefore it only makes sense to reinforce it, so you don't have to purchase another paddle prematurely.
Some players like to go for rackets without edge guards. They often look a little nicer, but that's about it. You could also make an argument for a slightly larger hitting area but this is almost so small it is not worth noting. If our message wasn't transparent enough, let me be clear, we strongly recommend you get a paddle with an edge guard.
FAQs
What Is the Difference Between Pickleball Paddles?
Pickleball paddles vary in many respects, namely, shape, size, racket material, core material, and weight. Each of these significantly affects how each paddle feels and plays. If you're interested in a product and want to learn more about its performance, we recommend checking out pickleball paddle reviews for that product.
Does Your Pickleball Paddle Matter?
Certainly. You need to choose the right pickleball paddle for your style and skill level. What feels great to one player might feel unnatural to another — the best pickleball racket for you should complement how you play.
Is a Composite or Graphite Pickleball Paddle Better?
Both types of paddle tend to be very high quality but will differ depending on what model you choose. Generally speaking, graphite paddles are lighter and are always of very good quality. On the other hand, composite paddles are a little heavier, and their quality has wider variation. Yet the top composite paddles are some of the best pickleball paddles that you can buy.
Is Graphite or Fiberglass Better for Pickleball?
Graphite is largely considered superior to fiberglass, but this is not always the case. Graphite has the advantages of being lighter and offering more control, while fiberglass is heavier and has more power. As such, they both suit different types of players, and both materials are present when browsing the best-rated pickleball paddles.
Which Pickleball Paddle Has the Best Spin?
To find the pickleball paddles with the most spin, you need to look at models with highly textured faces. A great example of this is the Selkirk Amped Invikta. 
Is a Thicker Pickleball Paddle Better?
Thicker pickleball paddles are better for players who value accuracy and control. Conversely, thinner paddles are better for offensive players who like to strike the ball hard as these paddles are faster.
Why Do Pickleball Paddles Have a Weight Range?
Pickleball paddles vary in weight because each player has their own weight preference. Like paddle shape customization, having various weights to choose from gives you more precision to choose the right racket for you. As an example, heavy rackets are good options for players who like to generate a lot of power.
What Is the Best Weight for a Pickleball Paddle?
Around 7 oz to 8.5 oz is a good range for most players. We advise going on the lower end if you're skilled and have good power and reaction time. Alternatively, if you're not particularly skilled, we recommend going heavier. Absolute beginners may prefer heavier wooden paddles, so don't be scared to go beyond 8.5 oz.
What Is the Best Pickleball Paddle?
The best pickleball paddle depends on your skill level. If you're a skilled player, we think the Selkirk Amped Invikta is the best you can get. It is a superb paddle with some of the latest tech, a highly textured surface, and a limited lifetime warranty.
Conclusion
That marks the end of our pickleball paddles guide. You should now have all of the knowledge you need to decide to choose your shiny new pickleball paddle. In case any of the info went over your head, here are our top recommendations.
For casual players, we recommend going for the VUFOXT Pickleball Paddles Set. These paddles feature polypropylene cores with graphite faces. This gives you a little more control than the niupipo pickleball paddles set which is great for players starting out. However, both are top choices that we recommend. They are identically priced at the time of writing, so it's tough to separate the two in terms of value for money.
For advanced players, the Selkirk Amped Invikta is the best pickleball paddle you can buy. It may be expensive, but it's worth every penny. With a premium FiberFlex fiberglass face and thick polypropylene X5 core, you get unmatched power and control in a quiet and lightweight racket. It's tough to imagine an advanced player who wouldn't love how it performs.
The level of customization on offer is also staggering. If the elongated Invikta racket shape isn't your style, then no worries. Choose from either the Epic all-around paddle or the S2 paddle, which has the largest sweet spot. Any pickleball rackets from the Selkirk Amped range get our seal of approval.
Enjoy this guide? Perhaps you might like our write-up on the best pickleball nets or the top ping pong paddles.

Freelance writer. Table tennis enthusiast. Lover of all things online. When I'm not working on my loop game I'm probably binge-watching some fantasy show.