The 5 Best Pickleball Nets
Pickleball is one of the hottest sports right now, and you really don't need a lot of equipment to get started. All you need are two pickleball paddles, some pickleball balls, and a net. Then you can measure out a court and play at your leisure! I did exactly this with badminton recently and had a blast, so now it's time to move on to pickleball!
However, don't let your excitement get the better of you — you shouldn't go out and buy any old net. You want one that will stand the test of time and offer resistance from the harsh weather.
In this article, I cover everything you should consider when shopping around for a pickleball net and provide some of my top recommended products. Enjoy!
Featured Products
Pickleball Nets Buying Guide
Weight
Pickleball nets come in a range of different weights spanning from around 14lbs to 50lbs. We recommend avoiding the super light nets as they are not as stable as we would like — you don't want your net toppling over in windy conditions.
Heavy nets are often a sign of superior construction featuring high-quality materials. Once erected, they are dependable, allowing you to focus on the game's fun. However, the drawbacks to heavier pickleball nets are that they are harder to carry around and set up. Therefore, it may be best for most people to avoid the lightest and heaviest nets for most people.
Price
The cheapest pickleball nets start from around $100, with mid-range models costing $150-$200. Top-of-the-range nets can cost more than $300.
Size
Provided you are serious about pickleball, you should purchase a net that adheres to the rules. These rules stipulate that nets must be 22' wide and 34" high in the center, with the corner posts measuring 36". We recommend purchasing a net with a middle post to ensure these conditions are met. This prevents bowing, which can cause the net to dip below the 34" high requirement.
Material
The most important component to look out for when choosing your net is the frame. Weak frames are not very sturdy and do not last all that long. Avoid aluminum, as the best pickleball nets use steel frames. These models are often powder-coated, which helps to mitigate rust, thus giving you decent protection against the weather for outdoor play.
Best Pickleball Net Reviews — Non-Wheel Models
3.0 Portable Pickleball Net System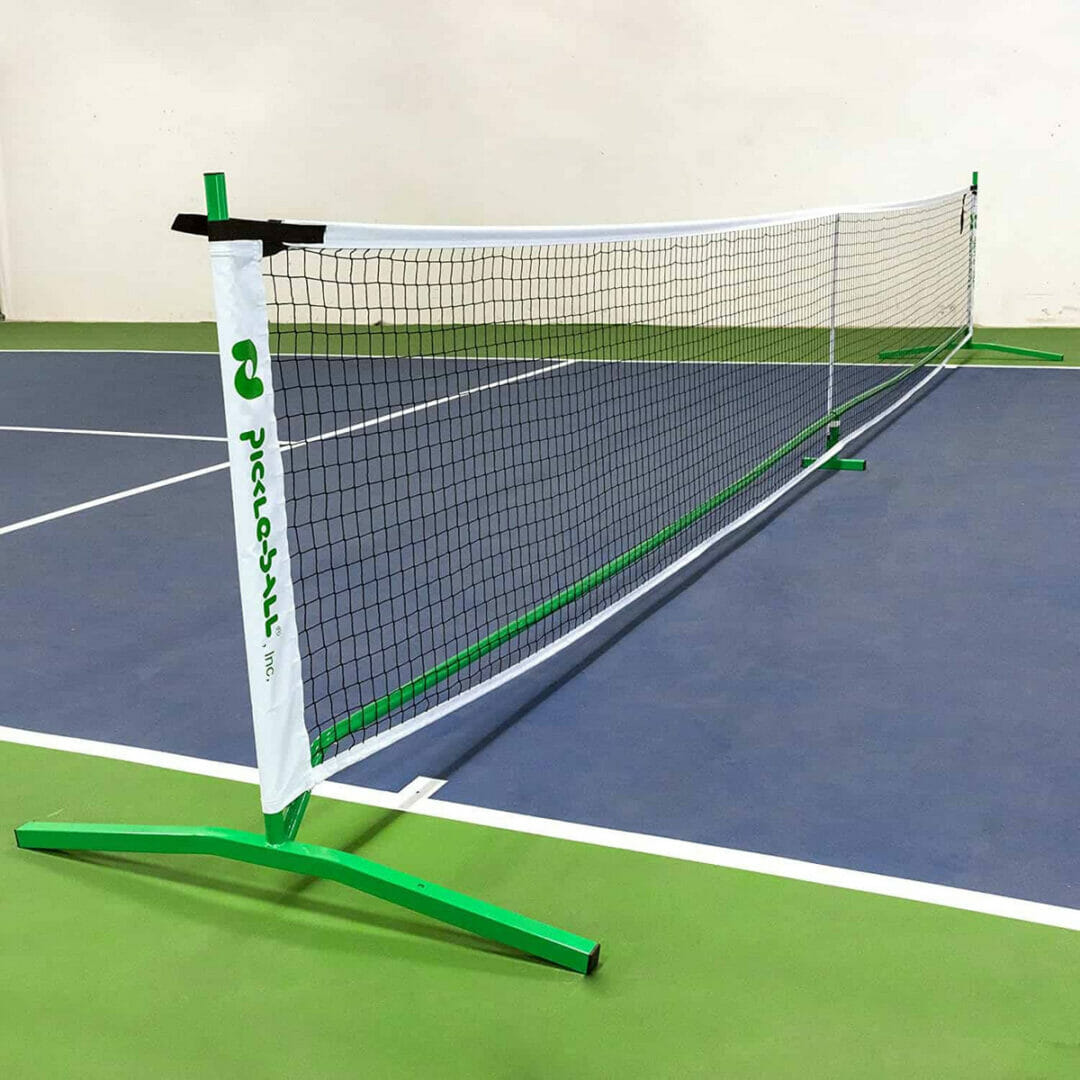 Specifications
Regulation size?: Yes
Weight: 24lbs
Frame material: Powder-coated steel
Outdoor use?: Yes
Cost: $$
Pros
Lightweight
Easy assembly
Use outdoors
Features a center pole
Carry case included
Cons
Very light — not ideal for windy conditions
The 3.0 Portable Pickleball Net System is a great choice for amateurs and more serious players alike and clocks in at the top end of the mid-range price tag. It is exceedingly lightweight at 24lbs, yet it does not compromise on quality, being made for powder-coated steel for maximum strength and rust protection. This makes it easy to carry and gives you the option to play outdoors.
The eye-catching green components are even-numbered. This means you can be set up in just a few minutes. We can also guarantee that you will be playing under regulated conditions as the net uses central support to ensure it is 34" high. You can also easily adjust the tension of the net using the velcro straps at either end.
A11N Portable Pickleball Net System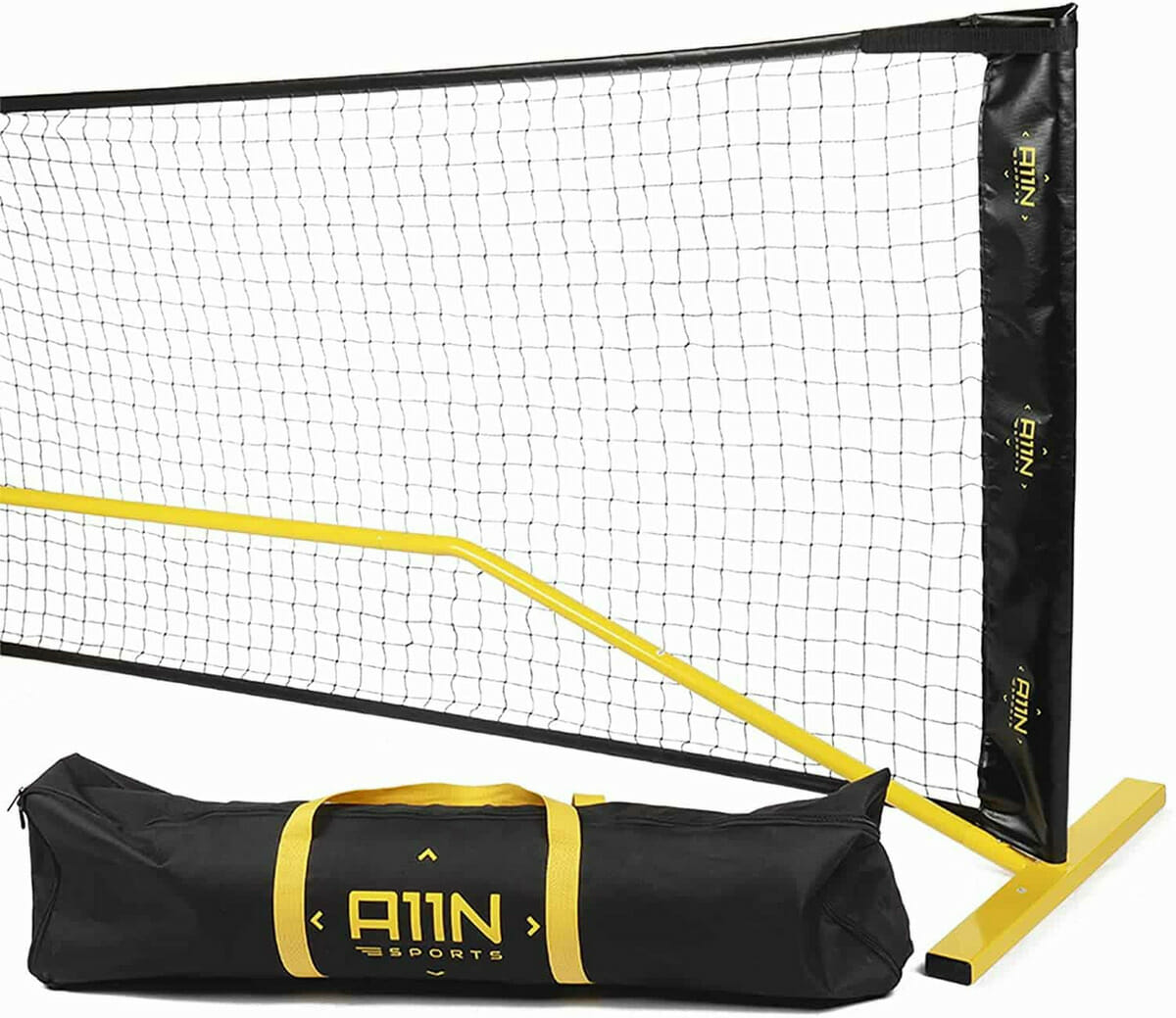 Specifications
Regulation size?: Yes
Weight: 20lbs
Frame material: Metal
Outdoor use?: Yes
Cost: $
Pros
Inexpensive
Very lightweight
Use outdoors
Features a center pole
No tools required for assembly
Carry case included
Available in yellow and black or white and black
Cons
Very light — not ideal for windy conditions
The A11N pickleball net may be in the entry-level price range, but you should not overlook its quality. For starters, it meets the USA Pickleball (USAPA) regulations, meaning the net follows the strict height and length requirements. It is also incredibly lightweight, weighing just 20lbs. This makes it really easy to move around — you should have little to no trouble carrying it long distances should you need to.
Despite it being so light, it's still made from metal. However, the metal is not specified, so it may well be aluminum rather than steel to keep it light. Irrespective of this, we feel that it is adequately well-built. A11N specifies that it is suitable for outdoor use, which is certainly a plus.
We also love the fact that it is available in both white and black or yellow and black. This gives you some choice for customization where the other models do not. Personally, I like yellow and black as it really stands out!
Given the inexpensive price tag, the A11N gets a strong recommendation from us. The value for money here is virtually unbeatable, and having such a low weight makes it the best portable pickleball net.
Amazin' Aces Portable Pickleball Net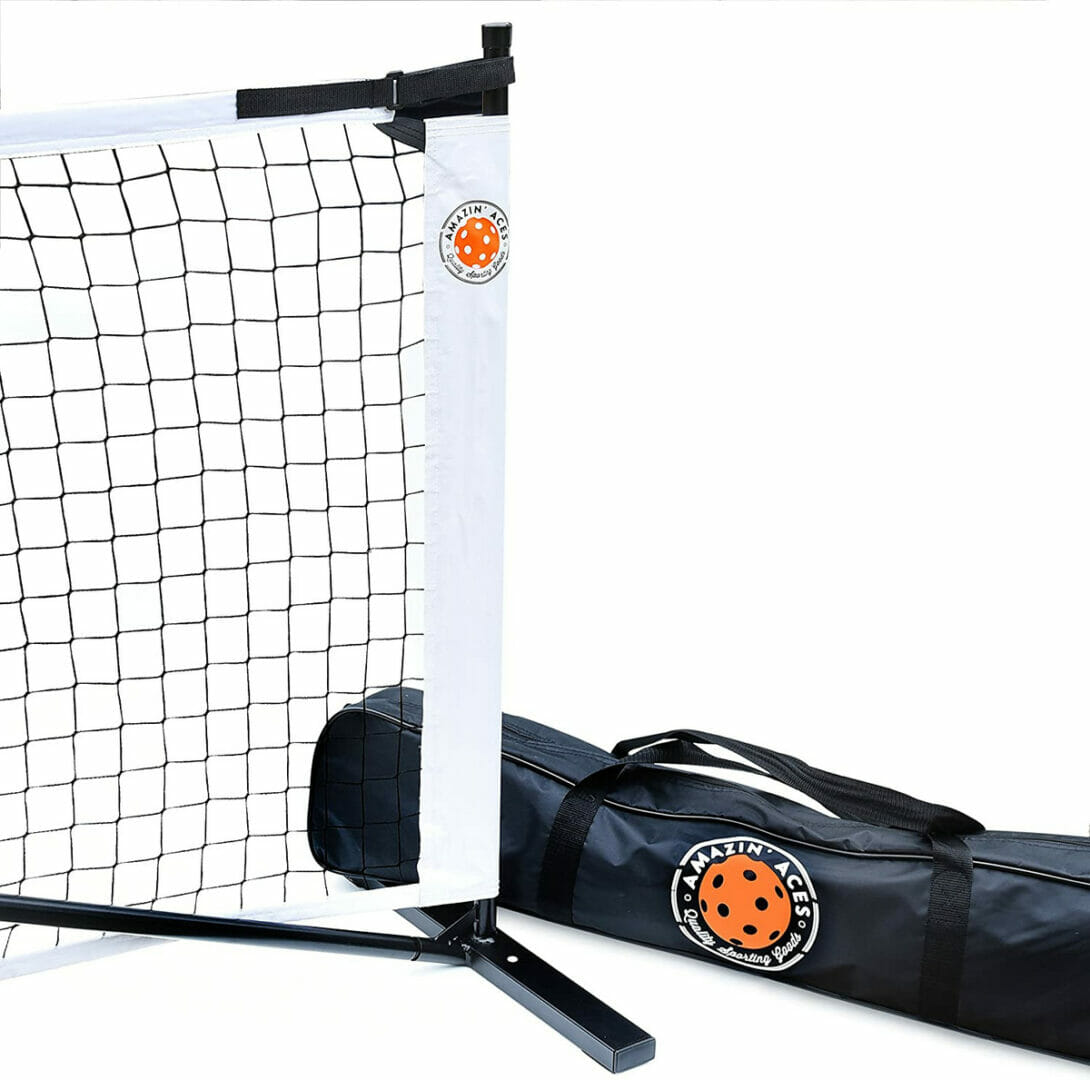 Specifications
Regulation size?: Yes
Weight: 23lbs
Frame material: Metal
Outdoor use?: Yes
Cost: $
Pros
Inexpensive
Very lightweight
Use outdoors
Features a center pole
Carry case included
Cons
Very light — not ideal for windy conditions
The Amazin' Aces pickleball net represents remarkable value, much like the model by A11N. It, too, meets official net requirements, using a central post for support and velcro to keep adequate tension.
It is also advertised as an outdoor pickleball court net, although Amazin' Aces do not specify the exact materials used, only 'metal' for the frame. We expect it's probably aluminum rather than steel to keep costs down.
The low 23lb weight makes transportation and assembly very straightforward. Each component is numbered like the 3.0 portable pickleball net system, which is an added bonus. While we really love this net, like the A11N model, it's just a bit too light to be reliable. On windy days it might just fall over. So if you live in an area with windy weather, we recommend going for one of the heavier models.
Best Pickleball Net Reviews — Pickleball Nets on Wheels
Franklin Sports Pickleball Net Pro with Wheels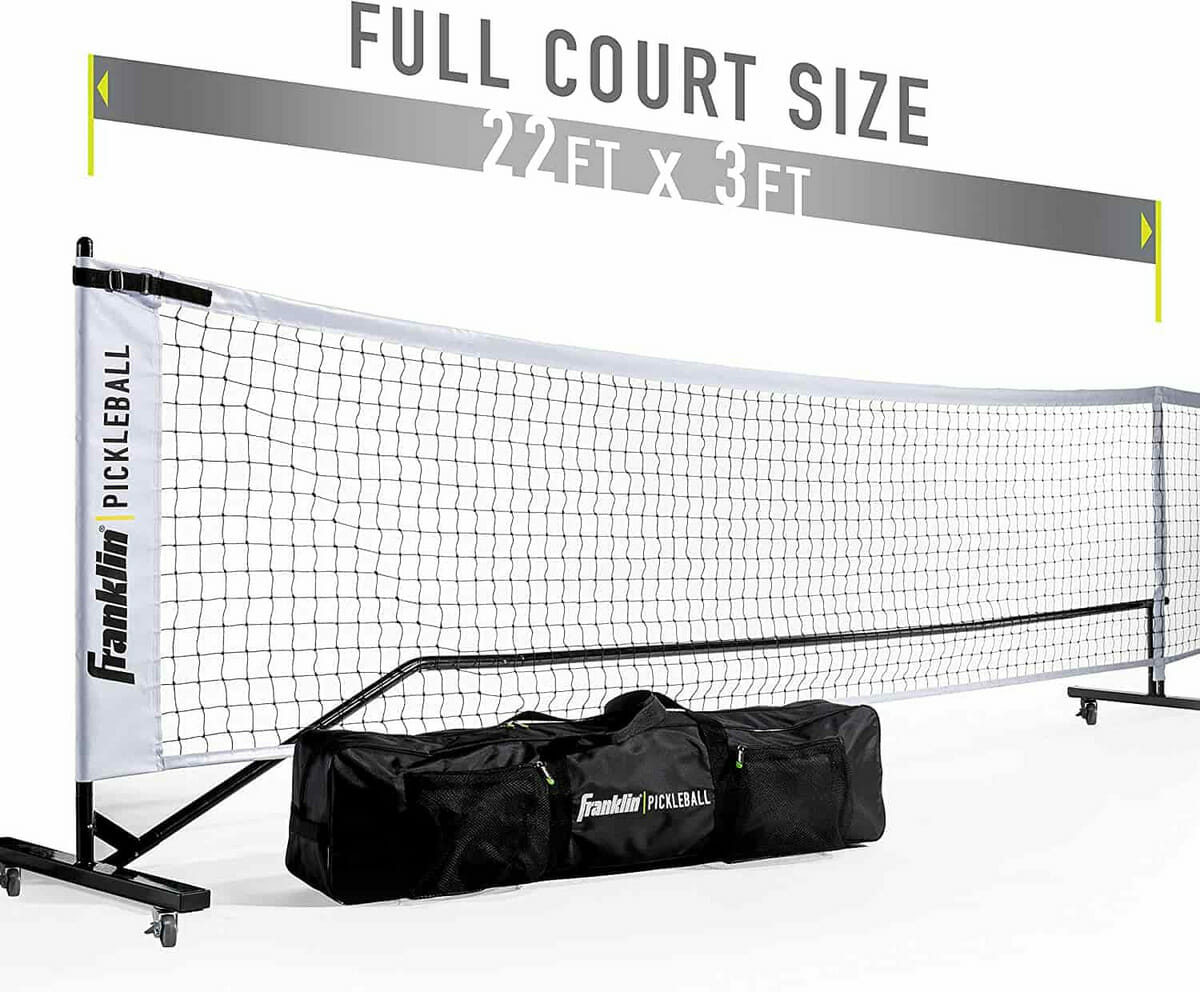 Specifications
Regulation size?: Yes
Weight: 29lbs
Frame material: Powder-coated steel
Outdoor use?: Yes
Cost: $$
Pros
Highly portable
Use outdoors
Features a center pole
No tools required for assembly
Weatherproof carry case included
Cons
A little difficult to set up
If you're looking for a mid-range pickleball net with wheels, then the Franklin Sports net is a good option. Franklin Sports is a well-known and trusted sports manufacturer so that you can buy with confidence.
The net's fame is composed of powder-coated steel. This ensures it has adequate protection from rainfall, so you can feel comfortable getting it wet from time to time. Franklin Sports even throws in a weather-resistant carry bag, so outdoor play should certainly be on the agenda!
However, we recommend bringing the net indoors when you are finished playing. Overexposure to rain will increase the rate at which the net degrades.
We like the fact that it doesn't require any tools for assembly, yet it is not as straightforward to set up as some of the other nets on this list. After the first few assemblies and disassemblies, you should feel comfortable with the process, though.
OnCourt OffCourt PickleNet Deluxe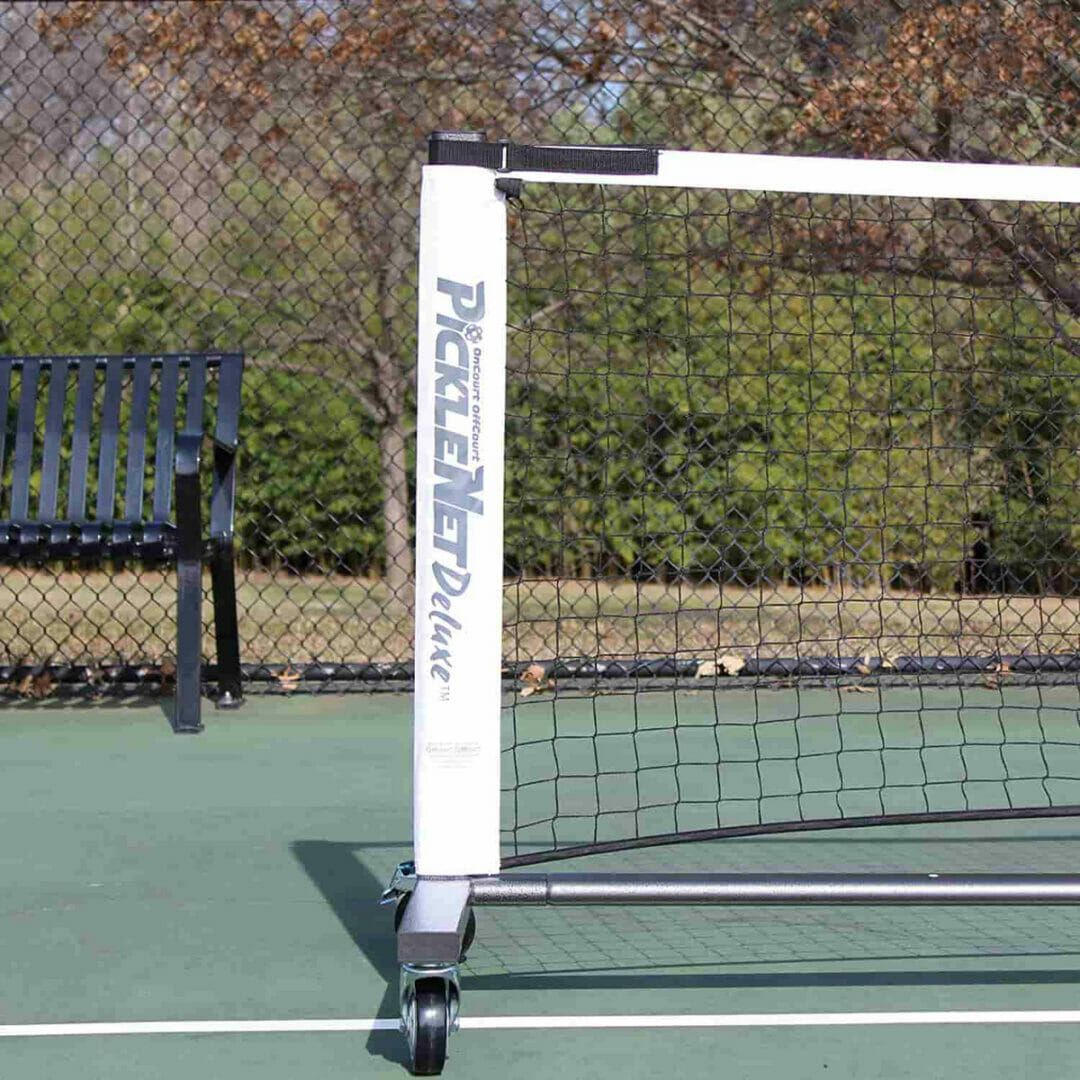 Specifications
Regulation size?: Yes
Weight: 50lbs
Frame material: Powder-coated steel
Outdoor use?: Yes
Cost: $$$$
Pros
Wheels make it easy to move around
Very sturdy — will not blow over
Use outdoors
Features a center pole
Weatherproof wheeled carry case included
Cons
Expensive
Too heavy for some players
The OnCourt OffCourt PickleNet Deluxe may be the most expensive net on this list, but with this increased cost comes undeniable quality. This net targets serious players who want the highest quality net possible. It is an upgrade of their Classic PickleNet that is far more rugged and sturdy. The net weighs 50lbs which is right at the top end of pickleball nets.
You certainly won't have any trouble with it staying upright, even during very windy conditions. However, it is a little heavy to lug around. That's why the inclusion of the weatherproof carry case is so useful. You can wheel it along the ground, making it much easier to move around.
It also assembles very quickly in under 3 minutes, and you can easily adjust the net's tensions using quick-release velcro — it really couldn't be any easier. If you're pickleball mad and have the money to spare, we highly recommend it.
FAQs
Why Are Most of the Pickleball Sets Portable?
Because few consumers are in the market for fixed pickleball nets, many people create temporary makeshift pickleball courts in their backyard. These require portable nets that do not need fixing into the ground.
What Size Are Pickleball Nets?
USAPA (USA Pickleball Association) states that pickleball nets must measure 22' in width by 34" in height at the center strap. Each corner must also measure 36" in height.
Will Pickleball Nets Work Both Indoor and Outdoor?
Yes, pickleball nets work indoors and outdoors because the net requirements are the same. However, if you plan to play outdoors, you should buy a weather-resistant net. This gives it adequate protection for outdoor use. Look out for powder-coated steel frames and quick-drying material for the net.
Can I Use a Multi-Functional Net Instead of a Regulation Pickleball Net?
You can, but we do not recommend purchasing multi-functional nets. First and foremost, as they are designed for multiple sports, they will not meet USAPA regulations. This means the net may not be wide enough, too tall, or too short to play pickleball. Multi-functional nets tend to sag a lot as they don't have a central support beam.
What Kind of Net Do You Use For Pickleball?
We recommend using a net specifically designed for pickleball. These nets use two or three poles for support and a mesh net with small holes to prevent a pickleball from passing through it. You will also find they have a center strap that allows you to adjust the tension to prevent the net from sagging in the middle.
Is a Pickleball Net the Same as a Tennis Net?
No, while similar in some respects, tennis nets are larger than pickleball nets. Pickleball nets are 36" in height at the posts and 34" in the middle. Tennis nets are 42" at the posts and 36" in the middle. Tennis nets are also longer — pickleball nets measure 22', whereas tennis nets are 42' in length.
How Do I Setup My Pickleball Net Set?
Almost all pickleball nets are composed of various metal poles that slide into one another and click into place. The net itself threads over the supporting metal poles at either end. You can then adjust the tightness of the net using its tension adjustment system. I recommend checking out the below video, which breaks down the assembly of the 3.0 portable pickleball net system — one of our favorites!
So What Net Should I Buy?
We'll break it down by category to make things a little clearer. For those of you who want the best possible pickleball net set, we recommend the OnCourt OffCourt PickleNet Deluxe. It's a pricey investment but worth the money if you're an active pickleball player. It's the strongest built of all the models we have looked at and is not prone to falling over given its 50lb weight. OnCourt OffCourt even accounts for its heavy nature by including a carry case with wheels. This makes transporting it to your playing area a lot easier.
If, on the other hand, you have a mid-range budget but still demand a high-quality net, then we feel the 3.0 Portable Pickleball Net System is the product for you. It is not lacking in any particular area besides its weight which makes it somewhat unsteady in windy conditions. Buyers really love this model!
Finally, if you have a low budget, we recommend the A11N portable pickleball net system. It's very competitively priced, meets USAPA regulations, and has good weather resistance for outdoor play. Our main issue with it is its sturdiness during windy days. Weighing just 20lbs, it's a little prone to falling over. However, this does make it one of the best portable pickleball nets out there. You can also choose between two color options to fit your aesthetic.
Love sports like me? You might be interested in my top foosball tables and pool cues.

Freelance writer. Table tennis enthusiast. Lover of all things online. When I'm not working on my loop game I'm probably binge-watching some fantasy show.