Top 6 Best Pool Cues (Buyer's Guide)
As with all sports, equipment is key. And this is no different with pool. Opting for a poor cue will stunt your game and lead to frustration. Instead, invest in a quality cue and you'll find pool much easier to play, and ultimately, you will get more enjoyment out of the game.
Pool cues come in a range of different sizes, weights, tips, and so on. In this pool cues review, we will break down what to look out for when purchasing a stick, and detail the best pool cues that we recommend.
These are the best pool cues of 2023:
Featured Products
Why Trust Ping Pong Ruler?
As sporting experts, we pride ourselves on discerning the top equipment from the rest. Each review results from many hours of study where we not only select the best products but also explain why they excel and what features you should look out for when shopping around.
Our website is 100% unbiased — we are not paid to endorse any products, so rest assured all thoughts are our own and genuine.
For this pool stick review, we considered the following traits:
Price
Pool cue shaft material
Pool cue tip material
Joint
Durability
Color offerings
Length and weight customization
Warranty
The Best Pool Cues for 2023
The Best Pool Cue Reviews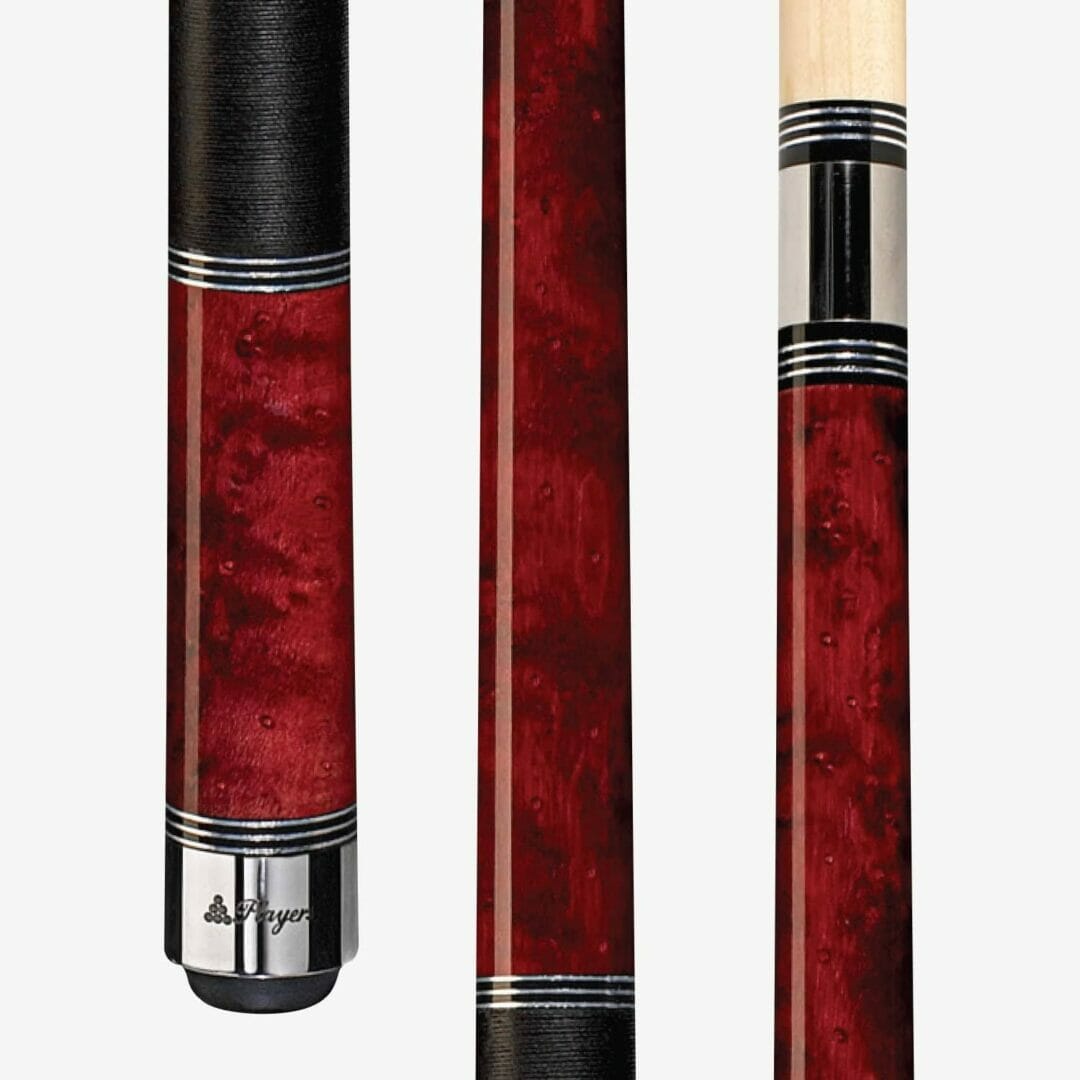 Pr

os:
Available in 18-21 ounces
Double-pressed Irish linen wrap
18-pin stainless steel joint
Grade A Hard Rock Maple
Highly durable hard oak tip
Treated wood to make it resistant to moisture
Multiple colors available
Lifetime warranty against warpage
Cons:
Our rating: 9.5
The Players Classic C-950 is an eye-catching two-piece cue available in 18-21 ounces. It measures the standard pool cue length of 58 inches and sports a black double-pressed linen wrap giving you plenty of grip. The design is slick and beautiful, and the grip pairs nicely with the textured red forearm and butt sleeve.
The pool stick is composed of North American Maple which has been hand-selected and undergone a 7-stage curing process. It is then sealed with Nelsonite and epoxy to protect it from moisture. The tip is a 13 mm premium pro tip by Le Professional, created using vegetable-tanned oak leather to ensure it lasts.
The C-950 is certainly a premium pool cue and while it does not have a low-deflection shaft, it does come with a lifetime warranty against warpage ensuring reliability. It is the top pool cue on this list in terms of quality therefore we think it's one of the best pool cues for advanced players.   
2. Tai Ba Pool Cue – Blue S3+ — Best Accessories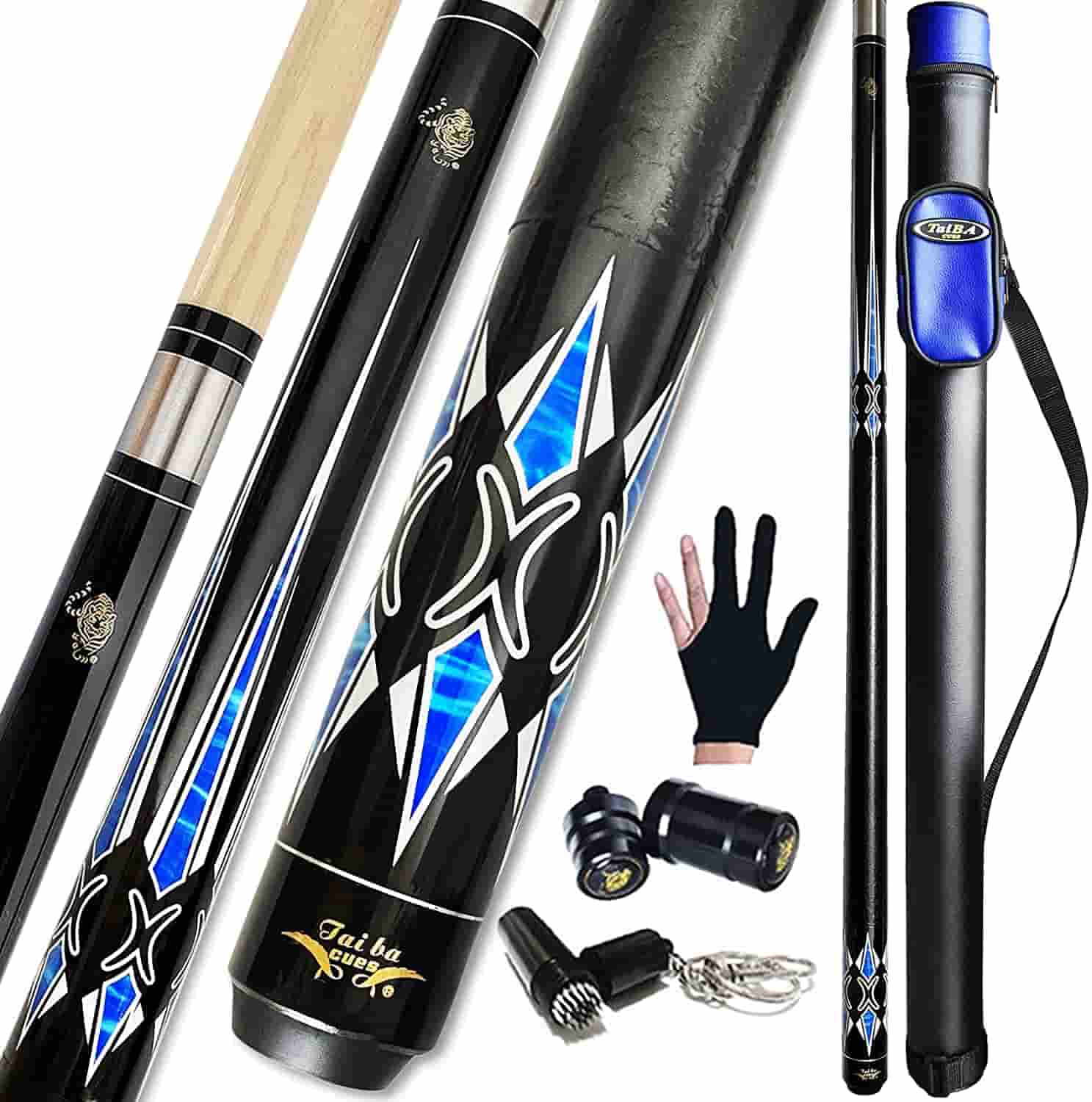 Pros:
Available in 18-22 ounces
100% Hard Canadian Maple Wood
13 mm multilayer leather tip
Multi-weight system
9 different colors are available 
Comes with accessories
Cons:
Uses imitation leather, not real leather
Our rating: 9.4
The Tai Ba S3+ is a 58″ two-piece cue with varying weights from 18-22 ounces. Made from 100% Canadian Maple Wood, it is of very high quality. It also has a nice subtle design on the butt that is coated in 9 layers of varnish, ensuring it never wears away. This also protects the pool cue stick from moisture and prevents warping. You have a total of 9 colors to choose from with varying styles, so you have quite a lot of choice.
We really rate the multi-weight system used in this cue. By opening the bottom rubber bumper you can replace the cue's weight bolt to adjust it to your preferences. To top it all off the cue comes with four accessories: an elastic lycra glove, joint protectors, tip picks, and most importantly, a hard pool cue case. This case has a leather exterior, an adjustable shoulder strap, and a zipper pouch to store accessories. Considering all the extras, we think it's one of the best billiard cues if you take accessories into account.

Pros:
Available in 19-21 ounces 
Available in 36″ – 57″
Canadian Maple Wood
13 mm Le Pro tip
Inexpensive
Cons:
Our rating: 9.2
If value for money is your goal, the Viper Commercial is a cue that will interest you. It's a little more basic than some of the other cues listed but this helps to cut the cost. For starters, it's a one-piece cue, all of the others we look at today are two-piece. The design is also fairly basic, which in fairness, may be a plus if you want a more professional-looking cue. Yet it gets what matters right. It's made from Canadian Maple Wood and uses a 13 mm Le Pro Tip. The same style of tip used by the far more expensive Players G-C950 pool cue. 
You also have some customization choices when it comes to weight and length which is certainly an advantage. To reiterate, the Viper Commercial is one of the best pool cues for the money. As such, it is a top choice for entry-level players.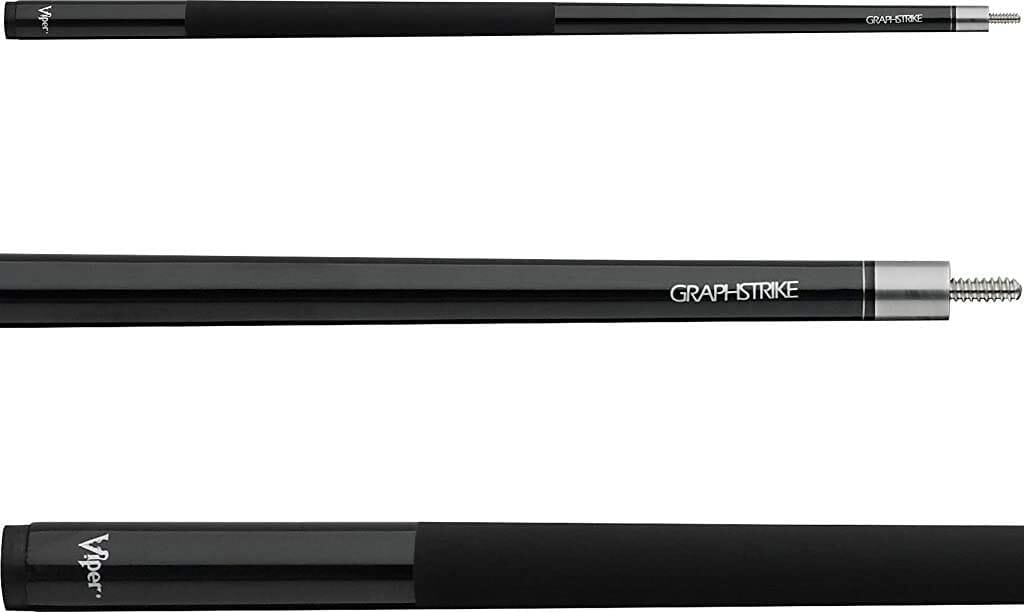 Pros:
Fiberglass construction
Aluminum joint
13 mm Le Pro leather tip
3 color choices
1-year limited warranty
Slick design
Cons:
Conflicting information in product listing
Cannot choose weight
Our rating: 9.3
The Viper Graphstrike is a two-piece cue composed of fiberglass making it the only cue on this list that is not made from wood. This removes the risk of the cue warping and we really like the way it looks — the black version especially. You can also pick it up in blue or maroon. Like many of the other cues, it features the dependable 13 mm Le Pro leather tip.
The Graphstrike comes with a 1-year warranty which is somewhat surprising considering it is not very pricey. However, we do have a few reservations. The first is the conflicting info in the product listing. It states that the cue is both 57″ and 58″, now the difference here isn't all that much, but as a buyer, you want to be certain of what you are getting. The second is the weight variance which you have no control over. The manufacturer sends the seller cues of varying weights between 18-21 ounces and randomly ships them out. This means you can't choose which weight you want. This isn't a big deal for a new player, but this is a major turnoff for someone more skilled.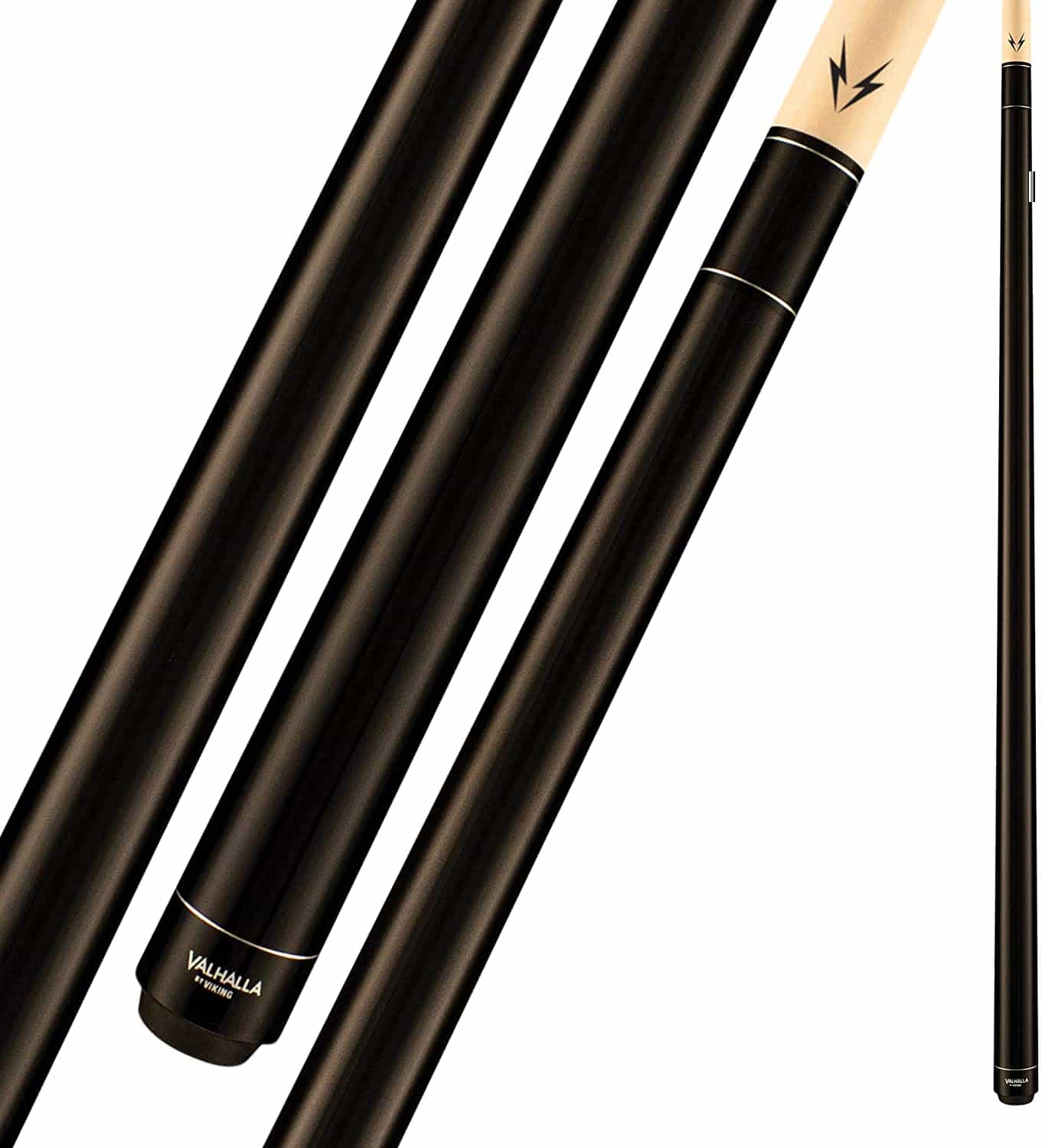 Pros:
Available in 18-21 ounces
9 colors
Hardrock Solid Maple
13 mm premium leather tip
18-pin stainless steel joint
Cons:
Tip prone to falling off
Some buyers received the wrong cue
Our rating: 8.9
The Valhalla 100 Series is a good pool cue with great customization. Buyers can choose from 4 different weights and 11 colors. The black and mahogany colors provide a smooth traditional look that we love, but others such as orange and red are great for anyone who wants a bolder design.
Composed of the ever-popular Hardrock Solid Maple, the quality of the cue is a given. It also uses the regular 18-pin stainless steel joint for a tight high-quality fix. The tip is 13 mm in diameter and made of premium leather.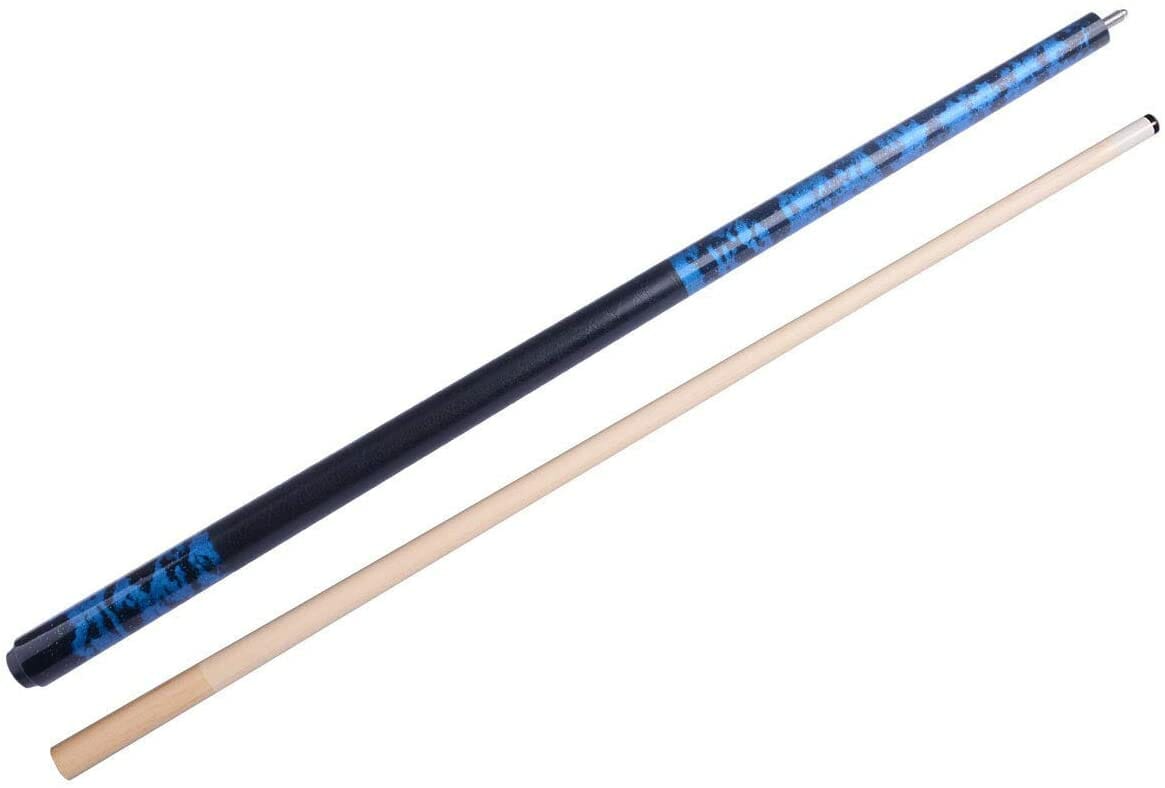 Pros:
Available in 18-21 ounces
4 colors
Matt textured grip
Hardrock Solid Maple
Dazzling artwork
Cons:
Tip does not last long
Cue prone to warping
Our rating: 8.7
This AB Earth cue is for all the arty pool players out there. Each cue is hand-painted using gloss oil paints by artists. Available in 4 colors, you can take your pick. It's just a shame the grip doesn't work cohesively with the design as with the other cues.  
AB Earth's cue measures the standard 58 inches and uses 100% solid Canadian Maple. It also has a high-gloss, UV-resistant seal for protection and to ensure its dazzling artwork doesn't fade. The tip is 13 mm in diameter and made of leather.
Aimed at beginner to intermediate players, the shaft isn't low-deflection like more expensive models — rather mid-deflection. It's currently sitting at 4.5 stars on Amazon and considering its affordable price point, we think it's one of the top cheaper options available among the best pool sticks.
Choosing the Best Pool Cue
Length
The very first thing to consider when selecting your pool cue is the length you will need. Fortunately, this is quite simple. Standard cues are 57 or 58 inches, depending on whether you choose one-piece or two-piece. This length will be suitable for the majority of adults.
For younger/shorter players, cues in the 36-52 inch range are available. Generally speaking, 36-42 inches are suitable for anyone 4 ft or below. While 48 and 52-inch cues are for players from 4 ft through to 5 ft 8 inches.
Players who are exceptionally tall or have long arms may struggle to find the perfect pool cue. For these people, purchasing a custom model is probably best.
Weight
Weight is another key area you will want to consider. Cues are available in light, medium, and heavy, and which you choose should depend on your style.
Most cues fall within the 18 to 21-ounce range, but you can find cues that exceed these figures. If you are just starting out, a 19 to 20-ounce cue is best as they are a little more forgiving.    
The majority of the weight of a cue is stored in a rear section known as the butt. This is because the tail end of the cue is thicker than the shaft. Manufacturers will also add weight to the butt end through heavy hardwood such as ebony.
Tips
As tips are the only component of the cue that strikes the ball they are highly important and customizable. What shouldn't change is your tip diameter relative to your shaft – it should always be the same. Of course, different shaft diameters, therefore, mean varying tip diameters. Smaller tips require more skill and offer greater spin production. On the other hand, larger tips are safer and offer more power.
Tip hardness also has a similar effect on your shots. A hard tip is more effective at transferring power to the ball. This makes it useful for breaking. However, the drawback to hard tips is that you have less control over producing spin and you are more likely to miscue.
Conversely, soft tips give you more control over spin to play advanced shots, although you suffer a bit in the speed department. They also wear out quicker than hard tips. This is why medium tips are so popular. They offer the best of both worlds giving you access to adequate spin and speed.
Of course, if you want to take full advantage of tip potential, why not use all three? You can use differently tipped cues for specific match scenarios. In essence, there isn't really a best cue stick tip, just choose one which best complements your style. 
One-Piece vs Two-Piece vs Three-Piece
The number of pieces in your cue is more of an aesthetic choice than one which will affect gameplay. Some people assume that having more than one part to your cue will lead to a loss of power, however, this isn't true. Pool cues have a very precise fit once screwed tight so you need not worry about hindrances to power.
One-piece cues are best for home use and more casual scenes. Two-piece cues are more fitting for serious players who travel to play, such as those who participate in tournaments. Being able to break your cue down into more than one piece for transportation is convenient. It also makes it less obvious what you are transporting which will leave thieves oblivious. Most of the top-rated pool cues are two-piece, simply because two-piece cues are the most popular so more get made.  
Three-piece cues are also available but these are far less common. The advantage of using this type of cue is that you can take out the middle section to create a smaller cue. This proves useful if you don't have enough space to play your shot.  
Wrap
A more subjective choice for your cue is whether you opt to go for a wrap. Wraps are added to the handle of your cue. They provide additional grip and lets you show off some flair. Having a wrap also helps absorb moisture, prolonging your cue's life.
Of course, they are far from essential. Some players prefer not to have one and many of the top-rated pool cues have no wrap at all.
Common wrap materials include linen and leather.  
Brand
While it's true that many lesser-known companies put out quality pool cues, it's always safest to stick with a brand with a good track record when it comes to pool cues. Players, Viper, and Viking are all top pool cue brands you should consider.
But who makes the very best pool cues? The consensus is Predator. However, these top brand pool cues are far too expensive for most consumers. We would only recommend buying a high-end pool cue from Predator if you are an advanced player. 
Closing Thoughts
That summarizes the best pool cues you can buy for 2023. If you are a keen player who puts a lot of hours in, we think the Players Classic C-950 pool cue is the one for you. It's the highest quality of all the cues we looked at and comes with a lifetime warranty that is not even close to being matched by the other models.
Alternatively, if you want a well-built inexpensive cue, you can't go wrong with the Viper Commercial. If you can look past the fact it's a one-piece cue, you are getting a steal.
Like this read? Why not check out:
Frequently Asked Questions
Are Heavy Pool Cues Better?
Heavier pool cues produce faster cue ball speeds and are easier to keep on line throughout your stroke. However, they may increase your risk of cue ball deflection. Lighter cues, on the other hand, give you more control and have low deflection. Ultimately, neither option is better, it comes down to personal preference.
What Cue Weight Do Professionals Use?
Most pool cues range from 17 to 21 ounces, and professionals tend to prefer the mid-point at 19 to 19.5 ounces. Very rarely will you find a pro using a pool cue that is heavier than 20 ounces.
How Much Does a Good Pool Cue Cost?
Pool cues vary wildly in price. A good beginner cue costs just $30, however, the best professional pool cues can set you back over $500.
Do Expensive Pool Cues Make a Difference?
In general terms, purchasing a more expensive pool cue increases the likelihood of getting a cue of better quality. However, this is not always the case, and as you get into the mid to high-end pool cues, price isn't the best indicator of quality.
What Are the Best Pool Cue Brands?
Some of the best pool cue brands include Predator, McDermott, Jacoby, Players, and Viking.
What Is the Best Pool Cue?
We find the Players Classic C-950 to be the best billiard cue in 2023. It is very high performing in its price bracket and has lifetime warranty coverage against warping, so you can be certain that it will last for a long time.

Freelance writer. Table tennis enthusiast. Lover of all things online. When I'm not working on my loop game I'm probably binge-watching some fantasy show.