The 5 Best Pool Cues for the Money
Have a pool table at home, or looking to start playing fairly regularly? First things first, you need a cue. And any old one won't do. You'll want it to perform, last a long time, and ideally, be half-decent to look at.
The great thing is, you don't need to spend an arm and a leg to achieve that. Budget cues are the best pool cues for the money. They represent incredible value. It's just a matter of sifting through the low-quality models. But fear not, as we've done that for you. We've also produced a brief guide to let you know what to look out for when shopping around.
Featured Products
About PingPongRuler
While ping pong is our primary passion, we at Ping Pong Ruler are lovers of all sports. There is something about the thrill of sports that drives us. And we deeply enjoy studying how we can improve, and what equipment can facilitate this process.
This is why alongside our technique guides, we review sporting equipment. We do our best to identify the best products in the market while plainly explaining why they might and might not be good picks for you. After all, very few products are perfect!
How Do Budget Pool Cues Compare With Expensive Models?
While your immediate expectation for budget pool cues is something of low quality, in most instances, this is not the case.
The best affordable pool cues are built to high standards but instead save money where they can. This might mean using lower quality materials or omitting accessories. But the fact remains that the best budget pool cues perform very respectably, especially for beginners or intermediate players.
They often represent greater value than the more expensive premium cues and are a perfect starting point for playing pool. That being said, updating to a premium cue is worthwhile when you become more passionate about the game and improve your ability.
Best Pool Cues for the Money
CUESOUL Kit-Rockin Series Pool Cue — Best Overall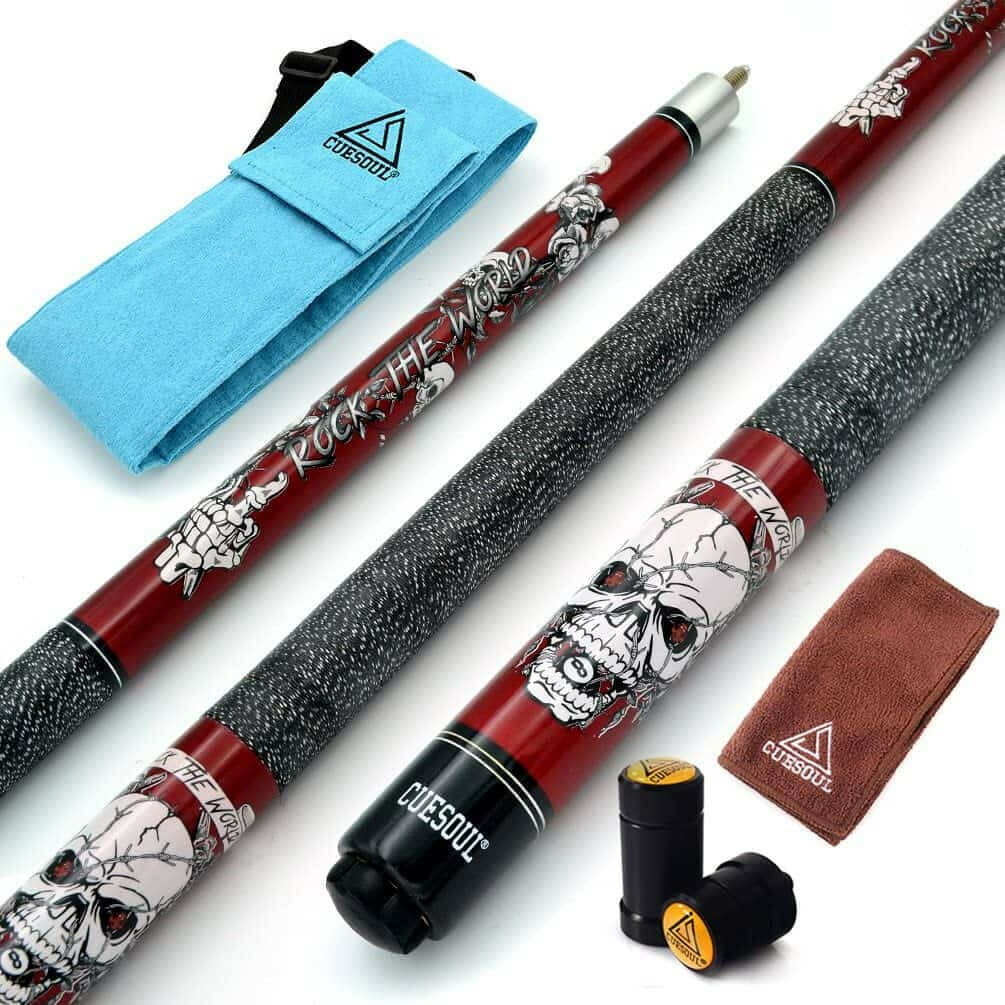 Specifications
Length: 57"
Weight: 19-21 oz
Type: Two-piece
Pros
Made from North Canadian Hard Maple wood
Features stainless steel joint
13mm leather tip
Irish linen wrap
Multiple colors and weights to choose from
Includes extras
Cons
The design will not be to everyone's taste
Rating: 9.5
The CUESOUL pool cue may be the most expensive model on our list, but we feel that it is more than worthy of its higher price tag (albeit still very cheap). This cue measure 57" in length and is available in weights from 19 oz to 21 oz. Each of these weights also includes color customization, so you have a good deal of choice.
Made from North Canadian Hard Maple Wood, it's high quality and robust. The stainless steel joint also ensures straightness as there's nothing worse than using a wonky cue! As for the tip, it's 13 mm and made from leather, just as you'd expect.
Our main issue with this cue relates to its appearance rather than performance. It sports skull artwork with "ROCK THE WORLD" text printed on the shaft. Undoubtedly, this will not appeal to everyone — it's certainly not to my taste. Nevertheless, some may like it, and the importance of looks pale compared to performance.
AB Earth Pool Cue — Most Stylish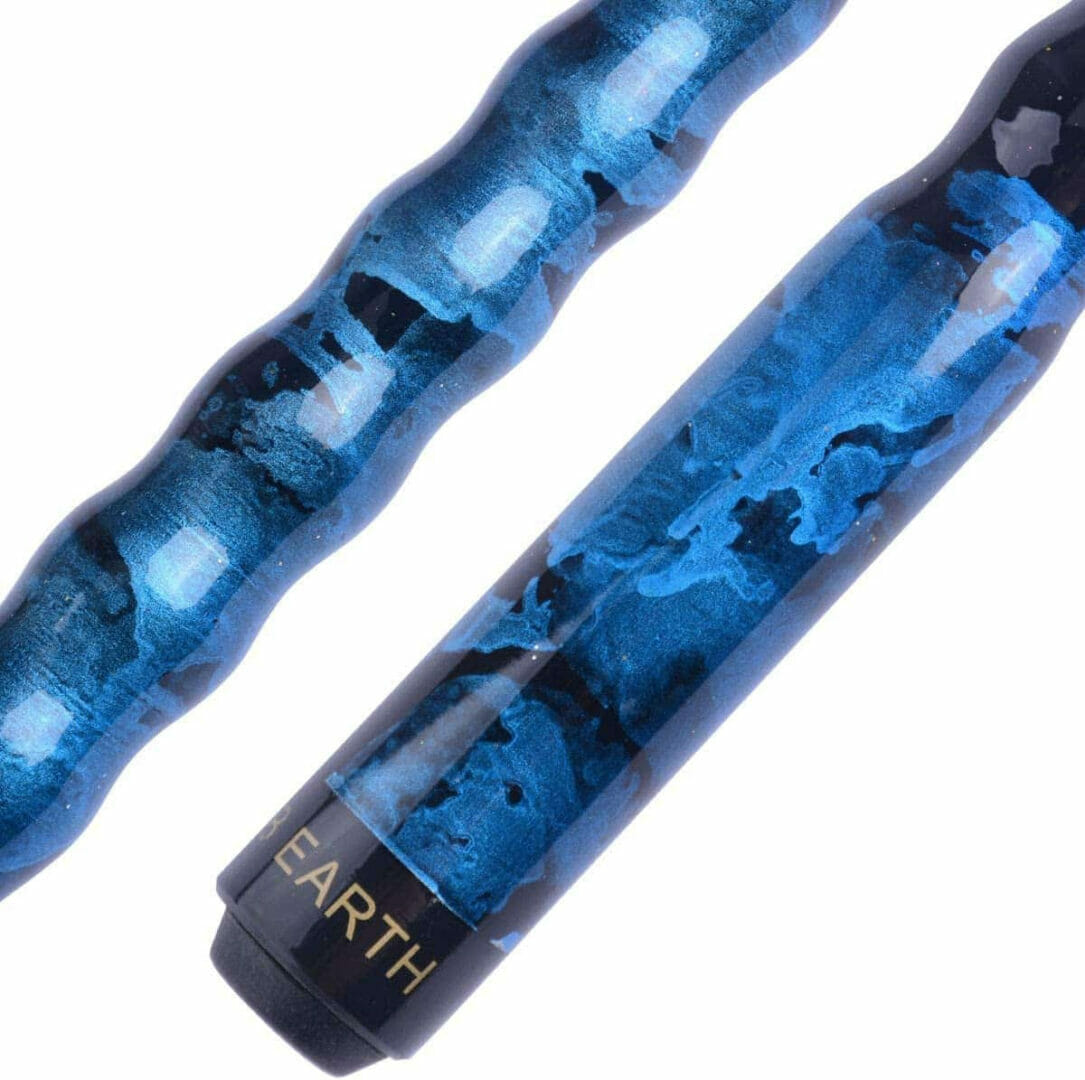 Specifications
Length: 58"
Weight: 18-21 oz
Type: Two-piece
Pros
Made from Canadian Hard Maple wood
Ergonomic wavy grip
Stunning design
Multiple colors and weights to choose from
Cons
The tip is not that resilient
Rating: 9.3
Regarding style, the AB Earth pool cue takes that title, no questions asked. Outer space inspired the design and is painstakingly hand-painted with shiny oil paints — no cheap decals here. The blue version really caught our eye, but you can also pick it up in three other colors and in a further two versions. These feature a dragon and scorpion design.
The immediate allure of this cue extends beyond just its paint job. Unlike almost all other cues, it does not feature a straight butt exterior. Rather, it uses a wavy ergonomic grip. This gives you a much firmer hold when grasping the cue, and it doesn't wear or unravel as linen wraps do.
In terms of composition, the AB Earth cue is made from Canadian Hard Maple Wood, so you can be certain that it will perform and last a long time. The shaft is medium deflection, which is a good fit for players of intermediate ability.
The only drawback we could find is the cue tip. Made from leather and measuring 13 mm, it has no trouble performing but is not that resilient. It may need replacing earlier than you expect.
Viper Commercial/House Pool Cue — Budget Choice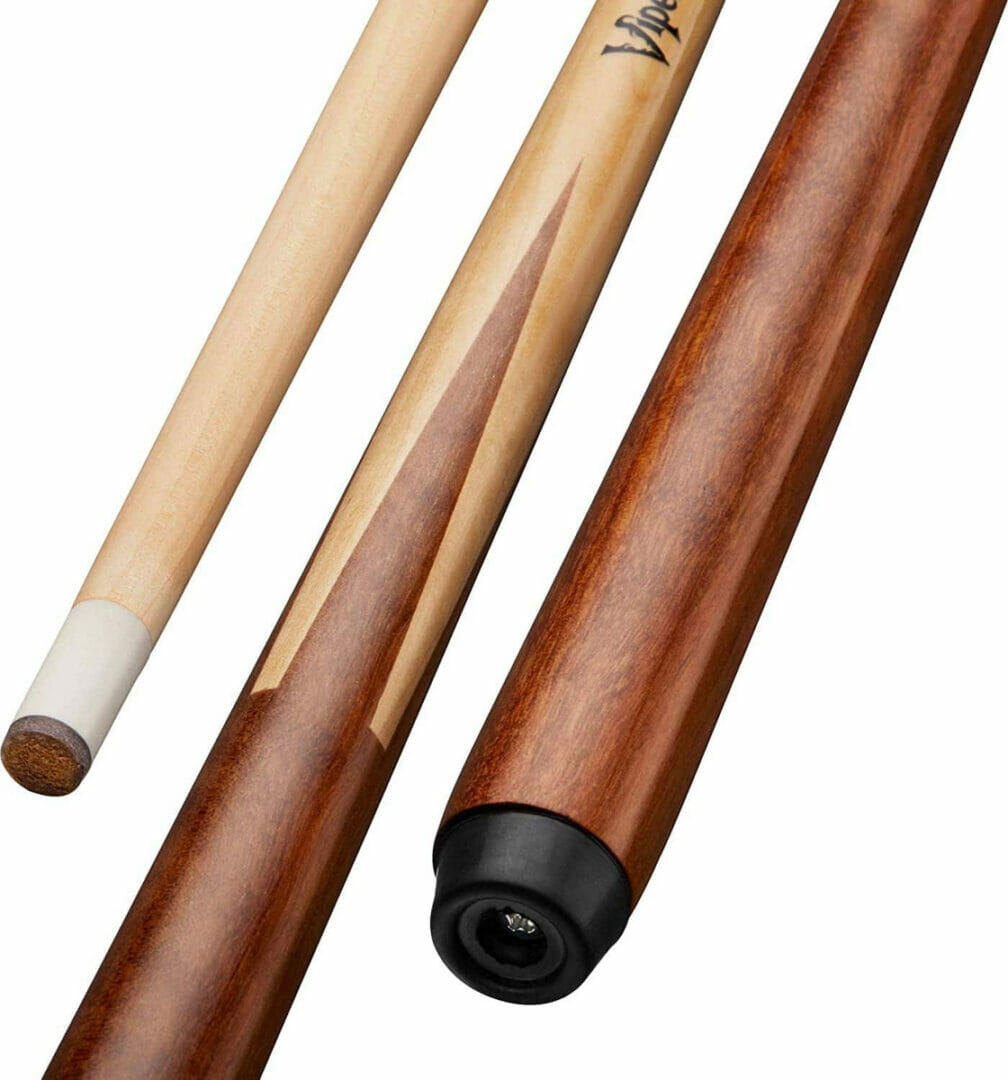 Specifications
Length: 36", 48", 57"
Weight: 18-21 oz
Type: One-piece
Pros
Very inexpensive
Made from Canadian Hard Maple wood
13 mm Le Pro leather tip
Classic look
Multiple lengths and weights to choose from
Cons
No color options
90-day warranty
Rating: 9.1
The Viper Commercial cue offers unbeatable value for money, it's tough to see how Viper makes any profit selling this cue so cheap. They don't compromise on quality anywhere. The only clear cost-cutting route they have taken is making the cue a one-piece model instead of a two-piece, eliminating the need to have a costly joint.
We are very impressed that Viper used high-quality Canadian Hard Maple wood, and even more impressed that they coated it with nine layers of varnish. This not only prevents warpage but also prevents the wear of the classic look which we really admire.
When it comes to customization, you have a decent amount of options. While there are no other colors available, you can choose from weights between 18 oz and 21 oz. More impressively, you can also opt for a smaller cue size. Available in 48" and 36", this gives it the joint most length options of any of the other cues referenced.
We particularly rate the 36" version known as the Shorty. This cue is perfect for small rooms where you don't have the room to maneuver a full-size cue. Given all these impressive features, we believe it is the best cheap pool cue.
East Eagle Pool Cues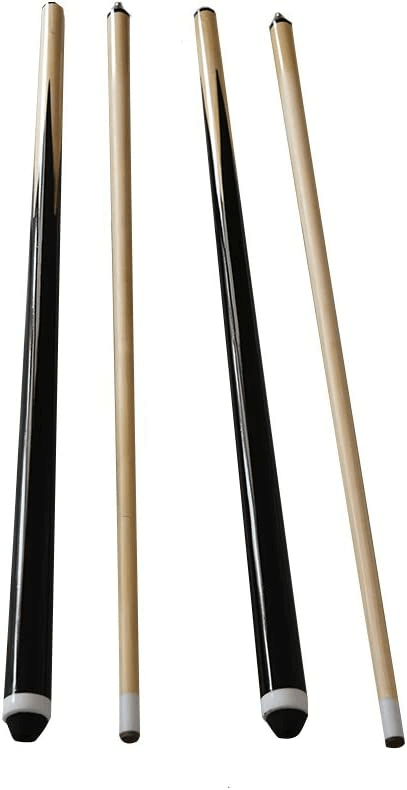 Specifications
Length: 36", 48", 58"
Weight: 19 oz
Type: Two-piece
Pros
Unbeatable price
Features stainless steel joint
Made from Hard Maple wood
100% satisfaction policy
Classic look
Multiple lengths to choose from
Cons
No color options
No weight options
Quality control is not the best
Rating: 8.8
While the Eagle pool cues are not the best quality, they are the cheapest pool cues on this list. They only cost a little more than the Viper Commercial/House cue, yet they come in sets of two rather than singles.
Sporting a classic look, they are made from 100% Hard Maple wood which is very impressive for the price. What's more, they are two-piece cues, making them easier to store and carry around.
Similar to the Viper Commercial/House cue, you can also purchase these cues in smaller 36" and 48" sizes, making them great for kids and compact game rooms. No weight options are on offer, though. Instead, every cue weighs 19 oz which is a fairly standard weight.
All in all, we highly rate the East Eagle cue and think it's one of the best budget pool cues available. However, its lack of weight customization and poor quality control makes spending the extra money for the Viper Commercial/House cue worthwhile.
That being said, East Eagle does have a 100% satisfaction policy if you are not satisfied with the quality, so there's no harm in purchasing the set to try them out. They are among the best pool sticks for the money if you have a very tight budget.
Pathline Pool Cue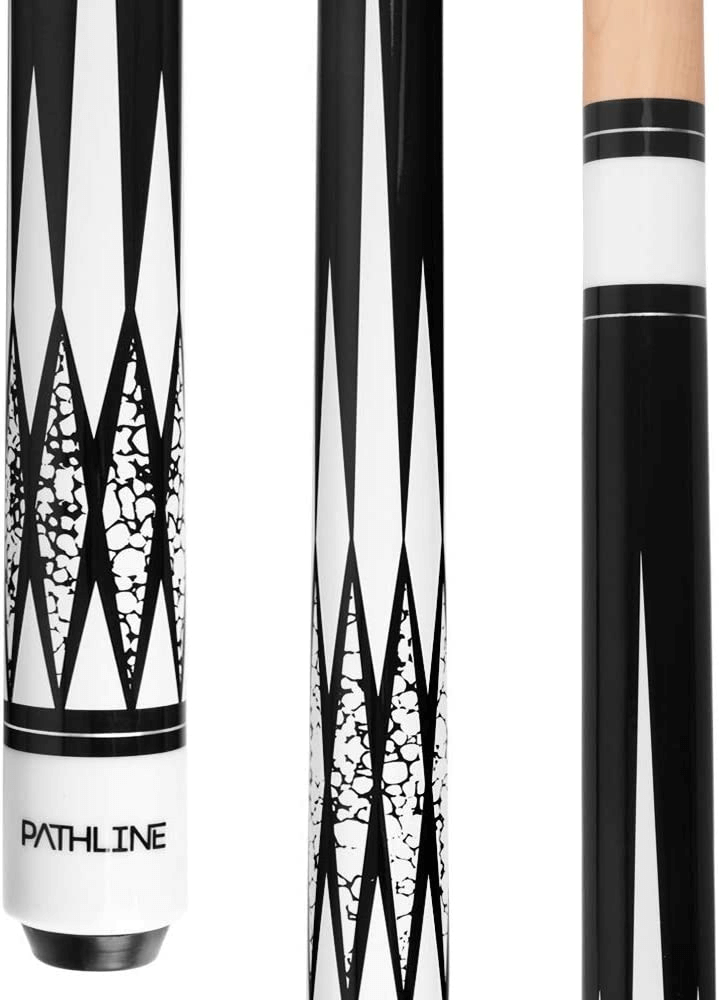 Specifications
Length: 58"
Weight: 18-21 oz
Type: Two-piece
Pros
Made from Hard Maple wood
Features stainless steel joint
Fancy design
Premium laminated tip
Enhanced fiber ferrule
Multiple weights and colors to choose from
Cons
Sometimes missing varnish
Rating: 8.7
As one of the best value pool cues under $40, the Pathline cue has a lot to like! It's made from Hard Maple wood like the rest and has a fancy design that you can pick up in six different colors.
The tip is also very high quality. It's made up of two types of treated pig skins: red and black. By incorporating two layers into the tip as opposed to one, it is much more durable and less likely to mushroom. Moreover, the fiber ferrule is enhanced, so it can hold strong against powerful impacts such as breaking.
The drawback to this cue is its quality control. Several buyers received their cues with parts unvarnished, which is a very large oversight. This makes using such cues almost unplayable. However, this is only for a small proportion of buyers, so it's an issue only a select few will face. And if you were unlucky enough to be one of these buyers, you can always return the cue for another or a refund.
Budget Pool Cue Buyer's Guide
Price
With budget cues, getting the most bang for your buck is the highest priority. While many budget options are very good, they cannot quite compare in performance to the top models, and that's okay.
Even when looking at cheaper pool cues, it's important to set a budget and stick to it. Otherwise, you could well end up spending a lot more than you initially wanted to. All of the pool cues on our list are $75 or less, making them some of the best budget pool cues.
Length
Budget pool cues most commonly measure 57" or 58," which is standard. However, select cues are also available in shorter sizes. These are great choices for kids or adults who are short in stature. Furthermore, they are easier to use if you have limited space to work with.
Weight
Like more expensive pool cues, the best pool cues for the money are usually available in various weights, but this is not always the case.
Instead, the weight area they are often inferior in is their weight adjustability. Very few budget models offer weight adjustability in the bumper, but this is a fairly common feature for pricier cues.
Conclusion
Budget pool cues are often higher quality than people expect. As such, they are the best pool cue for the money for people who are on limited budgets.
Having looked around at what's on offer, several pool cues impressed us more than the competition. However, one cue, in particular, stood above the rest, and that's the CUESOUL Kit-Rockin Series Pool Cue, making it the best pool cue for the money for 2023. If you're not fazed by its skull design, you've got a superb cue on your hands.
Alternatively, if you're big into appearance, let us instead suggest the AB Earth Pool Cue. Inspired by outer space, its carefully hand-painted design looks exquisite, and it has the performance to match.
FAQs
Should I Buy a One-Piece or Two-Piece Cue?
This depends on where you are going to use the cue. Two-piece cues have the advantage of being unscrewable and therefore easier to carry — perfect if you compete.
However, one-piece cues are sometimes cheaper, and some players prefer the feel of a cue that is one solid piece.
When Is a Proper Time to Change a Pool Cue Tip?
On average, pool cue tips last approximately 6-12 months assuming you are playing a few times per week. You can easily tell it's time to change when any part of the tip wears down to within 1 mm of the ferrule.
Alternatively, it's also time to replace the tip if producing spin is difficult or if the tip has started to mushroom (bulging at the sides).
How Can I Replace the Ferrule?
Replacing the ferrule on a pool cue is difficult, and you may want to consult a professional for assistance. However, it is worth doing this process yourself when it comes to budget pool cues.
Begin by removing the old ferrule. This is perhaps the hardest part as it is usually firmly attached, and it's easy to damage your shaft. Take your time and try wiggling it loose with a set of pliers. If this does not prove fruitful, try using a lathe instead.
Once you've done this, lightly sand the pool cue's edge. You want to remove any residual glue while preserving the shafts' wood so take your time. Next, super glue your new ferrule to the shaft.
Make sure you use a ferrule that has an identical diameter to the old ferrule, and only sand off any excess glue once the glue has dried.
What Is the Best Low Deflection Cue Under $300?
In our opinion, the best low deflection cue priced less than $300 is the Players HXT15. It is an excellent cue for more skilled players.

Freelance writer. Table tennis enthusiast. Lover of all things online. When I'm not working on my loop game I'm probably binge-watching some fantasy show.